How To Take A Photo In Night Mode On iPhone 11
The Night Mode on iPhone 11 series will automatically activate whenever it detects a low-light situation. You will notice it from the color of the moon icon on the upper-left of the camera app screen. If the icon appears yellow, it means that the Night Mode is On. Sometimes you will find the moon icon is still in white mode even though you think the light is low. You can turn it on by tapping the Night Mode icon. For the complete guide, follow the steps below.
Step 1 – Open The Camera App
You can first access the Camera app from the home screen after unlocking your iPhone 11. You can also open the iPhone's camera by tapping the camera icon in the lower-right corner of the unlock screen or from the Control Center.
Step 2 – Adjust The Exposure Time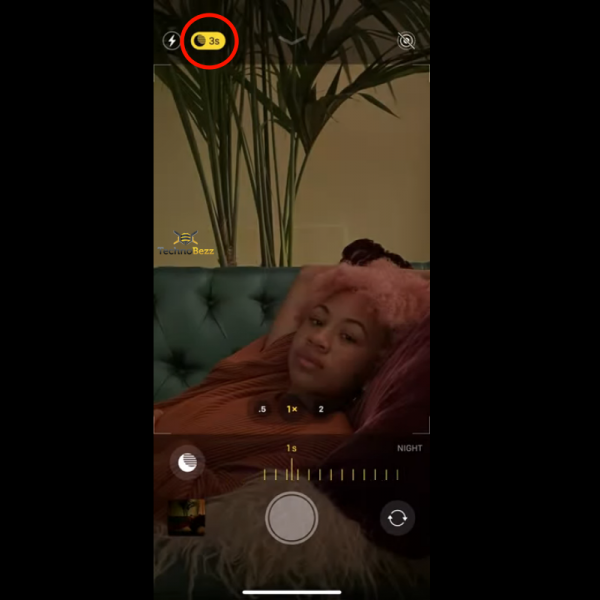 If your iPhone camera is already in Night Mode, you will see the moon icon is yellow-colored. The number you see on the icon shows the exposure time. The duration of how long it will take to complete the capture. The exposure time will be set automatically, but you can change it by dragging the slider above the shutter button below.
Step 3 – Take A photo.
After everything is set, you are ready to take a photo. Hold the camera nicely and tap the shutter button. Keep holding your iPhone 11 until the exposure time slider stops counting.
Additional Info
Night Mode can only be used when taking a picture using the 1x Wide lens or 2x Telephoto lens (on iPhone 11 Pro).
The Night Mode won't work in a completely dark situation. You need at least some little light, like a candle or night light, to illuminate the object.
The longer the Exposure Time you choose, the more the light will be captured by the camera and you will get a brighter photo. However, the possibility of getting a blurry picture is also bigger because you have to hold the iPhone longer. Therefore, if you decide to adjust the exposure time to its maximum or more than 3s, you may need to use a tripod.
Join our newsletter 🎉
Subscribe to our newsletter and never miss out on what's happening in the tech world. It's that simple.
Latest Tech News

Exclusive Tech Deals