Free texting online from PC is required in many situations. For example, you have lost your phone and want to contact someone as early as possible. Free text message from PC does the job immediately without wasting any of your valuable time. Moreover, if the free message limit in your phone is over, and you do not want to spend any extra money that month, free text messages from your PC or laptop are really helpful in such cases. There are thousands of ways to send a text message from your computer for free, and the most useful and easiest ways are discussed here.
We have also discussed how to remove last seen on WhatsApp on android, ways to find a song by sound using Google Ok and many other interesting topics at Technobezz. So if you face any problems with your android or iOS devices, visit Technobezz, you will find almost any solution.
Read also- 4 best lock screen for your android 
Send text through your email client
This process is easiest of all, and it does not require installation or downloading of anything in your PC. You just need to have an email account, and you will be ready to start. Free texting online using the email to SMS gateway is such a useful process where you can send a text message to your friend from your email account if his contact number and the service provider of the connection are known to you. A gateway address is needed to put in the recipient's address box in place of his email address if you want the text to be delivered in his phone. This gateway address is different for every carrier, and you will easily find it in the Internet. For example, if you are going to send text message to a friend having an Airtel connection, the gateway address will look like (His 10 digit phone number) message@alltel.com.
However, to keep this email as SMS, the character limit should not be more than 160. Otherwise, it will be sent as MMS for which the gateway address is different again.

Send text through Apple's Message (only for iOS device)
This method works only for the iOS device. So if you want to send text message from your Mac to iPhone or other iOS device, learn this process from here. iOS 8 is the latest OS version introduced by Apple, and this OS brought these excellent features along with it. This version includes a feature for sending and receiving the messages from your Mac to other iOS devices. The process is to be set up first, and you can do this by navigating to the settings menu. Tap the Message option to toggle on the iMessage. Make sure that all the iOS devices are using the same iCloud account, and they are linked to the same Wi-Fi network for sending and receiving text messages. Next, tap on the 'Text message forwarding' option and all the devices will be shown. Toggle on the device in which you want to send and receive SMS. A six-digit number will be displayed, which is needed to enter on the device, and you will be able to send and receive SMS with that iOS device. But remember again the character should not limit 160.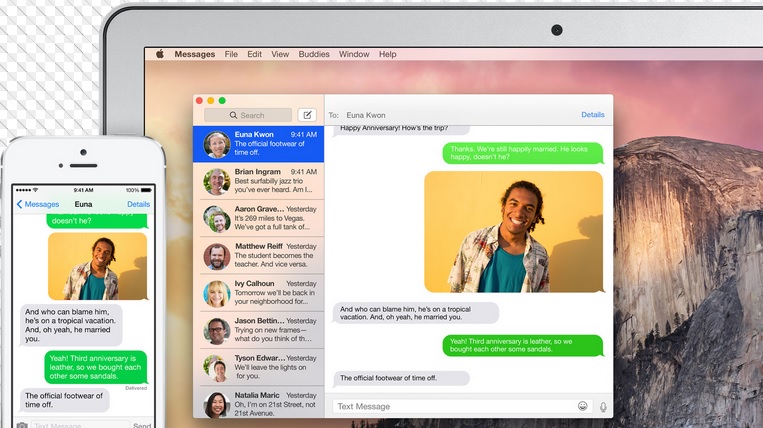 Send text online via MighyText
Free online texting is getting popular these days as all are becoming smarter and keep on looking for options that are free. This is one more way to send text online for free from your computer. However, this process is only for the android device. MightyText is an android app that can be downloaded and installed from Google Play Store and next your phone number should be linked with the Google account. Once MightyText is downloaded, the accompanying extension of the browsers such as Google chrome, Mozilla or anything that you want to use has to be downloaded and installed.
The web interface will show you the recent text messages and there will be an option to reply below every contact. So if you want to send text from computer, this is a good option for that.
Text from computer through a free SMS website
Finally, there are many websites that allow online texting for free, but you need to register to create an account on their site. Send SMS Now, Txt2day, A Free SMS, Text 'Em, etc. are some of the popular websites you can visit to send a text online.
In most of the websites, the users are required to choose the country name where the text will be sent from the drop-down box. Next, you will be asked to put the recipient number. Once the text is typed, hit on the button 'Send SMS' and the text will be sent.
So, online texting from computer is not a tough job, and you can do it by following any of the above methods.
Join our newsletter 🎉
Subscribe to our newsletter and never miss out on what's happening in the tech world. It's that simple.
Latest Tech News

Exclusive Tech Deals