Not long ago, Google launched a gaming platform called Google Stadia. Google Stadia works as a cloud gaming platform where the user runs the game on Google's server.
This allows you to play high-production games on different types of devices. The requirement for this platform and to play games is your internet connection. The minimum connection speed required is 35mb/s.
Many users have questions about the platform, and one of the most common is how to play Google Stadia on MacBook. We have some solutions for you.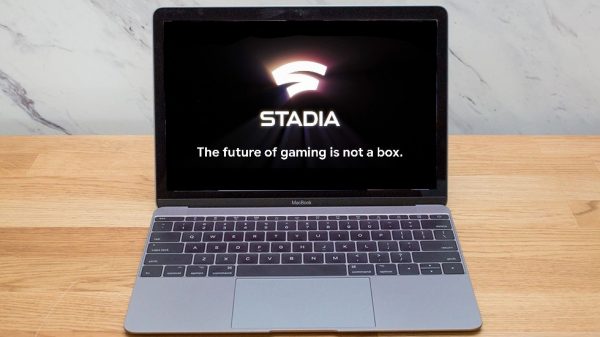 Solutions
How to start?
It is easy to start using the Google Stadia gaming cloud service on any MacBook. You must first have a Google Chrome browser on your Mac to set it up to play. Download it and create a Google account. Once you are done, you can proceed to sign up on Google Stadia. It is not free to use the Stadia, so you need to pay 9.99$ for being a member. Also, not all games are free, you may need to purchase some. The price depends on how new or popular certain games are. You can find them in the range of 30$ all up to 60$.
But getting a member has its positive sides, as you can claim and play some games for free. Also, the positive thing about Stadia is that you don't need to download it or save it on your hard drive and wait hours to play your favorite game. Another thing about being a member is that you can use Google Stadia to play games on any other device that supports it. For example, you can play games on your iPad, iMac, Mac mini, etc.
Setting up on the MacBook
You must set up the controller to play the game when logged in. Regarding the controllers, Google Stadia has launched the Stadia controllers for playing. You can order them online and choose the color. The price is about 120$, but you have the option to buy a second one at half price. The controllers are nice and fit well in the hands, making playing comfortable.
To connect the controller to your MacBook, you can use a USB cable according to the device you own. Alternatively, you can use any Bluetooth controller you know will work with your Mac. The controller doesn't work when first hooked to the Mac, so you should unhook it and then hook it again. This should resolve the problem. If any other issue appears, you can use your keyboard to resolve it.
The Stadia controller is best for playing games on this platform because it has special functions such as the Google Assistance button, the ability to take screenshots or record playing.
Start the game
Playing on Google Stadia works very well on your MacBook, yet you may experience the game running slow or has some bugs and shows in low resolution. The game runs depending directly on your internet speed. It works on a simple rule, the faster the internet speed, the better the resolution and game running.
Next, you should know about gaming on Stadia that not all games are perfect, and it can lead you to think that your controller is not working well or that your MacBook is having some issues. This is not surprising because this is quite a new gaming platform.
Once you are set up, it is time to start playing your favorite game and enjoy it. All you need to do is to open Google Chrome, go to Google Stadia and choose the game you want to play. The positive about Stadia is that you can stop playing and later continue where you left off on any other device.
Join our newsletter 🎉
Subscribe to our newsletter and never miss out on what's happening in the tech world. It's that simple.
Latest Tech News

Exclusive Tech Deals