YouTube is the most popular video-sharing platform where you can find your favorite music videos, music, movie trailers, clips, funny videos, and more. You can subscribe to different channels, upload your own videos, post comments, etc. Most of us use YouTube daily, and if you do too, keep in mind that you can tweak the notifications and decide when and how to be notified. YouTube allows us to set everything the way it suits us. We can choose push and email notifications we want to receive. Here, in this article, we are going to show you how to manage notifications on YouTube.
See also: How to enable YouTube incognito mode on Android
How to manage notifications on YouTube
Here, we are going to show you how to manage notifications for YouTube when using it on your PC. The steps for that are pretty simple. Here they are:
Open the browser of your choice
Go to YouTube
Next, click on your avatar image or your photo in the top-right corner of the screen
Now click on Settings
On the left side of the screen, choose Notifications
On the next screen, you will be able to set the notifications the way it suits you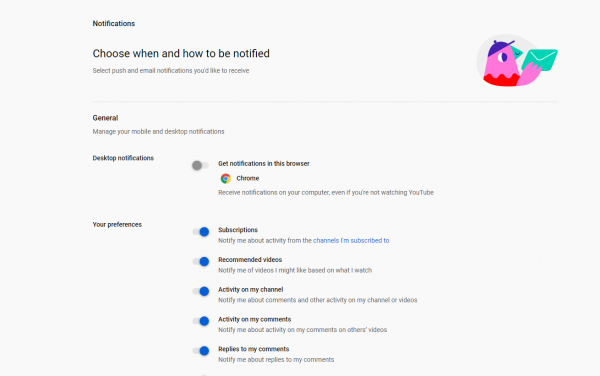 First, you can enable desktop notifications for the browser you are using (in this case it is Chrome). To turn this option on, just click on the switch
Next, you can manage your preferences. You can turn on or off the notifications for the activities on your channel, comments, recommended videos, subscriptions and more. There is no right or wrong setting here. You need to decide on your own what you need and what you don't need.
Scroll down, and you will be able to manage email notifications as well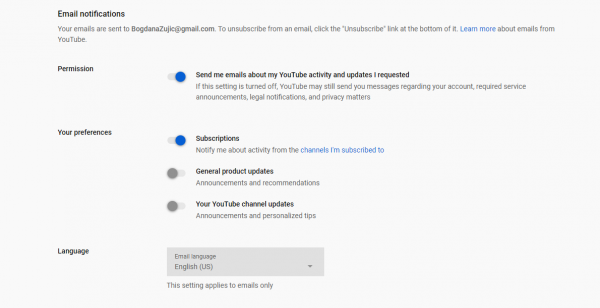 Again, adjust these the way you think is best.
That would be all when it comes to managing notifications. We have shown you how to do it, and your job is to decide what's for you and what's not. So, set things accordingly.