If you decided to refresh your entire Windows 10 experience with a Vivaldi browser, don't forget to step into the settings of the browser as you will get a bunch of options that you can adjust to suit your needs and desires. When it comes to address bar, it is usually placed at the top of the browser, but Vivaldi allows you to remove it completely and not just that. You can change its position, and tweak other options as well. If that's something you want to do, keep reading. We are going to show you how to manage address bar options in Vivaldi browser on Windows 10.
See also: How to manage tabs in Vivaldi browser on Windows 10
How to manage address bar options in Vivaldi browser on Windows 10
It is great when you have a browser that allows you to customize everything, right? Vivaldi allows you just that. Here is how to manage address bar options:
Open the browser on your Windows 10 PC
Next, click on the gear icon in the bottom-left corner
When you open the Settings, click on the Address bar on the left side
You will be presented with the options you can change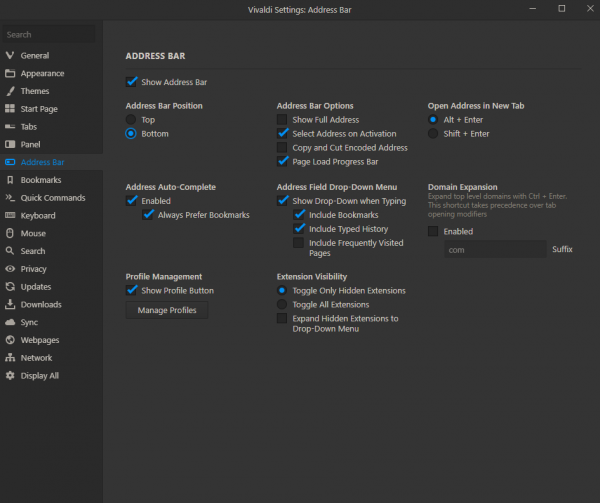 If you want to hide the address bar, untick the option "Show address bar"
To change the position, click on "Bottom" under the "Adress bar position". Once you make the change, the address bar will instantly move to the bottom of the browser.
In addition, you can choose the keyboard shortcut to open the address in new tab
You will find additional options there that you can tweak, such as extension visibility, profile management, and more.
You can see that Vivaldi offers the options other browsers don't. So, dive into the Settings and make adjustments for the address bar.