X
Our Editorial Process
Each year more than 60 Million users visit Technobezz to solve a problem or research a product. Our goal is that everyone finds what they are looking for, and that is why we cover a variety of products, problems, and solutions on our website.

Writing an article that contains a lot of valuable information may seem simple. But when the article is written, the story doesn't end. We are constantly updating the content so that you can always get up-to-date and accurate information.
---
Technobezz's Editorial Guidelines
Kik is a place where you can chat with random people online or with your friends or family. It is a great way to make online friendships with people around the globe. Kik started as a messaging app, but later added many features such as calls, video calls, etc.
When using Kik, you do not know who you are chatting with because anonymity is one of the biggest Kik features. So, when using this app, remember to stay safe and alert.
About the video call feature
They only recently added a video call feature on Kik. It was the most requested feature, so they listened to their users and added it to the app. Since then, their monthly registered users have been growing rapidly. You can video chat with others on Kik, but the videos are shown as a little bubble on the screen that is not bigger than your profile icon. While on a video chat, you can still send messages, gifs, stickers, and photos in the chat with that person.
Kik has said that they have decided to add this feature to the app because they want to mimic how people see each other and talk to each other in real life, even when that is impossible. They also stated that several teens use their app, so they wanted to make them more comfortable and grant their wishes. As you can see, Kik cares about its users.
How to make video calls on Kik
Open the Kik app on your phone and ensure that you are logged in to your account.
Find a friend among the list of friends you can chat with and open their chat.
When your chat shows up, look for the little camera button in the top right corner of your phone's screen.
Click on that button, and when it becomes blue, you will know that the call has been sent. All you need to do is wait for that other person to accept it and enter that call. If you do not see this button on your chat screen, make sure you are using the latest version of the Kik app. You can check that in the App Store or Google Play Store. If a new version of the app is currently available, download and install it and try these steps again.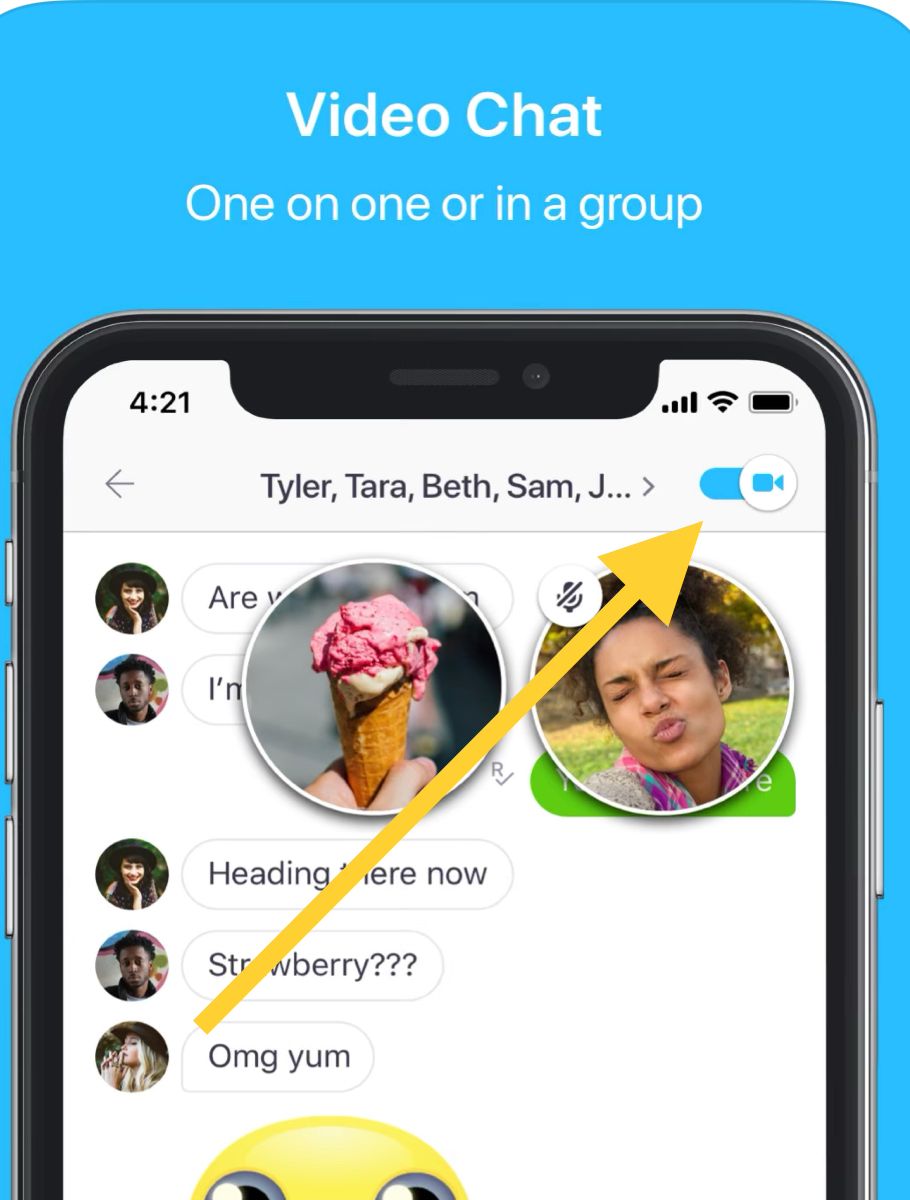 If your friend accepts your video call invitation, their picture should show up as a little bubble on your screen, and you will be able to see them. As we previously mentioned, you can still send messages and other stuff in the chat even if you are currently on a video call.
How to create group chats on Kik
The steps to video-calling a group of friends on Kik are the same as stated above. You can have a video chat with up to six people on Kik. And when each friend accepts the video call, their bubble will show up on the screen of other users. The bubbles will be pushed to the right side of the phone screen when everyone joins the video chat. You will still be able to see them; you just need to swipe left.
Was this article helpful?
This helps us improve our website.