X
Our Editorial Process
Each year more than 60 Million users visit Technobezz to solve a problem or research a product. Our goal is that everyone finds what they are looking for, and that is why we cover a variety of products, problems, and solutions on our website.

Writing an article that contains a lot of valuable information may seem simple. But when the article is written, the story doesn't end. We are constantly updating the content so that you can always get up-to-date and accurate information.
---
Technobezz's Editorial Guidelines
Google Drive is a great platform that is easy to use. You can use it on your phone or your computer. If you, for some reason, want to log out or remove your account from Google Drive, we are going to show you how in this article. Keep reading it and follow the steps down below.
See also: How to add an Android app to Google Drive.
If you are using Google Drive on your computer:
Go to your browser. Google Chrome browser is preferable.
Search for Google Drive in Google's search bar or open it by clicking on Google's apps (the nine-dotted logo somewhere in the corner of your screen).
Once you have opened and accessed Google Drive, click on your photo in the top right corner of your computer screen.
When you click on your photo, you will see an option at the bottom of that small pop-up bar, the Sign out option. When you click on it, you will no longer be logged in to your Google Drive account, but you won't be logged in to your Gmail account either.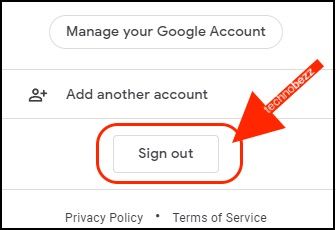 If you are using Google Drive on your Android or iPhone:
To be able to Log Out of your account from Google Drive, you must remove it. There is no option to log out of your account. Once removed, you will not be able to use that account on your phone until you log in and sync it.
We assume you already have the Google Drive app installed on your phone since you want to learn how to log out from that account. Because of that, we will start explaining the process right ahead.
Open the app on your phone.
Look for the three-line icon. It should be located in the top left corner of your phone's screen if you are using a newer version of the Google Drive application. When you find that option, click on it so you can expand it and get some other options.
You will see a new left sidebar showing up on your screen. Click on your email. It should be the first thing on that sidebar. By clicking on your email, you will see new options on your screen.
Look for the Manage accounts option. It is usually in the last place there. Tap on it lightly.
You will be taken to the settings of your phone, and you will be able to see multiple accounts on your device. Click on Google.
If you have more than one Gmail account connected to your phone, find the one you want to log out of Drive. Click on it so you can open more possibilities and options.
Look for the Drive option and click on the button that should be right next to that name. Once the switch is turned gray, you will know that the Sync for Google Drive is turned off.
Find the three dots icon in the top right corner of your device's screen now. Then click on it.
From there, you will be able to remove the account. This is the second option, right under the Sync now option. Click on it and you will have your account removed from your phone and, therefore, from Google Drive. If you get a small window on your screen asking you to confirm that you want to remove the account, click on Yes / Confirm, and you are officially done.
Was this article helpful?
This helps us improve our website.