In this guide, we are going to Fix Disabled iPhone, iPad and iPod Touch quickly. Apple recommended using the passcode to cover the data in iOS device. We can see how serious the apple is Apple about this passcode and the way it's offered to the user on the new device, first setting when we switch on the iPhone for the very first time. We can even do setting to erase all data in iOS device if the passcode get a failure for 10 times (of course it's not default option).
Settings >> Passcode >> Erase Data (turn it on)
See Also-HOW TO FIX MISSING PERSONAL HOTSPOT AFTER UPDATED IOS
Is there any other mechanism which is adopted by Apple to secure iOS device's data from "naughty hand"?
Well, Apple made "try again in … minutes" scheme, from 1 minute to hundreds of minutes. If user keep on entering the wrong passcode, iOS device will go to disabled mode forever. For the information, 8 failures will cause device go to "try it again in 1 minute" mode, which means on the next minute iPhone will be locked and you won't be able to access the passcode button. Two more failures after, iPhone will go to "try it again in 5 minutes" and so on, until it goes to iPhone disabled mode in million of minutes or "connect to your iTunes" message will appear on the screen.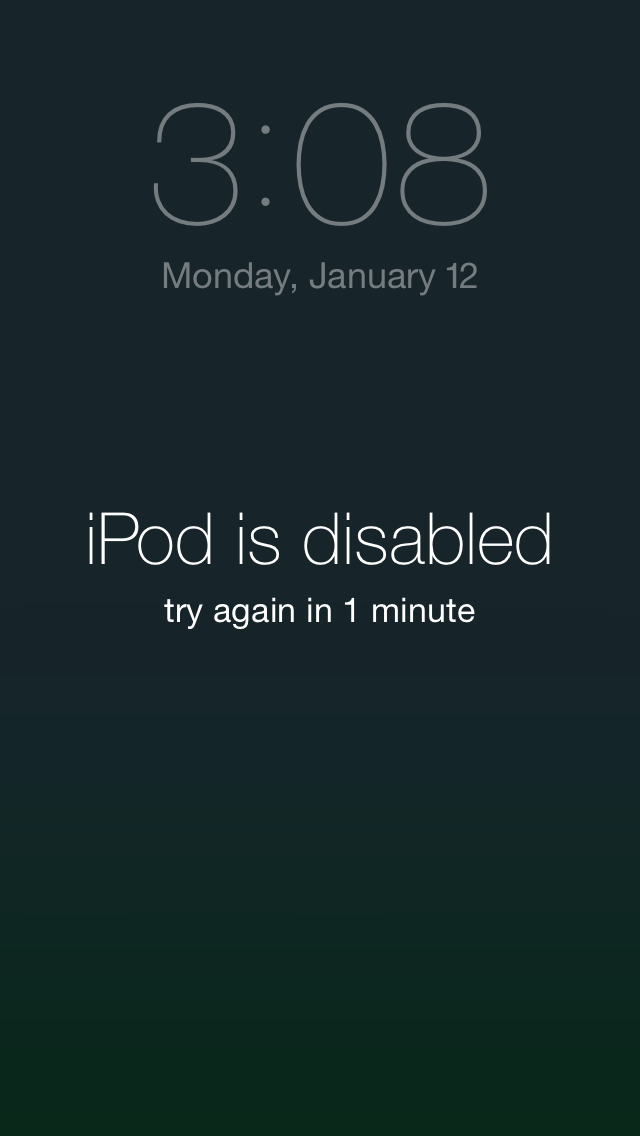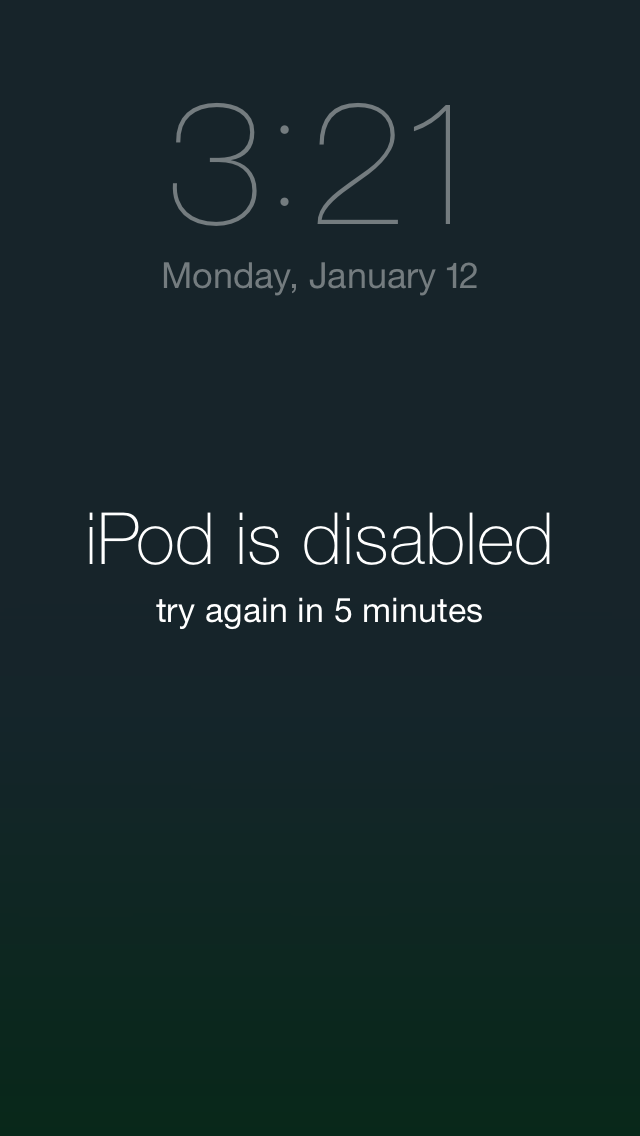 Sometimes, this can be done accidentally. For instance, your kids want to use your iPhone/iPod Touch/iPad without permission, and they didn't know the passcode, but they keep on trying by typing the wrong one. Of course, there is the other possibility. You forgot your passcode. If this happens, try this fast method.
How to Fix Disabled iPhone, iPad and iPod Touch Quickly
If you have a backup of your data or if you have no problem with loosing data, you can do Restore your iPhone. To restore the iPhone, it will have to go into the recovery mode first. There are two ways to enter the recovery mode.
Connect the iPhone to Mac/PC by using the cable and launch iTunes app, then press power button and home button together in the same time, until the iPhone restarts. Keep on holding until the Apple icon appears, then release the power button immediately, but keep on holding the home button until the recovery mode icon shows up as it's shown on the picture below.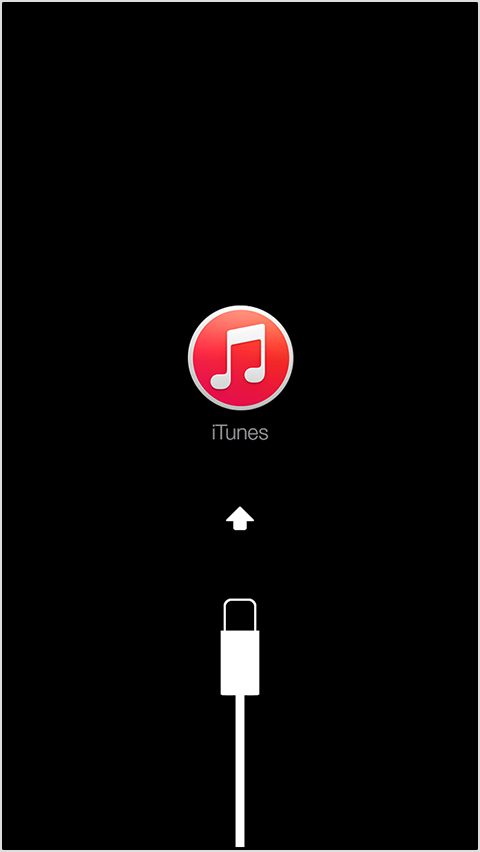 You can also enter into recovery mode by a hand of software such as ReiBoot. You can just connect iPhone by using the cable, launch the app and Enter Recovery Mode.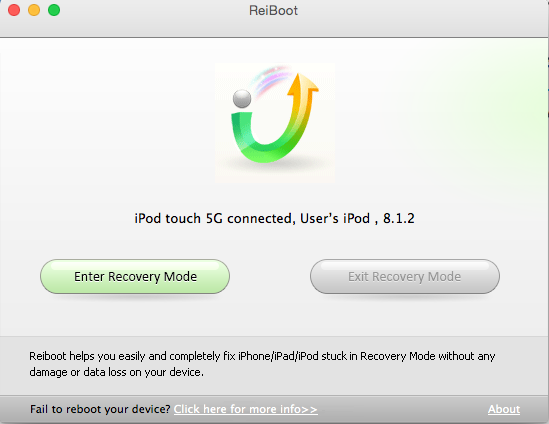 iTunes app for iOS device will be detected on Recovery Mode and click Restore button (make sure your computer have been connected with internet because after  we click Restore button, iTunes will automatically download firmware related to your device).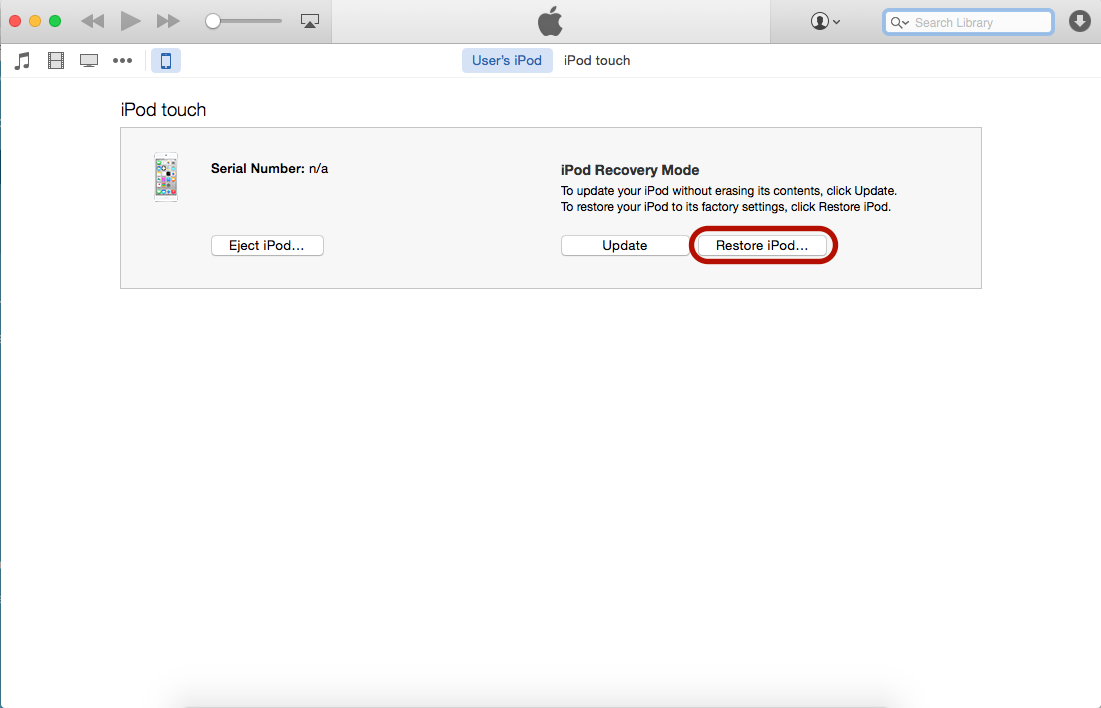 Once the restore process is done, you will have to perform initial set up and activation process.
Join our newsletter 🎉
Subscribe to our newsletter and never miss out on what's happening in the tech world. It's that simple.
Latest Tech News

Exclusive Tech Deals