Malware is one of the common issues for Windows users. Malware, the abbreviation for malicious software, is any software used to disrupt computer operation, gather sensitive information, or gain access to private computer systems. Malware may be stealthy, intended to steal information or spy on computer users for an extended period without their knowledge. This malicious software always has new forms created by "bad people" for their bad purpose. This can be a serious problem for Windows users. They might store their data or the important information there. That's why many of the software companies offer the Windows protection from malware. One of them is Malwarebytes Anti-Malware. It can be a complement of your anti-virus. Malwarebytes focus on the latest interference, which would threaten the privacy and damage your system.
Malwarebytes Anti-Malware will detect and delete the malware, such as Worms, Trojan, Rootkits, Spyware, and more. It has a simple appearance . You only need to run a scan and anything that is found will be removed, directly. This software will fix a file that is damaged by rootkits and remove it. Malwarebytes Anti-Malware will complement your anti-virus. Most of the anti-virus are compatible with this software.  You can check whether your anti-virus is compatible with Malwarebytes or not, here
Malwarebytes Anti-Malware has two versions: free and premium. To get it free, just visit their website at www.malwarebytes.org, and click a Download link next to a Buy button. If you want to download it directly, you can just hit this link.

Once the installer is downloaded, you can install it with ease. One thing to be noticed is the last step. There's a "enable free trial of Malwarebytes Anti-Malware Premium" option, that is checked by default. You can uncheck this option to be able to get the free edition from Malwarebytes Anti-Malware.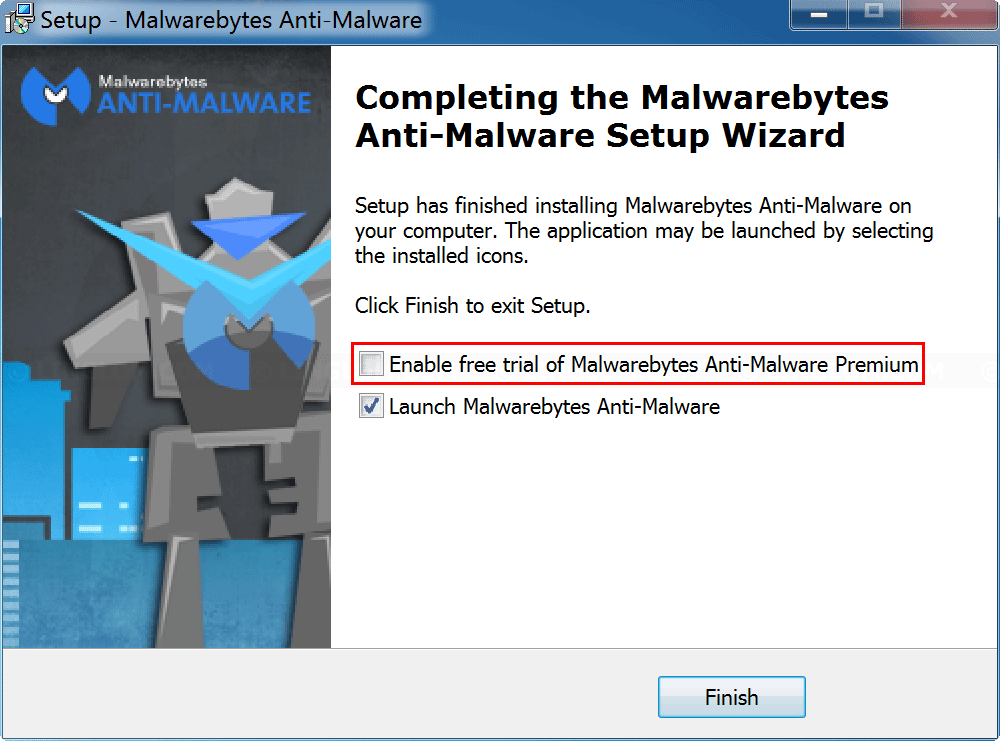 Unlikely the premium version, the free version cannot do a scheduled scan, so you need to open the program manually by clicking the scan to check whether there is a malware detected or not. After a scan, Malwarebytes Free will list the files that are detected as your malware. You can remove it or choose to quarantine the files by placing it in the secure area on your system. By choosing Ignore them this time if you need that files at this moment, or Exclude Them from all future scans, if you know that file is not a malware.
I suggest you not to remove the detected files directly if you are in doubt. Choose a quarantine and the further inspection first. You can restore that quarantine files if you find that you still need it. The other features that are not available in a free version are a quick scan and a download definition automatically.
If you want to upgrade to a premium version, Malwarebytes Anti-Malware software provides a Buy Premium button on the right-top corner. You can get great features, such as Prevent Access To and From Malicious Website, Real-time Protection, Quick Scan, and more. Even though Malwarebytes Free version has a limitation, but it's enough for some users.
See also: Best Free Photo Editing Softwares
Join our newsletter 🎉
Subscribe to our newsletter and never miss out on what's happening in the tech world. It's that simple.
Latest Tech News

Exclusive Tech Deals