Google Photos allows us to upload and store the photos in a simple and convenient way. You can upload the images from your PC and your smartphone, and you can access them from various devices too. Let's say that you went on a vacation, and you came back with hundreds of photos you took with your phone, some of them look more or less the same. All the images are backed up and are in Google Photos. Now, you want to delete some of them. You can do that on your smartphone, but to see more details and make a decision on which one to delete is better when using a PC. Here, in this article, we are going to show you how to delete images in Google Photos on your PC.
See also: How to enable browser notifications in Google Photos on your PC
How to delete images in Google Photos on your PC
You can delete the images on your smartphone, and that can be easier. But when using a PC, you can open the photo and better see the details. That way, you can be sure that you made a good decision. After all, you don't need to have a bunch of photos that look the same. You should keep one or two, and delete the rest you don't like to save storage space.
Here is how to delete images in Google Photos:
Open the browser on your PC
Go to Google Photos
Log in using your Google account details
Now browser the photos, decide what you want to keep and what to delete
Select the photos you no longer need
Click on the trash can icon in the top-right corner of the screen
You will be asked if you want to remove the image or images from Google account and synced devices
Click on Move to trash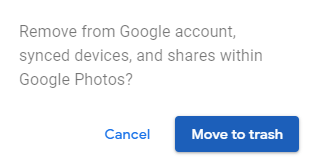 Keep in mind that this will not permanently delete the images. They will be placed in the Google Photos trash for 60 days. After that, the items will be deleted.