Music lovers are demanding and they always look for ways to enjoy their favorite tunes on their most preferred devices. MP3 is the most popular format for listening to music as it is universally supported by all devices. While M4A is still being used by one of the popular music streaming services, Apple Music, as a container within AAC, it still could pose issues if you want to rip those songs you purchased and convert them. The guide on how to convert M4A to MP3 will explore different methods, both online and offline that you could use to convert your music format to enjoy it on multiple devices.
See also: How to record a computer screen
How to Convert M4A to MP3 Online?
A quick and the most efficient solution will be to find a reliable website that will help you instantly convert your files into the desired format. The popular choice is media.io which works both on Windows PCs and Macs making it easier for people who want a plug and play solution. Here is how to convert M4A to MP3.
A Step By Step Guide
Login to www.media.io website
Click on the option in the home page that reads add your files
You can upload as many files as you need
Choose the desired output format as the website offers not only MP3 but loads of other audio formats as well
Click on convert and it will get it done in a matter of seconds when you have a very limited number of files
By using this website, you can convert up to 100 MB files and the free version is limited to converting two songs at the same time. If you have a huge collection of songs that need to be converted, download the trial version of the software on your desktop. Once the installation is complete, you can do it in multiple batches without any limit.
How to Convert M4A Songs to MP3 format using Apple iTunes?
If you are a huge fan of music or an audiophile with expensive equipment, you will most probably be using Apple iTunes as your preferred music player on all your devices. It is known as Apple Music on iOS and Android while the Windows version is still identified as iTunes. The interface and the list of songs available remain the same.
Step By Step Guide to Converting Your Music
Open your iTunes software or the Windows 10 app
Click on Edit menu and click on Preferences
You will find an option named Import Settings within the General tab
Tweak the import settings by choosing MP3 encoder, choose your preferred quality
Open your library of songs and click on File
Click Convert and choose create MP3 version
The Apple iTunes is easily the best music player around and is available on all major platforms. The popularity also made it one of the best ways to convert m4a to mp3 format so that you can enjoy your music on different players than being tied up to the same source.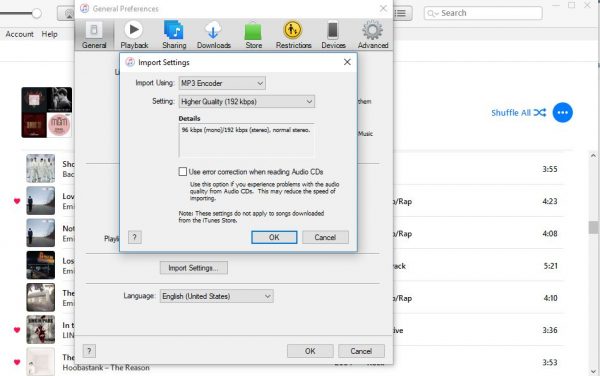 How to Convert M4A to MP3 with Online Audio Converter?
Most Apple users are stringent when it comes to having the best design aesthetics to work with. While there are lots of other software programs out there, many of them are plain looking and may not provide the experience you are used to on your iPhone or an iPad. Even Windows 10 has undergone some major changes in the recent past and looks better in terms of design aesthetics.
If you are among the lot, you are sure to enjoy working with the Online Audio Converter. The software is hassle-free as it works seamlessly out of a browser. There is no need to download any desktop version; it supports all major audio formats and most of all have a very Apple-inspired design right from the colors to the style of icons used in it.
Step By Step Guide to Using Online Audio Converter
The website https://online-audio-converter.com/ is pretty straightforward but it has an amazing list of features that you should know about
When you want to add files, you can not only add it from your desktop but can also import them from Google, Dropbox or even a specific URL
The next step is to select the output format as MP3 or even choose WAV, FLAC or one specific to be used as an iPhone ringtone
Choose the output quality as 128 kbps should do good for most but you can always get the best results with 320 kbps audio files
Most users may not require these, but the advanced feature provides options to choose the variable bit-rate, fade in and select the channels
Click on convert and it should be done in minutes
Some of the additional benefits that you can gain by using this online converter are that it allows multiple files, has an easy to understand UI and the files you store online during conversion are immediately deleted once the process is done. During conversion, you can also rename the tags in your audio file so that it is easier to manage your library later.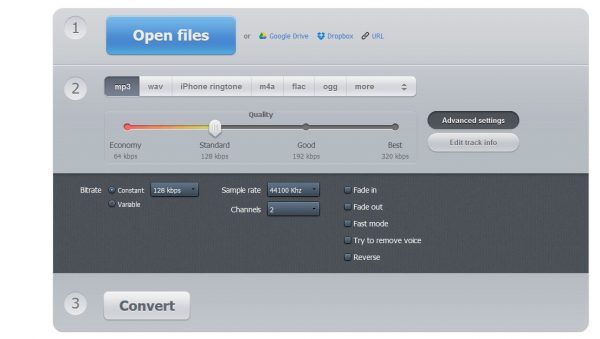 How to Convert M4A audio files to MP3 using iSkysoft iMedia Converter?
Windows users can always go with an online version, but in case you prefer, you can try the software version from iSkysoft. It is named the iMedia Converter which is not free, but if you need a quick solution, you can get the job done using the trial version. The software interface is easy to understand, has a nice dark theme and is filled with a couple of options that users could make use of during conversion. Let's see how to convert M4A to MP3.
Step by Step Guide to Converting on Windows
Download and install the trial version of the software if you are looking for a quick solution without investing further
You will find the Convert option on the top left corner, click on it
Select all the music files you need to convert
Choose your output as MP3
Click on Convert and it will be complete
Once you have finished the process, you can individually play the audio files to make sure they run seamlessly in the newly converted MP3 format.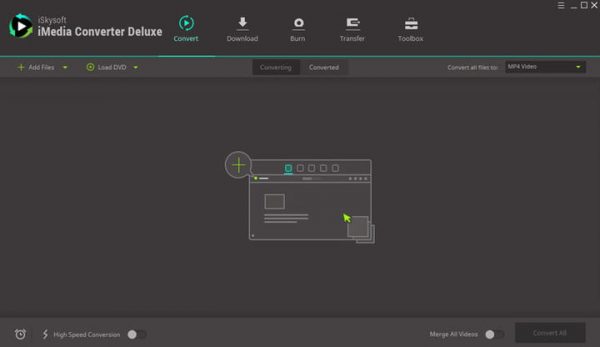 How to Convert M4A to MP3 Using Zamzar?
Another popular online converter tool which has a very reliable name among the online community and provides you with all the information you need to know when a conversion is in progress. The process is simple and once the conversion is done, the files will be sent to your email address.
Step By Step Guide
Choose the file in your hard disk
Select Convert files to MP3
Provide your email address
You will receive all the files as soon as the conversion is done
The website can also help you convert WAV to MP3, video files to the MP3 audio format and a host of other formats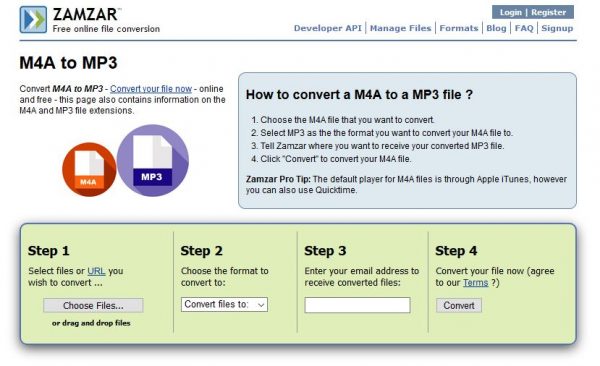 Zamzar has been around for many years now and is one of the trusted online music converters that you could use. While giving your email address could be a pain, you can always unsubscribe to their newsletter later if it becomes spammy. The conversion is lossless in MP3 and the wider compatibility with most players makes it a favorite choice among music lovers.
An alternative solution would be to use a music player which supports M4A format or you can always listen within iTunes which is available on all major platforms. The conversion makes it easier to use it in multiple devices when offline and with your most preferred player.
Join our newsletter 🎉
Subscribe to our newsletter and never miss out on what's happening in the tech world. It's that simple.
Latest Tech News

Exclusive Tech Deals