X
Our Editorial Process
Each year more than 60 Million users visit Technobezz to solve a problem or research a product. Our goal is that everyone finds what they are looking for, and that is why we cover a variety of products, problems, and solutions on our website.

Writing an article that contains a lot of valuable information may seem simple. But when the article is written, the story doesn't end. We are constantly updating the content so that you can always get up-to-date and accurate information.
---
Technobezz's Editorial Guidelines
Firefox has been one of the most popular browsers for years. It has a nice and simple design, a wide range of options, and a fantastic browsing experience. So, it deserves to be among the most popular browsers.
If you love using it but are fed up with the same old look, you can make some changes and give the browser a new design. One of the things you can do is change the font. If this sounds exciting and you want to know the steps, continue reading. We will share a quick and straightforward guide on how to change the font in Firefox.
See also: How to choose the content for your Firefox home screen.
How to change the font in Firefox
Nowadays, many browsers have the option to change the font. The same goes for Firefox. In this browser, the font set by default is Times New Roman, but you can switch to another option if you are not a fan of that specific font. Here's how to do that:
Launch the browser on your PC
Next, click on the hamburger icon in the top-right corner.
From the drop-down menu, select Settings

Scroll down until you reach the "Language and Appearance."
You can change the font, color, and size there.
Click on the option Advanced to make additional adjustments.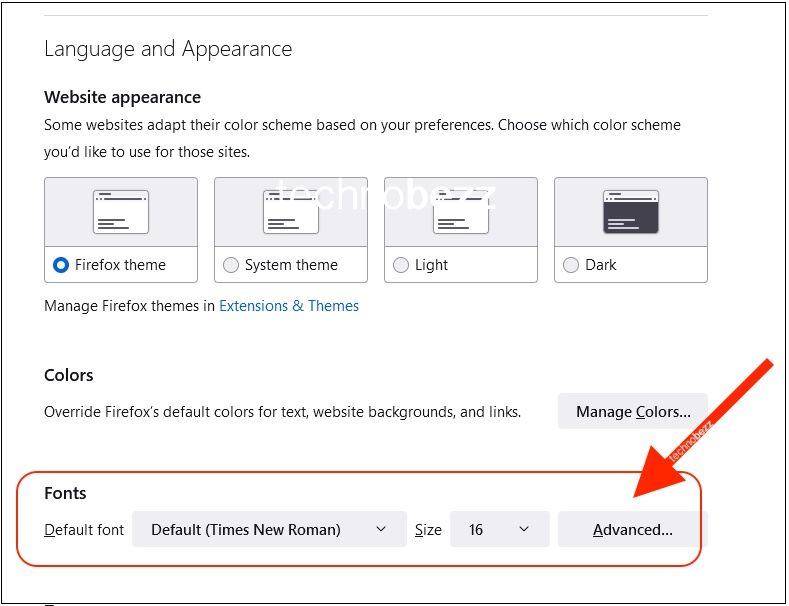 You can turn off the option "Allow pages to choose their fonts, instead of your selections above" by clicking on the checkbox.
Once you are done, click OK.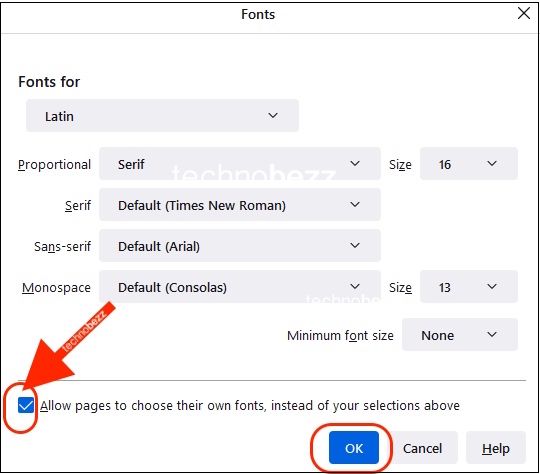 That's it. This is how you can change the font, size, and color and make other adjustments in Firefox. Simple, right?
Was this article helpful?
This helps us improve our website.