If you are a new member of the LinkedIn community, there are some things you should add in order to make your profile stand out. Of course, there is your biography, working experience, just to name a few. However, a profile photo is also a very important part of your profile. As LinkedIn points out, there is no need to add a professional headshot. You just need to add a photo that represents you. Here, we are going to share a guide designed for all the new members of LinkedIn who are not familiar with all the options just yet. Let's see how to add or change your profile photo on LinkedIn.
See also: How to manage who can see your email address on LinkedIn
How to add or change your profile photo on LinkedIn
Adding or changing the profile photo on LinkedIn requires just a few moments of your time. Here is how to do it:
Open the browser and go to LinkedIn website
Enter your login details
Once you are logged in, click on your profile photo (if you already have one) or on the filed designed for the purpose
Again, click on the profile photo, or the circle (the icon for profile photo)
Now click on the circle with the camera icon on it, or on your profile photo (if you have set one before)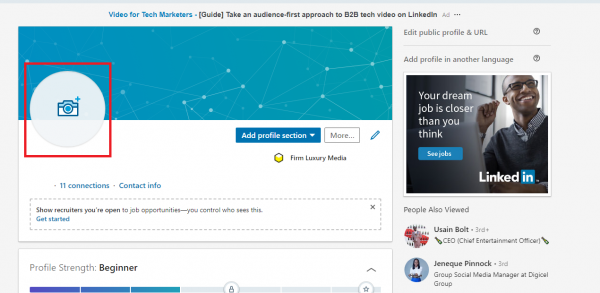 You can use the camera to take a photo, or you can choose the option "Upload photo"
Choose the image you want to upload
You can make changes (crop, filter, adjust)
Also, you may click on Visibility option and choose right away who can see your profile photo ( the options are: Your connections, Your Network, All LinkedIn Members, and Public)
If you want to change the photo, click Change photo
If you are satisfied with the photo and changes your made, click Save photo.
That's it. You have successfully added or changed your profile photo on LinkedIn.
Join our newsletter 🎉
Subscribe to our newsletter and never miss out on what's happening in the tech world. It's that simple.
Latest Tech News

Exclusive Tech Deals