Are you wondering how to transfer photos from PC to iPhone without iTunes? Apple gives you a solution to
Table of Content
This is a sponsored post. Opinions expressed by sponsors are their own.
It is not a crime to have an iPhone, but if you're using a Windows laptop instead of a MacBook, you will miss the benefits of the Apple ecosystem, which brings many perks.
For example, the AirDrop feature. It is the most convenient way to share photos, documents, or other files between Apple devices. Unfortunately, you cannot use it to transfer files from PC to iPhone. Apple makes it exclusive for its ecosystem.
Are you wondering how to transfer photos from PC to iPhone without iTunes? Apple gives you a solution to sync data between iPhone and non-Apple devices through iTunes. Don't worry if you don't like using iTunes to import things from computer to iPhone. There are always alternate methods like those, which we will share with you.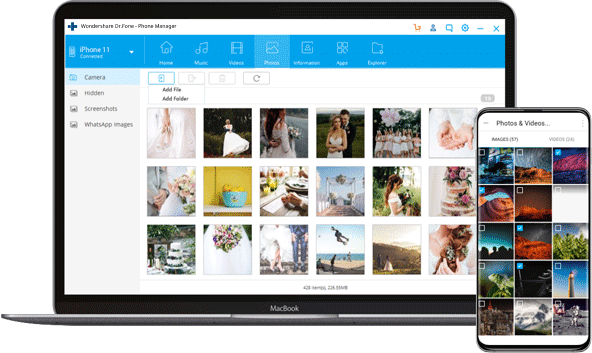 How To Transfer Files From PC To iPhone Without iTunes
Not all users like using iTunes to sync data. If you are one of them and looking for alternative ways to transfer files from PC to iPhone, you are in the right place. We will share three methods to solve the issues with syncing. Let's start with the most effective one.
Transfer Files From PC to iPhone Using Dr. Fone – Phone Manager
What is the Dr. Fone – Phone Manager, and how good is the tool to help you import files from your PC to your iPhone? It will help you manage everything related to iPhone transfer and even more.
Dr. Fone – Phone Manager Features
1. Transfer contacts, SMS, photos, music, and video on your iPhone and iPad.
2. Manage your data by exporting, adding, deleting, etc.
3. Transfer data between iPad, iPhone, and computer without iTunes.
4. Convert HEIC photos to JPG if the target device/PC doesn't support HEIC.
5. Fully support iOS 14 and all iOS devices
Steps to transfer files and photos from PC to iPhone
1. Download Dr. Fone – Phone Manager on your PC
2. Launch the Software. On the Wondershare Dr. Fone home screen, choose Phone Manager.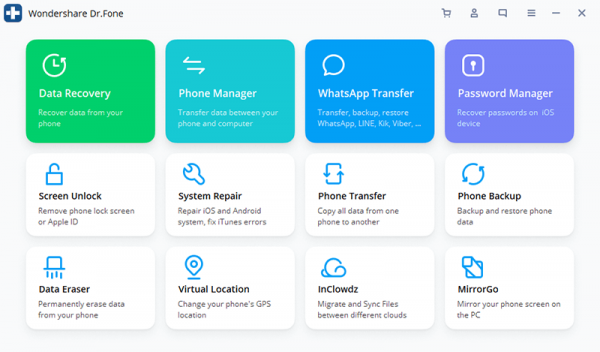 3. Get a cable to connect the iPhone to your computer. Phone Manager will automatically detect the phone. You may see a popup window if you have never connected the phone to your PC. Select the Trust option.
4. On the menu tab, choose the file type you want to export. For example, click on Photos to transfer images to your iPhone. Depending on their size, it will take some time to load the files.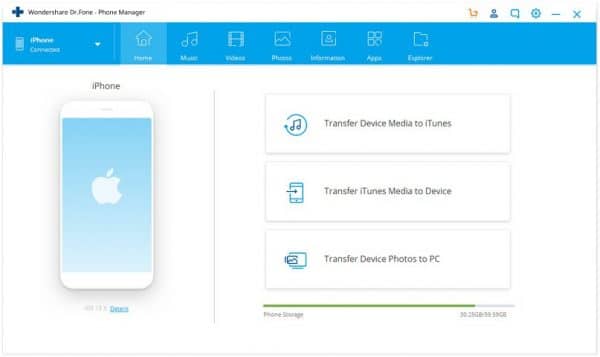 5. Click the Add Files or Add Folder options to transfer photos from PC to iPhone. Dr. Fone – Phone Manager will start exporting the files to your phone.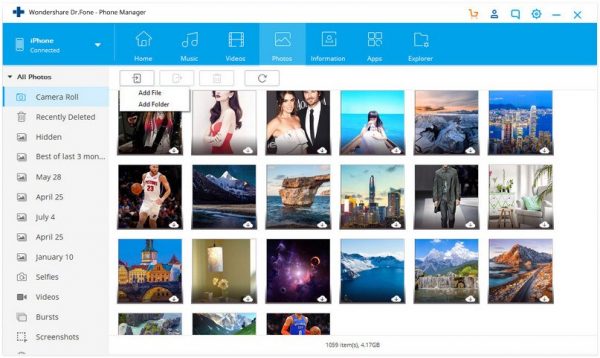 Dr.Fone- Phone Manager, also works to import files from iPhone to PC. If you find that the PC or the other device doesn't support HEIC format, the software can help you convert the file to JPG before sending it.
Send Files Via Email
Are you looking for the fastest way to transfer files from PC to iPhone without installing software? Using an email can help. Open your email on PC and choose the file you want to send to an email account you have on the phone. Then, you will get the file on your iPhone as fast as you download it from your email.
It is fast and easy, but it has a file size limit. For example, Gmail allows you to send attachments up to 25 MB only. Therefore, if you want to send a 200MB file, you must divide it into eight emails.
Transfer Files From PC to iPhone Using iCloud
If downloading an app or software is not your thing, try the cloud services, like iCloud and Dropbox. As an iPhone user, using iCloud seems the best option because you don't have to download any other app on your phone.
Steps to transfer files from PC to iPhone with iCloud
Open the browser and visit iCloud.com or download the iCloud for Windows app on your PC. Then, sign in with the same Apple ID you use for your iPhone.
Choose iCloud Drive

Click the Upload button on the menu bar—the one with the cloud icon, or just drag and drop the files from your PC.
On your iPhone, open the Files app and tap Browse. Then, tap iCloud Drive. Press the file you want to download until the popup window appears. Tap Download.
To transfer images from PC to iPhone, you can do the same method, but choose iCloud Photos instead of iCloud Drive. The image you have uploaded from your PC to the iCloud Photos library will automatically appear in the Photos app on your iPhone. Of course, your iPhone must connect to the Internet to sync with the iCloud. If you have any other third-party cloud services like Dropbox or Google Drive, you can also use them.
Can We Transfer Files From PC To iPhone over Bluetooth?
Bluetooth is available on almost all devices, including Apple products. It is a universal technology you can use to transfer data across devices without an Internet connection. This method also does not require a USB cable or software. The steps are relatively easy, but the transfer process may be slower than a USB cable.
Steps to transfer files from PC to iPhone over Bluetooth.
1. Put the devices close to each other.
2. Turn on Bluetooth on your PC. Click Start > Settings > Devices > Bluetooth & other devices (for Windows 10) or Start, then type settings. Select Settings > Bluetooth & devices > Devices (for Windows 11).
3. Turn on Bluetooth on your iPhone and let it detect the PC's Bluetooth. Go to Settings > Bluetooth. Tap on your PC name.
4. a. On your PC, click on Bluetooth > Send a file > select the device (which is your iPhone).
4. b. Then, click on Next > Browse > choose the file you wish to transfer > click Open.
4. c. Click Next
5. On the iPhone, tap Accept and wait until the transferring process finishes.
---