Mozilla Firefox is a fast and convenient web browser with a lot of great features. But, when you open several pages at once, you could be faced with the problem – "Warning: Unresponsive script". When this message appears, Mozilla Firefox browser can't load the page and becomes unresponsive. If you press any button on that message, you will not be able to continue with browsing. This guide will show you how to get rid of Warning Unresponsive Script in Mozilla Firefox browser.
You may also read: How To Change Download Folder In Mozilla Firefox
How To Get Rid Of Warning Unresponsive Script In Mozilla
The main reason why this problem appears is that the browser on some website can't run JavaScript. The script prevents Firefox to continue with work which stops the browser automatically, thus, you'll see firefox unresponsive script error. If you want to prevent this issue, just follow these instructions:
Open Mozilla Firefox browser.
In the address bar at the top of the window, type "about: config" and press Enter key.
Then you will see a warning message that says: "This might void your warranty". Click on the button "I'll be careful, I promise".
You will see many options on the list, and you have to find the desired settings using a search box.
In the search box type: "dom.max_script_run_time" and press Enter.
Then, double click on the search on the preference name and the new window will open. There you need to enter number 30 and press "OK" button.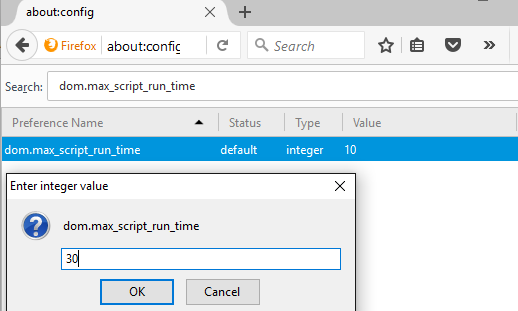 Restart Mozilla Firefox and you will not see this error in the future.
You can also use an add-on known as "YesScript" to fix Unresponsive Warning on Firefox.
To install the add-on, click on Mozilla Firefox menu button (Icon in the form of three horizontal lines) and click on "Add-ons".
In the search field type "YesScript" and click on "Install" button next to the add-on.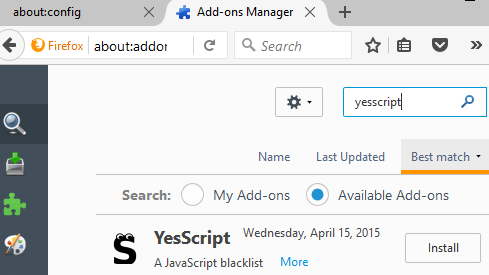 Then restart Firefox and use the icon on the status bar to enable "YesScript".
This add-on will help you to enable or disable the script running on the currently opened website.
You may also read: How To Lock Mozilla Firefox With Password