If you just purchased the latest Samsung's flagship, Galaxy S8, you get to enjoy so many awesome features. We already talked about some of them, such as Always on display, and Smart stay. This time, we will discuss Samsung Galaxy S8 Blue light filter. The phone's display shows off blue light which is causing the eye strain. You can use this useful Samsung's feature, that will filter that light so that you can prevent eye strain. Moreover, you will be able to fall asleep a lot easier. Without further ado, let's see how to enable it, and how to use it.
See also: How To Enable App Drawer Button On Samsung Galaxy S8 And S8 Plus
How To Turn On Samsung Galaxy S8 Blue Light Filter
As all the other features on Samsung's flagships, enabling Galaxy S8 Bluelight filter is super simple. Here is how to do it:
Go to Settings
Next, tap Display
You will see Blue light filter there
Tap on the switch next to it and enable it.
That's it. You have now enabled Galaxy S8 Blue light filter.
How To Use Galaxy S8 Blue light filter?
The great thing about most Samsung's features is the fact that you can customize them according to your needs. The same thing goes for this one. Once you go to filter's settings, you can choose the opacity. Moreover, you can schedule Blue light filter, which is fantastic. If you like how it works, you can simply set the time when to use it.
Open the Settings app
Tap Display
Next, tap Blue light filter
There, you can adjust Opacity level
Also, you can choose the schedule that suits you the best.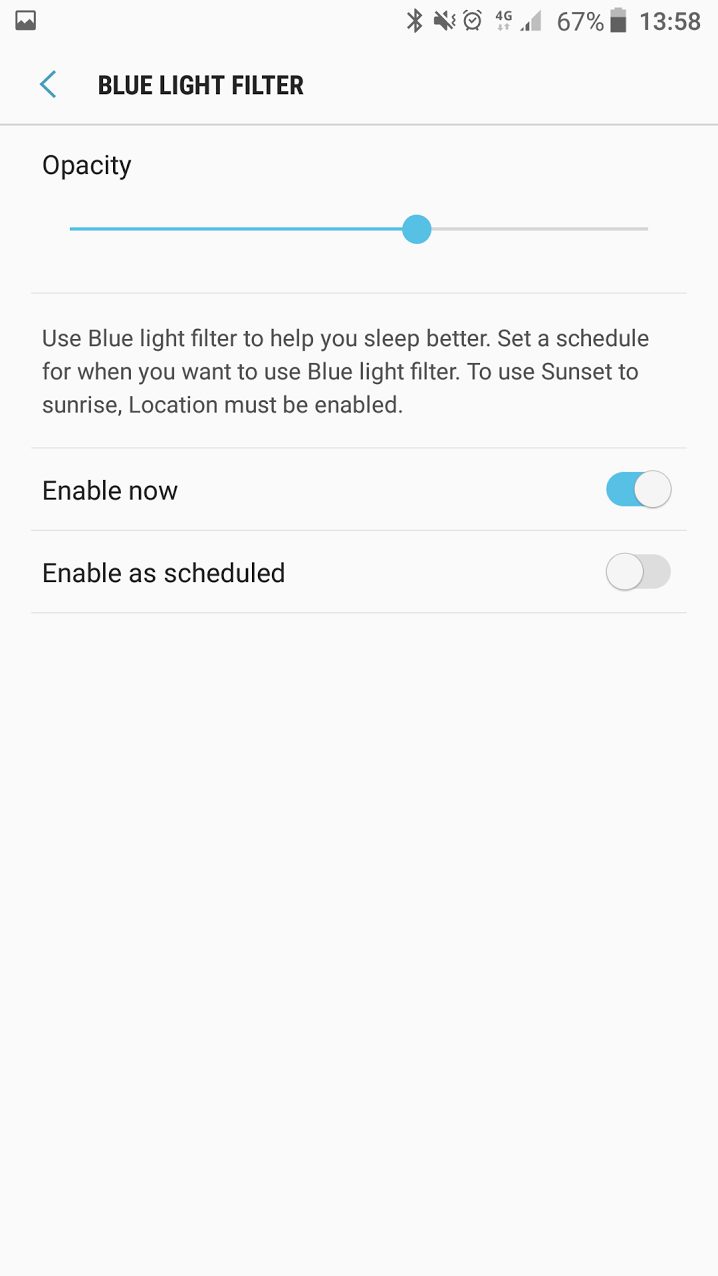 If you turn on the option "Enable as scheduled", you can choose "Sunset to sunrise", or you can go for a custom schedule and then select your start and end time.
As you can see, it is all really simple. In case you just purchased Galaxy S8, don't forget to enable this great feature!
You may also read: Samsung Galaxy S8 Restarting Randomly – How To Fix It
Join our newsletter 🎉
Subscribe to our newsletter and never miss out on what's happening in the tech world. It's that simple.
Latest Tech News

Exclusive Tech Deals