If you want to upload photos on Facebook, but you aren't happy with their quality, you don't have to launch
If you want to upload photos on Facebook, but you aren't happy with their quality, you don't have to launch your photo editor. Now you can make some simple image editing actions immediately after you choose the photo to share it on Facebook. Image editing function first appeared in the Facebook mobile client for iOS but lately it became available to all users of this social network. With it, you can crop photos, apply artistic filters, add labels or stickers. This guide will show you how to edit photo on Facebook before posting.
You may also read: How To Create Friend List On Facebook
How To Edit Photo On Facebook Before Posting
If you want to quickly post the photo, but you aren't satisfied with the quality of the photo, just follow these instructions:
Sign into Facebook.
Click on "Update Status" at the top of the screen and add a photo by clicking on the camera icon, choose the photo from your computer and click on "Open".
Before you post a new photo on Facebook, point the mouse cursor on the photo thumbnail, and you will see an icon in the form of a brush.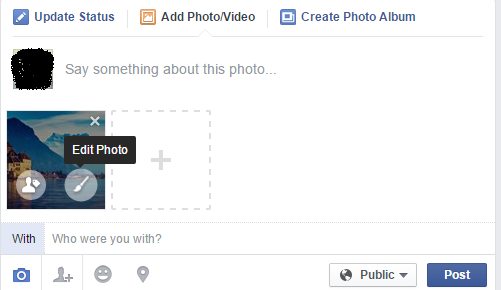 Click on it, and it will open the built-in photo editor. Its interface is organized with tabs and switching between them will give you access to the various tools.
"Filters" to use an image from one of the automatic art filters. There are no fine manual settings, this function doesn't exist.
"Tag" – select friends to tag them to the photo.
"Crop" – crop the image. You can select a square or the rectangular shape of any size. There is also the rotating button.
"Text" – add your own text on the image. The size, color and location of the text can be easily adjusted with the mouse button. You can select one of the five fonts offered.
"Stickers" – opens a panel with dozens of stickers, which can extend the range of the built-in catalog of stickers. You can put any of them on the photo, just adjust the size and location.
Of course, this Facebook feature is not comparable with the abilities of the serious photo editor. But, it offers you a simple way to quickly edit and share the photo. For the most of the users, the capacity of this editor is sufficient.
Image Source: www.wallpapersxl.com
You may also read: 3 Ways To Configure News Feed On Facebook
---