In some cases, it is required to clean the browsing data in Opera, and it is a quite simple thing to do. To clear the browsing data in this browser, as in any other, with a few seconds you can clear it all. Many people don't want to waste their time to look for a browsing data function in the unfamiliar or the new versions of Opera. Let's see how to clear browsing data in Opera browser.
You also may read: How To Enable Or Disable Hibernate Mode In Windows 10
How To Clear Browsing Data In Opera Browser
It is really an easy task but you can consider all these ways and pick the easiest one:
The first way to open "Clear browsing data" section is to go to the top-left corner of Opera browser and click on "Menu" button. Then scroll to "Settings" and open it. In the search field just type "Clear browsing data" and open it.

Then, in the opened window you will see the recorded browsing data from "the last hour" to "the beginning of time". You just need to select the desired period that will apply to all the items listed below.
If you want to clear the history of downloaded files from the beginning and cache for the last hour, then select first "the beginning of time" and put a tick only next to "Download history" and click on the "Clear browsing data"; then, for cache, choose "the past hour" and put a tick next to "Cached images and files" and confirm the action by pressing on "Clear browsing data". If you want to clear all the browsing data, just select first four options from the top, choose "the begging of time" and select "Clear browsing data".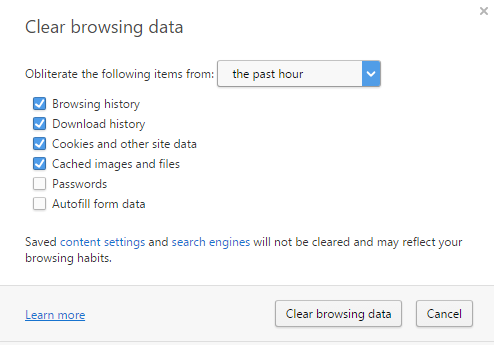 The second and the most convenient way – is to use the keyboard shortcuts Ctrl + Shift + Del. An important advice – to press this key combination it is necessary to have an active Opera window at the time. After that, you will see the same window as in the first method.
There is a third way to find cache, and it is less practical because you need to type the following address line in the Opera address bar:
opera://settings/clearBrowserData
You should know that if you enter the wrong address, the browser will start to search the string in the search engines.
And the fourth way is through the Opera menu. Just click on Menu < More tools < Clear Browsing data.
Image Source: www.upload.wikimedia.org
You may also read: How To Add Contacts From Gmail, Outlook, And More To Windows 10's Address Book
Join our newsletter 🎉
Subscribe to our newsletter and never miss out on what's happening in the tech world. It's that simple.
Latest Tech News

Exclusive Tech Deals