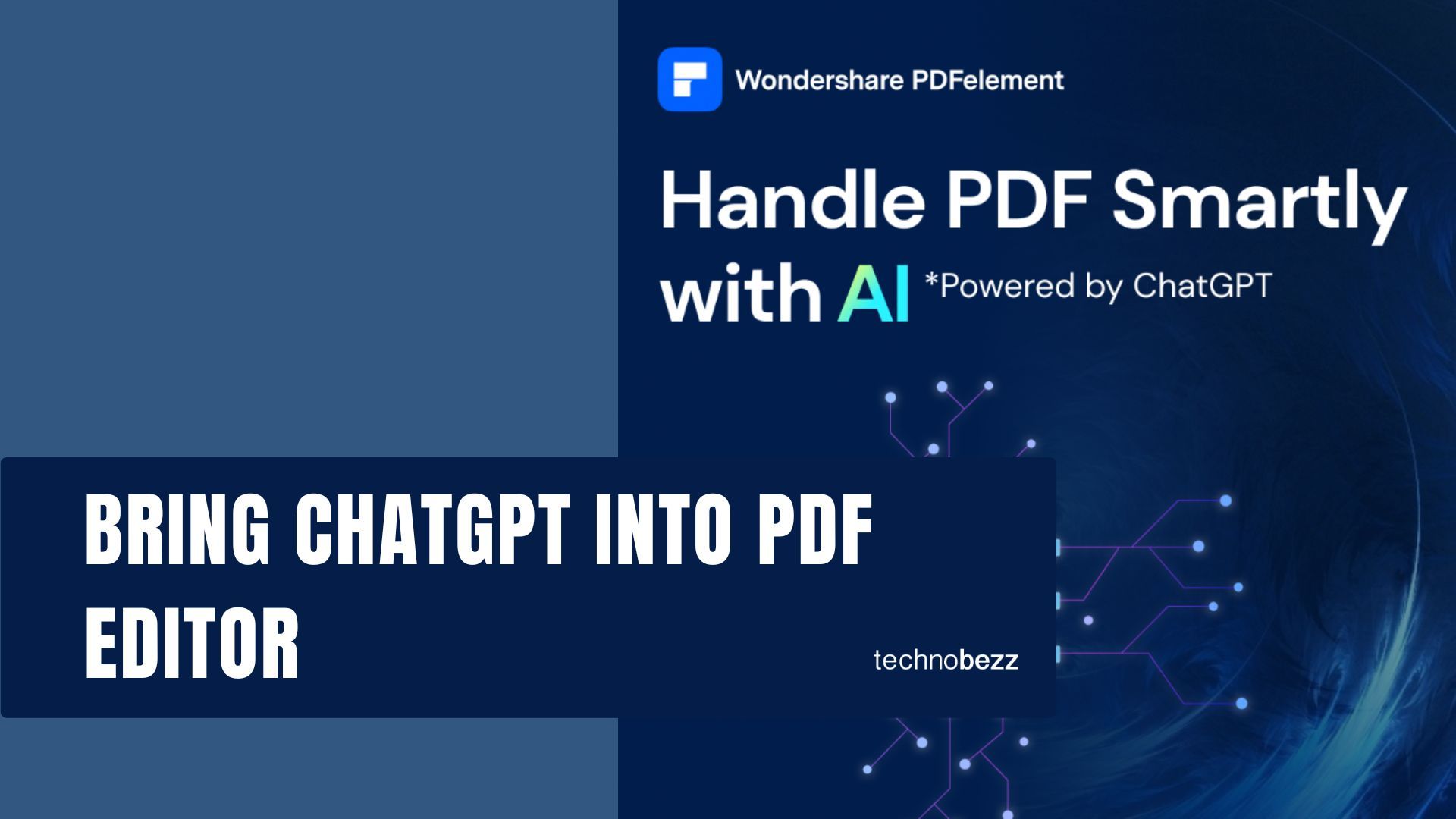 This article was sponsored
In today's world, where things need to be more dynamic and faster, AI technology now has a very important role. Whether it's generating a caption or video for a social media campaign, AI can do it effectively. As a result of this, an AI tool such as ChatGPT is increasingly popular today.
ChatGPT is a productivity tool that is capable of creating content within seconds. It has the advanced ability to generate ideas for your essay, summarize academic journals, rewrite an article, and even proofread.
All you have to do is enter the keywords or phrases as an entry and the application will generate it in a snap.
But, can we bring ChatGPT to PDF?
Certain files like PDFs are protected and not editable. It can therefore be tricky to copy/paste into the ChatGPT tool. First off, you may need a different tool to convert it to Word or another editable document format.
If you work with PDF files frequently, you may want to source a tool to get all your PDF-related problems done. The tool needs to have conventional PDF application functionalities, such as compression, conversion, editing, etc. It also should be one that is integrated with AI technology, such as ChatGPT.
Is there a possibility of bringing ChatGPT to the PDF tool?
Yes, it is absolutely possible. PDFelement is an example. This Wondershare PDF tool has an added functionality that is powered by AI.
The feature lets you manage your PDFs using AI technology. Now, you don't have to switch to another ChatGPT application to rewrite an essay or summarize an educational book. The AI-powered PDFelement will assist you in extracting key information from the PDF document precisely.
Wondershare PDFelement VS AI-Powered PDFelement, What is the difference?
If you're familiar with the old version of Wondershare PDFelement, you'll remember how useful it is as an all-in-one PDF solution. It provides a complete function to simplify your PDF needs from creating PDF documents, scanning, editing, converting, and more.
In response to users' need to bring ChatGPT to PDF, Wondershare has added AI to PDFelement. By integrating ChatGPT into PDFelement, you can summarize, correct, explain and rewrite any PDF document.
Why cannot I find the PDF tool on my PDFelement? This is probably because you're running the old version. Now is the time for you to update your PDFelement.
How does ChatGPT on PDFelement optimize your productivity?
ChatGPT can assist you in generating your ideas. How to start? Simply enter the key details for your idea. Afterwards, it will generate your idea. You may rewrite it in your own writing tone or keep it the way it is. The more detailed your key information is, the better.
With the synergy of ChatGPT and Wondershare PDFelement, you have a powerful PDF tool. It will help you to improve productivity in work/ study. Here are the things an AI-powered PDF tool can do for you.
Summarize
You may have a long educational journal as a reference for your essay, but you are not sure that it is the right one. Or, you don't have time to read the whole story.
PDFelement with its AI-powered tool may help you simplify the content and understand it easily. It will extract the key points from the journal and give you an accurate overview which can save a lot of time.
Proofread
ChatGPT on PDFelement is a very convenient tool for checking the grammar errors in your essay. In addition, you can also request an alternative text suggestion from the chatbot to modify your PDF document.
Rewrite
Maybe you want to merge text from a variety of sources. Rather than doing it manually, the chatbot on PDFelement can do the work in a short time.
Explain
Some journals with complex topics can contain technical terms that make them hard to understand. The AI-powered PDFelement can explain more simply without losing the original meaning.
AI Chat
AI Chat on PDFelement is an interactive assistant when you need suggestions on essays, legal agreements, books, research materials, etc.
AI Content Detector
When searching for references to support your essay, you may wonder if the source is an AI-generated or human-made article. AI Content Detector can help you figure that out. It has the ability to detect the text pattern that is more likely to be generated by AI.
How To Use ChatGPT on PDFelement
PDFelement comes with an intuitive user interface. Even though AI is a new feature, you won't need a guidebook to use it. We shall prove it to you.
Step 1 - Open a PDF on your PC with PDFelement. Once opened, you will see the Lumi AI robot icon in the bottom right corner or in the floating pay bar somewhere on the screen. Click on that icon.
Step 2 - Once you click the AI robot icon, a drop-down menu will appear. There will be six options you can choose from - Let chat, AI write detect, rewrite, review, explain and summarize. Select the option you want. Let's say you wish to summarize the PDF document, click on the Summarize option.
Step 3 - In the Summarize window, click the File option and choose Current Document. If you want to change the file, click the Browse folder option. When you are ready, click Analysis.
Step 4 - The result will appear on the Response tab. Click Copy Response and paste it into a new file.
Unfortunately at this moment, the Lumi AI robot is only available on Windows version 9.5.0 and above. However, Wondershare is currently working on introducing AI features for Mac in the near future.
In today's fast-paced world, AI technology plays a significant role in generating content quickly and efficiently. ChatGPT is an AI tool that can generate ideas, summarize academic journals, rewrite articles, and proofread content. However, copying and pasting protected files like PDFs into ChatGPT can be challenging.
To solve this issue, Wondershare PDFelement can be used, as it is integrated with AI technology to assist with extracting key information from PDF documents. Wondershare's PDFelement AI-powered feature lets users summarize, explain, correct, and rewrite PDF documents, improving productivity.
Join our newsletter 🎉
Subscribe to our newsletter and never miss out on what's happening in the tech world. It's that simple.
Latest Tech News

Exclusive Tech Deals