Featured in this article (opens in new tab)
Keeping a power bank handy makes life easier when you are in the office, on a trip or have simply run out of battery on your phone at the most inappropriate moment. Upping the ante are the new generation power banks that support Qi Wireless Charging and iPhones. Samsung phones, as well as other smartphones that support it, will also be able to get the job done wirelessly. Here's a cool list of the top best Qi wireless charging power banks that you can buy online today to keep your gadgets powered at all times.
See also: Best Android chargers
Best Qi Wireless Charging Power Banks
Compact and Powerful Wireless Charging Bank
Prestige 10000 mAH Wireless Portable Charging Bank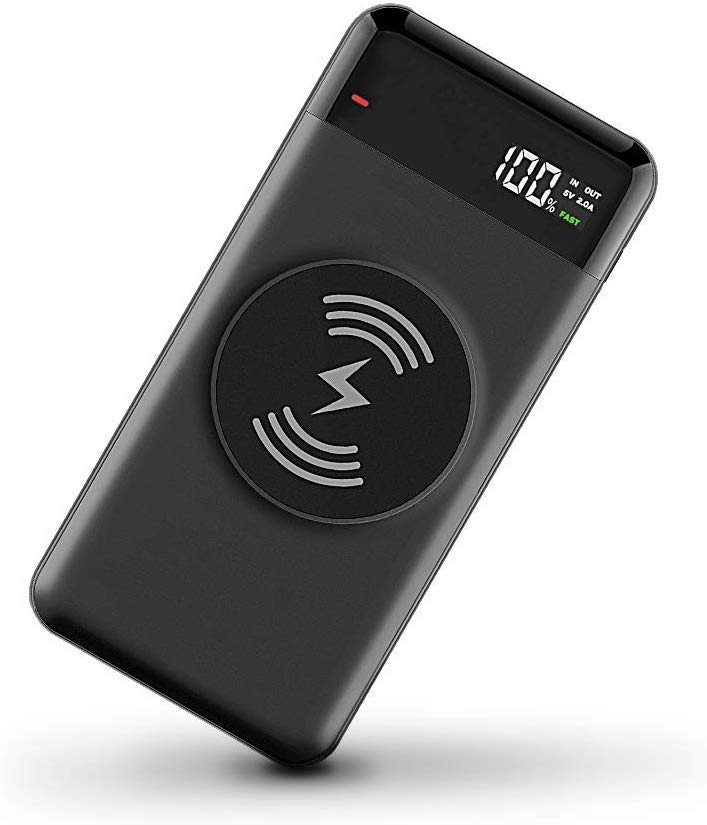 Everything about this product will instantly strike the right chords because it has been made to be a premium power bank. Even the most demanding users will be happy with this product from Prestige that delivers 10000mAH of power which is ideal to charge most iPhones and Android phones to their fullest capacity multiple times. Besides, it brings in some unique and useful features.
The design is a rubberized finish. While it may sound simple on paper, when you place the product on any table, a slippery surface, or a bag, the battery bank will sit perfectly on the surface without sliding off. The rubber coating also ensures your charging devices stay cool at all times without any rise in temperature which in turn also contributes to its long-lasting durability.
The power bank can be used to charge any phone or device that supports Qi technology wirelessly. Most flagship devices that are usually on the expensive side will support wireless power transfer. It has a display that indicates quick charging, red, and blue lights to indicate the status of your device. The bank supports 5Volts/1A 5W charging wirelessly and can be used to connect three devices at the same time using the USB A, USB C ports.
What Makes the Prestige 10000 mAH Wireless Portable Charging Bank Super Cool?
This one is easily the best Qi Wireless Charging Power Banks because of its excellent build quality.
The product delivers great value for money besides being a future proof device with multiple ports.
Who Should Buy It?
A perfect travel companion for the serious traveler because the rubberized design makes it easy to use in any condition.
The temperature control combined with wireless charging once again makes it ideal for office and travel use.
Branded Lightweight Wireless Power Bank
Aukey Wireless Power Bank with 18W 8000mAh Charging Capacity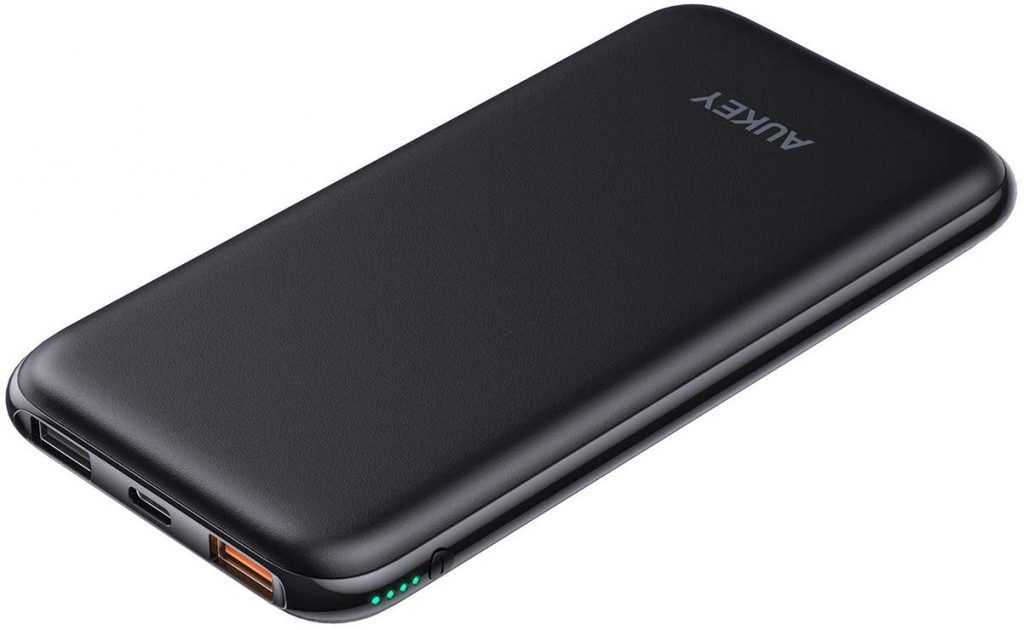 Aukey is a popular brand name that is widely available across the globe and is a fan favorite because of the quality of the products they make. While some users prefer higher powered battery banks to be used on the go, they are usually really bulky if you are trying to use something that has a 20000 mAh battery. This particular model is just 8000mAh which is limited but also makes the power bank lightweight.
The overall capacity is measured at 5W and it is certified to be compatible with Qi phones besides other wireless supported products such as the Apple AirPods. Some of the unique and standout features that make it the top best Qi wireless charging power bank include its ability to support Quick Charge 3.0 and adaptive charging. By default, the ports can support both USB Type C and older ports using the wired mode.
However, the big feature is wireless charging which makes life so much easier for flagship smartphone owners. Be it the Galaxy S10 or the Apple iPhone 11, you can just leave it on top of the power bank and let it charge wirelessly. You can easily charge your smaller phones 2 times based on how big the battery is. A low charging mode is part of the Aukey product which lets you use it with wireless Bluetooth earphones or fitness trackers that need to be charged.
What Makes the Aukey Wireless Power Bank Easy to Use?
The limited battery capacity of the power bank significantly reduces the overall weight of the product.
Compatible devices that support Qualcomm Quick Charge 3.0 lets you get up to 80% of power in just 35 minutes.
Who Should Buy It?
If you are looking for a premium product from a known brand, you can't get better than what Aukey offers.
A lightweight solution that you can use as a backup battery or as a one-time charger for large phones like the iPhone XS Max or the iPhone 11 Pro with a bigger battery.
Most Powerful Wireless Battery Bank
Gnceei 25000mAh Wireless Power Bank with LCD Display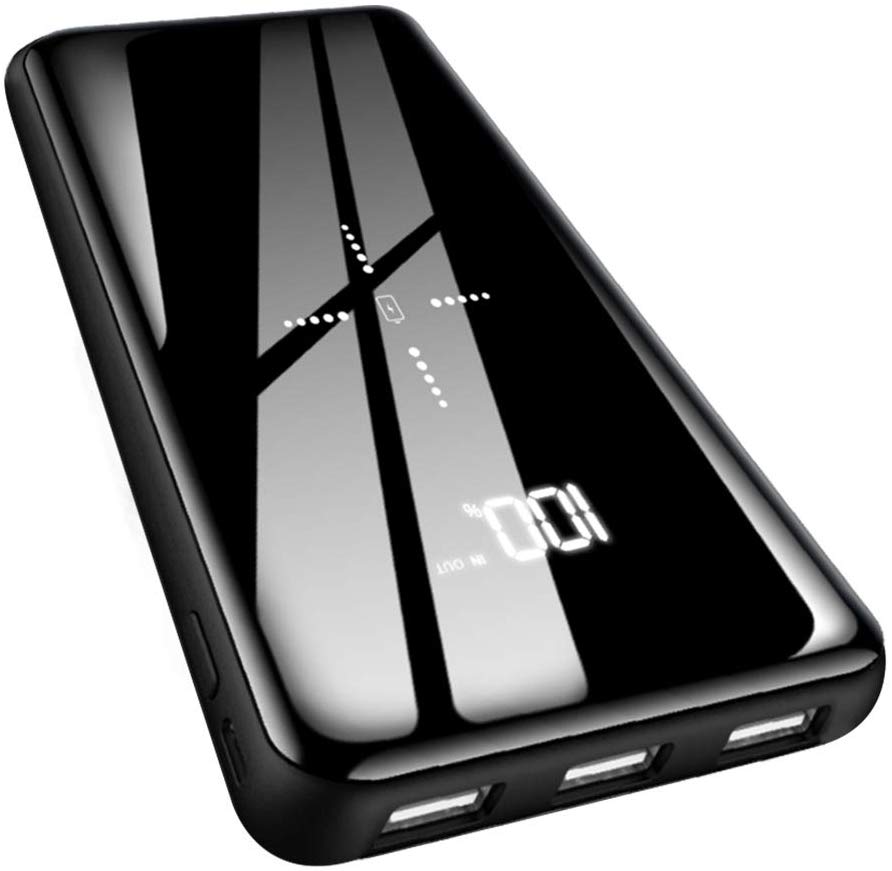 Considering the price tag of the product, you will be surprised by the number of features and the advantage of owning one of the biggest power banks out there. The surprises don't stop there because it even supports Qi wireless charging. Those of you with a compatible iPhone, Samsung Galaxy, or other supported devices can not only make use of the ports but also just place the phone on top to get it charged.
Being an all-in-one package is not easy but this power bank manages to be a wireless charging pad combined with a portable power bank for your wired smartphones as well as wireless headphones. A total of three outputs for charging and two inputs are provided in the bank to support multiple devices at once. The ports are capable of delivering 5 volts, 2.4A at its maximum capacity.
The LC display is a unique and stylish addition to a power bank. Instead of having to stare at blank black or white plastic layers on your battery pack, you can enjoy instant updates on the total power charged and the remaining power to be charged in this large 25000mAh pack. It has a large surface to leave your wireless charging compatible devices on top, to get charged. The product has a 24-month warranty period that even popular brands don't offer these days.
What Makes the Gnceei 25000mAh Wireless Power Bank Super Powerful?
The battery size is a massive one that can be used to charge your latest iPhones three or four times or even a large device like an iPad.
The LCD is a cool and handy addition to understand the level of power left on your bank.
Who Should Buy It?
Users who have multiple gadgets that they would like to charge wirelessly and conveniently during a trip will find this power bank really useful.
If you want to make the most out of your purchase, the warranty period is excellent.
A Compact and Colorful Choice for the Ladies
Samsung 10000mAh Wireless Portable Battery Pink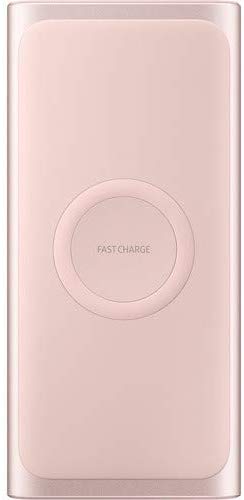 For some reason, pink is often associated with ladies and this charger offers a cool and lovely pink for you. If you are a unique woman who really doesn't want all these stereotype choices, you can always buy the silver portable charger. This is easy to carry in your purse. Be it charging your Samsung Galaxy phone, an iPhone, or wireless earbuds, everything can be done instantly while being on the move.
Many of the wireless charger power banks look like nerdy gadgets with too many ports and LCD on top. A user who wants a no-frills experience or the women who are really conscious about the fashion statement they make may not want so many ports or a gadget that is out of the usual in their bags. This one ticks all the right boxes with great build, branding, and simple design.
Instead of allowing you to charge too many devices at the same time, you can save yourself by charging your phone wirelessly. There is only one USB C and one USB port to charge the power bank as well as use it as a way to quickly charge your phone using a wired cable. The options are limited but it gets the job done and the moderately sized power capacity will allow you to charge almost any phone two times.
What Makes the Samsung 10000mAh Wireless Portable Battery Standout?
The color choices are limited but a light pink shade should go well with women who love it.
It's limited in features that remove complexities associated with power banks.
Who Should Buy It?
For women who love pink or light colors for their power banks that don't make them look too nerdy, this is a wonderful choice.
For users who want a simple plug and play solution without too many ports or fancy LC displays, this offer from Samsung is ideal.
The Best Rated Wireless Bank Available
Hokonui 10000mAh Portable Wireless Power Bank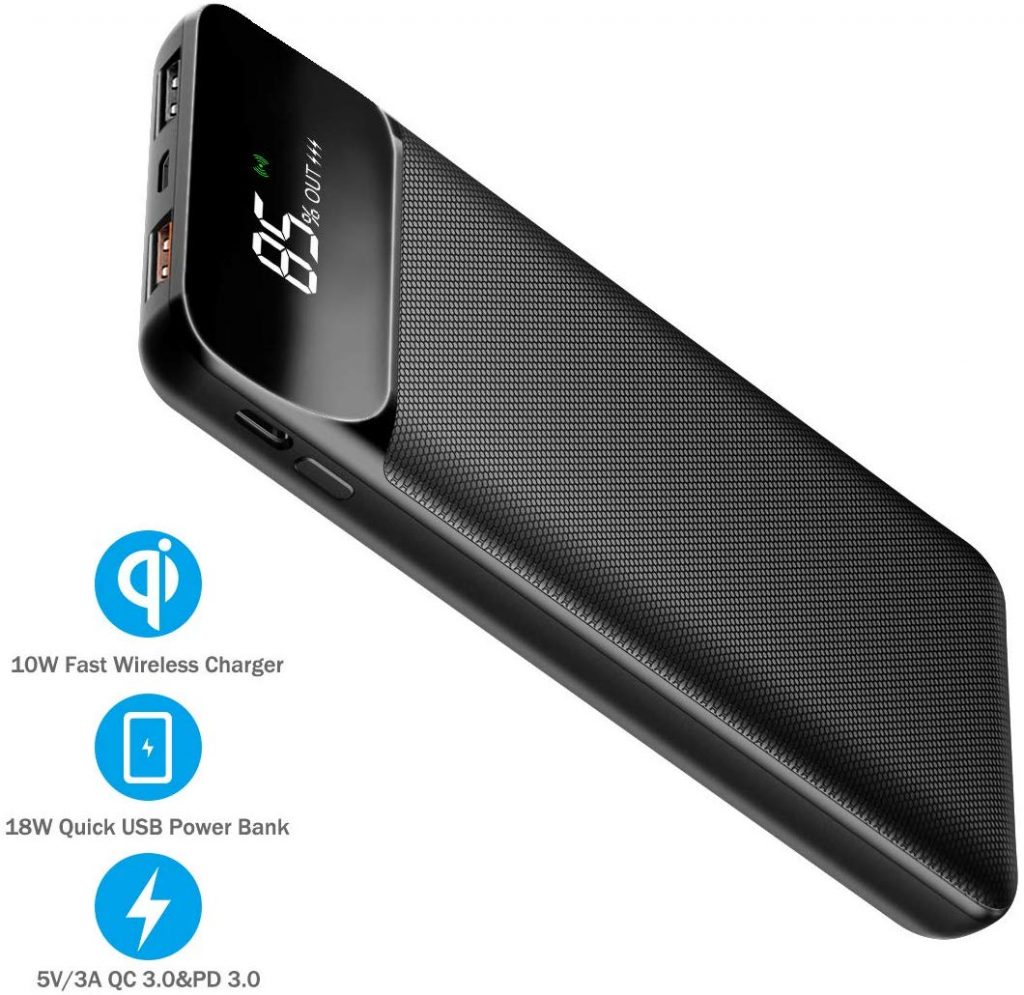 Hokonui is a well-known brand in the world of wireless chargers and if you have already purchased a wireless power bank, you would have probably come across this device. With some amazing user reviews and solid fame among buyers, this easily becomes the best Qi wireless charging power bank that you could purchase. The product has a 10000mAh battery which is large enough.
Instead of going for an excitingly large 25k sized power bank which is usually big and not so easy to carry around, the Hokonui product balances the power, build quality and value for money, ideally. The overall finish of the product is simply excellent and with a textured finish on the sides, it is easy to hold it with one hand or carry it around when you are walking.
A dedicated LCD makes it easier to know the amount of power left in your power bank. In case you are going for a quick, unplanned trip, you can use the display to find if it would last a day or two without hitting the charging port. The product supports high-speed charging, works with Qi-certified wireless devices to charge them without using cables, and features an ultra-compact device that fits the size of your phone.
What Makes the Hokonui 10000mAh Portable Wireless Power Bank Reliable?
The product supports fast charging for your phones and can also be charged to its full capacity in just four hours.
It is equipped with smart protection technology to safeguard it against power outages, short circuit, and varying temperatures.
Who Should Buy It?
If you are keen on a highly rated product, with 24 months of warranty this power bank ticks all the right boxes.
Users who need super-fast charging without any risk associated with it can buy this product.
An Expensive but Premium Experience Without the Wires
Mophie Powerstation Plus XL 10000mAh Qi Wireless Power Bank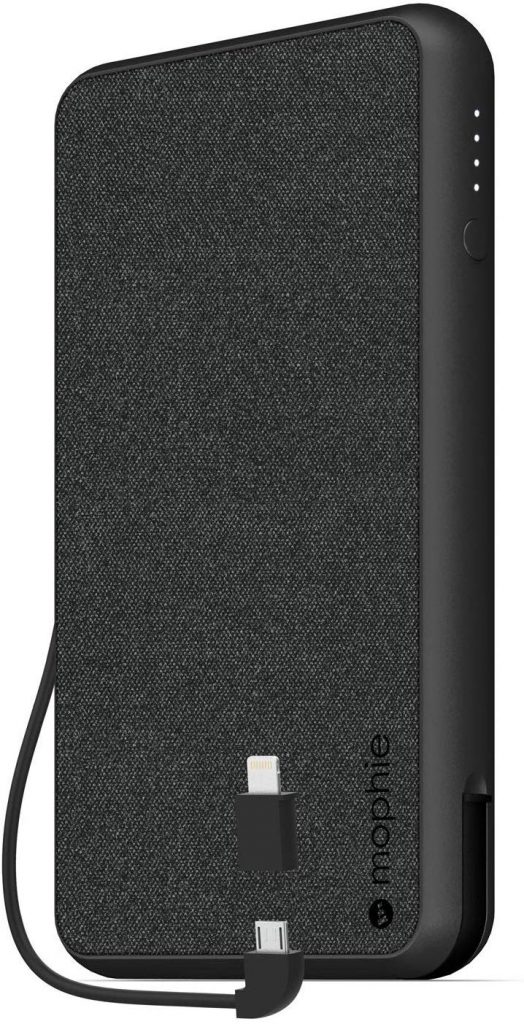 With a total capacity of 10000mAh which is perfect to charge your iPhone, iPad, Android phones, wireless earphones, or earbuds, Mophie offers a perfect charging solution for all the devices that any of the gadget-friendly nerds would love to own. The biggest advantage is that you can charge up to three devices at the same time using multiple ports available, combined with the wireless charging pad.
This battery bank may be an expensive affair as it costs close to $100 but for the price you pay, there are some nifty features. Users who have a Mophie charging pad or a Qi-station will be able to wirelessly charge this power station. Alternatively, you just have to carry your manual charging cable but no other cable if you own a compatible iPhone, Galaxy S, or other phones that support wireless charging.
Mophie is a super popular brand and it shows in the build quality of the product. It is capable of providing up to 34 hours of additional power for your smartphone and about 7 hours for a large tablet like the iPad. The power bank can deliver 10W of power and has an LED charging indicator to let you know the total power left. It has multiple dotted LEDs that indicate when it is getting charged.
What Makes the Mophie Powerstation Plus XL Unique?
The pricing is definitely on the higher side but the plush cloth design combined with rubber edges makes it feel premium.
An ideal pick for iPhone owners who prefer the best style for their power banks.
Who Should Buy It?
If pricing is of no concern to you and quality combined with great wireless charging matters, then this power bank is for you.
The premium look can be appealing to those who don't want a cheap plastic finish.
A Fashionable Power Bank with a Fabric Design
iOttieiON Wireless Go Power Bank Portable Charger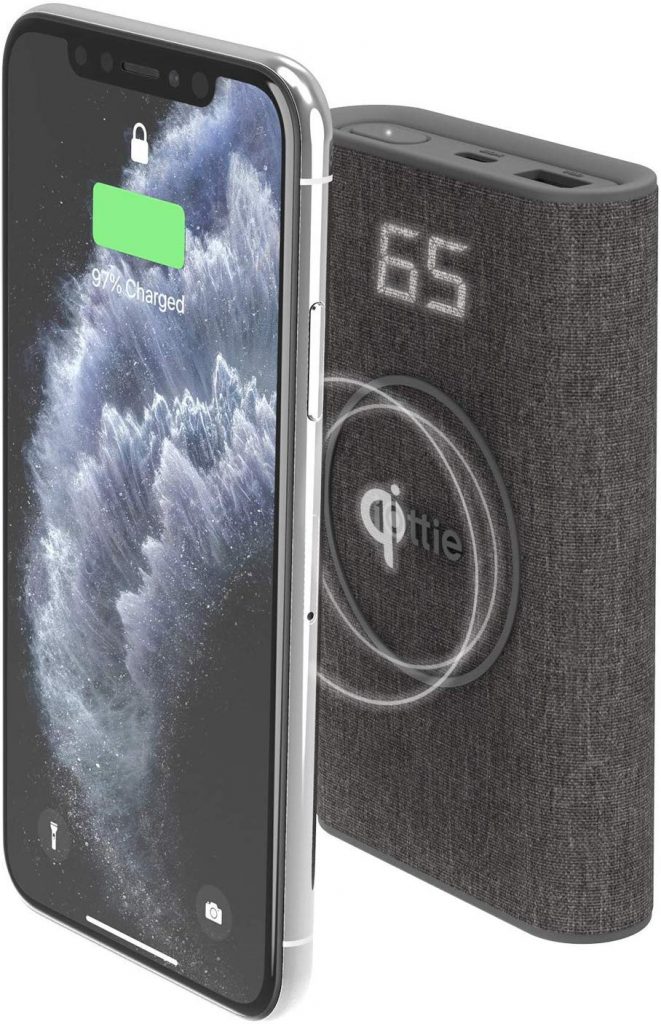 The 10000mAh battery bank that is inside this wireless charger is very common on almost all top Qi wireless charging power banks. So, this feature is not much to write about. However, the design aesthetics of the charging bank is very unique which adds a stylish touch for those who are really wary of professional-looking gadgets. It supports 18W Qualcomm 3.0 USB A fast charging in the wired ports but not with its wireless pad.
All Qi-enabled devices can make use of the wireless charging pad but if there is something that we could complain about, it is the size of the device that makes it tough to charge tablets wirelessly. For all smartphones including the iPhone, the size is compact and easy to use on the go. The manufacturer has ideally named it the Go charger and as they come from the car accessories department, the brand value exists too!
The power bank does wireless charging but is more focused on being a luxury item. The fabric wrapped all-around, combined with the plush rubber on the charging ports makes it feel exceedingly comfortable in your hand. The LED indicators are discreetly placed that lets you know whether it is charging, full, or going empty combined with an LED panel that shows the remaining battery percentage.
What Makes the iOttieiON Wireless Go Power Bank Useful?
The compact size allows you to take it out anywhere or and it can even be carried in your jeans pocket.
The plush wrap-around fabric material is very unique and not found in many products.
Who Should Buy It?
A truly fashion conscious gadget for fashionistas.
Designed for people who need a compact yet powerful wireless power bank to be used on the go, unlike the conventional bulky, metal ones
Wireless Power Bank with a Charging Dock
RapidXMyport 10000mAh Power Bank with 10W Wireless Charging
The advantage of having a charging dock is that you can leave your phone on top of it so that it can be charged wirelessly. Besides, the power bank is fully compatible with the stand and can be charged as well at the same time. In short, if you are in a hurry to leave for a trip or go out of home, you can charge both your iPhone and the power bank at the same time by making use of this stand.
The power bank delivers about 10000mAhpower which is more than enough to charge your phone two to three times based on its battery capacity. It is fully compatible with iPhone and Android devices that makes it easier to be used in a household with many members. The Qi-Certified charger supports all wireless devices and the additional dual USB ports let you charge more devices using cables.
With rubberized top and bottom layers, the wireless power bank feels sturdy to hold with one hand to carry around. The black-colored bank may not be a fashion symbol but it gets the job done without hassles. The USB C port does support fast charging for both iPhone and Android phones. However, wireless charging is measured at 10W and definitely can't charge as fast as their wired counterparts.
What Makes the RapidXMyport 10000mAh Power Bank Different?
The wireless bank includes a charging stand that lets you simultaneously charge a phone and the power bank.
The rubberized design is easy to hold and is grippy – for people who are on the move.
Who Should Buy It?
Frequent travelers who have very little time to charge their gadgets will find this useful.
Those who have multiple gadgets including Qi-supported models can make use of this stand effectively as other power banks don't include a stand.
A Military Grade Power Bank for Laptops and Consoles
Zerolemon PD Power Bank 26800mAh Wireless Battery Pack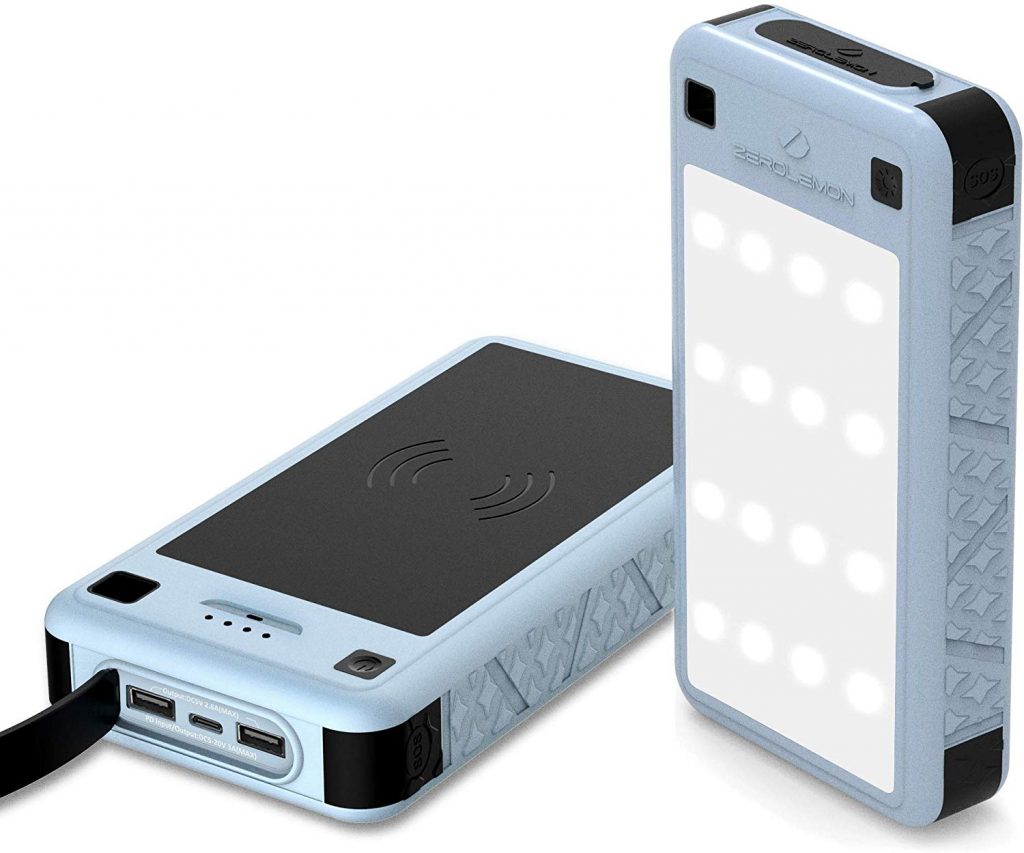 A military-grade power bank for the rugged users! After all, not every gadget has to be fragile and soft, right? As if in answer, the manufacturer Zerolemon has come up with this bulky power bank. Equipped to the brim with a mammoth 26800mAh of raw power, it can not only charge your iPhones and Galaxy devices wirelessly but even a handheld game console or a laptop.
The USB-C port is capable of delivering up to 60W power and can even charge the most powerful MacBook Pro in just 4 hours. You can charge a Nintendo switch to its full capacity in just an hour. The power bank seamlessly supports Qi-enabled wireless charging on all compatible devices combined with three outputs including two USB ports along with a single USB Type C port.
Some of the unique and durable features of this product include its fully rubberized external shock-proof, dirt-proof, and water-resistant design. The power bank may not be allowed in planes because it includes built-in accessories such as an emergency knife, a flint fire starter, and a compass to find your way. There is a loud whistle and 550 feet of paracord. The LED flashlight can be used to find your way in the dark.
What Makes the Zerolemon PD Power Bank 26800mAh Wireless Battery Pack Durable?
The power bank has been certified to be military-grade as it can withstand drops and shocks, and is water and dust-resistant.
The battery capacity is extensive and can be used to charge even laptops.
Who Should Buy It?
The perfect equipment for the explorer who wants a compass, LED flashlight, and a military-grade power bank. This is one of the top Qi wireless charging power banks.
Even if you don't wander in the desert, the robustness of this power bank is high and it works well with laptops, game consoles, etc. for those who need it.
A Multi-Purpose Wireless Power Bank with Dock
ScoscheQiDock Powerbank Battery Pack Charger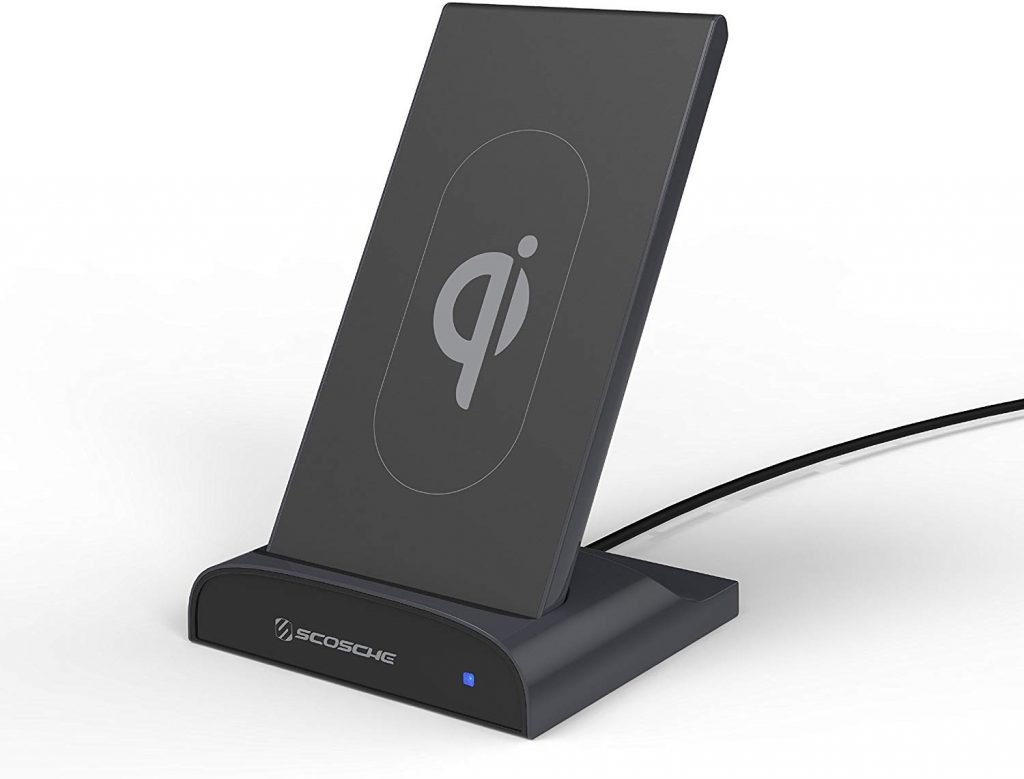 It is compact! It is easy to use and lets you charge both the power bank and your phone at the same time. The best part of having a dock as your charging station is that you can leave your iPhone or Android phone on it. Whenever there is a notification, message, or a call, it is easy to take a glance. You can choose whether to accept or reject it without having to lift your phone manually.
While the docking design may sound simple, it has lots of practical benefits. Being marketed as a portable Qi dock charger, it makes life easier for big-time gadget buffs. The compact power bank has a 5000mAh battery capacity which is quite low if you compare it with large options like the one that delivers 25000mAh battery power. However, the idea is to keep its weight low and keep the bank portable.
Charge your iPhone or any Qi-enabled device including the AirPod wirelessly while on the go using the wireless power bank. A simple LED indicator lets you know when it is charging and when the battery is about to be totally drained out. The 2-in-1 design supports both wireless and wired charging options. The product is delivered with three years warranty making it the top best Qi wireless charging power bank/ dock.
What Makes the ScoscheQiDock Powerbank Battery Pack Charger Useful?
The included dock lets you charge the power bank and phone wirelessly at the same time.
The lightweight design is a handy solution to carry it anywhere you like.
Who Should Buy It?
Users with the requirement for a lightweight and portable wireless power bank will find this to be the right gadget.
If you need a wireless power bank at an affordable price, go for it!
Bottomline
Wireless charging is the future and it is a hassle-free experience because you do not have to plug in cables to your phone or wireless earpods. Besides, with so many amazing Qi-enabled power banks out there, it makes little sense to not make use of the facilities the top best Qi wireless charging power banks have to offer. Right from known brands like Aukey, Samsung, and Mophie to Chinese brands, all these have amazing reviews and are definitely worth a shot for those long trips.