Technobezz is supported by its audience. We may get a commission from retail offers
Summary – Majority of the population has moved towards streaming music but the world of music CDs
–
Majority of the population has moved towards streaming music but the world of music CDs and vinyl records is still kicking it hard. While most technology and business experts believed that physical products are dead, the vinyl came back with a bang. You could literally find a vinyl version of famous movie soundtracks, pop albums and special edition game soundtracks readily available in stores today.
So what's stopping you from buying one? It's the pricing of course because investing big on a retro technology might sound absurd. A sensible alternative is to simply go for best turntables under $500 that are budget-friendly, plays records with reasonable quality and may lack in some fancy features but you can get into the world of vinyl without having to worry about spending a fortune. These are some of the critically acclaimed, cheap yet good turntables you could purchase now.
See also: Best Turntables
Best turntables under $500
Best turntables under $500 from a reputed brand
Audio-Technica AT-LP60BK Stereo Turntable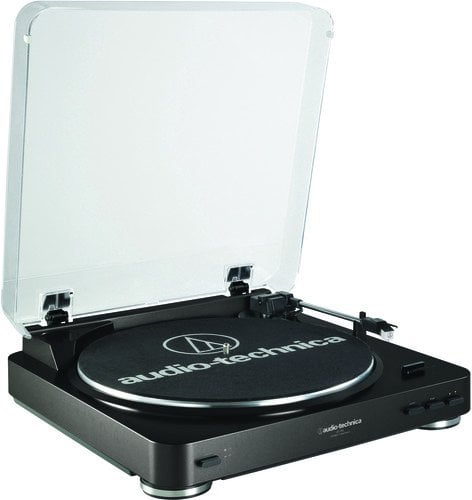 Arguing against the value and quality of this Audio-Technica product is very tough because it delivers in every front without missing a beat. The turntable is fully automatic and supports two different speeds- 33 1/3 and 45 RPM allowing you to use records of all types. The base is made using a die-cast aluminum platter with anti-resonance capabilities but it doesn't come bundled with speakers. You may have to purchase them individually but it's not going to cost a lot if you opt for a mid-range pair.
The Audio-Technica AT-LP60BK has a phono preamplifier with RCA output cables. It makes it easier for more serious audiophiles to powered speakers or an audio system. The build quality of the product is very impressive and with thousands of positive user reviews, it's difficult to find a product at this price point. For people who are getting into the world of record players for the first time, this is a safe bet and easy to experiment with impressive quality.
Product Highlights
Amazing price to performance ratio
Works with premium speakers through RCA cables and a great entry-level product from Audio-Technica
Minimalistic turntable with an adjustable counterweight
Crosley C100A-SI Turntable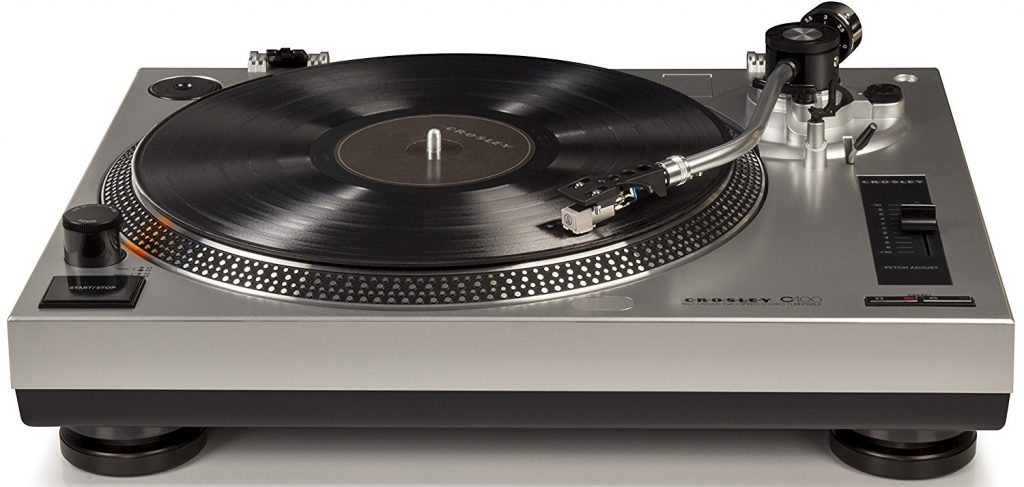 Newcomers may not be familiar with the brand name but Crosley is a popular brand in the world of turntables. They have a couple of products at the different price range and this particular model, the Crosley C100A-SI, stands out of the lot in terms of performance and design. It even has an adjustable counterweight. Just like most other products available, it has two different RPM speeds from which you can pick your chance based on the type of music and record you have opted for.
The turntable uses a belt-driven mechanism and it features an ABS construction capable of withstanding everyday usage. The bottom stand is equipped with anti-skate adjustment so that you can keep it on any surface without the fear of it moving out of position or damaging the record. The S-shaped tonearm and adjustable counterweight are some of the unique features. It also supports auxiliary output and RCA phono output providing enough connectivity for music lovers to further enhance their vinyl experience.
Product Highlights
The design is unique and the transparent lid allows you to see the record design when it's playing
The tone-arm weight is fully adjustable and you can also adjust the pitch control
Great value for money
Sony PSLX300USB Stereo Turntable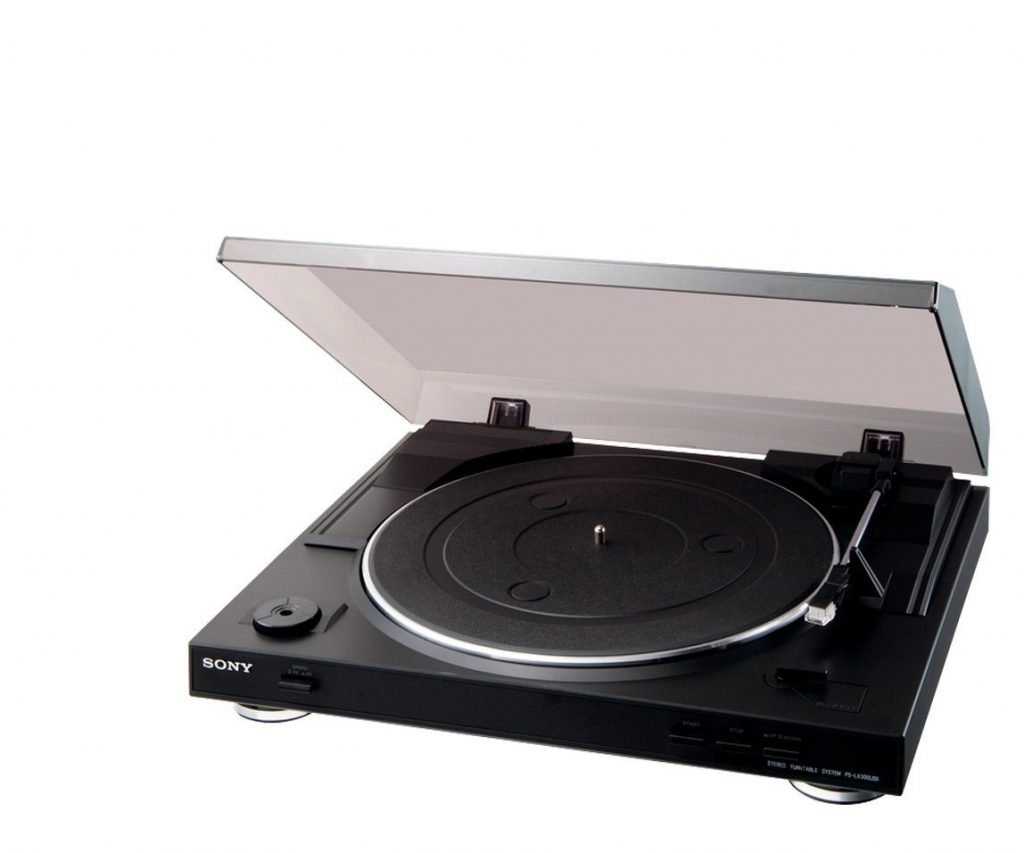 The Sony PSLX300USB uses a belt-drive system and is an entry-level record player for the newbie enthusiasts. Considering the price tag and the build quality of the product, it is easy to say that you can comfortably go for the Sony product. The brand value provides an assurance to the music quality and the service that you can expect in case there is a need to change components or fine tune the product a few years later.
It supports two speeds just like most other products and has a fully automatic operation. The best turntables under $500 may usually compromise on some features but the Sony PSLX300USB actually supports USB audio output. The device has a built-in phono preamp and uses static balance tonearm. With so many features to experiment and an affordable price tag, this is an easy buy for most buyers.
Product Highlights
The USB audio output feature is pretty tough to find at this price point but the Sony turntable provides it
Fully automatic operation and the transparent lid is a design aesthetic most music lovers will appreciate
Professional grade turntable compatible with Mac and Windows
Audio-Technica AT-LP120 USB Direct Drive Turntable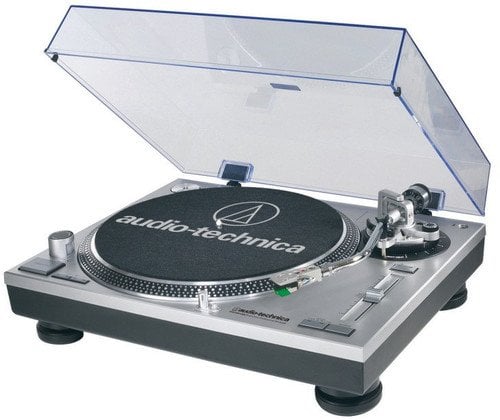 The turntable boasts of a professional design which you can easily find as soon as you glance at it. The silver finish is premium and the analog buttons are a pleasure to use, especially if you are a great fan of them and kind of tired of using the touchscreen buttons on smartphones these days. Apart from the usual two speeds including a 33 1/3 and 45 rpm, the product offers a third speed at 78 rpm. It ensures the highest accuracy possible and the pitch lock is quartz controlled.
Some of the professional features that make this a great product for audiophiles include the adjustable counterweight, USB audio output that is compatible with both Mac and Windows and the tone-arm height adjustment with a lock feature. It allows you to set it at the right angle. A professional cartridge is used to bring out the best music from vinyl and the head-shell is branded as well. A more expensive product such as this one offers more value as you can extend its life by replacing the cartridge when required.
The Audio-Technica AT-LP120 has a switchable pre-amplifier with RCA output cables. The bundle includes Audacity software using which you can rip high-quality music directly from your records and save them as digital files. Music lovers always love to push the boundaries of each product they own and the ability to rip your songs or soundtracks further enhances the value of the turntable you purchase.
Product Highlights
Professional quality sound reproduction and the ability to run records at three different speeds including a high 78 rpm
It has a stroboscopic platter with speed indicator, premium grade cartridge and ability to rip music using USB support
Best turntables under $500 with Walnut finish
U-turn Audio Orbit Special Turntable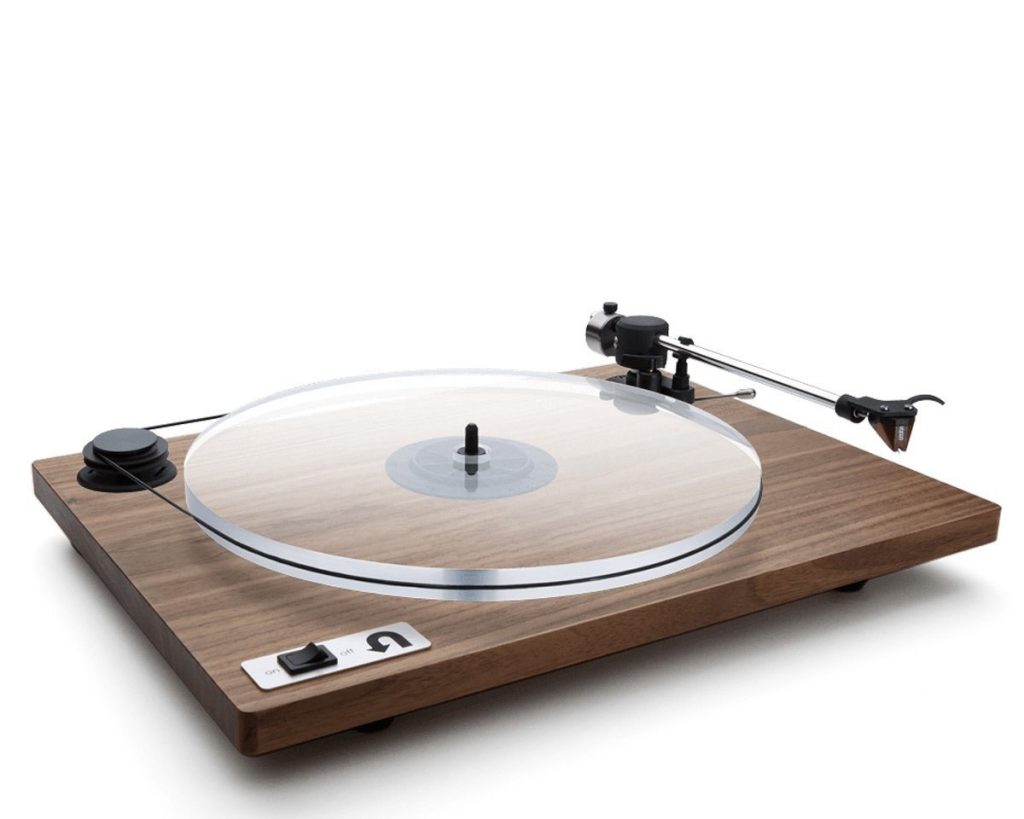 Are you a fan of aesthetically great-looking turntables? If yes, the U-turn Audio Orbit is a perfect choice. The record player is available in both Walnut finish and Maple, yet the former seems more visually appealing because of the color and choice of materials. It's not just about the great looks because the product assures and delivers amazing sound quality. The turntable uses an Ortofon 2M Red cartridge which according to critic reviews is capable of producing an open sound and doesn't add any unnatural vibrancy to your music.
The U-turn Orbit is equipped with an acrylic platter which ensures a clear playback and you might possibly be able to play even slightly scratched records with decent quality. All your new purchases will, however, remain very clean and damage-free because of the material used on this platter. The best turntables under $500 support both 33 and 45 rpm speeds with a precisional gimbal tonearm. The setup assures accurate tracking without skipping any parts of the music while delivering distortion-free playback. It's a visually appealing product which also delivers excellent music but it's geared towards those who don't mind spending more for what they get.
Product Highlights
It has a premium finish and the Walnut variant is very appealing to the eye
The platter is smooth that safeguards your record collection
Music quality is true to the original with open sounding output and doesn't add unwanted colors to the tone
Impressive build, dual magnet cartridge, and perfect sound reproduction
Fluance RT81 High Fidelity Record Player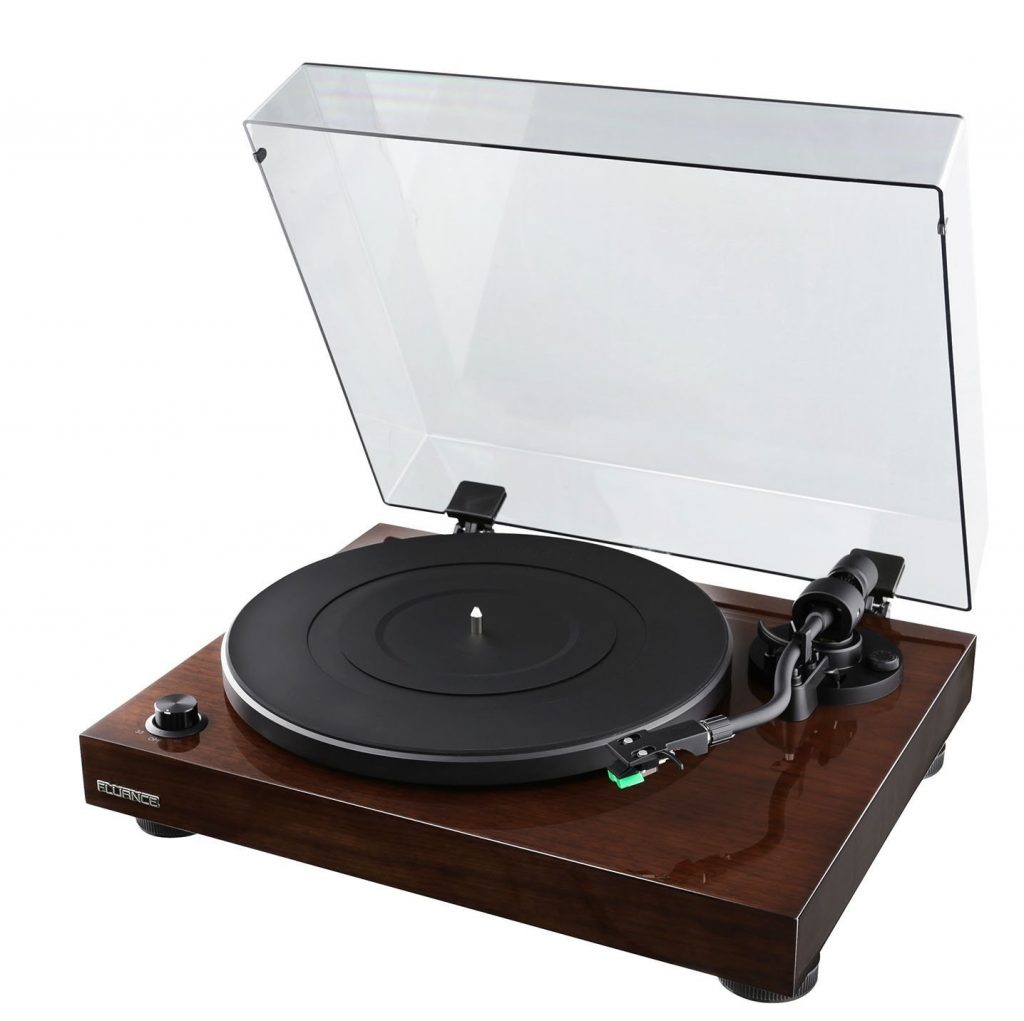 For pure audiophiles who would never settle for less and want the best analog music experience, the Fluance RT81 is a perfect choice. The record player would simply impress even the most demanding person because it is equipped with a range of premium components such as the dual magnet cartridge, aluminum S-type tonearm, and everything is housed in an eye-catchy wooden shell.
The highlight of the RT81 is the Audio-Technica AT95E cartridge that sticks true to the originality of the music. The stylus is integrated with a diamond tip that follows your record with utmost precision and delivers high-definition audio. The surprises don't end here because Fluance has ensured it has every best component integrated to produce amazing sound. The turntable uses Texas Instrument preamp combined with gold plated RCA line outputs which when combined produces a warm sound that you can enjoy like it is meant to be.
Product Highlights
The Fluance turntable is powered by a professional Audio Technica cartridge that brings your music's nuances while producing the warm sound
Amazing walnut finish built on MDF engineered wood with an aluminum platter that compliments the cartridge and overall setup
Conclusion
There are many choices and you can choose the best turntables under $500 based on the type of components used, their price tag and the kind of music you plan to listen to. A turntable with a professional cartridge can be slightly more expensive but they have a longer life as you can replace those components. The cheaper products are an easy entry into the world of vinyl and are a perfect fit for newcomers. Get ready to enjoy analog music which is a pure experience unlike no other and will show you a new perspective to your songs when compared to digital life music that dominates the industry now. Branded products from Audio-Technica, Fluance are some of the most popular choices among buyers and those with more positive reviews with a cheaper price tag are also something you can consider if you are on a budget.
---