Technobezz is supported by its audience. We may get a commission from retail offers
Summary – Toasters are handy small ovens that are portable and highly useful. They are used to make toasts as well as waffles, crumpets, and even
Toasters are handy small ovens that are portable and highly useful. They are used to make toasts as well as waffles, crumpets, and even hotdogs. Whenever you think of buying a toaster, you must always search for a toaster that has high-end features and is pocket friendly. Nobody likes to spend a lot of money on a toaster, but when you want to enjoy a properly baked toast, you must invest in a good quality toaster. Here is a list of some of the best toasters under 50$. Check out the list and see what we have got for you.
See also: Best spiralizers
Best Toasters under $50
A Compact, Ultra-Affordable Toaster
Proctor Silex 2-Slice Extra-Wide Slot Toaster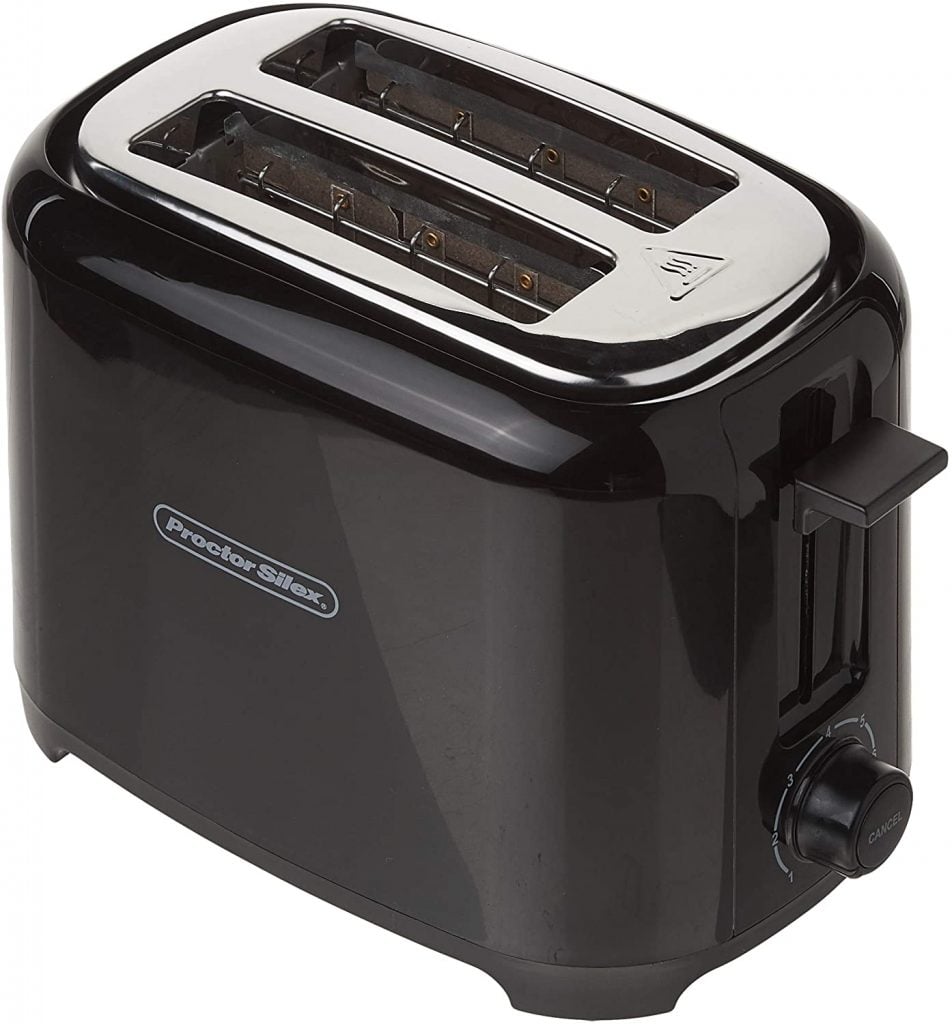 For students living in dorms and working individuals who hardly have the time to toast their bread for breakfast, an electric toaster is the best way to go. However, investing more than a hundred dollars in a product that you use minimally doesn't make sense. When you check out the Proctor Silex 2-Slice extra-wide slot toaster and see the price tag, you'll be surprised! The product has an ultra-affordable price tag that is easy on almost anyone.
If you have limited space in your kitchen or need to stack it up along with other appliances, the compact design suits the need. It is a two-slice toaster but the slots are extra-large that provides the space required for wide bread slices. Besides, you can also fit in bagels among other items like waffles or muffins. The larger slots allow you to toast a wide range of toasted breakfast items and not just bread.
The toaster is equipped with an auto-shutoff feature that ensures it doesn't burn the slice. A convenient crumb tray is at the bottom. Remove it when the product is not in use and you can clean it easily. The sides of the toaster support Cool-touch technology that does not heat up along with the stainless steel interiors. If you accidentally touch the side of the toaster, it will not burn your hands and once toasting is done, slices are automatically lifted so that you can take them out safely.
What Makes the Proctor Silex 2-Slice Extra-Wide Slot Toaster the Best?
The pricing is obviously the best-selling point of this product.
The sides of the toaster are always cool, thereby, preventing burns during use.
Who Should Buy This?
Perfectly suited for people on an extra-tight budget.
Those who need a multi-purpose toaster to toast their bagels and muffins.
Make a Style Statement with Your Toaster
Hamilton Beach 2-Slice Extra-Wide Slot Toaster
For the select individuals who love to maintain the color choices of their appliances while using them as productive tools, the Hamilton Beach 2-Slice extra-wide slot toaster balances the best of both worlds. The large toasting area is a great solution for most people because instead of being constrained to toasting bread slices, you can also toast your choice of bagels or muffins.
Individuals who love to have a customized, thick-cut wheat bread will also find the large slots convenient. The 2-slice toaster is perfect for small families, for your home office or anywhere when you need a quick meal. Pair your toasted bread with some scrambled eggs and a glass of juice and you will be set for another four hours or so. An additional feature found in this product is the shade selector to get that perfect toast every time.
Once the task is over and you need not leave the toaster in the same spot, the included power cord can be wrapped up for convenient storage. It allows you to maintain a clean countertop and save space for other appliances. The Toast boost technology may be a common feature in all such products, but with a wide opening, it enhances the safety aspect in this device. The toasted bread, once ready, will pop-up to the top so that you may pick it up without burning your fingers.
What Makes the Hamilton Beach 2-Slice Extra-Wide Slot Toaster a Stylish Add-on?
The product is available in red and black but red should be your pick if you want to have a stylish add-on to your kitchen.
The toaster has an aesthetic finish and its design is value for money considering its affordable price.
Who Should Buy This?
This toaster offers an aesthetic solution for those who prefer to keep their kitchen in style, following their color choices.
For those who like to toast their bread in different shades and enjoy the taste.
Plastic toaster with an elegant design
Cuisinart CPT-122 Plastic Toaster with multiple toasting functions (White)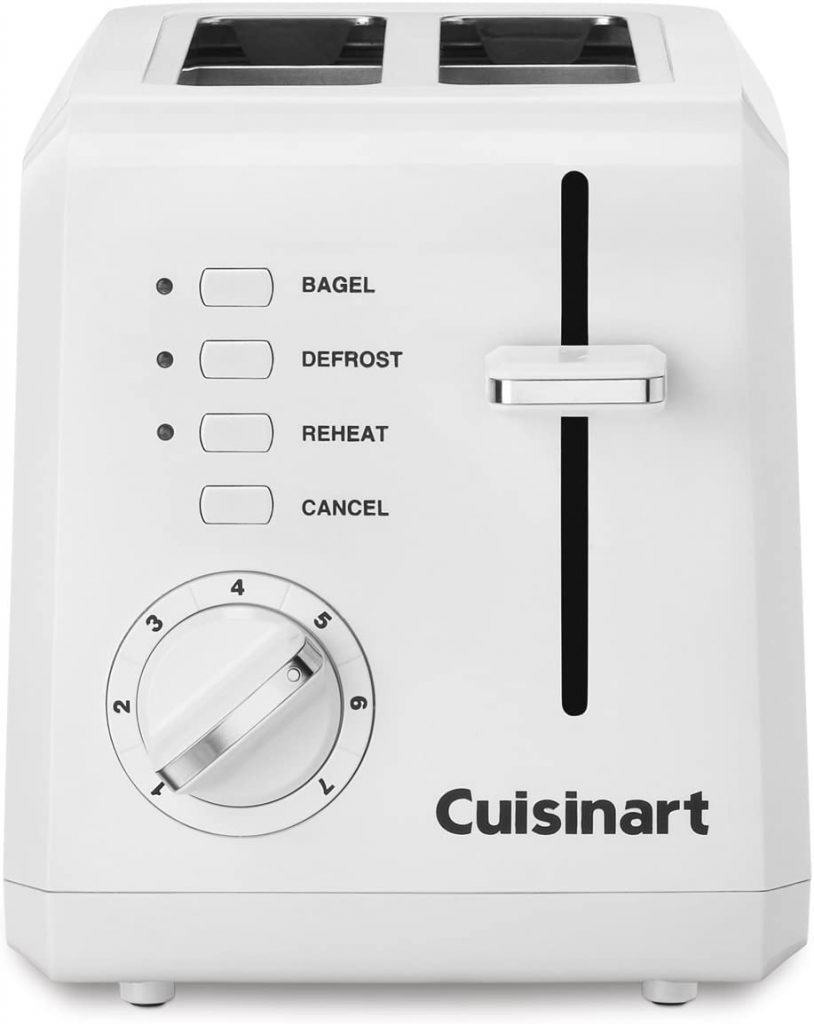 The toaster from Cuisinart comes in a compact design and is made up of stainless steel. It has controls to reheat and defrost and comes with a seven setting shade dial. It has 1/2-inch wide toasting slots and a slide-out crumb tray.
CPT-122 Plastic Toaster by Cuisinart is an updated version of the classic toaster and can be easily cleaned. It looks good from every angle, whether using it or just keeping it on the counter.  It is the heritage of the Cuisinart brand and has a powerful array of features. It looks elegant and simple and enhances the beauty of your kitchen.
The Bagel function heats the upper half and keeps the bottom half of the food soft and chewy. Shade Control setting offers complete browning options to permit the right customization to any piece of bread. It has various setting options; setting 1-2 offers light shade, setting 3-5 offers medium shade, and setting 6-7 offers dark shade.
It has 1.5" toaster slots and extra-wide slots can toast a variety of items. It can toast sliced bread, bagels, french toast, toaster pastries, and frozen pancakes. It comes with a High lift lever that lifts the toaster carriage once the toasting is done. The bread may not pop out sometimes, depending on its size. The Hi-lift feature offered by Cuisinart boosts the lever upwards and assists in easy removal of the formed toast.
What Makes Cuisinart CPT-122 Plastic Toaster a Great Buy?
The appealing design of this toaster makes it a perfect choice for mothers or housewives.
The advanced features like the bagel, Hi-lift, and several others make it perfectly accessible for the younger generation.
Who Should Buy This?
This toaster will surely help them in making their family and kids happy. It will also look great if kept on the shelf.
It is useful for gym lovers as it can help them make healthy food in almost no time.
The Most Highly Rated Toaster
Oster 2-Slice Toaster Metallic Grey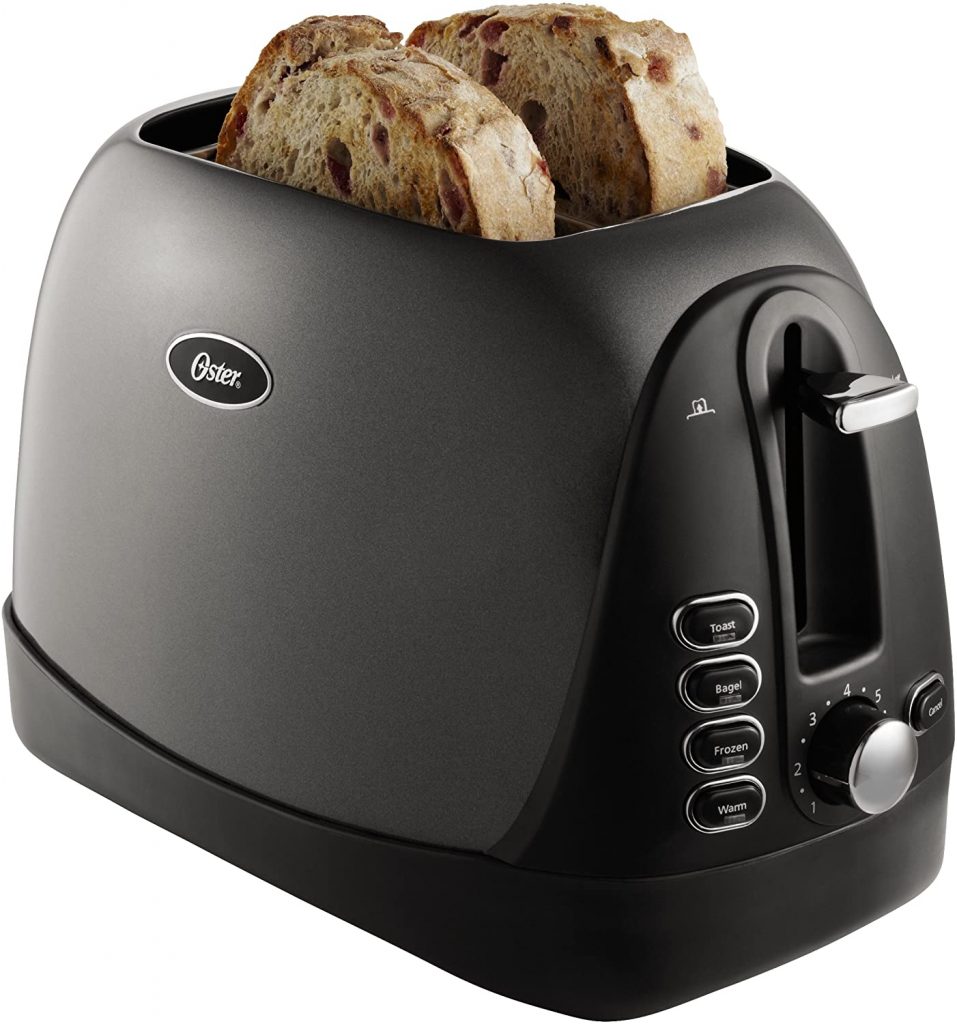 The best toasters under $50 are naturally affordable, compact, and get the job done for most people. Everyone has a requirement to toast their slices of bread and bagels in the morning but spending a couple of hundred dollars on an appliance to do this, may not be a good idea to many. In such a scenario, you should pick the one that offers the most value for money such as the Oster 2-slice toaster in metallic grey.
The product is available in two different colors – metallic grey and purple. You will be surprised to notice that it has dedicated heating settings for different items using a one-touch button setting. Just press the Toast, Bagel, Frozen, or Warmbuttons so that the heat levels are maintained accordingly.
For those of you who have only a few minutes to finish your breakfast and get into your car, the Oster toaster is an excellent choice. The slots are extra-wide so that they can comfortably accommodate frozen foods from the refrigerator and large baked items such as muffins or bagels. There is an option to choose between 7-different toast shades from light to totally dark if that is your choice. The crumb tray is easy to remove and clean.
What Makes the Oster 2-Slice Toaster Metallic Grey Unique?
The One-touch button settings saves you a lot of time as they automatically manage the heat levels.
The analog buttons are large and easy to access even if you are wearing gloves.
Who Should Buy This?
If you like large, manual buttons for different toast settings because of their accessibility, you will love this product.
It will be your favorite if you use it to heat frozen food, pastries and other items from the refrigerator.
Best toaster oven with EvenToast technology
Decker Toaster Oven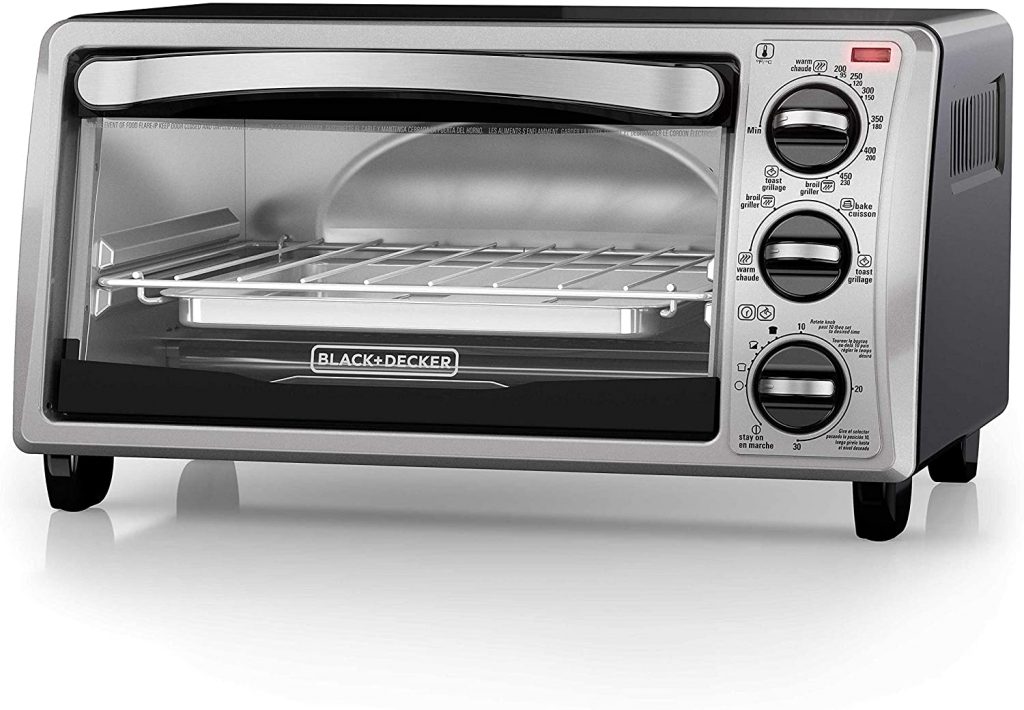 This toaster works on EvenToast technology which provides a special feature that helps to toast four slices of bread at a time. The curved interior provides a space for 9" pizza and four slices of bread. This toaster oven can easily fit on the countertop and offers four functions.
The functions of this stainless steel toaster are baking, broiling, toasting, and keeping food warm. You can set a 30-minute timer and the timer includes stay-on functionality and precise toast settings. The toaster oven has a removable crumb tray which helps in keeping the toaster oven clean.
The dimensions of the toaster oven are 16.4 X 11.3 X 9.4 inches. This 5 pounds toaster comes with a baking pan and a broiler pan that keeps the food warm up to 450°F. EvenToast Technology in this oven offers good heat optimization to make perfect toast. It has all the innovative features to offer you delicious food quickly. You can easily adjust the temperature of the toaster oven.
What Makes Decker Toaster Oven a Favorite for School and College Students?
College and school students who are staying away from their homes and have no time to cook breakfast in the morning can cook fast with this oven.
Who Should Buy This?
Couples and people who are busy with their routine and want easy and delicious toast, which can be prepared quickly.
Useful for small families of 3-4 people as they can make medium-sized pizzas and four bread pieces at a time.
Two Slice Toaster with extra-wide slots
AmazonBasics 2 slice Toaster (Black)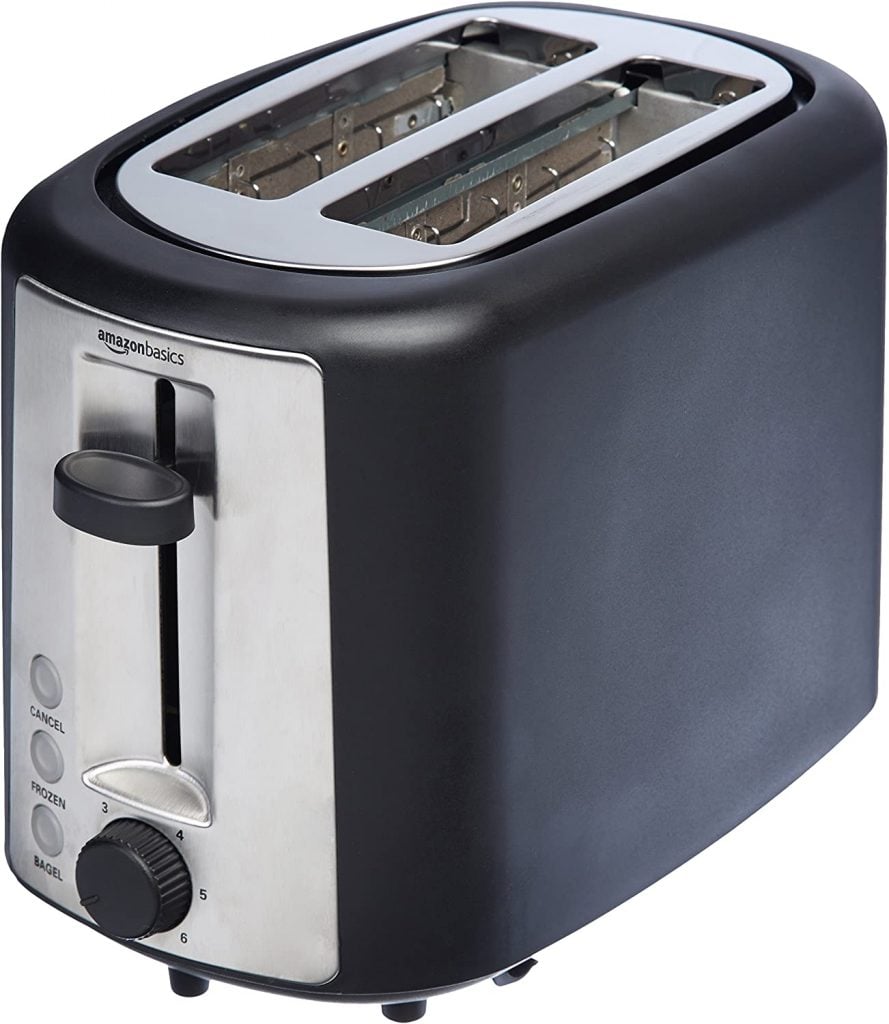 AmazonBasics is a two-slice toaster that can toast one or two slices of bread at a time. You can accommodate the individual preferences with six shade settings in AmazonBasics extra wide toaster for having light toast or darker and crispier toast. Bagels and thicker slices can be placed in the extra-wide slots, which are 5-1/4 inches long and 1-1/4 inches wide.
You can find bagel setting at the side and frozen settings to defrost the bread. The operation can be finished at any time with the help of the cancel button. For safety purposes, this toaster comes with an extra-lift lever, which helps in removing the smaller pieces safely.
The AmazonBasics extra wide toaster comes with the dimensions of 10.7 x 6.4 x 7.6 inches. This toaster can bake Canadian white bread and Texas toast. You can avoid smoke and the negative odor by following the instructions properly. It has a power cord of 22 inches long that is easy to handle. It also has a removable crumb tray that can be cleaned easily. This product comes with a warranty of one year and has a long life.
What Makes AmazonBasics 2 slice Toaster Appealing?
The decor and the design of the toaster is sleek, unique, and very attractive.
Suitable for use in restaurants as it can toast different kinds of bread other than the regular ones.
Who Should Buy This?
Those who have a keen interest in maintaining the appearance and decorating their home as this toaster comes with an attractive black appearance.
Those who have a kitchen with a chimney as it can sometimes cause smoke.
An All-Purpose Toaster
AmazonBasics 4-Slot Toaster in Brushed Silver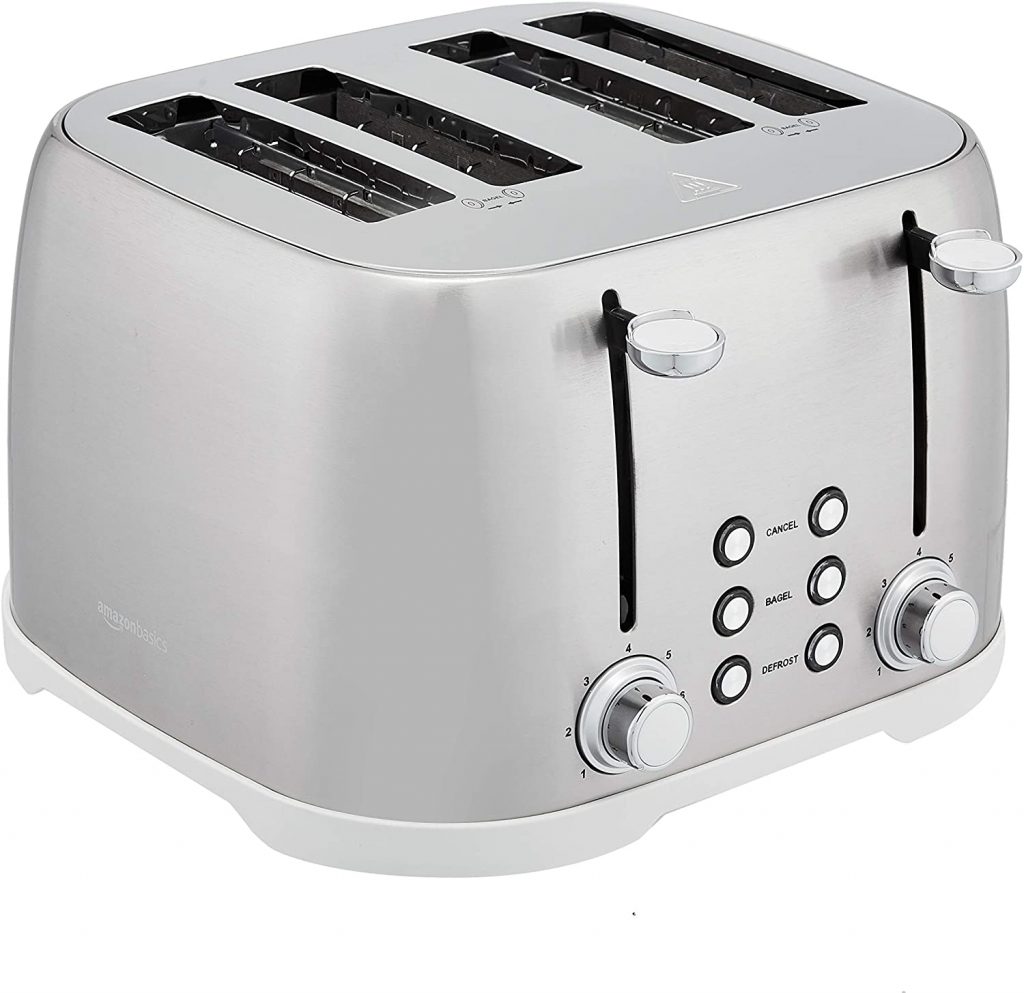 AmazonBasics have been offering the best products at really affordable rates. The amazing positive reviews for the AmazonBasics 4-Slot Toaster in Brushed Silver stand proof of the product quality and is a perfect example of value for money.
The toaster is rather large and can comfortably accommodate 4-slices of bread at the same time. While it is wide enough, you can't use muffins or bagels in the slot. Instead, the toaster is focused on people who just want a couple of toasted bread slices ready for breakfast. This best toaster under $50 has six-different toasting settings to choose from and you can use the quick cancel button to immediately stop the process.
The product can also be used to defrost frozen food and has a dedicated button for bagels. For the bagel to be toasted properly, it has to be of the right size to fit the slot. The reviews claim that it works perfectly and delivers the right level of browning for your items. You can wrap the cord for ease of storage. The dedicated crumb tray helps to keep the kitchen clean.
What Makes the AmazonBasics 4-Slot Toaster the Best Value for Money?
It helps you to toast your breakfast items quickly.
The number of Toastsettings is limited and it, therefore, avoids confusion.
Who Should Buy This?
People who need to toast multiple slices at the same time.
If you love the design and ease of use without much customization, this is for you.
A Toaster that Combines the Best of Retro and Productivity
Yabano 4-Slice Retro Bagel Toaster with 7 Bread Shade Settings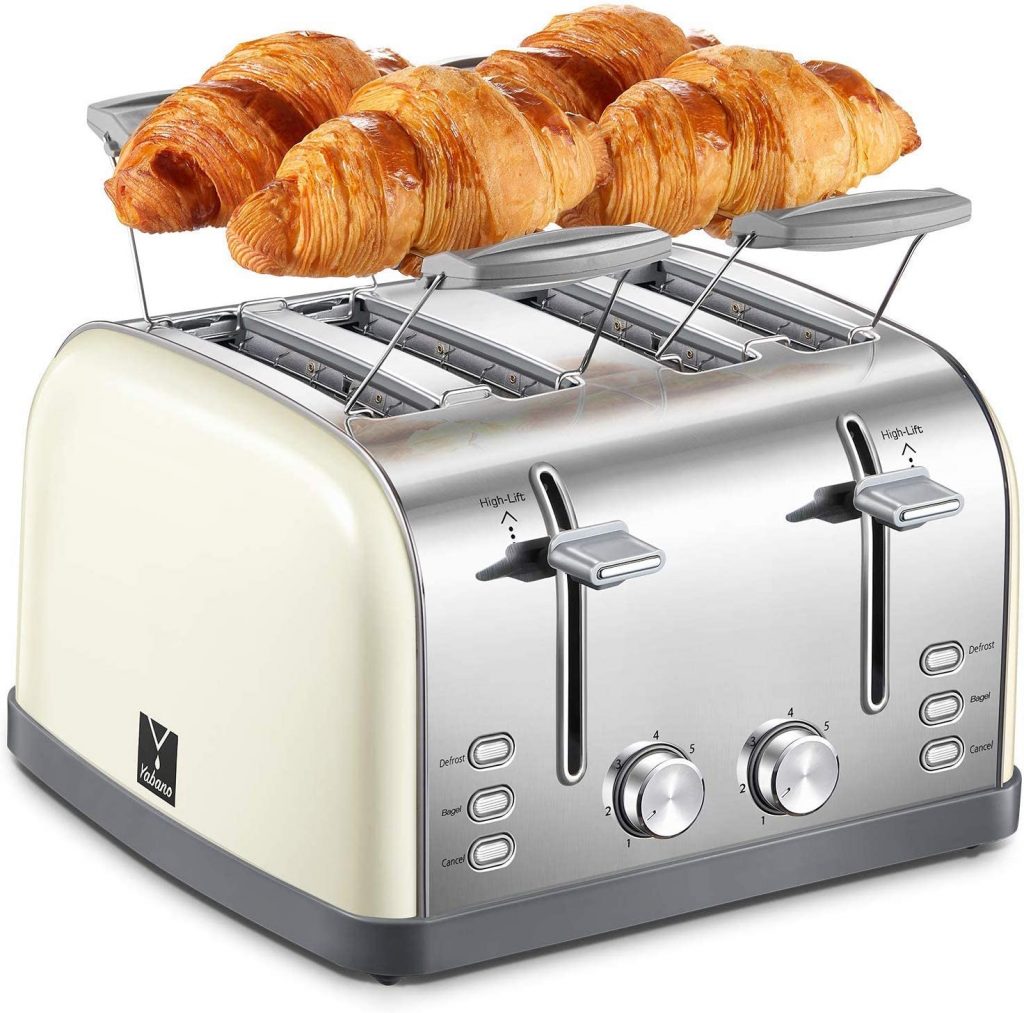 The 80s era continues to live on in the Yabano 4-Slice retro bagel toaster that has dedicated grill compartments for bagels. You can maintain the crispness and fluffy looks of your bagels this way rather than stuffing them inside the toasting compartment. Similarly, many will find the multiple compartments useful as you can serve an entire family their breakfast in a matter of minutes.
Yabanohas made the slots extra-wide that measures up to 1.6-inches, wide enough for waffles, frozen baked items, and bread slices. The stainless steel finish of the product is old school but for people who love the plain and vanilla design of the product, this is yet another amazing toaster that you should consider buying. Once toasting is done, you can use the warm rack to keep the muffins and other items crisp until it is consumed.
The bread shades are often what helps a person choose the toaster. In this particular product, you have 7-different shade settings which are usually more than what is required. After all, you would either love it dark brown or can choose the lowest setting for moderate toasting. When the bread is ready, the built-in toaster pop-up will bring your slices to the top to be picked up easily. The bread crumb tray is easily removable to clean after cooking.
What Makes the Yabano 4-Slice Retro Bagel Toaster a Retro King?
The design is intuitive and has a nostalgic look.
It is easy to operate and control the heat settings.
Who Should Buy This?
If you want to leave the toast warm for family members, this is a good model.
It is the best solution for people who need an automatic toaster with a steel finish.
Two Slice Toaster with Cord Storage
KRUPS KH732D50 (Silver)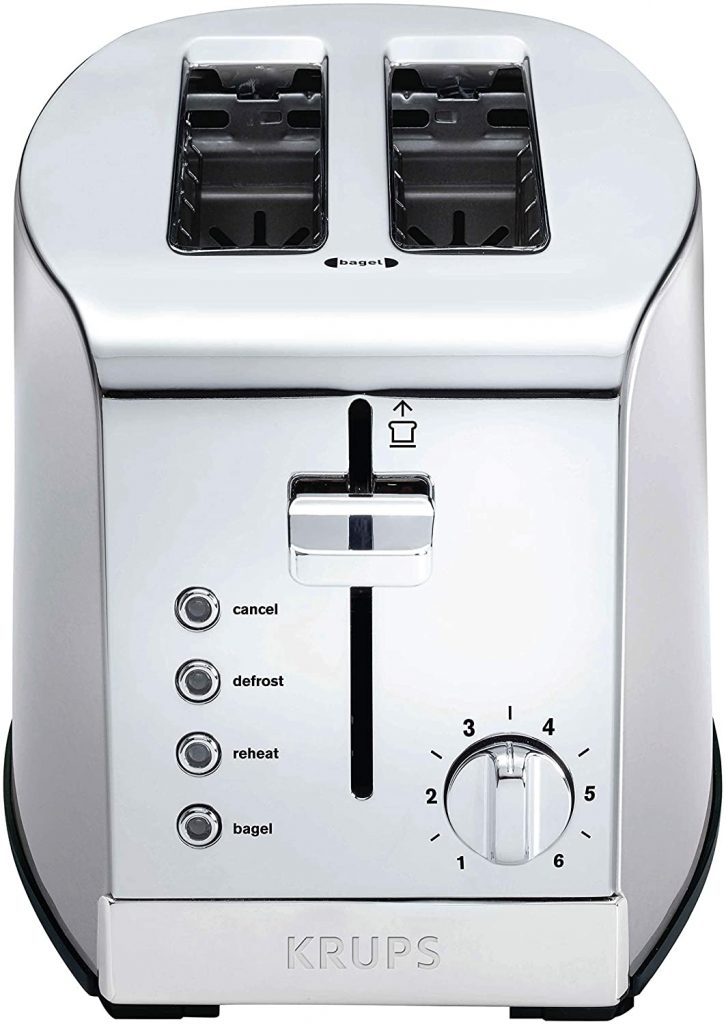 KRUPS KH732D50 is a customized toaster with new and enhanced features that can perfectly toast up to two slices. It has a rotating knob marked with numbers from 1 to 6. This setting provides precise and even browning of bread from lightest to darkest and also evenly covering the entire slice. This stainless steel toaster comes with extra-large self-centering slots to accommodate various types of bread, including buns, bagels, and English muffins.
Extra-High lift lever helps to raise loaves of bread of even smaller sizes for easy retrieval without burning your fingers. The additional features with push buttons include a 30-second reheat function without extra browning. It has a defrost setting and a bagel setting for flawless toasting of bagels and a cancel button to stop toasting sessions at any point in time.
The toaster has a user-friendly design with blue LED indicators to show that the toaster is in function. It comes with dimensions of 14 x 9.8 x 9.3 inches and weighs 3.27 pounds. It is equipped with two removable rear crumb trays that are easy to clean. The power cord provided with KRUPS new toaster can be easily wrapped at the back of the toaster thus giving a pretty look to your countertop.
What Makes KRUPS KH732D50 Toaster a Good Buy?
People who love to have a beautiful kitchen can opt for this toaster as it helps in enhancing the beauty of the kitchen.
Who Should Buy This?
KRUPS 2-slice toaster is best for those who are looking for quick toasting function without cutting the bread of larger size.
People who desire to start their day with crunchy breakfast.
A Solid Toaster Made of Premium Quality Materials
Eplians Toaster Prime Rated 1.5" 2-Slice Wide Slot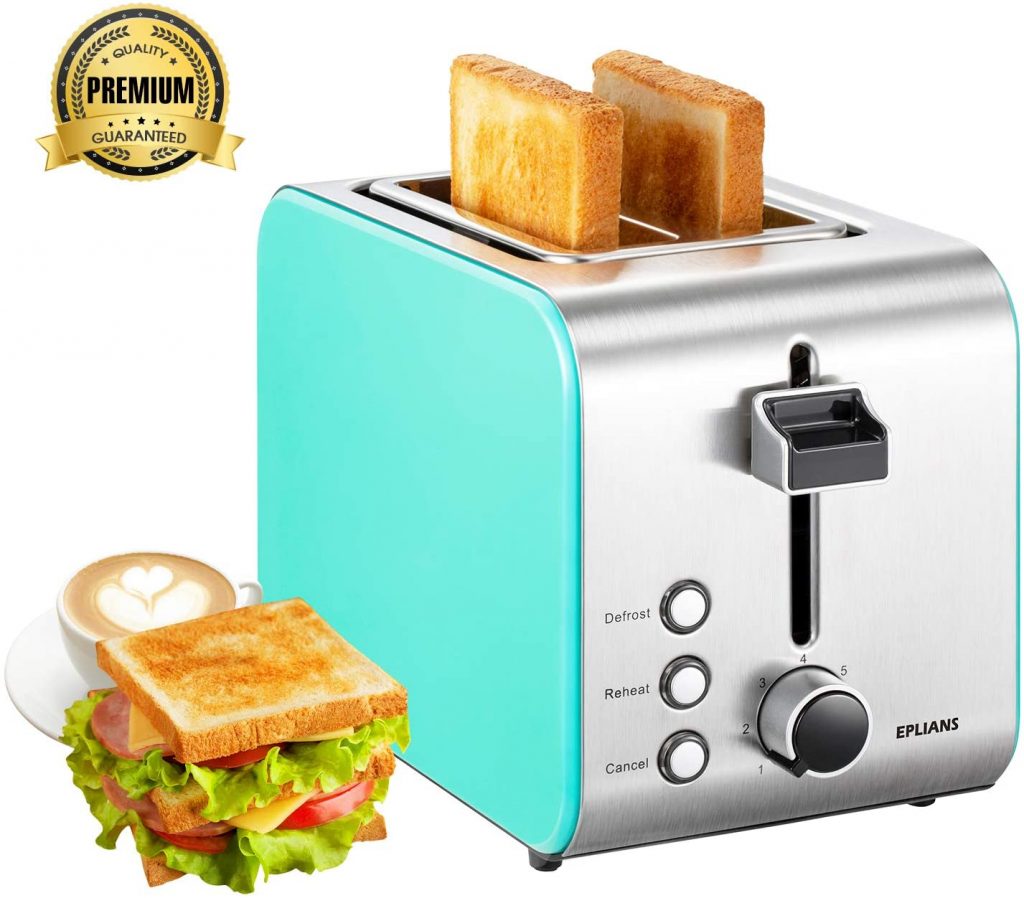 The Eplians toaster has been designed to toast bread for the entire family. When you are toasting it for your family members, you can easily choose between 7 variable brown shades. For people who love light ones, go for it or else you can pick a shade in-between dark and light for a moderately toasted slice. The entire task can be carried out in less than 2 minutes. There are three different one-touch buttons for specific functions including reheating, defrost, and the option to quickly cancel the operation.
While the manufacturer claims it to be a retro design, it is more of a balanced design that will suit both modern and conventional design aesthetics. The manual knob allows you to control the different levels of shades but overall, it is elegant and easy to use the product. The slots are rather large measured at 1.5-inches and you will be able to comfortably toast large slices of bread, burger buns, waffles, and bagels.
The manufacturer also provides a manual in which they have described the different brown shades you can achieve with your toaster. It makes it easier to find whether you like to have a deeper shade or go with a light one that you can match with scrambled eggs. It features a user-friendly design that lifts the bread slice once it is toasted. The crumb tray at the bottom is easy to access once the product cools down a bit.
What Makes the Eplians Toaster Prime Rated 1.5" 2 Slice Wide Slot an Easy Pick?
The user-friendly design is the highlight of the product as you can access the buttons and the shade settings easily.
It is safe and ETL certified making it easier to use the toaster in households with kids around.
Who Should Buy This?
Made for users who have young kids at home.
The product is easy to clean and occupies less space if you are constrained for space on your kitchen countertop.
The Best Toasters Under $50 With Multiple Features
Pipigo 2 Slice Prime Wide Slot Stainless Steel Toaster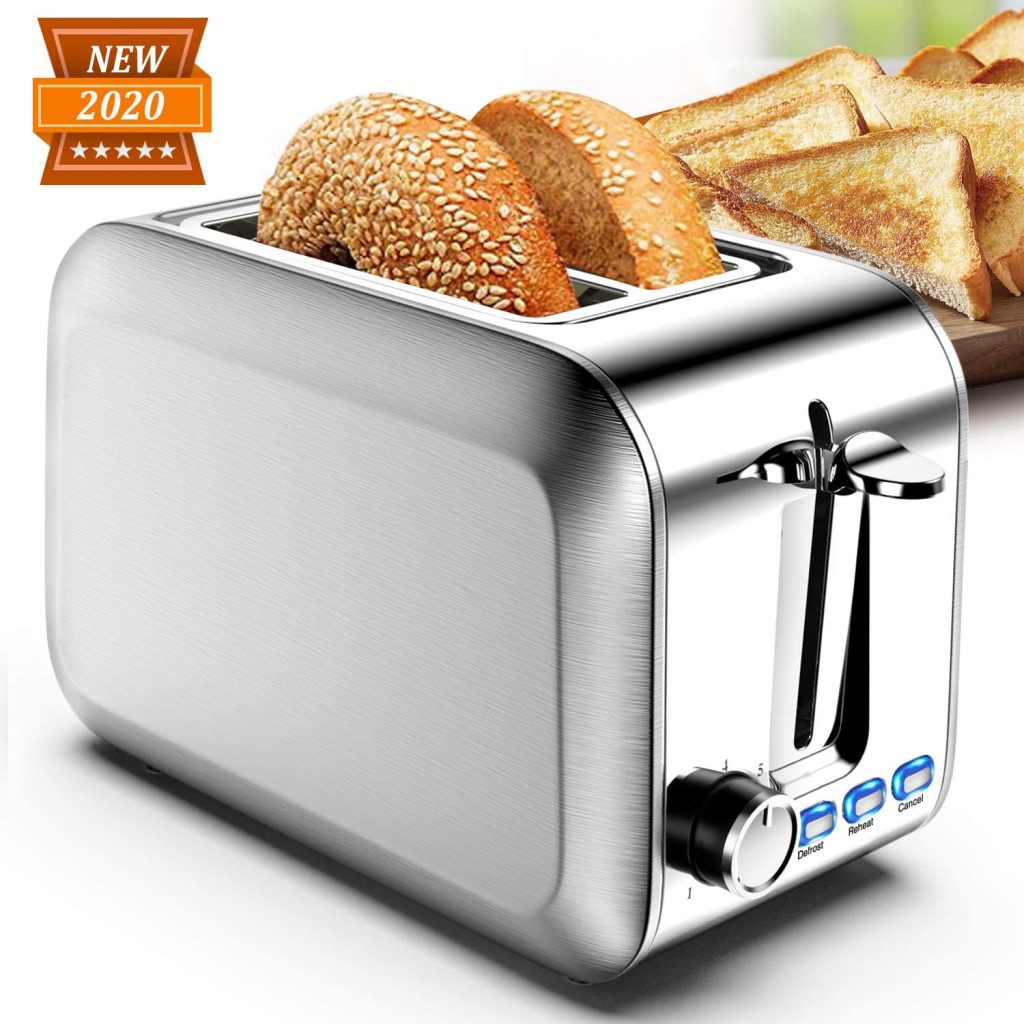 The various features of this toaster will impress even the most discerning buyer. The product is equipped with multiple toasting modes that you can use to get the bread slices to the right shade. The entire toaster is made using a high-quality stainless steel body which improves its durability and provides a classic finish to it. The 1.4-inch wide slots can be conveniently used to toast bagels, muffins, and waffles.
A unique feature of this product according to the company Pipigo, is that it is made using 100% stainless steel. The High-lift lever increases the safety factor because once the bread is toasted, it will rise to be picked up safely. It reduces the chance of your fingers getting accidentally burnt. A total of 7-different browning settings is offered while most people may prefer the 4th level for optimal taste.
The dedicated buttons are conveniently placed in the front and are highlighted using blue color. The entire exterior of the toaster is designed to be free from fingerprints and there is no need to wipe-clean it repeatedly. The crumb tray can be conveniently removed on the side which saves space and allows you to clean it quickly. The base has steady rubber feet to keep the product on the countertop and avoid safety issues.
What Makes the Pipigo 2 Slice Prime Wide Slot Stainless Steel Toaster a Clear Winner?
The buttons are neatly laid out and are quick to access.
It has a large body with a steel finish that gives it a premium look unlike any other product in the range.
Who Should Buy This?
People who love a premium finish for such an affordable product.
You can go for it if you need the extra-large slot to toast a wide range of items.
UL Certified Toaster for Home Use
Novete 2 Slice Prime Rated Toaster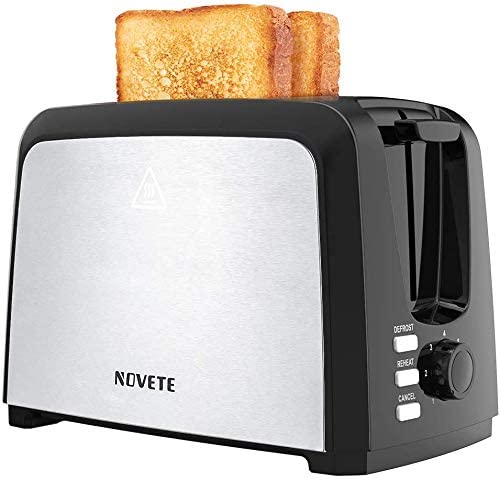 Similar to many other best toasters under $50, this product offers seven different shades to choose from. The unique aspect of this device is that its base is made using stainless steel material while the rest is covered using food-grade plastic. It adds to the safety aspect and is considered a better bet than going for an all-steel device. Besides, the bread crumb tray is easily accessible and lets you keep the toaster clean always.
The two-slice toaster is however limited when it comes to toasting a large number of bread slices and you may have to insert your bread slices as a pair each time. For a large family, you should consider purchasing a 4-slice model but there are very few options available under the $50 budget range. The UL certified toaster from Novete can also be used to toast muffins, waffles, bagels, and large bread slices. Make sure to keep them in the center so that they are properly toasted on all sides.
The toaster doesn't have a top cover but you can leave it open as it is easy to clean whenever you need to use it. The product is equipped with all the basic options you would expect in a toaster in this price range. You can also use it to defrost other items from the freezer or reheat waffles for a quick snack. The cancel button is conveniently placed to stop a slice from getting burnt.
What Makes the Novete 2-Slice Prime Rated Toaster a Good Choice?
Works great with a wide assortment of bread, waffles, and muffins.
The product has a strong 18-month warranty that makes it value for money.
Who Should Buy This?
If you are concerned about the safety of stainless steel toasters, then you should go for this one with the plastic-covered body.
For those with limited storage area in their kitchens, this toaster is easy to store as you can wind up the power cord inside the bottom area.
The Best Toaster Under $50 with Hundreds of Positive Ratings
Dash DVTs501AQ Toaster 2Slice Aqua
Having an aqua-colored toaster is a great choice for people who love to decorate their kitchen to their taste. The choice of home appliances, their color, size, and shape play a role in determining the style of your kitchen. The Dash DVTs501AQ Toaster 2-Slice Aqua fits these requirements while being a  reliable toaster for every household. The aqua-colored variant is one of the many colors available including red, grey, and black.
The toaster is equipped with a crumb tray and it is a common feature found on all toasters. However, the surprising factor here is that the designers at Dash have managed to incorporate all these features into such a small toaster with a minimal footprint. The see-through window lets you watch the bread slice as it gets toasted. While you do have the option to select between seven browning levels, you can watch the color change and take it out earlier if needed.
With hundreds of positive ratings, it is difficult to go wrong with this product. Besides, you can also consider it as a gift for your loved ones or friends as suggested in the reviews. The auto shut-off feature which is included in the toaster ensures that it automatically cuts off the heating elements, that safeguard the dish as well as the product from overheating. A recipe book included in the package helps you explore some new dishes.
What Makes the Dash DVTs501AQ Toaster 2-Slice Aqua a Renowned Product?
The compact design of the toaster makes it stand out from the competition.
It is easy to operate and is available in multiple colors.
Who Should Buy This?
If you are running out of gift options, this is the answer!
You can buy it as a secondary toaster or as a minimalistic choice for students and those who live in dorms.
Conclusion
The best toasters under $50 are the ones that are budget-friendly, easy to use, and fulfill the basic requirements. Instead of going big on products that you may rarely use, the benefits of picking up an appliance that helps you every day are many. While the basic features are wide toasting slots, dedicated Defrost, and Cancel buttons, you can consider choosing a toaster based on its design, build and color too. At the price point of $50, the choices are plenty but they may not do more than toasting two bread slices or waffles.
---