Technobezz is supported by its audience. We may get a commission from retail offers
Summary – The average household kitchen is a fun-filled adventure zone where you can explore and experiment. Whether you love cooking or not doesn't
–
The average household kitchen is a fun-filled adventure zone where you can explore and experiment. Whether you love cooking or not doesn't matter because the best spiralizers can capture your attention into designing vegetables the way you want it to. Unlike a knife, a spiralizer can give you an amazing spiraled design for all veggies that can be used for cooking, designing or carving them into perfect shapes to dress up dishes and brighten up the dinner table.
The most common two types of products available are the tabletop and the handheld spiralizers. They are available at different price points and the more expensive ones may provide robust build quality combined with different blades that you can use to suit your slicing purposes.
See also: Best coffee makers
Best spiralizers
Most Popular Spiralizer
OntelVegetti Spiral Vegetable Cutter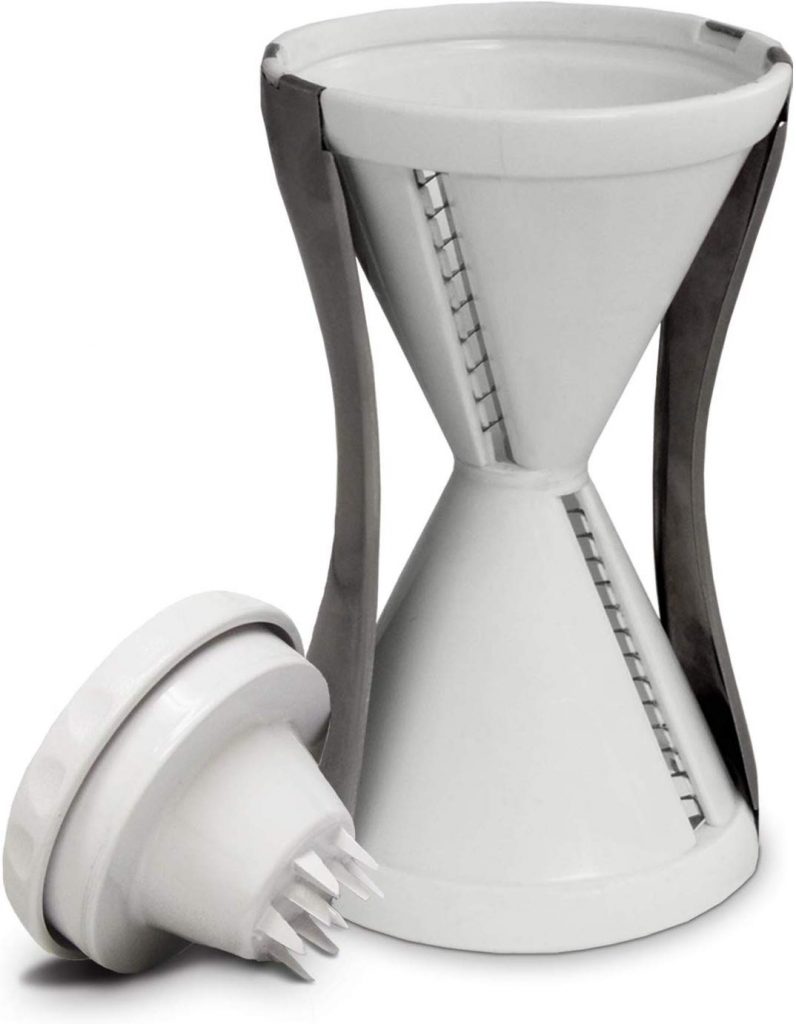 When you see products from a laymen's perspective, it is easy to come to the conclusion that the best spiralizers or the best of any product is the one that falls within the affordable range. Most people can't and won't want to spend several tens of dollars on an experimental product which is why the OntelVegetti is a great starter solution.
At just $10 you get lots of interesting features that make the product amazing and easy to use. You can set the thickness of the spirals and in most cases, the noodle-sized thickness is the preferred way to go. The selling point of the Vegetti is not only its affordability but also the fact that it has a food cap that keeps your veggies in place without moving out of their set position.
Instead of having to set it up on your table like other products, this particular variant is a handheld model and easy to use whenever you want to. The popular dishes that you can prepare by using this include pasta, stir-fries, potato mash, and carrot dressing. You can easily customize the thickness of the strands based on your application and the size it cuts is also designed to be low on calories for diet-conscious people.
What Makes the OntelVegetti Spiral Vegetable Cutter a Solid Choice?
Once the task is complete, it is easy to use the little brush to clean the leftovers.
Being a handheld product, it is convenient to use and saves time.
Recommended For:
If you are strict on budget and want a quick solution.
Those who want to save time.
Best Tabletop Spiralizers for Regular Usage
Paderno 4-Blade Spiralizer Pro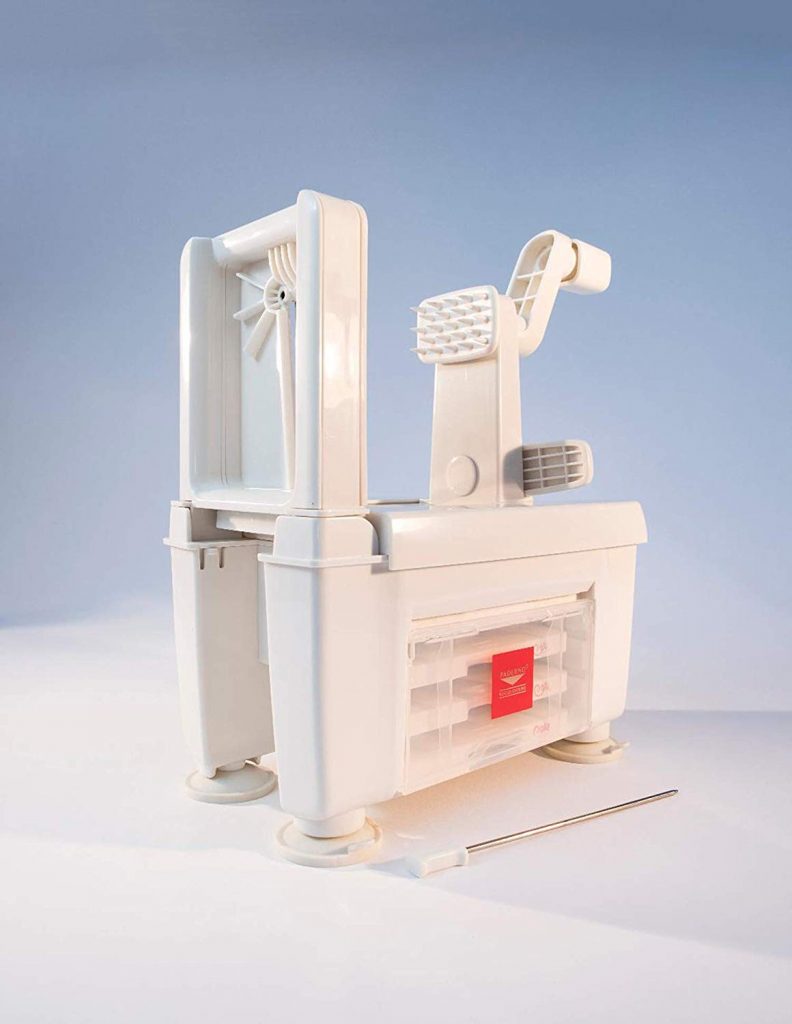 Choosing the best spiralizer is often based on the usage scenario. While handheld models are easy to store, clean and use with one hand, tabletop models are ideal for people with an ever-growing requirement. If you live in a large household that requires pasta preparation for multiple individuals or require more powerful blades to slash those vegetables, the Paderno 4-blade spiralizer Pro is a perfect solution.
Being a professional-grade product, the company offers it in multiple choices including three, four and seven-blade variants. For the safety of users, after using the product you can fold the blades and safely store the product. The advantage of having multiple blades in bigger sizes is that you can slice large fruits like mangoes and apples that are sturdy into thin slices for easy consumption.
Besides, the size of the spiralizer is much larger as it is designed to be used in tabletop mode. With thousands of positive reviews combined with great brand value, Paderno products are among the best that you can purchase online for your slicing needs. It is easy to customize to cut fruits and vegetables into ribbons or noodles and the strong suction cup stays fixed to the table when working.
What Makes the Paderno 4-Blade Spiralizer Pro a Reliable Product?
The sharp and different types of cutting blades allow you to cut lots of items in a short time.
It has a fairly strong suction cups for easy installation.
Recommended For:
Users with a requirement to cut large fruits and vegetables will find this equipment ideal.
If you are looking for a professional-grade solution, this is the one.
Best Spiralizers with a Retro Design
Mitbak Stainless Steel Vegetable Spiralizer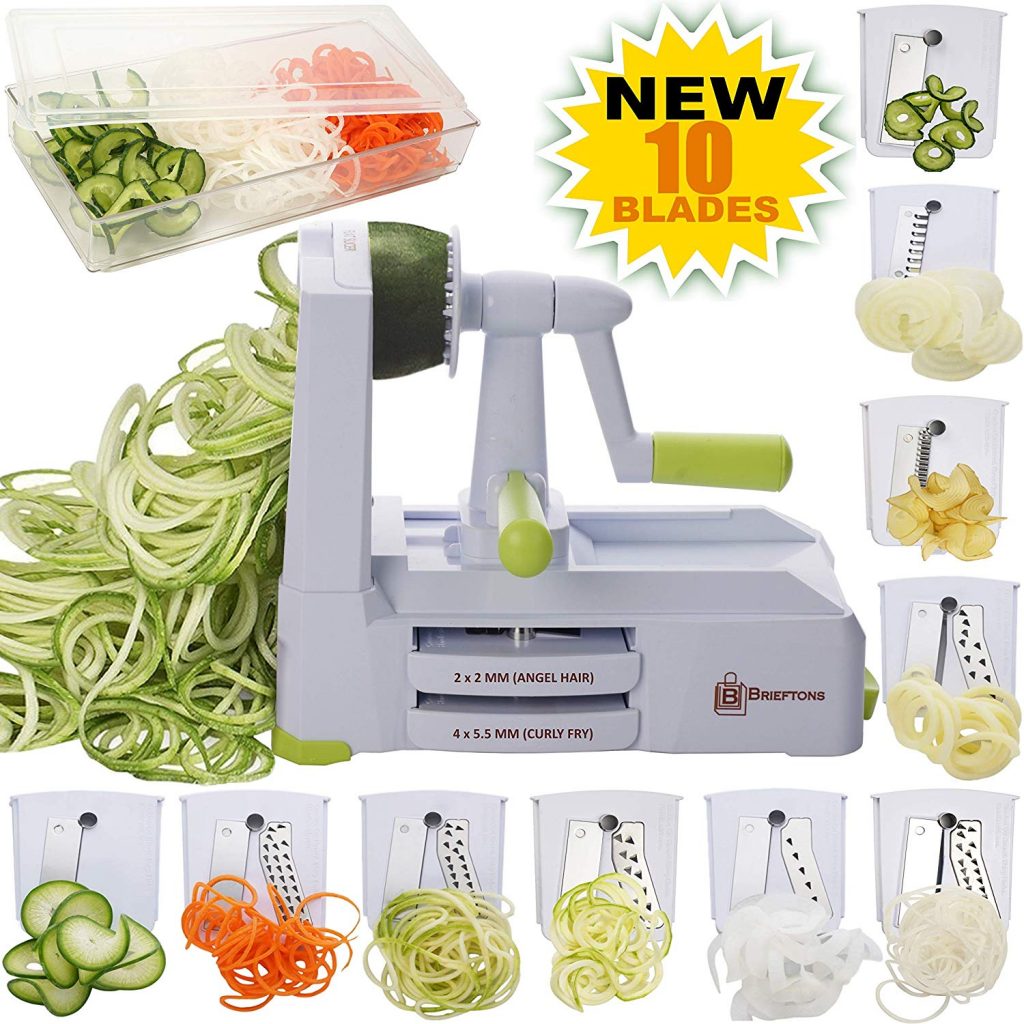 Most modern-day users would love to have a hard plastic body combined with a stylish finish on almost all their peripherals. The trend has penetrated into the kitchen as you will mostly come across beautiful spiralizers that also serve as a showpiece. The Mitbak stainless steel spiralizer, however, is all about performance and durability with little focus on the style factor.
The company calls it an industrial-grade solution which is true because it features an all-steel design and is open-ended. If you have young children at home, make sure to keep it out of reach as the blades are exposed and don't have a dedicated holder. The suction cups on the bottom are firm and can hold the spiralizer in place when you are using it irrespective of the amount of pressure applied.
The food slicer can be used to make julienne out of different vegetables that will compliment your paleo, keto or vegan low carb diet. There are three different sized blades to choose from which help determine the thickness and length of the slices you are about to make. It is easy to clean because all you have to do after completing the spiralizing is to wipe clean the blades with a cloth and store them in a safe spot.
What Makes the Mitbak Stainless Steel Vegetable Spiralizer Robust?
An industry-grade solution designed to last long and perfectly get the cutting tasks done
It is easy to clean and maintain, built to handle rigid vegetables
Recommended For:
Designed for those who no longer want those fancy plastic spiralizers
It provides great grip and is perfect for those who are conscious about safety when using the spiralizer for a long time
A Budget Slicer for Your Kitchen
Zoodle Slicer ZS001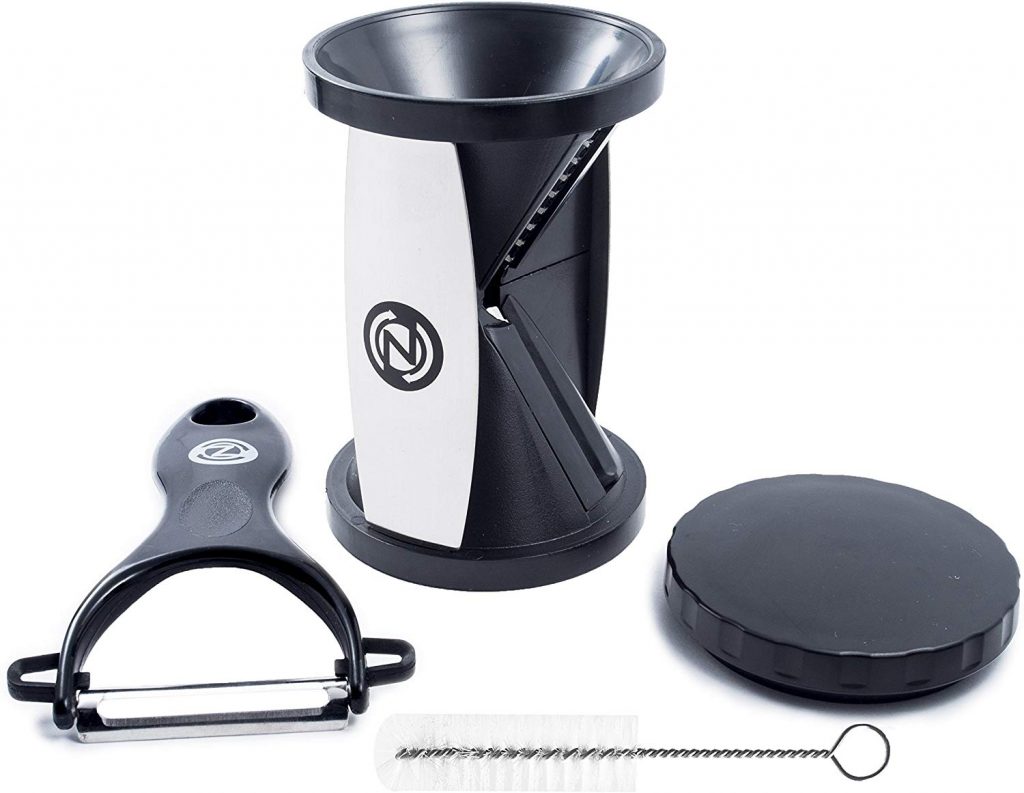 The Zoodle Slicer ZS001 is among the best spiralizers that is easy to use and one that gives you a firm grip. Most users who spend time in their kitchen would want to invest less and gain more out of their purchases. Splicing or spiralizing is something that you may not do regularly which is why the affordable price range of the Zoodle slicer makes it appropriate for your needs.
Instead of spending several dollars on a large tabletop solution that you may seldom use, it makes a lot of sense to go with a portable product. The hourglass design is a unique and worthy addition because you can place it on top of the table and hold it firmly in place while slicing large fruits and vegetables. The plastic construction is not the best of the lot but considering the price, it is manageable. Besides, it is easier to clean and store when not in use because of the compact design.
The food holder cap is small in size and as the vegetables go closer to the blade, exercise caution to not cut your skin as it can get dangerously close. The product's build quality is on the average side and it does work with very limited features to tweak. For the casual user who may occasionally make use of their spiralizer, the Zoodle product easily fits the bill.
What Makes the Zoodle Slicer ZS001 a Good Choice?
The decent build quality for the pricing is justified.
It is compact, easy to use for occasional splicing and spiralizing.
Recommended For:
Seasoned veterans who are capable of using a spiralizer without a food cap can handle the product.
It is a good fit for those who want to spend less and plan to use it rarely.
A Well-Designed Vegetable Spiralizer
Kitchen Supreme Spiralizer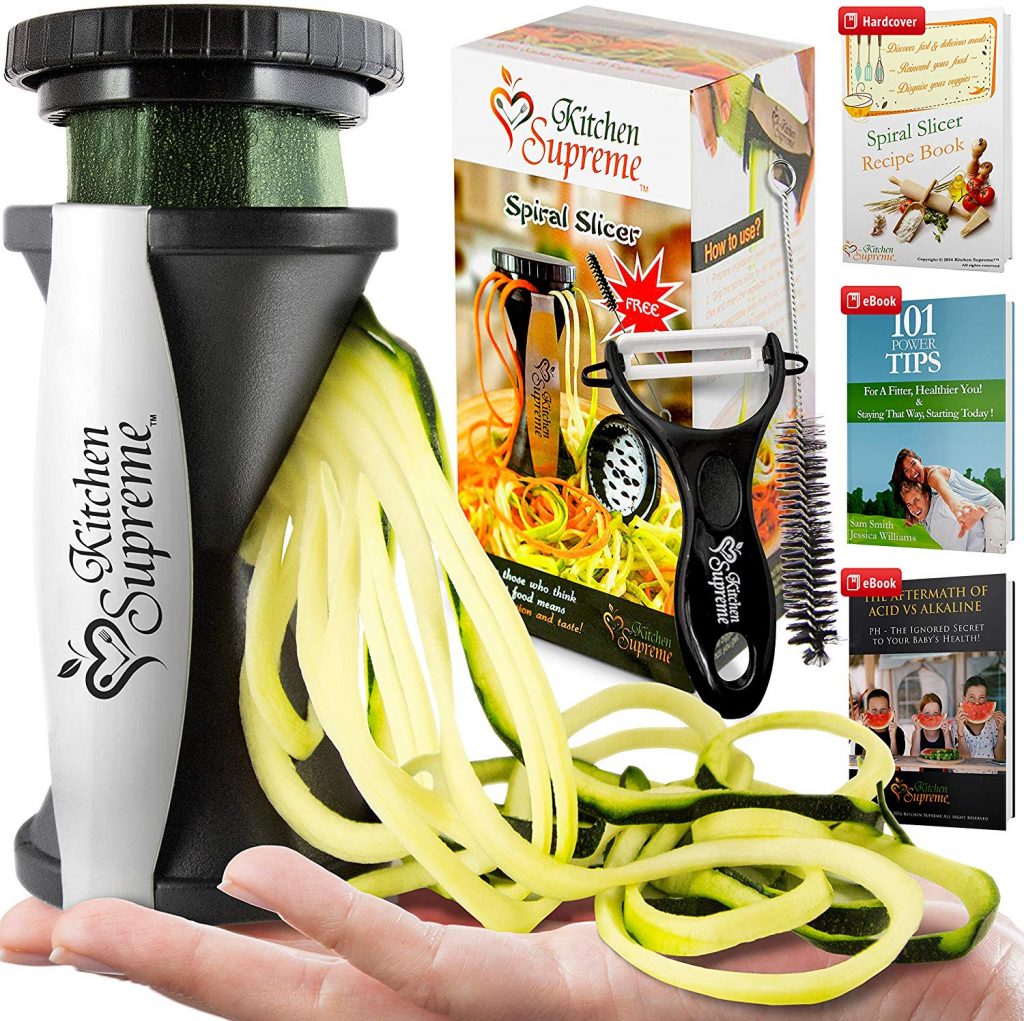 The bundle is the highlight of this product which consists of different items so that you don't have to look any further. The Kitchen Supreme Spiralizer includes a flexible cleaning brush that you can use to clean it after use, 101 power tips for a better diet, and a recipe book. The spiraled vegetables and fruits can be used to create a wide range of healthy dishes while keeping them looking stylish at all times.
The advantage of using a slicer is that you can completely keep your diet under check especially for people looking to enjoy gluten-free food or extreme ideas like the paleo diet. Be it a seasoned chef or a fun-filled and relaxed cooking time at home, the Supreme Spiralizer will help you out. It is made using highly durable ABS plastic material and the Japanese stainless steel blades are not only rust-free but don't heat up even when you use it for extended periods.
Considering the fact that it costs just $10, you can't expect a premium but it still gets the job done with powerful components that are used to construct the slicer. Once the job is done, you can comfortably clean it inside a dishwasher and save yourself the trouble of having to manually clean the blades. The product comes with a lifetime warranty and requires seconds to set up so that you can start using it to splice those veggies.
What Makes the Kitchen Supreme Spiralizer Cool?
The hourglass design is well-made and found in very few products.
The powerful blades ensure you can cut even the most stubborn vegetables into the desired slices.
Recommended For:
The product is made using high-quality plastic which is value for money.
If you are looking for a product that is dishwasher friendly, go for the Kitchen Supreme Spiralizer
The Best Multi-Purpose Spiralizer
Veggetti Pro Spiralizer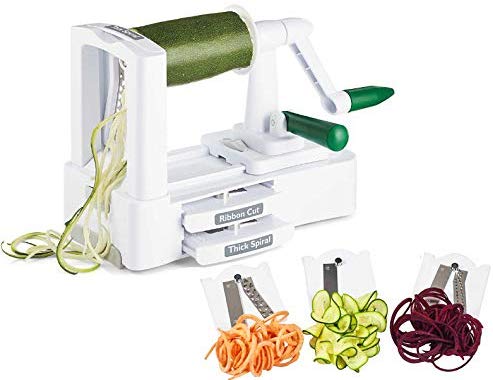 The best spiralizers are the ones that provide the complete package you are looking for. Once a product is purchased, it is difficult to find matching components to enhance its performance which is why most users would consider buying a combo package. The Veggetti Pro spiralizer is the best combination available in the market today as the bundle includes three interchangeable stainless steel blades.
While casual users who may rarely use a slicer can go with a tabletop or a quick handheld product, serious chefs should definitely consider this pro edition. It is a large item that you should place on your countertop but that which requires minimum time to be setup. Having said that, it requires a lot of attention to make the most out of it.
The Veggetti Pro is best for slicing carrots, cucumbers and zucchini. Besides, you can also use it to design a gluten-free diet on a daily basis. Pasta is the right way to go for any of you who are planning to lose weight on a long-term basis but would also like to explore other vegetables and fruits that support their calorie goals. The Pro edition ideally gets the job done by allowing you to slice them in different shapes and thicknesses.
What Makes the Veggetti Pro Spiralizer a Complete Bundle?
The blade placement and the choice of blades are great.
It requires some time to set it up and use but is a professional-grade solution for those who are willing to spend some time to understand how it works.
Recommended For:
The perfect solution for professional chefs and diet-conscious people.
Ideally suits kitchens with enough space to leave the unit intact and for those who will use it regularly.
Stress-Free Spiralizer to Keep Your Tabletop Clean
Fullstar Vegetable Spiralizer 3-in-1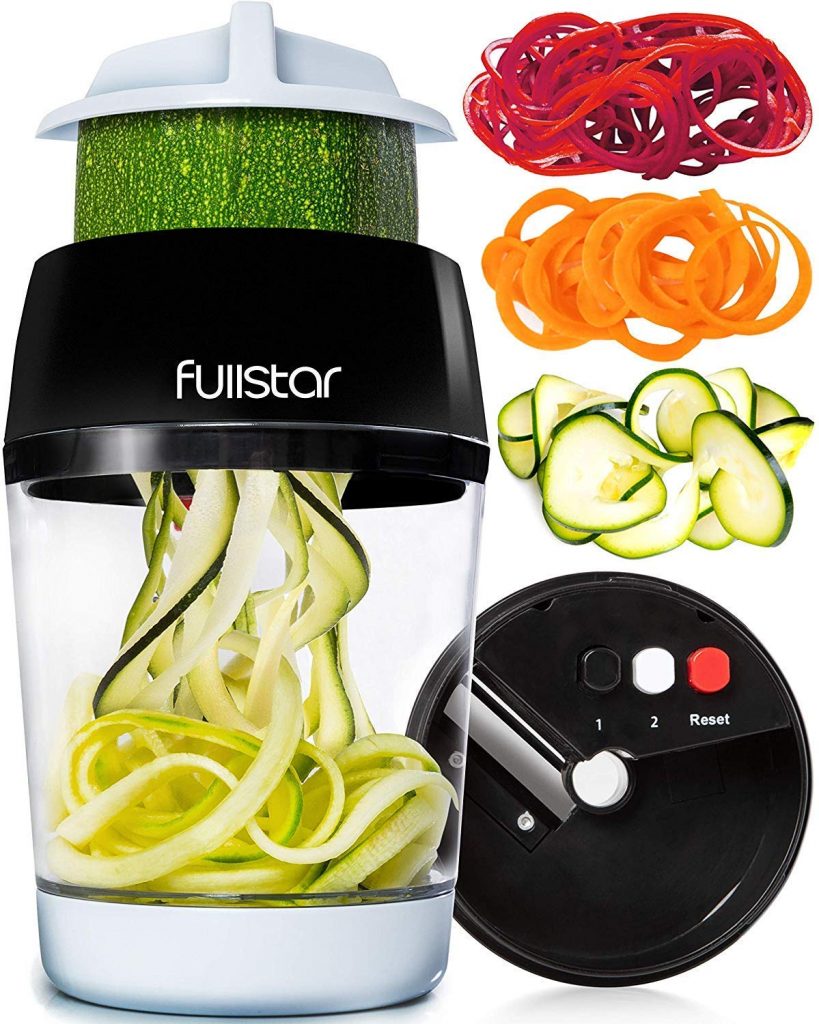 Almost every other product in the market is designed to help you cut the vegetables but they will be pushing out the cut veggies onto the kitchen countertop. That definitely requires plenty of cleaning up later even if you have a cutting board kept below it. For the select few who are obsessed with a clean workplace, the Fullstar vegetable 3-in-1 spiralizer is one of the best spiralizers that is unique with its design.
At first look, you will immediately see the enclosed design. The transparent glass-like design houses all the cut veggies so that you don't have to clean the kitchen countertop at a later time. The entire product can be disassembled and can be cleaned in a dishwasher. Another added advantage of this product is that it features a compact design, making it easy to store. The Fullstar Vegetable Spiralizer is also stylish in its build.
The 3-in-1 solution allows you to easily create noodles out of any vegetables like cucumber, apple or create pasta from ingredients you love the most. The stainless steel blades are extra-sharp which makes cutting easy and at the same time, they are safely enclosed inside the design, allowing the tabletop spiralizer to be used in households with kids around. It is made of ABS plastic and is food-safety approved.
What Makes the Fullstar Vegetable Spiralizer 3-in-1 Unique?
The enclosed transparent design makes it unique.
The blades are safely placed inside for maximum safety and are sharp enough to be used for all types of fruits and vegetables.
Recommended For:
If you have kids at home and need to keep sharp objects safely, this is the right model.
The spiralizer works with a range of veggies and keeps your kitchen counter clean without any spill-overs.
The Best Spiralizers for Large Families
Mueller Spiral Ultra 8-in-1 Heavy Duty Slicer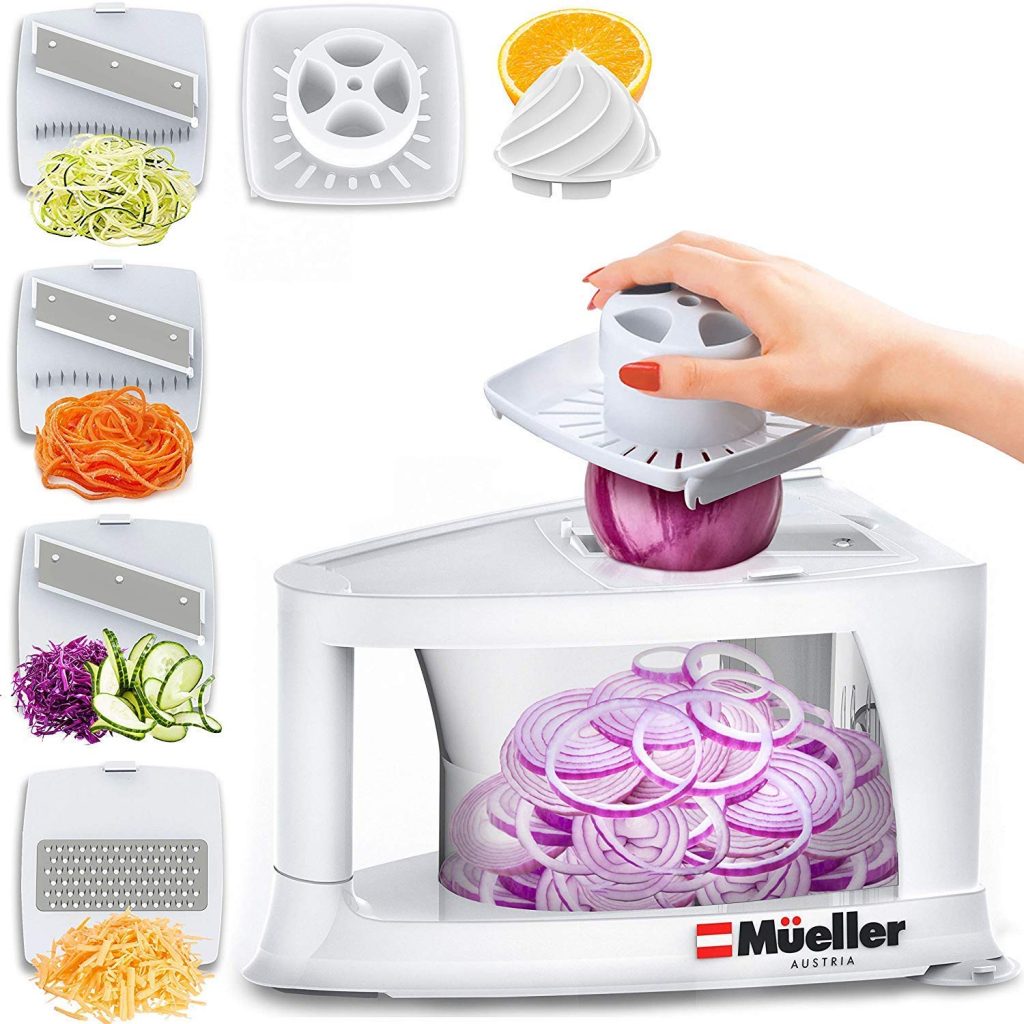 Heavy-duty products are designed to withstand usage for long hours and this product from Mueller Australia is the perfect solution for large families. Considering the size of the product and its simplicity in helping to cut large quantities of tomatoes, onions, or carrots, it can even be used in a professional environment. The ultra-heavy-duty product is also an 8-in-1 solution with super powerful robust blades. Make sure you are extra careful because there are so many blades to interchange based on your need and safety is of utmost importance.
On the inside, the Mueller spiralizer is equipped with four closely packed blades that are made using 420-grade stainless steel. You will be able to cut vegetables or fruits non-stop and there are multiple blades mounted on hard plastic, making them easier to install and stay safe at all times. The roller on top of the mount allows you to spin it so as to spiral or create ribbons and noodles based on how you want the end product to be.
As all the cutting takes place inside a closed container, it is perfectly safe even for your young children to use, but with parental assistance. Make sure to safely store the spare blades in a different spot away from their reach. The 8-in-1 solution is not just about cutting but also includes a grater and juicer so that you can keep your entire family rejuvenated while creating garnishes for those delicious homemade dishes.
What Makes the Mueller Spiral Ultra 8-in-1 Heavy Duty Slicer a Robust Product?
The product truly justifies the heavy-duty tag with the strong build quality and it features a patented design.
It can be used to cut fruits and vegetables and also be used as a juicer or grater with multiple blade options.
Recommended For:
If you have a large family, it is important to cut large quantities of vegetables that can be handled with this product.
The entire board setup can be safely stored and is perfect for moms who love to have an all-in-one solution.
A Spiralizer with Vegetable Storage Box
Fullstar 7-in-1 Vegetable Chopper Spiralizer with Egg Slicer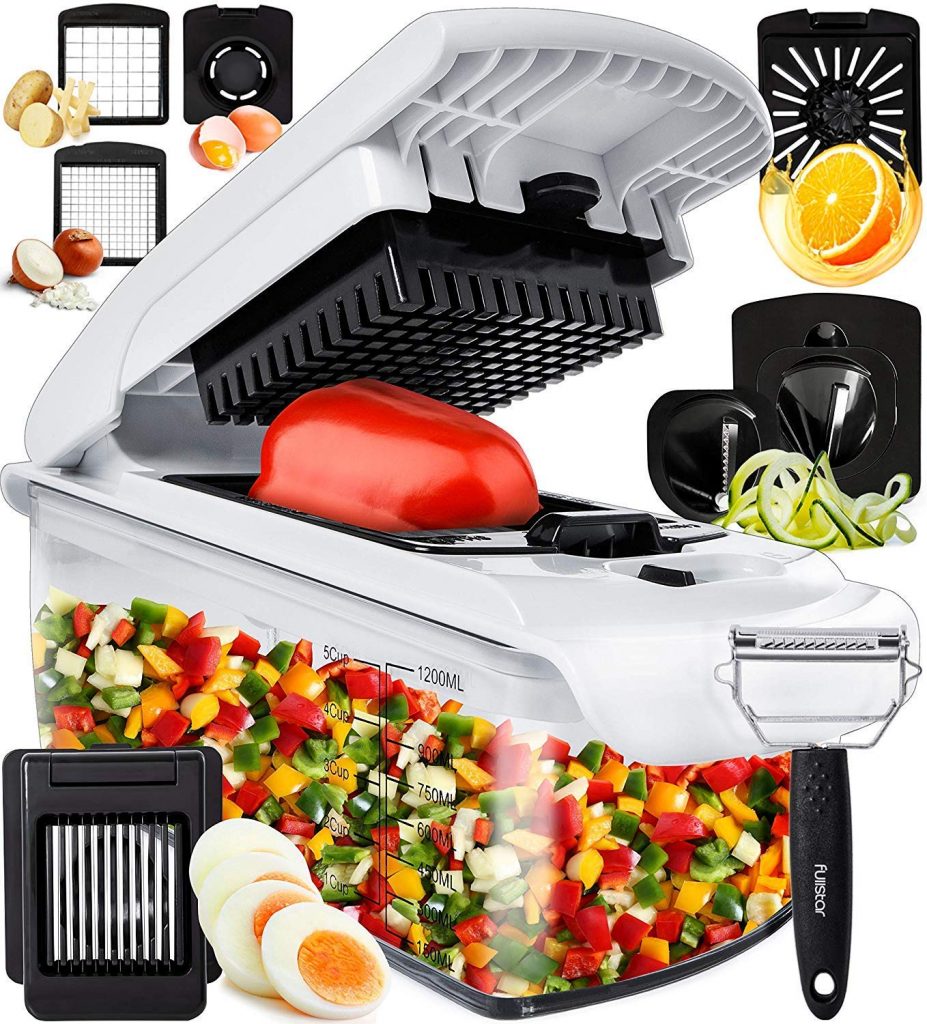 Most people are of the view that when they purchase a dedicated spiralizer, they can't use it for any other purpose. Besides, unless the entire family is big-time fans of noodles and pasta made out of veggies and fruits, it may not find its use. For such practical issues, going with a multi-purpose solution is the way to go as the Fullstar vegetable chopper lets you not only spiralize but also slice eggs and make fruit juices.
With this compact and easy to use spiralizer, you can choose between large ribbon blades or go with thin spirals based on your requirement. The advantage of having a storage box as you cut is that you can keep the product safely stored in a refrigerator or simply use it at a later point during the same day. Apart from that, you can use it quickly to chop onions or fruits in large cubes or small cubes to be used while cooking.
The catch tray is the attractive aspect of this product as it leaves no mess, no juice, or any other substance on your kitchen top. The non-slip base assures that the entire unit stays on top of the counter even when you apply complete force to cut sturdy vegetables like onions or extract the juice out of an orange. The additional components bundled with the product include an egg slicer and a handheld peeler.
What Makes the Fullstar 7-in-1 Vegetable Chopper Spiralizer Practical?
The cut vegetables or fruits can be stored directly using the food container.
It leaves no traces while cutting and can be used daily because it can do more than just spiralizing fruits and vegetables.
Recommended For:
People who want an all-purpose solution so that their spiralizer doesn't remain idle for many weeks.
If you want an egg slicer and juicer combined with spiralizing options, this is the one to go for.
The Most Popular Spiralizer
Spiralizer 5-Blade Vegetable Slicer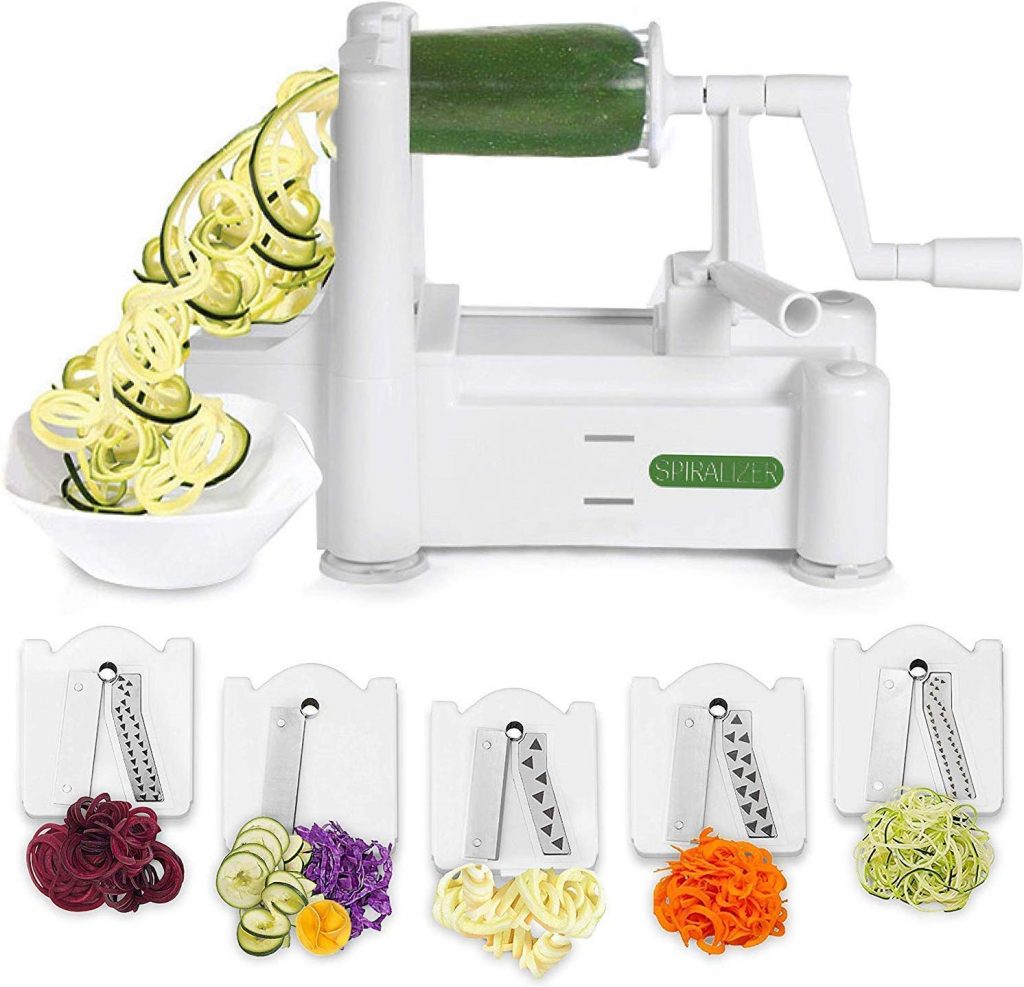 For buyers who are big-time followers of proper brand names, this is a slicer that goes by the brand name Spiralizer. With thousands of positive reviews, it is difficult to find fault with this product that happens to be a multi-purpose solution for the kitchen. The hand-driven roller is useful because instead of applying pressure from the top and risk using vegetable holders, you can simply use the Spiralizer 5-blade vegetable slicer like a sewing machine.
Just set up the product on a tabletop, choose the blade that you like from the five different options available and attach it to the product. The blades are all made using 420 high carbon stainless steel material that allows them to easily slice even the most stubborn fruit or vegetable. Irrespective of your choice of diet which can be keto, paleo, or vegan, the different chopping solutions make life easier to keep your diet interesting at all times.
Along with the bundle that includes a storage basin for the cut vegetables, you will also receive an e-book with plenty of recipes to explore. Choose some colorful veggies and cut them into different shapes by interchanging the blades. Add a touch of honey or other delicious ingredients to make great pasta or salads every day. The suction cups keep the spiralizer in place when in operation.
What Makes the Spiralizer 5-Blade Vegetable Slicer Reliable?
The large container collects all the cut vegetables and keeps your tabletop clean.
It is designed to be sturdy and durable while being easy to cut.
Recommended For:
If you need a sturdy machine with powerful blades and easy to use splicer, buy this product.
For users who are looking to make differently shaped veggies.
Heavy Duty and Rugged Spiralizer
Brieftons 10-Blade Heavy Duty Spiralizer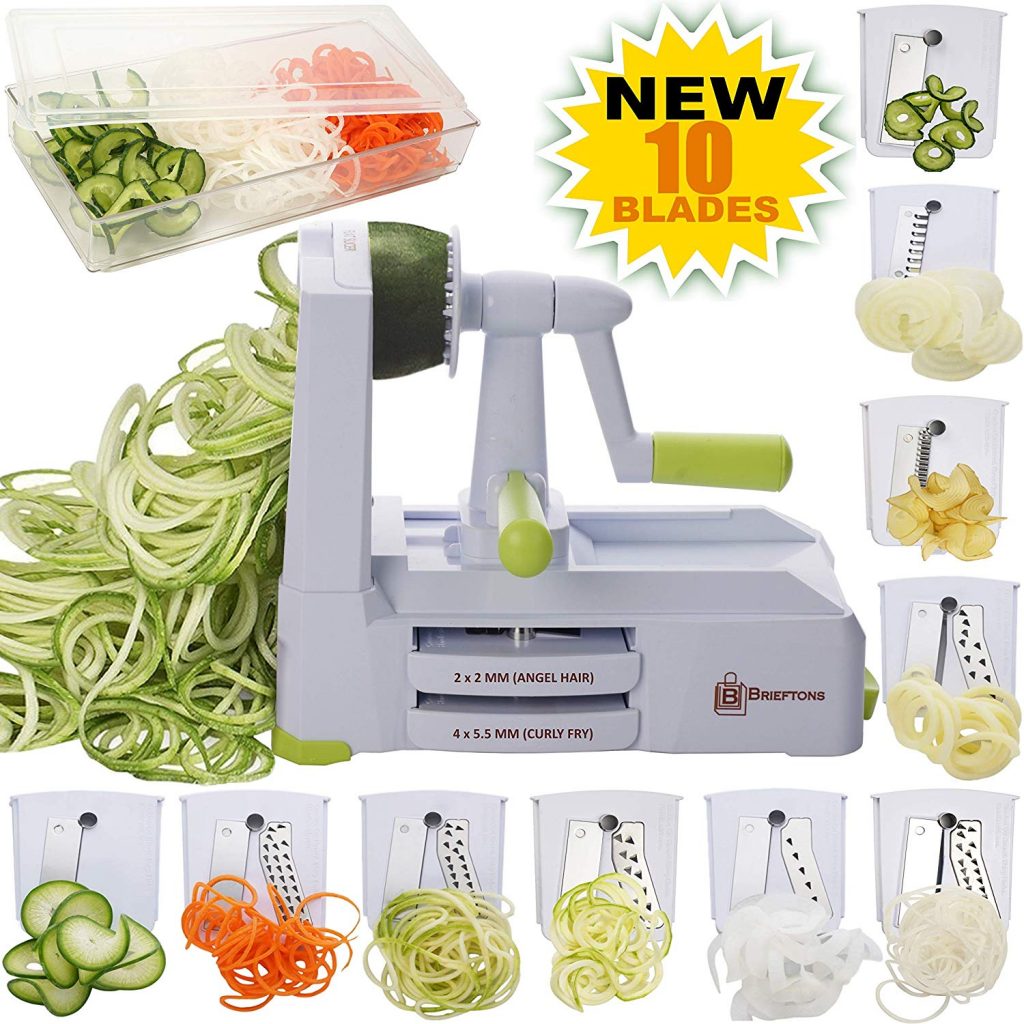 The latest heavy-duty design is the most prominent feature of the Brieftons 10-blade heavy-duty spiralizer. The large size of the product ensures the durability you are looking for. It is easy to hold in hand and apply pressure as needed. The choice of ten blades further adds up to the usability factor of the product while the blades can be safely tucked inside the bottom storage.
While it is practically difficult to keep track of all the blades provided, if you are a professional chef or have experience in using such peripherals, it is easy to use all of them based on the requirements. The choice of blades includes angel hair, tagliatelle, coarse, fine, flat slicer, and linguine among other options. Most popular diet choices like Keto or Paleo can be followed by using this rugged slicer to keep the diet plan interesting.
The weight of the slicer adds up to its durability and also makes it easy to apply pressure when cutting. The blades are all 420J2 stainless steel made in Japan that are razor sharp and can cut through tough vegetables and fruits. The catch container makes it easier to cut without making a mess on the tabletop and the bundle also includes four Brieftons recipe ebooks to spice up your cooking.
What Makes the Brieftons 10-Blade Heavy Duty Spiralizer Super Durable?
The construction is extremely rugged and made for long-lasting durability.
The choice of ten blades is ideal for professional chefs and people who love to expand their diet choices.
Recommended For:
This product is the best fit for those who want a storage container combined with powerful spiralizer blades for cutting almost any edible food.
The heavy-duty product is versatile for multiple use cases.
A Premium Quality Precision Slicer
KitchenAid KSM1APC Spiralizer Attachment 1" Silver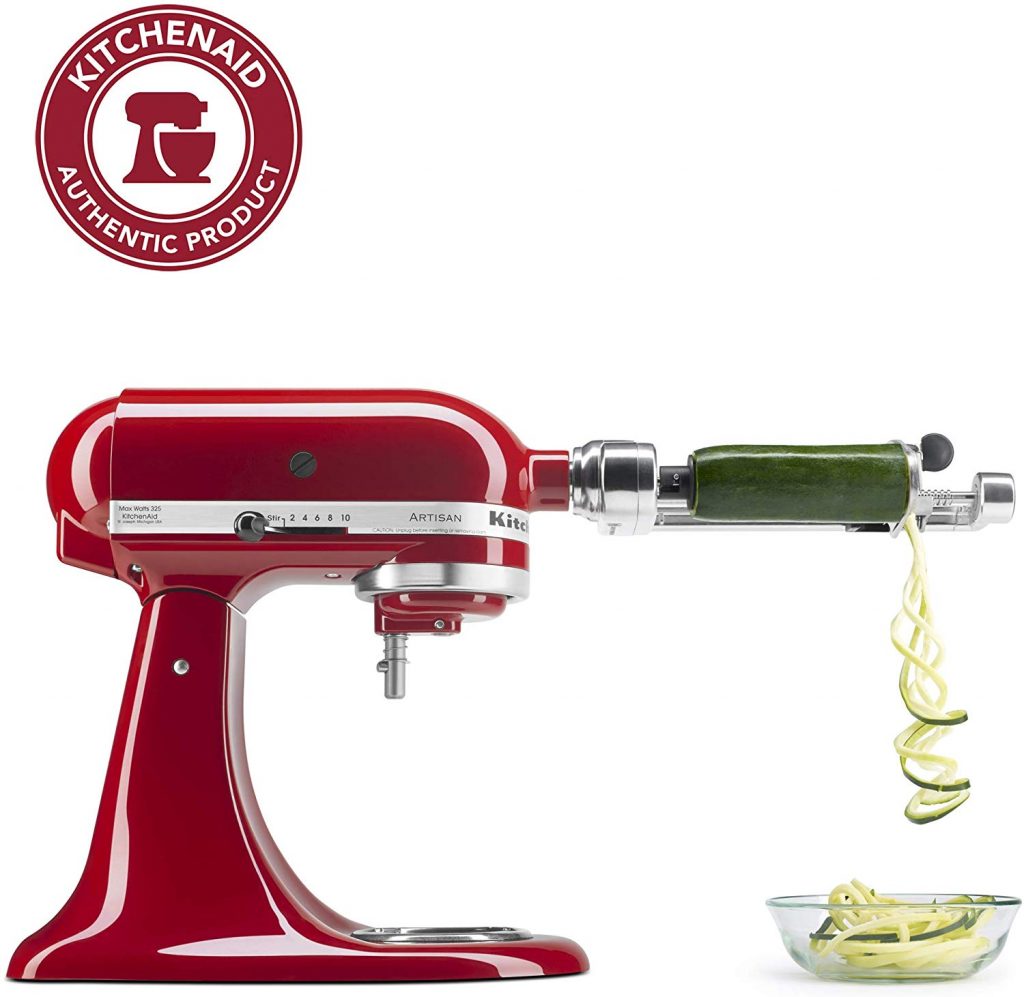 The KitchenAid stand mixer is a popular kitchen equipment that is owned by people who want a premium experience and are willing to spend over two hundred dollars. While not everyone would want to spend so much money on a mixer and buy the spiralizing attachments separately, if you already happen to own the KitchenAid product or are planning to purchase it, this spiralizer 1" attachment is the perfect purchase.
Unlike many other products that are made of plastic with stainless steel blades, the attachment is pretty durable and is made using high-quality metal. Instead of having to manually slice your vegetables and fruits, you can let the KitchenAid Spiralizer do it by using the motorized design. Being an all-red product that excels in terms of design and practicality, it is easily among the best spiralizers that you can purchase for a premium cost.
A total of five different types of spiralizers are provided in an enclosed box. When they are not being used, you can safely store them and take them out only when needed. The product can be used individually as a mixer or for other purposes because it is compatible with a wide range of attachments making it the most versatile kitchen equipment that you can own. The package includes spiralizing medium and fine blades that can slice large and small, along with a peeling blade.
What Makes the KitchenAid KSM1APC Spiralizer Attachment 1" Silver Useful?
The product is designed for the KitchenAid mixer. If you already own it or are planning to invest in a premium all-purpose solution this is a good solution.
The attachment is easy to store and works more effectively than low-quality, cheap products.
Recommended For:
Aimed at users who invest in premium and expensive kitchen equipment.
A must-have spiralizer accessory for KitchenAid stand mixer users.
A Simple, Handheld Spiralizer for Everyday Usage
Sedhoom 4-in-1 Handheld Spiralizer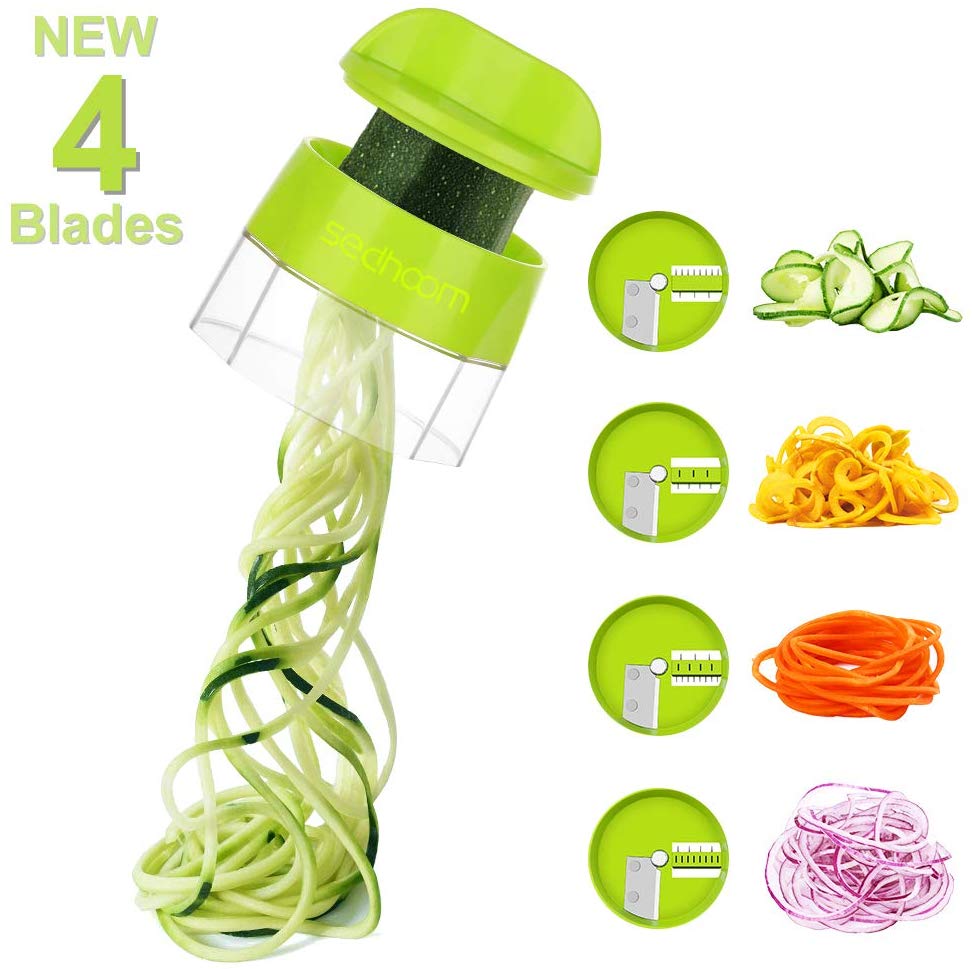 Similar to the many premium and more expensive products available in every category, spiralizers can be purchased for below $10 or you can go all the way up to $100 to get that exquisite experience. The primary purpose should help determine the kind of product you need. The Sedhoom 4-in-1 handheld spiralizer is an affordable and easy to use alternative for people who use their slicer occasionally.
Made by the well-known brand Sedhoom, the product is very compact and features a unique design. The colorful green cap and the external covering makes it easier to store as well as retrieve from any cupboard in the kitchen. Making things easier and more productive is the inclusion of four blades on the inside that you can choose with the flick of a button.
Instead of choosing large products that often occupy a lot of space in your kitchen, the Sedhoom spiralizer saves space while getting the cutting done to your taste. The entire equipment is constructed using ABS plastic while the blades used are 304-grade stainless steel capable of slicing fruits accurately. Unlike other handheld spiralizers, the spiralizers from Sedhoom can be directly rinsed and is much easier to clean.
What Makes the Sedhoom 4-in-1 Handheld Spiralizer Useful?
The compact product is easy to store in the kitchen.
It can be set up easily and you can use it within seconds while not having to make any major changes as the blades can be switched using the integrated button.
Recommended For:
Those who have limited kitchen space or have only an occasional need for a spiralizer.
People who love to design their veggies but would like a readymade solution without having to switchblades through disassembly.
Conclusion
Being a simple yet useful product, the best spiralizers are available in shapes, sizes, and colors. Right from the highly rated Paderno 4-blade Spiralizer Pro to the heavy-duty solution from Brieftons, the choices are plenty. While the average buyer may find it difficult to make a quick decision, you can do it easily by taking a couple of points into consideration.
The pricing is obviously a deciding factor and the premium spiralizers are often designed for professional or serious users who may have a daily requirement to use it. The handheld models are easy to use, clean, and store while you can opt for vegetable slicers that include a collecting dish to keep the kitchen countertop always sparkling clean. The type of blades used in the product and its capability to create different spirals will also play a part in helping you choose the right one.
---