Technobezz is supported by its audience. We may get a commission from retail offers
Summary – Early in the morning, when you're rushing to the college or office and do not have time to put together an elaborate breakfast, what
–
Early in the morning, when you're rushing to the college or office and do not have time to put together an elaborate breakfast, what do you do? You simply use your toaster oven to toast a few pieces of bread, have them with a couple of boiled eggs, and rush on. Of course, the use of a toaster goes much beyond that. A kitchen, whether big or small, is full of appliances and utensils many of which serve a similar function. The functions performed by a toaster oven, though, cannot be performed by any other appliance or utility. A toaster oven is a multiple utility device and is a good addition to any kitchen.
Let's find out the unique features of some of the most popular toaster ovens available in the market along with the several benefits offered by the appliances.
See also: Best toasters
Best Toaster Ovens
Best Budget Toaster Oven
Black + Decker TO1313SBD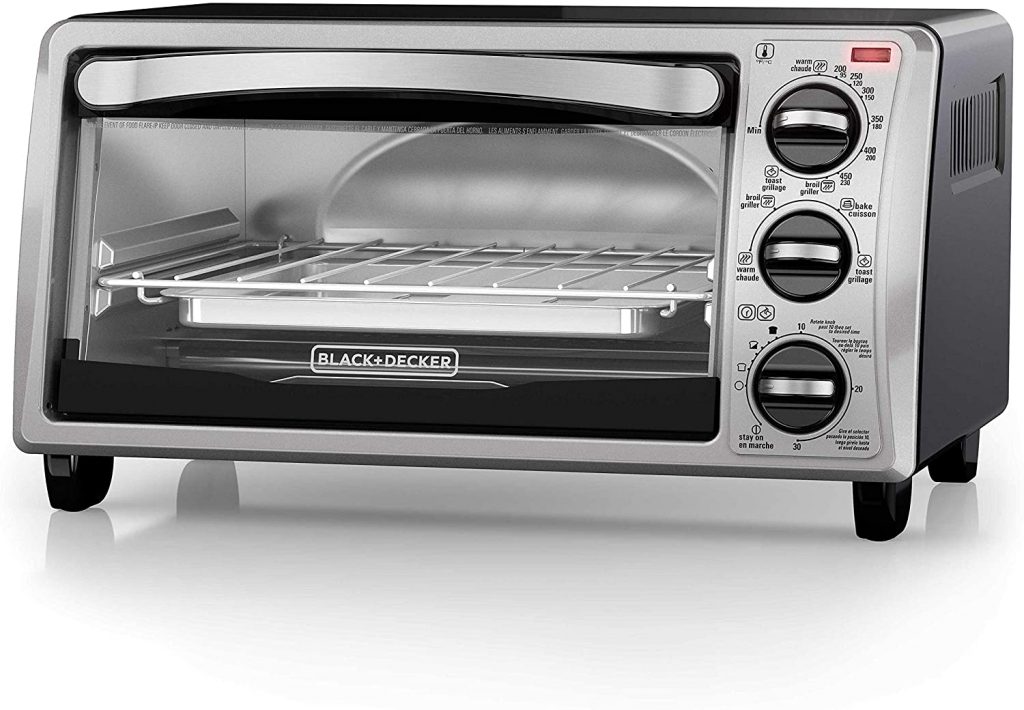 You might be thinking of buying a relatively lower-priced oven, however, you must opt for one that performs the basic functions of a standard oven well. Apart from getting its basic features and functions right, Black + Decker TO1313SBD boasts of a nice design that is easy on the eyes and will add to the décor of a well-maintained kitchen. It has a stainless steel body that is strong and durable.
It offers four cooking functions and browning levels to make sure the bread or other bakery products are browned evenly from all angles. Though it does not have a huge capacity, you can bake a 9-inch long pizza or toast four slices of bread together in it. The tray is removable making it easier to clean up the oven. There is also a see-through window that enables you to monitor the process.
You get a baking pan, toasting rack, and broiling rack with it. On the control front, there are many useful features you can avail of like the 30-minute timer which lets the food cook for a longer duration. The heating elements work just fine and heat the food pretty quickly. It's very lightweight (weighs just about 9.3 pounds) and you will not have any problem in shifting it from one place to another, as and when the need arises.
Who Should Buy This?
It's a no-frills oven that performs the basic functions very well.
If you're looking for ovens in the below $100 range, then this is the best that you can get in that price range.
Best Toaster Oven for Baking
Cuisinart TOB-260N1 Chef's Convection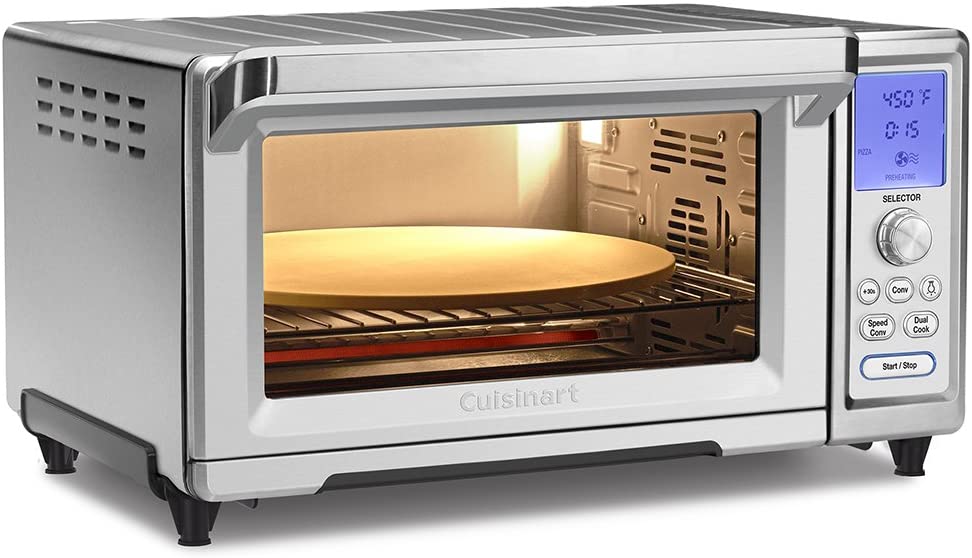 A toaster oven is a must-have for people who love to bake food. Cuisinart TOB-260N1 Chef's Convection delivers very well on all fronts. If you want to bake several items in one go, this toaster oven which has a large capacity is good for baking multiple items. That said, it has a small footprint and is fairly energy-efficient. It consumes less energy than conventional, full-sized microwaves. It's not only environment-friendly but helps you save up on electricity bills. It consumes between 1200 and 1800W of electricity and is energy-efficient. People sometimes cook up a relatively small meal in a big microwave that in turn, consumes a lot of energy. Toaster ovens such as Cuisinart Chef's convection have very efficient heating mechanisms that make the process of pre-heating much faster.
It comes with a wide range of baking options including conventional setting and programmable cooking functions. It has a very efficient heating system which helps in both pre-heating and heating the device appropriately while the food is being cooked or baked. It comes with an easy-to-operate internal temperature compensation technology which helps in indicating the ideal cooking time based on your usage. Apart from that, it also offers a speed convection system that enables you to start cooking without waiting for the oven to heat up to a certain level.
A special +30 button gives you the option to add 30 seconds to any function during cooking or baking. Thus, you can keep adding the time as per your requirement on how long the food should be inside the oven. Just like the +30 button, the oven has several other features that help to cook and bake food very quickly and efficiently. It has been designed well keeping in mind the convenience of the user. It comes with an automatic sliding rack and dishwasher-safe parts.
Who Should Buy This?
It's the ideal oven for people who love to bake.
If you do not like spending too much time in the kitchen, this is the right device for you as it cooks and bakes food very fast.
The Best Toaster Oven offering Value for Money
Breville BOV845BSS Smart Oven Pro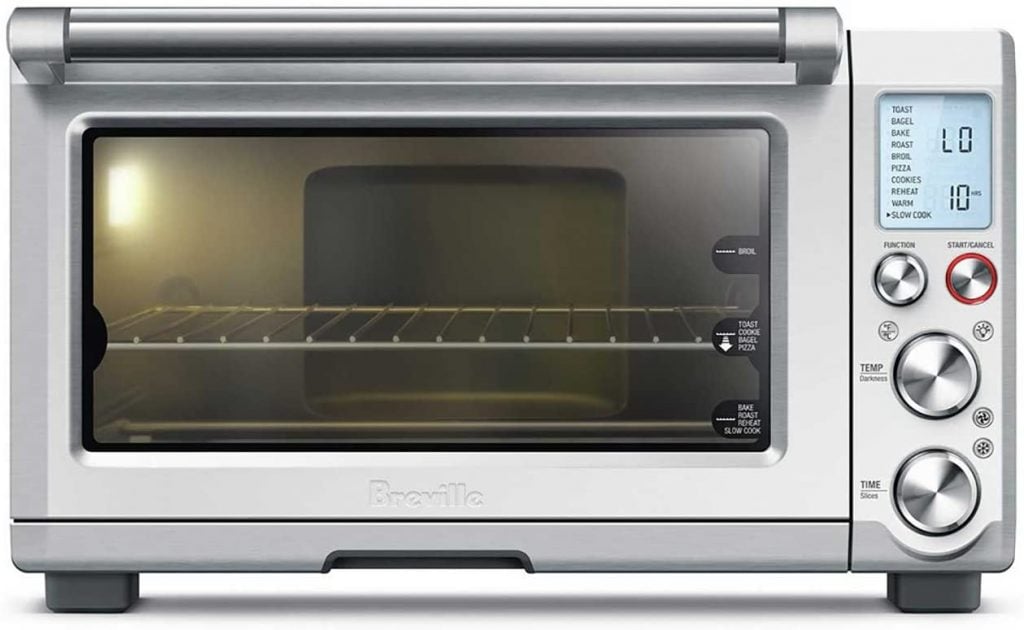 If you want to invest in a toaster oven that offers a wide range of functions and provides value for your money, then Breville Smart Oven Pro is the most appropriate device for you. It has a large capacity and comes armed with a vast range of presets giving you enough options to cook, bake, or toast a large number of dishes in it.
It has all the modern, upgraded technology which one can associate with a digital convection oven. The toaster oven has the capacity to hold six large slices of bread and a 13-inch long pizza. It has a range of cooking functions designed for a wide variety of food items like sandwiches, toast, biscuits, pizza, cake, or grilled chicken. You get complete freedom to set the time, temperature, and cooking function according to your preference. It offers six different types of cooking functions, namely broil, toast, bake, warm, refrozen, and slow cook.
A special mention must be made of the Element IQ heating system which is used to channelize heat across five quartz elements for accurate and stable cooking with even heat distribution. The oven heats up quickly with 1800 watts of electricity and the cooking gets done quickly and food can be served in little time.
Most modern toasters like Breville Smart Oven Pro come equipped with high-tech control panels and touch-screens which require minimal effort from your side. They also come with heating elements that help you to cook and warm a food item simultaneously. Among the several high-tech features of this oven is an interior oven light which helps in visually monitoring the cooking process, a non-stick cavity coating for simplified cleaning and a legend display for ease of controlling the operations. As it has several preset functions, those who are not used to dealing with new-age technology will find the multiple buttons a little intimidating at first but if you're patient enough, you will get used to the controls pretty quickly.
Who Should Buy This?
It's a perfect buy for those who want an oven which is loaded with a number of features and functions.
This oven with multiple functions will be a good investment for a large family.
Best Air Fry Toaster Oven
Cuisinart TOA-60 Convection Toaster Air Fryer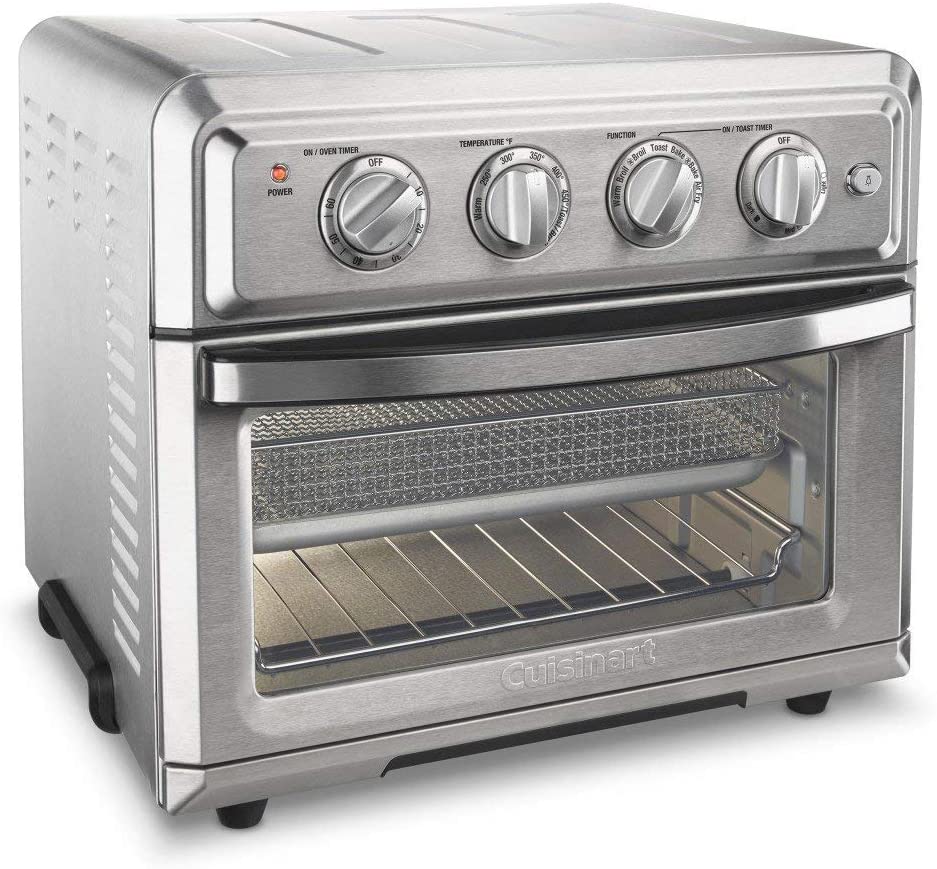 Cuisinart has a reputation for making durable, solid toaster ovens. This particular model from them is very popular among those who like to air-fry their dishes. Air-frying is the process in which hot air is circulated all around the food inside the oven using the convection system. This causes a chemical reaction called the Maillard effect, making the food aromatic, flavorsome, and brown. Toaster ovens need very little oil to air-fry food, unlike conventional ovens.
The oven heats up in no time and you do not have to wait for a long time in the kitchen waiting for the food to get ready. It's important to keep a check on the temperature as the cooking time is relatively less and the food might get burnt if you do not keep a close watch. It comes with four dials, timer, cooking functions, temperature, and toast shade selector which makes the process all the more convenient for the user.
Some people confuse healthy food with bland food, but that is definitely not the case here. Even though you use less oil in preparing the food, the food that is prepared in the Cuisinart oven is tasty and wholesome. The deep-fried dishes taste crisp and bear a golden-brown look when they come out of the air-fryer oven. You will not find any major difference in the flavor. The only difference here is that it will be healthier.
It has six heating elements, four at the top and two at the bottom. They do not heat up at the same time and their functioning depends on the cooking function you choose. The 60-minute timer dial lets you set the time required for your different types of cooking. For toasting, there is a separate toast shade dial that controls light to dark toasting.
Who Should Buy This?
It's an ideal choice for people who like fried foods but like to keep a check on their health at the same time.
It takes less time to heat up and cook, so it makes for a good buy for those who do not like to spend too much time cooking.
Best Small-Sized Toaster Oven
Panasonic Toaster Oven FlashXpress
If you're interested in buying a toaster oven but the realization that you have a small kitchen filled with a large number of appliances stops you from doing so, then you must know that toaster ovens come in all shapes and sizes and there are several models that are manufactured keeping in mind the space constraints of a small kitchen. In this range of small-sized toaster ovens, Panasonic Toaster Oven FlashXpress has emerged as the most reliable one.
It does not accommodate food in huge portions like full-sized, traditional ovens but does a very good job of fulfilling the basic functions of an oven, like toasting and baking, very well. It's very convenient to use and comes with easy-to-operate controls. A standout feature of this oven is that unlike most other devices, it comes equipped with both ceramic and quartz heating elements which help in heating the food almost instantly and cooking it faster.
One of the very few limitations of this oven is that it does not have a cancel button. Once you opt for a particular setting or cooking function, you cannot stop it midway and change it. So, it's advisable to think and decide before you start cooking or baking in this. This toaster oven can be cleaned very easily.
Who Should Buy This?
If you do not have enough space in the kitchen to accommodate a full-sized oven, then go for this.
The Most Versatile Toaster Oven
Cuisinart 260N1 Chef's Convection Toaster Oven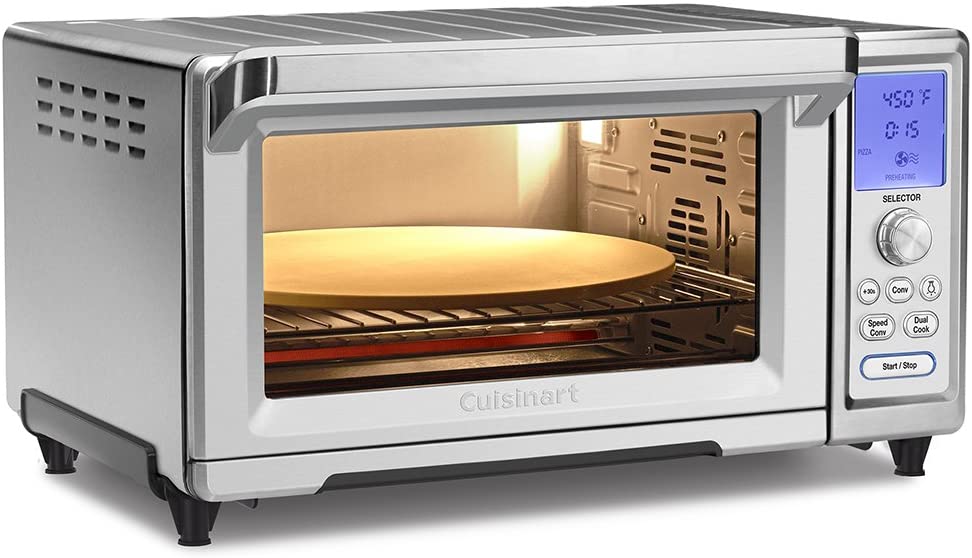 Though relatively compact, this oven has as many as 15 features which make it a good contender for the best versatile oven. One of its most striking features is the Dual-Cook function which almost splits the oven into two parts and allows you to cook two dishes in the two different compartments at different temperatures. It comprises of five heating elements, two at the bottom and three at the top. It has specially designed sensors that let you cook at the most accurate temperatures resulting in food that is cooked or heated perfectly to suit your taste.
It cooks dishes of all kinds and different shapes and sizes with utmost efficiency. Apart from a convection fan, it boasts of a speed convection setting which helps in circulating hot air within the oven at a fast speed. The control panel has a huge LCD that blinks with a blue-colored light. The light inside the oven starts blinking when the door is opened and there is a button that allows you to turn the switch on for two minutes while the door remains closed so that you can monitor the status of the cooking process.
You can monitor the cooking time, temperature, cooking function, etc. easily with the large digital display. The timer comes with a generous two-hour limit. One can use the convection button anytime during the cooking process to add convection air circulation. The speed convection button keeps away the requirement to preheat the device and reduces the time of cooking the food.
The oven has four rack positions which lets one utilize all the settings to the fullest. The two rack positions at the top are equipped with a built-in stopper to stop the racks as and when needed and reduce the risks of food spilling out of the oven. The top rack will automatically pop out a little when you open the door of the oven and that makes it easier for the user to handle hot food items. The interior walls are made up of a non-stick coated material that makes cleaning easy.
Who Should Buy This?
It comes at a slightly higher price but is loaded with as many features as you can wish for in a multi-utility oven.
If you're bothered by the cord length of an oven, then rest assured as this one offers a pair of cord cleats to keep the cord length in check.
Best Infrared Toaster Oven
Morning Star – Extra Large – Infrared Convection Countertop Digital Toaster Oven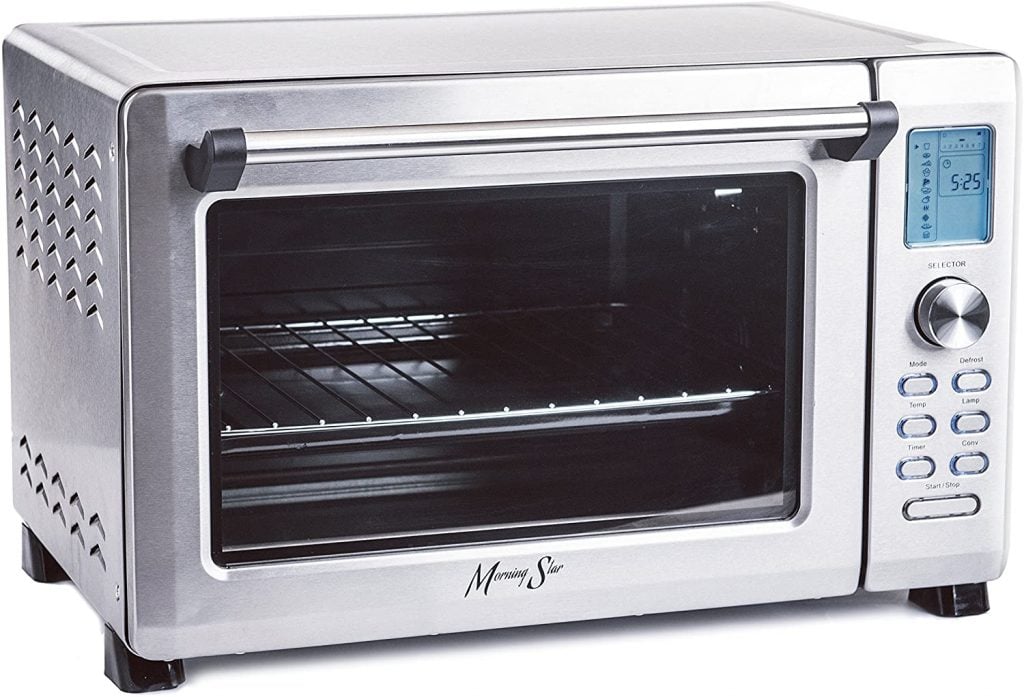 The heat generated within an oven plays a crucial role in the cooking process. The heat comes from varied sources like gas, electricity or even coal. While these are the most commonly used heat sources, they are not very energy-efficient and you end up using only a fraction of the heat produced while cooking. Infrared heat is often seen as one of the more convenient alternatives to cook food. Many experts predict that infrared heat will be the most widely used method to cook food in the future.
Morning Star – Extra Large – Infrared Convection Countertop Digital Toaster Oven is widely regarded as one of the best-infrared toasters available. There are a couple of compatible devices in this range but one of the many things in which it scores over the others is its capacity. The oven is huge and can cater to the cooking needs of a large family very well. It can also be very useful while hosting big parties with several guests.
Unlike most other ovens, its size does not affect the cooking time adversely. It cooks approximately 40% faster than conventional ovens which do not use infrared heating. It boasts of an exterior that is made of stainless steel and an interior which is very easy to clean manually as it's made up of a non-stick material. Preheating the oven is not required here. It has a bunch of well-marked preset settings to help you select the different cooking functions easily.
With dimensions of 21" x 13" x 13.5", it's a huge device which can accommodate 12 slices of bread or a 12-inch long pizza. You can also put in large pans and racks in it without facing any issue. It comes with a big, prominent display that will help you operate it effortlessly.
Who Should Buy This?
If you're always running late for work and need an oven that cooks up food real fast, then this is the right pick for you.
Its large capacity makes it an appropriate choice for a big family.
The Best Oven for Broiling
Breville BOV450XL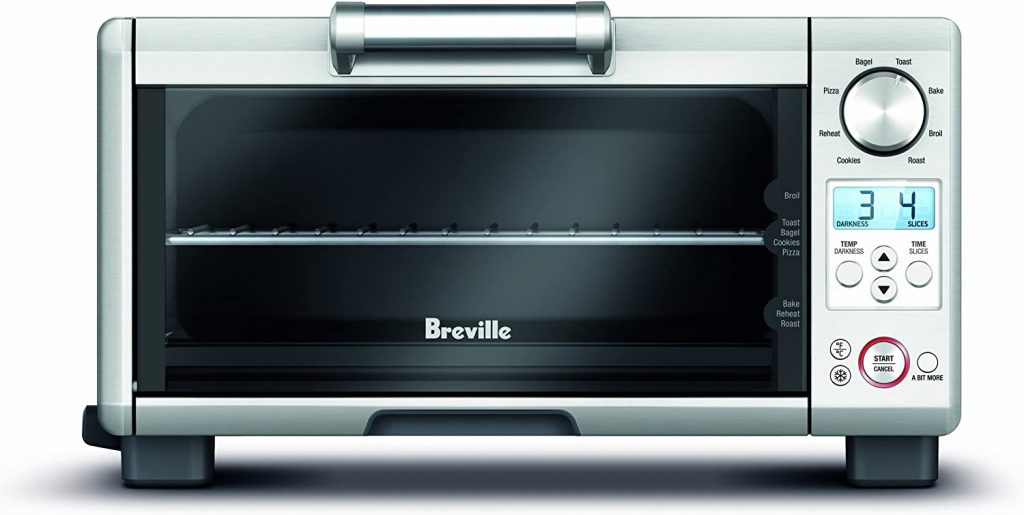 Apart from baking and air-frying, broiling is one of the major purposes for which a toaster oven is used. Broiling is similar to grilling in the sense that the food is directly and very closely exposed to the radiant heat. You can imagine your broiler as an upside-down grill. In broiling, the food is exposed to high heat from a direct flame so that it's cooked evenly from all sides quickly. Almost every oven comes equipped with a broiler but if broiling is something you do very frequently, you need to select the best one which can perform this particular function.
Breville BOV450XL is a compact oven that is very convenient to use. It has eight different kinds of preset cooking functions which lets you prepare a variety of dishes without facing any kind of issues. You also get the freedom to change the default settings and adjust them according to your different cooking requirements. Below the cooking dial, you get an LCD which shows the time and temperature with up and down buttons which you find in the same panel.
There are heating elements made up of quartz, both at the top and the bottom. As quartz is an element that is very receptive to heat, the machine heats up very fast. It's very easy to preheat the oven and adjust the temperature as and when needed. The LCD automatically changes its color depending on the specific function the oven is programmed for at a particular point in time. When the oven is switched on, the display screen reflects an orange color. After the cooking is complete, the display lights up in blue.
The oven has a very interesting mechanism that shows the 'snowflake' symbol. When you press the button, it tells you whether the food you have put inside the oven is in a frozen condition. It will then set its Element IQ technology into motion to heat up the oven well enough to 'de-freeze' the food. You also get adjustable racks that let you customize your cooking based on the recipe you have in hand at the moment.
Who Should Buy This?
It's the best oven for people who broil their food regularly.
Though the size is small, it comes with eight preset cooking functions and you can use it for multiple purposes.
The Best Manual Toaster Oven
Hamilton Beach Countertop Toaster Oven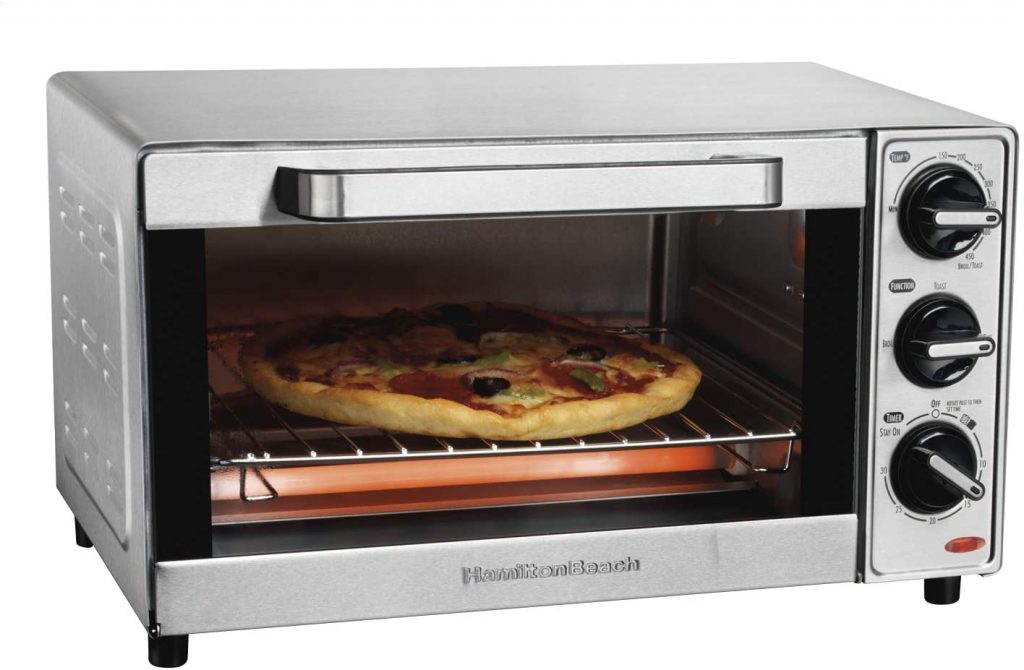 Most toaster ovens come with digital LCD screens and upgraded technology which lets you do your work with minimal manual effort. However, there are many who find it difficult to use such devices because they find the features and controls complicated. Such users need not worry as there are many ovens available out there which require manual operation. The best in this category is Hamilton Beach Countertop Toaster Oven.
Being a manual oven, it does not have the preset cooking features and digital controls that most modern-day ovens have. But when it comes to performing the basic function of an oven – heat the food evenly and cook it up well – it proves to be as good as any of the modern appliances. It's small and fits in well in kitchens with limited space. Though the oven's capacity is limited, it can accommodate four large slices of bread. The heating element is efficient but it does not heat up as fast as the smart oven, so you need to increase the temperature by about 25 degrees than the ideal temperature when you bake or toast.
This manual oven comes with three, basic functions – baking, toasting, and broiling. It weighs just about 8.4lbs and is very light when compared with other manual ovens. The exterior is made up of stainless steel which ensures durability and strength for the toaster. Despite the absence of digital buttons, you still get a small indicator light which shows when the cooking starts and when it stops. It also provides you with a 30-minute timer with auto shut-off function.
Who Should Buy This?
It's apt for people who find it difficult to operate smart devices and are most comfortable using manual toaster ovens.
Serves as a perfect fit for small kitchens.
The Best Smart Oven
Oster Digital Convection Oven
If you are looking to buy a smart oven braided with the most updated technology but not sure if you make that investment now as you're on a tight budget, then here is an oven that is high on technology but low on budget. The Oster Digital Convection Oven is the most popular smart oven in the market and the best part is that it's also the most economical one when you take its pricing into account.
Besides being a smart oven it's also a convection oven and it's efficient at heating food evenly and cooking it well. It has a nicely designed electronic panel that offers a large number of features and controls to choose from when you use the oven. It bakes a cake as neatly as it toasts a piece of bread. It has enough space to accommodate a 16-inch long pizza, a large-sized chicken roast or 14 slices of bread.
The control panel is 100% digital and does not have knobs, dials, or even crevices that will accumulate dust and grease. The surface can be wiped clean easily with a small piece of cloth. This is, perhaps, the only thing that you need to do manually on this toaster. The only thing which needs to be kept in mind is that it's a fairly big device and you need good kitchen space to accommodate it. The manual that you get with it has no recipes and so, it's better that you have a few recipe books along when you use it.
Who Should Buy This?
If you're looking for a smart, digital oven with all the latest features and functions, then this is the best bet for you.
It's a good oven for people who wish to do as little manual work as possible.
The Best Oven for Reheating Food
Breville Compact Smart Oven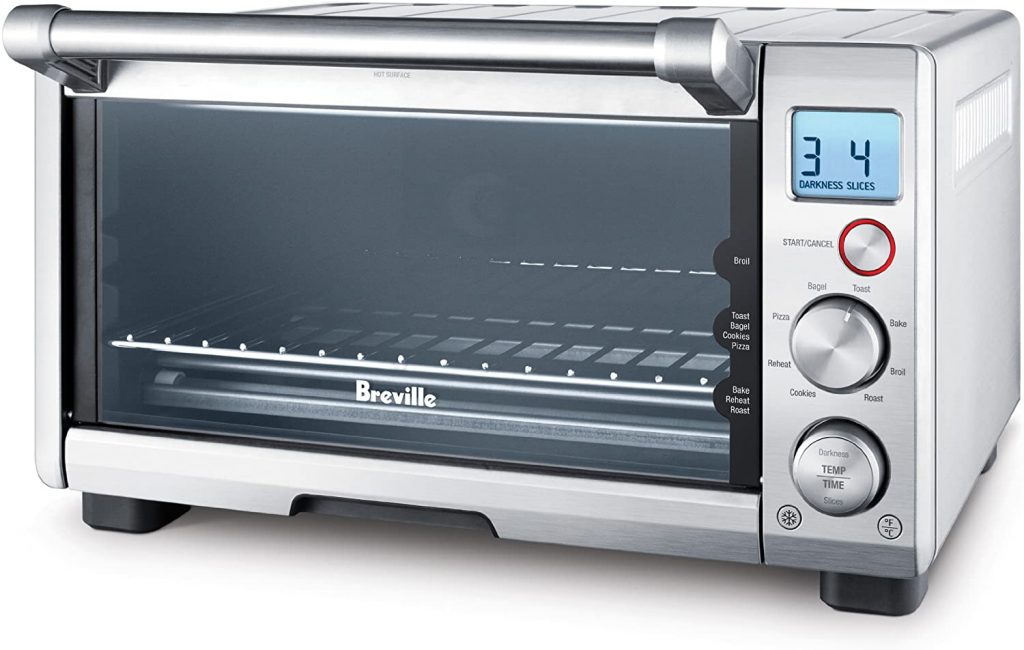 Most kitchens offer limited space and there are so many things to fit inside it. So when you think of buying a new appliance or device like a toaster oven, the first question that comes to your mind is whether there is enough space in the kitchen to accommodate it. The good news is that there are toaster ovens like Breville's compact smart oven that are small and light and fit in effortlessly on most countertops. Even the largest toaster oven can prove to be a good replacement for a conventional microwave oven as it adjusts itself well even in the congested corners of your kitchen.
The unique feature of this Breville compact smart oven is to reheat the food. This is one of the lesser spoken about utilities of a toaster oven. You might use your oven to prepare food, bake, toast or to heat up an already prepared food item but one thing you would use it very frequently for is to reheat food. Most people lead a very busy life. Their professional life leaves them with very little time to indulge in elaborate cooking. So a lot of them end up cooking only once in a day and reheat the food later in the night and have it for dinner.
In such times, you need a device that helps in reheating your food effectively. Though microwaves are known to heat food fast pretty quickly, they also end up making a few food items like meat products a little gristly. The Breville Compact Smart Oven heats up the food evenly and does not change the quality of the food in any way. Though the crumb tray is a simple device, here it proves to be very effective in collecting the crumbs after every food processing process.
Who Should Buy This?
It is a must-buy oven for people who lead busy lives.
If you prepare your dinner in the morning or afternoon and need a device to reheat your food later in the day, this will be a good investment.
The Best Large-Sized Toaster Oven
Oster French Convection Countertop & Toaster Oven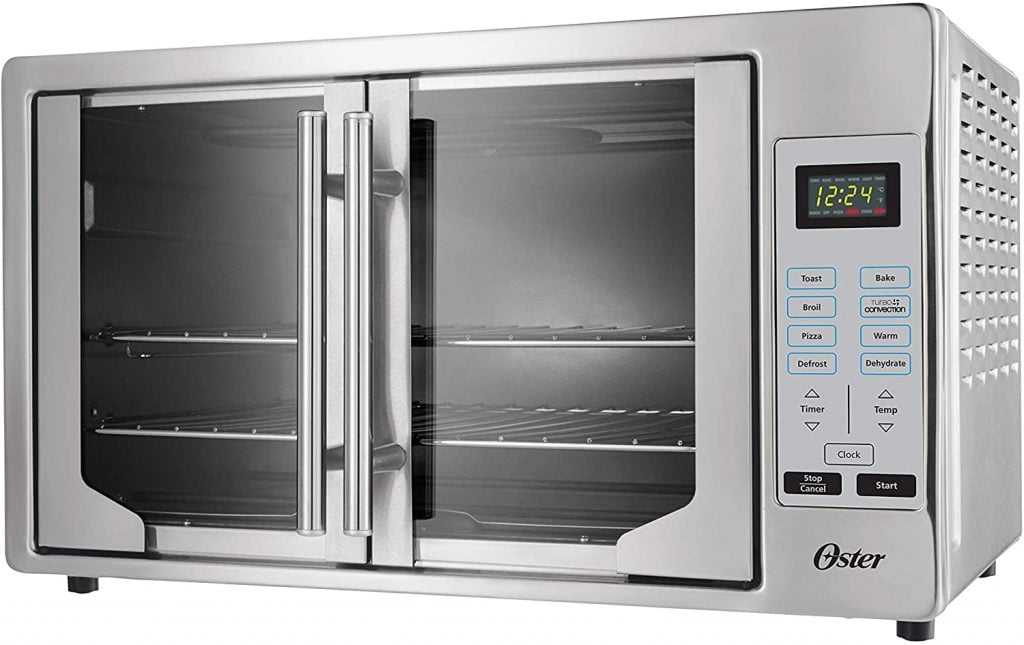 If you have a lot of space in your kitchen and want to own a big, elaborate oven that can serve multiple functions, then this is an apt machine for you. It has features that aid in cooking food well and you can prepare a variety of dishes using this oven. The temperature range it offers is extensive and you can change it according to the kind of food item you plan to prepare.
Besides baking, this toaster oven comes with features that facilitate basic cooking as well. There is a mini fan inside the oven which is used to circulate hot air that aids in even cooking. Because of this feature, food is cooked faster and properly. Unlike the food cooked in microwave ovens, where the food is sometimes hard and tough to chew, the food cooked in a toaster oven such as Oster French is soft and deliciously chewable.
It does not make sense for families with a large number of members to own small, compact-sized ovens as that would not be sufficient for their day-to-day culinary needs. The Oster French Convection Countertop & Toaster Oven is a must-have oven for big households or smaller families that attend to guests regularly.
This device will never make you compromise on the size of the pizza you want to make or a birthday cake that you want to bake. You can let your creativity flow freely and cook whatever you wish to and for as many people you like. Its large size is complemented by its sturdy build which gives it a good, appealing structure. The French doors are one of the oven's highlights and are very easy to operate. The quality of the food that comes out of this oven is top-notch.
Who Should Buy This?
Those who have a lot of counter space in your kitchen can go for it.
Large-sized families can utilize this device well.
Conclusion
Toaster ovens serve multiple functions and are known for their versatility. This very quality makes them a must-have appliance for every kitchen, whether small or big. Most of these come at a lower cost than traditional ovens and cause hardly a dent in your pocket. Bake a cake, air-fry your favorite snack or cook up a simple meal – a toaster oven comes in handy on most occasions and for different purposes. If planning to buy a toaster oven that performs a particular function best, then the list above will help you make a good choice.
---