Technobezz is supported by its audience. We may get a commission from retail offers
Summary – Toasters are available in different types. Some of them are 2-slice toasters while others
Toasters are available in different types. Some of them are 2-slice toasters while others are 4-slice ones. Toasters are very useful for people with busy mornings. A good toaster can provide toasted bread slices, bagels, pancakes or toaster pastries within a few minutes and without much trouble. Pop-up toasters are the most convenient and popular ones. You may want to check out the number of slots and the browning controls before deciding which one to buy. Check out some of the best toasters available today!
See also: Best smoothie makers
Best Toasters
2-Slice Compact Plastic Toaster
CuisinartCPT-122, White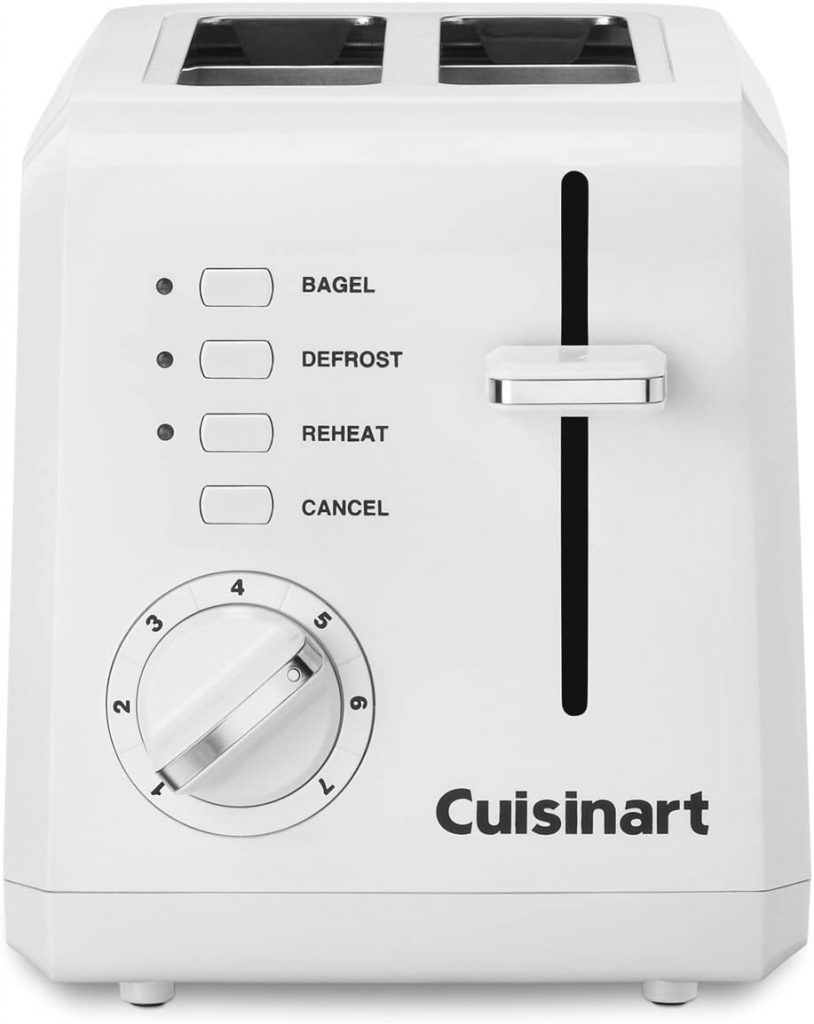 The CuisinartCPT-122 is a good toaster with amazing features. It is lightweight and easy to use with an aesthetically pleasing look. It is capable of toasting two slices at a time. The controls are simple as you just need to press the right button, adjust the dial and push the lever down. There is a nice slide-out crumb tray which makes cleaning easy. Just take the tray out and throw the crumbs.
There are 7 browning shade options for light shade, medium shade and dark shade of toast.  You can also select other options like defrosting, reheating and toasting. The normal toast function is for regular bread toasting. In addition, there is the Bagel option for toasting the upper half, the defrost function for first defrosting and then toasting frozen bread. The reheat function allows reheating of toast or bread without burning it.
The slots are 1.5 inches wide, so even thicker slices can be toasted as well as bagels, frozen pancakes, and toaster pastries. Both sides of the bread are toasted evenly. The Bagel function heats only the upper part of the bagel for a crispy top and chewy bottom. You can also use the toast button for making it crisp on both sides.
It looks good from all angles and can fit into your home design perfectly. Heating and defrost functions also work well. There is also a cord wrap underneath the toaster so that the power cord can be neatly tucked away when not in use. The dimensions are 6.5 x 11 x 7 inches.
Who Should Buy This?
Those who want a functional toaster in a contemporary style.
Those who want a toaster for toasting bread as well as for reheating, defrosting, and toasting frozen waffles, refrigerated bagels, and so on.
Low-Priced Stainless Steel Toaster
Oster 2 Slice Toaster, Gray/Purple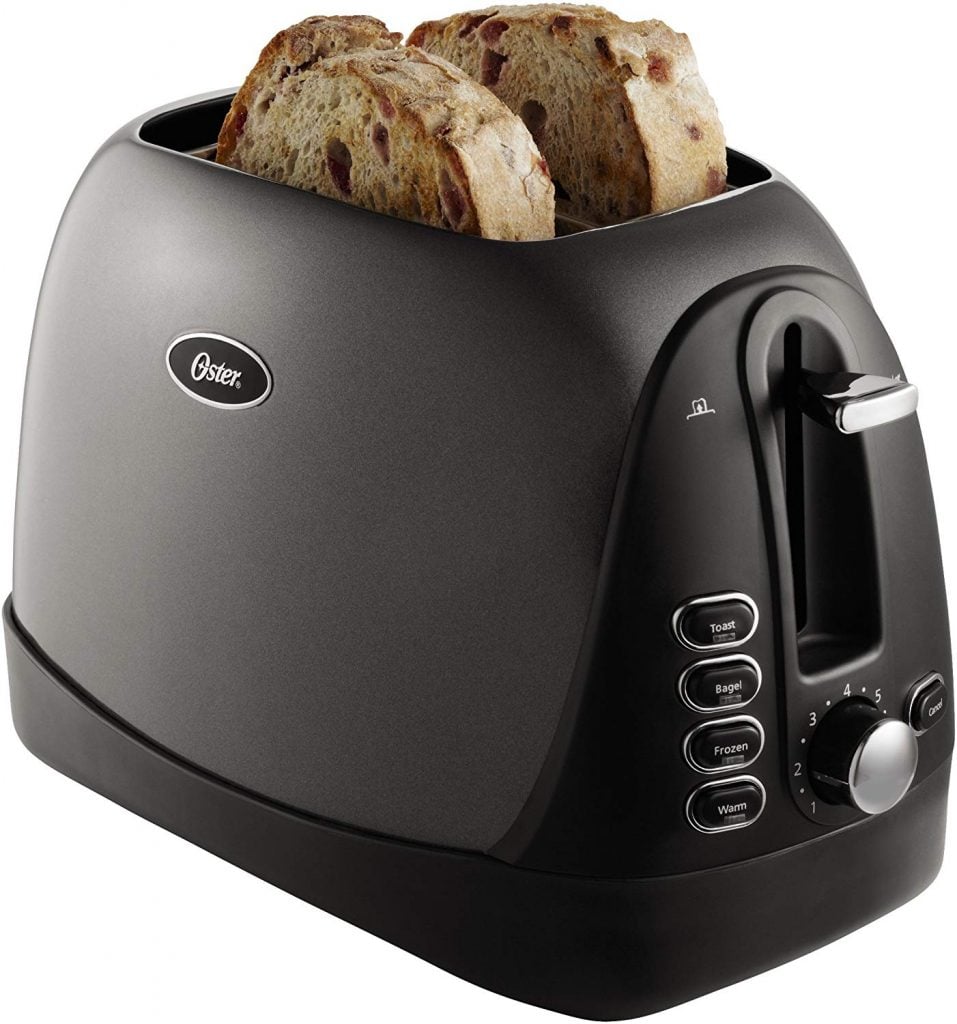 It is a 2-slice toaster that comes with extra-wide slots for accommodating different types of items for toasting. The bread guides can also be auto-adjusted so that it results in consistent toasting. The adjustable guides are automatic and can center the bread slice when you insert it into the toaster. It can also adjust according to the thickness of the bread resulting in equal heat from all sides and therefore even browning and crisping. There are 3 settings – bagel, frozen, and pastry.
There are 7 shades for toasting from light to dark with 3 settings. It has the advantage of accommodating even oversized bread slices. The toasts pop up high enough for grabbing easily. The crumb tray is also removable and is dishwasher safe. The control panel and the dial are intuitive and allows adjusting the toast shade or canceling just with the push of a button.
It is possible to improvise on the different types of bread due to the extra space in the slots. With a little bit of creativity, you can prepare muffins, toaster pastries and toast frozen pancakes and waffles as well. The look is aesthetic and matches with all types of kitchen decor. The anti-jamming mechanism prevents the toasted bread from jamming. The dimensions of the Oster toaster are 11.7 x 6.9 x 7.3 inches and it weighs 3.9 lbs.
Who Should Buy This?
Those who want a toaster that browns bread evenly and consistently from batch to batch.
Those who want a toaster that can accommodate large slices of bread.
Suitable for a small family and a regular breakfast routine.
Champion Toaster Eye Candy for the Countertop
Breville BTA83OXL DieCast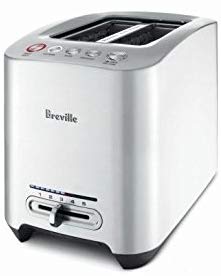 It is a sturdy 2-slice toaster made of die-cast brushed aluminum that is solid enough not to move about on the countertop. It also browns evenly and offers a good range of toasting shades, being consistent with every batch.
It does not have a lever. Just press the Start button and the bread lowers into the slot. You can press on the A Bit More if you want it browned more. The Lift and Look will allow you to check the progress midway. Besides, there is the Bagel and Defrost functions. In total, there are 5 settings with a range to suit all types of bread toasting. It is a 900 watts intelligent touch toaster that automatically lowers the bread slice.
The LED display illuminates according to the setting for different browning shades. The slots are 1 to 1.5 inches wide. The toaster has a cord wrap that allows the power cord to be neatly tucked away. The dimensions of the Breville BTA83OXL are 11.2 5 x 7 x 7.75 inches.
Who Should Buy This?
Those who want a solid toaster offering even and speedy toasting, producing different shades consistently from batch to batch.
Those who want a toaster with easy controls and ability to accommodate fat bagels or oversized bread slices, and for popping English muffins.
Uniquely Designed One-Slot Toaster
DASH Clear View Toaster, Black/Aqua/Red/White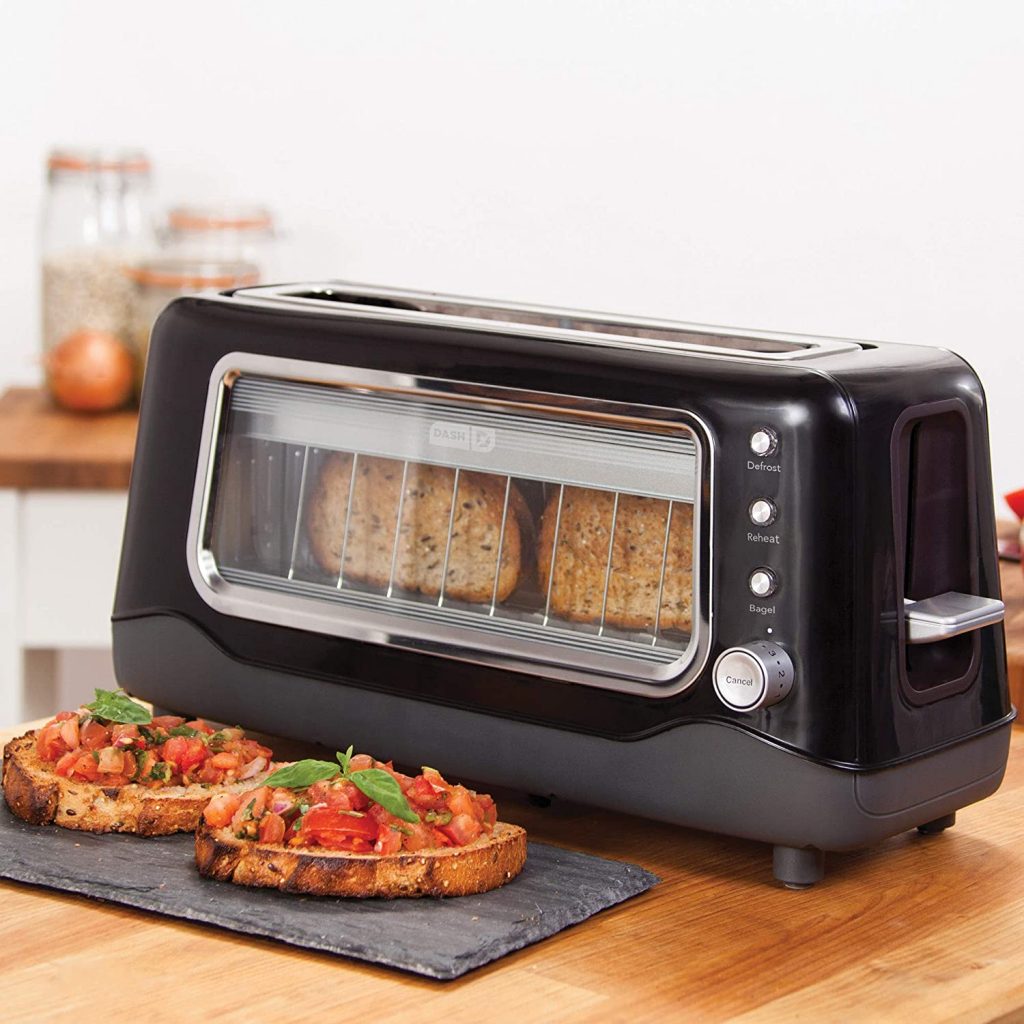 It has a rather unique design which is quite appealing, though there is only one slot. It comes with a clear-viewing glass that enables viewing of the toasting process. It makes use of a different heating technology rather than the usual wires stretched against the wall of the toaster. Instead, it has 2 large elements at the bottom on each side, which enables even toasting with reduced bar marks.
The design is innovative and though there is only one slot, it can fit two slices of standard bread. It is unusual and eye-catching in its design. There are different functionalities, such as defrosting, reheating and Bagel one-touch buttons. The slot is wide enough to fit bagels, waffles and other baked stuff. The automatic shut-off feature prevents overheating. It also includes a convenient crumb tray for easy cleanup.
The dimensions are 16 x 8 x 5.8 inches and it weighs 4.4 pounds. It also includes a recipe book with the purchase which gives you thousands of free recipes.
Who Should Buy This?
Those who are satisfied with a one-slot toaster that is effective and reasonably priced.
Those who have more space in their kitchen as this toaster takes up more counter space because of its width.
Retro-Style Toaster
Smeg 2-Slice Toaster, Black/White/Red/Pink/Chrome/Cream/Green/Blue
The Smeg 2-Slice Toaster is a retro-style toaster that comes in various colors to match your kitchen decor. However, it is pricey. It offers even toasting and includes other functions like defrosting and a bagel setting. There are 6 levels for controlling the browning. The design is compact and the slots are deep enough for inserting thick, freshly cut bread as well. The bagel setting works effectively by toasting the cut side and keeping the backside soft. Defrost is useful for cooking frozen items.
The dimensions of the Smeg 2-slice toaster are 15.51 x 8.19 x 8.46 inches and it weighs 6.8 lbs. It features a powder-coated body in steel, with a stainless steel ball lever knob. It also has a backlit chrome knob. There are 3 preset programs. The two slots are extra wide for large-sized bread slices. The racks are self-centering and the crumb tray is made of stainless steel and removable for ease of cleaning. The feet of the toaster are anti-slip and rest firmly on the counter. It also has a built-in cord wrap for easy storage. You can purchase accessories such as a sandwich rack and bun warmer to go with this toaster.
Who Should Buy This?
Those who want a good looking and efficient steel toaster that is worth the price.
For people with minimal space on their kitchen counters.
Contemporary, Glossy Look 4-Slice Toaster
IKICH 4-Slice Long Slot Toaster, Silver
This is a convenient 4-slice bread toaster with long slots of 10 inches and extra width of 1.5 inches, accommodating 4 bread slices, muffins, Pullman loaves or just 2 long slices of Pepperidge Farm or Arnold bread. There are several settings for different outcomes, such as the Dry-out for slight browning, Little light for browning, Golden browning, Deep lighter, Dark browning, and Deep darker browning. The built-in warming rack keeps the toasted bread warm. In addition to the above settings, there is a Cancel button that stops the process mid-cycle. It also features illuminated controls, adding a touch of class to the toaster.
The High Lift technology enables checking of the toast mid-cycle with the Lift and Look function. The High Lift feature ensures safety by keeping your fingers away from the hot elements.
You can toast one, two, three or four slices and select the correct setting for each. The toaster is also useful for warming and reheating pastry and croissants. When the back-lift level is pushed down, the warming rack pops up for reheating pastry. The crumbs are collected neatly in a tray that can be pulled out and cleaned. There is also a cord wrap for wrapping up the cords when not in use. The IKICH toaster is built with sturdy stainless steel and comes with multiple holes at the bottom, resulting in quick cooling after use.
The dimensions are 14.6 x 6.6 x 7.7 inches and it weighs 5.35 lbs.
Who Should Buy This?
For those who need a large toaster that can toast up to 4 slices at a time.
Those who are looking for a large toaster at a reasonable price.
Toaster with Safe Toasting Modes
ISILER 2-Slice Toaster, Yellow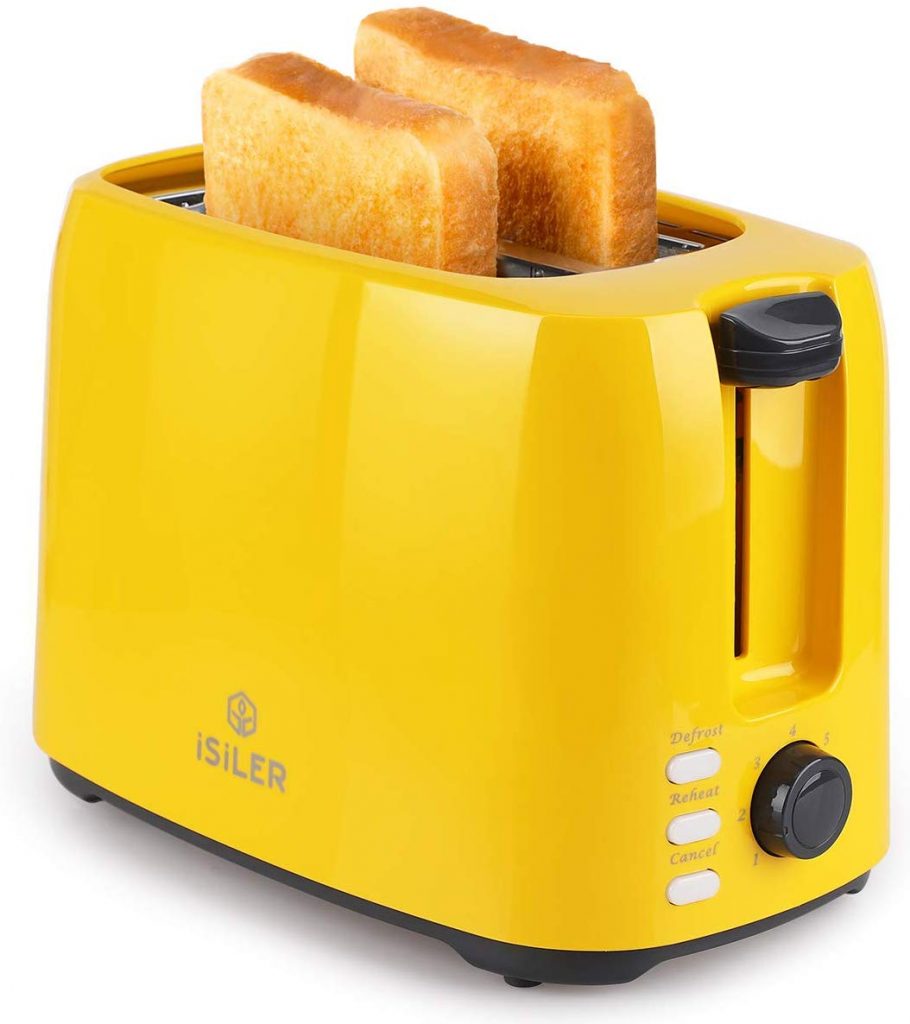 This is a two-slice toaster with extra-wide slots and a power of 750 watts. Each of the slots measures 5.4 x 1.3 inches and can accommodate all kinds of bread slices, muffins as well as waffles. The power is high and this shortens the period of toasting thereby saving energy. It offers a crispy exterior without drying out the inside. The unique, vivid yellow color is bright and looks good in any kitchen.
There are 7 browning-level options available with precise control over the browning process. The duration ranges from 55 to 175 seconds. In addition, the 3 LED function buttons feature Defrosting and Reheating modes without over-browning or burning. There is also a Cancel button for stopping the toasting process midway. LED lights offer a clear indication of all the functions. The Defrost mode allows the toasting of baked items that are frozen.
It is easy to maintain and clean the ISILER toaster. The crumb tray can be easily removed and cleaned. It is a slide-out tray that is placed along the entire bottom of the toaster, enabling quick and convenient dumping of the crumbs. The long power cord enables greater reach and after use, the cord can be conveniently stowed away at the bottom. There is also a cleaning brush provided with the unit. It is a UL certified safe unit with fast heating 430 stainless steel slots and PP body. The measurements of the ISILER toaster are 5.3 x 9.4 x 7 inches and it weighs 1.65 lbs.
Who Should Buy This?
If you are looking for a beautifully colored, efficient, and functional 2-slice toaster with minimal mess, then, this one is for you.
Three-in-One Function Toaster
Yabano 4-Slice Toaster, Silver/Yellow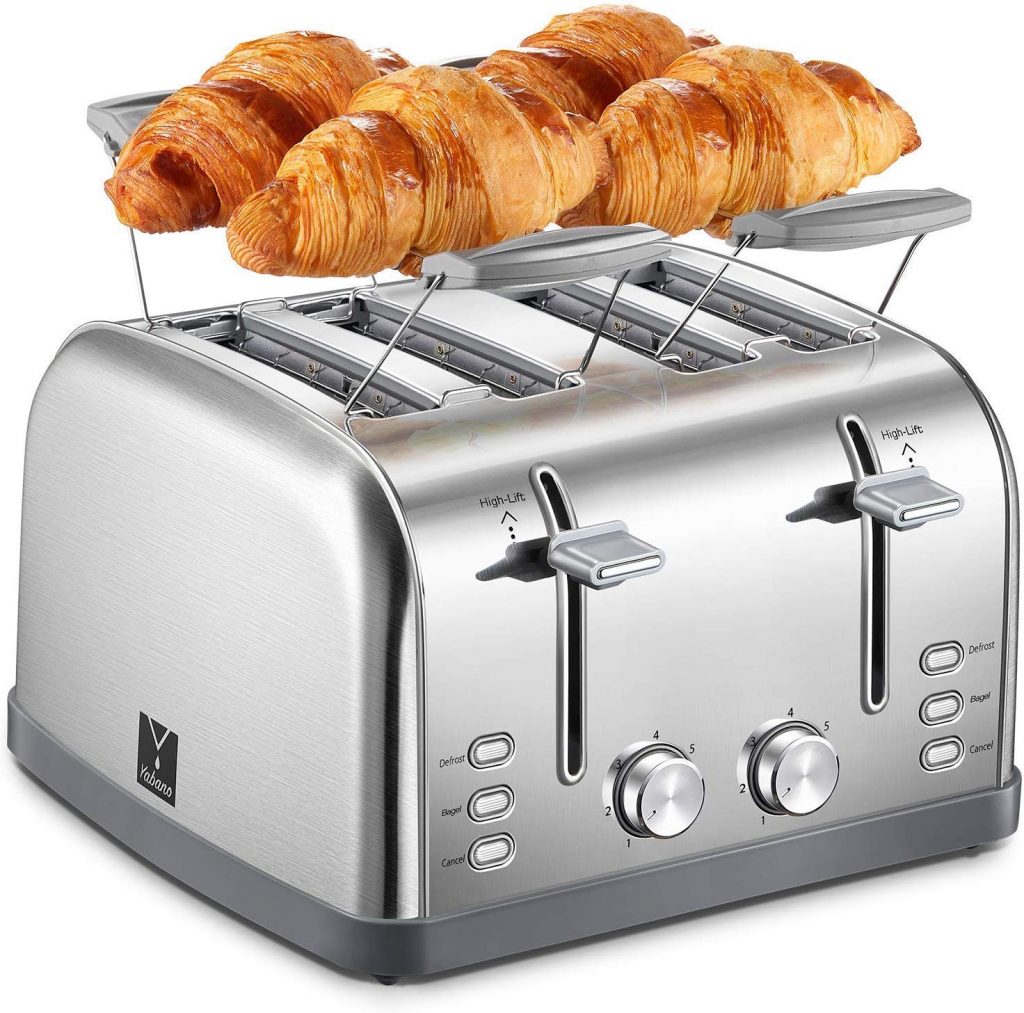 This is a toaster that can toast 4 slices of bread at a time. It is a 3-in-one toaster that can be used for defrosting and toasting bagel as well. The toaster is made of stainless steel and has 1.6 inches wide slots that enable the toasting of different types of food such as waffles, muffins, and bagels. There are 7 shade settings ranging from light toasting to darker shades.
When ready, the bread automatically pops up. The High Lift lever technology enables easy and safe removal of the bread slice. You can even lift it safely during the toasting process midway. The toaster comes with a warming rack made of stainless steel. This is a removable tray, in which you can serve the toasted item straight from the machine. The slots are large, being 1.5 inches wide and 5.75 inches long. These are self-centering slots and are capable of toasting different types of bread such as bagels, buns or English muffins and thicker slices of home-made bread.
The knob is of a dual-control type and so you can toast even a single side at a time while toasting 2 slices of bread or for toasting bread on one side and muffins or waffles on the other side. The Bagel mode is useful for warming the outer part and toasting the bagel's cut side, whereas the Defrost mode is useful for frozen waffles, pastries, and hash browns. The Reheat mode can be used for warming without toasting the item and the Cancel button is useful for stopping the process any time.
Who Should Buy This?
Those who want a 4-slice toaster that looks good and toasts the perfect bread, muffin, or waffles.
Retro Series Toaster with Great Features and Performance
Nostalgia RTO S200AQ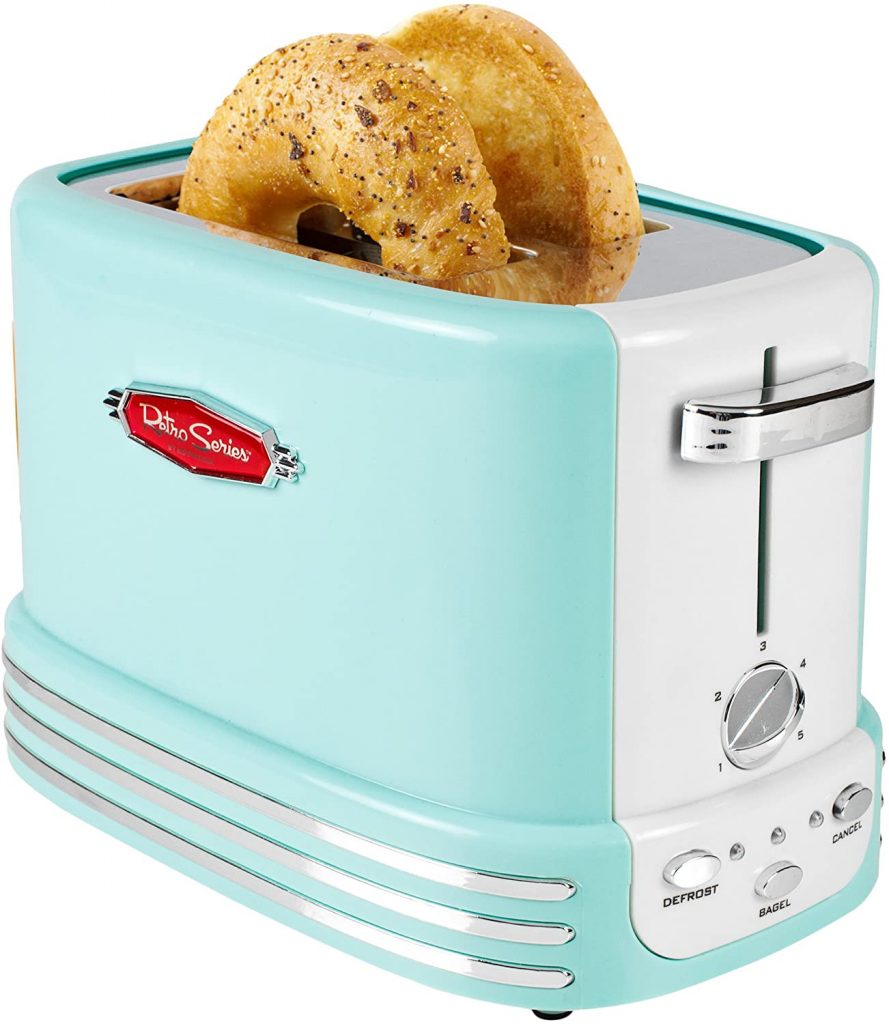 The slots of the Nostalgia toaster are larger than normal ones. This means that it can be used for housing bagel halves as well as large artisan bread and toaster pastries as well as frozen bread. The buttons are illuminated and this makes the operation easier and more convenient, as you can easily select the various settings, such as Bagel, Toast, Defrost and also the Cancel button.
The Defrost button is very useful for defrosting frozen items quickly before you toast them. The Bagel setting allows the toasting of the upper half of the bread so that the lower half remains soft and chewy. The dial for selecting the 5 browning options is also a convenient feature as you can select the desired level of brownness in the toast. There is also a neat storage space below the unit for placing the cord. The slide-out crumb tray is convenient to remove and clean. The size of the toaster is compact and it looks stylish as well.
Weighing 2.2 lbs, the dimensions of the Nostalgia RTO are 10.83 x 6.89 x 7.67 inches.
Who Should Buy This?
It is meant for those who want a toaster for regular use at home or in the office.
For those who want to make the perfect toast and bagels for breakfast.
Attractive, Durable and Easy to Use Toaster
Hamilton Beach 4-Slice Toaster, Black/Gray/Silver with Black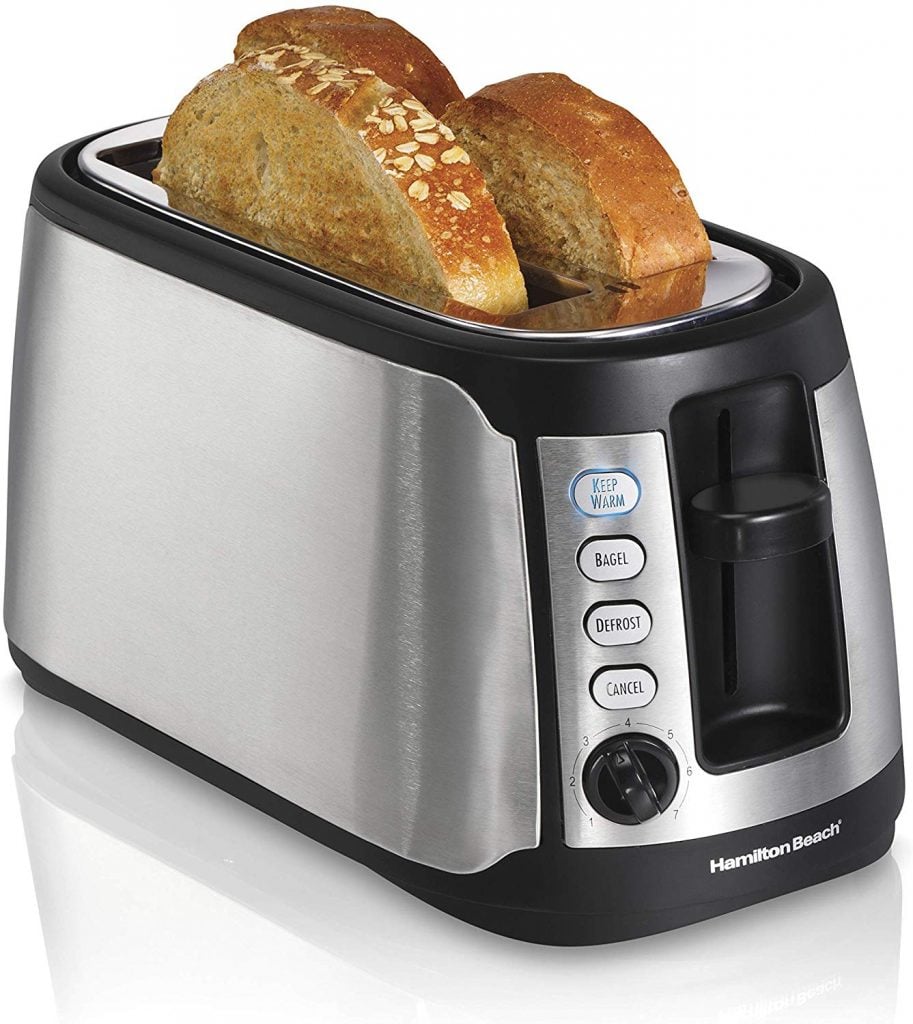 It comes in state-of-the-art design and can serve 4 perfectly toasted slices in less than 5 minutes. The 4 slots are extra-long and extra-wide to take in thick slices of bread, bagels, English muffins as well as croissants or artisan bread, all of which will fit in perfectly well.
There is a bagel toasting feature that toasts only the cut-side of the bagel, with the outside coming out crusty and the inside remaining soft and warm. The other two functions are the Defrost and the Cancel features. The Defrost feature enables quick toasting of frozen bread and the Cancel button allows instant canceling of the process at any time. The Keep Warm setting can keep the toast warm without over toasting it, for an additional 3 minutes. When the toasting is done, there is a beep sound, but it keeps it warm for the next 3 minutes. The Cool Wall feature is another interesting function, as it keeps the toaster cool on the outside, with the toast boost making it easy to remove the slices from it.
The High Lift lever enables easy and safe retrieval of the bread slices without getting your fingers burnt. The only areas that get hot are the spaces between the slots with the rest of the toaster surface remaining cool to the touch. The toaster also comes with dual controls. This means that it enables the use of the first two slots on the right for preparing, say, bread slices, and the other two slots for English muffins or bagels, using different settings. It is also easy to clean as it has a removable crumb tray. There is a cord wrap that neatly hides the cord under the base when not in use. Illuminated buttons make it easy to use. The Hamilton Beach 4-slice toaster weighs 5.33 lbs and its dimensions are 15.8 x 7.5 x 7.8 inches.
Who Should Buy This?
The 4-slice toaster is suitable for big families and for those who want to prepare toasts for several people.
Those who want to toast bread slices of all sizes and shapes in a short time
Retro Classic Design 2-Slice Toaster
REDMOND, Green/Cream/Mint Green/Pink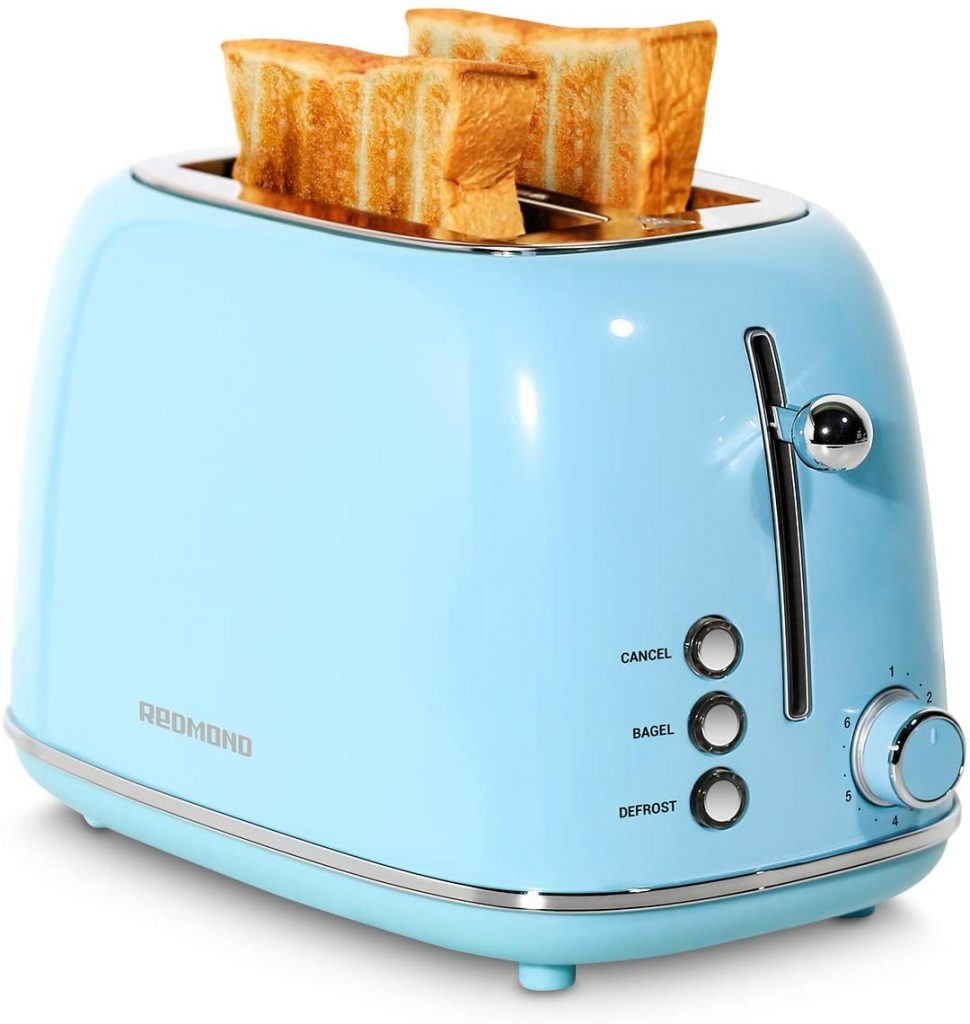 This retro classic design 2-slice toaster from Redmond is a compact toaster in stainless steel, with a sleek appearance. It is made of good grade stainless steel and is BPA free as well as rust-proof and sturdy and durable. It has an 18/8 stainless steel casing that toasts quickly and evenly. Another useful feature is that it cools down quickly. This toaster is easy to clean and maintain.
There is a shadow knob with 6 settings and so, you can select from a lower setting to the higher one, ranging from 70 seconds to 220 seconds of toasting.  The settings 1 and 2 offer a light shade, the 3 and 4 settings offer a medium shade and the 5 and 6 settings result in a darker shade of toast. The time and shadow can be controlled and set to make the perfect toast. There are also 3 unique modes for toasting, namely the Bagel, Defrost, and the Cancel features. If you press on the Cancel, the process of toasting stops immediately. The Bagel function helps in baking and toasting bagels perfectly and the Defrost button helps warm frozen bread.
It is safe to use and has been certified by the ETL and FDA, making it a secure purchase. The pallets are detachable and can be removed for easy cleaning and the cords are easy to collect and stow when not in use. The slots are extra-wide and can accommodate large and thick bread slices, handle bagels, English muffins, and others. It also has a high lift lever for easy and safe retrieval of toasted items without the risk of burning your fingers. The dimensions of the Redmond toaster are 5 x 6 x 7 inches. It weighs 4.25 lbs.
Who Should Buy This?
Those who want a conventional-looking 2-slice toaster that is sturdy and safe to use
Compact, Space-Saving 2-Slice Toaster
Bonsenkitchen Compact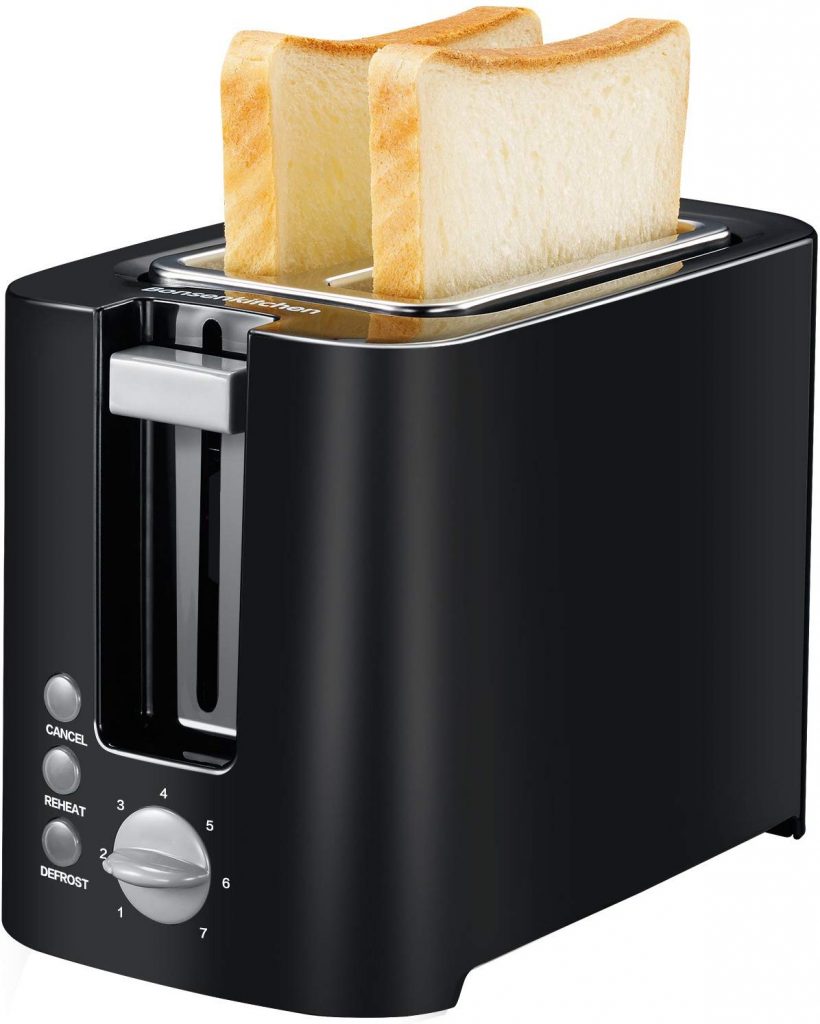 The Bonsenkitchen is a compact 2-slice toaster that will not take up much space on the kitchen countertop. The matt black shade of the toaster is also attractive and remains low key, fitting into any surroundings.
There are 7 different levels for toasting and it comes with a handy lift level. It has cord storage available at the bottom of the unit. The toaster has a removable crumb tray, which makes it convenient to clean and maintain. This toaster allows you to toast bread slices of different shapes and sizes. It has a slim design of 9.25 x 5.5 x 6.49 inches.
The slots are of normal width with 3 toast settings. The slots measure 5.06 x 1.22 inches (LxW) each. There is a Reheating and a Defrost function for frozen bread. Besides, there is a Cancel function for ending the process at any time. There are also 7 customizable settings offering a whole range of browning options to suit your individual preferences.
It is easy to use. It operates with a single touch LED indicator button and the bread slice pops up automatically when the desired setting is reached. The crumb tray can be removed for easy cleaning and the cord can be stowed away neatly in the small slot provided at the base of the unit, keeping the countertop neat and tidy. The Bonsenkitchen Compact toaster weighs 2.2 lbs.
Who Should Buy This?
It is for those who want a compact, space-saving, and efficient toaster for their kitchen.
Perfectly suitable for homes, dorm rooms, boats, RVs, and mobile homes where there is not much space.
Brushed Stainless Steel Budget Toaster
CUSINAID 2-Slice Toaster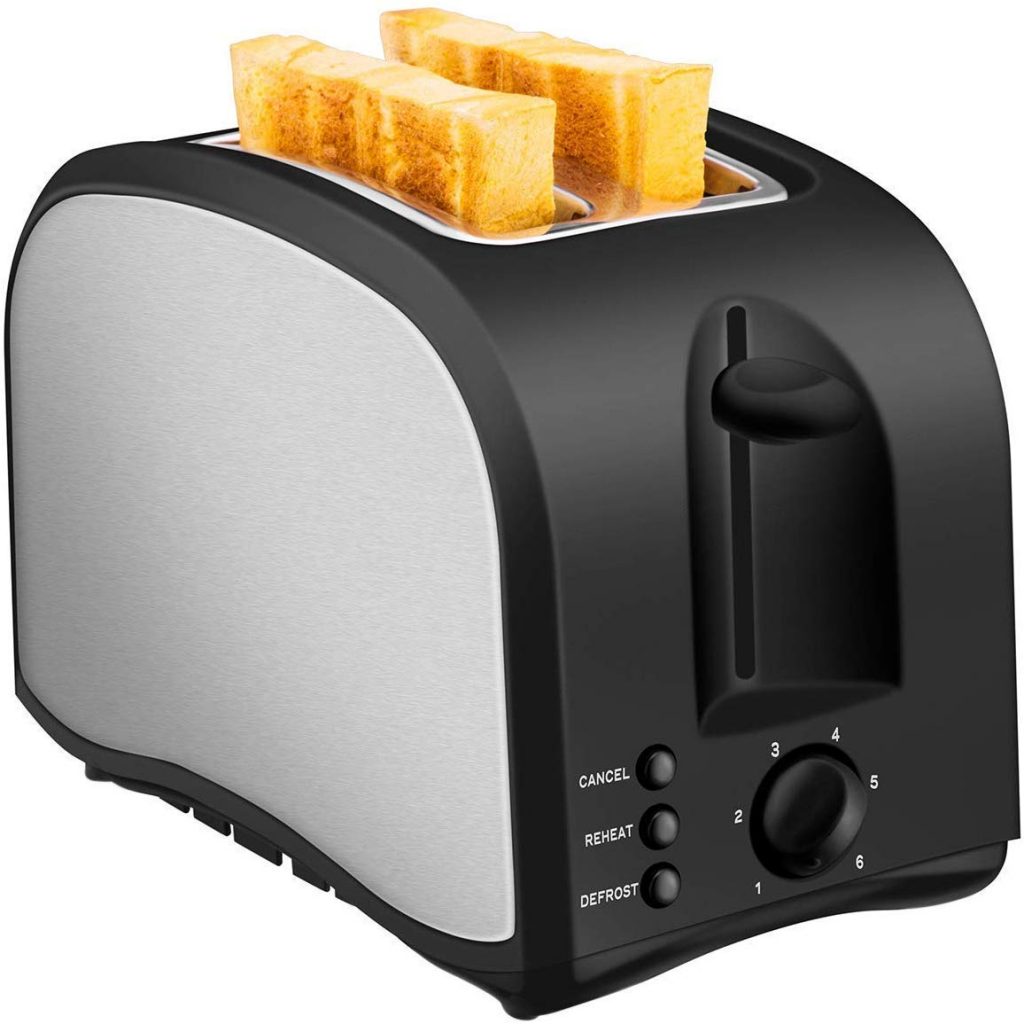 The CUSINAID toaster comes with extra-wide slots and also has the usual features of reheating and defrosting. There are 7 settings for browning different types of baked items.
The name of the manufacturer is TOBOX and Cusinaid is the name of the distributor. There are multiple toasting modes in this toaster and it has LED indicators to show defrosting, reheating and cancel functions. The 6 levels of toasting give you different shades of toasting, ranging from light to golden to dark shades. The heating wires placed on both sides of the two slots result in even toasting of all kinds of bread. However, this toaster is not suitable for toasting bagels.
It is easy to clean and has a removable crumb tray and a convenient cord wrapping and storage facility. The unit is built with 18/8 brushed stainless steel material and comes in an arc type of design, which is both practical and elegant for use. The material used is FDA approved and is fire retardant. The dimensions are 7.1 x 8 x 12.6 inches and the weight is 3.4 lbs.
Who Should Buy This?
Those who want a practical and functional toaster for toasting all sizes of bread.
Dual-Control Quick Toaster
Geek Chef 4-Slice Toaster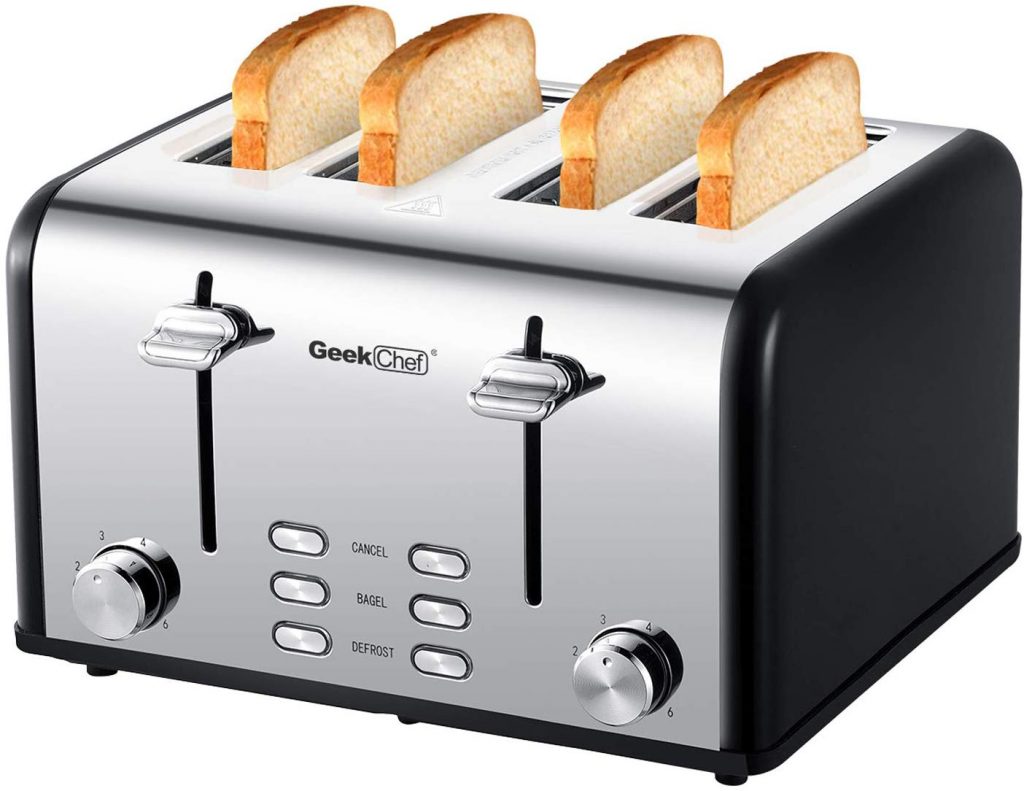 This is a 4-slice toaster that comes with extra-large slots for toasting both thin and thick slices of bread or bagels, English muffins, and others. It has different function keys for toasting a bagel, defrosting and canceling the process at any time. Bagel function is suitable for thick bread and bagels and defrosting function is for bringing frozen food back to room temperature.
The Geek Chef 4-slice toaster comes with 6-level settings and also has an automatic pop-up feature. There are 6 accurate modes for different shades of toasting, with a warm-up, light brown, golden brown, crispy and dark to suit everyone's taste. As there are 4 slots, it has dual separate control panels, which means that you can set the slots to different types of toasting at the same time. It is like having two toasters in one. The two crumb trays are easy to remove and results in efficient cleaning.
It is made of mirror finished stainless steel at the front and the back and has a black coating making it look aesthetically appealing. The slots are 1.5 inches extra-wide to suit thicker slices of bread. It also features a double High Lift level for safe retrieval of the toasted bread. The cord is 360 degrees rotatable and can be neatly stowed away under the toaster. The dimensions are 11.5 x 10.4 x 7.1 inches and it weighs 5.8 lbs.
Who Should Buy This?
Large families need 4 slices of toasted bread at a time to save time.
It is compact and can be used in caravans and while traveling.
Conclusion
Most Americans like toast and a toaster is an important part of any American kitchen. There are many types of toasters available. The pop-up toasters featured here are affordable and easy to use and are designed for making bread toasts as well as toasting bagels and English muffins. While selecting the best toasters, consider the evenness of the browning, the speed of toasting, and the number of browning shades available. One should also consider the ease of using the controls, the width of the slots for accommodating fat bagels or oversized bread slices, the ability to pop up toasts and muffins high enough for grabbing them easily without burning the fingers, and also the ease of cleaning and maintenance.
---