Technobezz is supported by its audience. We may get a commission from retail offers
Fire HD 10 Kids Pro 10.1-inch Tablet
Yinoche Multimedia Kids Tablet
Topelotek 7-inch Kids Tablet
Table of Content
Kids enjoy using tablets, and if you are considering the option of purchasing a kid-friendly tablet, we are going to help you out a bit. As you know, the competition is fierce, and so many tablets are available in the market, including tablets for kids. Every parent wants to make the right choice and get the device that will be perfect for their children. How to choose the best one? Don't worry, the task won't be as complicated as you think. It will be pretty simple. In this article, we are going to share some of the best tablets for kids, so you can compare the devices and their prices and make the best possible decision.
See also: Best Cheap Tablets
Best tablets for kids
There are many affordable tablets out there that are suitable for kids. There are tablets suitable for children in the age group of 3 to 6 and those around 6 to 9 years old. You can even give your children an iPad, like the 9.7-inch one, as they have a wide option of interesting apps and games that all kids will love, most of which are also free.
Buying Guide
You can disable browsing and limit access to apps, videos and games according to the age level on tablets that are not specifically created for children, so these tablets are also excellent choices for kids.
The most popular kid tablets are made by VTech and LeapFrog, apart from Amazon, which sells a kid edition of their tablets.
Amazon Fire tablets don't come with the PlayStore or other regular Google apps, but they have the Amazon Appstore and come with third-party versions of YouTube, etc. It offers good access to games and apps along with parental controls.
So, let's check out some of the best tablets for children.
Kids Friendly Laptop with Colorful Design
Fire HD 10 Kids Pro 10.1-inch Tablet
Check Price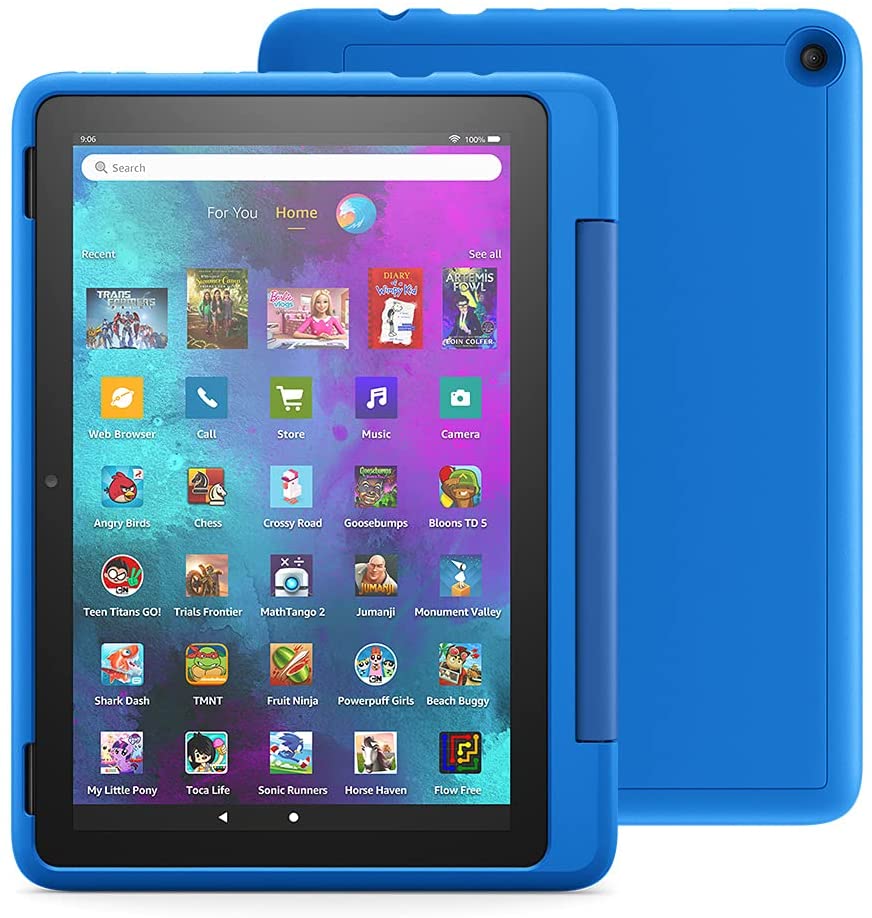 When you look for a tablet for your kids, you want it to have the kind of functionality and features that will be easy for them to use. This tablet is not only child-friendly but also offers them multiple options, including a one-year Amazon Kids+ subscription, to keep them engaged. The brand offers a bunch of accessories, including a colorful kickstand case. You also get a 2-month warranty on the device that takes care of accidental damage.
The 10.1-inch display screen offers a resolution of 1900 x 1200 pixels and a 16:10 aspect ratio. It is ideal for watching cartoons, animated movies, and informative content. The speakers, however, are not up to the mark. At 1.1 pounds, the device is light enough to be handled by kids. It features multiple connectivity ports, including a USB-C port, microSD card slot, and a 3.5mm headphone jack. The 2.0GHz octa-core ensures fast operation and stable performance.
If you are looking for a good quality tablet for your kids that offers a wide variety of features, this would be the right device to invest in.

The vibrant screen makes it an ideal device for those who have children who consume a lot of multimedia content and engage in activities like drawing and doodling on the tablet itself.
10.1-inch sharp display screen

Good brand support

Free accessories

Attractive design
Underwhelming audio output

Average camera performance
Imaginatively Designed Tablet For Children
Yinoche Multimedia Kids Tablet
Check Price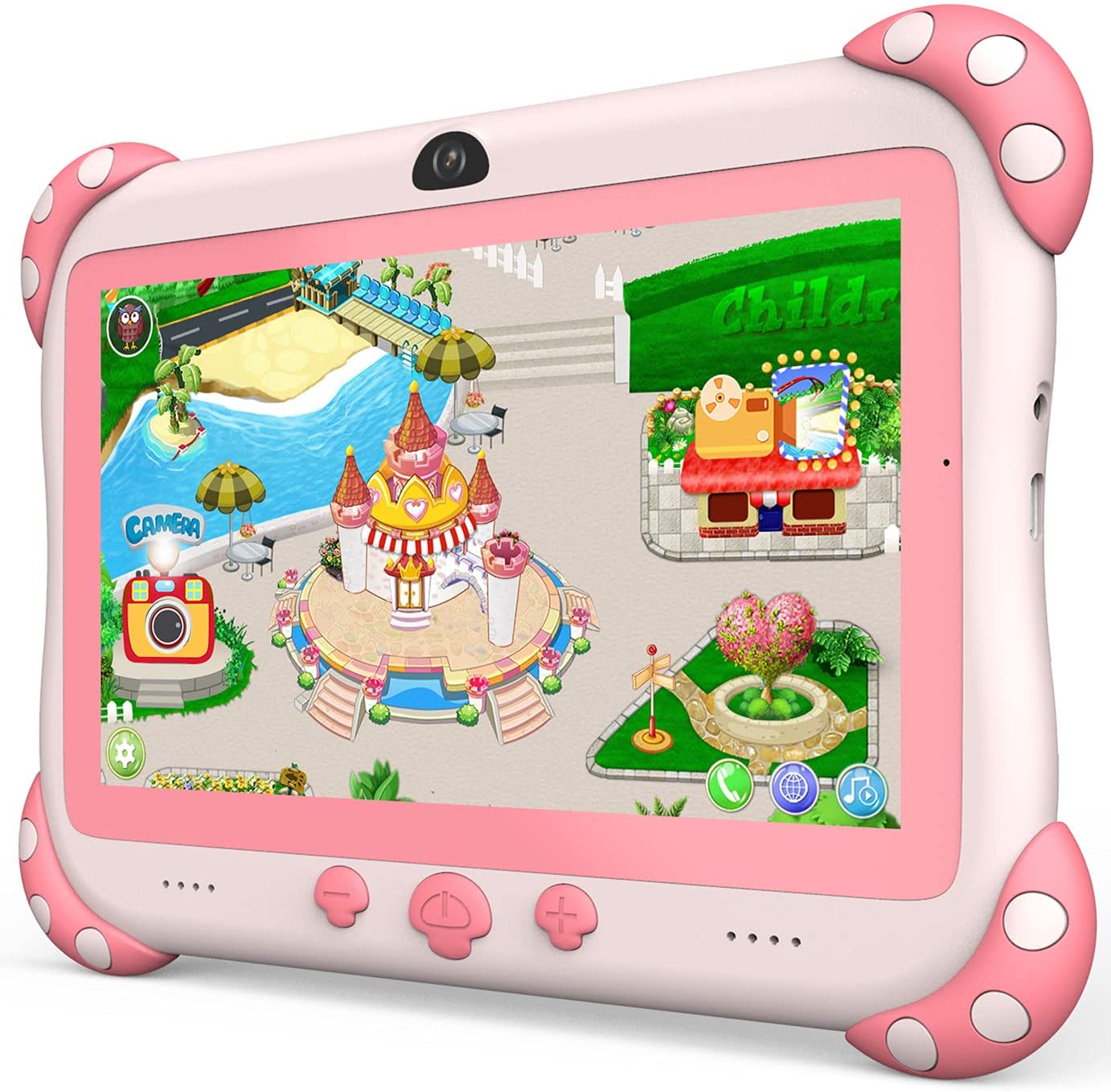 The first thing that catches your attention about this Yinoche tablet is its colorful and creative design which gives one a clear idea that it has been made for children. The pricing is fairly moderate, and is available in three different color variants, including pink, blue and yellow. It features a small 7-inch wide-screen and weighs 1.21 lbs. The device comes with certain features that enable parents to exercise control over the content their kids consume.
While the tablet has a dual-camera setup, the camera quality is pretty underwhelming. The front camera offers a resolution of 0.3 megapixels, and on the rear end, there is a 2 MP camera. The device offers an internal storage space of 32GB, which is good enough for kids to store their digital data. Designed as a multimedia tablet, the device features several pre-installed streaming apps like Disney Plus, Netflix, Amazon Prime Video, YouTube Kids, and Hulu, among others.
If your kid is a movie or animation buff, this would be a good tablet to gift them on their birthday.

The compact size of this tablet makes it a very good device for younger kids to use.
Budget-friendly

Compact structure

Eye-catching vibrant design

Good multimedia features
Small-sized screen

Poor quality cameras
Android Tablet with Good Connectivity Features
Topelotek 7-inch Kids Tablet
Check Price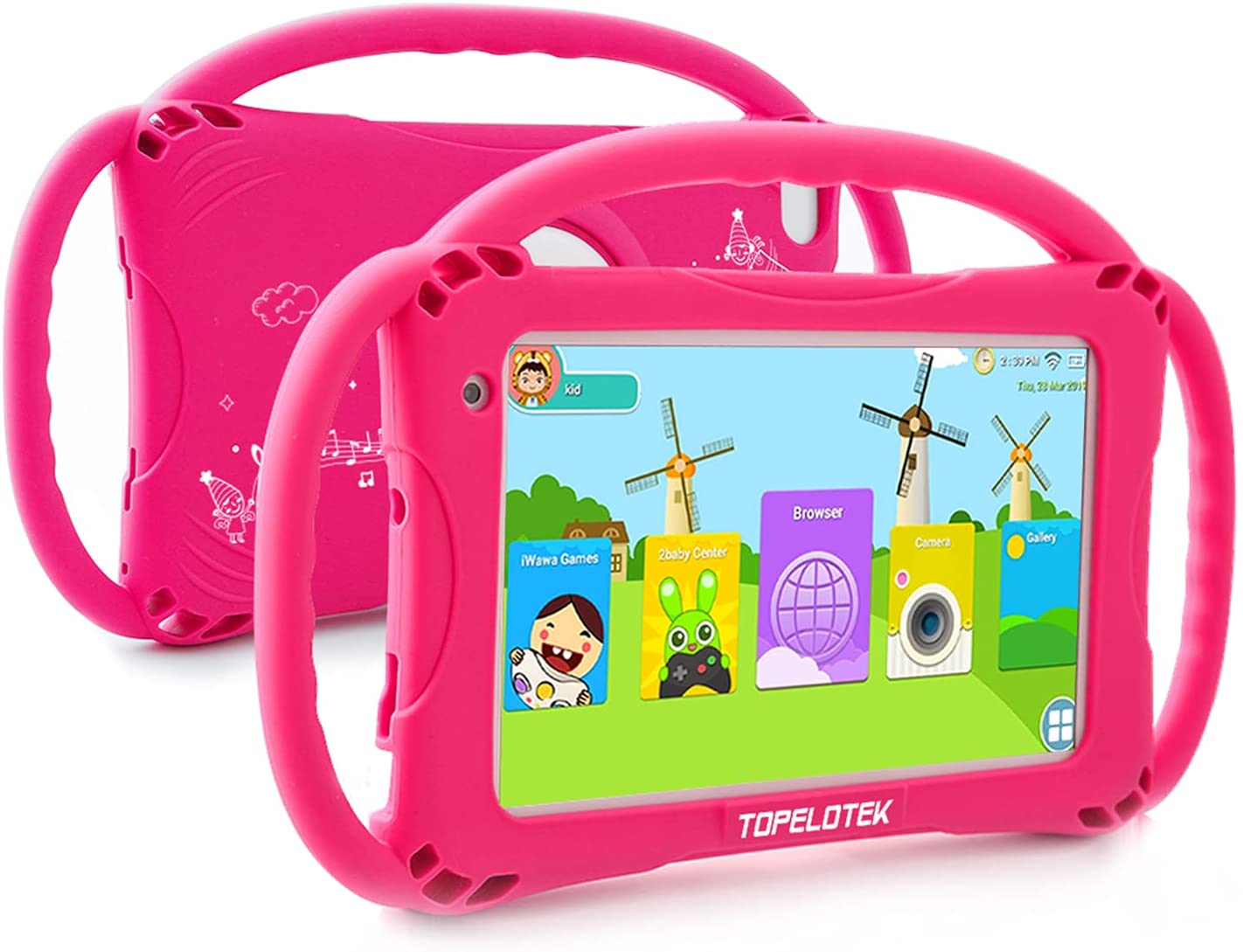 Nowadays, even kids are tech-savvy and want devices with advanced features. This particular tablet by Topelotek provides them with several connectivity options, including Wi-Fi and Bluetooth. At 7 inches, the screen is quite small but offers a resolution of 1024 x 600 pixels and is touch-enabled. The compact should appeal to the very young children this device has been designed for.
The tablet offers 16GB of internal storage space, which can be expanded to up to 64GB with the help of a memory card. It comes with several educational apps that contribute toward making kids more informed about the world around them. The case of the tablet features a stand that enables hands-free operation and makes the process of using the device more comfortable and convenient.
Its 38-language support feature proves to be a great tablet for kids who have a keen interest in learning different things on the internet.

The tablet has a robust kid-proof case that ensures the device remains protected against drops, bumps, and other accidental damage.
Easy to use

Expandable memory

Strong child-proof case

Multiple connectivity options
Limited functionality

Not suitable for older children
Well-Designed Tablet with 8-inch Display Screen
HappyBe Quad-Core Processor Kids Tablet
Check Price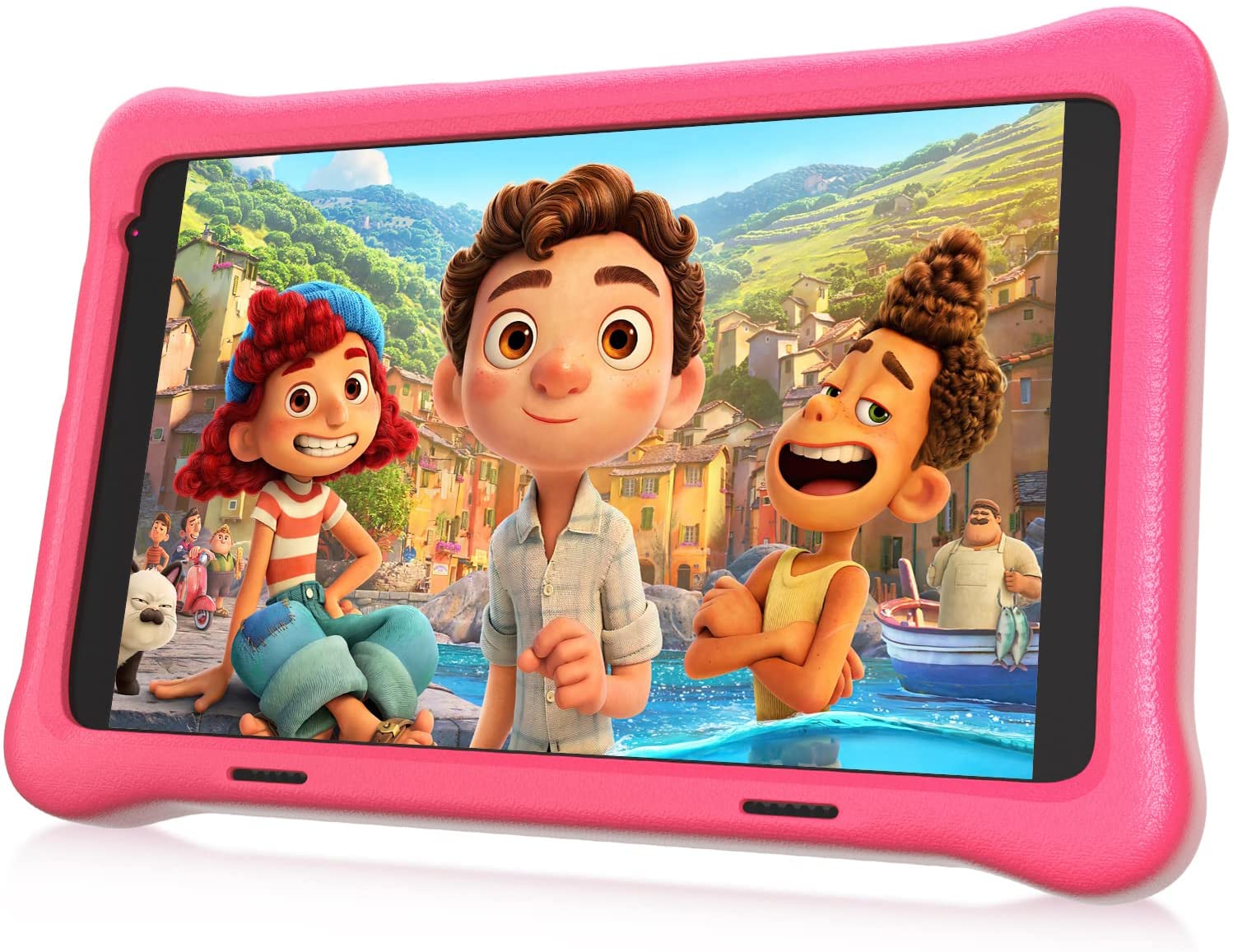 Available in two color variants (pink and blue), this kids tablet by HappyBe boasts a design that instantly appeals to children. If you are worried about your kid dropping or damaging it by accident, you would be happy to know that it comes with a kid-proof case that will ensure it remains safe.
The app enables you to set a time limit for your kids to use. Apart from that, it also lets you regulate some control over the kind of content they can consume on the tablet. It comes equipped with several kid-friendly apps that will provide your kids with a healthy blend of entertainment and information. The display screen is 8-inches wide and boasts a resolution of 1920 x 1200 pixels. The 5,000mAh battery offers a backup of 6 hours on a full charge.
Why You Should Buy This?
It comes with several features and modes like the password protection mode that gives you, as a parent, enough control over the device.

The display screen features advanced blue light reduction technology that ensures your kid doesn't suffer from strained eyes.
Pros
Kid-friendly functionality

Durable protective case

Multiple well-designed modes

Several parental control features
Cons
Battery life could have been better

No charger provided
Well-Built Tablet with Several Pre-Installed Apps
Aocwei Android 11 Kids Tablet
Check Price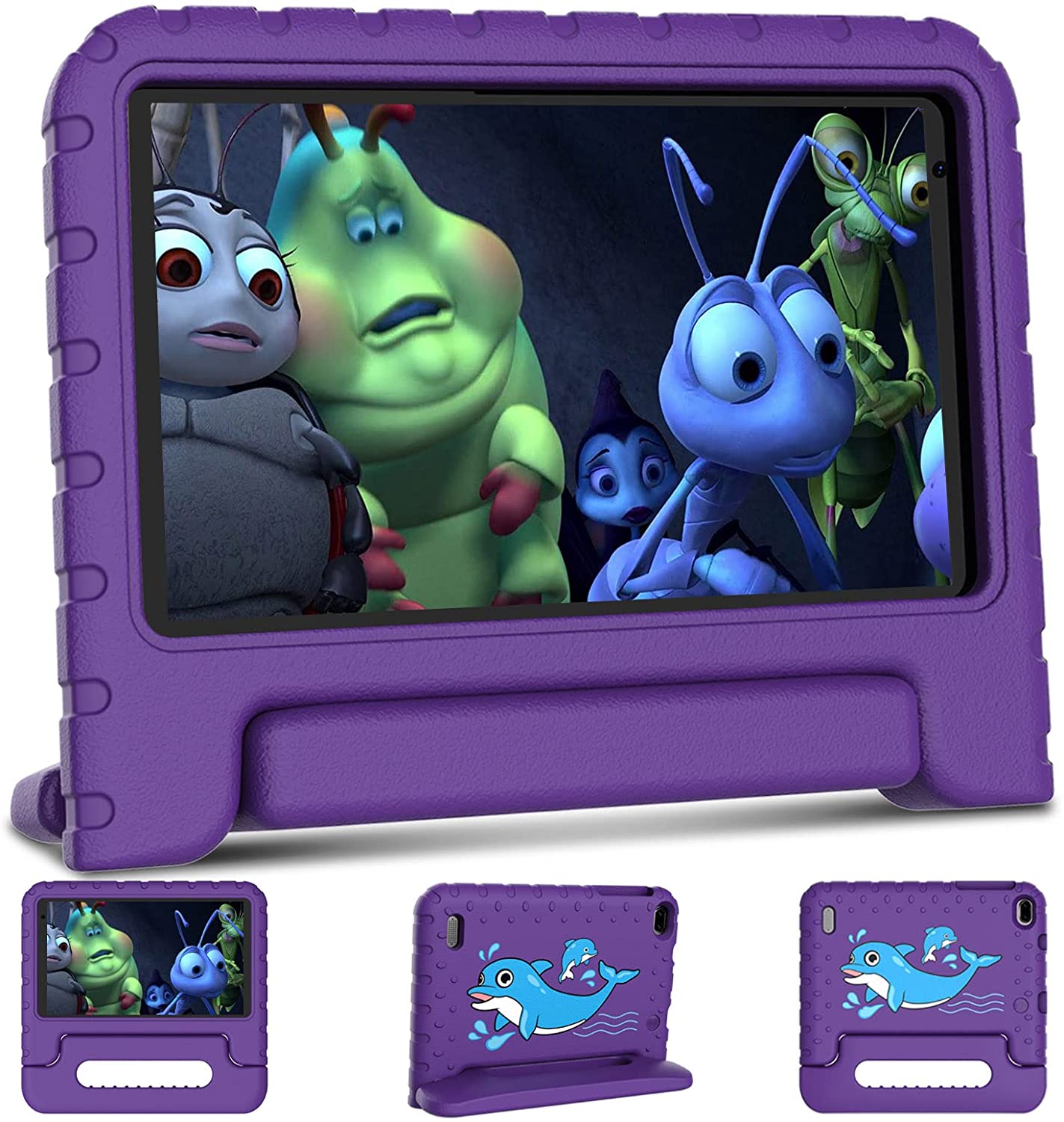 Apart from being a well-designed tablet, it is also a device built to last. On the back of the tablet, you can see a cute dolphin. Featuring a fairly unconventional design, this tablet is available in three different color variants: purple, blue, and rose red. The high-speed performance delivered by the tablet can be credited to the 1.6 GHz quad-core processor it comes equipped with. It runs on Android 11, and your kids will not experience any lagging issues with it.
The 7-inch wide display screen is touch-enabled and has a 1024 x 600 pixels resolution. The 32GB internal storage capacity can be expanded up to 128GB using a microSD card. The 3,500 battery offers a limited runtime of 5-6 hours. This strong kid-proof case is made with premium-quality EVA material that is safe for kids. The brand is known to offer good consumer support, so you can reach out to them in case you face any issues.
The cutesy design will greatly appeal to kids, and the durable components make it a wise investment for parents.

With 128GB expandable memory support, it is a very good device for kids who like to store a lot of music, video files, e-books, and other content on their tablets.
Fast processing unit

Thoughtful design

Responsive display screen

Expandable storage space
Average battery life

Unexciting camera features
Premium Quality Tablet For Smart Children
Fire HD 8 Kids Pro 8-inch Tablet
Check Price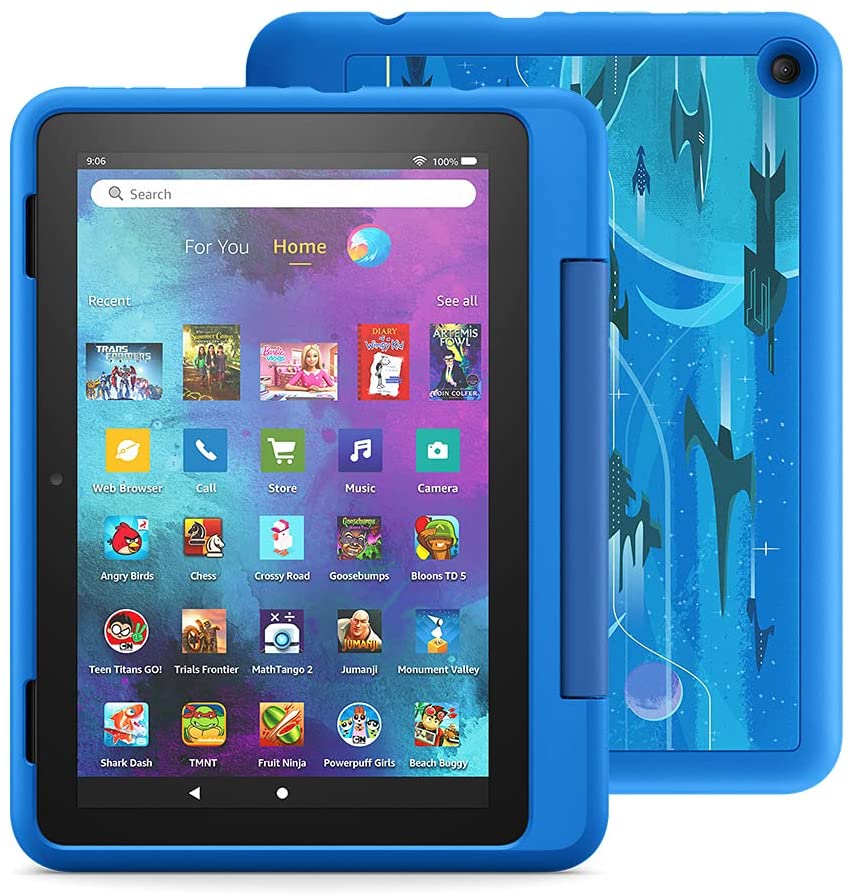 When you compare it to tablets designed for children, the price might seem a little high to you. However, when you test this device and see all that it has to offer, you find the pricing to be fairly responsible. The stylish design of this device matches its price, and you also get four innovative color options/designs (black, doodle, intergalactic, and sky blue) to choose from.
Unlike the newer version of this device, it features an 8-inch wide tablet. You can buy this tablet with the child-friendly Bluetooth set, sleeve, and screen protector the brand provides. A one-year subscription to Amazon Kids+ is provided for free with this app. It also allows kids to browse through a digital store consisting of several e-books and apps.
Why You Should Buy This?
Recommended for those who wish to gift their kids a high-quality tablet that plays an important role in their education apart from serving them with multiple entertainment-based options.

It is also suitable for those looking to invest in a tablet their kids can use for at least a couple of years.
Pros
High-resolution display screen

Premium design and build quality

Available in multiple color options

Free one-year Amazon Kids+ subscription
Cons
Slightly expensive

Camera features can be improved
Best iPad for kids
iPad Mini
Check Price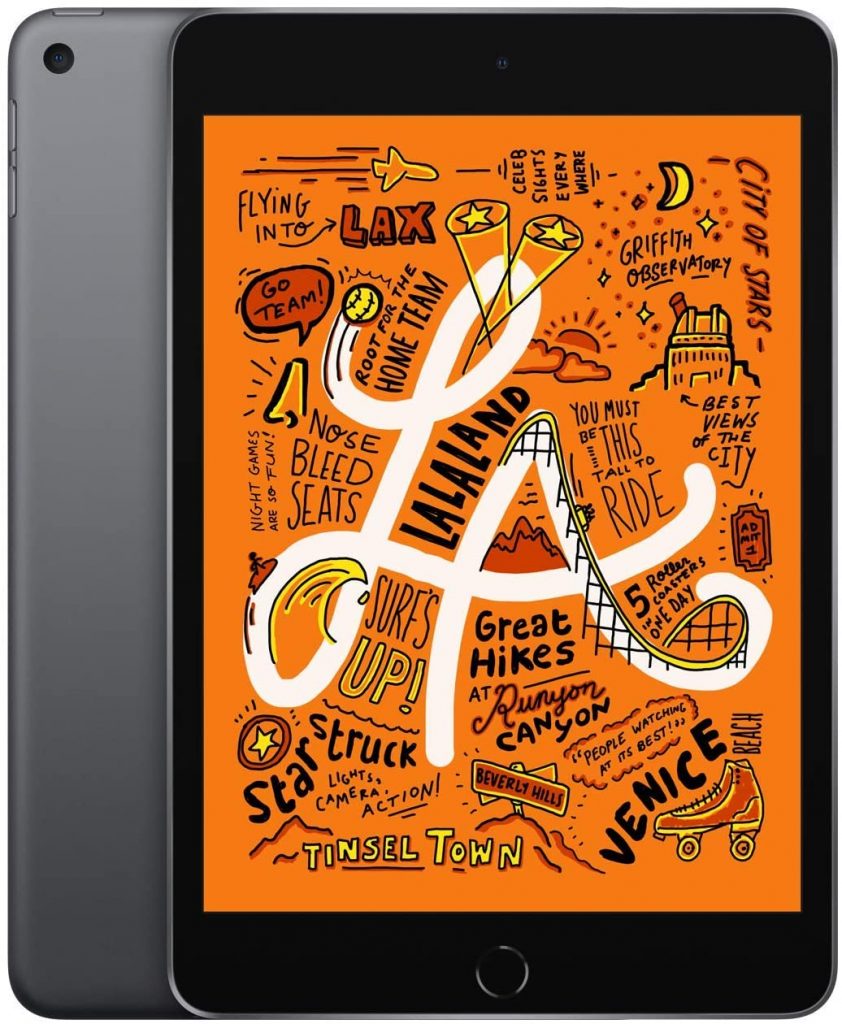 We all know how amazing Apple's devices are, and the iPad Mini is no exception. This tablet has a 7.9-inch retina display, 64 GB RAM, an A12 bionic chip, stereo speakers, and a Touch ID fingerprint sensor. The iPad Mini is not only the perfect kids' tablet but also a device the entire family will enjoy using. It comes with iOS 12. It has all the features and options Apple offers on its iOS devices that everyone loves. There are two cameras, an 8MP back camera, and a 7MP FaceTime HD front camera.
Conclusion
Kids also need tablets, just like grownups. However, most tablets are expensive and also fragile. They also allow unlimited access to surfing the internet, which is not suitable for children. Tablets exclusively made for children are different. They are cheaper and rugged, offer better protection, and come with several kid-friendly features. iPads are also a good option, as they offer excellent accessories for productivity and creativity for children, with Apple stylus and keyboards.
Check out the hardware specifications. They always matter. It is also important to have a reasonable screen size of 8 inches with a display resolution of at least 1280 x 800 pixels for watching movies or reading comics. Storage should be at least 16 GB and not merely 8 GB, as they can install more applications and store pictures and videos. A microSD card is also useful. As for the RAM, select a tab with at least 1.5 GB RAM as it helps smooth the launch and running of apps. Also, pay attention to battery life.