Technobezz is supported by its audience. We may get a commission from retail offers
BESTISAN Hard Texture Subwoofer
Jamo Auto Standby Subwoofer
Yamaha Twisted Flare Port Subwoofer
Table of Content
Are you looking for the top best subwoofer to have the ultimate audio experience? Here is our list of the best subwoofers under 200 dollars if you are looking for something affordable yet snazzy which can enhance the audio experience at your home or office. If you were to look up the most inexpensive subwoofers, you would find many of them on the market. But the problem lies in how many of those speakers are worthy of the price you would be paying for them. With a bit of insight into the best speakers available, you can easily find the one most suitable for you.
Subwoofers have become increasingly popular both at home and outside because of their ability to render unsurpassed sound / audio quality. They reproduce low frequencies with utmost clarity and feature a woofer or more fitted inside a loudspeaker enclosure. A subwoofer may be either active or passive. An active subwoofer features an inbuilt amplifier, whereas the passive counterpart uses a subwoofer driver and enclosure with an external amplifier. The good news is that whichever type you opt for, you can most often get a good subwoofer for a decent price and with impressive features. However, you must always remember a few things when investing in a subwoofer.
First, make sure to see if the subwoofer you are planning to buy is from a manufacturer that can be trusted. Second, make sure that you follow the setup instructions properly. This is because a poorly designed subwoofer tends to degrade the musical performance of a playback system over a period. Here, we bring you a list of subwoofers under the $200 price tag that you may consider checking out.
Buying Guide
Here are a few points to consider before buying a subwoofer
Compact and easy to use
High-quality sound transmission
Supports wireless connectivity
Connectivity with other devices
HDMI port
Options to pair with a multichannel audio system
Deep bass performance
Distortion-free audio
See also: Best camcorders under $300
Best Subwoofers Under $200
A Compact Subwoofer with Powerful Bass
BESTISAN Hard Texture Subwoofer
Check Price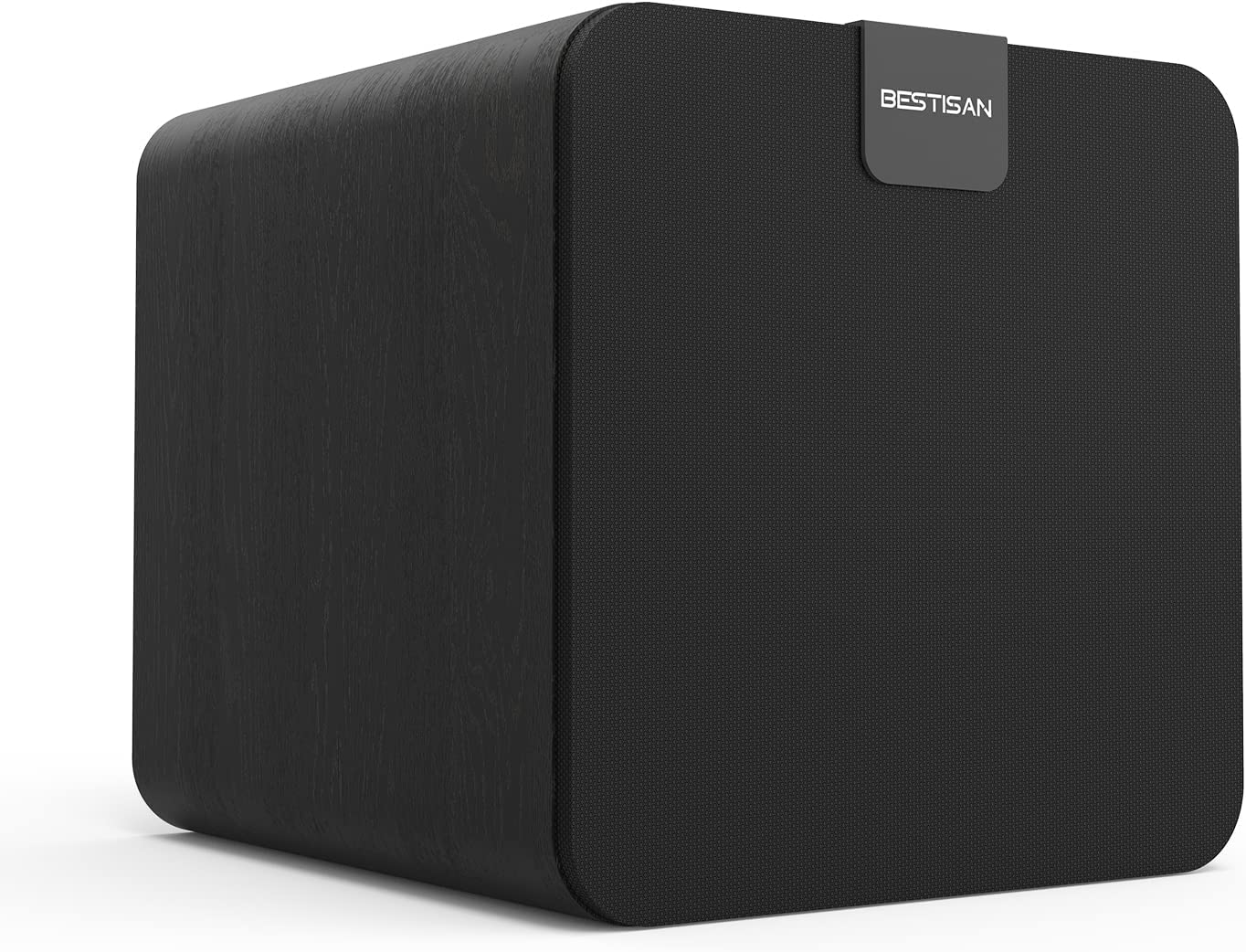 This BESTISANsubwoofer has a maximum power of 100W. The black-colored subwoofer works well with soundbars and TVs of all sizes. The 8-inch dual-vented product renders high, deep, and low bass equally well. It has a compact profile, allowing you to place it in even confined spaces.
The subwoofer has a thick, deep, and powerful low-frequency speaker. The product can be connected to the receiver using a single RCA speaker. It gives you the effect of watching your favorite movie in a theater. The subwoofer features a 25Hz to 125Hz frequency response and a 60Hz to 120Hz continuous variable crossover.
The BESTISAN subwoofer can be integrated with ease into your existing system.
The product does not take up much space wherever it is connected.
Its speaker has twice as much focal depth as a standard speaker.
It can be connected to different types of devices
High-quality sound transmission
It can be used both indoors and outdoors
It does not have an auto-off function
A Low-Frequency Subwoofer in Two Color Options
Jamo Auto Standby Subwoofer
Check Price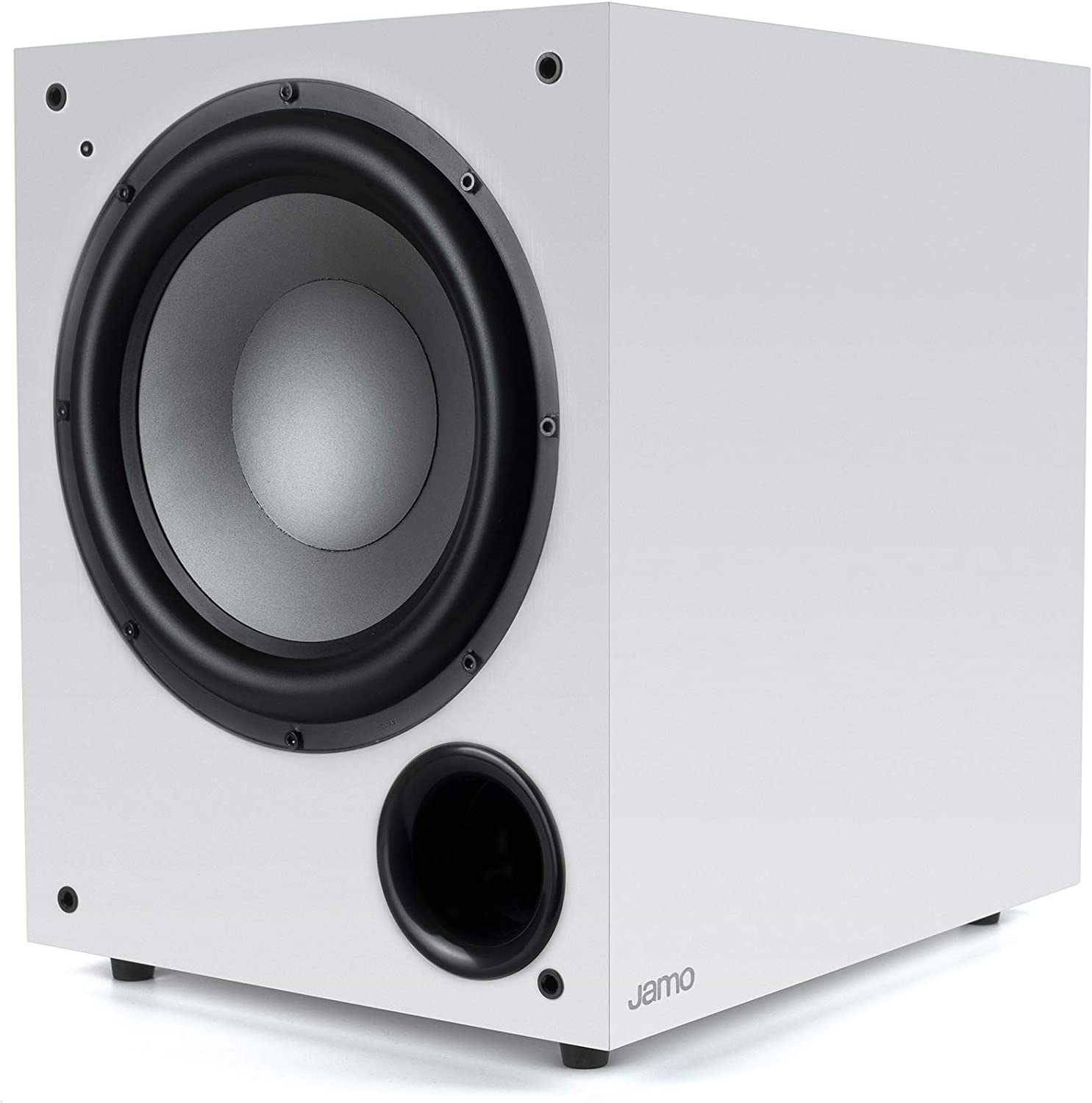 This Jamo subwoofer has a 400W amplifier and a frequency response of 29Hz to 125Hz to render a high output. The subwoofer is fitted with a rigid graphite injection-molded cone to render clean and pure tight bass. The product is integrated with Class D type audiophile grade amplifiers.
The subwoofer houses a front-firing port. The product portrays an elegant design that perfectly complements the furniture in your room. It takes up minimum space, making it suitable for even small rooms or where space is a problem. The subwoofer comes with a power cord and woven tweed grilles. The product is available in black and white color options.
The Jamo subwoofer has four removable feet that give it a distinct look when kept on a flat surface.
The product can be placed in a cabinet because of its front-firing speakers.
It can be set up easily with just one cable connection to the receiver.
Lowers electricity bills with auto standby mode
It supports wireless connectivity when used with the WA-2 transmitter kit
Can remove the grille if needed
Occasional lowering and distortion of volume in between uses
A Noise-Free Subwoofer with Excellent Build Quality
Yamaha Twisted Flare Port Subwoofer
Check Price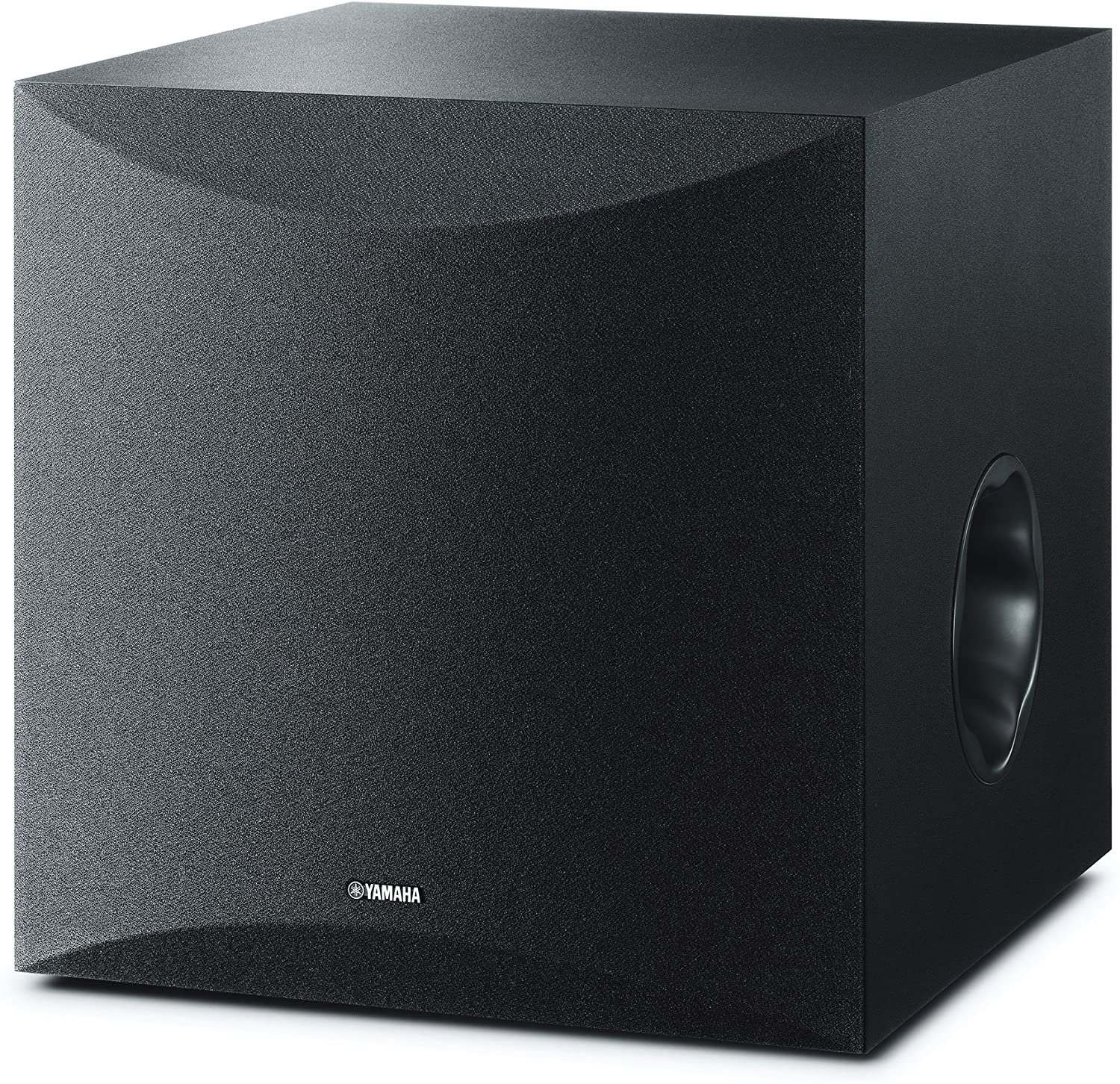 This Yamaha subwoofer houses a 10-inch cone and discrete amp circuitry for tight, clean bass. The subwoofer renders 100W output power. The product has a twisted flare port that allows smooth airflow around the edges. It gives a realistic touch to the special effects in a movie or a game.
The subwoofer has a perfectly set crossover and renders good sound even at low volumes. The product is fairly heavy, and you will not have to worry about your pet knocking it down accidentally if it is placed on the ground. It can be conveniently integrated with a 5.1 home theater system. The subwoofer box is made of wood which adds to its durability.
The Yamaha subwoofer delivers excellent sound clarity, with the speaker turning up only halfway through.
The product is ideal if you are looking forward to using a subwoofer in a large room because the sound produced is free of distortion and noise.
It can be used with a soundbar from any manufacturer without compromising the bass rendered.
Unique port design
Excellent sound in low frequencies
Fast response time when the microphone is turned on
Inconvenient positioning of volume and power buttons at the back
A Wooden Enclosure Subwoofer with Two-Year Warranty
Edifier Low Pass Filter Subwoofer
Check Price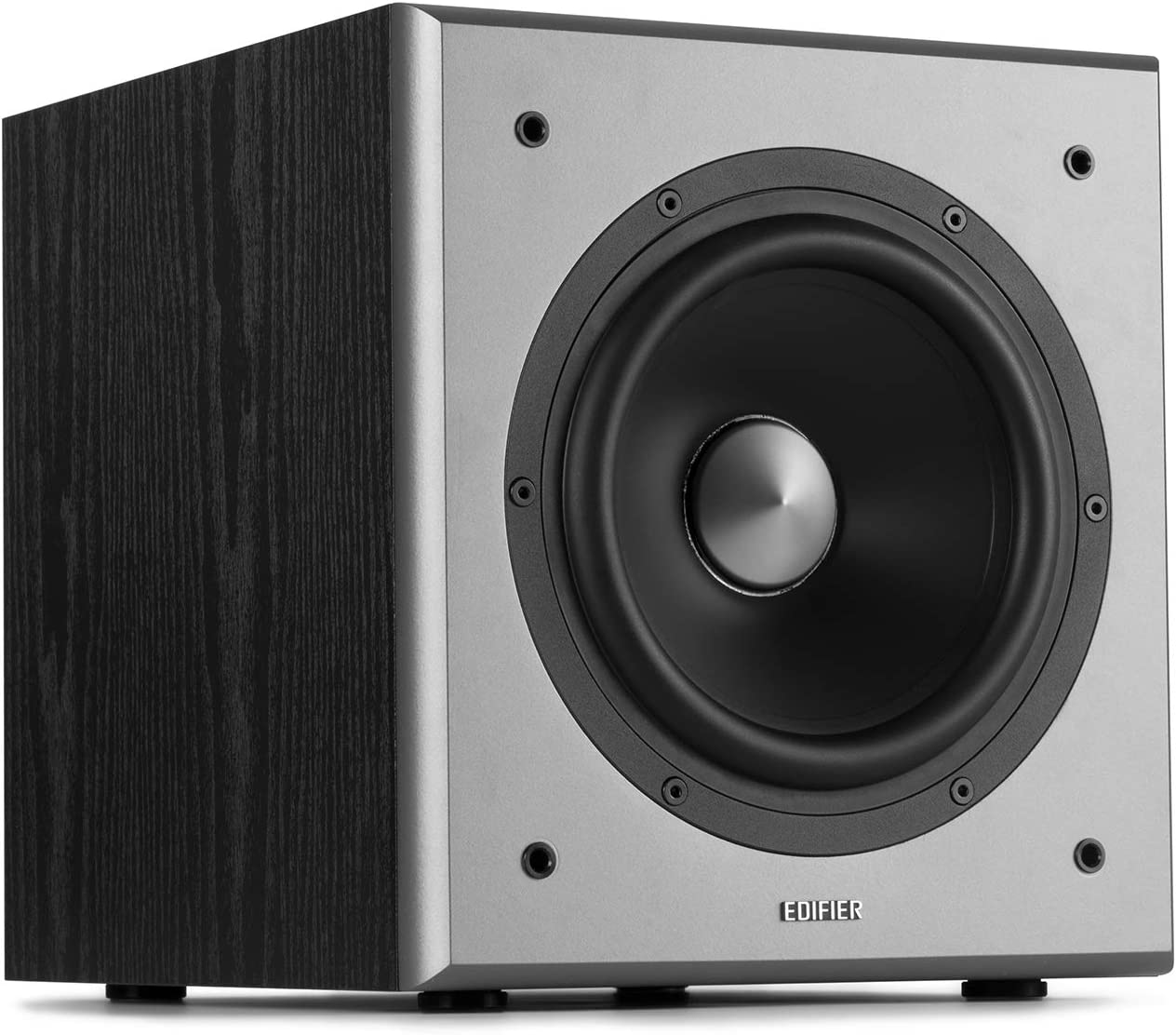 This Edifier subwoofer encompasses an 8-inch speaker driver and a low pass filter. The subwoofer renders powerful sound and bass free of distortion with high accuracy. The product depicts a frequency response as low as 38Hz. Its driver can deliver 70W sound for an immersive home theater and music experience.
The subwoofer is enclosed in a thick wooden enclosure. This choice of dense fiberboard offers the assurance of good audio quality with minimal acoustic resonance. The product has an auto standby function that stops it from powering up when it has no signal. It renders a consistent and balanced sound effect by allowing you to adjust the low-frequency bandwidth and volume based on preference.
Why Should You Buy This?
The Edifier subwoofer has RCA inputs and outputs on its rear instead of only RCA inputs like in many other subwoofers.
The product comes with RCA cables to support multiple connections.
It is perfect for people who want a minimum connection setup process.
Pros
Low-frequency bandwidth and volume adjustment knobs
Multiple connection options for various sources
Warranty for two years
Cons
Enters sleep mode with a very low volume level
A Wall Mount Subwoofer with a Bottom Mounted Amplifier
JamoSleek Profile Subwoofer
Check Price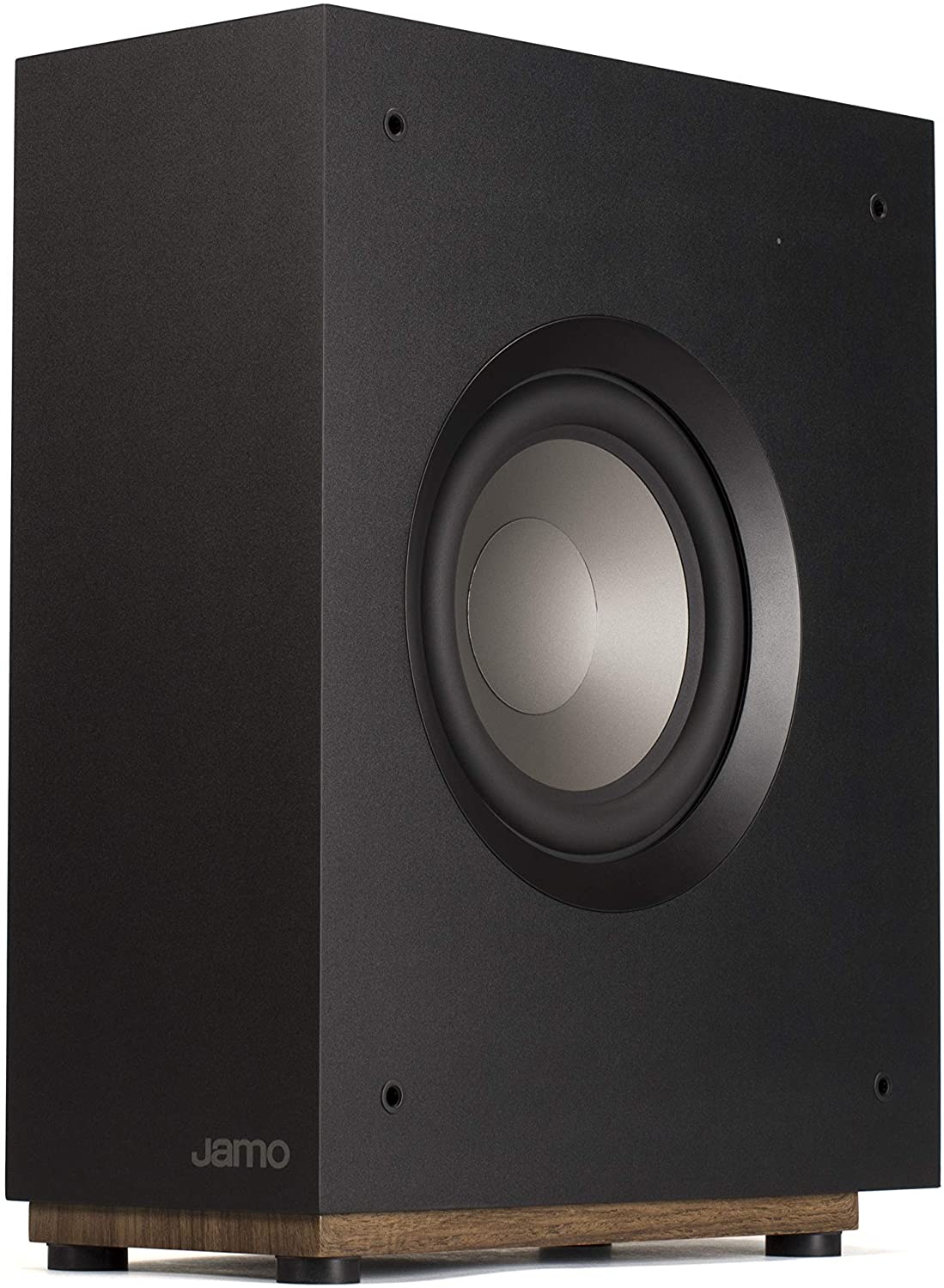 This Jamo subwoofer has Class D bottom-mounted 100W amplifier and downward-firing ports. The 8-inch subwoofer is made of poly fiber and comprises woven linen grilles with a magnetic property. The product can be connected without a splitter and by using just a male-male RCA subwoofer cable.
The subwoofer goes into standby mode automatically when it does not receive any signal to help you lower your electricity bills. The product comes with a provision to be mounted on a wall. It implements WaveGuide technology to make high frequency available for powerful and dynamic sound. The front-firing type tube port of the subwoofer delivers a clean and enhanced bass response.
The Jamo subwoofer comes in a contemporary finish that blends perfectly in a premium environment.
The product helps you save space on a cabinet or the floor with its wall mount support.
Its ultra-slim profile and bottom-mounted amplifier allow you to place it in any orientation.
A great option for small rooms
A classy look with wood grain accents
It comes with a 6.5-foot RCA cable and a 5-foot power cord
The bass is not up to the mark
Compact Subwoofer with Deep Bass Response
Bestisan Audio Subwoofer with Home Theater Systems
Check Price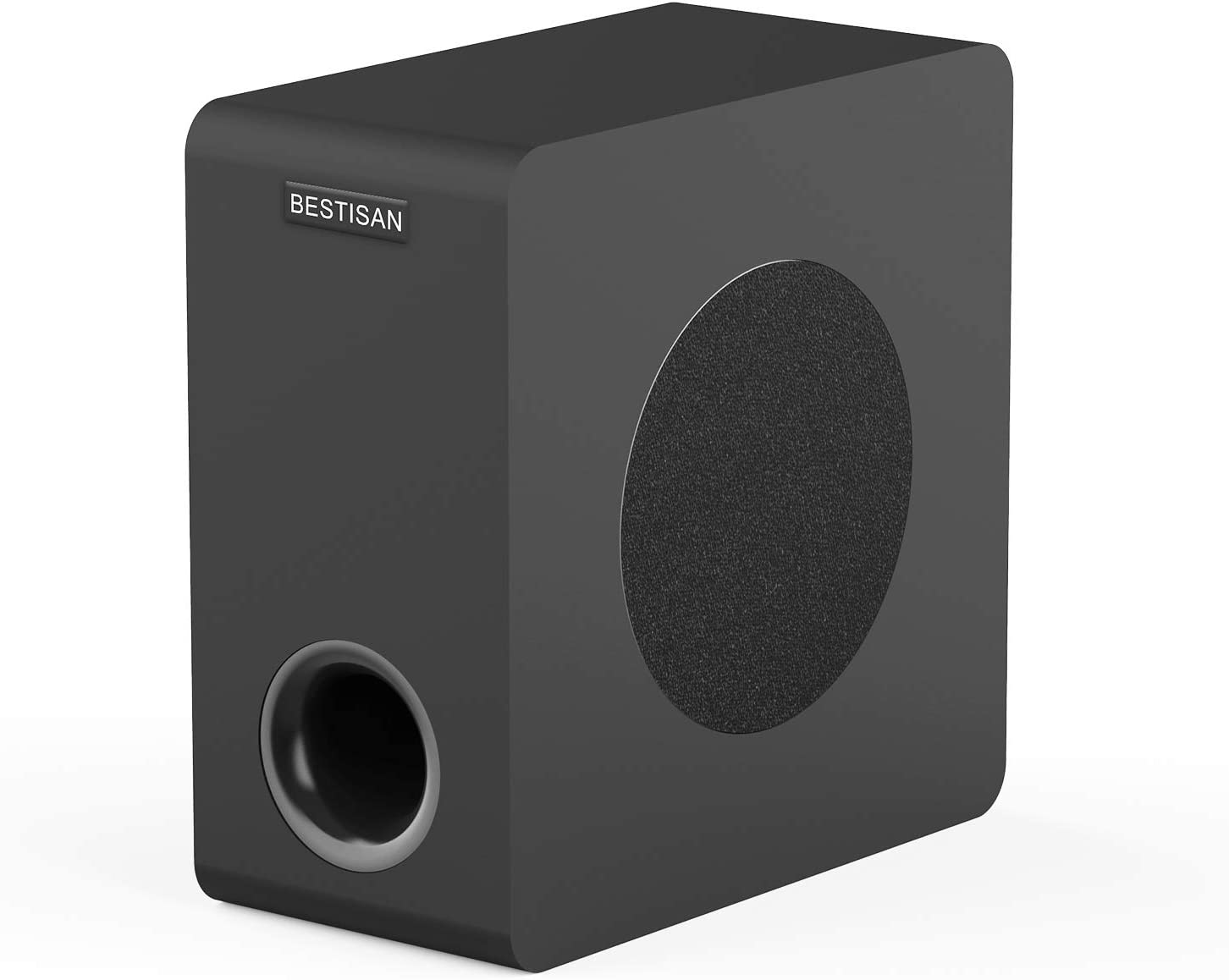 This powered subwoofer provides a deep, rich bass sound that fulfills your entertainment experience. It connects to any sound system and creates a cinematic environment. The Bluetooth feature allows you to control the subwoofer even when it's out of sight. The high-performing amplifier makes the entire experience worthwhile.
Its noteworthy features include an internal base, the 5" side fired woofer, bottom slotted port, long throw, high rigidity PVA treated cone, and a compact bass reflex enclosure. You can upgrade the audio of your music with a simple plug-and-play solution.
Why Should You Buy This?
You can pair this subwoofer with a multichannel audio system and experience a theater-like surround sound system.
The HDMI port allows you to connect it directly to your television.
Pros
Excellent choice for stereos with low wattage
Intelligent amplifier and distortion-free audio
Compact design
Deep bass performance
Designed to integrate with interiors
Cons
Faulty connection wires
Designed for powerful bass
Conclusion
Today, music lovers who want to enjoy more bass for their music or movie buffs to enhance the audio quality of the movies that they watch have started relying heavily on subwoofers. Depending on where you want to place these units, you can opt for a floor, wall, or ceiling mount subwoofer. Moreover, there are subwoofers for car use, so you can enjoy your favorite bass effect while on the move. Various manufacturers offer multiple subwoofers with different power ratings to meet varying requirements. Kenwood, Pioneer, Yamaha, and Sony are some major players in this regard. The above list is based on parameters such as mounting style, power rating, size, and design style. While most subwoofers are black, they may have different textures that change their appearance. However, some manufacturers like Theater Solutions offer subwoofers with enclosures of different colors that give them a distinct look.
Was this article helpful?
This helps us improve our website.