Technobezz is supported by its audience. We may get a commission from retail offers
Summary – Stand mixers are useful appliances that make life easier in the average household. With
Stand mixers are useful appliances that make life easier in the average household. With these, you can come up with enough dough to make dozens of cookies or make milkshakes in a jiffy. For example, a newlywed couple would want to invest in one. KitchenAid products may be quite expensive but there are several other alternative brands that you can consider.
Ranging from the simple AmazonBasics solution to Hamilton and other branded products, the best stand mixers are available in different sizes, designs and made for a variety of purposes. Choosing the right one will help make your recipes stand out in taste and keep those guests and family members happy when they pay you a visit.
See also: Best blenders
Best stand mixers
The Best Stand Mixers on a Premium Level
KitchenAid KSM150PSER Artisan Tilt-Head Stand Mixer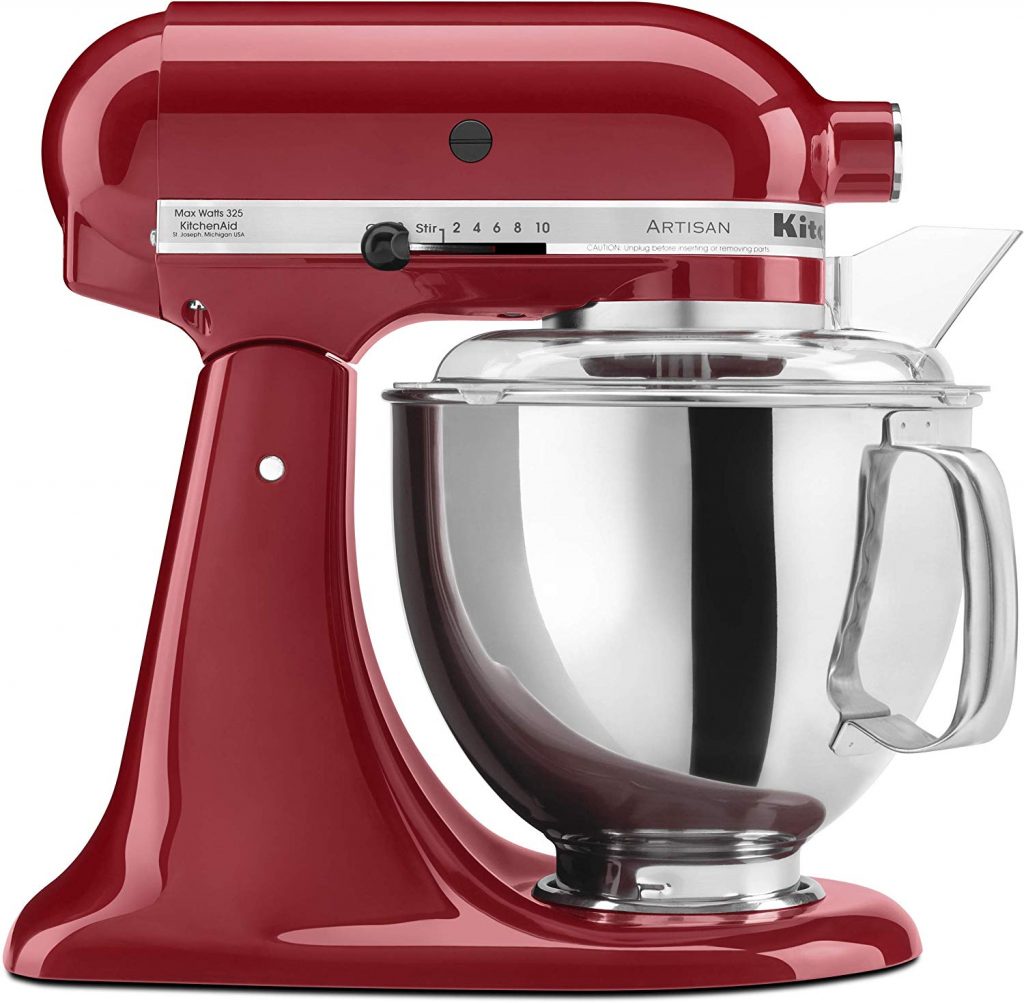 The biggest advantage of going with a premium level product from KitchenAid is that it always delivers more than your expectations. You can find over a dozen accessories that are compatible with the brand's stand mixer and use your purchase as a mixer, a pasta maker or a spiralizer among many other uses. This particular model has a 10-speed slide control that comes bundled with a couple of items.
The bundle includes a dough hook with a wire whip and a flat beater. With several positive reviews and solid brand value, the KitchenAid stand mixer also looks stylish while getting the job done. The advantage of using a tilt-head is that once the mix is complete, you can tilt it up to remove the jar below. The KitchenAid KSM150PSER is made in the United States and is a must-buy for those who are keen on purchasing products made in the home country.
When using the mixer, you can choose to comfortably change between a slow stir for dough mixes all the way up to a fast whip which helps to mix fruits into juice with strands of pulp if you love that mix. The product is also available in multiple colors and over 15 optional attachments are available online. While it may cost you more to collect them all, you can go for the ones you actually need at the time.
What Makes the KitchenAid KSM150PSER Artisan Tilt-Head Stand Mixer Superior?
The product's build quality is amazing and it is great value for money.
The power hub is super-powerful.
A multi-purpose 5-quart stainless steel bowl with handle is included in the bundle.
Recommended For
If you are looking for a premium product and don't mind the price, this is the perfect mixer.
For people who love style and substance, the mixer is available in over 20 colors.
Budget-Friendly Stand Mixer for Limited Use
AmazonBasics Multi-speed Stand Mixer with Attachments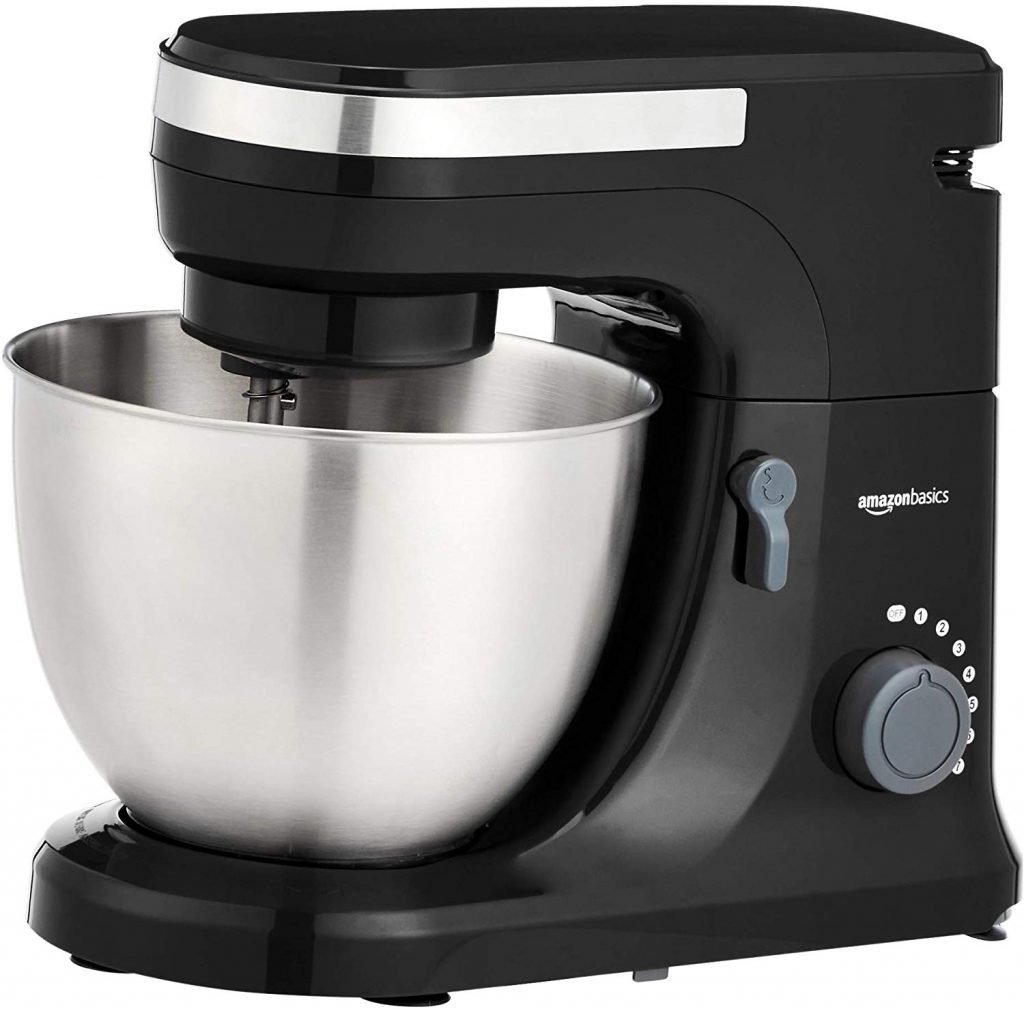 AmazonBasics may not be a big brand but once you start using their products you will be surprised by the quality of the product that is available for a relatively budget pricing. The multi-speed stand mixer is easily among the best stand mixers available because Amazon works with major brands and sells them under their own brand label.
The product has a simple build and finish which may not be appealing to most buyers but once you take a look at the price tag, you might probably want to give it a try. Instead of spending lots of money on something that you may use only occasionally, an alternative solution is to go for a simple product in the Basics category from Amazon with which you can beat or whisk ingredients when required.
The multi-speed stand mixer is compatible with a range of attachments and has a seven-speed electronic option. It also has a pulse feature and the built-in 15-minute timer allows you to take a break while the dough is getting ready. Baking is not for everyone which is widely accepted because of the time and effort you need to put in. However, this one lets you explore the batter and dough creation process without investing in a lot of money.
What Makes the AmazonBasics Multi-speed Stand Mixer Unique?
Its pricing is the biggest selling point for this basic kitchen appliance.
It's simple, easy to use and has an automated timer to save you from having to wait for the dough to get ready.
Recommended For
It suits people who love to try baking but without the exorbitant costs associated with it.
Ideal for newbies because the 15-minute timer makes it less intimidating.
The Most Powerful Stand Mixer
Cuisinart SM-55BK 5-1/2 Quart 12-Speed Stand Mixer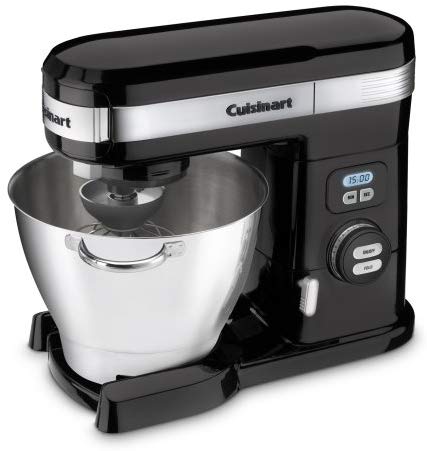 The very purpose of purchasing a stand mixer is to carry out your baking at a professional level or on a large-scale. While some simply prefer to purchase it from a local baking shop, the serious chefs would never compromise. For those demanding requirements, the Cuisinart stand mixer provides the right solution because it houses the most powerful 800 watts motor on the inside.
The standout feature of this product is its capability to handle slow-start and with the help of the gentle fold function, you can get the dough to the accurate softness level. The product because of its powerful motor houses three different power outlets and if you are planning to make use of the high-speed outlet, it can be done when using optional attachments. Another advantage of using this product is that it allows baking experts to churn out large quantities of the mix for making four dozen cookies for an evening!
While direct competitors to this machine are still at 500 watts of motor power, Cuisinart delivers industry-grade performance for home-users. If you are among the select few who can make use of its features or like to have a powerful device that has a 12-speed setup, this is a great stand mixer to own. It is one of the best stand mixers that include chef's whisk, paddle, splash guard and a dough hook in the bundle.
What Makes the Cuisinart SM-55BK 5-1/2 Quart 12-Speed Stand Mixer Powerful?
The 800-watts motor used in this mixer is the primary reason behind its power.
The countdown timer with a 15-minutes clock is useful as you don't have to stand by its side when the dough is being kneaded.
Recommended For
Ideal for those looking for a value-for-money product that delivers enough power for large baking requirements.
For those who need a versatile mixer with power-saving features, multiple outlets, tilt-back and range of accessories, you get an all-in-one package making it one of the best mixers in the market.
Perfect for Making Assorted Cookies
Hamilton Beach Electrics All-Metal 12-Speed Electric Stand Mixer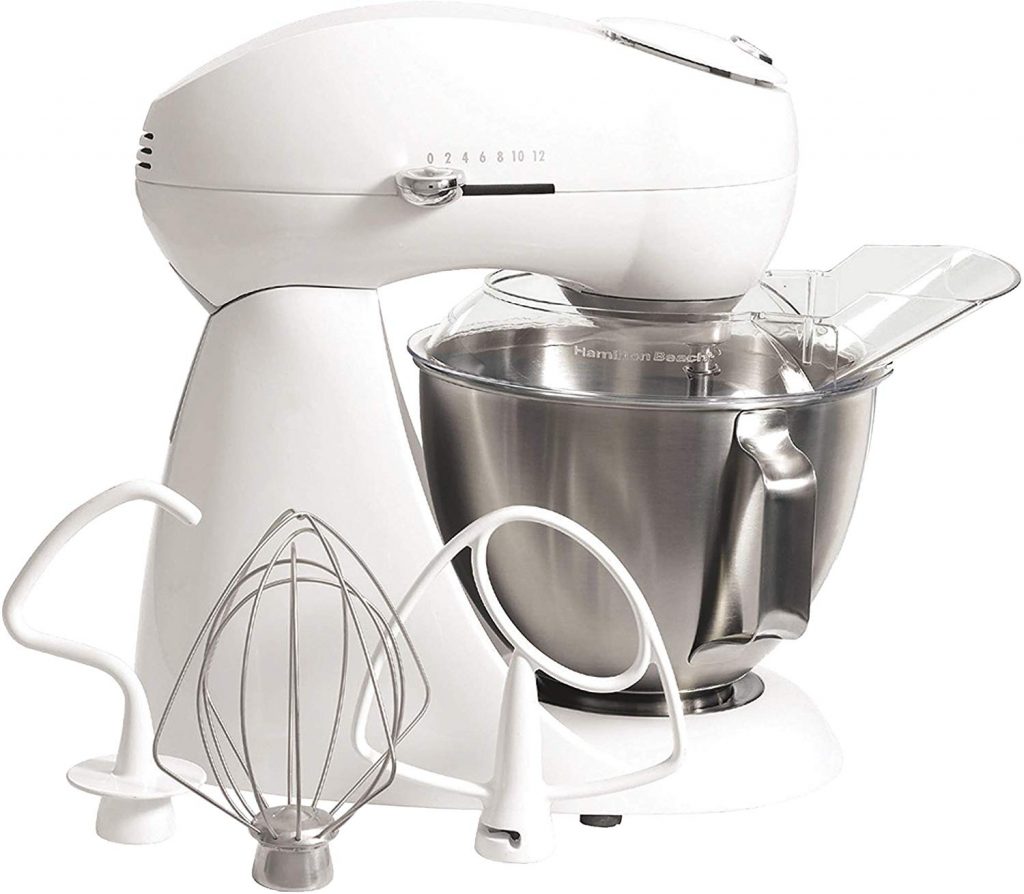 The Hamilton Beach electric stand mixer has a unique design that makes use of planetary mixing to combine all the ingredients into one fine blend. If baking some excellent assorted cookies with a touch of walnut, cashew, apricot and other ingredients is your requirement, you are in for a treat. While there are more powerful mixers out there that may be ideal for mixing dough to make single-flavored baked cookie rather than mixed ones, this Hamilton Beach mixer stands out in mixing ingredients for making blended cookies.
The beaters are designed in such a way that they move around the bowl and will bring in any leftover particles to the dough. There are 12-different speed settings to choose from and you can go all the way up to fast-whip to produce shakes or other delectable drinks. The bundle includes a pouring shield making it easier to swap the content without spillage and it also includes a dough hook and flat beater.
Another claim by the manufacturer is that despite the fact that the Hamilton product is way less expensive than a KitchenAid stand mixer, it delivers excellent performance and mixing action and it covers an entire range of baking applications. The mixer is powered by a 400 watts motor. The 4.5-quart stainless steel bowl is durable besides being of the right size to mix dough for cakes, bread or cookies in ample quantities.
What Makes the Hamilton Beach Electrics 12-Speed Electric Stand Mixer Worthy?
The all-metal construction makes it sturdy and durable.
It is available in a range of colors.
It leaves no leftovers once the dough is completely done.
Recommended For
Creative cooks who would like to mix lots of ingredients for a precise flavor in their cookies or bread.
Perfect for people who want a highly durable stand mixer that has varying speeds.
A Quick Solution for Occasional Baking
Cuisinart SM-50 5.5-Quart Stand Mixer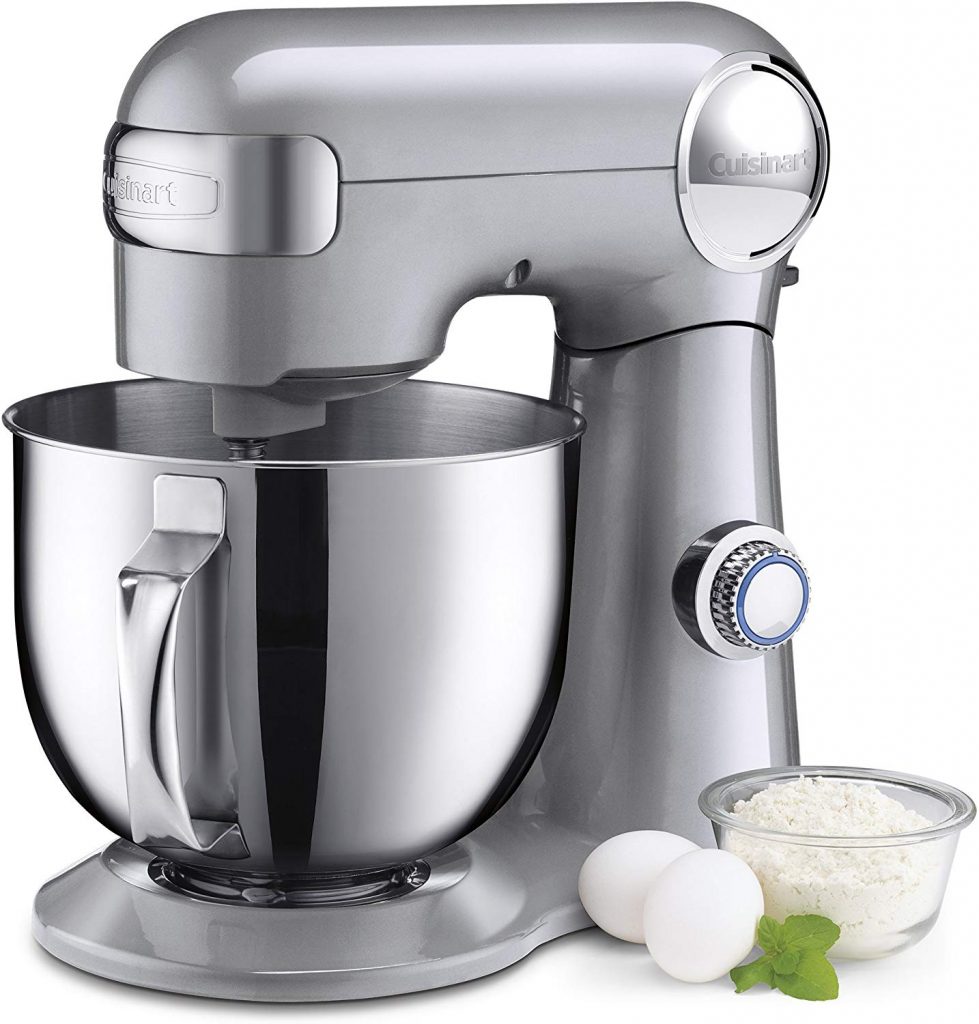 The best stand mixers are the ones that are easy to use and are durable. After all, most people who love baking may or may not do it on a regular basis. Spending hundreds of dollars on equipment alone makes little sense if you're going to bake cookies only on a couple of weekends each month. For the occasional baking purpose, the Cuisinart SM-50 ideally fits the bill and delivers a durable, value for money solution.
Going for a stainless steel mixing bowl in a stand mixer is the best thing to do because they are not only dishwasher-friendly but also durable and can handle the excess heat produced when kneading. Despite the type of plastic used, steel can withstand longer kneading time of the dough and it does not affect the quality of the food. The tilt-back head makes it easier to access the bowl to take the mixture out and it also has a handle for better grip.
The single power outlet saves time and you can easily switch the attachments based on the purpose. Cuisinart is a popular brand that is known for making some of the best stand mixers out there and it is a reliable product for the money you pay. It is dishwasher safe and once the dough is ready, you can clean it easily without any strain allowing anyone to bake food items with little pressure.
What Makes the Cuisinart SM-50 5.5-Quart Stand Mixer a Solid Pick?
The product is durable and made of stainless steel material.
It is dishwasher-friendly and is powered by a powerful 500-watt motor.
Recommended For
The color choices are amazing for those fashion-conscious buyers and it is easy to clean after use.
If you need a solid stand mixer with minimal attachments and affordable pricing, this is the one for you.
An Affordable Stand Mixer Made for Everyday Use
Dash Stand 6 Speed Mixer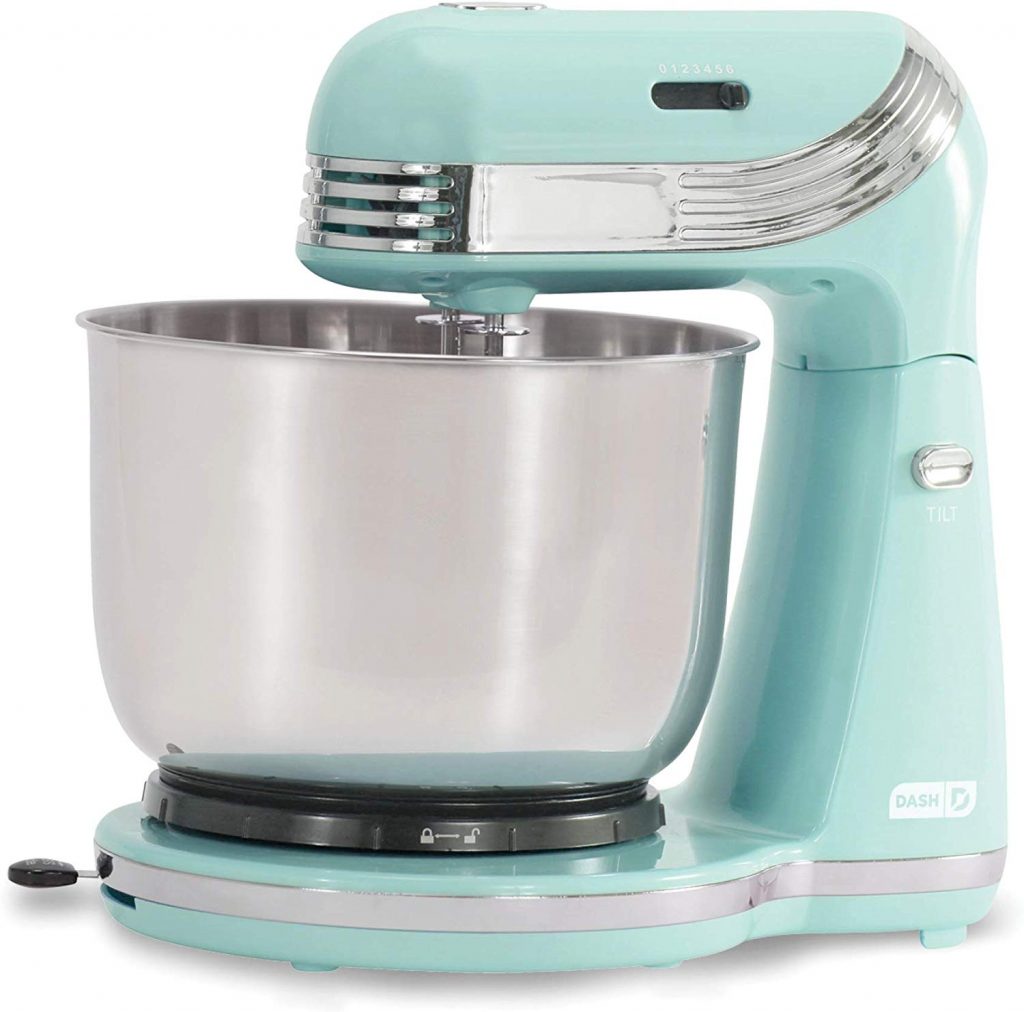 Dash Stand Mixer is the ultimate mixer designed for everyday use, available in a range of attractive colors that are very appealing. The Dash stand mixer has a 6-speed motor that can be adjusted according to your requirement. However, the only catch is that it has a much smaller mixing bowl with just 3qt capacity and is suitable only for minimum quantity baking needs.
Instead of going with large bowls that are sometimes difficult to clean or mix ingredients in, Dash's versatile and low quantity mixer keeps things under control. The number of accessories bundled with the package is great especially considering how inexpensive this product is. You get two large beats and two large dough hooks. The six-speed motor can be used to complete a range of tasks including combining, beating, creaming and whipping among other applications.
The motorhead supports full tilting so that you can easily remove the mixing bowl and empty its contents. It is also convenient to remove and clean the dough hook among other accessories while keeping your mixer ready for the next use. The product comes with a one-year warranty and it also includes a recipe book to help you explore your culinary skills in the easiest way possible.
What Makes the Dash Stand 6 Speed Mixer Super Useful?
The cost of the product is possibly the lowest without compromising on quality.
It is available in a range of colors including aqua, pink, copper, red and silver.
Recommended For
If you are looking for a simple stand mixer that costs way less than other branded products, this is the best option.
For those who need to mix only a minimum quantity every day, this is the best stand mixer that they can purchase.
Best Stand Mixers with a Versatile Design
Aucma Stand Mixer 6.5-QT 6-Speed Food Mixer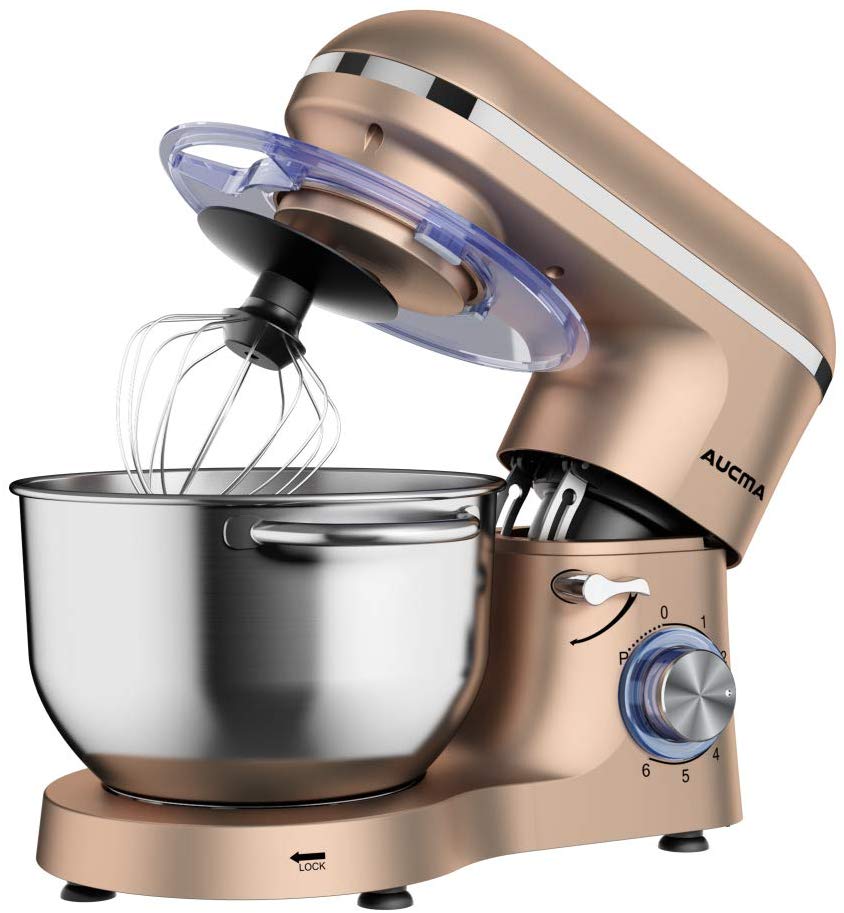 Irrespective of the size of your kitchen, it doesn't make sense to spend hundreds of dollars on multiple kitchen appliances. It is almost difficult to use them all at once which is why it is ideal to spend little on all the products and have them all ready for use. The Aucma stand mixer 6.5-QT sized 6-speed food mixer is one such product that is affordable, has a versatile design and ideally solves all your food mixing requirements.
The mixer houses an impressive 660 W high-speed motor made using pure copper and ABS plastic on the outside for maximum safety. Despite the high-speed motor, it is completely safe to use. The stand has enough space to mount the large stainless steel food container easily. Be it dough, fruits or shakes, you can mix them all because it can be easily contained inside this large storage. The six-speed control is easy to use based on the requirement.
As part of the bundle, the manufacturer provides everything needed to get you going including a whisk, beater, and a dough hook. You can make vegetable salads, thick shakes or simply get the dough for those delicious cookies ready to surprise the young ones. The tilt-head lets you easily pour the content into another bowl once the preparation is ready. It has a splash cover integrated on the top to stop any kind of spillage and to keep the kitchen counter clean while cooking.
What Makes the Aucma Stand Mixer 6.5-QT 6-Speed Food Mixer Cool?
The mixer is made using food-grade stainless steel material.
It is affordable and bundled with accessories and comes with a premium finish.
Recommended For
If you are looking for an affordable yet large food mixer, this is the one to go for.
The premium look is surprisingly good considering the price tag and fit those who value an aesthetic design.
The Best Stand Mixer for Basic Purpose
Hamilton Beach Classic Hand and Stand Mixer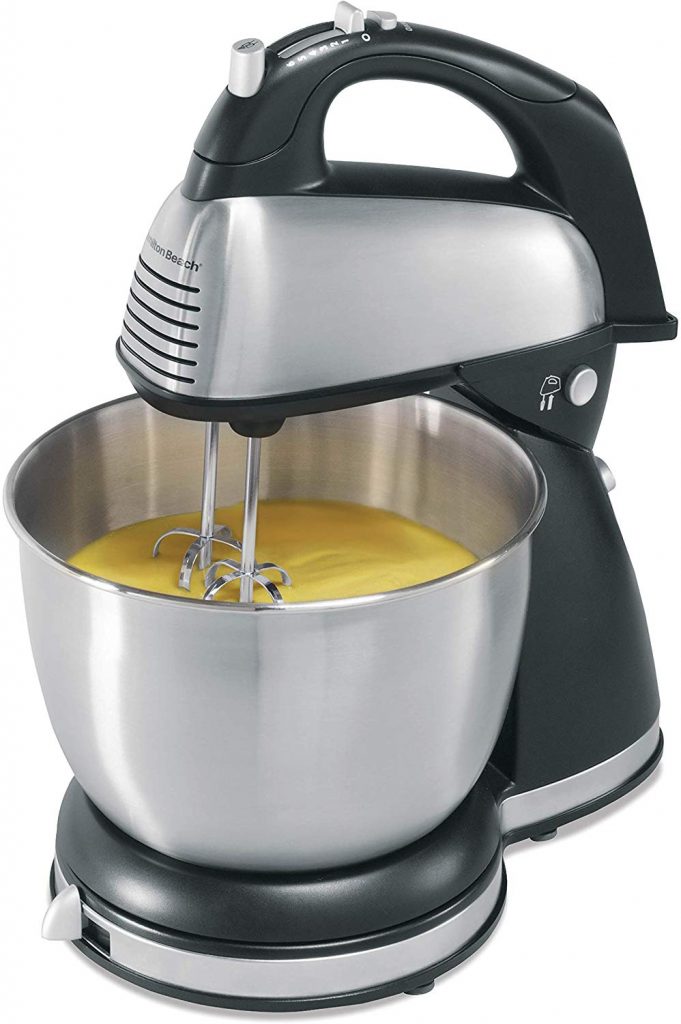 When purchasing a mixer, you won't often come across such a hybrid model and the fact that it is affordable makes it all the more appealing. If you are in the mood to hold it in your hand and start mixing the ingredients, you can do so. An alternative would be to use it in its standing position so that you don't have to hold it. Based purely on personal convenience, the Hamilton Beach Classic hand and stand mixer offer the best of both worlds.
The overall power delivered by the motor is rather limited at just 290 Watts. However, it is a good mixer because it is completely safe to use while holding in your hand and is perfect for blending smaller contents such as a couple of fruits or some eggs to make a French toast. The small 4-quart bowl is easy to handle and fits the stand provided by the manufacturer perfectly. It can be detached when needed and the speed setting allows you to do slow stir or fast whipping based on your cooking needs.
The mixer bundle includes a whisk, a dough hook, and beaters. These three accessories are provided by almost every brand and they should help you get going any day for the occasional baking or making mayonnaise sauce as an add-on. The advantage of having a hybrid solution is that you can use it in hand-mode on large bowls to whip or whisk content while the stand mixer allows you to do the same in limited quantities.
What Makes the Hamilton Beach Classic Hand and Stand Mixer Truly Hybrid?
The pricing is affordable for most buyers and you can get your mixing done without spending more on accessories.
It is a true hybrid and is easy to assemble for use in any mode.
Recommended For
The hybrid design makes it unique and useful for those who like to switch between different modes based on their cooking style.
Those looking for an affordable hybrid mixer.
Best Premium Stand Mixer
KitchenAid KP26M1XOB Professional 600-series Stand Mixer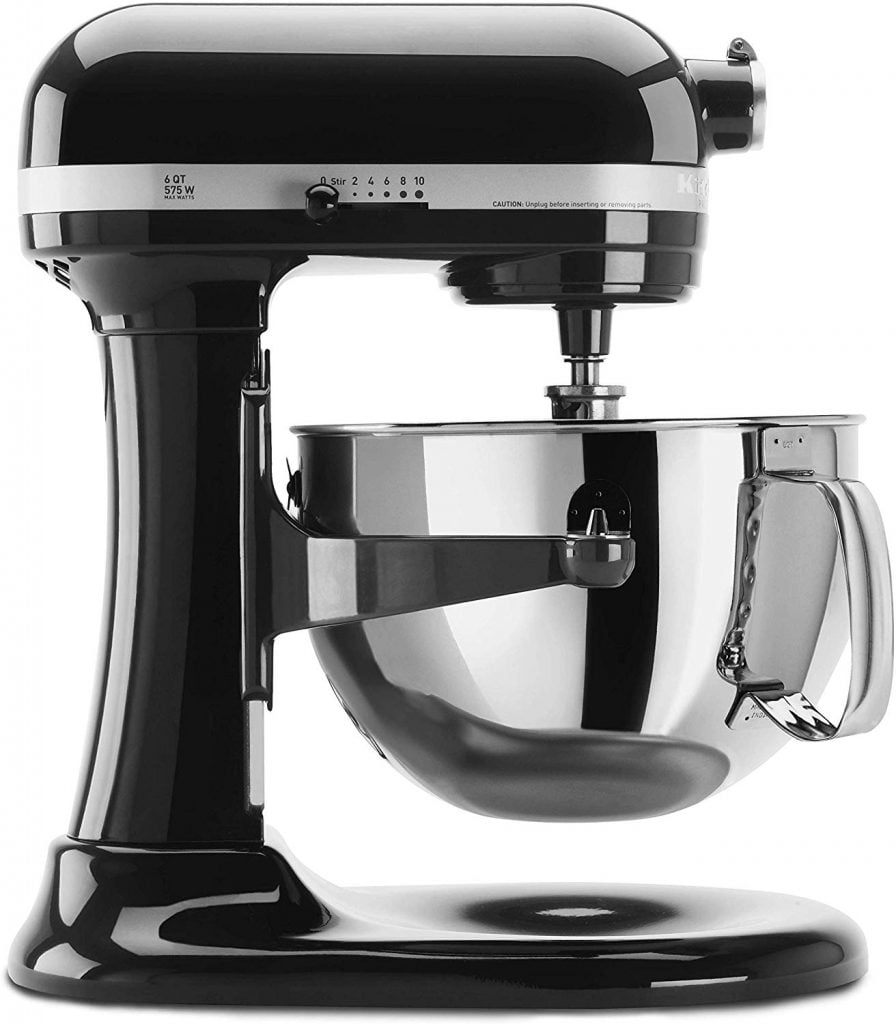 The professional kitchen products zone is largely dominated by KitchenAid mixers and they have multiple reasons to justify their price tag. The brand always stays ahead of dozens of competitors who produce similar mixers by delivering the most robust and durable appliances you might have ever used. They are usually available in over a dozen colors. The KitchenAid KP26M1XOB Professional 600-series Stand Mixer is a premium, professional solution.
The mixer, similar to other KitchenAid products is compatible with over 15 attachments. However, you have to spend more after spending a small fortune to make the most out of your purchase. It is definitely worth the investment for those who like to cook and spend a lot of time experimenting with different recipes. The stainless steel bowl is large and can hold up to 6-Qts with a comfortable handle to transfer the prepared items.
The product has a one-year limited warranty. One of the unique aspects of a KitchenAid product is that it offers a 67-point planetary mixing action. The bundle includes a dough hook which is standard in almost all kinds of stand mixers that you get to buy today. It also includes a wire-whip and a flat-beater that you can use to mix eggs or other ingredients into a thick paste. The professional 600 series has a powerful motor that gets the job done effortlessly at varied speeds and is trustworthy and durable kitchen equipment.
What Makes the KitchenAid KP26M1XOB a Professional Choice?
The 600 series mixer justifies its high price tag by offering professional-grade solutions for home users.
The product's wide range of accessory support makes it useful for mixing different kinds of ingredients.
Recommended For
Professionals and people who need the very best in their kitchen.
If you are looking for a professional-grade, durable, yet colorful product with a good design, this is the one for you.
A Multi-Purpose Stand Mixer
VivoHome 3-in-1 Multifunctional Stand Mixer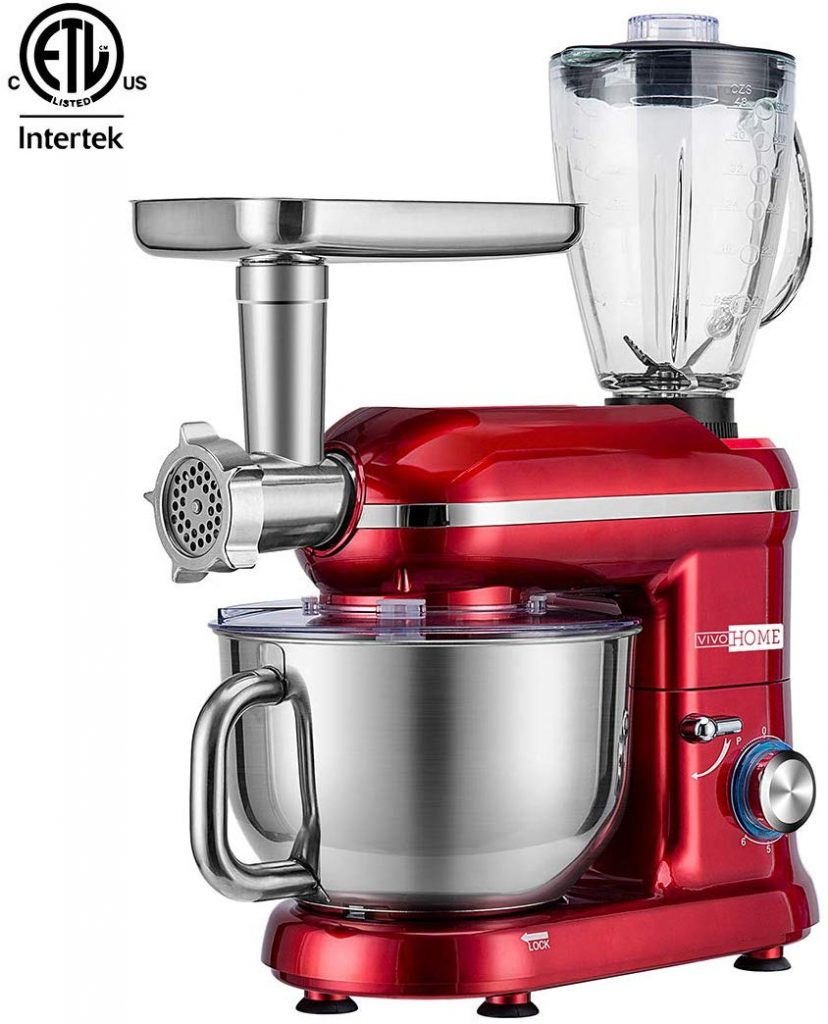 Depending on personal taste, some may want a single-function appliance while others would like to have an appliance that can handle different functions. The advantage of having a multifunctional product is that you can save space, spend more time on making a wide variety of menu and also enjoy the convenience of swapping between the accessories provided. The VivoHome 3-in-1 stand mixer is one such product.
At first glance, it may surprise you because it looks like a contraption right out of a factory. However, it is a dedicated kitchen accessory that allows you to make juices, knead dough to bake cookies and even use it as a meat grinder. The 650W motor is powerful and it can easily mincemeat like no other product out there and help you create tasty patties for your burger or sandwich.
The entire process is carried out in the stainless steel, food-safe plate on top and the meat is minced as it comes out of the receiver below. The stand mixer has a large 6QT mixing bowl that can accommodate a large quantity of dough, batter or vegetables to make salads or mix them. Some of the unique features include easy speed control, splash-proof cover to keep the countertop clean and a lift-lock for additional safety.
What Makes the VivoHome 3-in-1 Multifunctional Stand Mixer Useful?
Being able to mincemeat, make juices and prepare the batter for cookies using the same equipment is quite convenient.
The large and sturdy stand mixer is easy to use besides being a multi-purpose solution.
Recommended For
If you are looking for a multi-purpose solution that can do all kinds of mixing tasks, this product will fit your requirements.
It is a great gift idea for those who make meat patties etc.
The Best Stand Mixer with Maximum Capacity
Costway Stand Mixer 6-Speed 7.5 QT Food Mixer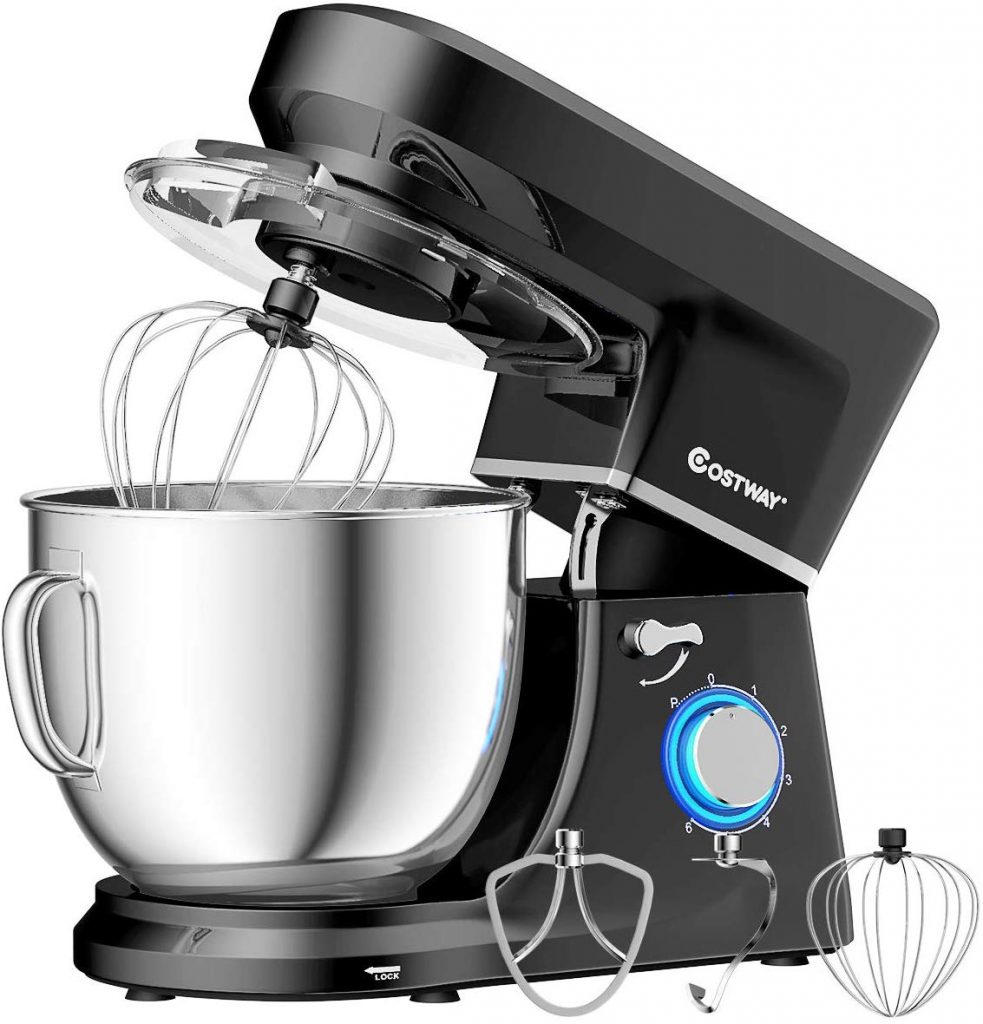 A mixer that holds the maximum quantity with its stainless steel bowl may not have the highest motor power or may lack in the number of accessories provided. Finding the best of both worlds is a very difficult task in almost any product that you would want to buy. The Costway stand mixer somehow ticks all the boxes because it delivers powerful performance made possible by the 660 W motor.
A mixer with a powerful motor has plenty of advantages over its less powerful counterparts because it can mince or whip the ingredients faster, produces very little noise when in operation and maintains the freshness of the food item you cook. Besides, the 7.5 QT bowl is pretty large and not many mixers provide such capacity, making it easier to prepare dough or batter for lots of cookies or French toast for a large family. The larger storage also makes it easier to get crispy, tasty finish on all types of ingredients.
The rubber feet ensure that your mixer stays in place even when it is being operated at high speeds and the tilt-head allows you to pour the mixture easily once ready. It is easy to clean and you can avoid spillage apart from being easy to use as you don't have to remove it every time. The standard bundle includes a beater, a whisk, and a dough hook. This mixer excels in offering the best motor power combined with its capacity.
What Makes the Costway Stand Mixer a Well-Rounded Product?
The product can hold enough ingredients to cook for the entire family or a small gathering without any difficulty.
The motor exerts enough power which gets the job done quickly but without spoiling the quality of the food.
Recommended For
For those who need to prepare a large number of mixed ingredients, this easy to use tilt-design is ideal.
Ideal for large families.
Best Stand Mixers for Professional Chefs
Bosch MUM6N10UC Universal Plus Stand Mixer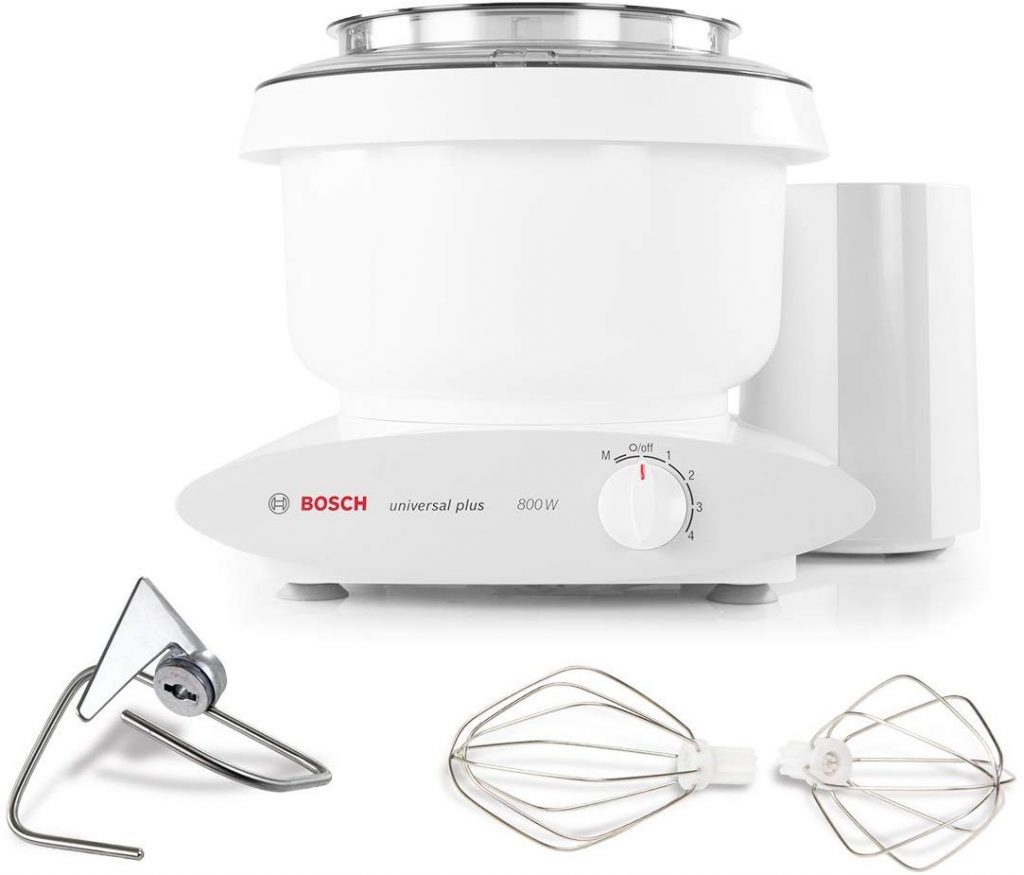 The purpose of going for low-powered kitchen equipment is for better safety and ease of use. However, professional chefs and home-makers who are serious about what they use at home may not be happy with what some products offer. The lack of a powerful motor and a closed design may be a hindrance but the Bosch Universal Plus Stand Mixer is among the best stand mixers that you can buy because it is made for experts.
Unlike many other mixers that have its handle mounted on top and a tilt-friendly stainless steel bowl, this one has an open design. You have to manually remove the bowl from its stand to remove the contents out of it before continuing to mix or blend additional ingredients. The design is quite impressive and ergonomic but it doesn't stop there as the Bosch product houses an extremely powerful 800 Watts motor. While the most powerful category from well-known brands stops at 650 Watts, this one goes a step ahead.
If you are a casual cook and is okay using a simple mixer, this may not matter much but for everyone else, the open bowl design combined with the 4-speed quick pulse mixer can come in handy. There aren't too many speeds but you can easily find your lowest speed. The highest speed may be used to whip faster or knead the dough while applying increased pressure.
What Makes the Bosch Universal Plus Stand Mixer a Reliable Solution?
The mixer houses the most powerful motor and comes from a very reputed brand.
The open bowl allows easy access to the content being prepared, to add ingredients or monitor its quality.
Recommended For
Those who need to prepare the hard dough, mix fruits for salads, etc. will find this powerful mixer a handy kitchen companion.
Ideal for people who want a serious design that is easy to access and delivers quality preparation.
Conclusion
In the long line up of Best stand mixers, those made by KitchenAid find their way to the top. They are some of the most popular choices available out there that can also be quite expensive. Bosch offers a professional solution while there are also other affordable solutions out there. You can also shortlist the mixers based on their design, capacity, and the power delivered by the motor to suit your cooking style and methods.
---