Technobezz is supported by its audience. We may get a commission from retail offers
Summary – A blender is a cool unit to feature in your perfect kitchen. Blenders are ideally used
A blender is a cool unit to feature in your perfect kitchen. Blenders are ideally used to crush, grind or make a pulpy, fresh juice out of any ingredient that you may want. They work amazingly well and you may put in individual fruits or a collection of items into the blender. You can prepare many beverages using a blender. These include smoothies, shakes, juices and so on. Blenders are very powerful machines and must be handled very carefully. If you are looking for a blender for your kitchen, going online is the best option. Here are some of the best blenders that you will find online.
See also: Best spiralizers
Best Blenders
Best Sleek and Stylish CountertopBlender
Blendtec Designer 625 Blender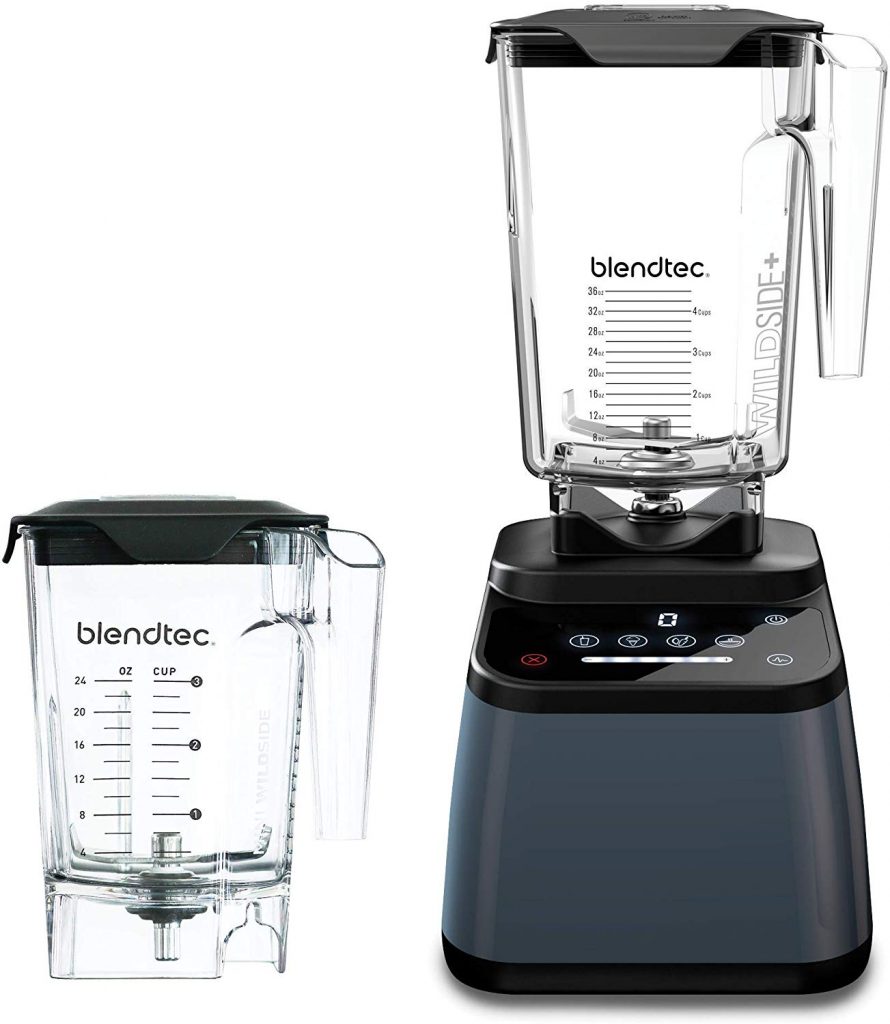 The Blendtec Designer 625 is a perfect machine that will help you to get the smoothest of beverages. The blades are made of forged stainless steel with an ultra-smooth surface and extended wings. This makes the blend smoother giving you a very rich texture. This blender is equipped with programmed cycle modes to achieve the required blending. You may control the speed using a knob and the time required for a perfect blend is displayed on the LCD screen.
This blender has a very sleek and stylish body and is the right companion for modern kitchen gadgets. There are no buttons or large knobs like the old designs. Instead, there is a fully programmable touch interface that allows for all the operations with the blender. You do not need to chop or finely cut the items before putting them in. Just skin them, dice them and then you are ready to go! The blender is also equipped with WildSide+ jar having a capacity of 90 oz. You may put in ingredients up to 36 oz while blending. A smaller jar is also provided for single servings.
Who should buy this?
Those who like to take their shakes outside when they go for a run or workout would love the smaller, single-serve 46 oz Wildside+ jar provided with the pack.
If you are tired of the blender blades hurting your fingers because of their sharpness, you got no problem here with the amazing Blendtec Designer 625. It has blades with dulled edges to prevent untoward accidents.
Best Blender for the Smoothest Texture
Blendtec Classic 575 Blender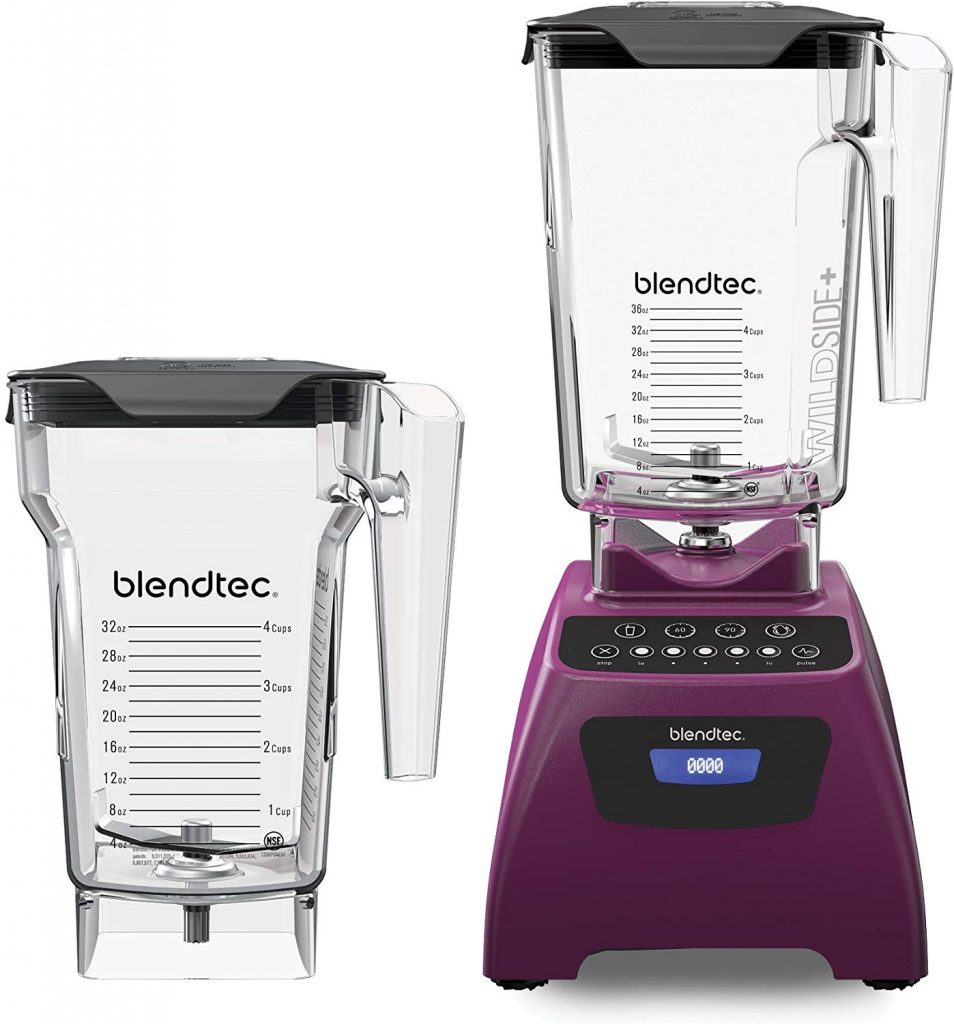 The Classic 575 from the house of Blendtec is a good old blender but with a modern touch. This amazing blender comes with two jars to prepare and hold your beverage. The jars are made from BPA free materials keeping a check on health issues. One jar is large and can hold up to 90 oz of beverage which is great for 4-6 people. The smaller jar is intended for 3-4 people and may hold up to 75 oz of the smoothie. The jars are so made that you can go for wet or dry blending options with them. A great feature of the jars is that they are self-cleaning. All you need is to add a little soap and water into them and give it a run for about a minute. This will easily clean the jar of all residual material giving you a fresh, sparkling-clean container, ready to blend!
This is a high-tech tool to blend your fruits and veggies into a smooth paste. You get 4 different types of pre-programmed cycles and can control the speed manually. You can also select from 5 different speed modes. The details of a running cycle are displayed on the bright LCD on the body of this blender. The buttons are one-touch and very easy to maneuver. This blender is equipped with blades made from stainless steel and has dull edges. This reduces the chances of accidents considerably while giving a smooth texture for your blends at all times.
Who should buy this?
Those who like to prepare a large number of smoothies or shakes in one go to last throughout the day will find the bigger jars very useful.
Those who prefer easy operations will master the one-touch keypad in no time at all!
Best Blender with Dual Direction Blades
Oster Pro 1200 Blender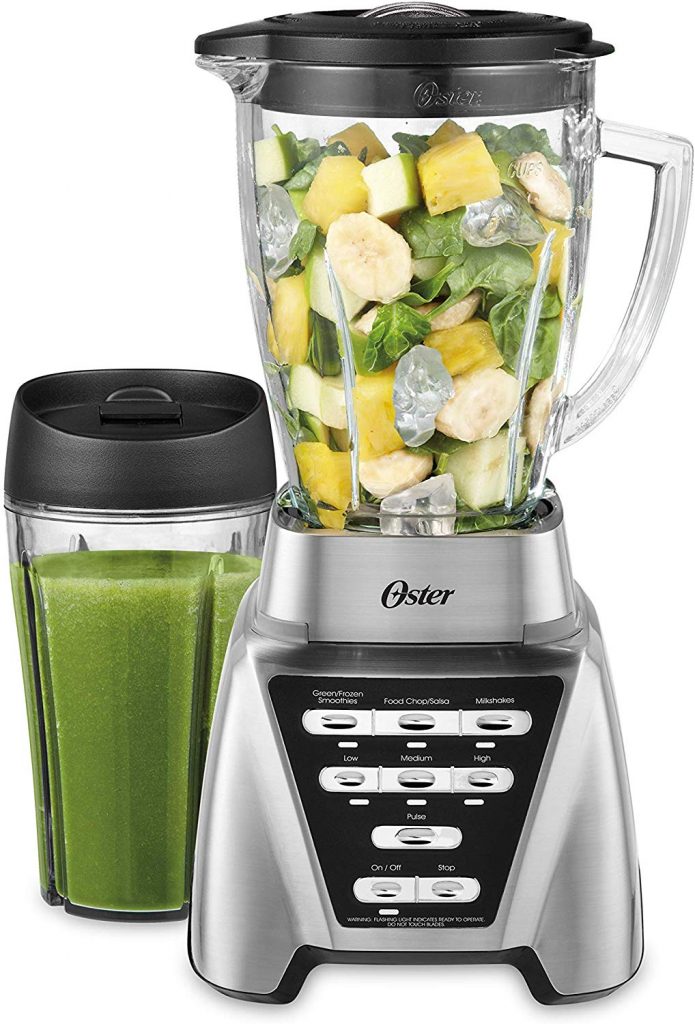 The Oster Pro 1200 is a very powerful blender that is designed to prepare the best and the smoothest of shakes and smoothies for you. You may put any ingredient into the blender and it will come out as a fine, smooth beverage that you will enjoy. The blender comes with a smoothie cup for your convenience. It can hold up to 24 oz of your prepared smoothie and you can carry the secure cup wherever you go. The blender can be easily placed in confined or small spaces without much trouble as its external dimensions are a mere 14.25″ x 7.25″ x 8″.
This is a very useful blender that can prepare smoothies for you in varying textures. The 7-speed control and 3 preloaded settings for blending are immensely useful in preparing a beverage to your likeness. The blades are very wide and measure 3.5″. This gives a lot of surface within the jar for proper blending operations. The blades are also built in such a way that they can turn both ways. This improves the blending capacity of the machine. The jars are made from borosilicate glass and are very easy to clean. You may even put it inside a dishwasher and have it cleaned easily. The blender features a powerful motor that runs with 1200 watts of power for blending and 900 watts for crushing ice.
Who should buy this?
Those who do not like the clean up after a blending exercise will find this product to be highly useful. The borosilicate glass jar can be easily cleaned after each use by putting it inside the dishwasher.
Best Blender for Multiple Recipes
Ninja Mega Kitchen System BL770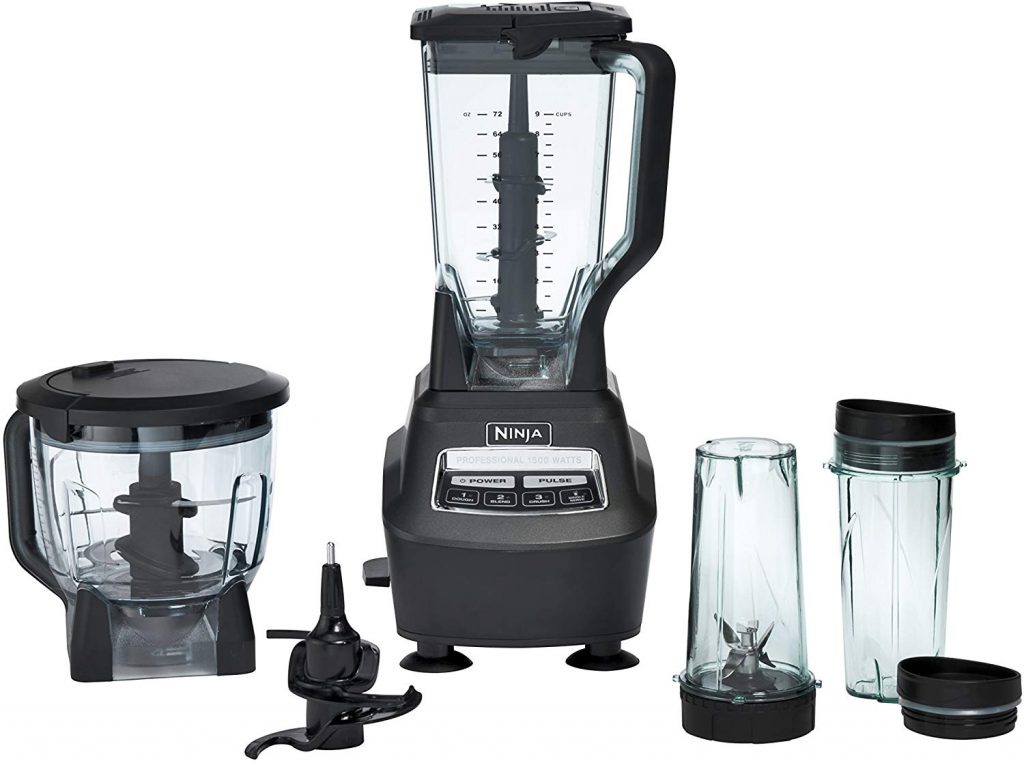 The Ninja Mega Kitchen System BL770 is a great tool to have in the kitchen. It has a motor that runs at 1500 watts power and gives way to a fine blending experience. You do not have to chop or cut the fruits and veggies finely- with this amazing machine you can put in diced pieces of fruits and vegetables and have a fine smoothie out of them. This unit comes with cups that have attached lids so that you can carry your delicious, cool beverage anywhere you want to.
You will get a food processor unit with his machine that can hold volume equivalent to 8 cups. This unit can provide you with up to 2 pounds of dough in just a matter of seconds. every single part used for the cups, bowls, and blenders is made from BPA-free materials to ensure that your health is given top priority. You can even put ice into this blender and convert it to soft snow! A 72-ounce crushing-pitcher aids you in doing so. The shredding disc rotates in a reversible manner which enhances the quality of the operations. All the jars and containers used with this machine may be washed in the dishwasher. You can also pour warm water and dish soap into the containers and give it a spin to get a clean container, ready to make the next batch of smoothies.
Who should buy this?
The Ninja Mega Kitchen System is the perfect choice for those individuals who like to have the complete set of essentials required during the blending of different food and vegetable items.
If you like to try your hand at different recipes, the 30-recipe guide will give you a lot of options to try using this blender.
Best Blender Supporting 10 Speed Modes
Vitamix E310 Explorian Blender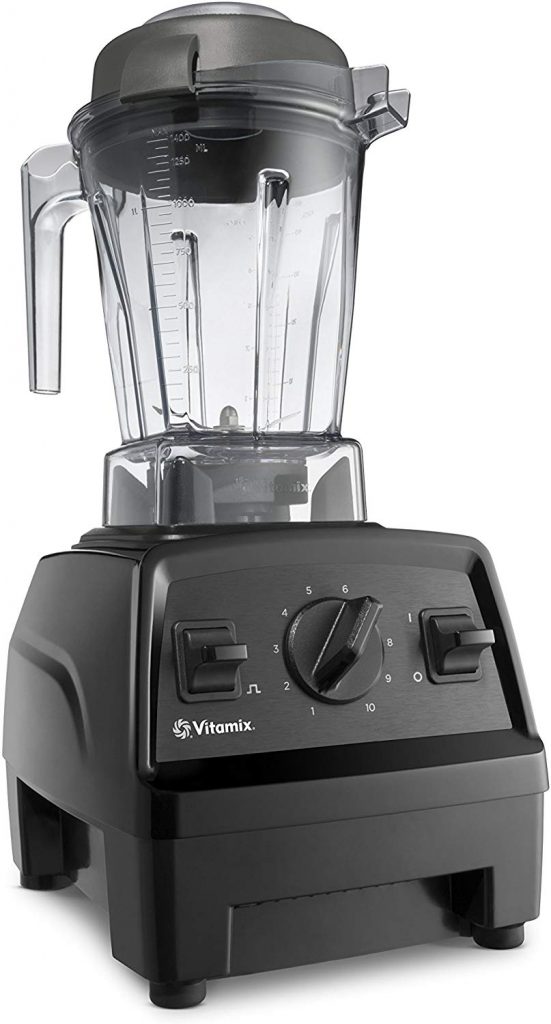 The Vitamix E310 Explorian Blender has rather a bulky body but is loaded with tremendous features. The most useful feature of this machine is that you can rotate the blades of the blender at 10 different speeds. Thus, you can get any texture that you would like for your smoothies and shakes. From purees to soups, everything is at your fingertips. The motor uses a 120 V power supply to run. It has a power cord that is 4.5 feet long. You can also run this amazing machine in the pulse feature. This allows you to have some coarse bits in your smooth puree or vegetable soup which may be required for some recipes.
The blender features a simple body. It is coupled with a single 48 oz container. This allows you to prepare smoothies and shakes in smaller quantities, mainly for small family gatherings. The container has a durable body and has ingrained blades spanning over a diameter of 3″. The blades are nearly indestructible as they are crafted from stainless steel used in the aircraft industry. The surface of the material also does not allow things to stick to it making it very easy to clean. You may clean the blender unit immediately after use with some dishwasher soap and warm water. Just give it a run for about a minute and you will get a shining, clean blender ready for the next batch of items!
Who should buy this?
If you are concerned about the texture of your smoothies, purees, shakes and so on, this is a terrific tool to use. With 10 different speeds of rotation, you can easily get any texture, out of the fruit and vegetable items that you have.
For those who need longer power cords for easy maneuverability of the blender, this is the ideal machine.
Best Blender with Two Carry Cups
Ninja Countertop Professional Blender BL660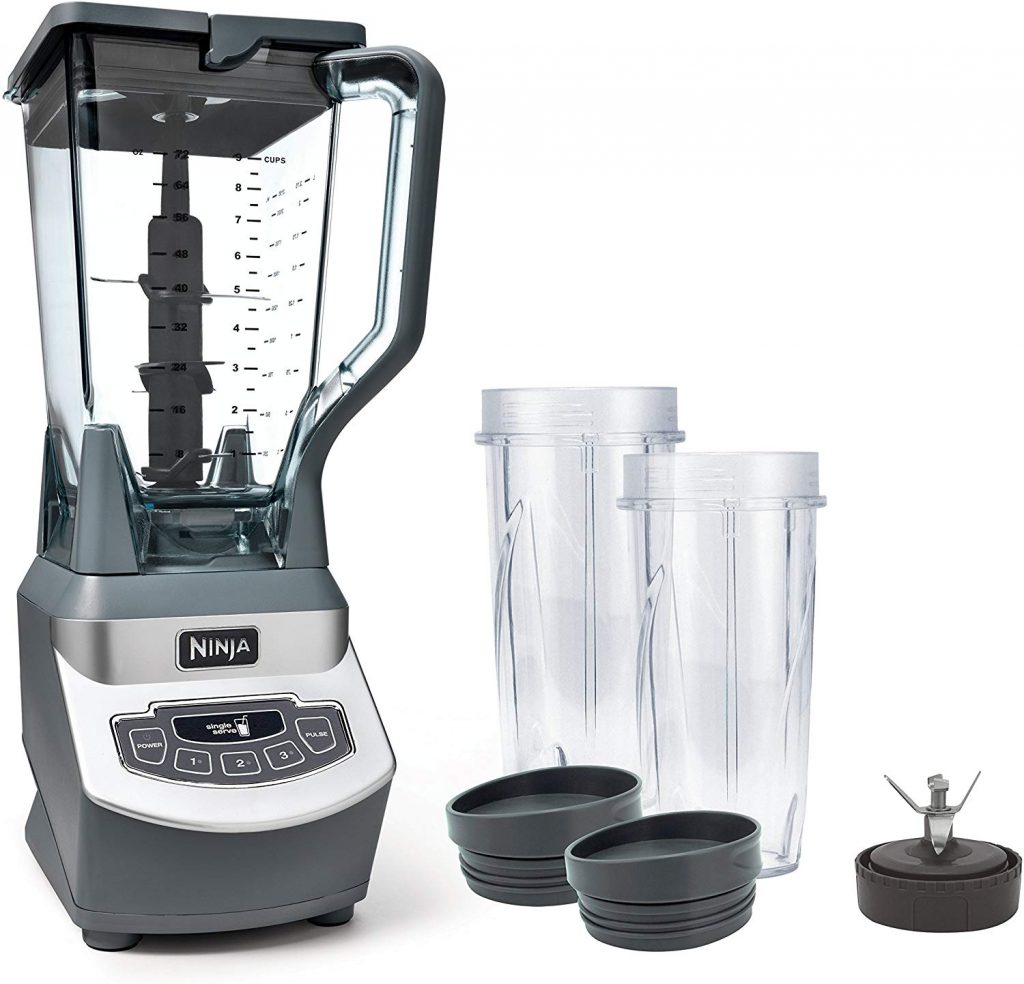 The Ninja BL660 is designed to give your kitchen the professional look. You can now make smoothies, shakes, and purees to culinary perfection using this well-crafted device. It features a very simple design and working functions. The buttons are feather touch and all details of the running mode are displayed on the LCD screen. This blender works with a powerful motor that features 1100 watts of power. It can run at 3 different speed modes and also has a pulse feature that allows for coarse bits in an otherwise smoothly textured drink.
The crushing pitcher has a capacity of 72 oz. You can put ice into it and pulverize it into soft snow that can be used in creamy, cold beverages. Only BPA-free plastics are used to make the various containers that come along with the blender, ensuring that the drinks that you have are 100% healthy. The material is safe to be used in a dishwasher. You may also clean the containers using warm water and liquid soap. A lovely thing about this particular machine is that it comes with two 16-ounce cups. The cups are provided with detachable lids ensuring that you can carry them to your jogging or workout sessions without any spillage.
Who should buy this?
If you like to have a simple machine with limited functions but high-end output, the Ninja Countertop Professional Blender BL660 should be your choice.
Those who are fond of cold beverages such as smoothies and shakes can have them the way they want with the right texture, using this amazing machine. It can also pulverize ice into snow.
Best Blender with 6-Blade Setup
Ninja Countertop Professional Blender BL610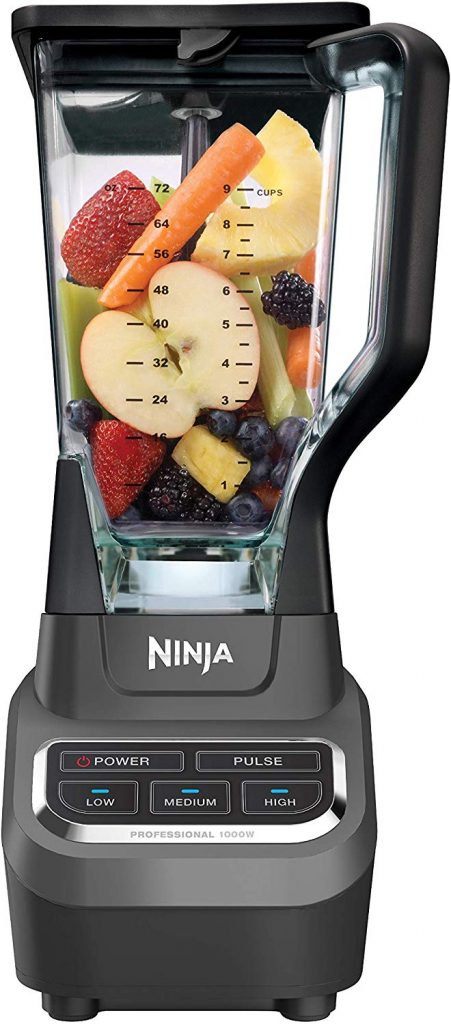 Ninja is a trusted name when it comes to blending appliances for your kitchen. The Ninja Countertop Professional Blender BL610 is the perfect tool for your kitchen if you like freshly blended creamy products. The unit features a sleek body and innovative functions. You can easily clean the jars and containers that you use to prepare different items. The body of the machine can also be easily cleaned using a damp cloth. It runs an assembly comprising of 6 blades that enhances the rate and smoothness of blending. With such a powerful blade, you can blend anything into any degree of smoothness. The motor runs with a power of 1000 watts to give the right texture to your recipes.
You can pair up the motor with the provided 72 oz jar. The huge capacity allows you to blend different items for a large number of people. Starting from different cocktails such as daiquiris, margaritas and so on you can prepare almost anything using this blender. You will get the smoothest purees, smoothies and shakes and many kinds of iced beverages from this blender. The BL610 has a tremendous ice-crushing power that can pulverize ice to snow for several preparations in no time. The maximum capacity of the jar with the lid on and running is 64 oz. Different fruit and vegetable items can all be blended in this precisely crafted device.
Who should buy this?          
The Ninja Countertop Professional Blender BL660 is the right tool for anyone who is looking for a powerful yet compact blender for their kitchen.
If you like icy recipes then this is the best appliance to rely on with an assembly comprising of 6 powerful blades.
Best Blender with a Simple Working Function
NutriBulletNB9-1301K Blender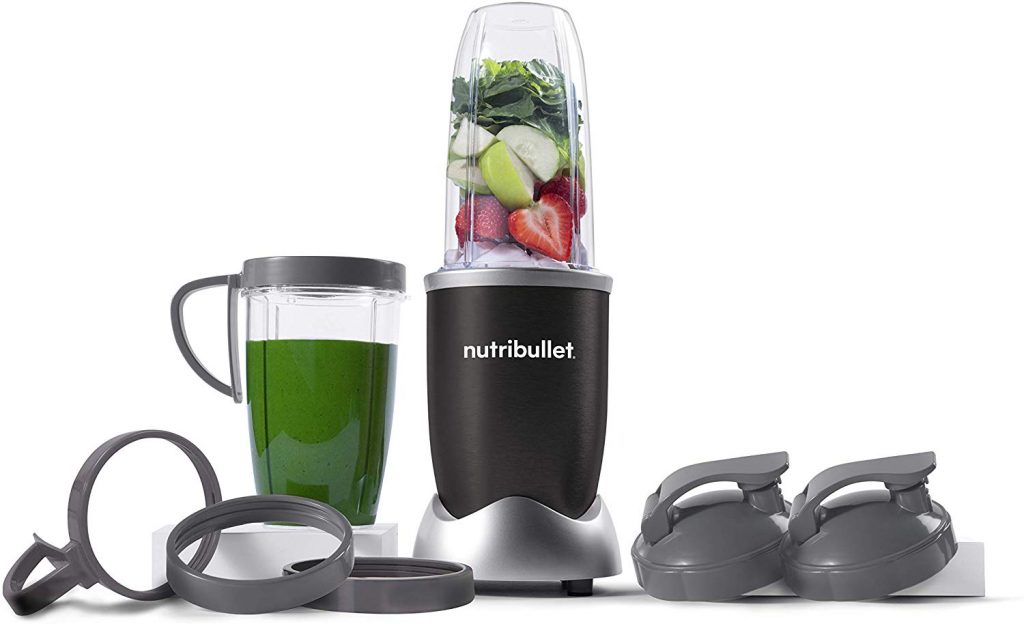 The NutriBullet NB9-1301K is an amazing blending tool for your home. It is particularly a great blending tool if you are short on space as it features a tremendously compact design without giving up on high-end functionality. The blender also has a very simple mechanism of working but that does not prevent it from chopping through any quantity of fruits, vegetables, nuts and so on. The machine runs at a power of 900 watts which is optimum to go through with blending multiple whole food items. When you buy the NutriBullet NB9-1301K you will also get a stainless steel extractor blade. You will also get 4 lip rings with 2 of them having handles, two lids, and two plastic cups. Your blender will be backed by a 1-year warranty from its manufacturer to take care of any unlikely malfunction.
Operating this blender is very easy. All you need to do is to put in whole fruits, vegetables, nuts, seeds or any other item you want into the cup, push it into the blending slot and twist to lock and then give it a blending cycle. The time of a cycle depends upon how smooth you want the item to be. You can cleanly scrape off any smoothie, shake or puree to the last bit using the lovely stainless steel extraction blades. All the cups and jars are made from plastic materials. All these cups and jars are BPA-free. They are also very easily cleanable using soap and running water.
Who should buy this?
If you do not have a lot of space in your kitchen but would still like to have a powerful and multifunctional blender, then you should go for the compact NutriBullet NB9-1301K.
For those who would like to get a fast operating, easy-to-use, blending tool to cater to their daily needs of smoothies and shakes, this is the perfect tool.
Best Blender with Easy-to-Clean Containers
NutriBullet Blender ZNBD30500Z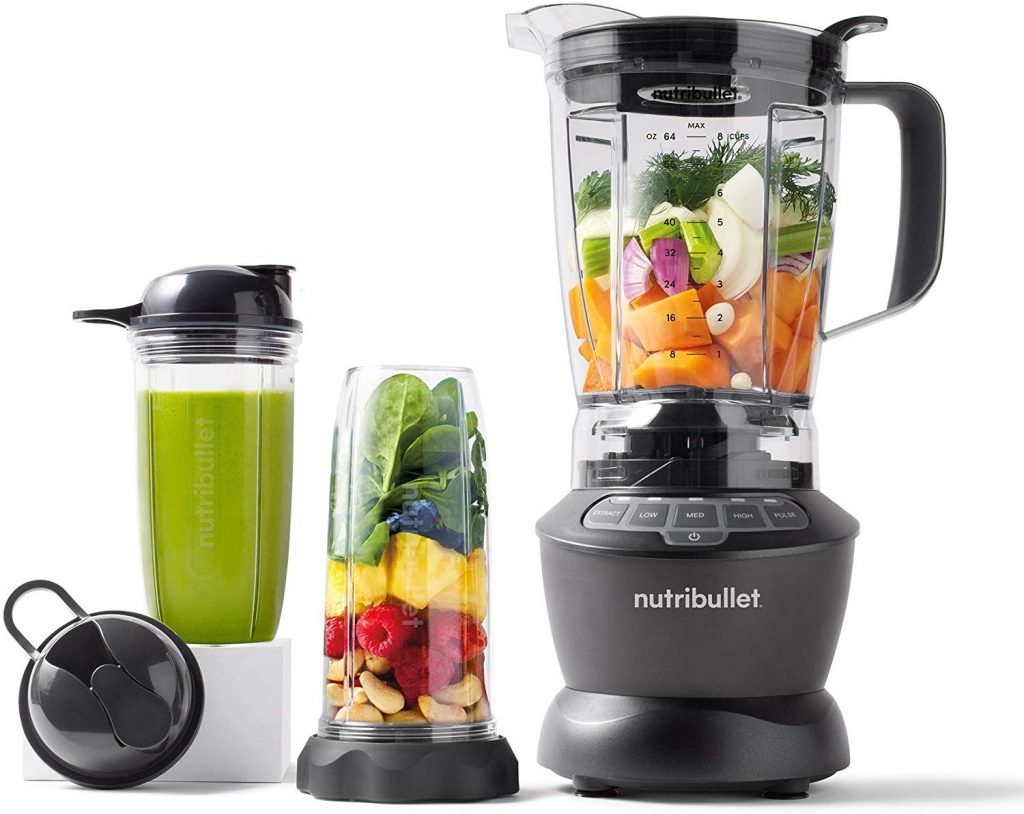 If you are looking for a grand unit to take care of your blending needs, then the NutriBullet Blender ZNBD30500Z is the choice for you. When you buy this blender you will get a range of products within the package. A powerful 1200 watt motor coupled with a 64-ounce jar, one 32-ounce cup, one 24-ounce cup, detachable lids, and extractor blades are the things that you get with the pack. You will also get a recipe book to try your hand at delicious smoothies, nut butter, shakes and so on. It is very simple and easy to use, yet powerful. The dimensions of this machine are also quite compact and stand at 8.07″ length x 7.75″ width x 16.97″ height.
The best thing about this blender tool is that you can control the quantity that you are blending. You can create a large batch using the big jars or go for single serves using the small cups. The blender motor runs at 3 different speed levels to give you the precise blending action that you need. From soft fruits to toughened, dense nuts, you can blend just about anything using the fine extraction blades. Stainless steel is used to make the extraction blades to ensure durability and strength. The blades work efficiently and can be washed clean very easily using running water and soap. The jars and cups are made from a high-grade plastic material. Keeping health concerns in mind these containers are made from BPA-free plastic.
Who should use this?
For those who like an easy clean-up after the blending operations, the easy-to-wash cups are a boon. You just need to place them in a dishwasher.
If you like different textures for different smoothies, purees, shakes and nut butter, the multiple speed-control on this machine is surely going to be a handy tool for you.
Best Blender with Cord Storage
Hamilton Beach Elite Power Blender 581489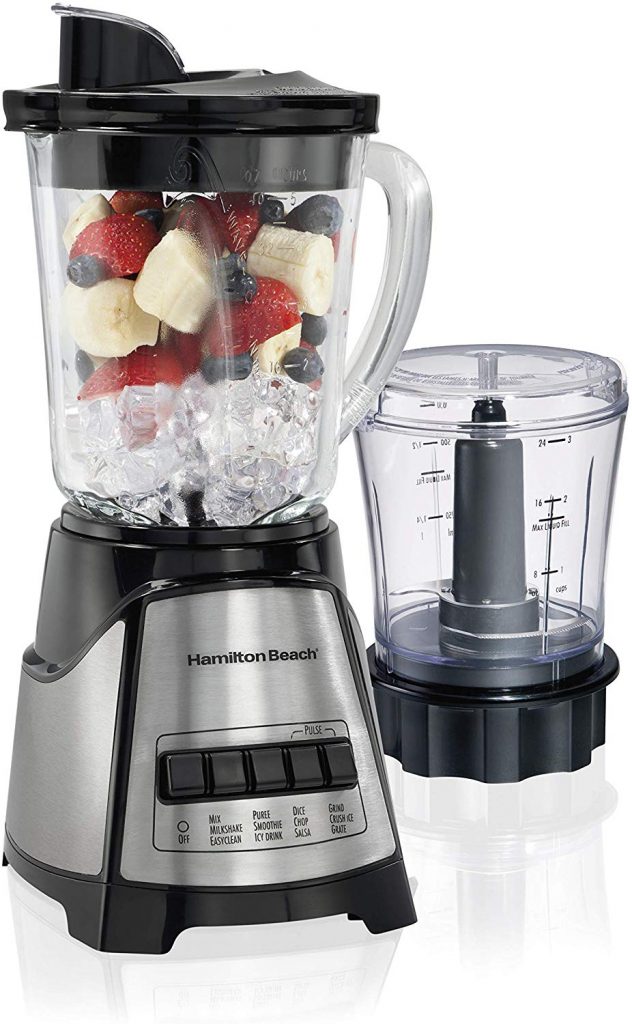 Hamilton Beach is a renowned name when it comes to different kitchen appliances. They craft quality appliances that are long-lasting and very good in their respective functions. The Elite Power Blender 581489 is a great blending tool. It runs at a power rating of 700 watts and makes some of the coolest and best blends out there. It is a powerful and multifunctional unit that is both a blender and a chopper. The casing which holds the motor within also has a compartment to store the long and improved power cord.
You can run a 40 oz blender with this machine. The blender is provided with the pack just like the 3-cup chopper. This chopper can only be used with this machine. Both the tools use the WaveAction function that enables the food items to be pulled down as they are blended for a smooth and fine texture. Once you are done with blending you can easily pour out the ingredients through the spout topped by a hinged cap. The blender tool can run in 4 different blending modes. There are 12 different blending functions among which you can choose, giving you endless possibilities to prepare cool, blended beverages of different textures. From crushing ice to preparing delectable milkshakes and smoothies, you can do just about anything with this amazing blender from the house of Hamilton Beach.
Who should buy this?
This blender is the right choice for those who cannot stand the mess created while transferring shakes and smoothies from the blender to the cup. The spout with a hinged cap ensures that the flow of the blended mixture is smooth and does not spill all around.
If you are tired of winding up the power cord of such appliances, the cord storage function of this blender will be a big help.
Best Blender with Auto IQ Technology
Nutri Ninja Countertop Personal Blender BL642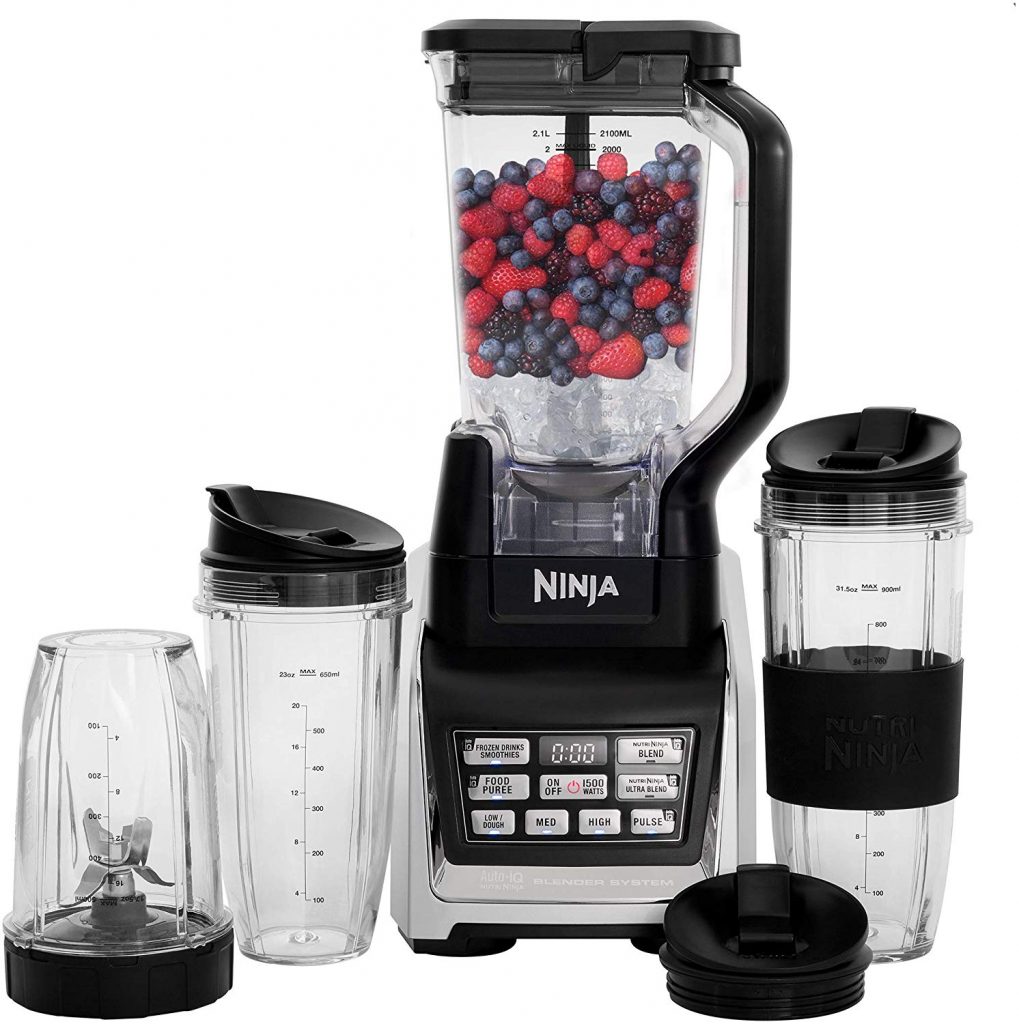 The Nutri Ninja Countertop Personal Blender BL642 is a masterpiece for your kitchen. This is a machine that is loaded with technology to the brim. It uses the innovative new Auto IQ feature. It's a very interesting mode as it gives this blender all the power that it needs. Once you have put in the fruits or vegetables into the blender, you can start with any of the blending programs that this machine has. You will never have to step in to look after the operation once started. At the end of the cycle, you will be left with a smoothie or a shake of your liking, having the right consistency.
The robust motor in this machine can run at a power of up to 1200 watts. This is a blender for your personal use and you can customize it to suit your needs. The 2 hp motor will never fail you nor will the amazing containers that you get with the blender. A 72-ounce jar is sufficient to prepare a big batch when you are housing guests. The strong blades can easily crush ice that may be used with several preparations. You will also get cups of different sizes equipped with proper, tight lids to carry your smoothie or shake around without any hassle.
Who should buy this?
For those who are tech-savvy and believe in letting technology do everything, this is an amazing blender. The Auto IQ feature ensures that you do not have to step-in for any part of the operation once the cycle has started.
Best Blender Loaded with Pulse Feature
Cleanblend Smoothie Blender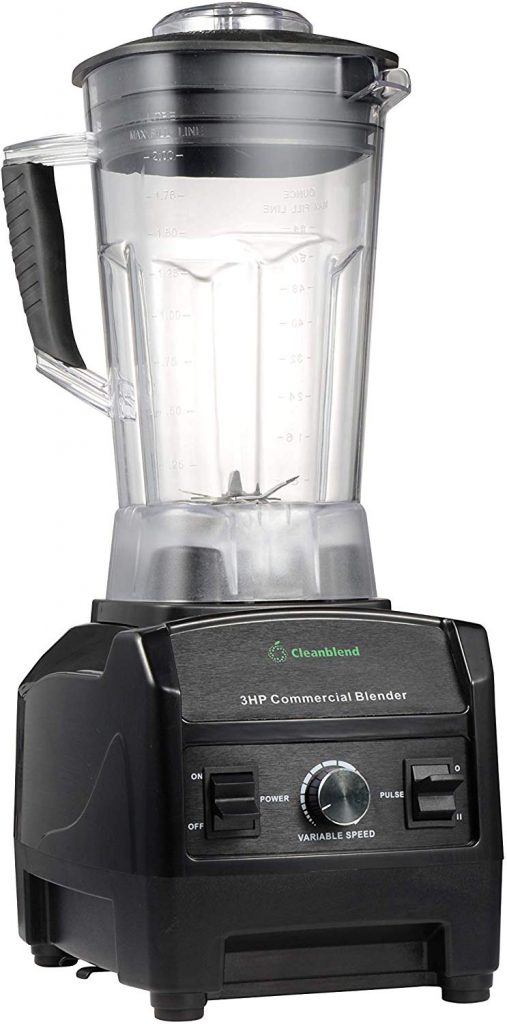 The Cleanblend Smoothie Blender has a very deceptive look. It features a bulky body that holds a robust motor. With this machine around to help you with blending in your kitchen, you can easily make all kinds of things such as shakes, purees, smoothies, fresh juice, nut butter and so on. The amazing blender can perform the function of as many as 9 different appliances in your home. You can also prepare a variety of soups and several sauces with this blender tool.
The container that comes with this blender has a capacity of up to 64 ounces. It is made from BPA-free plastic to ensure that it does not pose any threat to your health. The perfect action of this blender is a result of the 8-blade assembly which is inserted into the jar. The blades help to finely chop through fruits, vegetables, and nut that you put into the blender. The pulse feature of this blender is also amazing.
Who should buy this?
For those who need a blender in their home or office, the Cleanblend Smoothie Blender will be an ideal fit. It is just the right blender for making all kinds of beverages such as soups and other blended delicacies in an instant.
Conclusion
It is difficult to choose the best blender for your home or office, among a vast array of choices. The main points that you need to consider when you are looking for blenders online are how many functions it has and how compact the design is. You will also find that blenders are available to you in a very wide price range. How much you would like to spend on your blender is entirely up to you!
---