Technobezz is supported by its audience. We may get a commission from retail offers
Summary – The best coffee makers available in the market today do much more than just brew a hot
The best coffee makers available in the market today do much more than just brew a hot cup of coffee. There are some devices that grind beans while others froth milk for use in lattes and macchiatos. Some even brew iced coffee. Here are our reviews of some of the top models of coffee makers to help you zero in on the best appliance suitable for your kitchen. These coffee makers are also faster at brewing and come with a range of features. There are drip models, pod ones, grind and brew, self-serve ones, one mug or dual mug configurations, etc. Let's check them out!
See also: Best espresso coffee machines
Best Coffee Makers
Microprocessor Controller Coffee Maker
OXO Brew 9 Cup Coffee Maker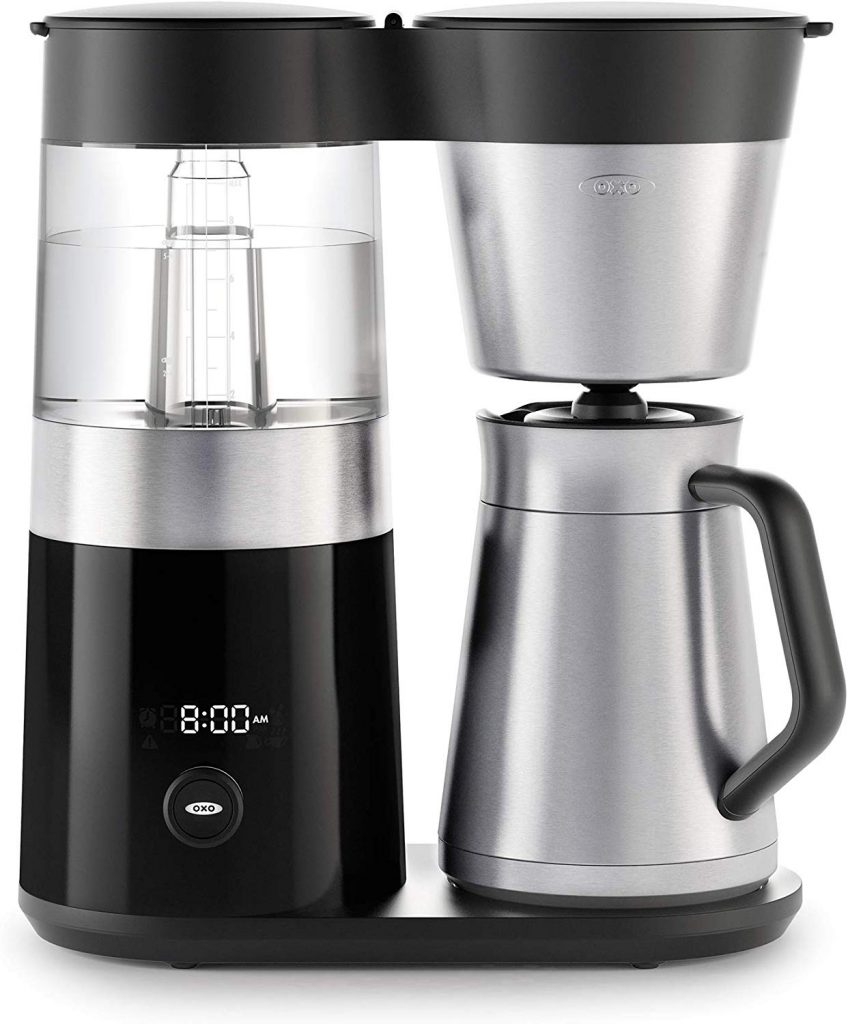 The calibration processor of the OXO Brew 9 cup coffee maker is very quick, with just one single button to operate. When this is done, the temperature dial glows red. Just unplug the device and then plug it back again and turn it on, to complete the setup.
While making the first cup of coffee, twist and adjust the dial according to the number of cups you need, from 2 cups to 9 cups. In addition, it has a 24-hour start timer. The carafe has double walls of stainless steel construction to keep the brew fresh and hot. It is also possible to remove the carafe from the burner midway, as the magnetic plates beneath sense when you put the carafe back and resumes with the brewing. In short, it offers perfect and precise controls for time and temperature.
It brews coffee between 197.6 to 204.8 degrees F, exposing the water for the time specified by the SCA or Specialty Coffee Association. The voltage is 120 V/60 Hz. It is controlled by a microprocessor that replicates the process of the pouring-over method. It also has a rainmaker shower head for dispersing the water evenly over the coffee grounds, so that it gets saturated uniformly and extracts the full flavor. The LED interface is intuitive and has a backlit screen displaying the status, along with a freshness indicator. The dimensions of the OXO Brew are 15 x 8.3 x 17.2 inches and it weighs 7.7 lbs.
Who Should Buy This?
For those who want a premium coffee maker that allows them full control over the water temperature and brew time.
For those who want an excellent home brewer for delivering rich and gold-standard coffee.
Auto Drip Stop Coffee Maker
Technivorm 59609 KBG Coffee Brewer, Fresh Green/Black/Red/Silver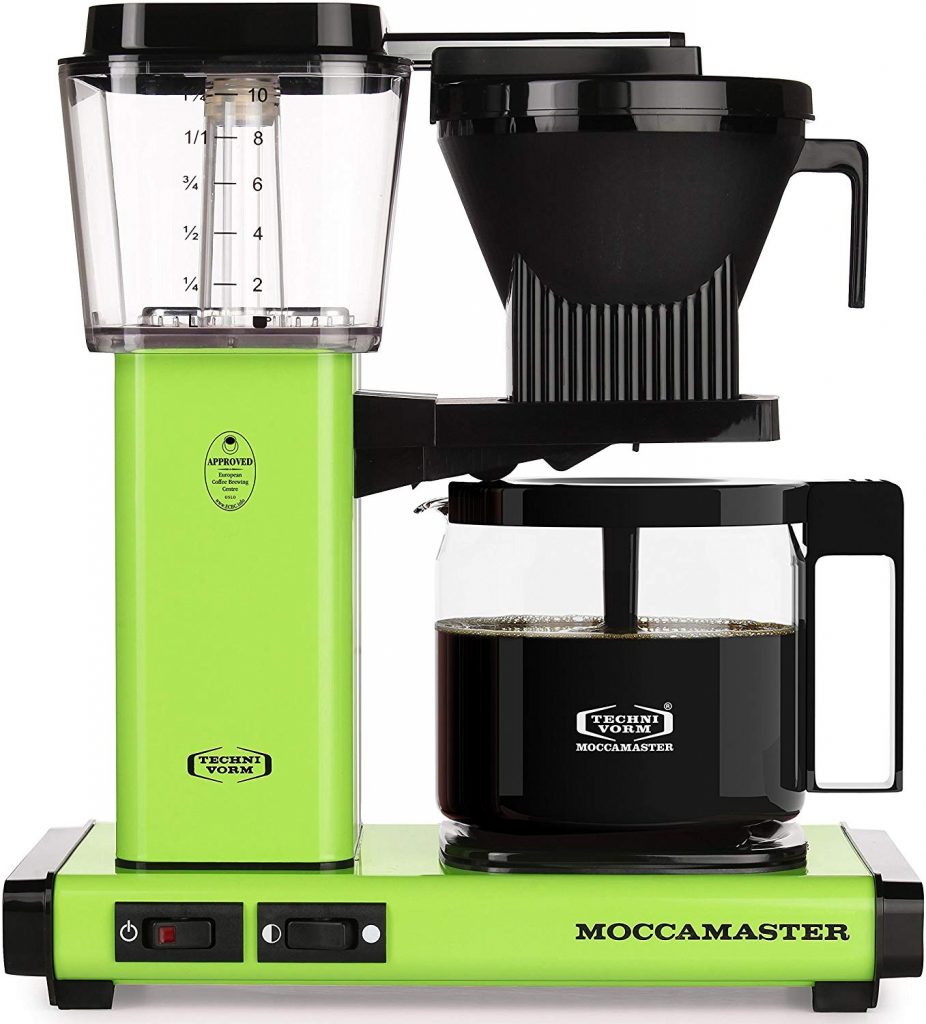 The Moccamaster KBG coffee brewer has a glass carafe with an automatic drip-stop brewing basket, which stops the coffee flow when the carafe is pulled away. It is capable of brewing a 40 oz coffee pot in 6 minutes. The coffee is held on a hot plate with an independent element that keeps it hot to ensure perfect taste till the last drop. The hot plate comes with 2 settings so that you can hold the coffee between 175 to 185 degrees without burning it. The 9-hole outlet arm of the coffee maker can pulse water at these temperatures and ensure that the hot plate turns off automatically after 100 minutes.
It is easy to use with just one button for operation. It delivers perfectly brewed coffee using a copper element without any pumps. The voltage required is 120V 1475W. The dimensions of the coffee maker are 14 x 12.75 x 6.50 inches (HWD) and it weighs 6 lbs. It has a capacity of 40 oz or 10 cups with a 1.25 L water reservoir. It has an auto drip-stop brew basket made of a metallic material.
Who Should Buy This?
For coffee brewing experts.
Those who want a coffee brewing machine with ease of use.
Coffee Maker for Coffee Aficionados
Ninja 12 Cup Programmable Coffee Maker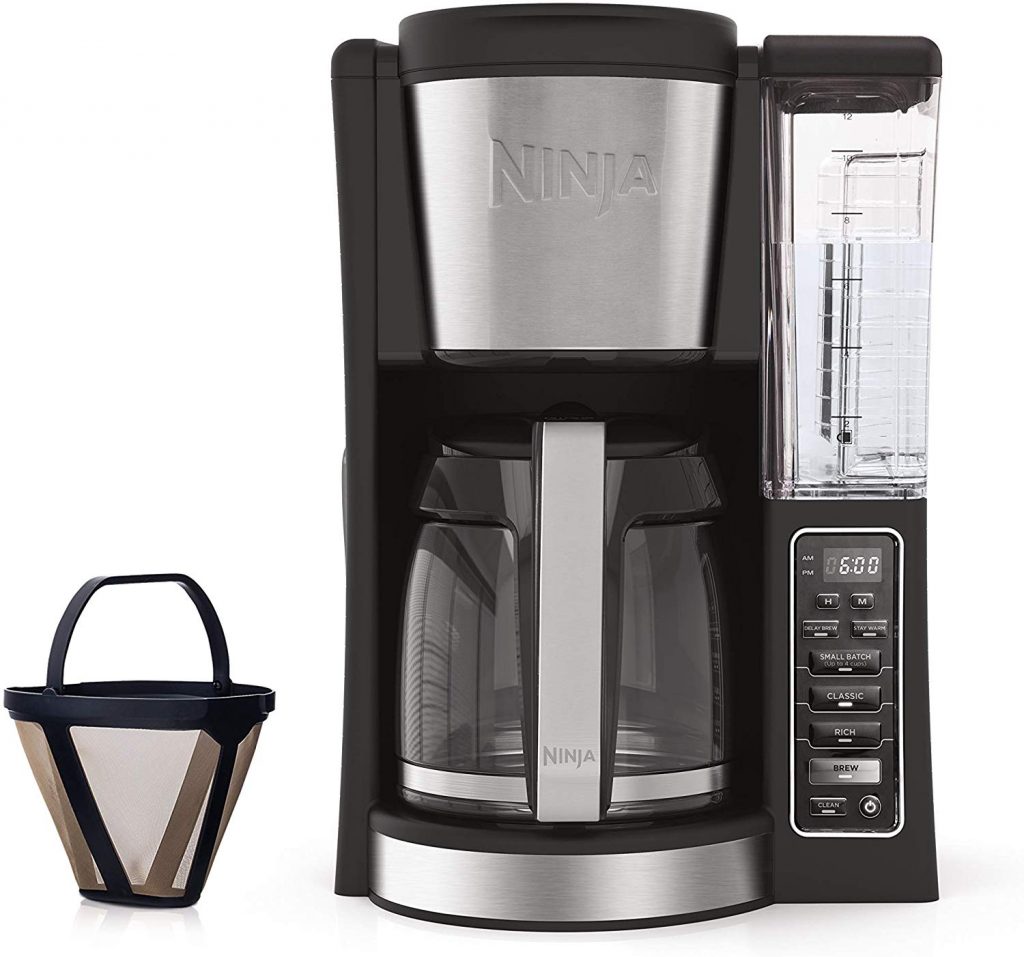 It comes with classic and rich brew settings so that you can prepare a brew that is suitable for each person's palate. The water reservoir is large, removable, and easy to use or clean, as compared to built-in reservoirs. The design is a convenient, pull-away type, enabling filling of the water reservoir easily without any mess. The machine can be programmed and so, it is possible to prepare the coffee at night and wake up to freshly brewed coffee. The agitator is the most special feature of the Ninja 12 Cup coffee maker, as it circulates the coffee while brewing, making the bottom as hot as the top portion. It also prevents the coffee at the bottom from getting burned.
The brewing technology results in hotter coffee as it has an advanced boiler. The warming plate can be adjusted to retain the flavor and freshness of the coffee for up to 4 hours. The reservoir can hold up to 60 ounces of water. There is also a mid-brew pause option for pouring out a cup before the brewing is completed. It also has a Small Batch function for brewing 1 to 4 cups of coffee. You can opt for the small-batch or the full carafe of classic or rich coffee.  The filter is a Gold tone permanent one and so, there is no need for paper water filters.
The dimensions are 8.74 x 9.94 x 14.61 inches and it weighs 6.48 lbs.
Who Should Buy This?
Those who want a coffee maker for daily demands in a busy office or a large household.
Those who want a programmable coffee maker that makes coffee with even temperature throughout.
Basic Coffee Maker that Works Great
AmazonBasics 5 Cup Coffee Maker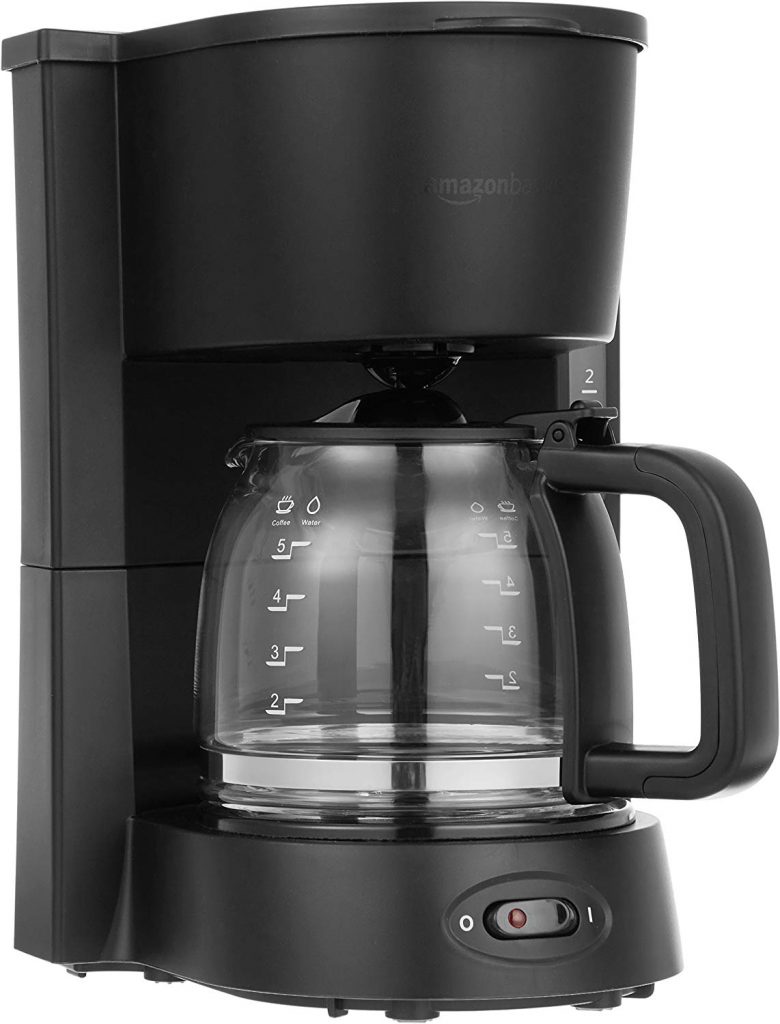 This is a simple, basic, and affordable coffee maker that is easy to clean and does not have filters. It is durable and offers good value for money. The 5-cup coffee maker is capable of brewing 5 cups of coffee which is 25 ounces or 740 ml. You can also pour out a mid-brew and keep the rest of the coffee warm. By removing the carafe while the brewing is going on, the process is paused, so that you can take a quick cup if you are in a hurry for the first sip. The brewing process continues upon replacing the carafe.
The filter basket is removable. It also has a reusable filter and there is no need for paper filters. The filter basket and the reusable filter can be easily lifted for convenient cleanup. There is also a keep-warm function that keeps the brewed coffee warm. The hot plate keeps the brewed coffee at serving temperature. It comes with a long cord of 36 inches, which is ideal for flexible placement options.
The dimensions are 7.87 x 7.48 x 10.47 inches and it weighs 2.7 lbs.
Who Should Buy This?
Those who want a simple, basic, easy to clean coffee maker that is also affordable.
Suitable for homes, work areas, and dorm rooms as it comes in a space-saving compact size taking up minimal space on the counter.
Coffee Maker with Powerful Brewing Options Hot and Cold
Ninja Specialty Fold Away Frother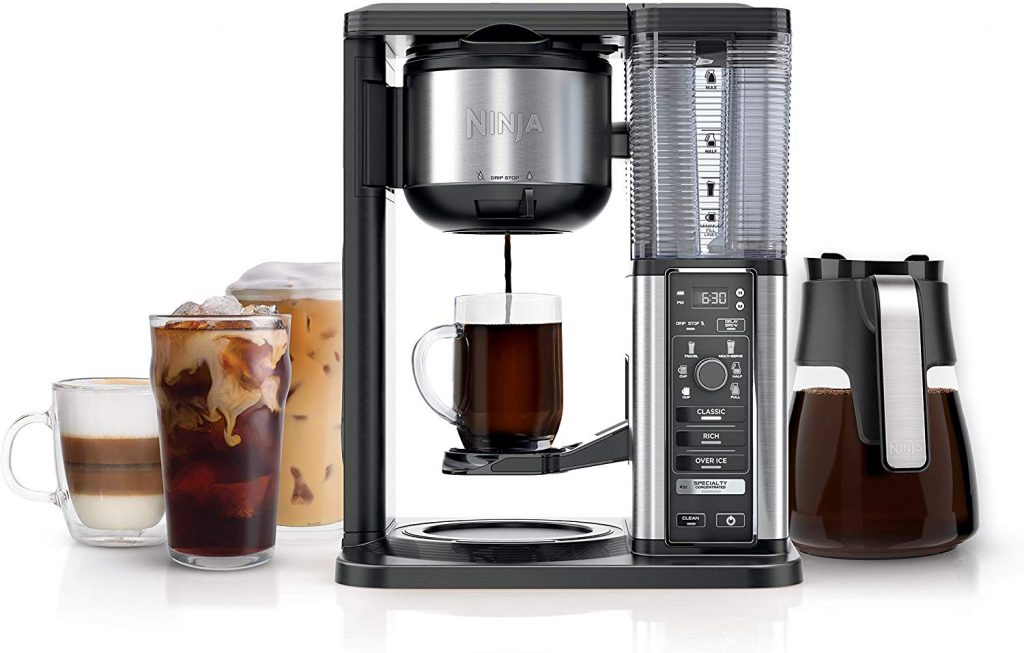 The Ninja Specialty Fold Away Frother offers options of both hot and cold coffee. It is sturdy and sleek in appearance and you can brew rich coffee concentrates as well as delicious lattes, macchiatos, cappuccinos, and other drinks.
The main selling point of the Ninja coffee maker is that it can prepare several types of coffee with efficiency. The glass thermal carafe can hold 10 cups or 50 ounces. It is removable and is also dishwasher safe. The water reservoir can hold 50 ounces of water and comes with a fold open top for easy refilling. The scoops are very useful for information on the sizes and number of scoops needed for brewing different quantities.
It also has a fold-away frother that is foldable and easy to use. This can convert hot and cold milk into a silky-smooth frothy liquid. The filter is permanent, so you can say goodbye to paper filters. You can select 6 brewing sizes, such as a small cup, large cup, a travel mug, a large travel mug, half a carafe, or a whole carafe. You can brew cold and hot coffee in different settings, such as classic, rich, specialty, and iced coffee that is never diluted. The timer is useful for setting brewing time hours in advance to when you actually want it. The dimensions are 11.99 x 8.75 x 15.04 inches and it weighs 11.85 lbs.
Who Should Buy This?
For those who want to brew both cold and hot coffee.
For dedicated coffee lovers who want a versatile coffee maker to make any type of coffee drink.
Incredibly Convenient Coffee Maker
Keurig K-Elite Coffee Maker, Brushed Gold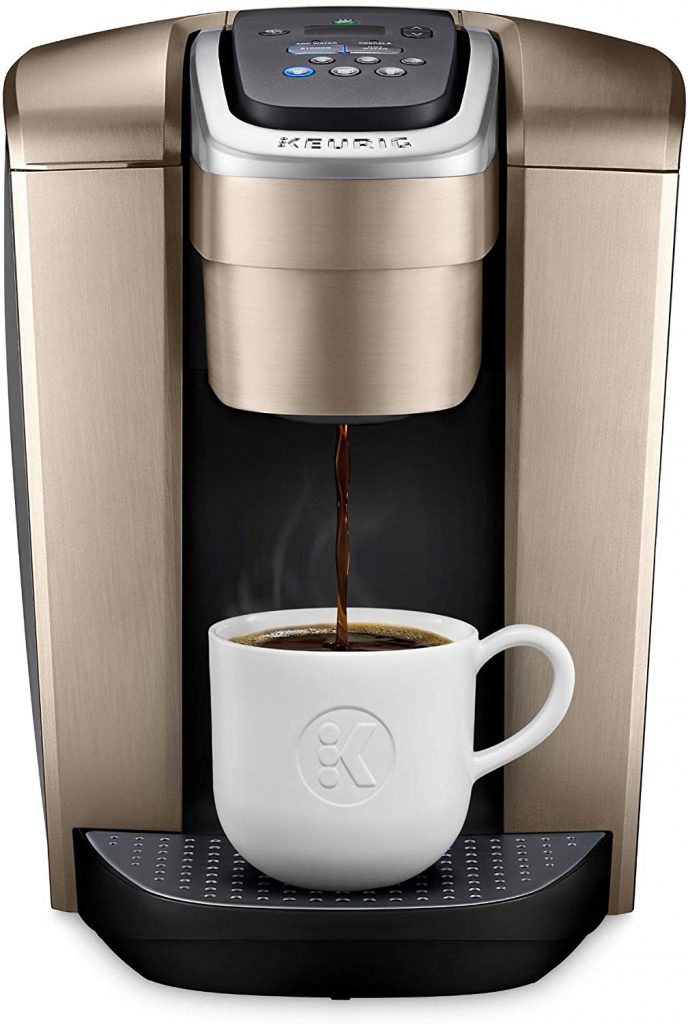 When it comes to convenience, the Keurig K-Elite easily beats the competition. It can heat water as well as make a cup of coffee within 2 minutes. The setting up of the brewing process takes only 10 seconds which includes inserting the capsule, making the desired settings and that's it! The machine has been created to accommodate large mugs that are 7.2 inches tall. The water reservoir is large with a capacity of 75 ounces and comes with a broad opening. It is easy to fill it and the used pods can also be easily removed and thrown away. The removable reservoir allows brewing of 8 cups before you need to refill, so it saves time and simplifies work.
The box contains a 6 count K cup pod variety pack along with one water filter handle and one filter for assuring the best quality and taste. K Cup pods can be brewed within a minute. Besides, the drip tray is also removable. The coffee maker alerts you when it is time to descale it. This is an important procedure for removing calcium deposits. The latest quiet-brewing technology that is used in the coffee maker minimizes noise when brewing. It can brew coffee, tea as well as hot cocoa as well as make other iced beverages. It is compatible with My K Cup Universal reusable coffee filter which is to be purchased separately for brewing ground coffee.
It has a premium finish combined with programmable features, offering a modern design with customization options. All branded K Cup pods are compatible with the coffee maker. The dispensed beverage is brewed at temperatures from 187 degrees to 192 degrees F. It can serve 4, 6, 8, 10, and 12 oz of the brew. The dimensions are 13.1 x 9.9 x 12.7 inches (HWD) and it weighs 12.05 pounds.
Who Should Buy This?
Those who are looking for a coffee maker with simple and intuitive controls.
Suitable for newbies, as there are no complicated instructions for making a cup of coffee.
Sturdy and Well-Made Coffee Maker
Cuisinart DCC-1200, Brushed Chrome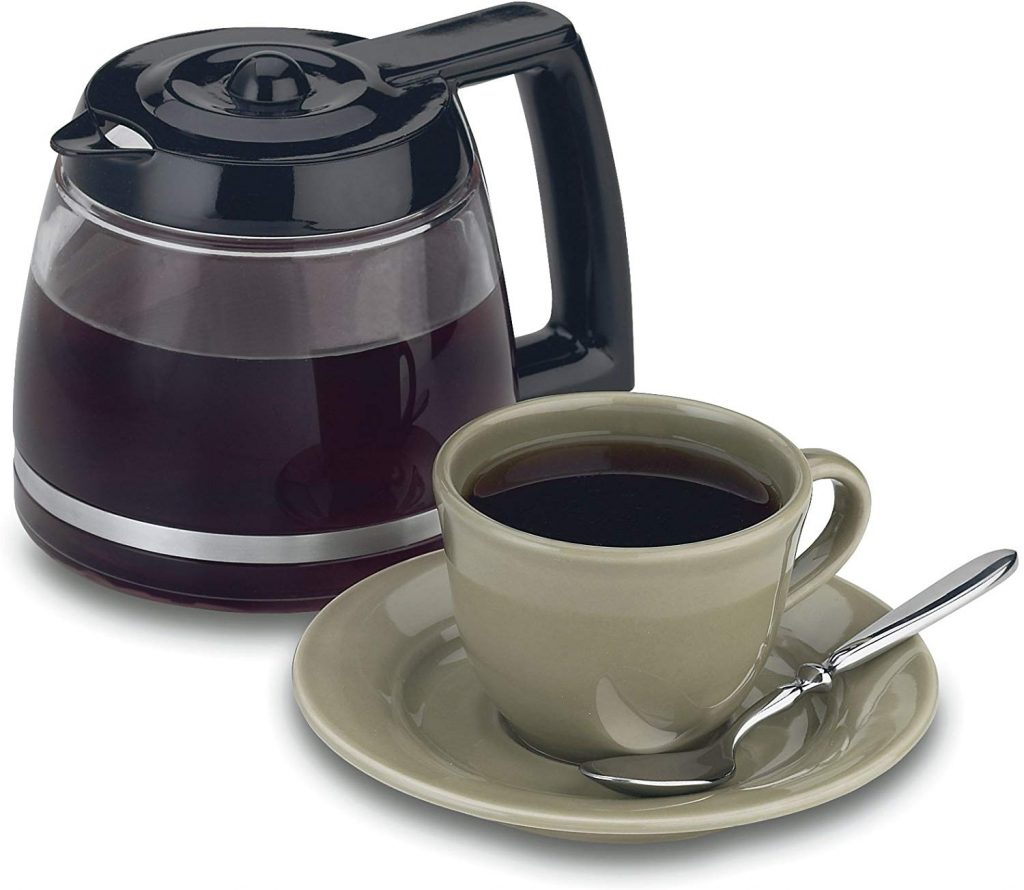 It has sturdy features with brushed chrome accents and a scratch-resistant heating plate. This coffee maker has many convenient features for making coffee without hassles. For instance, it has a programmable brew option whereby you can schedule the brew 24 hours in advance. The automatic shut-off feature can also be set up to 4 hours after brewing. You can brew an entire batch of 12 cups at a time or just 1 to 4 cups at a time. The brew-pause feature allows you to pour a cup of coffee by pausing the brewing cycle mid-way.
The Cuisinart DCC 1200 comes with a charcoal filter that removes impurities in the water thereby resulting in better-flavored coffee. The filter is a permanent gold-tone one, and you don't have to use a paper filter. The heater plate can also be adjusted from low to medium to high to keep the coffee hot and fresh. The design is a showerhead type that saturates the coffee grounds for optimal extraction. There is also a measuring scoop and an instruction booklet along with the coffee maker.
It also has a great design and good looks, boasting a self-cleaning feature that prevents calcification of the water reservoir. The 12-cup carafe comes with an ergonomic handle for easy dripless pouring. The dimensions are 7.75 x 9.00 x 14 inches and it weighs 6.8 lbs.
Who Should Buy This?
Those who want a great looking and ergonomically designed coffee maker that runs as good as new for several years.
Those who wish to buy a coffee maker with plenty of features and flexibility combined with a great price tag.
Single Serve and Carafe Coffee Maker
Keurig K-Duo Coffee Maker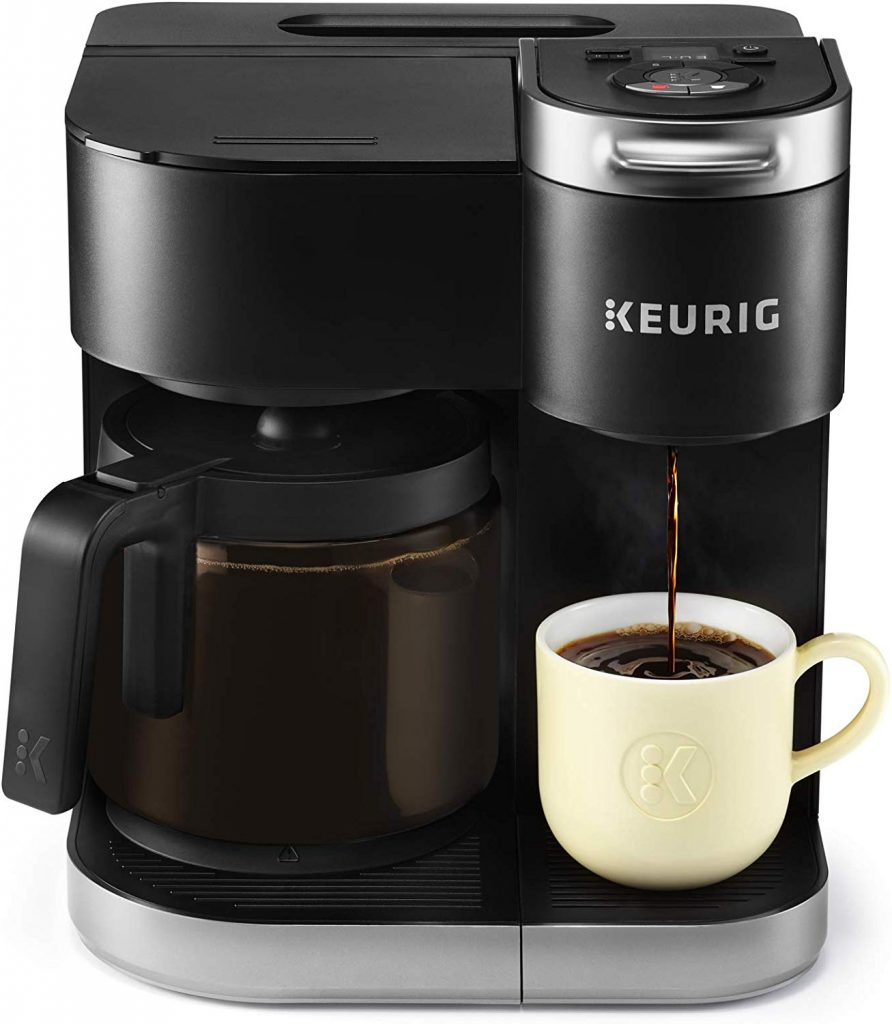 It is a pod machine offering different size options, with several 3rd party flavors and blends options. The box contains a 12-cup glass carafe along with the heating plate.
It brews multiple sizes of 6; 8; 10 and 12 cup carafe and ounce cups of 6; 8;10 and 12 oz. The water reservoir has a capacity of 60 oz and it can accommodate travel mugs. You can use either ground coffee or the K Cup pods. It is programmable with an auto-brew feature and a smart start that heats up as well as brews at the same time.
The design is a side-by-side type with a heating plate and a cup or a carafe. The carafe makes use of paper filters, but you can also opt for a reusable gold-tone mesh filter, which is sold separately. It is compatible with the Keurig gold-tone mesh filter which is a reusable filter for brewing but has to be bought separately. The water reservoir has a capacity of 60 ounces and it is shared for the single-serve as well as carafe brewing thereby offering a simplified use. The reservoir is removable and this makes refilling much easier. The Keurig K Duo coffee maker offers a strong brew. The programmable auto-brew function lets you set it to brew coffee even 24 hours in advance.
It comes with a cord length of 30 inches. The dimensions are 12.92 x 10.94 x 12.76 inches (HWD). It brews Keurig K Cup pods and it is recommended to use these pods for the best results. The 12-cup carafe is made of glass and along with the heating plate, it keeps the coffee perfectly hot. Besides, there is a Pause and Pour feature which can be used to pause brewing midway for 20 seconds and pour the coffee right away instead of waiting for the entire carafe to fill up.
Who Should Buy This?
For those who are looking for a streamlined pod coffee machine that does everything from brewing one cup to a whole pot.
Simple to Operate Coffee Maker
BUNN CSB2G Speed Brew Elite, Gray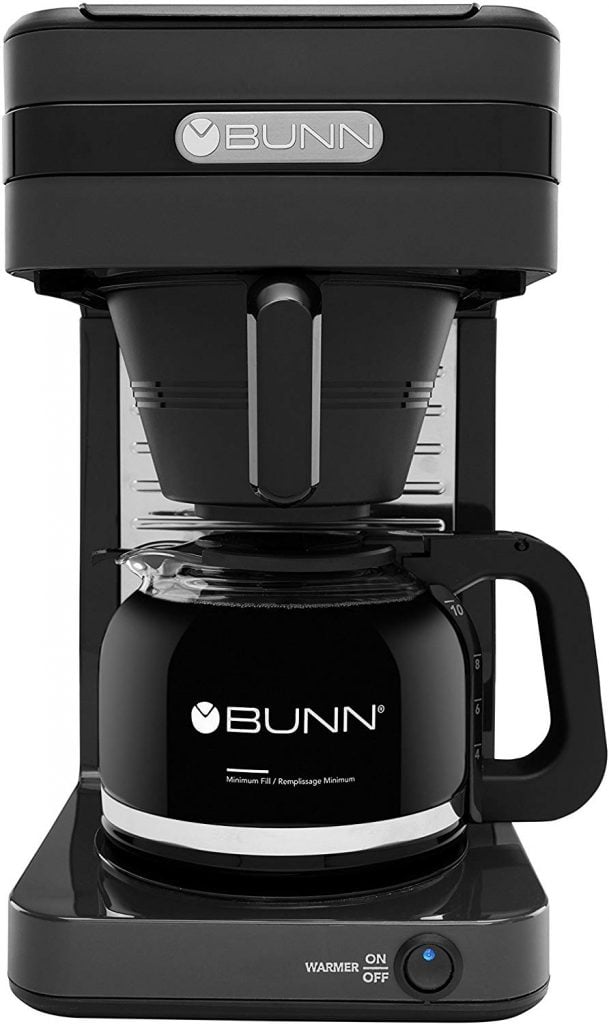 It is simple to operate and comes in a drip-free carafe design with a commercial-grade water reservoir. The spray-head design enables it to optimize the coffee flavor while brewing. It is a 10-cup coffee maker that can complete brewing in 4 minutes. The reservoir is made of commercial-grade steel which is also well insulated to retain the heat of the brewed coffee. The carafe is made of high-quality material and the drip-free design reduces the risk of spilling coffee while pouring a cup. The spray-head design is unique and helps in the optimal extraction of flavor. All controls are user-friendly. It also includes 25 coffee filter packs as a free, starter pack.
The coffee maker can brew one big Travel mug of 20 ounces and up to a full pot of 50 ounces. The drip-free carafe results in the cleanest pour with the use of a proprietary lid and spout design which arcs the brew into the cup, wicking back the remaining drops into the carafe. The dimensions are 12.5 x 7.8 x 14 inches and it weighs 8.37 lbs.
Who Should Buy This?
Suitable for coffee aficionados who need a quick cup of coffee before rushing to work.
For those who want a straightforward, easy to use and reliable coffee maker offering optimal taste and flavor.
Versatile, Sleek, and Comfortable Coffee Maker
Hamilton Beach 2-Way Brewer, Carafe, and Single Serve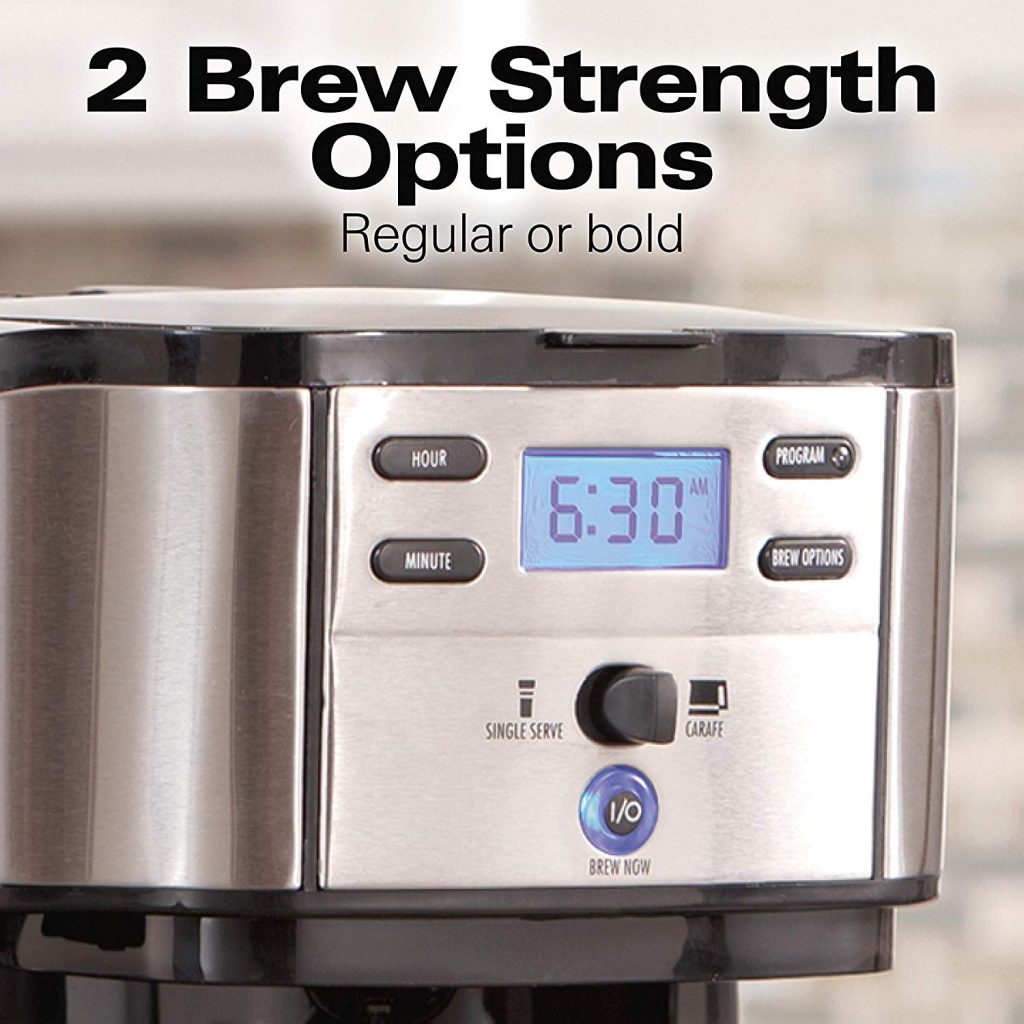 The Hamilton Beach 2-way Brewer has a 12-cup carafe and you can use it to brew either a single mug or a whole pot of coffee easily. While on the go you can have a single cup of coffee by adding the coffee grounds directly into the filter or just by inserting a soft pod. For stronger coffee or more cups, the carafe holds 12 cups. The single-cup brewer is capable of holding a coffee mug or thermos of any size. The carafe is non-spill and has an auto shut-off feature after 2 hours. The Hamilton Beach coffee maker makes use of either pods or ground coffee. It comes with a removable reservoir.
It is programmable and so you can program it the night before to wake up to a cup of hot coffee. It also adjusts to the carafe, cup, or travel mug. The coffee maker comes with other smart features such as selecting the brew strength – either regular or bold, keeping the brewed coffee warm or hot. Besides, it has a control panel and a display with buttons for programming hours and minutes of brewing time, with an advance brewing time of 24 hours.
The water reservoir comes in a standard size and is easy to fill. It has an extra-large capacity along with markings. The brew basket is on the side and is a single-serve one with a mesh filter for holding the coffee grounds. The multilevel cup is stacked to fit all sizes of mugs and cups.
Who Should Buy This?
Those who are looking for a versatile, sleek, comfortable drip coffee maker at a reasonable price.
Suitable for those who are on the go and for those who frequently have dinner parties.
Suitable for those who enjoy making tea, hot chocolate, or any other hot drinks.
Programmable VORTEX Technology Coffee Maker
Black + Decker 12-Cup, Black/Stainless Steel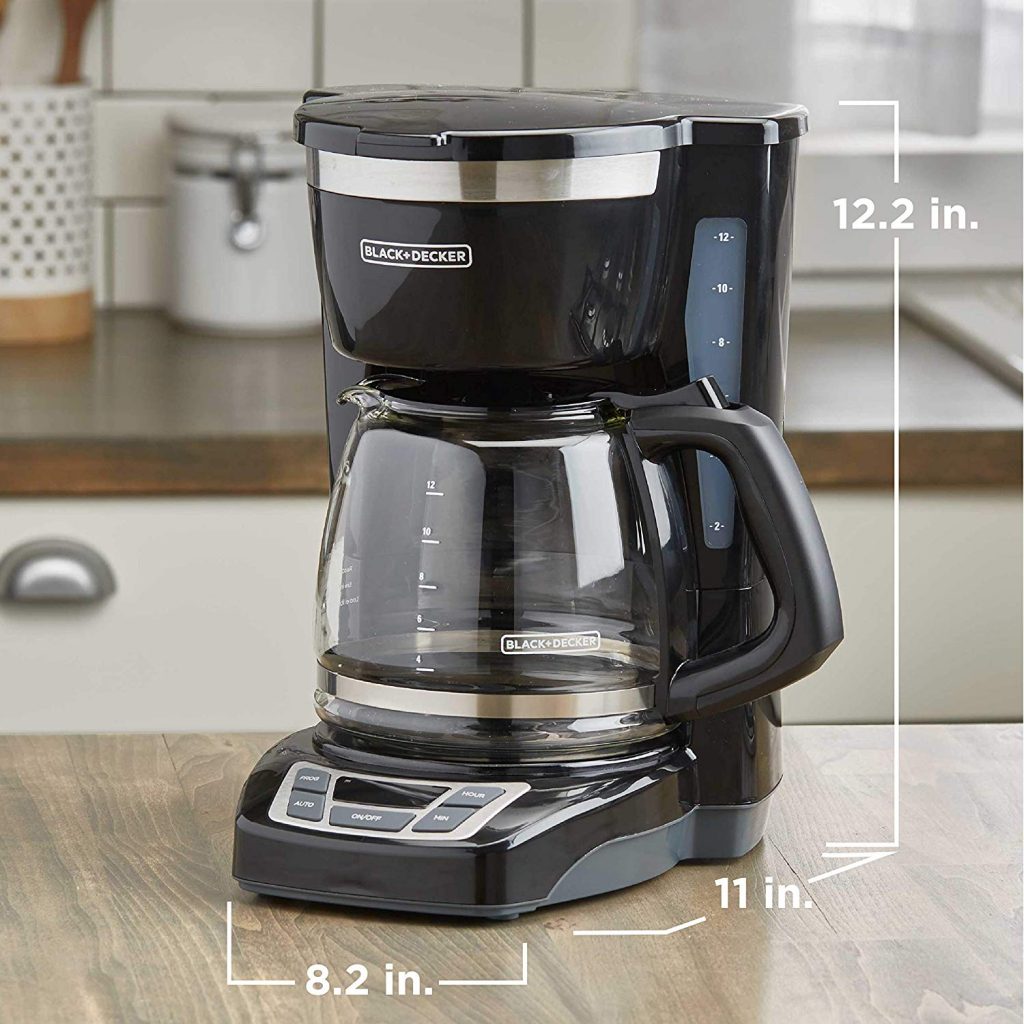 The 12-cup coffee maker makes use of the exclusive Vortex technology which means that it saturates the coffee grounds evenly offering a full and flavor-filled cup of coffee at the optimal temperature. There is also an option for changing the brew strength with a slower brewing process to get a stronger brew. In addition, there is an adjustable warm timer with options of 30, 60, 90, and 120 minutes for keeping it warm.
The Sneak-a-Cup technology enables pouring out one cup of coffee before the completion of the brewing process, without spilling or dripping the liquid. It also boasts of other smart features, such as a Smart Clean for automatic cleaning. The coffee maker comes with a 12-cup glass carafe and a brew basket that can be washed. The carafe plate keeps the brew hot for drinking and can keep the coffee warm for one hour after completion of the brewing process. Quick Touch programming allows programming 24 hours in advance. The controls are digital with large, rubberized buttons. The screen display is easy to read. It also has a front-facing window showing the quantity of water that will convert into the coffee.
The dimensions of the Black+Decker coffee maker are 8.25 x 12.25 x 11 inches and it weighs 4.4 lbs.
Who Should Buy This?
Those who want a feature-rich, programmable, coffee maker at a reasonable price.
Smart Drip Coffee Maker
Posame Electric Coffee Maker 12-Cup, Black Stainless Steel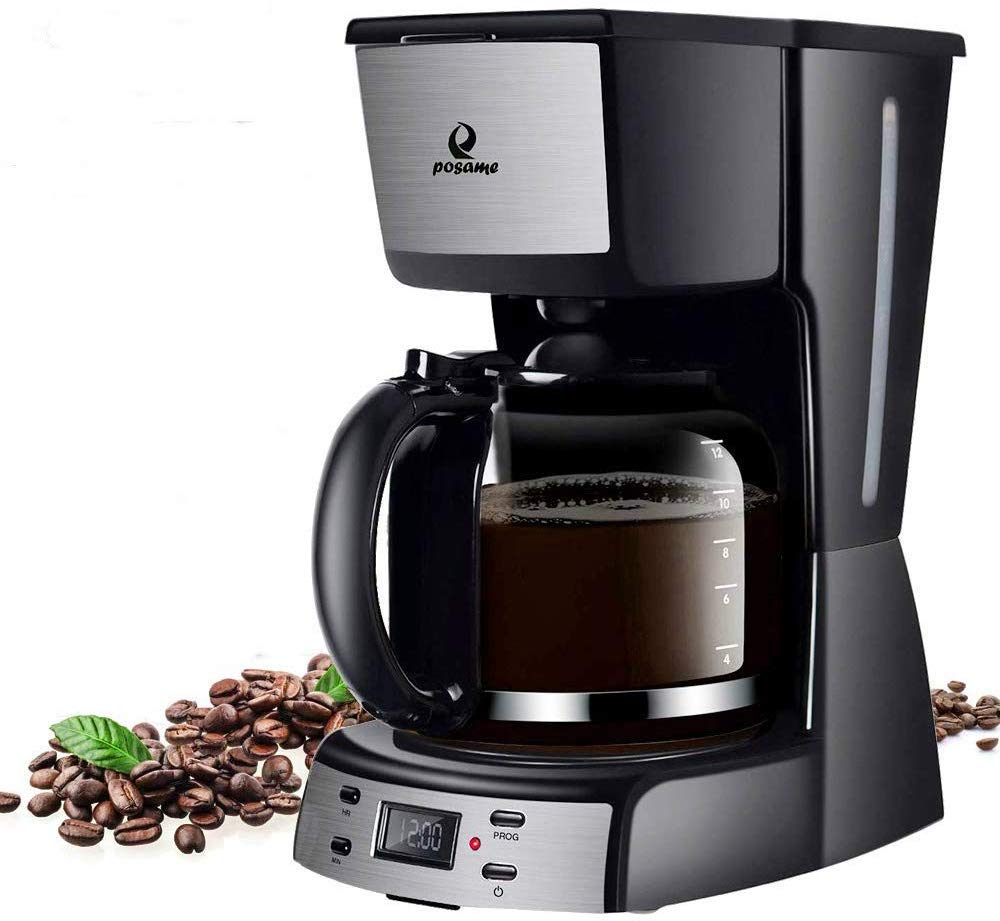 The Posame Electric coffee maker is a smart drip one that is programmable so that you can set it up 24 hours in advance and wake up to the hot smell of brewed coffee. It has a capacity of 12 to 15 cups of coffee in one go. It also includes a warm plate for the carafe, retaining the coffee temperature for 2 hours. The anti-drip feature allows you to pause it midway while brewing and pour a cup of coffee. The filter holder can be easily removed and washed. You can produce either strong or light coffee, according to your tastes.
You just need to fill the powder and add water to enjoy a cup of coffee. All the buttons are intuitive and easy to locate. It is an auto-programmable coffee maker with a smart programmable timer. Cleaning and maintenance are easy and simple. It is 100%mess-free and the indicator line makes it very easy to add the correct quantity of water for the number of cups you need. Ensure that the filter is kept clean regularly to maintain the taste of the coffee. The dimensions are 9.44 x 5.62 x 11.81 inches and it weighs 4.25 pounds.
Who Should Buy This?
Most suitable for home and family gatherings and for use in offices.
Exciting Drip Brewer Coffee Maker
Breville BDC450 Precision Coffee Maker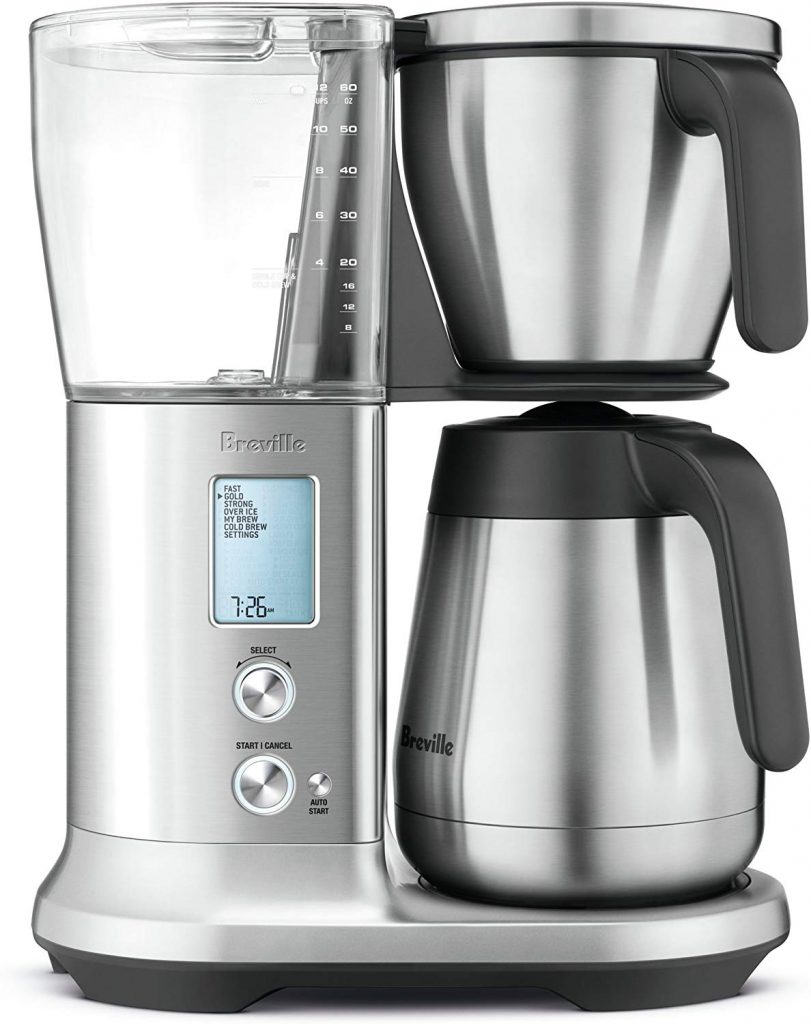 It is one of the world's first 60-ounce drip coffee makers that has the precision for brewing craft filter coffee automatically. It can handle up to 12 cups or 60 oz of coffee. The water temperature can be adjusted from 197 degrees to 204 degrees with the PID control that can be used for precise digital control of temperature. Besides, the pump allows selecting from three flow rates that optimize the contact time. The Thermocoil heating system delivers pure water as compared to aluminum brewing systems used in other coffee makers.  There are 3 flow rates for optimal contact time for a specific coffee. The steel components offer good quality and purity to the coffee brew. It also includes a pour-over adapter kit.
It is also compatible with different pour-overs like the Hario V6 or the Kalita Wave. A special feature controls the contact time and water for brewing single serves of 20 oz and while making a cold brew. The Breville Coffee Maker holds a Steep and Release Valve that holds the water coming in contact with the coffee when brewing smaller volumes without using the carafe. There are different options for brewing such as Gold Cup, Fast, Strong Brew, Ice coffee, Cold brew, and My Brew. You can brew any volume of coffee the way you like it using the cone filter basket and the flat bottom that comes included with the coffee maker. With the My Brew setting, you can customize the bloom time, the temperature, and flow rate to produce a coffee that is more floral or fruity, and so on.
The dimensions of the coffee maker are 12.4 x 6.7 x 15.7 inches and it weighs 3.15 lbs.
Who Should Buy This?
For those who want the most intricately flavored coffee, at a reasonable cost.
For those who want customized options with their coffee maker.
Compact Coffee Maker at a Budget Price
Braun KF7170SI BrewSense Drip Coffee Maker, Stainless Steel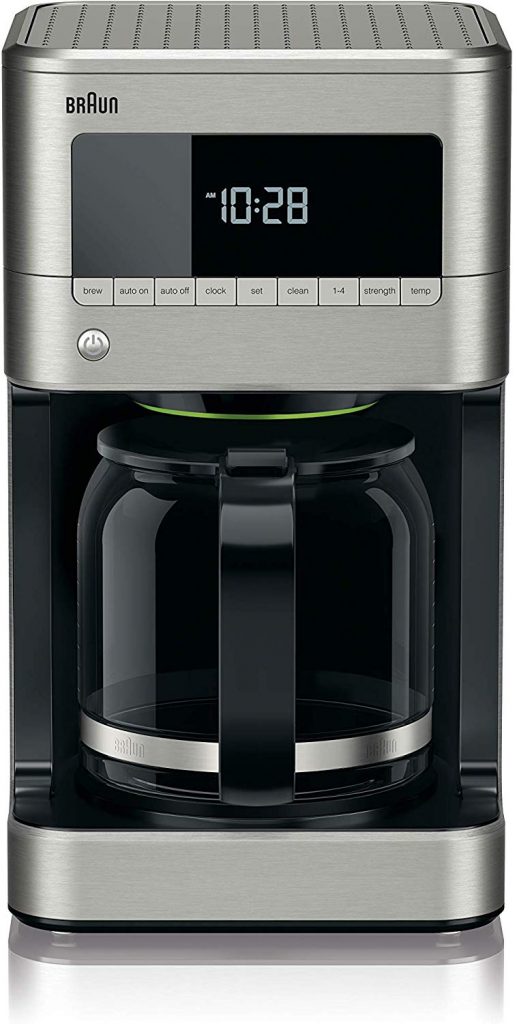 It has a modest appearance and a price to match it but offers excellent drip coffee. It consists of a glass carafe and a hot plate instead of a thermal carafe. It is lightweight and mostly made of plastic. The filter basket is compatible with paper coffee filters or the bundled permanent filter. You can brew a maximum of 12 cups of coffee of 5 ounces each. The control panel has an illuminated digital clock and 9 buttons for performing different functions, such as starting the brew immediately or making an advanced setting or program and cleaning the machine. The cleaning feature can also be customized to various levels of water hardness.
The PureFlavor system used by Braun ensures that the coffee is made at the right temperature with the perfect brewing time to extract the full aroma and flavor of the coffee grounds. The carafe lid seals in the freshness by reducing the exposure of brewed coffee to air. The anti-drip system allows easy pouring of the coffee with precision, even during the brewing process just by pausing it.
You can control the strength of the coffee and personalize it with different options, such as Bold and Regular which can be seen in the brew strength selector. The design is sleek and elegant and the dimensions are 7.9 x 7.9 x 14.2 inches with a weight of 7.4 lbs.
Who Should Buy This?
For those who like excellent gourmet drip coffee at a reasonable price.
Conclusion
Coffee is what most people start their day with and coffee makers are one of the most useful appliances in homes and offices. There are different types of coffee makers, so first check out how many cups of coffee you need for your household before selecting the best coffee makers. Also, consider the cost, and look for a unit that fits your budget. Automatic programming the night before is a useful feature and offers convenience, though it might be more expensive. You should also consider the dimensions and select the one that suits your kitchen counter space. Other features to consider are the programmable settings, auto-shutoff, warmers, water filter, steamer or frother and so on. Check out the above options to make an informed decision.
---