Featured in this article (opens in new tab)
Smartphones are pretty much a necessity these days, and almost everyone wants to get the latest flagship models with beefed-up processors, crazy refresh rates, and large displays. There are some, though, who prefer to use small-sized smartphones that they can comfortably use with a single hand. They prefer to use their phones for essential functions like talking, messaging, checking emails, etc. Some prefer to keep such smaller phones as their secondary phone. However, it's hard to define what a small smartphone is. In this article, we will be looking at smartphones with displays under 6 inches. Here are some of the best small smartphones under 6 inches in size available on the market today.
See also: Best smartphones under $500
Best Small Smartphones in 2023
Buying Guide
The market trend in the new smartphones being released these days is towards displays of above 6-inches. There is a community of smartphone buyers who are not so sold on display size. They would be happy with the sub-6-inch smartphones as well. A small smartphone does not necessarily mean a compromise on many of the other key specifications. If you are searching for the best small smartphone in 2023, here are some factors you would want to take a look at before making up your mind.
Processor: A 5.5-inch smartphone can be as fast and performance-oriented as the larger phones. You will find many are fitted with the Qualcomm Snapdragon 800 series processors. If you are lucky, you could even get one with the Snapdragon 855 SoC.
RAM: The smartphone's ability to handle various apps with ease is highly dependent on the RAM that supports the processor. In small smartphones, you will find a minimum of 4GB RAM. Some models may go up to 8GB. This range is good enough to handle the requirements.
Camera: The market trend suggests that the fancy camera modules have shifted to the top-end phones that boast of 6-inch+ display sizes. Small smartphone models may have dual or triple-camera setups at the rear with megapixels ranging from 8MP to 16MP and in combination.
Battery: Here again, the trend has moved towards 4,500mAh and even 5,000mAh batteries. When it comes to the small smartphone segment, you may notice devices sporting much below these levels, with an odd model having a 4,000mAh battery. This should not deter you since you will still get enough juice out of the device.
Playing Games and Watching Videos: While playing games, a small screen may not have the same kind of appeal as a large one. That is if you are a big game enthusiast. Similarly, if you are fond of watching videos on your mobile phone, a 5-inch screen may not offer full real estate. If these are not in your priorities while using smartphones, this factor should not be of great concern.
Performance: The small smartphone performs well in all respects. You can make voice calls, use social media apps and check email, or even make your banking and payments through them.
Best Small Smartphones
6.34-inch Smartphone with 128GB Internal Storage Support
Google Pixel 5A 5G IPG7 Rated Water-Resistant Smartphone
Check Price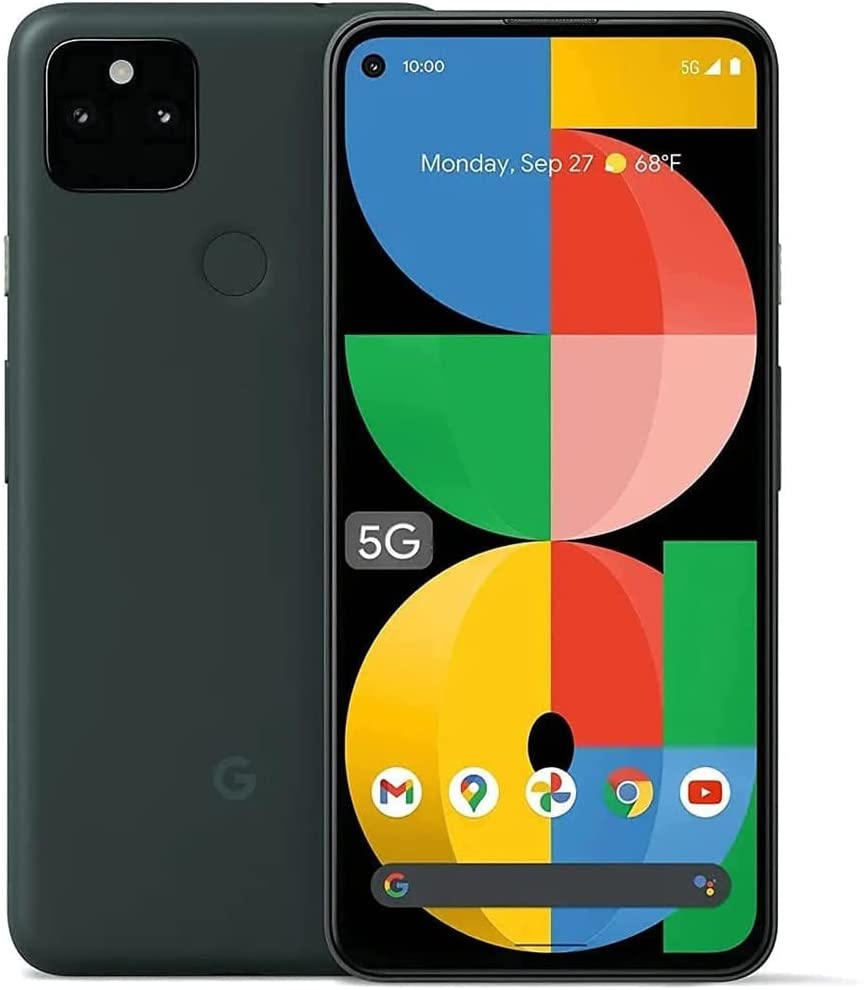 The Google Pixel 5A 5G comes equipped with a Qualcomm SDM765 Snapdragon 765G processor and therefore, registers high-speed performance. The 128GB internal memory offers you a good amount of space to store your data. The option to expand the storage space, however, is not provided with this phone. The device supports 18W fast-charging and features a 4,680mAh battery that offers a good power backup.
Recommended for those who travel extensively and are looking for a durable smartphone that can stand the test of time.
It's also a good choice for those wanting to invest in a phone that can be easily managed and used.
Water and dust resistant
High-speed processor
Sharp display screen
Features a 3.5mm headphone jack
Memory cannot be expanded further
Does not support wireless charging
Easy-To-Use Smartphone That Offers A Window To Apple's Technology
2022 Apple iPhone SE Compact-Sized Smartphone
Check Price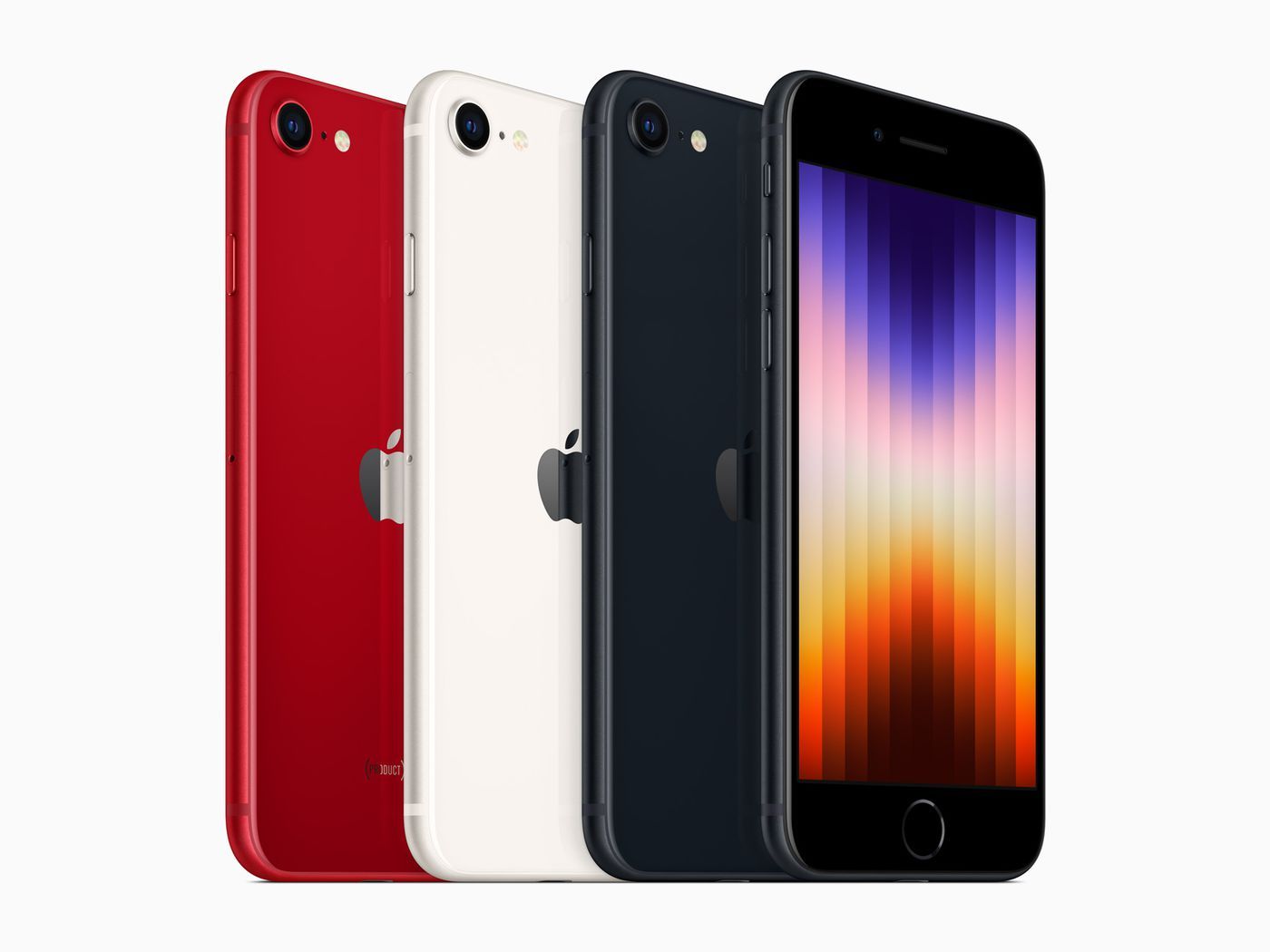 The classic design of the iPhone SE is still as charming as it used to be years back. The 2023 model offers 5G connectivity support and runs on a very powerful A15 Bionic processor. The phone doesn't take long to charge and offers fantastic battery support. The phone can last for 16-17 hours on a full charge. The 4.7-inch display screen could be too small for some users but works perfectly for those who prefer compact and lightweight devices.
Go for it if you are looking for a compact smartphone with great functionality and premium features.
Ideal for frequent travelers who do not wish to move around with a heavy smartphone in their pockets.
Compact and lightweight structure
High-end processing unit
5G connectivity support
High-definition screen
The screen could be brighter
No night mode camera feature
Versatile Smartphone with Great Battery Life
Motorola Moto G PowerTriple Camera System Smartphone
Check Price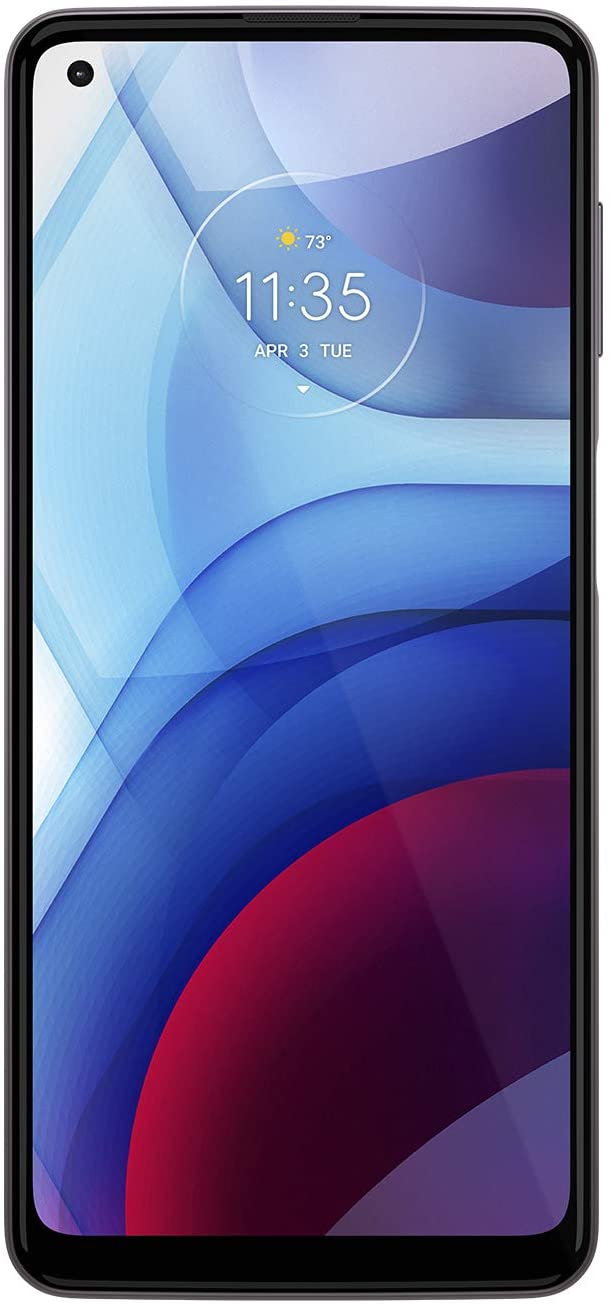 Despite having a 6.6-inch screen, the smartphone is quite compact and easy to hold in one's hands. The manufacturer has smartly distributed the weight of the phone across different sections. The biggest selling point of this, undoubtedly, is its strong battery life. If you charge the device optimally and use it to perform basic functions, the battery can last for as long as three days.
Unlike the earlier model, it doesn't come with a 1080p display screen, but the 720p screen you get here does a very good job of accurately reproducing colors. As far as clarity is concerned, there is some scope for improvement. Along with several modern features, you also get a headphone jack that can be found above the screen.
It proves to be a very good investment for those who don't like the hassle involved in charging their phone repeatedly throughout the day.

The 6.6-inch screen makes it very convenient to consume multimedia content or capture videos.
Solid battery life

Large screen

Good audio output

Features a headphone jack
Average build quality

It does not support 5G connectivity
Small-Sized Phone with Great Camera Features
Google Pixel 4a Full High-Definition Smartphone
Check Price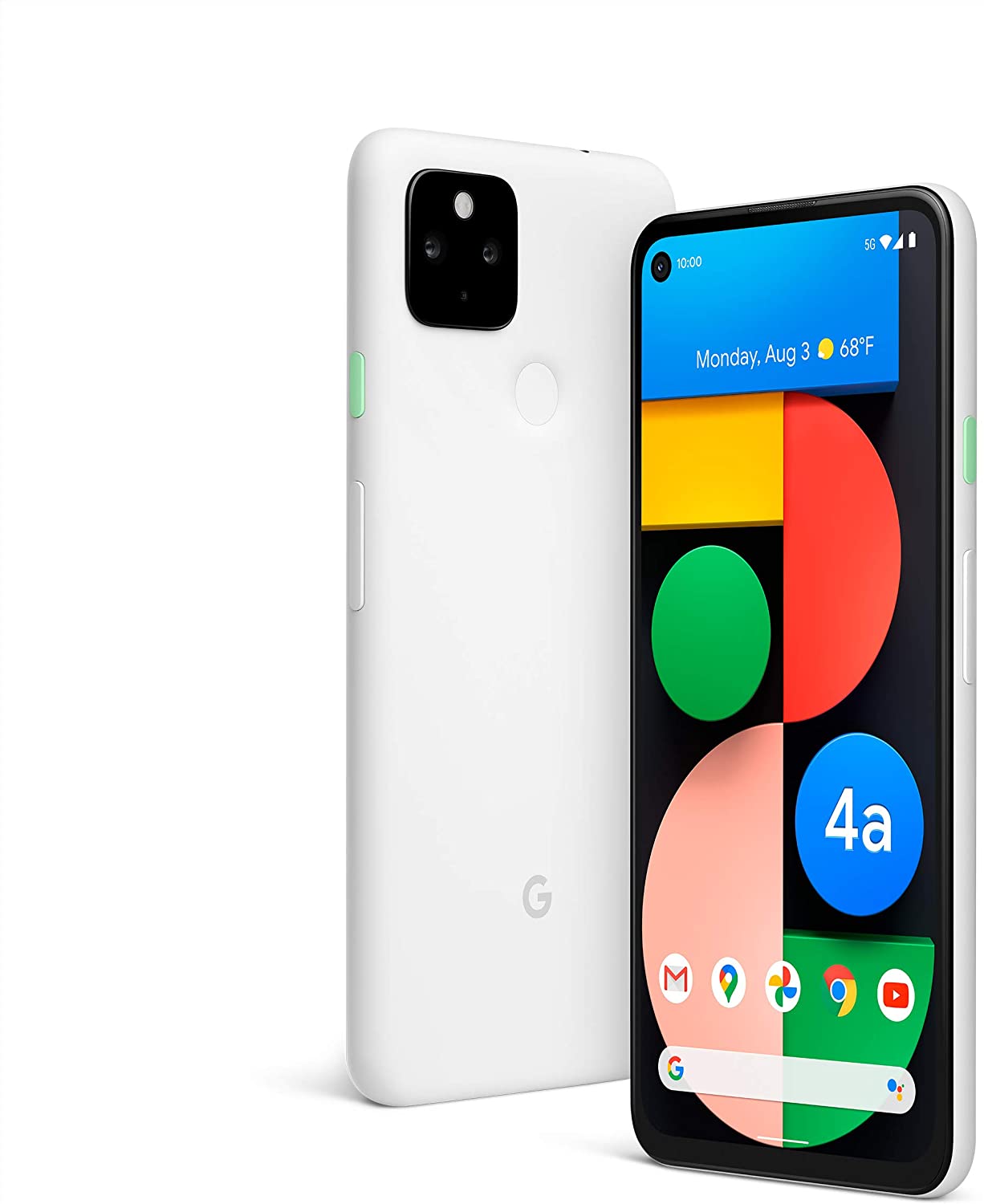 The exterior of this smartphone is made of a polycarbonate shell that contributes greatly to its sleek design. The soft-touch matte finish not only looks attractive to the eyes but is also smudge-free. Besides its design, the Google Pixel 4a scores major points because of its cameras. On the front, you get an 8 MP camera, and the rear camera features a 12.2 MP sensor. The phone also comes with a camera app that has a vast number of shooting modes to explore.
At 8.2mm, the phone is quite slim, and its rounded edges make it very convenient for one to handle it. The device offers multiple connectivity options, including a headphone jack and USB Type-C port. You can find the power and volume buttons on the right side of the device. You can only use one physical SIM card. There is an option to use an additional eSIM. As far as security features are concerned, you get a capacitive fingerprint sensor on the rear end.
Why Should You Buy This?
If you wish to own a smartphone that doesn't feel very heavy in your hands and is easy to manage, you can invest in this device.

This device is a good investment for those looking for a robust smartphone that can help take high-quality pictures.
Pros
Good quality cameras

Features stereo speakers

Attractive and durable design

Multiple connectivity options
Cons
No face-recognition feature

It doesn't offer dual SIM support
Affordable Smartphone That Comes with the Promise of Durability
Oukitel C22 256 GB Expandable Memory Smartphone
Check Price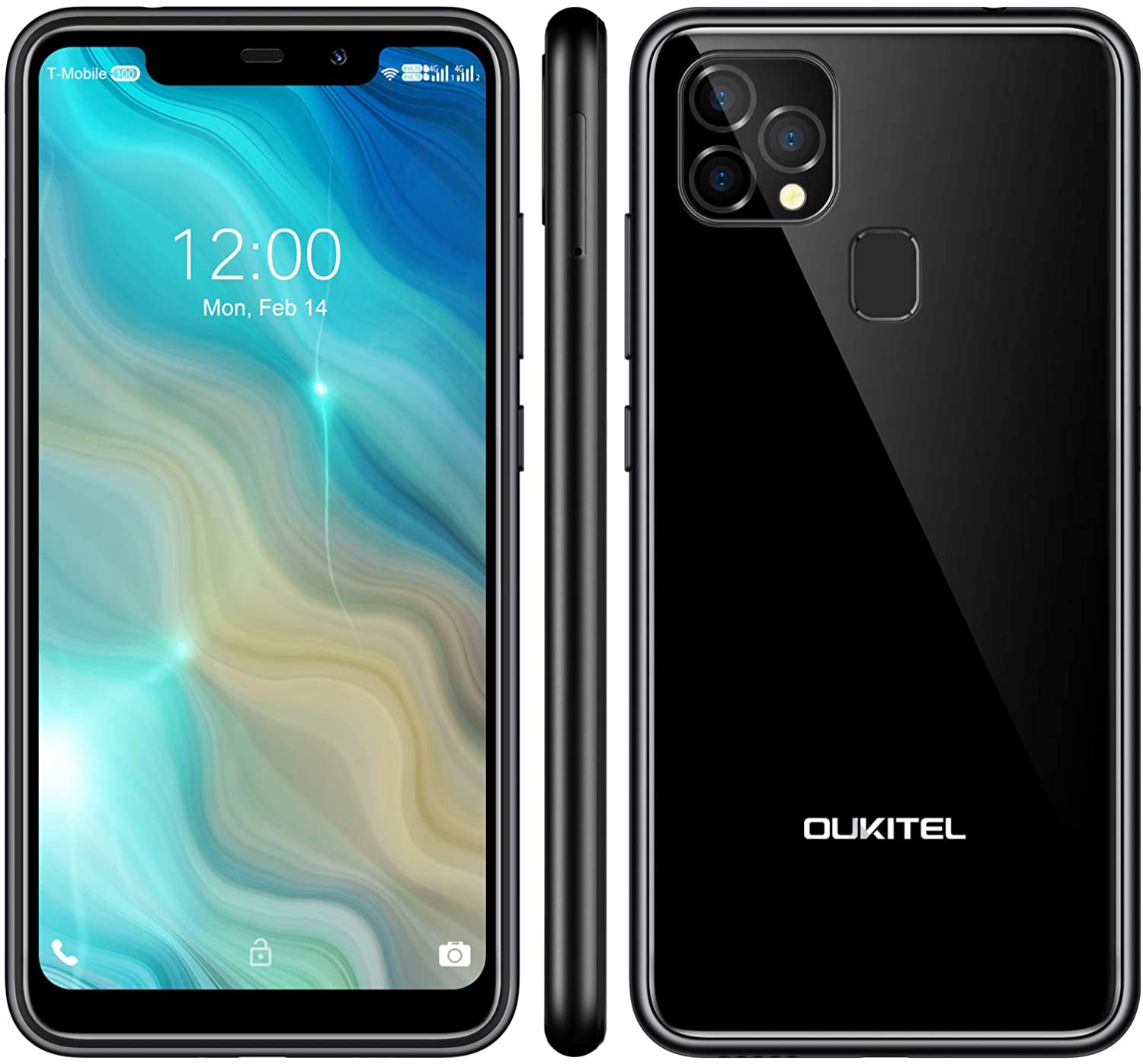 With a protective cover made of silicone and a curved glass back, the Oukitel C22 boasts an attractive and durable design. The dimensions of this compact phone are 148 x 70 x 8.9 mm, and at 178 grams, it is quite light. The device, operating on the MediaTek T6761 processor, offers fast and steady operation.
The phone features an internal storage space of 128 GB that can be expanded up to 256 GB with the help of an external memory card. There are three rear cameras, each of which offers a resolution of 13 megapixels. On the front, you get an 8-megapixel camera that serves its function of taking selfies adequately.
Those looking for a smartphone that is simple, compact, affordable, and would last for long should buy this one.

The dimensions and design of the device make it ideal for those who travel frequently or are always on the move.
Adequate security features

Expandable Memory

Stable processing unit

Good battery life
Not compatible with many CDMA carriers

It does not support wireless charging
Simple and Compact Smartphone with IPS Technology
ZTE Blade A5 Touch Enabled Smartphone
Check Price

The ZTE Blade A5 doesn't come with a fancy design but offers you smooth performance and ease of use. The display screen, which happens to be 6.09 inches wide, produces high-definition images and should serve those well who consume multimedia content extensively. Featuring an Octa-core Unisoc SC9863A processor, there is minimal chance of you being disappointed with the speed at which the phone works.
You get a limited 16 GB internal storage capacity, but the good news is that the memory can be easily expanded by inserting a micro-SD card. If you have been lamenting over the absence of headphone jacks in some of the newer phones, you will be happy to find one here. The device features a non-removable 2600 mAh battery that gets charged optimally in a short time and lasts for a long time.
Why Should You Buy This?
This phone is for you if you prefer performance and functionality over design and style.

Featuring a compact design, this smartphone is apt for those who like using simpler devices.
Pros
HD Display Screen

Fast processor

Supports fast charging

Feature fingerprint and proximity sensor
Cons
Limited internal storage

No NFC
Compact Smartphone with Multiple Camera Setup
TCL 10 SE 6.52 Display Screen Smartphone
Check Price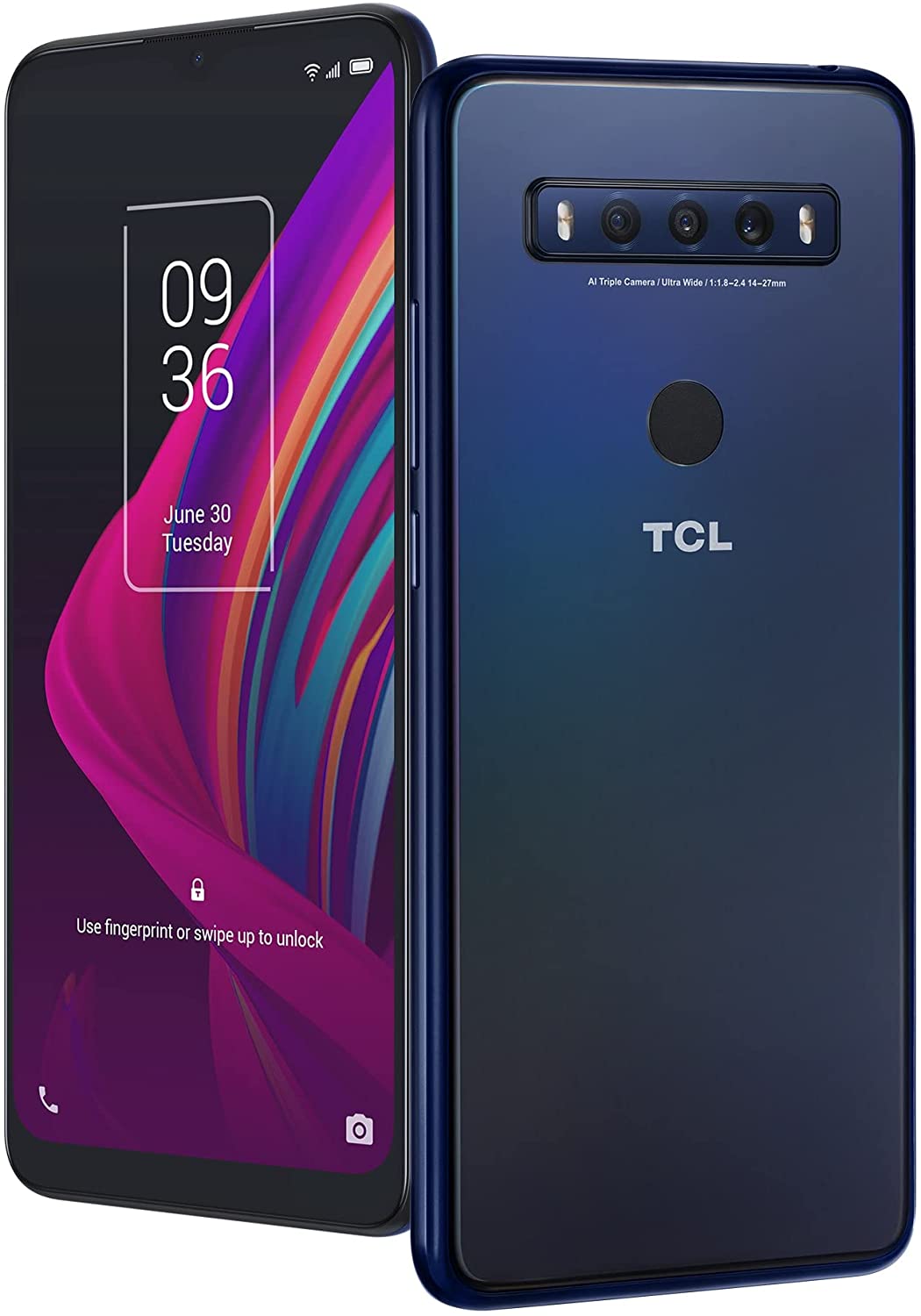 Though the smartphone features a 6.52-inches wide display screen, its compact design ensures that you don't face any inconvenience while holding it or carrying it around in your hand. The Mediatek MT6762 Octa-core processor enables you to run multiple apps on your phone without a lag in speed. The device comes with a 4000 mAh non-removable battery and offers 15W fast charging support.
The display screen offers a resolution of 720x1600 pixels and does well at image reproduction. The LCD screen is equipped with capacitive touch-screen technology. One of the highlights of this smartphone is the quad-camera setup that it comes with. There is a 48 MP wide camera, an ultrawide sensor offering a resolution of 5 MP, and a 2 MP depth sensor. The dual-LED flash also comes as a built-in feature. While buying it, you get two color options (violet and blue) to choose from.
Why Should You Buy This?
Those looking for a compact smartphone that offers an array of multimedia features should benefit from investing in this device.

The processor is robust enough to let you carry out multiple functions without facing any problems.
Pros
Quad-camera setup

Reliable processing unit

Supports NFC connectivity

Available in two color options
Cons
Not waterproof

It does not support wireless charging
Moderately Priced Smartphone with Long Battery Life
Xiaomi Redmi 9 AIPS Display Screen Smartphone
Check Price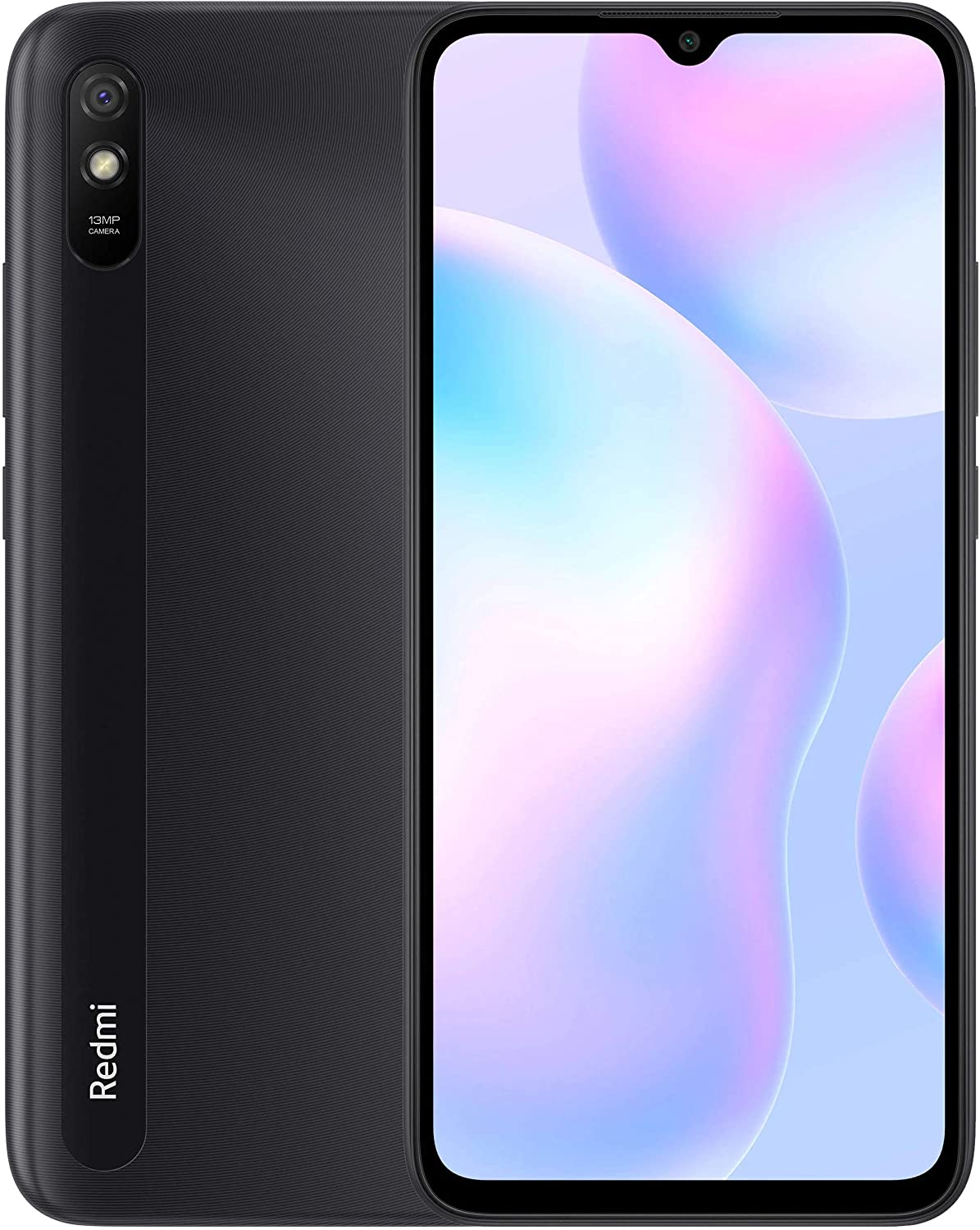 The Xiaomi Redmi 9A has everything that you would expect to find in a budgeted and compact smartphone. Despite a relatively weak processing unit, the phone should keep you happy with all the features it provides you with. The 5000 mAh battery is robust enough to last on a single charge throughout the day.
The 6.53-inch display screen offers a resolution of 1600x720 pixels and produces sharp images. At 0.43 pounds, the device is not too heavy and feels comfortable in one's hands. The phone is built with good quality plastic that assures you of longevity. While the minimalistic design is attractive, you also get two contrasting colors (Carbon Gray and Sunset Purple) to choose from.
Why Should You Buy This?
If you are looking for a budget smartphone with a compact structure and a great display screen, it would be wise to invest in this one.

With a robust battery and 18W fast charging support, this smartphone should work very well for those who don't like to carry their charger or charge their phone repeatedly.
Pros
Strong battery support

Vibrant display screen

Reasonably priced

Features microSD card slot
Cons
Mediocre audio quality

No 5G support
Compact Smartphone That Offers Great Value for Money
Ulefone Note 11P High-End Camera Features Smartphone
Check Price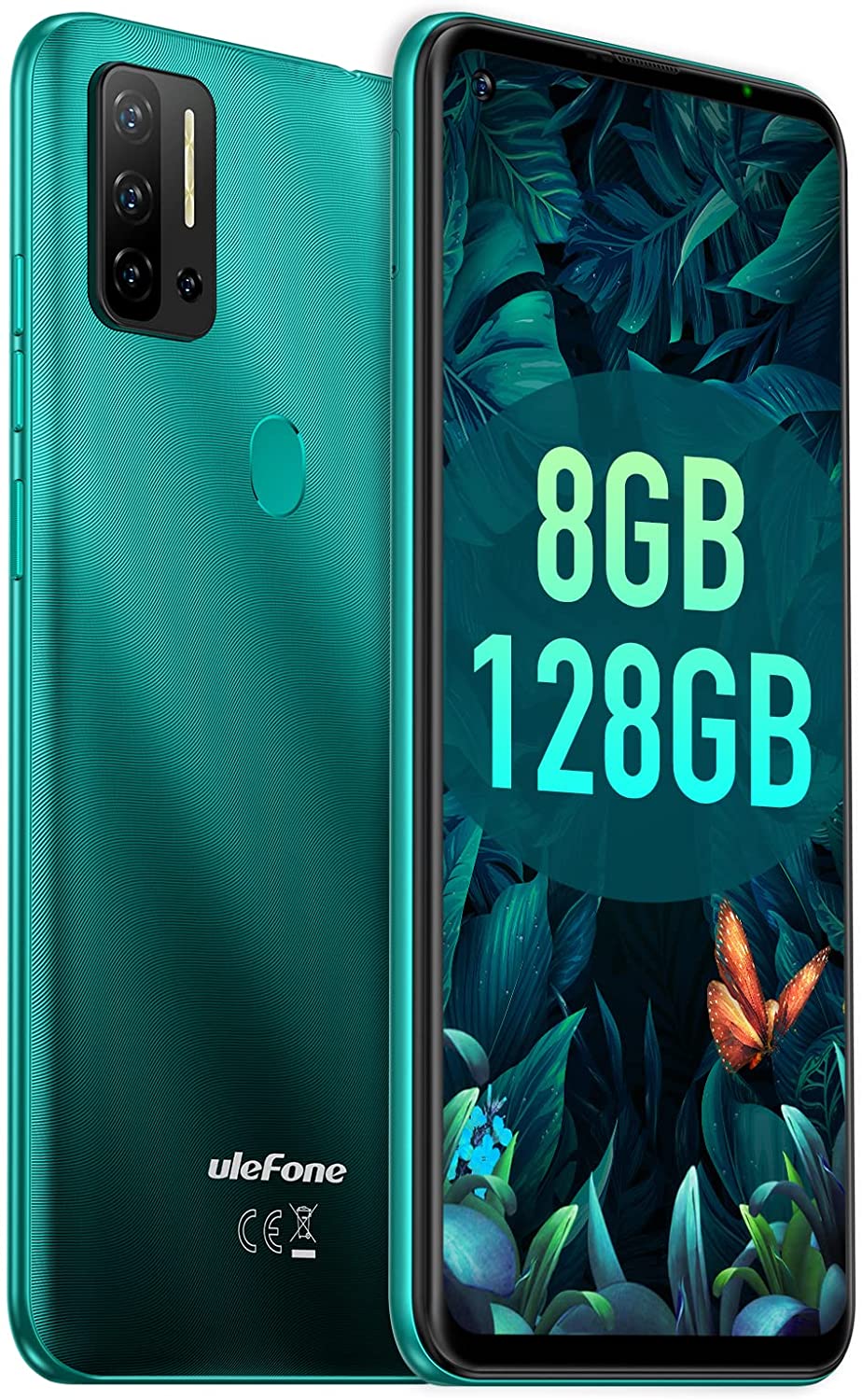 Within a few months of its official launch, the Ulefone Note 11P has become very popular owing to its compact design and the number of features it offers. It runs on the latest Android 11 and is fuelled by the Mediatek MT6771 Helio P60 processor. Its space-saving design is complemented by its moderate weight.
The 4500 mAh battery is fairly powerful and supports 10W charging. The brand has done a smart job by making this device available in three different colors (black, green, and red) right from when it was launched. Apart from a proximity sensor and a fingerprint sensor, this smartphone comes equipped with various other sensors like an accelerometer, compass, and gyro.
Why Should You Buy This?
An ideal option for those looking for a moderately priced camera phone with adequate multimedia support.

With a robust sensor system, the phone offers tremendous security and makes you feel assured about the safety of the data inside it.
Pros
Available in three distinct colors

Strong sensor system

Multiple cameras

Good processor
Cons
No wireless charging

No infrared port
Frequently Asked Questions
Is it cheaper to buy a small smartphone from a carrier as a bundled model?
There is no compulsion that you should buy a small smartphone only through a carrier. You can buy the unlocked version online and pick up a SIM card from any carrier. Regarding the pricing, in a bundled phone offered by the carriers, you may certainly end up paying a monthly tariff which will include the amortized cost of the small (or large) smartphone. It saves you from shelling out a larger sum in one go. It will also bind you to the carrier for that duration.
Can small smartphones be repaired? Will the components be available?
Yes, smartphone manufacturers service all kinds of markets worldwide, with customers for each category or range. They will provide the backup for servicing these mobiles, whether small or large, for many years. They have a reputation to keep as a reliable brand. You should be able to get your small smartphone repaired.
Can small smartphones be wirelessly charged?
Yes, some small smartphone models have a wireless charging facility. While checking the specifications of the small smartphone you plan to buy, find out if it has wireless charging capability. You may be aware that while wireless charging has its advantages, wired charging is still faster.
What is stock Android and how does it differ from the OS on many models?
Stock Android refers to the operating system from Google that gets loaded on smartphones as it is in its pure form. If you buy Google Pixel phones, you get that. Most leading brands believe in customizing the operating system and adding them as the user interface. Samsung has its One UI while Xiaomi has MIUI and so on. Some smartphone users don't like these user interfaces and prefer only the stock Android.
Are there global smartphone models that can be used everywhere?
Smartphone makers of different brands release their models in diverse markets. Some are given to carriers directly to sell as bundled phones. Then there are the unlocked versions you can buy online or from offline retail sources. If you are keen on a global model that can be used in any country universally, check with the seller or the company's brand store, and you should be able to buy one.
Conclusion
There are many aspects to look for when buying a high-value small smartphone, such as price, features, durability, etc. Price may be the most crucial factor here as you don't want to go for an expensive smartphone with a small screen size. Of course, if you only like smartphones with smaller display sizes, then, by all means, go for the high-end ones, but if not, go for the affordable ones. If you plan to pick up a cheap one, you need to ensure that the device is durable enough to last for at least a year or two. Along with the details given here, do your online research and look through the specs and features to find the best one that will fit your needs.