Featured in this article (opens in new tab)
Summary –
Building a new PC to use as a workstation or for gaming is an experience on its own. It could be a really intimidating experience but still a lot of people around the globe love doing it. Be it in the USA, Europe, or Asia, building a gaming PC is an excellent hobby that you could enjoy and keep getting better at. The best RAM that you pick is crucial because it plays an integral role in determining the speed of your computer. After all, browsers like Chrome can gobble up 8 GB or even 16 GB of RAM when multiple tabs are open. Similarly, multitasking is done best when you have lots of DDR3 or DDR4 memory to handle the mounting pressure.
See also: Best laptops for everyday use
Best RAM
Most Budget-Friendly DDR3 Solution Out There
Kingston Technology 4 GB 1333 MHz DDR3 SDRAM Memory Module

It is quite difficult to argue against this product because it is budget-friendly, compact and easy to install, and also adds a decent-sized memory to your desktop PC. Kingston is a popular brand known for making some of the best USB drives, SSDs, and RAM of all types and sizes. While you can also find a similar model for your laptop, this is made for desktop PCs that support DDR3.
For a newcomer, it may be slightly confusing, but DDR3 is the older generation and is ideal for motherboards that support it. If you are building a brand new PC, you should go for DDR4 technology which is faster and introduces lots of better memory management solutions. The Kingston product runs on 1333 MHz which is possibly the lowest speed but is perfect for older computers.
If you have a PC that is really slow in multi-tasking and needs a quick upgrade, you can consider buying this product and also add an SSD to make your computer more responsive. There aren't any fancy RGB lights or overclocking capabilities in this entry-level product. The peripheral is primarily for users looking for an affordable solution that can deliver and is reliable.
What Makes the Kingston 4 GB DDR3 RAM a Solid Choice?
It is the best RAM in the market that supports DDR3 technology and is perfect for older PCs.
The pricing matters a lot as it is cheap and easy to upgrade for most users.
Who Should Buy This?
A perfect pick for users who have an old and sluggish PC due to limited RAM storage.
A branded yet affordable product that is reliable in terms of performance and longevity
See it on Amazon 
High-End RAM Solution for Content Creators
Crucial 32 GB Kit DDR4 2666 MT/s RAM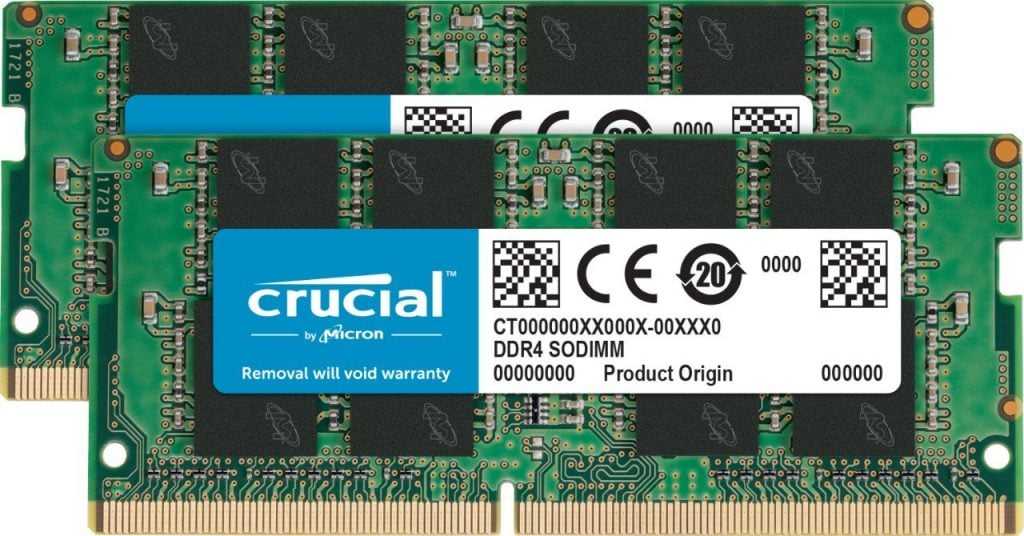 Crucial has been making some of the best value for money RAMs. The Crucial 32 GB DDR4 2666 MT/s RAM kit is a must-have for content creators. Be it using Adobe Photoshop, Avid, or other editing tools, having as much RAM as possible is advisable to manage the plugins requirement.
In terms of design, this is not going to win any awards because the RAM is plain green and has no heat sink or other color strips to make it more appealing. Instead, the main purpose of this product is to deliver excellent productivity which it does without any difficulty. The maximum speed is pegged at 2666 MT/s and it comfortably delivers maximum speed with DDR4 technology.
Being the latest in the market, DDR4 is a maturing technology that has been consistently receiving updates. When you build a brand new PC or upgrade your existing motherboard with this RAM, you can be assured that the output will be even better in the coming years. The product is primarily designed for laptops but once again it depends on the compatibility. So, confirm before you purchase it. Unless you are a gaming enthusiast, you will avoid going for RGB among other fancy features.
What Makes the Crucial 32 GB Kit DDR4 2666 MT/s RAM Best for Laptops?
The RAM is designed for compatible laptops.
The maximum memory speed is 2666 MT/s which is super-fast and reliable.
Who Should Buy This?
If you have a compatible laptop that supports this RAM size, you can buy this one.
The increased memory storage is perfect for content creators.
The pricing is lower as it doesn't use fancy lights or heat sinks, hence ideal for those on budget.
See it on Amazon 
Best RAM for RGB Gamers
Corsair Vengeance RGB Pro 16 GB DDR4 3000 MHz Desktop Memory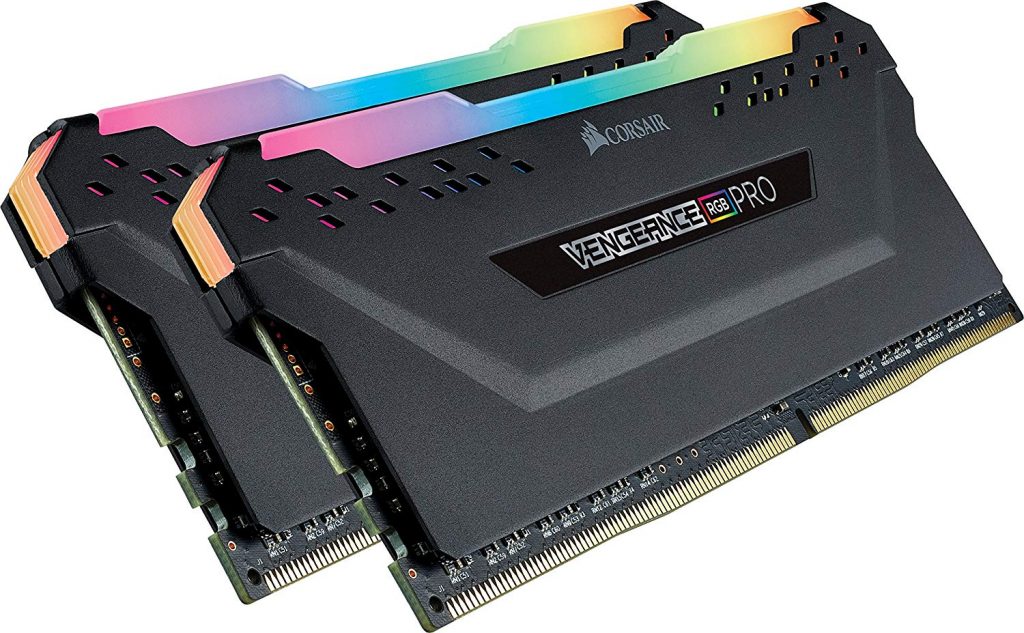 Corsair is the leading brand when it comes to making PC peripherals such as power supply units, gaming keyboards, mouse, and RAM modules. The Corsair Vengeance RGB Pro 16 GB DDR4 3000 MHz Desktop Memory is the perfect solution for gamers who love RGB a lot. It is the concept of using small strips where RGB colors manage to produce vibrant colors to brighten up the PC setup.
While these colors are not going to directly contribute to your computer's gaming or RAM performance for that matter, it is a very prevalent trend in the PC gaming community. Before you go for it, make sure you have a large desktop case and enough space between the graphics card. The RAM module is much bigger in terms of size when compared to the LPX models launched by Corsair.
The design is nowhere close to low-profile and is definitely flamboyant. In terms of performance, the Vengeance is the best RAM that you could buy for your gaming or video/audio editing requirements. It has a dedicated heat sink that keeps the module performing at its maximum speed without heating up. Besides, this particular variant uses 3000 MHz super-fast technology that can handle more memory processing than other entry-level models.
What Makes the Corsair Vengeance RGB Pro 16 GB DDR4 3000 MHz Desktop Memory Stand Out?
The RAM offers the best speeds as you can clock it up to 3000 MHz.
It has RGB lighting that makes it a great choice for gamers.
Who Should Buy This?
Gamers who love RGB lighting can check out this product.
It has higher clock speeds and can be overclocked for maximum performance.
For those who are looking for a large RAM that is ideal for big PC cases.
See it on Amazon 
The Best RAM for Entry-Level Gaming Setup
Corsair Vengeance LPX 16 GB DDR4 3000 MHz Desktop Memory Kit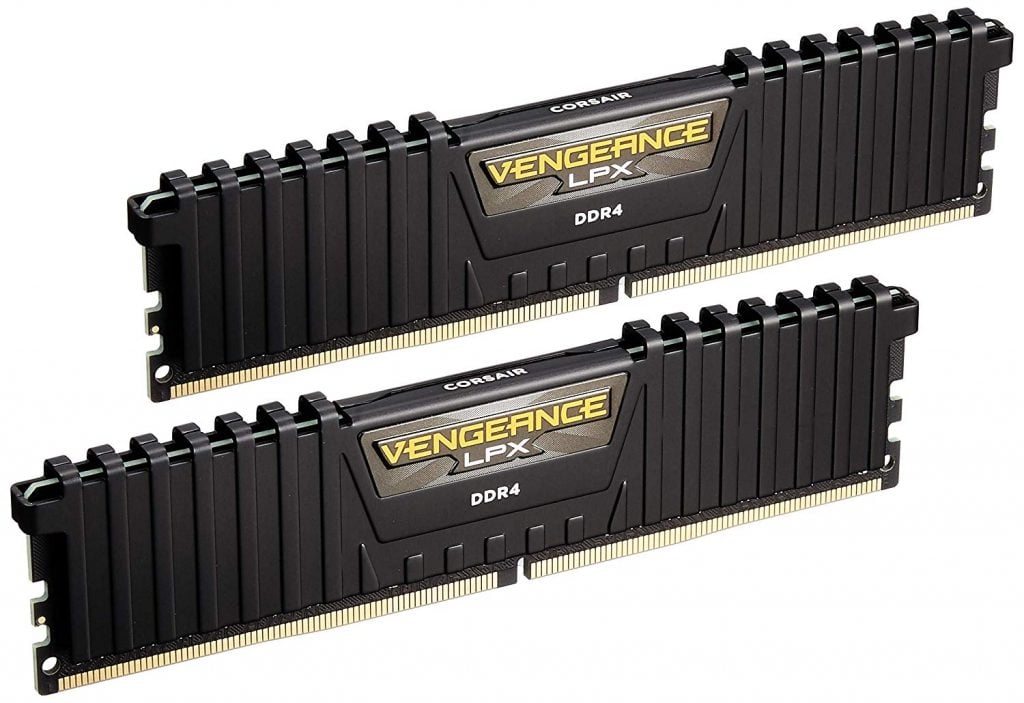 Corsair makes several models of RAM modules and for a newcomer, it is easy to get lost in the pile of product names that the company uses. If you feel lost, you should comfortably go with any model that says LPX in the vengeance series. They are much more reliable because of their low profile and can be fit into all types of motherboards as well as small cases as it doesn't have any large heat sinks.
The Corsair Vengeance LPX 16 GB DDR4 is the perfect pick for any gamer who is relatively new to the scenario and wants to build their own gaming PC. The pricing of the product is much lower when compared to similar RAM modules that use RGB lighting. Besides, the LPX also known as low profile design will fit easily into different PC cases and doesn't require increased space.
In terms of performance, this is ideal for AMD PCs and Intel too, because it makes use of 3000 MHz speeds. The higher clock speeds are usually better supported by AMD Ryzen computers. They are relatively new in the PC market and if you are planning to go with an Intel i7 or i9, this product will still be compatible for overclocking purposes. Make sure to confirm if your motherboard is high-end and can support high-speed RAM modules.
What Makes the Corsair Vengeance LPX 16 GB DDR4 3000 MHz Desktop Memory Kit Appropriate?
The RAM has a low-profile design and is easy to fit in all types of PC cases.
The speed of the RAM is higher and can be overclocked if needed.
Who Should Buy This?
A great pick for entry-level gaming setup if you are building such a gaming PC.
If you are going for a console-like design, the LPX supports smaller cases.
For those who favor AMD processors.
See it on Amazon 
A Quick Budget Upgrade for Your PC
Patriot Viper Elite 8 GB 2400 MHz Memory Module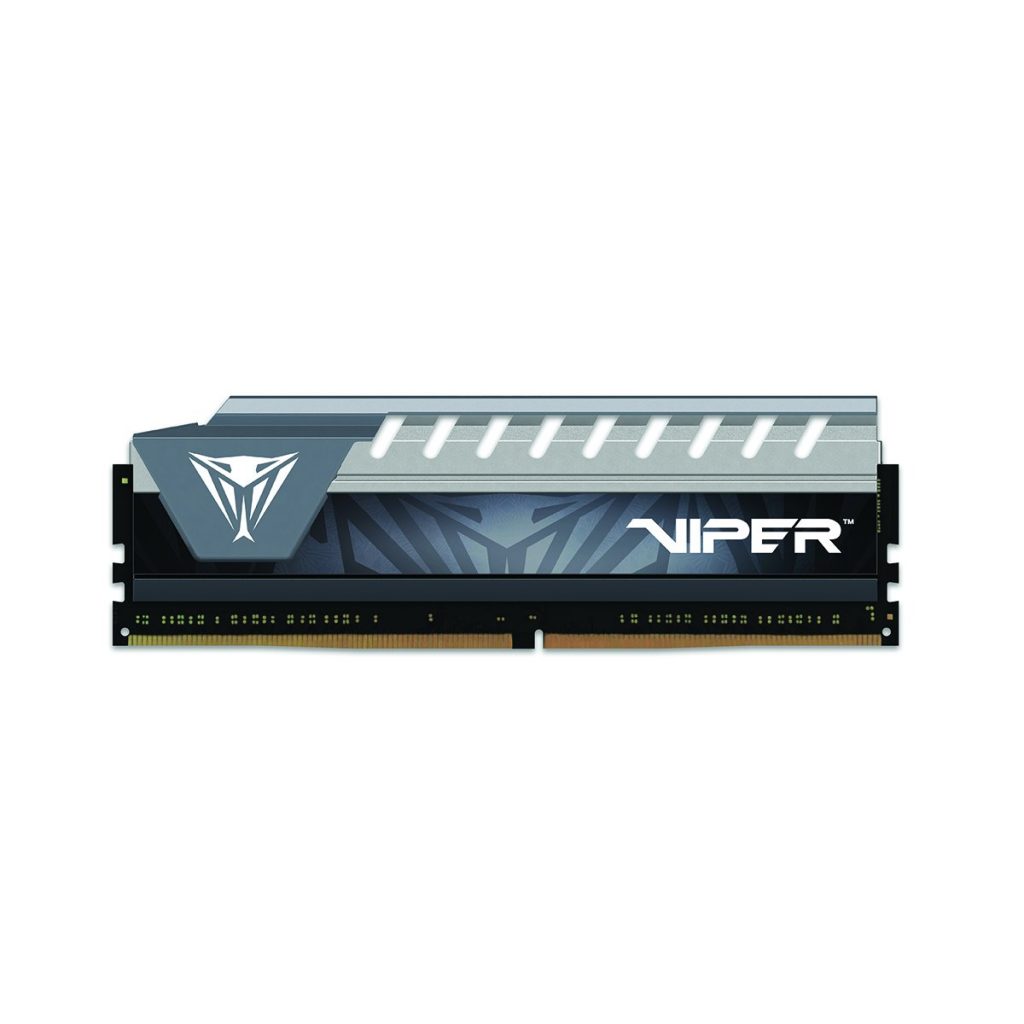 For users who already own a pre-built or assembled desktop PC, the available RAM may not be good enough or it must be getting slow over the years. If you are still using a computer with just 2 GB or 4 GB of RAM, then this is the right solution that gets the job done without exceeding your budget. For just $30, you can make your device perform much faster and make it handle multiple tasks at the same time.
In terms of brand value, Patriot Viper may not be as popular as Corsair or Kingston in the memory module market but, the manufacturer has received great, positive reviews and continues to be one of the popular choices among gamers as well as content creators. The RAM is not only affordable but also has a sleek design and has a dedicated area to dissipate heat better.
The RAM's speed is limited at 2400 MHz but for the average user who doesn't get into the world of overclocking, this should be more than adequate. The 8 GB memory size is a big upgrade for most older desktop PCs and assembled computers that are very slow due to a lack of space for apps and software to run efficiently. You get a limited lifetime warranty for this product.
What Makes the Patriot Viper Elite 8 GB 2400 MHz Memory Module Unique?
The affordable pricing makes it an easy buy for any user.
It can instantly speed up your old PC and also has a great heat dissipation design.
Who Should Buy This?
Buyers who like to save money and go for a simple 8 GB RAM can opt for this.
For those who prefer a module that is much faster than entry-level RAM modules
For newcomers. It is a single 8 GB stick that is easy to install and one can avoid the hassle of matching dual memory sticks together.
See it on Amazon 
Best High-Speed RAM for AMD Computer Builds
TeamGroup T-Force Delta 16 GB RGB DDR4 Desktop RAM Module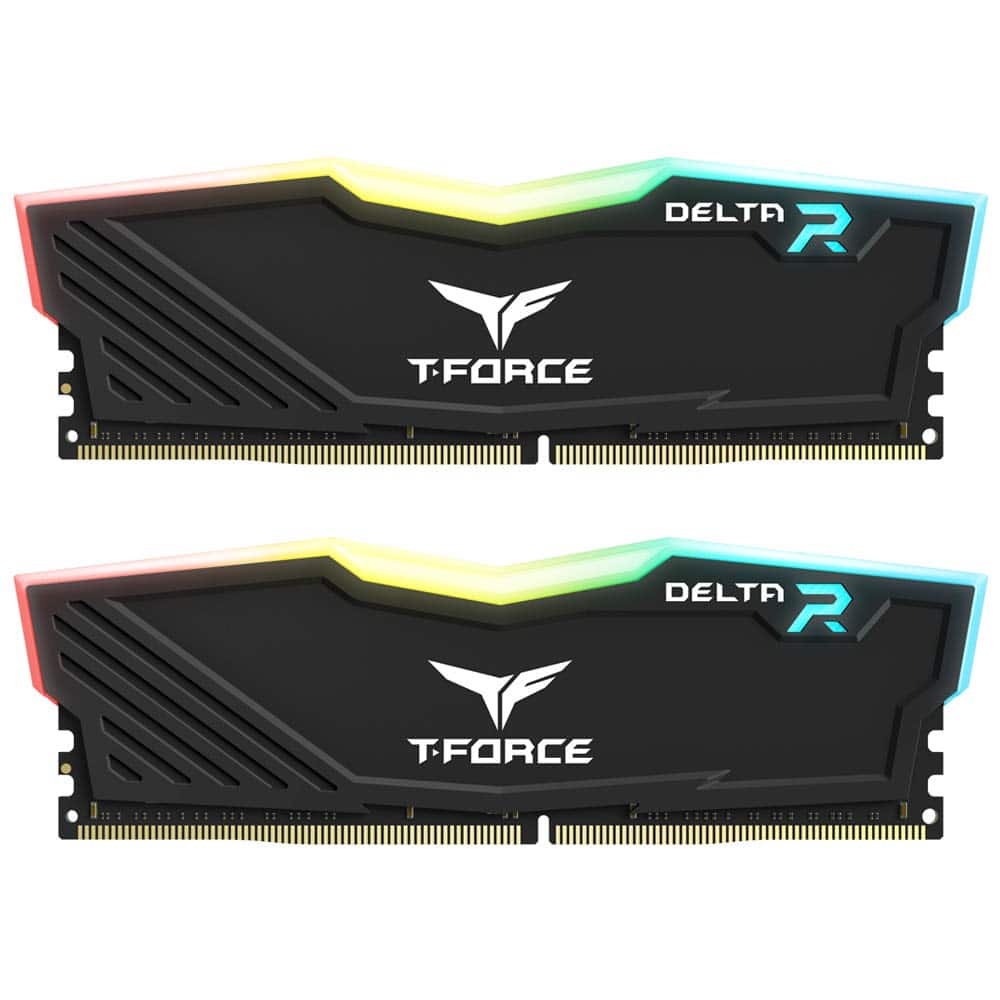 If you love the new 3rd generation AMD Ryzen processors, the TeamGroup T-Force Delta 16 GB RGB DDR4 RAM is the best pick for your build. You can make things easier by heading to Newegg where people share ideas of their builds. Such a guide will allow you to confirm if your motherboard and the build you are planning with this RAM are fully compatible. The process is much easier for people who are buying a brand new PC to install it at home. TeamGroup offers an excellent product that has one of the highest speeds in the market and works perfectly with AMD CPUs.
A large RAM module in terms of size, this particular model from TeamGroup is designed with full-frame design and has a 120-degree wide-angle to keep overheating at bay. Equipped with Force Flow technology, the product also features RGB lighting. If you are using a motherboard that supports flagship chipset or costs at least over $100, you should be able to overclock this memory stick.
What Makes the TeamGroup T-Force Delta 16 GB RGB DDR4 Module the Best RAM?
The RAM has a large design that ensures it doesn't overheat when you overclock it.
The higher speeds are fully supported and perfect for AMD computer builds.
Who Should Buy This?
Serious gamers and content creators who are keen on overclocking can go for this 3200 MHz capacity RAM.
AMD computer owners or those planning to buy the processor can make the best use of this product.
Available in a range of colors and designs for those who are going for all-white or RGB builds.
See it on Amazon 
High-Performance Budget-Friendly RAM for Gamers
Crucial Ballistix Sport LT 2400 MHz 8 GB DDR4 Desktop Memory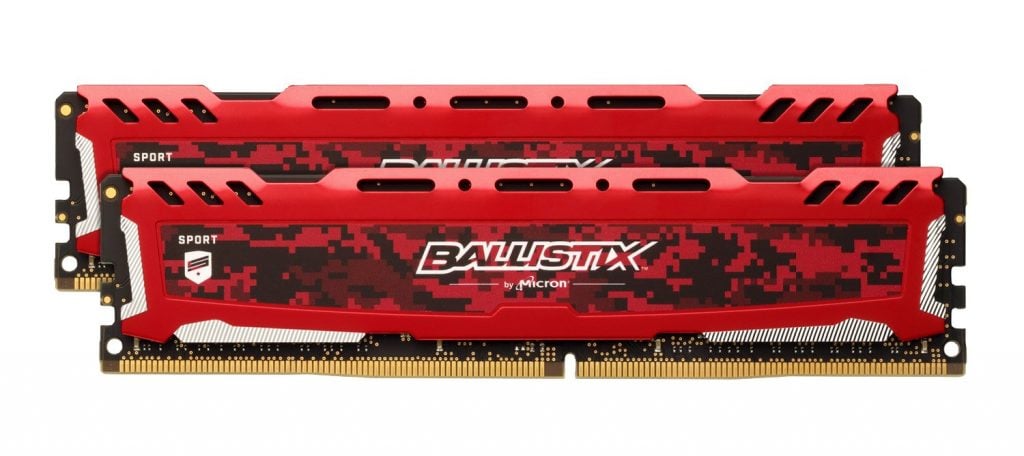 High-performance RAM modules are ideal for gaming and other demanding purposes such as video or music editing. While most content creators would prefer to go for a 16 GB or 32 GB version, you can always go for a quick upgrade. Besides, the RAM requirement is purely based on existing setup and if you have a similar Crucial Ballistix RAM clocked at the same level it should be compatible.
The Crucial Ballistix Sport LT 2400 MHz 8 GB DDR4 Desktop Memory is a quick solution for existing and new builds on a budget. The pricing is just right because RAM prices are much lower at this point and it can increase anytime in the future. In terms of performance, the model is rated to be one of the fastest and most reliable solutions available for purchase.
This particular variant is clocked at a much faster 2400 MHz speed and should be easy to overclock on a compatible motherboard. If your model supports it out of the box, there is no need to overclock and it will still operate at the highest possible frequency. The RAM kit is available in red which is appropriate for white or all-red builds that some gamers love to setup.
What Makes the Crucial Ballistix Sport LT 2400 MHz 8 GB DDR4 Desktop Memory Perfect?
The design is unique and catchy, aimed at gamers who love to go for a red build.
The product is made by a reliable brand with a solid warranty period.
Who Should Buy This?
Gamers who are going for a budget build.
If you have a red setup or like to have a red RAM inside a white case.
See it on Amazon 
Top of the Line Best RAM Module
G.Skill 16 GB Ripjaws V Series DDR4 3200 MHz RAM
G.Skill is an extremely popular brand among PC peripheral maker in the world. The company makes lots of desktop peripherals and their Ripjaws series are known for their astounding performance. Besides, serious PC gamers and users who are keen on overclocking their processor and motherboard to the extreme will find the V series RAM more accommodating than most other models.
The G.Skill 16 GB Ripjaws V Series DDR4 3200 MHz RAM has its timing set at 16-18-18-38 and can handle maximum voltage up to 1.35 V. For an average user, all this information might sound extremely confusing but if you have already done overclocking RAM in the past, this should be easy to comprehend. Besides, motherboards released in recent times are designed to support one-click OC and doesn't require manual programming or adjustments.
Users who love the AMD Ryzen platform can also opt for this particular G.Skill RAM because 3200 MHz is a lot of RAM power that can be properly utilized only by chipsets that can accommodate these. The product has been originally designed to work with the Intel Z170 platform but it can also be used with other computer setups. The high-quality red finish combined with the heat spreader makes it a powerful OC-complaint product.
What Makes the G.Skill 16 GB Ripjaws V Series DDR4 3200 MHz RAM Excellent?
The V Series is designed for overclocking and can support high clock speeds.
The RAM can accommodate demanding PC requests with dedicated heat spreader and a stylish design.
Who Should Buy This?
For those who want a reliable RAM power that supports overclocking in desktop PCs.
See it on Amazon 
Basic RAM for All Types of Computing
HyperX Fury 16 GB 2666 MHz DDR4 Desktop Memory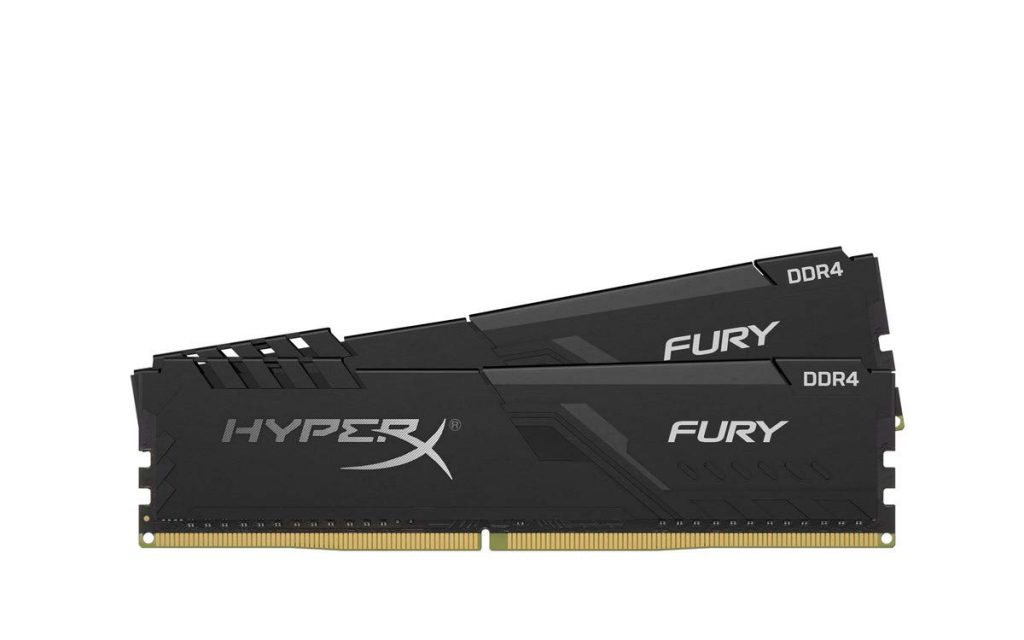 Overclocking RAM modules is a very tough process for those who are completely new to the world of a desktop gaming setup. Besides, you can also save some cash if you opt for a basic product without dedicated heat spreader or RGB lighting effects. The HyperX Fury 16 GB 2666 MHz DDR4 Desktop Memory is the best solution that will suit most user requirements.
All you have to do is install the 16 GB RAM in a compatible motherboard and get going with the other aspects of the computer setup. There is no need to overclock or focus on the timings of this product because it is not 3200 MHz or higher, which is usually difficult to handle. Instead, you can let the motherboard automatically use the highest speed for your memory module.
Despite being an entry-level product, HyperX which is a popular brand for gaming peripherals has managed to install a low-profile heat spreader. It will ensure that the temperature remains at acceptable levels even when the computer is being operated at maximum load. The size of the best RAM is as compact as it could get allowing you to install it in most types of desktop PC cases.
What Makes the HyperX Fury 16 GB 2666 MHz DDR4 Desktop Memory Value for Money?
The module is much less expensive than high-end models with RGB or increased clock speeds.
The compact size makes it easy to be installed besides having a professional design.
Who Should Buy This?
With a faster memory module that doesn't require mandatory overclocking this is ideal for entry-level gamers.
Beginners who want an easy to set up RAM with a simplistic design.
See it on Amazon 
Best RAM for Older PC's that Support DDR3 Technology
A-Tech 16 GB DDR3 1600 MHz RAM Stick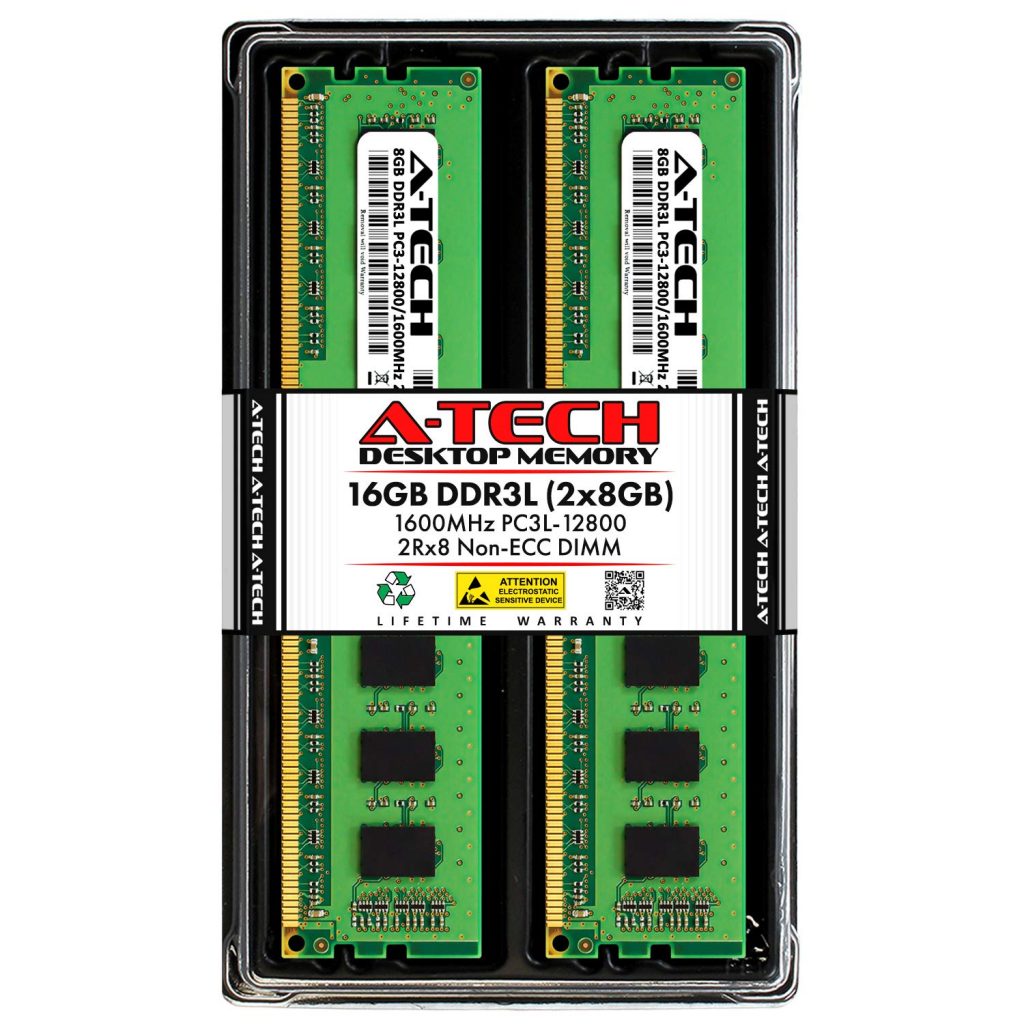 With so many great brands like Corsair, AData, and Crucial making the best RAM modules out there, going for a lesser-known brand might sound difficult. The A-Tech 16 GB DDR3 1600 MHz RAM Stick has received excellent reviews and the product is ideal for users with an old desktop PC that needs an upgrade. The advantage you gain is a much faster computer that is more responsive and can handle power hungry processes such as the Google Chrome browser.
Another advantage of going with this particular RAM is that its maximum speed is just 1600 MHz which is usually the default speed supported by most old motherboards. If you have an older PC it might be even slower but at the end of the day, there is no need to overclock or pay more for features that will never be useful for the average user. Besides, budget PC setup that still uses DDR3 technology or just as an upgrade the cost-effective solutions are the way to go. Make use of Speccy or other software to confirm if you have DDR3 on your current PC.
The product can support around 1.5V at its maximum capacity. Before you make the purchase, make sure your motherboard is designed for DDR3. The newer computers and peripherals all make use of DDR4 technology which is perfect for content creators and gamers. For everyone else, who just wants additional memory to speed up processes and have more memory space to work with, this should be an appropriate decision.
What Makes the A-Tech 16 GB DDR3 1600 MHz RAM Stick a Good Choice?
The memory is designed for DDR3 technology which is quite old now and is meant only for desktop PCs that need a quick upgrade.
A relatively lesser-known brand brings down cost but it doesn't compromise on performance and build quality.
Who Should Buy This?
Users who have old PCs that need an easy upgrade.
Anyone who has a DDR3 supported motherboard that needs the memory module to be increased for better processing.
See it on Amazon 
Best RAM for Gaming Laptops
Crucial Ballistix Sport LT 2666 MHz 16 GB DDR4 RAM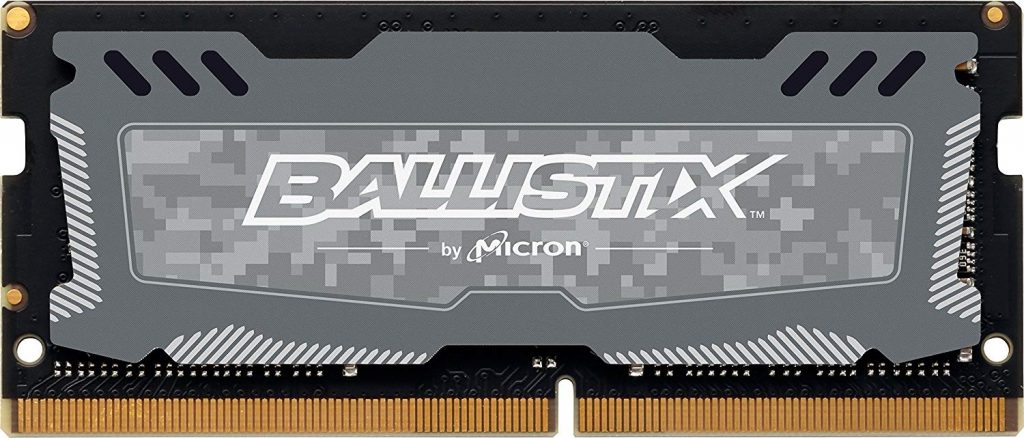 If you own a gaming laptop that runs on Windows 10, you are probably interested in pushing its performance to the peak level. The best possible way to do so in semi-modular devices is by installing more RAM and possibly an SSD or NVMe SSD to enhance their performance capabilities. This particular model comes from a renowned brand named Crucial and it also has higher clock speeds than the average variant pegged at 2666 MHz.
While DDR4 technology by itself is much faster and can accommodate more cores than the DDR3 variant, the Crucial Ballistix Sport LT 2666 MHz 16 GB DDR4 RAM is designed to further boost the performance. The integrated RAM can give your laptop a significant difference when it comes to handling video conversion, audio auditing, and most importantly, in your gaming performance.
The increased speed can be unlocked by overclocking your RAM from what the original clocking speed has been set at, for safety reasons. The model which supports Intel XMP 2.0 profile allows you to quickly configure it and make changes as needed. But to do so, your laptop should support the above functionalities. Most products from Asus, MSI, and other gaming laptops can support this overclocking feature.
What Makes the Crucial Ballistix Sport LT 2666 MHz 16 GB DDR4 RAM Ideal?
The product is ideally designed for gaming laptops
It will further enhance your performance, frame rate, and overall memory cache performance.
Who Should Buy This?
If you have a gaming laptop that can support DDR4 technology and needs a RAM upgrade, this should be right on point.
For gamers looking for good value for money. The Crucial brand is known for its consistent performance.
See it on Amazon 
Most Powerful and Elite Liquid-Cooled RAM Module
XPG Spectrix D80 Liquid-Cooled RGB DDR4 3200 MHz RAM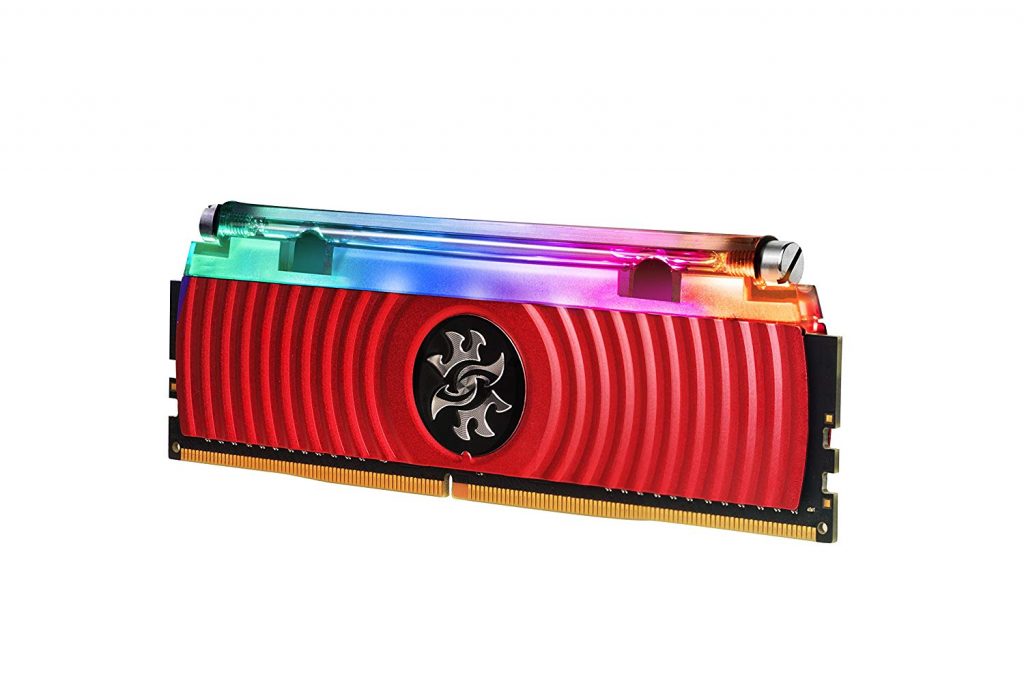 A RAM that uses liquid cooling technology? Probably you haven't heard of this because this is a niche market and itis one of the high-end modules that most gamers and content makers may not be aware of. But, the positive reviews and the amazing build quality of the XPG Spectrix D80 Liquid-Cooled RGB DDR4 3200 MHz RAM stands proof to its claim.
The 3200 MHz speed is one of the highest possible numbers and to make use of it completely, you should have a motherboard capable of handling overclocked memory modules. Besides, there is also a debate on Intel versus AMD to find the best chipset that makes use of high-speed memory sticks. AMD is at the winning edge now but you can use this RAM on both processors with compatible motherboards.
The product is equipped with a 10-layer PCB adding extra protection like no other brand available out there. The expected integration of RGB lights and the ability to control them using an app is provided. It makes it easier for gamers who are going for a setup that has a specific lighting system. The RGB lights can also be controlled with most motherboards out there as the app is usually compatible.
What Makes the XPG Spectrix D80 Liquid Cooled RGB DDR4 3200 MHz RAM Elite?
The RGB lighting and the implementation of liquid-cooling in a RAM makes it an elite solution.
The 3200 MHz memory clock speed makes it an easy choice for people who love to overclock.
Who Should Buy This?
For gamers who like to have liquid-cooling because of massive overclocking abilities, this is a great choice.
This is probably the best RAM for users who love RGB besides being able to enjoy maximum clock speeds.
See it on Amazon 
Bottomline
A PC Builder, be it for gaming or video editing, would know the importance of having the best RAM to support their passion. There are different memory speeds available ranging from 1600 MHz to 3200 MHz. You will also find products that are much faster or slower, designed for specific purposes. The laptop RAM modules are an entirely different area where compatibility is much more difficult to deduce when compared to desktop memory sticks. Despite all these variations, it is a fun and rewarding experience when you can build your budget or high-end gaming PC or a computer for content creation. It requires at least 16 to 32 GB of RAM to handle multiple plugins or fast gaming processes without any lag. Besides, overclocking is a different topic to understand and master through experience that some of the elite AData, HyperX, Crucial, or Corsair RAM models can support. The motherboard, when compatible, can do wonders in terms of performance while you can also upgrade existing PCs with increased RAM sticks.