Featured in this article (opens in new tab)
Summary –
As better and powerful computers emerge, computer games have evolved too. The evolution of the latter has been so great that separate consoles meant solely for gaming came about. X-Box, PS4, and Wii are but some of the consoles that have been around with which you can enjoy a good game. The graphics in games have advanced so much that games have become life-like. Several games have shown trending advancement in sound effects too. You need to have a good headset to enjoy all the amazing sound effects that the latest games come with. To listen clearly or interact with fellow players during a game using a microphone, you need the best PS4 headset if you want to get all the flavors of the game.
See also: Best gaming TVs
Best PS4 Headset
Best PS4 Headset for an Immersive Gaming Experience
RUNMUS Gaming Headset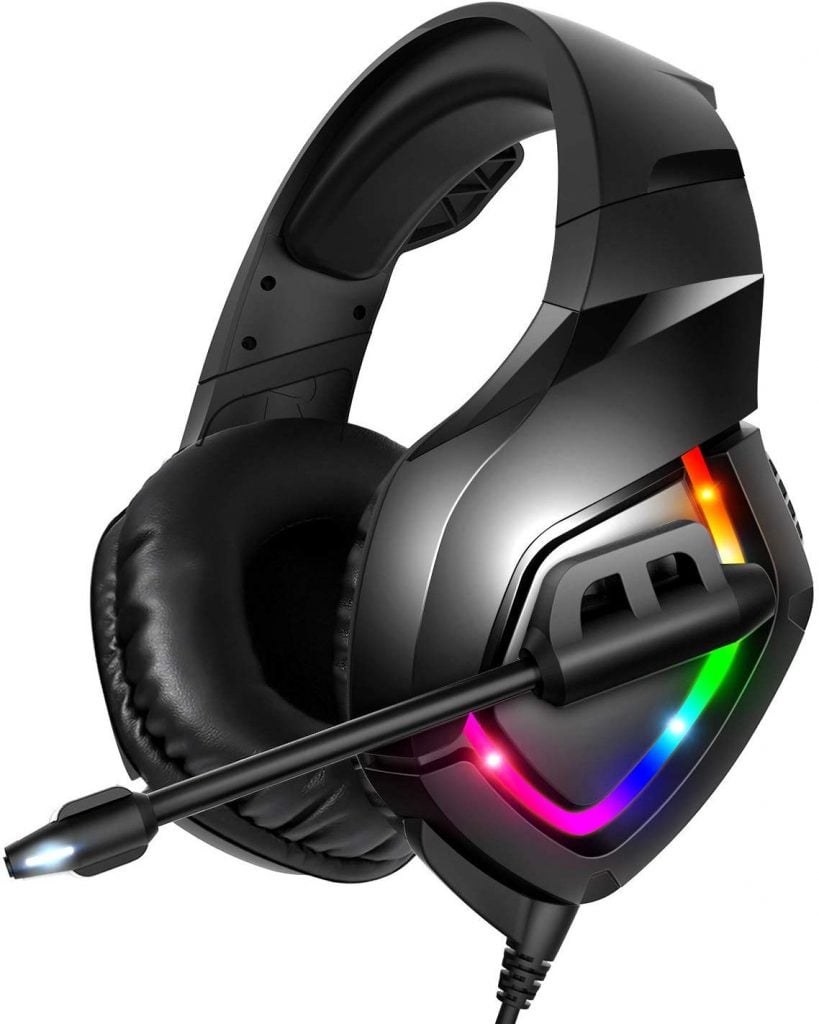 The choice of a headset should be such that it represents the energy that a game conveys. The RUNMUS Gaming Headset scores major points in this respect with its sleek, back design and RGB lighting features. This is a headset that can create the perfect gaming atmosphere for you. It has neodymium magnets in each of the ear cups that can create an excellent and vibrant 7.1 surround system for you. You can hear even the lowest of the sounds in the game you are playing with this wonderful headset.
This amazing headset features a 3.5mm jack that can fit into a PS4 easily. The 3.5mm jack offers versatility with this headset- you can easily attach it to most media and computing devices such as smartphones, PCs, laptops and other gaming consoles and have an effortless sound transaction. The cups are layered in a soft leather-like material that fits over your ears comfortably. Outside noise is cut off due to this leather-like layer and you can go on using this headset for a couple of hours without tiring or damaging your ears. When you connect the USB cable, the RGB lighting comes up and creates the perfect ambiance for a great gaming experience. This headset comes with a wonderful microphone. It is ergonomically designed and can be rotated along its axis up to 160⁰. Its efficient mechanism catches sound at 360⁰ and has enhanced noise cancellation features so that you can speak effortlessly over the mic without having to repeat yourself all the time.
Who should buy this?
This is a great choice for people who are using different setups for different purposes but would like to have a grand audio experience at all times. It is the perfect personalized headset to play games over a wide variety of appliances.
Best PS4 Headset Equipped with Comfortable Memory Foam
RUNMUS Stereo Gaming Headset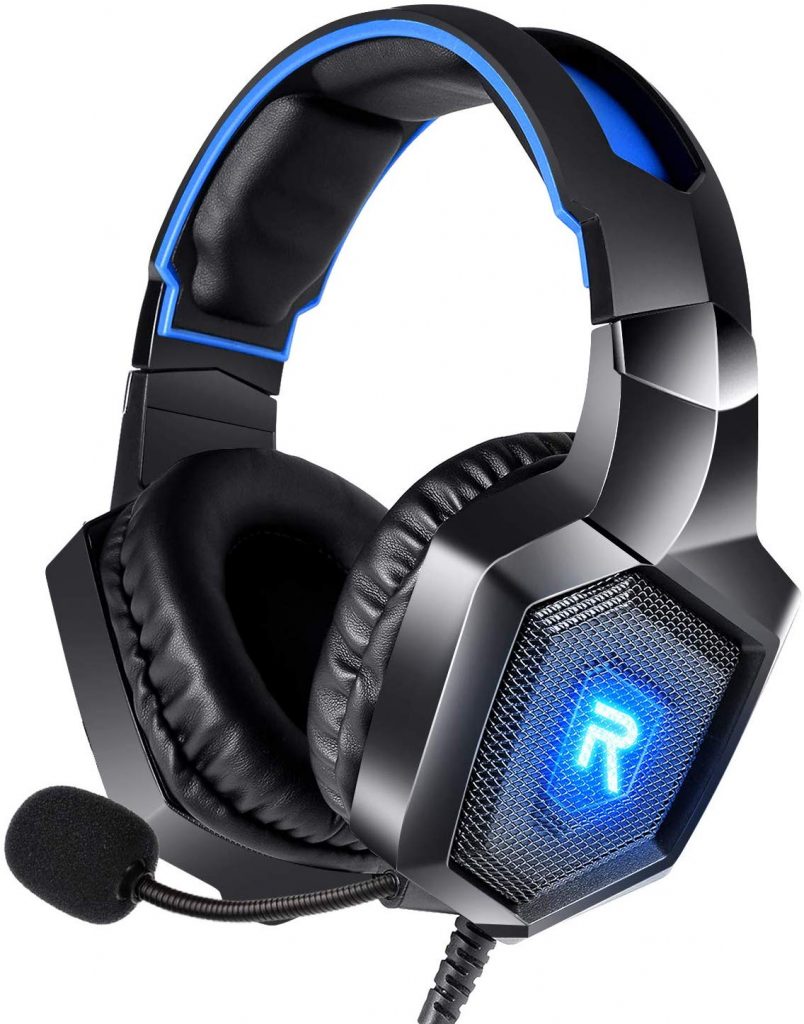 If you are looking for a wonderfully crafted headset that will give you a great experience of gameplay, you can try the RUNMUS Stereo Gaming headset. It is equipped with a 50mm audio driver system in each of the cups which efficiently delivers crystal clear sound throughout the game. It is stylishly designed to give you the feel of a terrific game! The surround sound experience is unmatched and is pivotal in bringing the game to life. Even the minutest sound will not go unheard by you with this amazing new headset from RUNMUS.
The best feature of this headset is the superior design. It is ergonomically crafted to give the user comfortable gaming experience. The headband is covered in a foam-like material to comfortably rest atop your head. The ear cups are designed from the latest memory foam material to softly rest on your ears. You can go hours with this headset without tiring your ears. All the material used to craft the headset is low in density which makes it ultra-light at only 12 ounces. Another desirable feature that you get with this headset is that it supports a range of devices. Various gaming consoles like the PS4, PSP, Nintendo devices, etc. run smoothly on this headset. Devices such as the PS3 and X-Box One can also run on this headset using an adapter. You can also connect it to your PC or laptop for regular entertainment options such as watching a movie or listening to songs. The microphone attached to the headset is highly efficient and has noise-canceling properties to deliver crystal clear sound at all times.
Who should buy this?
Those who like to enjoy gaming for long hours and do not wish to damage their ears can depend on this ultra-light gaming headset for a lively, tireless experience.
Best Wireless PS4 Headset
Turtle Beach Stealth 600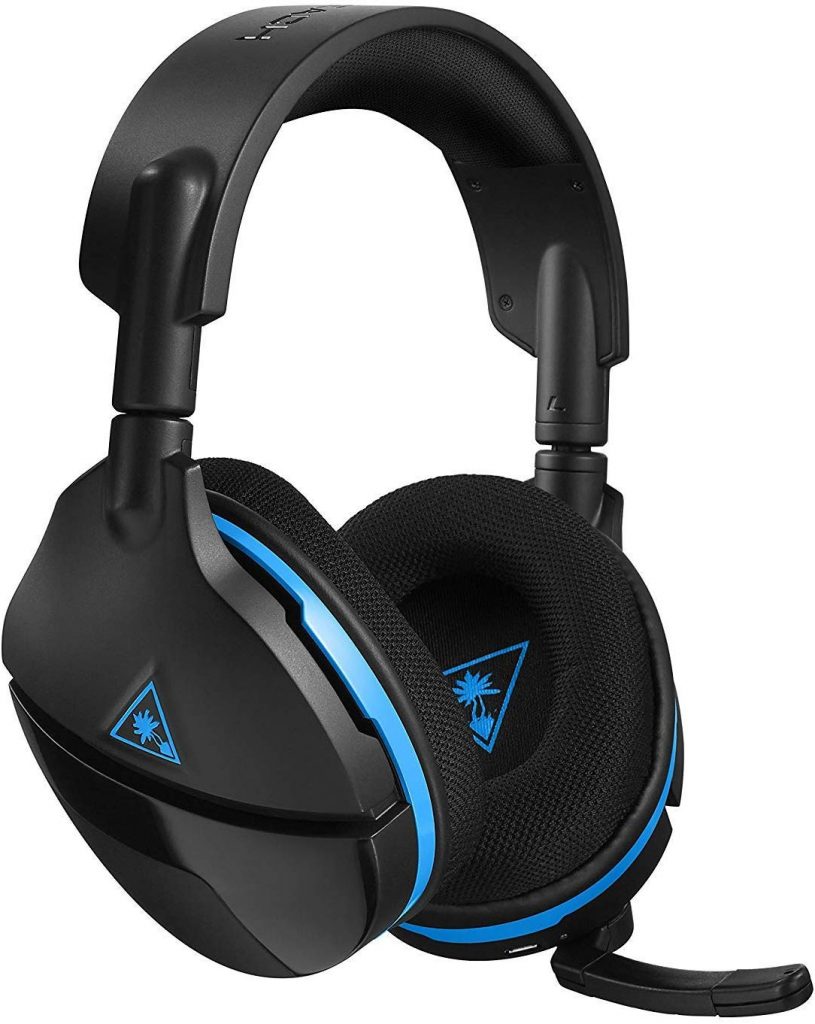 The idea of going wireless when you are playing games is great! It introduces mobility while you are playing, which enhances your game playing experience. It would be better if the audio quality is not hampered with the wired connection. You can get the best of both worlds with the exciting new Turtle Beach Stealth 600. Turtle Beach is a reputed maker of computer paraphernalia and this amazing headset makes use of channel hopping technology to ensure smooth transmission of sound through a USB adaptor. It is also paired with a powerful microphone that lets you have crystal clear chat options with other players in the games that support chat. Be it a game where you need to team up with others or a game where you go solo, start making the best strategies with this amazing headset.
The speaker cups are equipped with 50mm neodymium magnets which effectively translates the electrical signals into crystal-clear sounds. It is so effective that you will be able to listen to every little detail in virtual surround sound. This is a great speaker for PS4 not only for the intense clarity but it is loaded with other features too. The cushioned ear cups rest snugly on your ears. If you are someone who uses spectacles, you won't have any problem as the ergonomic design does not put any pressure on your spectacles. This headset will respond to every sound in the range of 20 Hz to 20 kHz. You can easily use the headset for long hours of gaming with its strong 900mAh battery.
Who should buy this?
Those who are looking for a well crafted wireless option that will deliver very clear and crisp sound can benefit much from the exceptional Turtle Beach Stealth 600.
Best PS4 Headset with Noise Cancelling Microphone
PlayStation Gold Wireless Headset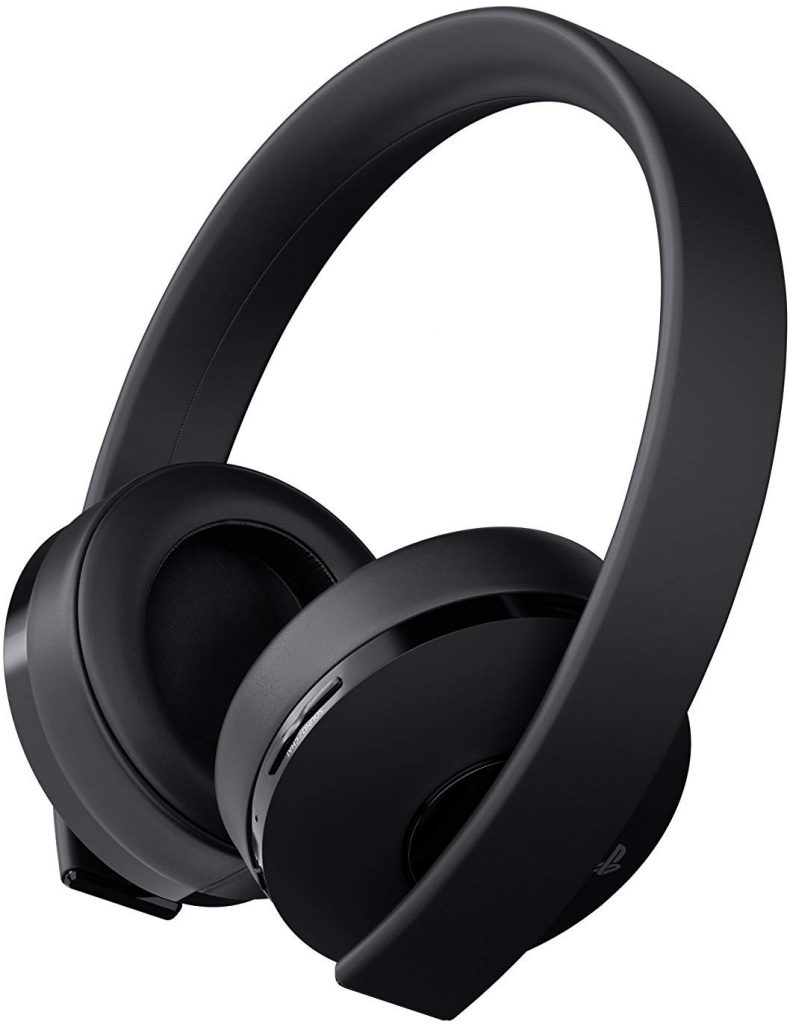 When you are looking for a headset that will go with your PS4, you just cannot miss the headset crafted by PlayStation. It is simple in design but quite effective in its features. It is bound to go very well with your PS4 device because it is crafted for that purpose only. Once you have equipped your console with this headset you will be blasted by the amazing 7.1 surround sound system. It will cut off all outside noise and transfer you to the world of the game. The sound clarity is so perfect that you can even listen to the whispers, your enemies treading on dried leaves or reloading and so on. You also have the provision for enhancing the quality of sound. All you need to do is download the Headset Companion App for PS4 and you will be taken to a world of custom-made audio modes. These modes will go on to enhance your audio experience with this headset.
The headset features a very simplistic design. It is well padded and can be easily put on or removed. It is well padded in the ear cups so that you can leave it on your ears for a long time without any difficulty. It is such a handy device- you can go entirely wireless with this headset or you can connect an AUX cable to this device according to your convenience. The microphone is also quite good and has noise-canceling capabilities. You can interchange the faceplates installed in this headset for something different, something more at par with your personality. This headset was crafted keeping in mind PlayStation VR and to give the user an exceptional experience with it.
Who should buy this?
If you are looking for a simple and comfortable headset that will give you great sound quality and is a product that can be trusted upon, the PlayStation Gold Wireless Headset can do wonders for you.
Best PS4 Headset with In-Line Audio Control
HyperX Cloud Headset for PlayStation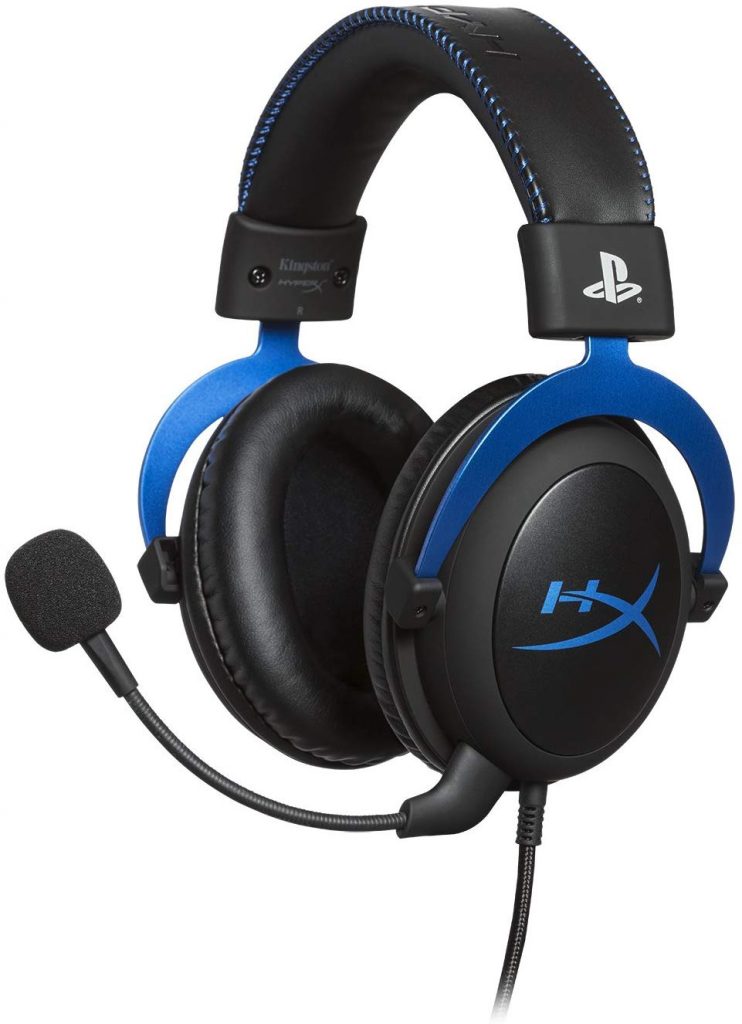 A great headset is not only determined by the quality of sound it produces but also by its compatibility with systems and its convenience of use. In this regard, the HyperX Cloud Headset is a major player. It is a headset that is certified by PlayStation to go with the PS4 and is loaded with all the most amazing features. The thing that sets it apart and makes it so user-friendly is the excellent in-line audio control panel. With this setup, you can turn the volume up or down directly from the headset without having to go into game settings. You can also mute the sound for a while if you want to directly talk through the headset. It runs via a 3.5mm jack that gives it immense versatility and the ability to be connected to multiple devices, other than PS4.
The hardware in this headset is great. It makes use of 53mm drivers in the ear cups to reproduce high-quality sound. The bass, the low tones, all of it is reproduced as if in real life and not through a game. You get the perfect ambiance needed to play an immersive game with these headsets on. It is not at all mean to your ears. The cups are layered with memory foam material. This ensures that you can keep this headset for long hours without causing discomfort to your ears. It matches the contour of your ears and gives you an amazing user experience. You also get a great microphone with this headset. For games where the microphone is unnecessary, you can remove it and keep it aside. It is digitally enhanced and is equipped with noise-canceling technology.
Who should buy this?
Do you want a headset with a detachable microphone to aid you in games that do not require chat? Or do you want a headset that can sit on your ears for a long time without causing discomfort? Get the HyperX Cloud Headset for PlayStation today, to get a taste of both worlds.
Best PS4 Headset with 160⁰ Rotating Microphone
Beexcellent PS4 Gaming Headset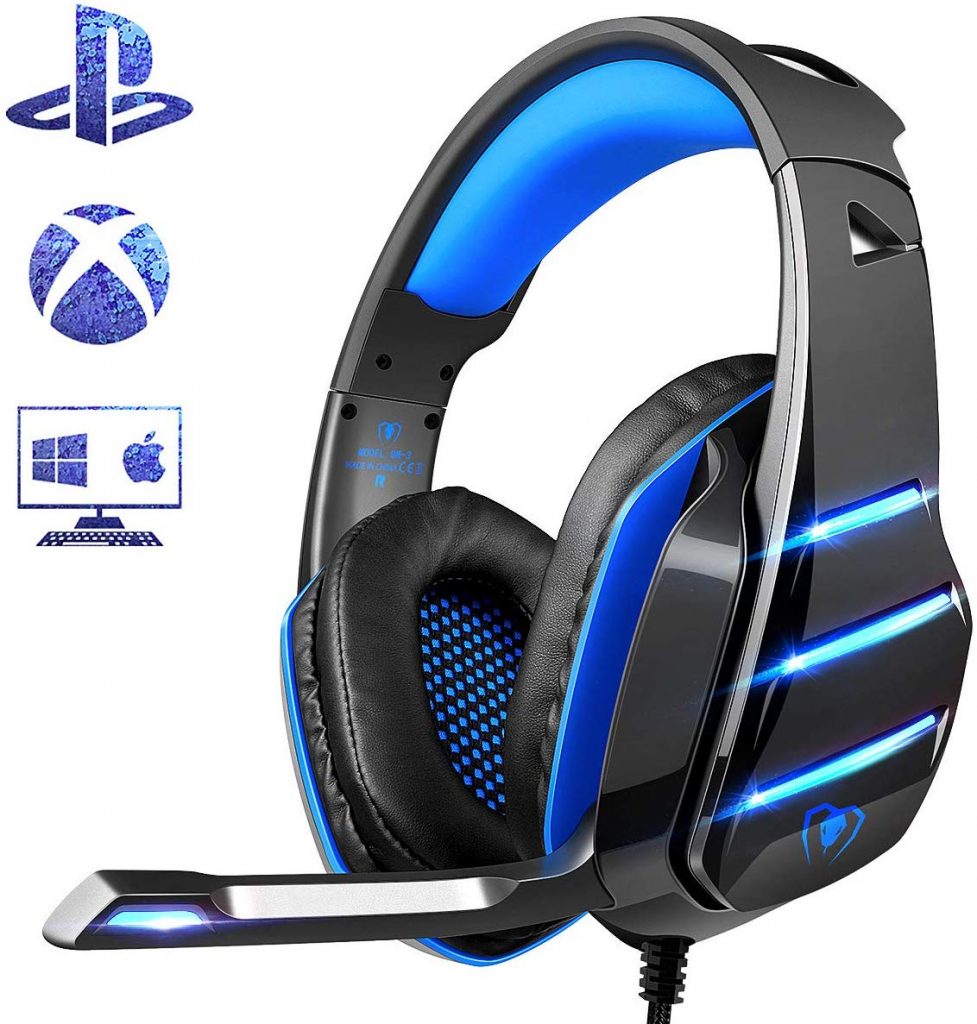 Gaming headsets should be loaded with the most innovative features to ensure a seamless and great gaming experience. When you are choosing the Beexcellent PS4 Gaming Headset, you are indeed making an excellent choice. This is a great headset with amazing features equipped to bring any game to life. Be it an FPS or a racing game or a game where you will be living someone else's life, listening to even the minutest detail is of utmost importance. The 40mm neodymium driver on each of the ear cups in this headset makes it possible to pay attention to every small sound and every tremendous boom.
When you are using this headset you also get to use the wonderful microphone attached to it. The microphone can rotate by 160⁰ to give you the perfect position for a seamless conversation. The microphone has noise-canceling features so that the outside noise can never hamper your in-game chats. Ear cups are lined with protein leather ear pads. These are breathable materials that will keep your ears cool and comfortable even after a long time of use. The ear cups fit your ears perfectly and the soft lining material prevents it from causing pain on your ears. This padding also helps you to get rid of any surrounding noise and gives you grand gaming experience. The headset will run via a 3.5mm jack. This feature gives it great versatility. You can run this headset in most of the devices around you, be it a PC, laptop or a Macbook or different gaming consoles or even your smartphone. The 3.5mm jack is a universal tool that fits all these devices. However, some devices like the PS3 or the X-Box 360 are incompatible with the 3.5mm jack.
Who should use this?
Those who are looking for a headset that they can efficiently use for gaming purposes but can also run in other devices for media and entertainment purposes will love to have the Beexcellent PS4 Gaming Headset.
Best PS4 Headset with 49" Cable
BENGOO G9000 Stereo Gaming Headset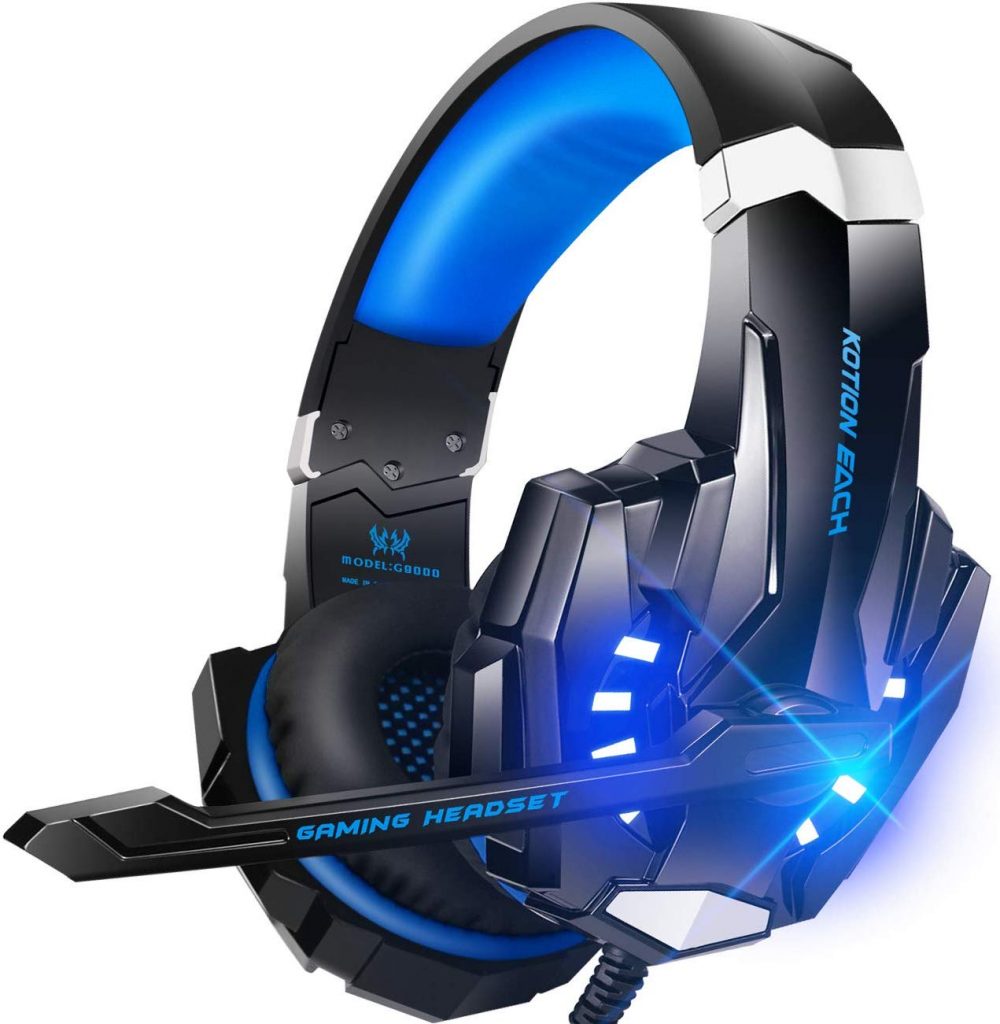 A gaming headset should reflect the intensity of a game. It should be stylish, it should be chic, and it should be equipped with hardware features that produce excellent sound. Technology nowadays has come a long way and you will find a trendy, power-packed headset in the BENGOO G9000. Once you have put this headset on, you will be transcended to a different world altogether. It has excellent hardware specs that are substantial in bringing the latest games to life. You can connect to your PS4 or any other device supporting a 3.5mm jack, this headset is paired with an extra-long 49″ cable that gives way to seamless gaming experience without ever having the wires entwine one another.
The headset reproduces crystal clear sound through neodymium sound drivers. Each ear cup has a 40mm driver that produces some of the most realistic sounds from the game. The over-ear protein leather pad makes the experience even better by blocking any external sound. It is soft and good to the ears and the breathable material prevents any irritation to your ears even after long hours of using this headset. The microphone extends out in front of you and can be rotated to suit your needs. It is omnidirectional and receives all the sound signals from you. The noise-canceling feature is great and makes way for clear chats with your partners in a game. You can control the sound settings through the headset – increase or decrease the volume or even mute it if you want to.
Who should buy this?
Those looking for a headset that will snugly fit over your head and be comfortable to your head and ears, even after long hours of gaming can benefit from this carefully crafted headset from the house of BENGOO.
Best PS4 Headset with Powerful Audio Drivers
PeohZarr Gaming Headset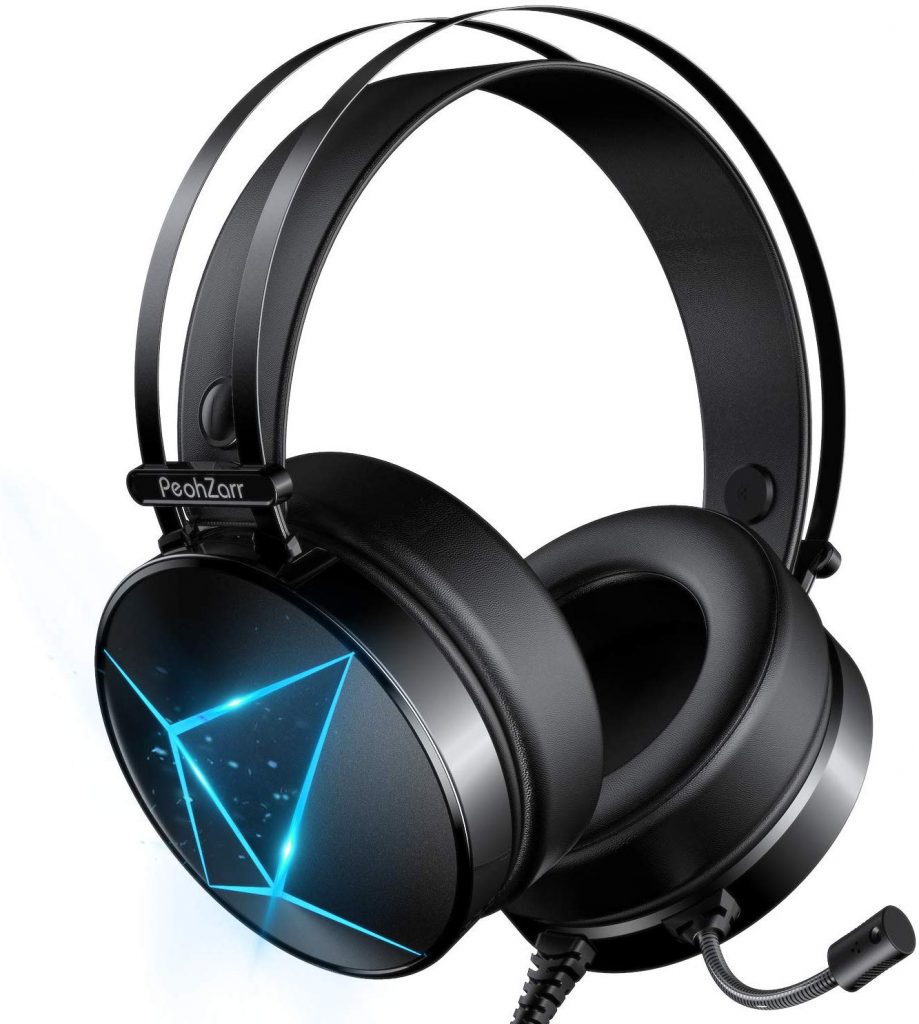 The PeohZarr Gaming Headset for PS4 is a great choice as far as headsets go. It comes in a sleek, black body etched with turquoise LED lights that successfully create the gaming ambiance. With this headset to help you, you will never lose a game because it gives you a crystal clear sound of whatever is going on in the game. The lightweight body is comfortable to use for long hours and the well-padded ear cups do not cause any problem. The PeohZarr headset welcomes you to a brand-new world of 7.1 surround sound for the most immersive gaming experience ever. The powerful 50mm drivers made from neodymium magnets, in the ear cups, helps in delivering crystal clear audio.
The ear cups are made from protein leather pads that are breathable. It induces airflow to your ears keeping it cool and free of irritation even after prolonged use. The high-quality material ensures the long life of the headset. It runs via a 3.5mm jack. This means that you can pair this headset to any other device such as laptops, PCs, smartphones and even other gaming consoles to have a great time! The microphone equipped with his headset features noise cancellation functions. It will cancel out any ambient noise and will deliver your voice over a chat clearly. This makes conversation with your gaming partners very easy.
Who should buy this?
Those who would like to have an excellently crafted headset with a stylish body and superb sound quality will find the PeohZarr Gaming Headset to be a perfect choice.
Best PS4 Headset with a Wired Connection
SteelSeries Arctis 1 Wired Gaming Headset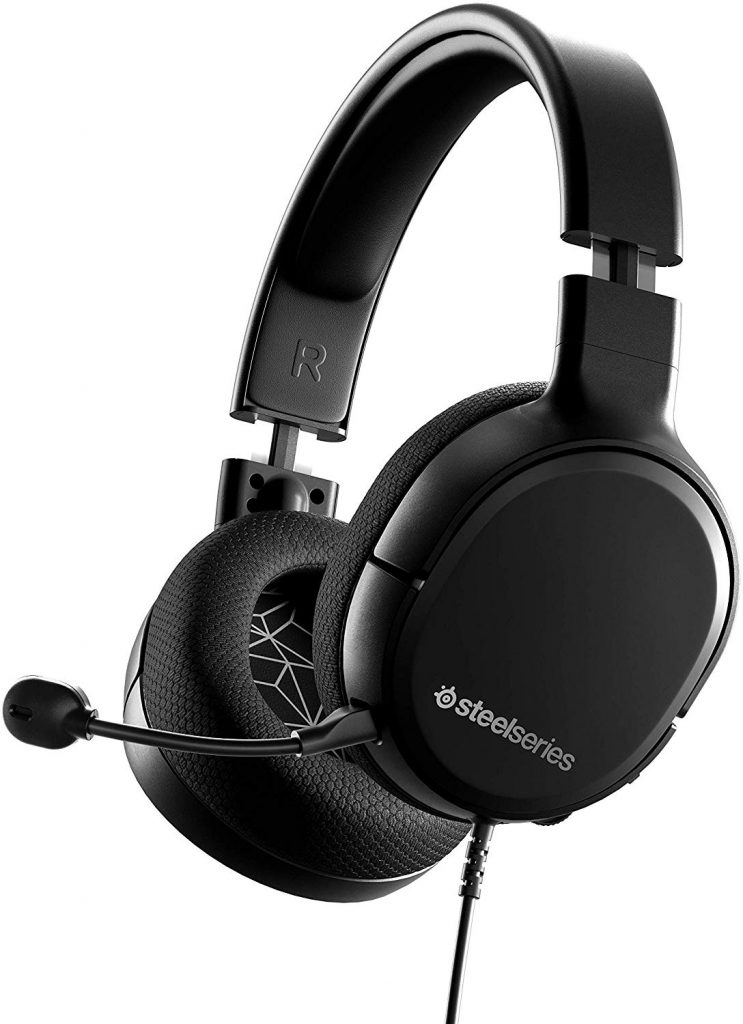 There are two types of headsets to choose from when you are going for gaming headsets- a very chic looking one ora sturdy one. The SteelSeries Arctis 1 belong to the second category. It is one of the best headsets you will ever find. It does not come with a flashy design and LED light options but it does come with a very sturdy design that ensures your headset will last for years. The headband in this headset is reinforced using steel. This keeps the device light yet strong and therefore less likely to get damaged from the occasional rough handling.
SteelSeries is a renowned name in this circle and the Arctis 1 is a headset loaded with the best features. It is connected using a 3.5mm jack. This enables the headset to be used in multiple platforms- PCs, laptops, smartphones, and other gaming consoles. PS3 and X-Box 360 are perhaps the few platforms that will not support this amazing headset. The audio quality of the Arctis series is too good and gives the user a balanced yet realistic gaming experience. Arctis ClearCast microphone is installed in this headset equipped with a bi-directional feature. This is a premium microphone that substantially reduces noise from ambient sources and delivers your voice so perfectly that your gaming partners are bound to think that you are all in the same room! The ear cups are very comfortable and come with the latest air-weave technology, they are very soothing to your ears. You can continue playing for long hours without feeling that the ear cups are a burden on your ears.
Who should buy this?
For those who are willing to spend a good deal of money for a premium quality headphone that does not really look good but carries out the functions better than most, the Arctis 1 from SteelSeries is a sure shot choice!
Best PS4 Headset with Durable Braided Cord
Beexcellent Deep Bass PS4 Headset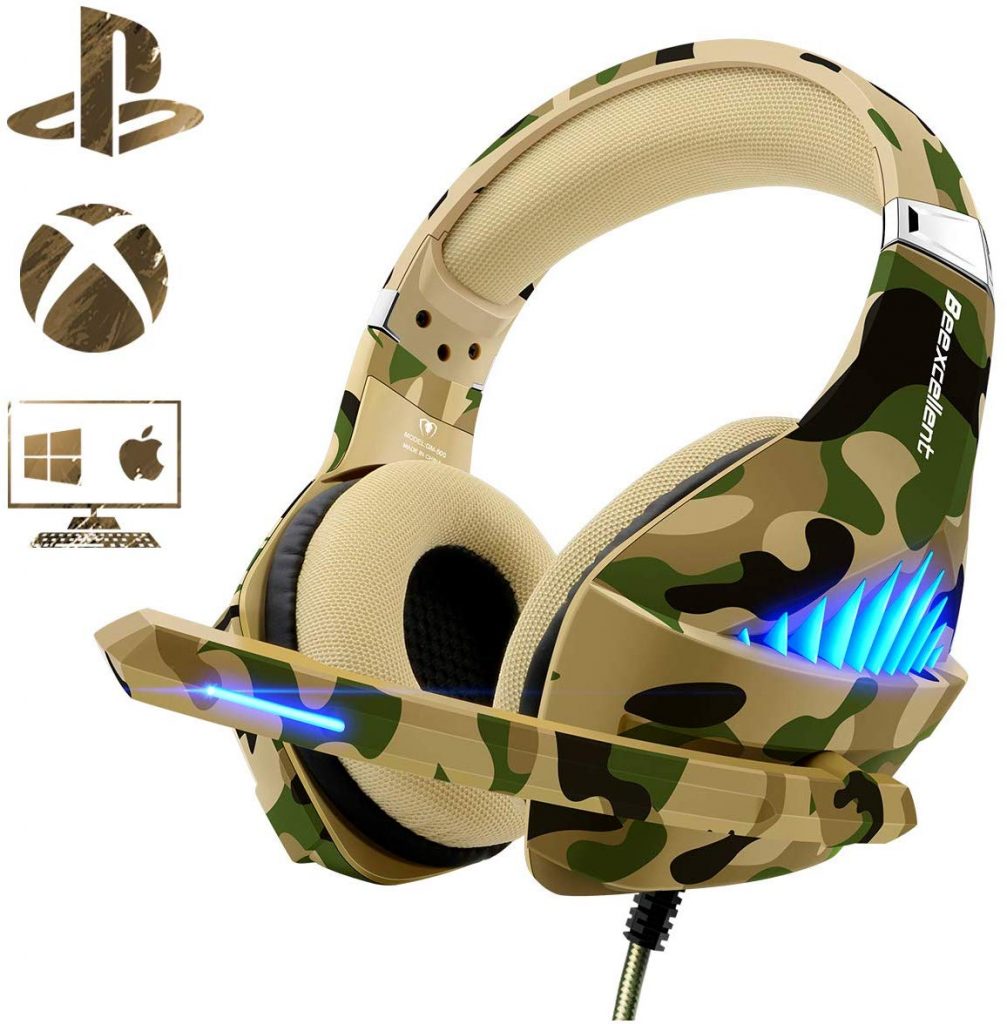 You will find many headsets if you make an online search. Some of them are great while others are not so good. You will also come across headsets belonging to different price brackets. Most of the headsets that you come across have one major problem- the cord attached to the device is delicate and prone to damage after repeated use. With a broken or damaged cord, the entire headset becomes useless. If you were to choose the Beexcellent Deep Bass PS4 Headset, you could easily go around this problem. This headset is equipped with a braided design. This makes the cord very strong and enhances its durability. You will finally get a cord that will not break easily and will support your gaming experience for a long time.
The other features loaded in the Beexcellent Headset are quite similar to most other Beexcellent products. It is designed to play all kinds of FPS, RPG and all other kinds of games such as PUBG, COD, CS, God of War and so on. The 50mm drivers do a commendable job in maintaining the high-end audio quality and provide surround sound to help you attain a lovely gaming experience. You can control the volume using designated buttons and can even mute the headset at just the click of a button- it's that easy! The omnidirectional microphone has enhanced noise-canceling capabilities and can be angled to meet the user's requirement. It cancels all ambient noise and delivers a crisp voice to your partners. The ergonomic design makes handling this headset easy while the 3.5 mm jack gives this headset a unique versatility. You can enjoy the benefits of this headset in most of the tech devices that you come across regularly.
Who should buy this?
If you are tired of having their headset or headphone cord break after just a few months of use, it is time to shift to a brand with a braided cord as provided by the Beexcellent Deep Bass PS4 Headset.
Best PS4 Headset with Versatile Compatibility
NUBWO Gaming Headset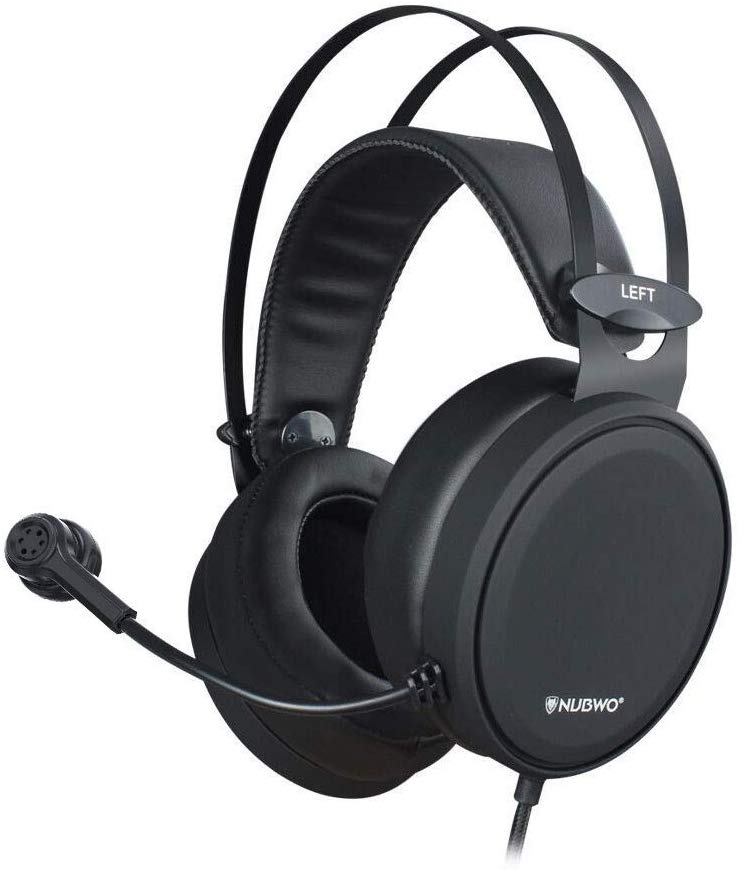 Getting a headset is easy but getting the right headset is a difficult thing. With the NUBWO Gaming Headset round the corner, you can, however, make no mistake in getting a great headset for your gaming device. The NUBWO can be paired to your PS4 using a 3.5 mm jack. It can also be connected to a variety of other devices to enjoy your music, movies, TV series as well as games. You can even connect this device to Xbox One or the PS3 by using the correct adapter. It is a comfortable partner for all your headset needs thanks to the great design.
You can immerse yourself in any game with this excellent headset powered by 50mm drivers in each ear cup. The strong magnets efficiently convert the electrical signals to crystal clear sound and give you a realistic experience with whatever game you are playing. The experience is enhanced further by the exceptional microphone attached to this headset. It is omnidirectional and has noise cancelation facilities, which means that it never fails to collect your voice but never carries ambient noise to your gaming partners. The buttons allow you to control the volume from the headset and a mute button enables you to mute the microphone when not in use. Ear cups are lined in leatherette material which gives a soft and comfortable base to rest your ears so that they do not tire even after a long time of use.
Who should buy this?
Those who enjoy long hours of gaming and need a headset with comfortable, soft ear cups with a padded headband to prevent fatigue can rely on this wonderful headset from the house of NUBWO.
Best Ultra-Light Weight PS4 Headset
Combatwing 7.1 Surround Gaming Headset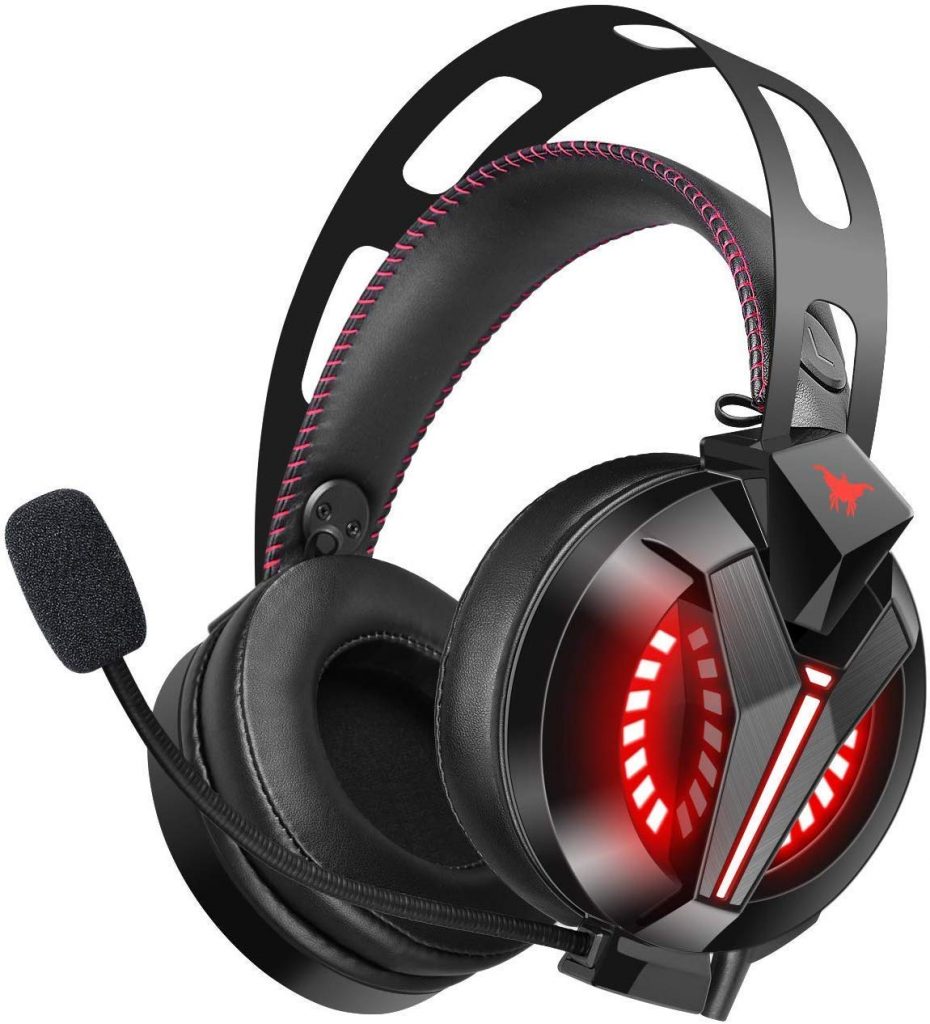 The Combatwing Gaming Headset is a funky device that is meant to give you the most realistic experience while you play a game. The latest games have high-end graphics and audio quality and you need the best headset to reap the most of benefits out of it. The excellent 50mm audio drivers loaded in each of the cups in this headset helps to deliver excellent sound quality. You can jump between 20 Hz and 20 kHz with this headset with an audio sensitivity of 94 dB. The audio drivers work tirelessly to give you a 7.1 surround sound experience while you are immersed in your game.
The headset is powered by a 3.5 mm jack that is supported by PS4 and most other devices out there. For older versions of Xbox One, you will need a separate Microsoft adapter and then this headset will work just fine. This headset is crafted from the most durable and the lightest materials and it weighs only 1.3 pounds. You can wear this headset all day and still not feel the strain of it on your head and ears. The well-padded ear cups and the headband enhances its use and gives you comfort without causing fatigue to your ears from overuse. The headset prevents loud sounds from damaging your ear. The reliable microphone is highly sensitive and easily picks up your sounds. The microphone is designed to not take up any ambient noise and give you noise-canceling effects for the enhanced gaming experience.
Who should buy this?
If you are someone who needs to put up the headset throughout the day for gaming or because your job demands so, you should go for a lightweight choice with superior audio properties such as the Combatwing 7.1 Surround Gaming Headset.
Best PS4 Headset with 120⁰ Adjustable Microphone
Henscoqi PS4 Headset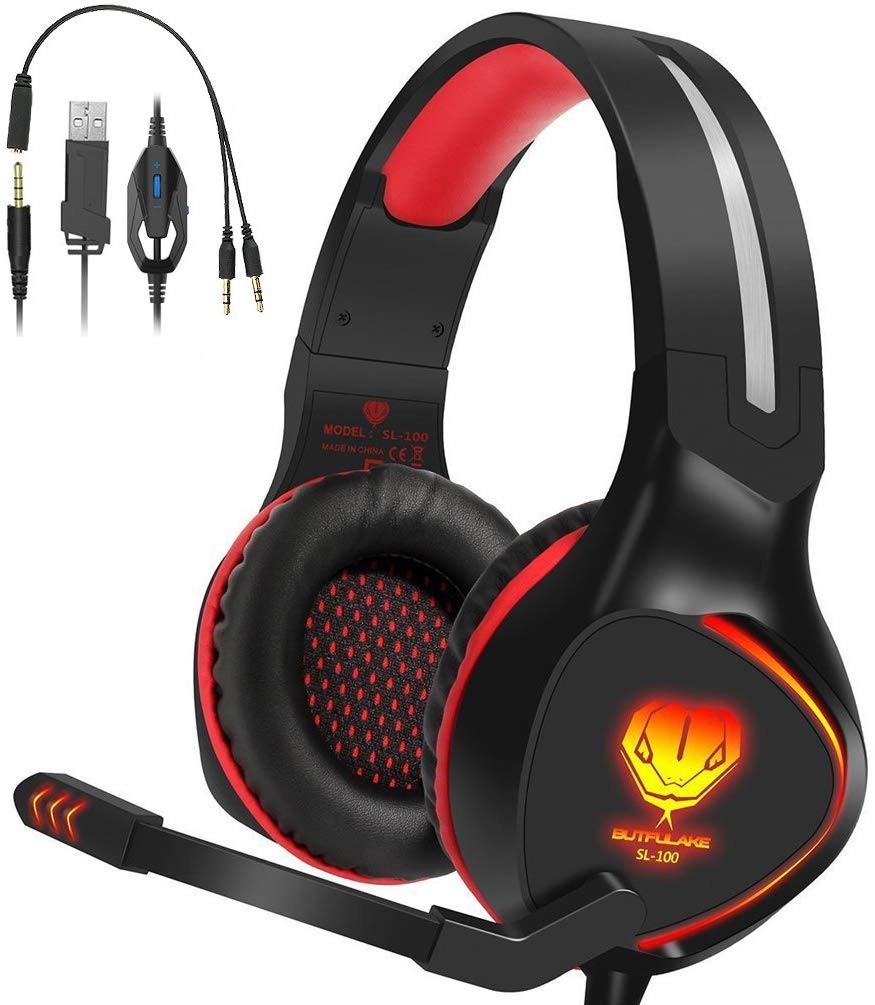 The Henscoqi PS4 Headset is an amazing product to own. It is powerful and delivers perfect sound from games, that is felt during drastic and high-tension situations. The headset runs on powerful magnetic cores that impart high-quality sound through it. You can enjoy all genres of games with this headphone such as GTA5, COD, CS, World of Warcraft and so on. This stylish headset will get to be your best companion while gaming once you get to try all of its high-end features.
The headset rests easily on your head and over your ears. The padding in the ear cups makes sure that your ears do not fatigue from using this headset too long. It is always a snug fit because of the retractable design that enables you to size it according to your head. This also ensures that the headset aligns perfectly well and gives you the best of the gaming experience. The noise cancellation in this headset is also quite remarkable. The microphone will not yield to the surrounding noise but will surely deliver your voice clearly. It can also be pushed up or down to an angle of 120⁰ to arrange it according to your convenience. You can put the headset on for hours and forget about it because of its low weight. You can attach it to your gaming console through a 3.5mm jack that extends its versatility to a whole lot of devices!
Who should buy this?
If you want a headset that you can put on and forget about as you are fully immersed in the game you are playing, then the Henscoqi PS4 Headset is the device for you.
Conclusion
Gaming headsets are stylish and for hardcore gamers, a very important unit of hardware. The sounds of the game are part of the experience and better the headset, better will be the sound quality. However, spending an exorbitant amount on a headset is a foolish thing. You should compare different headsets carefully before making a choice. The best PS4 headsets are determined not by how they look but by the magnets that run them and deliver superb sound quality. If you find a headset with a very powerful magnet, go for it. Also, make sure that the audio jack is compatible with your device to get the best experience out of a headset.