Technobezz is supported by its audience. We may get a commission from retail offers
Microwave ovens have found their place in most kitchens these days. From making grilled chicken to reheating food that was cooked last night, it serves a variety
Microwave ovens have found their place in most kitchens these days. From making grilled chicken to reheating food that was cooked last night, it serves a variety of purposes and makes cooking a lot easier. It is also quite a safe way to cook food as it does not involve fire. If you are a novice and want to develop your cooking skills, this is a device that will guide you through the process. It makes cooking easy, fun, and healthy. Here we have compiled a list of the Best Microwave ovens that will help you with picking the right one.
See also: Best Toaster Ovens
Best Microwave Ovens
Best Budget Microwave Oven
Sharp ZSMC0912BS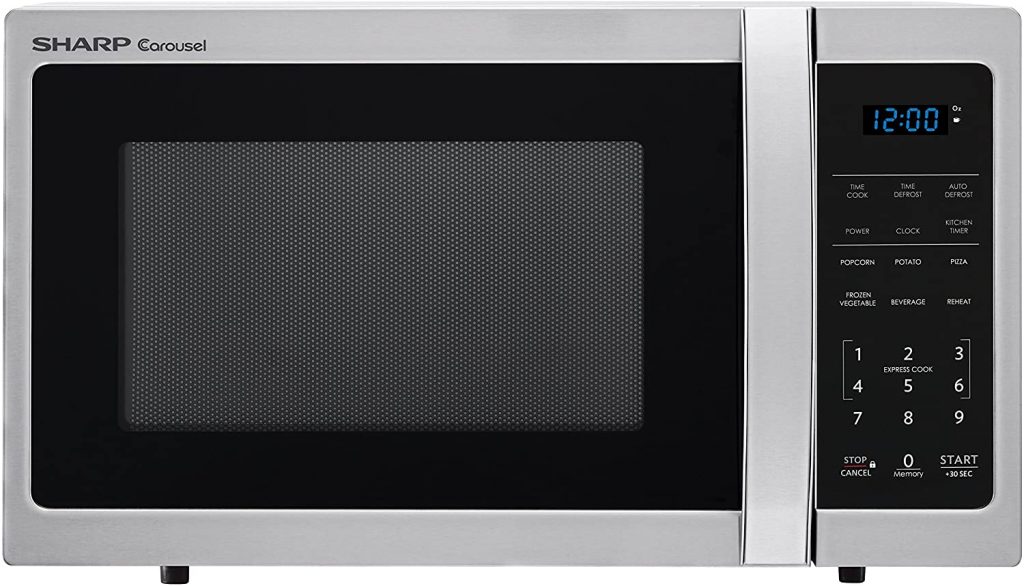 If you have already stocked up your kitchen with other new appliances and do not want to splurge on more, then the Sharp ZSMC0912BS is a good option for you. It is a budget-friendly device that is easy to use and performs all the basic functions expected of a microwave oven. It features a 900 Wmagnetron and 0.9 cubic feet interior. When it comes to size, it is smaller and more compact than most microwaves you will see in the market. Having said that, it is big enough to dish out snack items and cook other food materials in small proportions.
It is also a good microwave oven for people who are not too familiar with the latest technology and like to use a no-frills machine. If you made yourself a cup of coffee and missed out on drinking it immediately, you can heat it again easily. Put the cup inside the microwave oven and press the Express button. In 30 seconds flat, your coffee will be piping hot again. If you want to heat it further, repeat the same process. For someone who is learning to cook or bake, this is a good device to have by your side.
Who Should Buy This?
People who like an easy-to-use device should definitely go for this.
If you have a limited budget, this is the microwave oven you should invest in.
Best Microwave Oven for Large-Sized Families
GE Profile JES2251SJ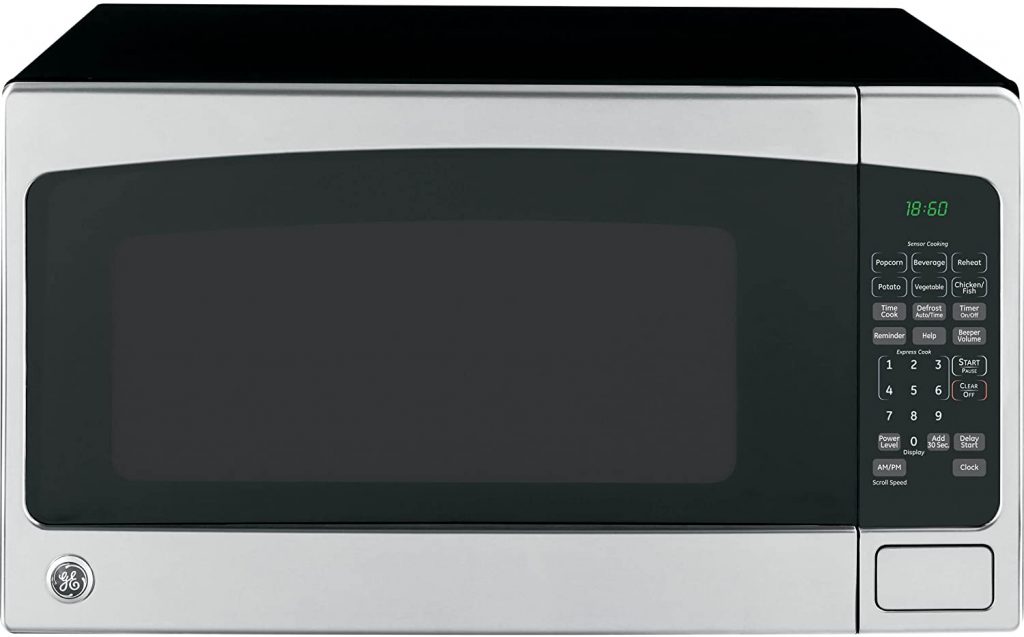 A big family will need a big microwave oven. The 2.2 cubic feet interior of this oven accommodates a large amount of food. A large-sized pizza would fit in easily, so would a large quantity of food which has been kept aside for reheating.
The interior of the microwave oven also features a 16-inch wide turntable which rotates when the food is being processed inside. The device runs on 1200 W of power and can heat or reheat large-sized dishes containing an enormous amount of food. Though large microwaves have the notoriety of not heating the food evenly, this one does not give you any reason to complain about the same. The food gets cooked up evenly, leaving no raw edges. The oven also has a sensor that lets you know when the food is ready.
Who Should Buy This?
It is the most appropriate microwave oven for large families.
Those who want to bake or cook in large utensils should definitely check this out.
Best Over-The-Range Microwave
Sharp R-1514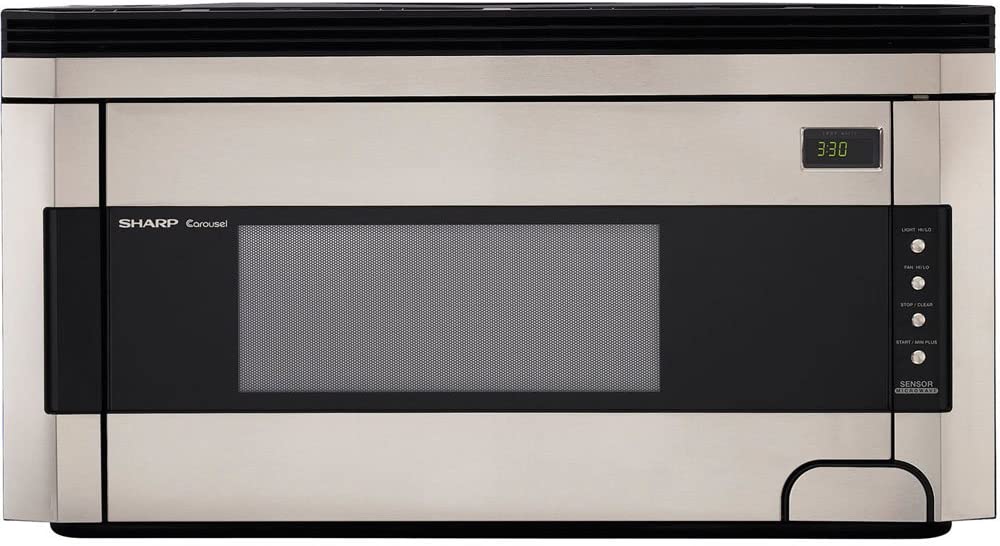 An over-the-range or OTR microwave blends the elements and features of a microwave oven with that of a range hood. This two-in-one device is designed to be set up over a cooktop or range. It comes with all the hardware that one requires to mount the microwave oven or install it. You get a ventilation unit and an oven in one machine. The Sharp R-1514OTR microwave fits easily over the cooktop and underneath the kitchen cabinets, saving a lot of counter space in the kitchen. It has a 1000W magnetron and an interior of 1.5cubic feet.
The Warm setting helps you prepare food at a temperature that heats it evenly. You get 19 automatic settings that enable you to cook a wide variety of dishes at the press of a single button. The keypad does not have a backlight feature, so it might be a little difficult to operate the machine in the dark. It also comes with a two-speed ventilation system that helps in circulating300 cubic feet of air per minute.
Who Should Buy This?
If you want a device that doubles up as a microwave oven as well as a ventilation unit, go for it.
Despite being a two-in-one device, it does not take up a lot of counter space and fits inside moderately-sized kitchens.
Best Smart Microwave Oven
GE JES1097SMSS Smart Countertop Microwave Oven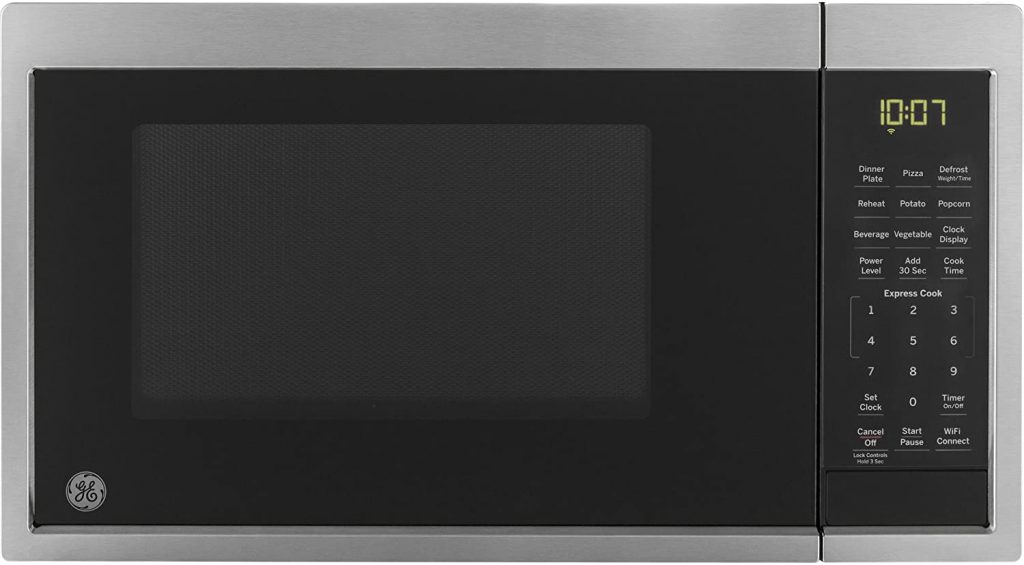 If you are well aware of modern microwave technology and looking for a smart microwave oven equipped with the most advanced technology, your search should end with the GE JES1097SMSS Smart Countertop Microwave Oven. This device is compatible with Amazon Alexa and you can control it without using your hands. Your voice is all that it needs to respond to. Apart from Alexa, it is also compatible with Google Assistant. You can command it using a Google Home speaker.
It runs on 900 W of power and is fast at cooking food as it is in reheating it. You can also operate the device by downloading the GE Appliances Kitchen app on your phone. The app boasts of some very efficient features including one called Scan-to-Cook. Scan the bar code of the food that you want to put inside the microwave. The app will take into account the code and program the controls appropriately. There are other features on the app which makes cooking on this device easier.
Who Should Buy This?
If you like using devices that are equipped with the most modern technology, this microwave oven is for you.
It is a good oven for those who like to have their food ready fast.
Best Budget Smart Microwave
AmazonBasics Microwave bundle with Echo-Dot (3rd Gen)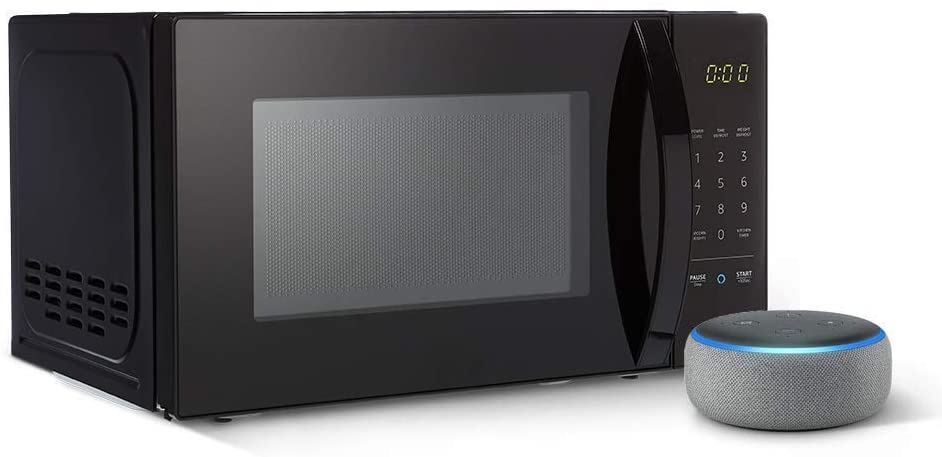 Want to buy a smart microwave oven but on a limited budget? AmazonBasics Microwave comes with some of the most modern features and controls. And, the best part is that it does not cost a bomb. It comes with the Echo Dot, a voice control feature. You need to press the Alexa button and give your voice instructions. Simple instructions like 'microwave for thirty seconds' or 'reheat the bowl' will get your job done. Every wish of yours, that you give voice to, will be its command.
One of its most unique features is the Auto Popcorn Replenishment. It keeps a count of the number of tubs of popcorn you have prepared using the device. Based on past data, it calculates your consumption and informs you when it's time to make more. The voice-control function has proved to work very well. The Amazon Alexa assistant understands and processes the information given to it very accurately. The presets, though, do not function as well when you put in large quantities of food inside the microwave. Some of its other features include a timer, child-lock, and 10 power levels.
Who Should Buy This?
It is a good device for people who want a budget-friendly, smart microwave oven.
If you are comfortable using Amazon Alexa, it should be very convenient for you to use this one too.
Best Microwave Oven with Smart Sensor
Toshiba EM131A5C-BS Microwave Oven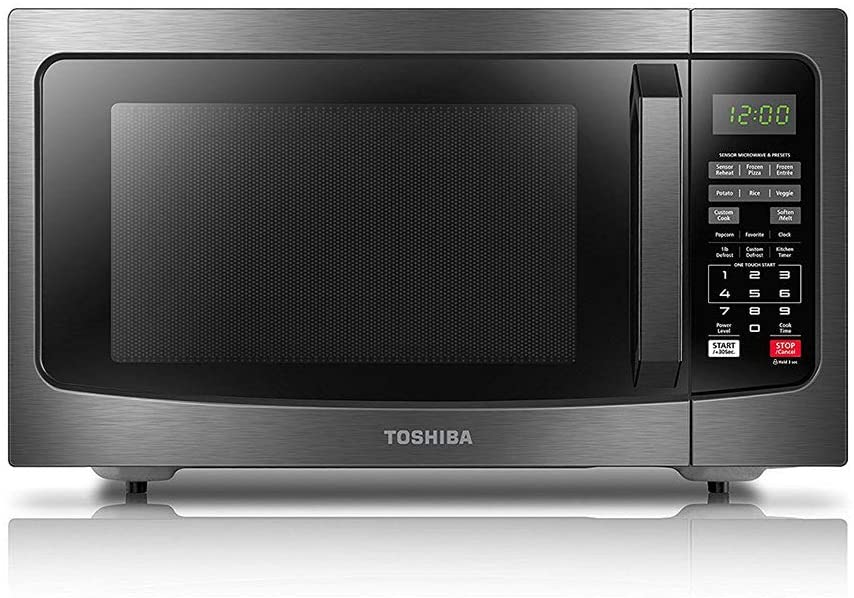 What is a microwave without a good sensor? Today, consumers do not want just a functional sensor. They like to have a smart sensor. It should be able to provide them with the most accurate information and assist them to use the microwave easily. The Toshiba EM131A5C-BS Microwave Oven is very efficient at cooking and reheating food. The best part is that it does all this without making much of a noise!
If you are averse to the kind of noise some microwave ovens make, then, this is a device you might like to use. It does its work quietly and its sensor gives you a heads-up when the food is ready. When you get hunger pangs late at night and want to prepare a quick snack for yourself, you do not have to worry about disturbing the people you share your home with. It runs on 1100 W of power and is very powerful and cooks large quantities of food evenly.
Who Should Buy This?
If you are looking for a sharp and efficient sensor, you should go for this model.
This will be a good buy for you if you are particular about getting your food cooked or heated evenly.
The Best Countertop Microwave Open
Farberware FMO11AHTBKB Stainless Steel Countertop Microwave Oven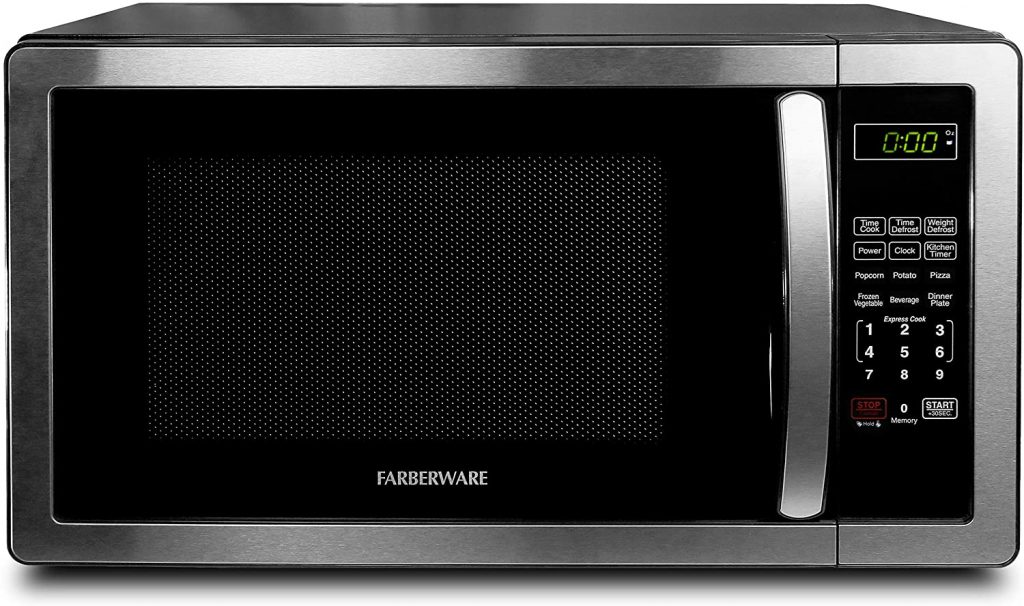 This microwave oven boasts of a sleek design and delivers the kind of performance that would leave you with very little to complain about. It has 10 power levels and a specialized memory function that saves your customized settings to be used later as and when you wish to. The digital interface is very easy to operate. It has a defrost control that takes time and weight into account while preparing the food. It features express cook buttons and six types of pre-programmed cooking functions which help in dishing out anything from popcorn to pizza to an elaborate dinner.
It has a multi-stage cooking feature which lets you adjust the power cycle while the cooking process is on so that you get the desired results. The device has an LCD screen that has a clock and kitchen timer. With an area of 1.1 cubic feet, it is quite spacious. As it runs on 1000 W of power, the food is cooked well and heated or reheated evenly. It is a wonderful, multi-tasking oven that adds a lot of value to your kitchen.
Who Should Buy This?
If you are looking for a countertop oven, this is the best you will get in this range.
People who expect their microwave oven to do multiple tasks at one time should try out this one.
Best countertop oven with easy-to-use features
Westinghouse WCMH900B Rotary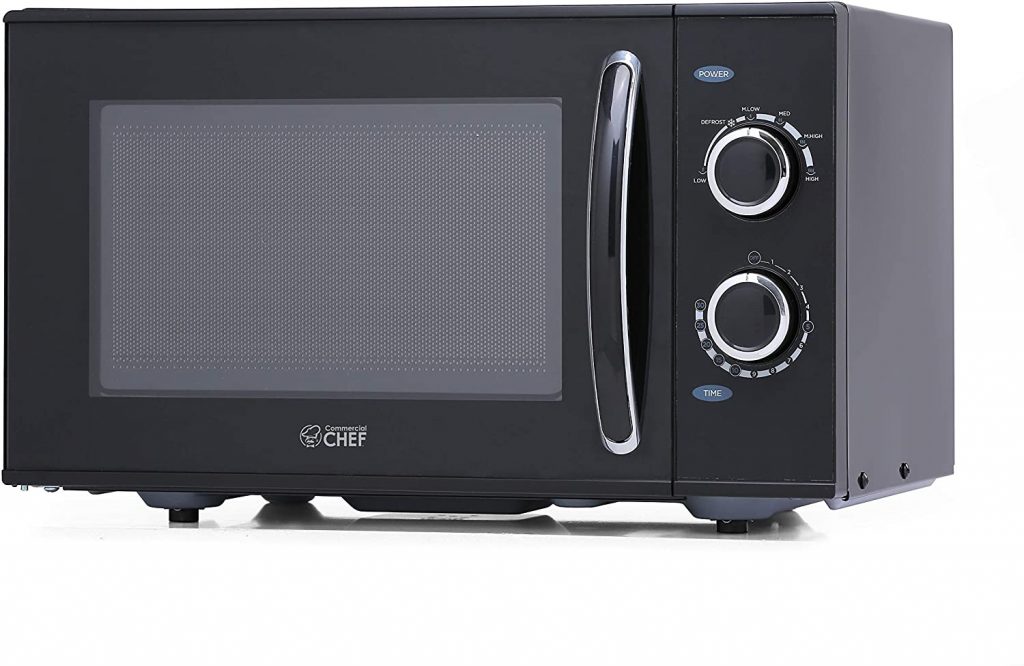 If you are out to buy a microwave oven that can fit on your countertop and is easy to use, then the Westinghouse WCMH900B Rotary should be the apt device for you. Apart from simplicity, it promises high-quality performance. Being compact, it does not consume much space in the kitchen counter. It does not have any complicated features or buttons. But it still gives you enough freedom to customize a particular cooking process and prepare food the way you wish to.
The device has been designed in such a way that it needs minimal maintenance. The turntable, made of glass, is removable. You can detach it very easily while cleaning the microwave oven. It has mechanical dial controls and gives users the option to choose from six different power levels. This helps in making the cooking process easier. This microwave oven is equipped with knobs and not pads, like regular microwaves. It is a very thoughtful step as people who find it difficult to read the small prints on the keypad would be happier using the knobs.
Who Should Buy This?
It is a good device for people who want a budget-friendly countertop microwave oven.
If you do not wish to spend a lot of time in cleaning or maintaining a microwave, you should buy this.
Those who have a problem reading small prints on digital keypads will find the control knobs helpful.
The Best Microwave Oven Under $100
BLACK+DECKER EM031MB11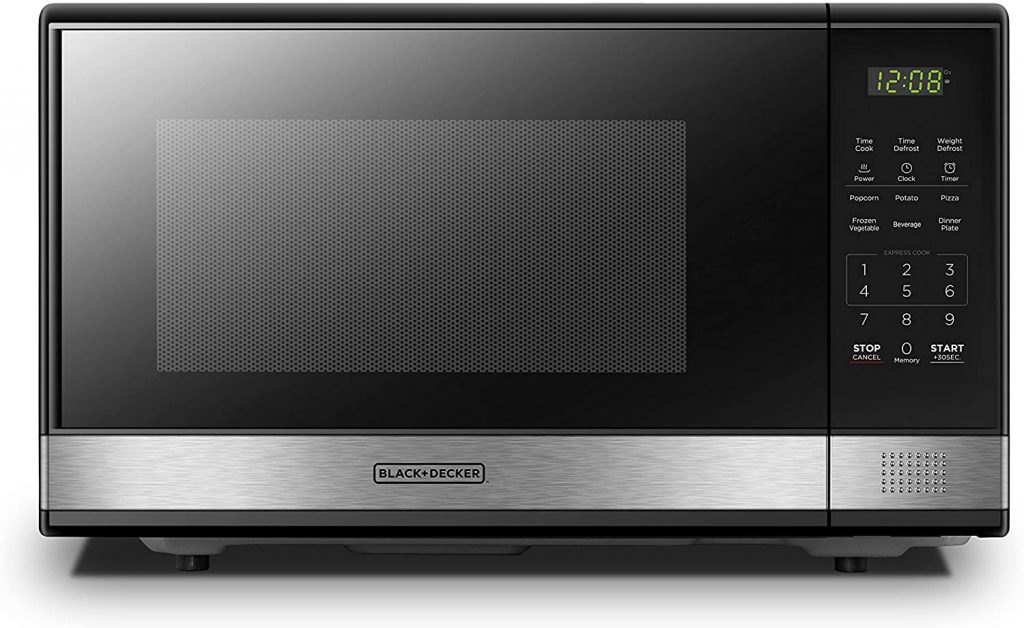 This microwave oven has an elegant look and leaves no scope for complaint as far as its performance is concerned. The exterior is made of stainless steel and it is spacious enough with a capacity of 1.1 cubic feet. It offers a power output of 1000 W which is quite good. The cooking area has a glass turntable that is 12.4-inch wide and is removable. You get ten different power level settings that ensure that the food is cooked, heated, or reheated evenly.
The device features six pre-set buttons. These buttons give you the option to set up the cooking or baking parameters of your favorite dishes, in a very short time. These include food items like pizza, popcorn, frozen vegetables, and warm beverages. The control panel is quite spacious and unlike most microwaves, it is not crammed with too many buttons. It features a key control set that is easily readable. Apart from all these, it also has an LED display which helps you to monitor the cooking process closely.
Who Should Buy This?
Those who prepare or reheat snacks frequently should opt for this microwave oven.
If you are on a limited budget and it happens to be less than $100, go for it!
Best Stainless Steel Microwave Oven
Panasonic Microwave Oven NN-SD945S Stainless Steel Countertop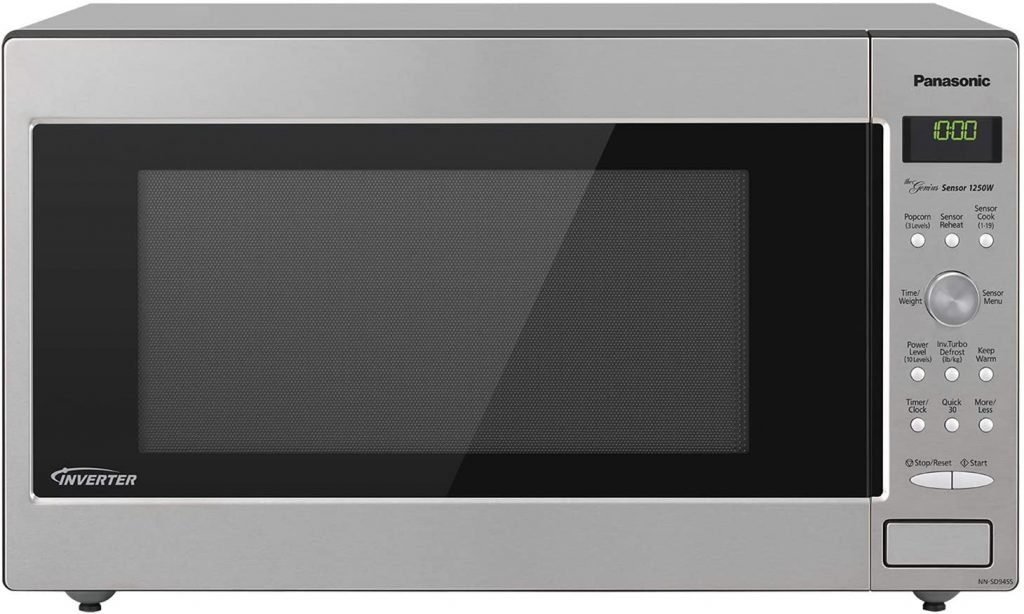 This microwave oven has a patented Genius Sensor that adjusts the power requirement and time depending on the kind of food that has been put inside it. When you cook in this device, there is very little chance of it getting under-cooked or burnt. Panasonic has also patented the Inverter technology and used it quite well in their devices, as in this microwave oven. The inverter feature converts the microwave oven from being a reheating oven to one that microwaves food efficiently.
The cooking sensor evaluates the amount of heat or steam which is released by the microwave oven to calculate the progress of cooking. You do not have to play the guessing game anymore and can trust the sensor with its judgment. The microwave is adept at modulating its power requirement based on the readings of the sensor. Apart from the sleek stainless steel body, it has a minimalist keypad that gives the machine a modern and stylish look.
Who Should Buy This?
If you want a microwave oven made of stainless steel, this is the option for you.
This is a good buy for people who are enchanted by Panasonic's Inverter technology.
Best Over-The-Range Microwave for Large Families
Whirlpool WMH53521H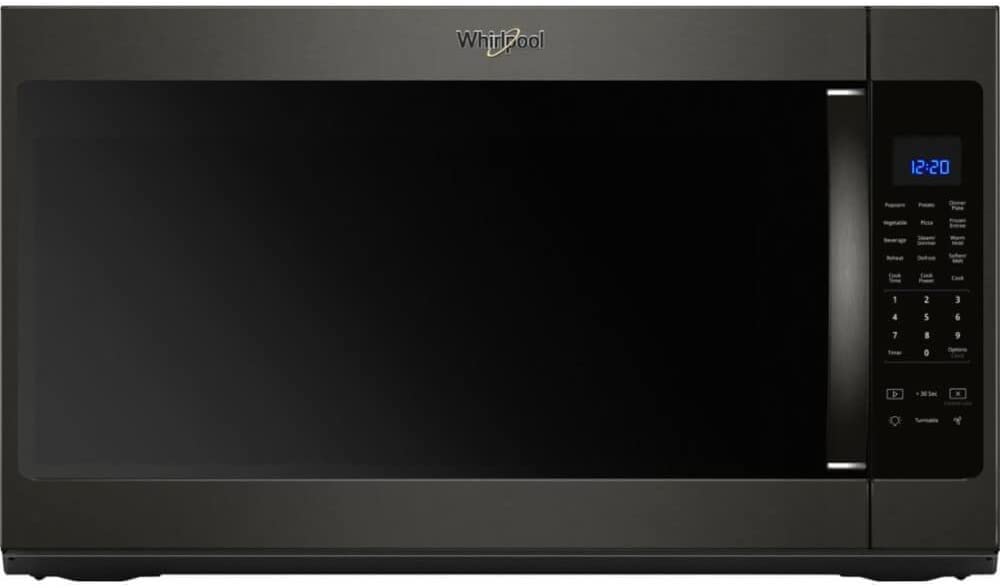 The Whirlpool WMH53521H microwave oven is a device that is hailed by both experts and regular users. It has proved to be very efficient when it comes to cooking and reheating food. It has a 1000W magnetron power, which is lower than most other microwave ovens in a similar range.  It is a very simple device to use and with a 2.1cubic feet interior, it is quite spacious as well. The 14-inch wide turntable accommodates large-sized plates and heats a huge amount of food evenly.
There is also a wire rack that lets you keep more food items inside the oven. There is a setting called Melt/Soften which is very useful when it comes to ingredients like butter and cheese that need to be handled sensitively. It has ten different power-level settings that allow you to cook a wide range of dishes exactly the way you would want to. There is an AutoCook feature too which uses standard settings to cook the food and does not ask you to do much manually.
Who Should Buy This?
Those who are looking at saving space inside their kitchens should get this range microwave oven.
It would be a good idea for a big household, with limited counter space in their kitchen, to invest in this.
The Microwave Oven with the Best Design
Breville Quick Touch BMO 734XL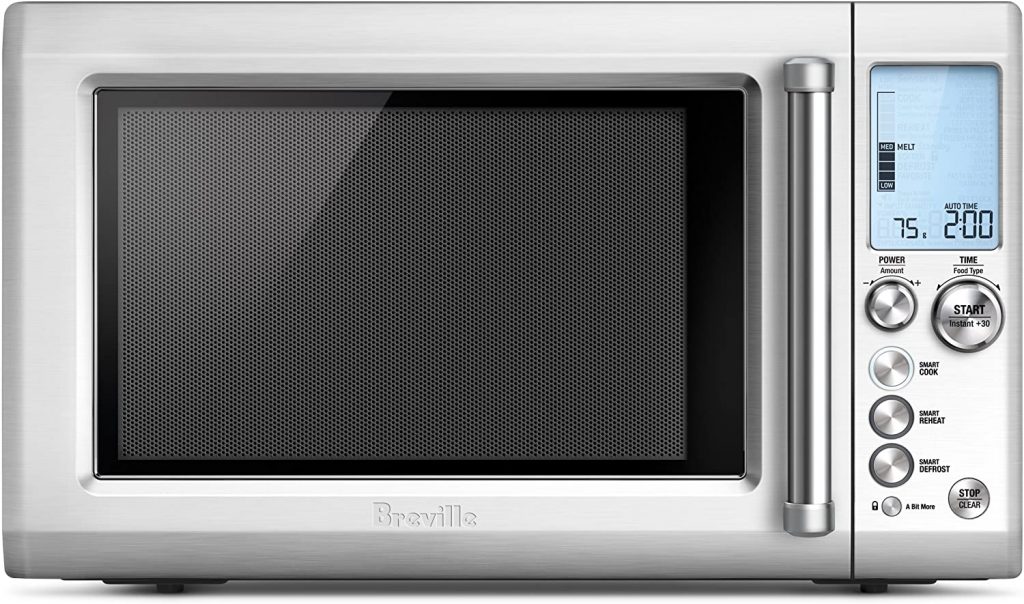 Before you delve into the features and settings of a microwave oven, what do you do? You would want to see whether it would enhance your kitchen décor. If you are very particular about how your kitchen looks, you will definitely want a device that augments its visual appeal. The Breville Quick Touch has a sophisticated stainless-steel exterior. What is even more appealing is the retro design it boasts of. The dials and buttons on the front have been arranged very well and complement the look of the microwave oven.
As you open the door, you see several more buttons that help you to further program the settings which you use frequently. If you like to heat your coffee to a particular temperature, there is a button that allows you to do just that. This microwave oven is powered by 1100 W and has a 1.2 cubic feet interior. The Auto Defrost setting utilizes the humidity sensor to detect and let you know when the food has been defrosted. There is another useful button called 'A Bit More'. If you think the food needs to be processed a little more, just press this button, and your job will be done!
Who Should Buy This?
It is an apt device for people who want a microwave oven that will add value to the décor of their kitchen.
If you are into collecting retro-style items, then this device would be a good addition to your collection.
The Best Microwave Oven for Small Families
Panasonic NE-1025F Compact Light-Duty Countertop Commercial Microwave Oven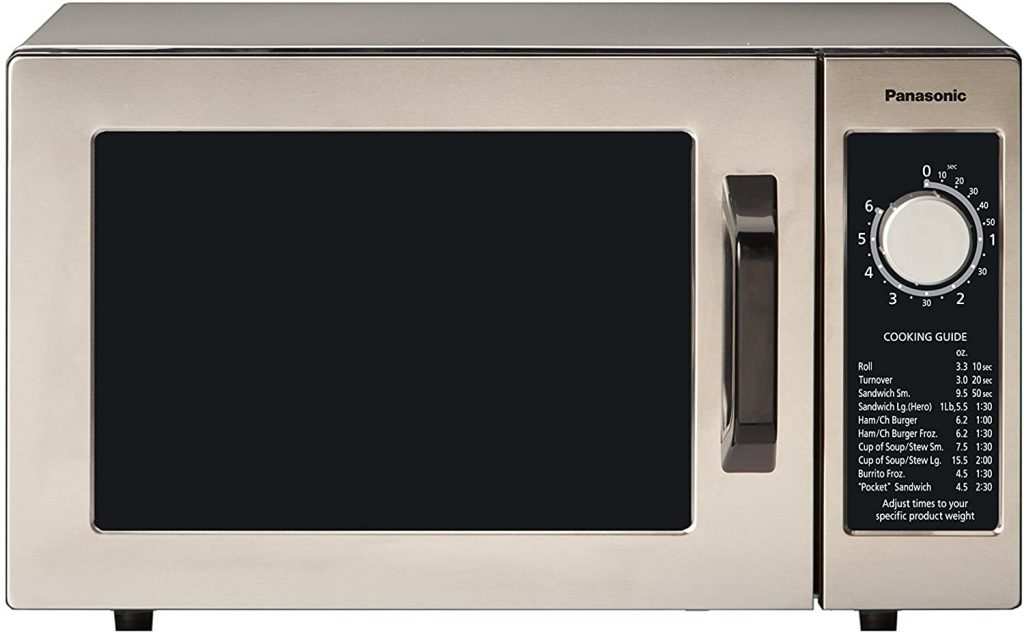 Large-sized microwave ovens are good but only in the kind of setups where their full potential is used. Though compact, the Panasonic NE-1025F is a powerful microwave oven that boasts of high-value performance. It is a sturdy machine that does its job very fast and does not involve any hassles that you encounter while operating a smaller microwave oven. The exterior is made of stainless steel which does not get affected by the weather conditions or the kitchen atmosphere where a lot of other cooking activities happen.
This microwave oven has a good reputation for being durable. Apart from catering to most of the cooking requirements of a small family, it also comes with an assurance that it will be around for a very long time. It prides itself on being a small but commercial oven that performs as well as a large-sized oven. Thankfully, unlike other commercial ovens out there, this one does not break down after a short time of use.
Who Should Buy This?
Small families, who need to cook and reheat their food regularly using a microwave oven, would find this one to be just right.
If you want a microwave oven that would last for a long time, this would be a good device to invest in.
The Best Microwave for College Students
Daewoo KOR-7LREW Retro Countertop Microwave Oven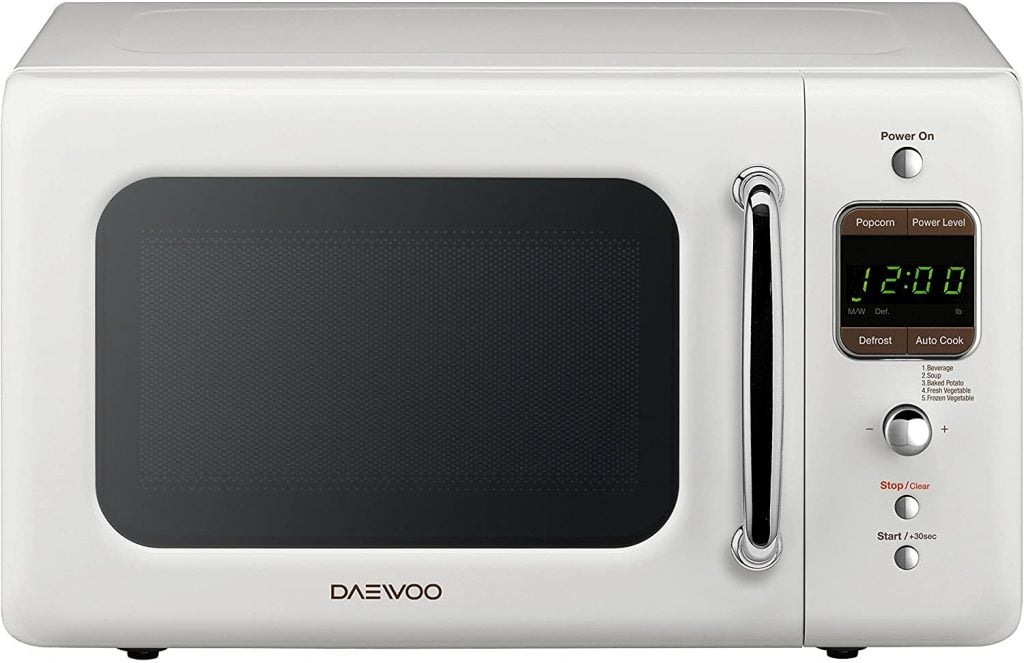 The quick and easy operations of a microwave oven make it popular among young students. If you are a university student staying far away from home, a microwave oven would come in handy. It is a device which ensures that you do not sleep on an empty stomach. You can use it to make some snack or reheat leftover lunch fast and conveniently. The Daewoo KOR-7LREW Retro Countertop Microwave Oven would make a good friend if you are living in a dormitory or a hostel.
It is available in three colors cream white, mint, and red. Its retro design adds to its appeal among the younger consumers. It has a digital control pad which gives you a lot of options when it comes to choosing the power level or the function. The turn knob, which has a retro-inspired look to it, sets the cooking time. The 10-inch wide turntable is good enough for the needs of one individual. It runs on 700 W power which is good enough for such a device.
Who Should Buy This?
It is the best buy for college students who want their food cooked easily and quickly.
Those who like to snack often will find this microwave oven very useful.
Best Microwave for Small Spaces
Whirlpool WMC20005YW Countertop Microwave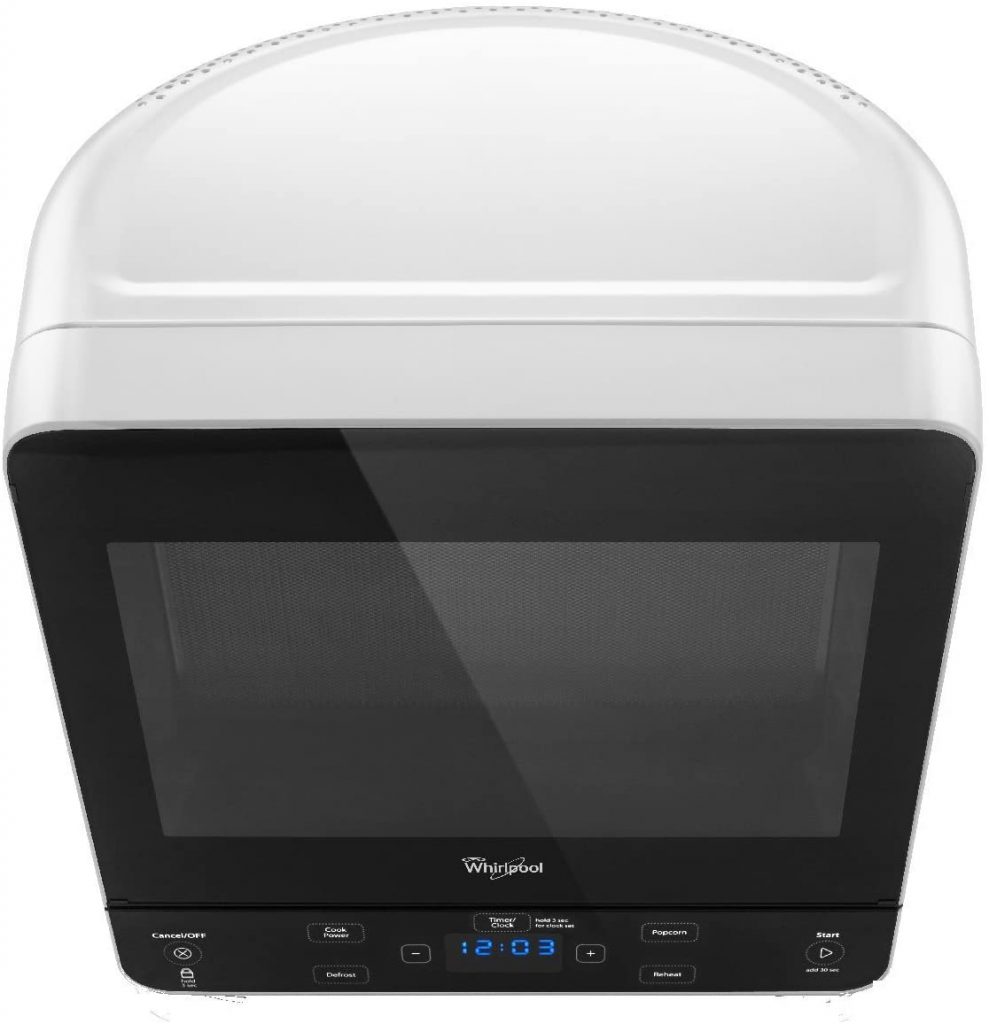 The first thing you notice about Whirlpool WMC20005YW is its peculiar but unique design. One quick look at it and you might confuse it for a small, compact television set. It has a curved back which makes it easy to be fitted into any cramped corner of the kitchen or anywhere elsewhere. At 0.5 cubic feet, this is one of the smallest microwave ovens you will come across. Though extremely compact, it boasts of a sturdy build and durability.
It features a turntable that is spacious enough to accommodate large-sized dinner plates. It operates on 750 W of power. It cannot be compared to bigger devices that run on a higher power but it delivers a very well-rounded performance. The keypad is not very elaborate but is easy to use. You do not get numeric keys to enter the time with. It is good at performing the basic functions which you expect out of a standard microwave.
Who Should Buy This?
This small-sized device is your ideal companion if you are living in accommodation with very little space to keep several appliances in.
Best suited for students and singles because of its compact design.
The Best Convection Microwave Oven
Toshiba EC042A5C-SS Countertop Microwave Oven with Convection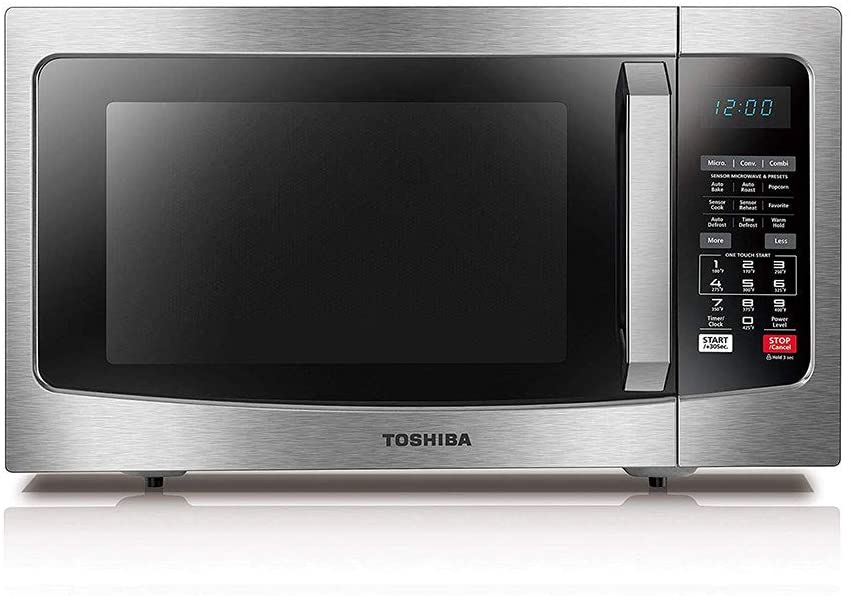 One of the different varieties you come across while shopping for a new microwave oven is the convection model. Convection microwave ovens are known to cook food very fast. They are a combination of the power delivered by convection ovens and the energy from microwaves. The effect of food getting ready quickly can be observed in the sharp reduction in your electricity bills. The Toshiba EC042A5C-SS Countertop Microwave Oven with Convection performs a wide variety of cooking functions with effortless ease.
It operates on 1000 W power and has the strength to reheat a large quantity of food in the microwave mode and perform several cooking activities in the convection mode. When it operates in the convection mode, it can cook food at temperatures ranging from 170 to 425 degrees Fahrenheit. It has a storage capacity of 1.5 cubic feet which is good enough to accommodate large-sized dinner plates. You can use the grill rack to lend some extra crispiness to your food.
Who Should Buy This?
Those who do not like to wait for a long time for their food to be cooked should opt for this device.
If you are confused about buying convection and a microwave, this one should help you find the middle ground.
The Best Microwave for Quick Snacks
hOmeLabs Countertop Microwave Oven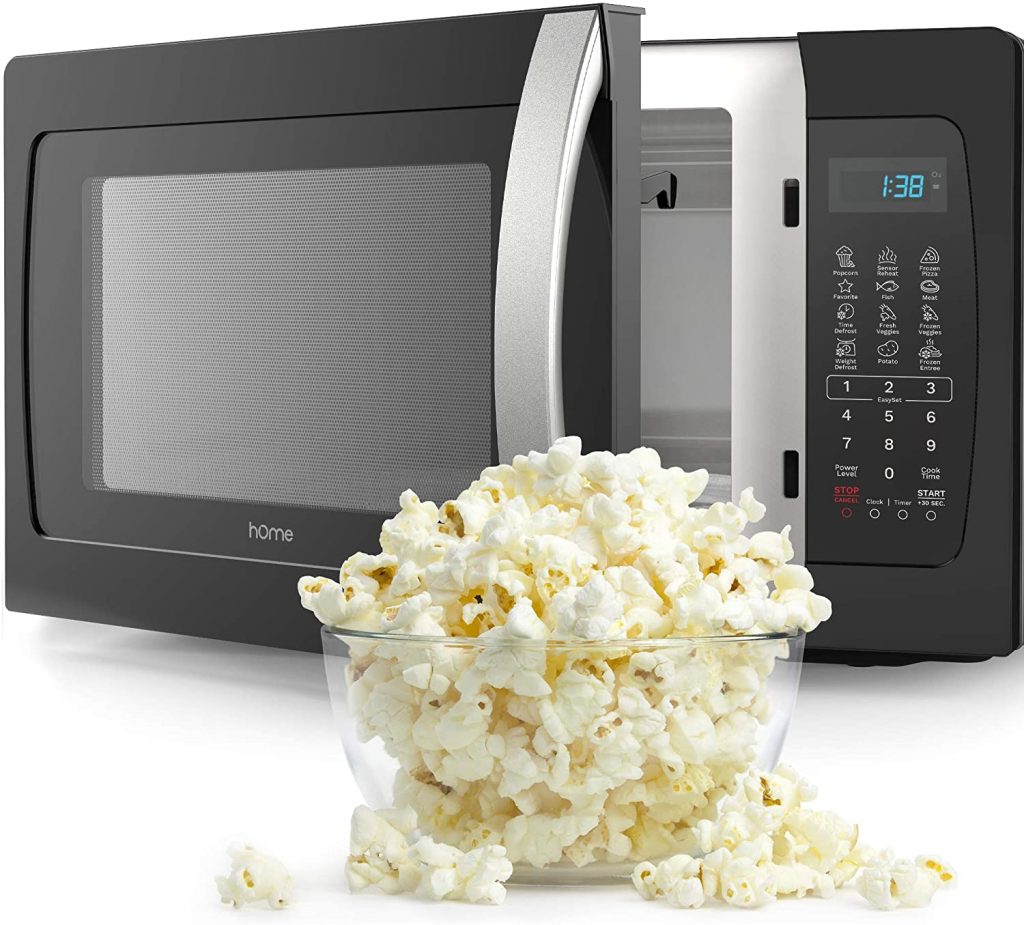 Microwave ovens are used for multiple reasons. One of its most popular use is its ability to dish out a wide variety of snacks quickly. The hOmeLabs Countertop Microwave Oven proves to be a very effective device when it comes to this. It makes sure that your popcorn does not get burnt or the burger does not turn black when you try to reheat it. The device has a solid black stainless steel body. It has a large handle that makes opening and closing very easy.
It features 10 power levels, 7 pre-set cooking functions, and 11 cooking functions. The knobs and buttons are easy to use. If the device is going to be a part of a large household, the fact that it comes equipped with a child lock might give you some assurance. Apart from a button that enables you to make popcorn in very little time, there are 11 other buttons that help you to prepare other snack items easily and quickly. These include the frozen pizza button, the frozen entree button, and the potato button. The interior is spacious and accommodates large plates. Style and performance – the machine will not disappoint you on any of these fronts.
Who Should Buy This?
It is the best option for people who use a microwave oven mainly for making snacks.
If you are fine with a heavy, big-sized device, this one should be a good addition to your kitchen.
Conclusion
When you set out to buy a microwave oven, make a list of things you will need it for. In your head, you must be clear about your objective of investing in a new device and the main purpose you expect it to serve. Your budget also matters here. Gradually narrowing down your choices will help you decide which one you should finally go for.
---