Technobezz is supported by its audience. We may get a commission from retail offers
Summary – The recording setup initiated by a professional or an enthusiastic newbie composer is
–
The recording setup initiated by a professional or an enthusiastic newbie composer is truly justified only when you have the best microphones for recording vocals. The singer's voice is the soul of any song and these microphones are made to record even the slightest nuances for a reproduction that is faithful to the original.
A professional microphone will usually cost hundreds of dollars, because a low-end model may not record vocals as you want it to. When purchasing one, you should take all factors into account including your budget, the type of sounds that is to be recorded and any additional accessories that should be purchased which will further add to your expenses. The meticulously crafted list of microphones will be your guide to purchasing the best product available today.
See also: Best sound cards for music production
Best microphones for recording vocals
Best microphones for recording vocals with bundled accessories
Rode NTK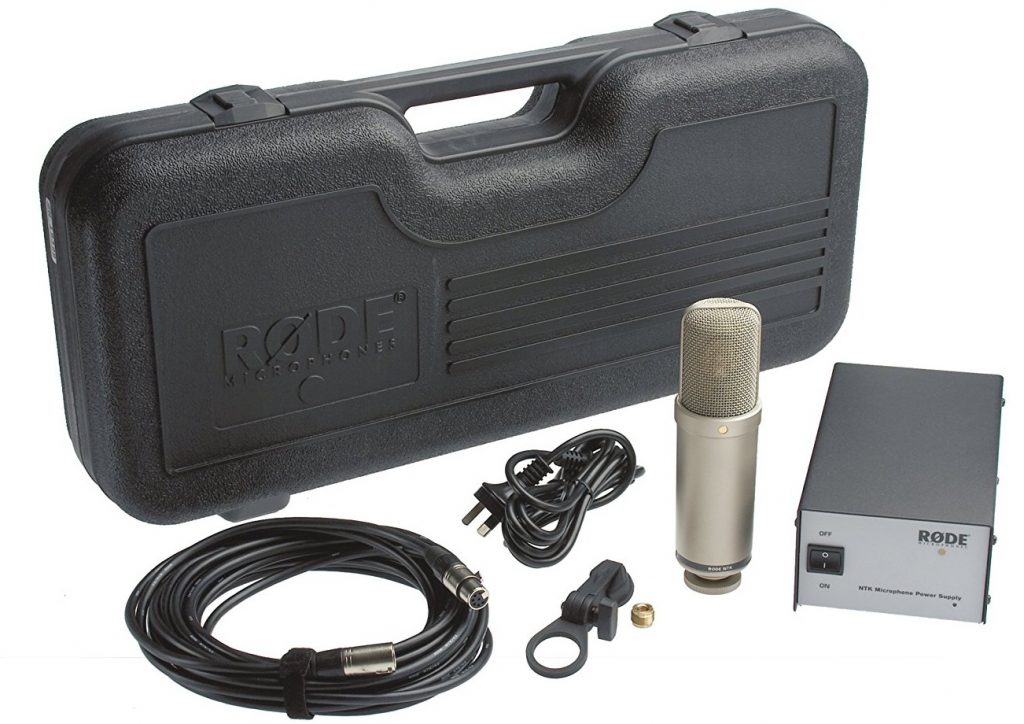 Rode is a brand that's easily associated with the world of professional music and they produce some of the best microphones in the world. The Rode NTK should be on the top of this list with amazing positive reviews by buyers and critics around the globe. It falls on the more affordable side and is a great choice for both semi-professional individuals, as well as home users.
The NTK is capable of producing warm, clear sound, which is a design pattern that enhances the nuances in the vocals. A large 1-inch diaphragm is found in this mic with class A circuitry and a rugged build, meant to last for years, helping you make the most out of your investment. The wide frequency range allows it to pick up all kinds of sound range.
The bundle includes a storage case for your Rode NTK microphone with a phantom power amp for home users who are yet to invest in a dedicated audio interface. The connectivity XLR cables are also included in the box and with so many bundled accessories, it's no wonder most suggest this as the best value mic for buyers looking to get everything in the same bundle.
Why is it the best microphone?
The sound range is very wide in this mic allowing it to capture every type of vocal
The bundle includes a carry case, stand, wires and all basic accessories offering the most value for your money
Budget-friendly microphone for starters
Audio Technica AT2035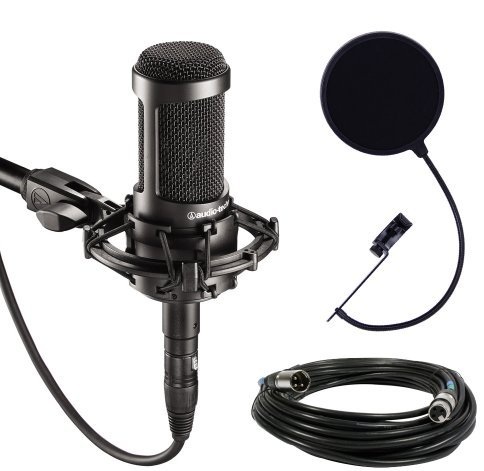 The average home user or a newcomer into the world of studio recording might feel intimidated by the expensive peripherals. The Audio Technica AT2035 is a perfect answer to those! The bundle provides a professional grade mic with a couple of essential accessories including cables so that you don't have to buy them individually. The best microphone for recording vocals is undoubtedly this one because it has a large cardioid diaphragm capable of picking up the tones much clearer. The condenser mic is also capable of withstanding high sound pressure and wouldn't miss recording it with utmost clarity.
The crisp tones produced by the AT2035 should also be credited to the brand Audio Technica, for they have been making audio-related products for a very long time now. The microphone has an 80Hz high pass filter and ensures a flat response which is surprisingly good at this price point. String instruments sound much better on this product that can be used as an alternative or for those who like to learn the curve before investing in a more expensive, professional microphone.
Why is it the best microphone?
The price factor is a huge head turner in this product as it is very affordable for any buyer
Audio Technica is a reputed brand and their sound reproduction is just fantastic, offering the most value for your money
A premium mic for those who demand uniqueness
Neumann TLM-102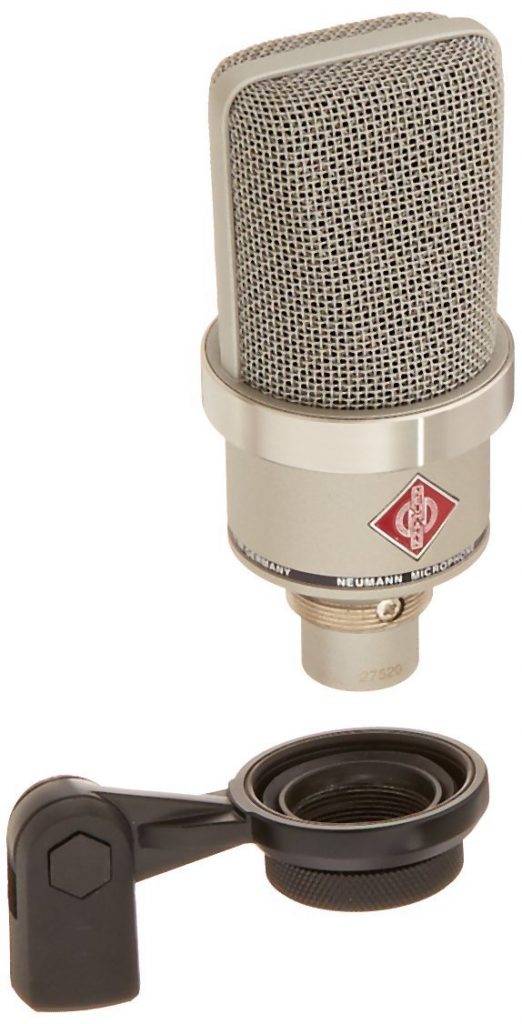 The Neumann has a lot of mixed reviews among the professional community. While some believe it produces a unique sound, some claim it is more expensive than other models that produce the same sound. While it is best to leave the argument aside, the Neumann TLM-102 is a unique product no matter what and is most importantly a very expensive choice, if you got the budget to purchase one.
One of the best microphones for recording vocals, the Neumann product screams premium build quality in every aspect and its boost above 6 Hz polishes the sound to render a new feel to your songs. The SPL rating on this mic is much higher as they go all the way up to 144dB allowing you to record some instruments using it, even a drum kit. The TLM-102 is as good as it could get and if you don't mind the pricing for the brand value and the unique sound it produces, this could easily be on your list.
Why is it the best microphone?
The Neumann mic is capable of capturing even the most demanding frequencies thrown at it
The polished sound it records is different from most commonly known branded products
A retro-styled mid-range microphone
Blue Microphones Bluebird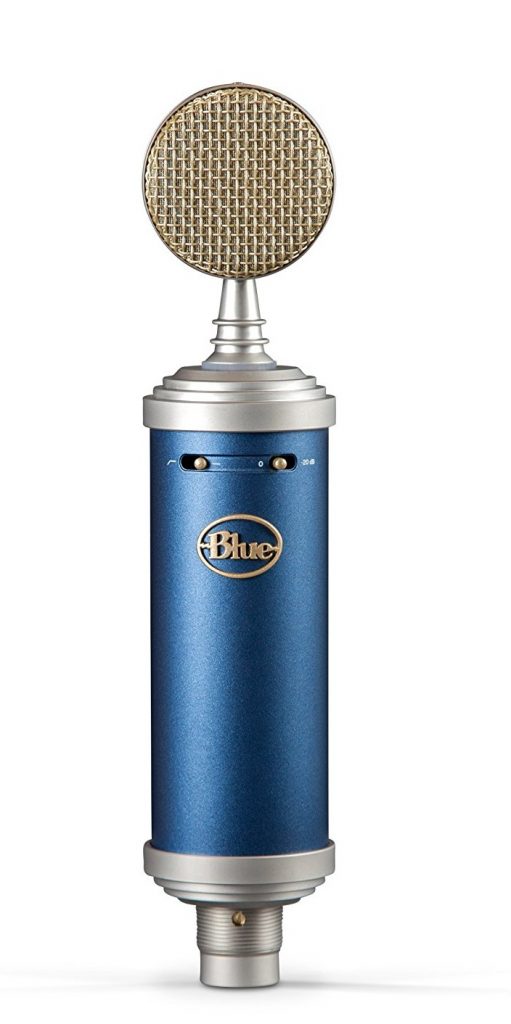 The brand of Blue Microphones has caught up on a whole new level in recent times and it is ideal for music recording, professional artists' and even podcasts. The design is a standout aspect of Bluebird which is very unique, retro-styled and reminiscent of the cars found in the 1950s. While the new brand is not on par with the Rode NTK, one of the most celebrated microphones of all times, it still is much better than some of the entry-level products and forms a fine balance as a mid-range mic to go with.
The Blue Microphones Bluebird is a condenser microphone, with a cardioid polar pattern with a wide frequency range that bundles a Class A amp. The bundle includes a pop filter with a shock mount and a wooden case to easily carry your accessories around. On the whole, the bundle provides great value for money and has a mic that is capable of handling most recording requirements. The sound recorded by this microphone is clear as a whole and is also readily available as a bundled edition, as well as an individual package. You should probably opt for the one with the included accessories, as it helps you save some cash spent on additional components.
Why is it the best microphone?
It has a wide frequency range and sports a unique design which is very unconventional, yet stylish in the professional scenario
The bundled accessories help save you cash, as it includes some useful components and a wooden storage case
Best microphones for recording vocals in studio and on-stage
Shure SM-27-SC Microphone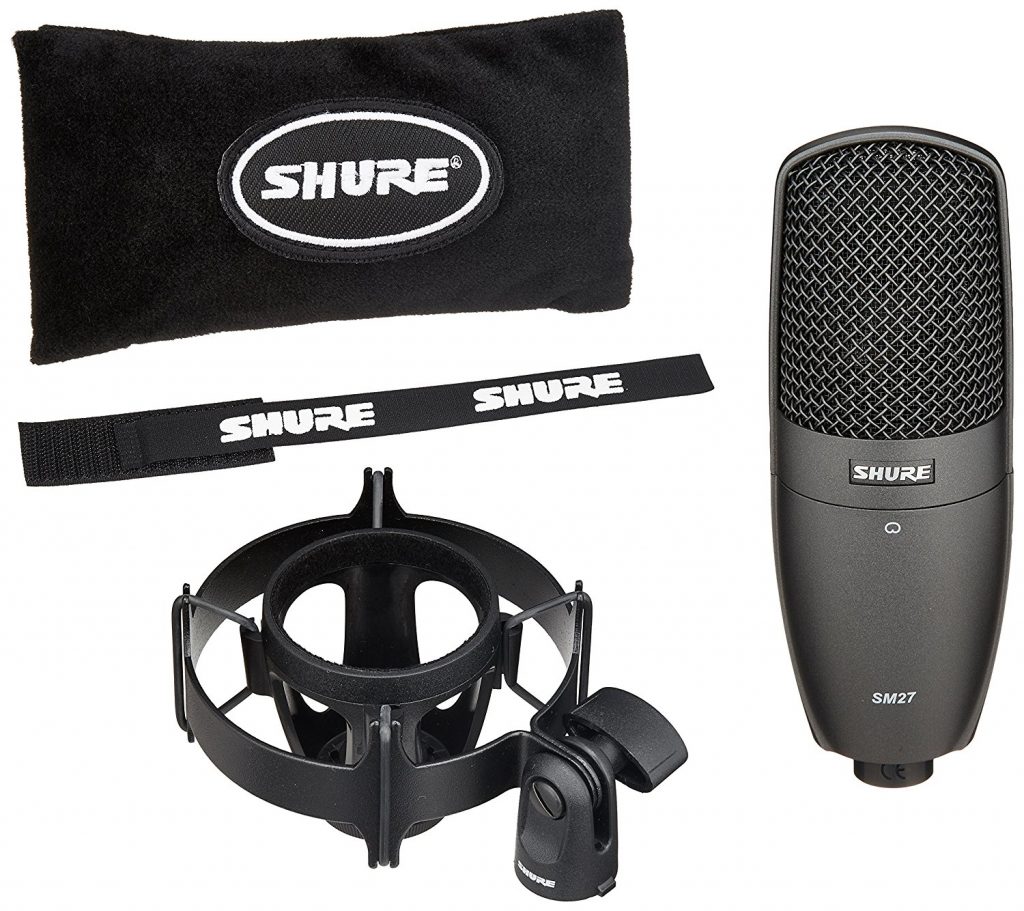 Shure is popular for their dynamic microphones and the Shure SM-27-SC is known for its flat frequency response. The stand out feature of this product is that it can be used both for studio recording and on-stage during a live performance. There is a low-frequency filter that can be turned on or off as per requirement. Coming from a brand like Shure, we expected best sound output and this product doesn't disappoint, even though it might be slightly less than the more expensive, high-end models.
When going for the Shure SM-27-SC, you should be aware of the fact that it is a complete microphone that not only records vocals in a crisp manner but can also pick up drums, string instruments, and acoustic guitars, all at once. There are very few products out there that are capable of picking up everything in the surrounding, to deliver a complete musical experience. It makes the SM-27-SC the most versatile mic out there!
Why is it the best microphone?
The microphone is capable of picking up additional sounds apart from vocals, allowing it to be used on-stage
Shure's brand value is on par with known brands like Rode and it assures best build quality combined with reliable warranty
Highest SPL for recording loud vocals
AKG C214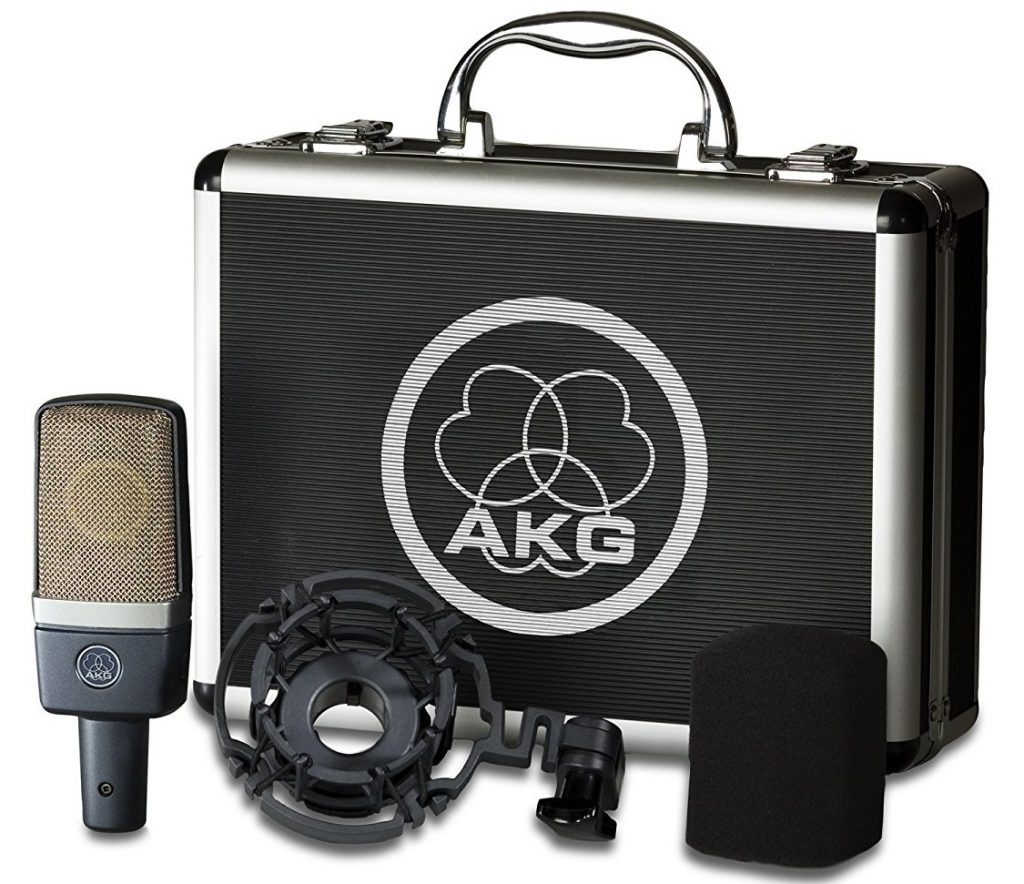 The top brands continue to dominate the scenario and the AKG C214 easily joins the lineup, because the company is already a popular name in the world of music. This particular model delivers a fair advantage to the sound engineers and composers, as they can comfortably record loud singers, as well as strong vocals. It is powered by the highest SPL marked at 156dB and also includes a bass-cut filter. Avid singers can get super close to the mic without spoiling the recording quality.
The frequency range is pretty solid and once you get used to some of the unique features offered by the AKG C214, there is no going back. An added advantage is that the default kit includes a shock mount, windscreen, and a carrying case. You can go for a more expensive bundle which has an amp among other items, but this is undoubtedly the best microphone for recording vocals, which as a standalone product has much more value for your money, besides delivering impressive recording quality.
Why is it the best microphone?
Singers can stand super close to the mic and the recording will not distort at any point
The highest SPL level is capable of capturing loud vocals without any difficulty
Super cheap microphone
Behringer C-1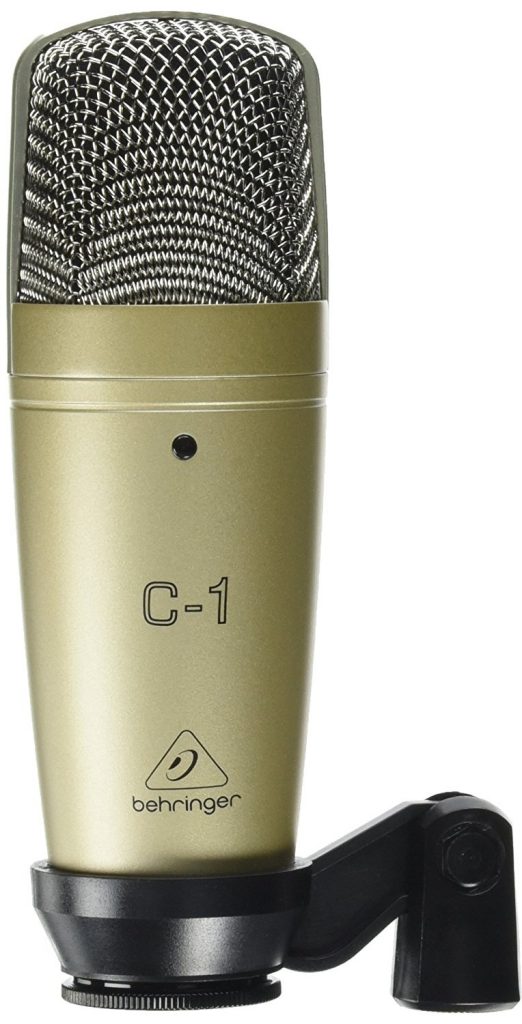 Before thinking more, just buy the Behringer C-1 if budget matters the most to you! After all, you will be hard-pressed to find a microphone at this price tag which is lesser than $100, yet is capable of solving your vocal needs. It is a reliable product for podcast streamers, gamers who record their comments and even for recordists working from a home studio.
The cheap solution is not going to compete with professional recording but it's a handy product for recording voices wherever you go and use without worrying about breaking. The mic is quite lightweight, making it very portable to use with a mediocre SPL and FET amp built-in. With the right kind of mixing, it is possible to make this mic sound much better, as Behringer is a strong brand and their aim is to cater to the masses with a cheap product that works. We can say that they have succeeded in this regard.
Why is it the best microphone?
The best microphones for recording vocals at a super cheap price tag
Its performance is decent considering its price tag
Conclusion
The Rode NTK is a superb performer and is considered the best microphone for recording vocals by professionals. The other brands and their models are equally good at recording. If vocals are your primary purpose, consider going for condenser microphones. Similarly, cardioids pickup patterns can pick up nuances in vocals. The Behringer's choice is a cheaper solution for both home use and for budding professionals, whereas products from Shure, Audio-Technica are purely geared towards professional sound recording. All these microphones are best in their class and your personal preferences, usage scenario and budget can be considered before making the final choice.
---