Technobezz is supported by its audience. We may get a commission from retail offers
X
Our Editorial Process
Each year more than 60 Million users visit Technobezz to solve a problem or research a product. Our goal is that everyone finds what they are looking for, and that is why we cover a variety of products, problems, and solutions on our website.

Writing an article that contains a lot of valuable information may seem simple. But when the article is written, the story doesn't end. We are constantly updating the content so that you can always get up-to-date and accurate information.
---
Technobezz's Editorial Guidelines
With the advent of technology, teens and young adults everywhere have the option to educate themselves, whether
HP 15.6 Touch-Enabled Screen Laptop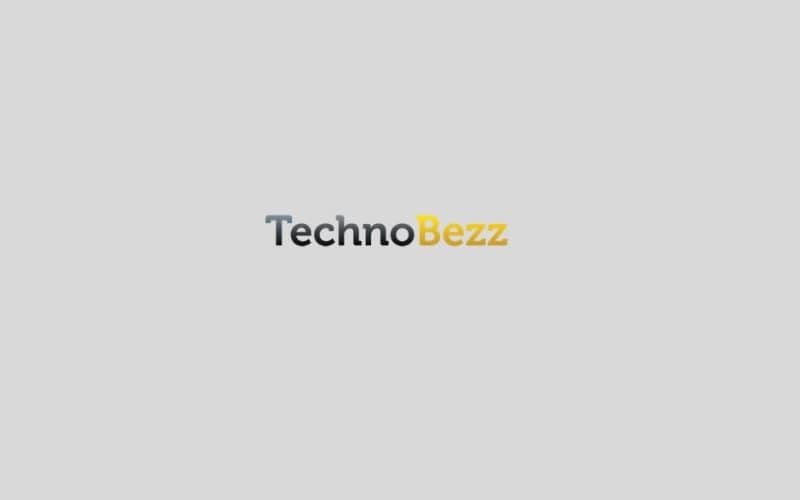 Lenovo Ideapad 3i 11th Gen Intel Core i3-1115G4 Processor Laptop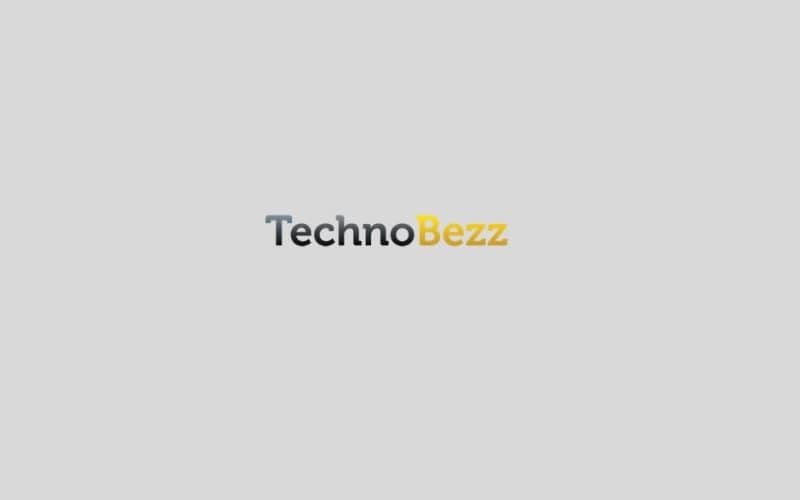 Lenovo Flex 5 2-in-1 Convertible Laptop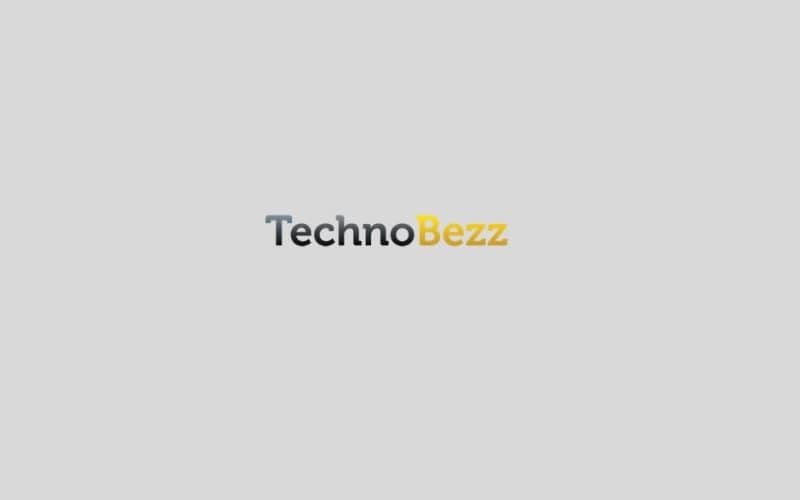 Table of Content
With the advent of technology, teens and young adults everywhere have the option to educate themselves, whether it's school or college work or just to become aware of events all over the world. Notebooks and calculators are almost extinct as laptops and tablets replace them as primary tools for education. But it's not just education that these devices are great for. Today's laptops can also offer you some much-needed fun and entertainment. With platforms like YouTube, teens all over the world can even start the groundwork of their own business like an entertainment channel or a podcast.
Laptops come in a wide array of prices and features, but when it comes to teens, the range of these price points becomes somewhat specific. After all, most college students or teens don't have a lot of cash laying around for splurging on high-end devices. In today's world, affordable doesn't mean low quality but a measurement of the range of features a device hosts. If your purpose is more academic with some entertainment thrown in, you don't need to spend a lot to get a great laptop. All you need is a little bit of research, and you can be on your way to getting that perfect laptop.
In the list below, we will give you some of the best options around. These products range from mid-high end to low end so that you can find the one that will be perfect for your needs. Here are some of the best laptops for teens.
See also: Best Chromebooks For Kids
Buying Guide
Teens nowadays spend more time with their mobile phones than with any other device. However, a laptop is inevitable in their priorities. Modern education involves a lot of internet searches, and these cannot be carried out effectively on a mobile phone. Gaming is another activity where the laptop offers teens a wider choice of games. While choosing the best laptops for teens, there will be several considerations. Some of them are listed here.
Display Size: Teens should be happy with a medium-sized display between 14-inches and 15-inches. This display size should be adequate to carry out most activities teens want to use the laptop for. Larger sizes can also push prices higher, something they may want to avoid.
Processor & RAM: Teens like to play games on their laptops whenever they want to or in their free time. Teen laptops should have at least one Intel Core i5 chipset of a recent generation. The RAM could be 8GB, not less than that.
Graphics Support: Teenagers may not be looking at a dedicated gaming laptop since the pricing aspect may again become an issue. The normal graphics support on the laptops will be sufficient for them to manage. Check if the GPU is good.
Battery: The battery must be powerful. Teens may carry their laptops out more frequently, and the battery must support the functioning of the laptop as long as possible. This aspect must be checked with more care while ordering. It would be preferable to have a battery that can be easily replaced and not fixed inside the laptop.
Storage: Laptops for teens must have sufficient storage. The ideal level would be 1TB SSD. If the teen has external storage options, a 500GB storage level can also be accepted.
Connectivity: You would want as many connectivity options as possible in the laptop for teens.
Carrying Case: A good backpack must be part of a laptop supply for teens.
Best laptops for teens
Premium Quality Laptop with a Backlit Keyboard
HP 15.6 Touch-Enabled Screen Laptop
Check Price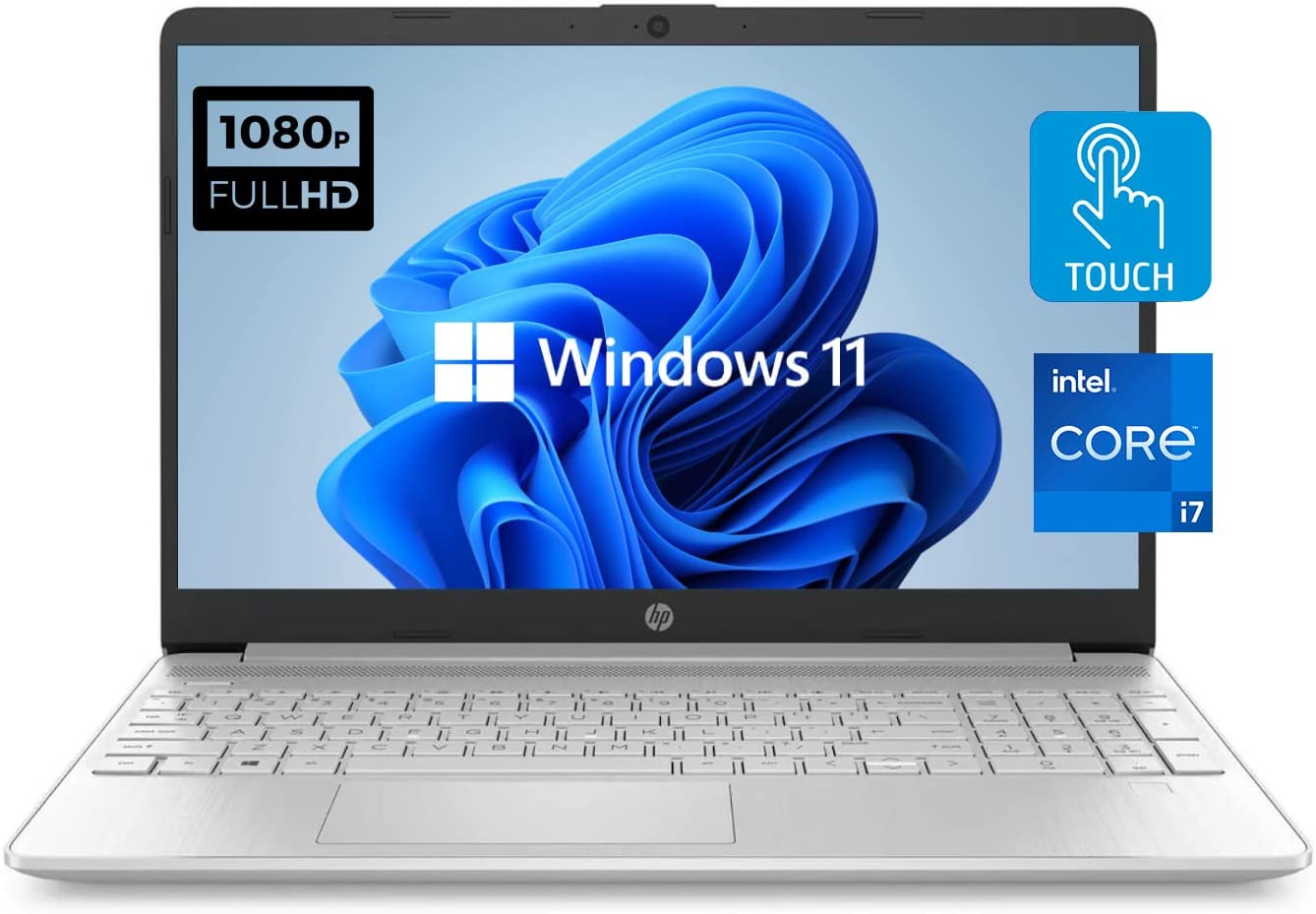 These days, most teenagers prefer investing in a laptop with a backlit keyboard. This HP device comes with a keyboard that not only produces great lighting effects but is also very comfortable to use. The laptop features a 15.6-inch display screen that is touch-enabled and offers a resolution of 1920x1080 pixels. It comes with multiple connectivity options, including a 3.5mm headphone jack and a microSD card reader.
The silver metallic design of this device would greatly appeal to teenagers. Apart from looking stylish, the laptop also proves to be highly durable. Though the base model offers 128GB of storage space, you can opt for the most premium variant featuring a 1TB hard drive. The device is powered by an Intel Core i7 – 1165G7 processor that ensures the device delivers the kind of speed teenagers expect from it.
It has several features that teenagers or younger users find highly useful.

Also recommended for those who are planning to invest in a high-end laptop
Solid processor

HD touchscreen

Backlit keyboard

Multiple connectivity options
Slightly expensive

No optical drive
15.6-inch Screen Laptop with High-Quality Webcam
Lenovo Ideapad 3i 11th Gen Intel Core i3-1115G4 Processor Laptop
Check Price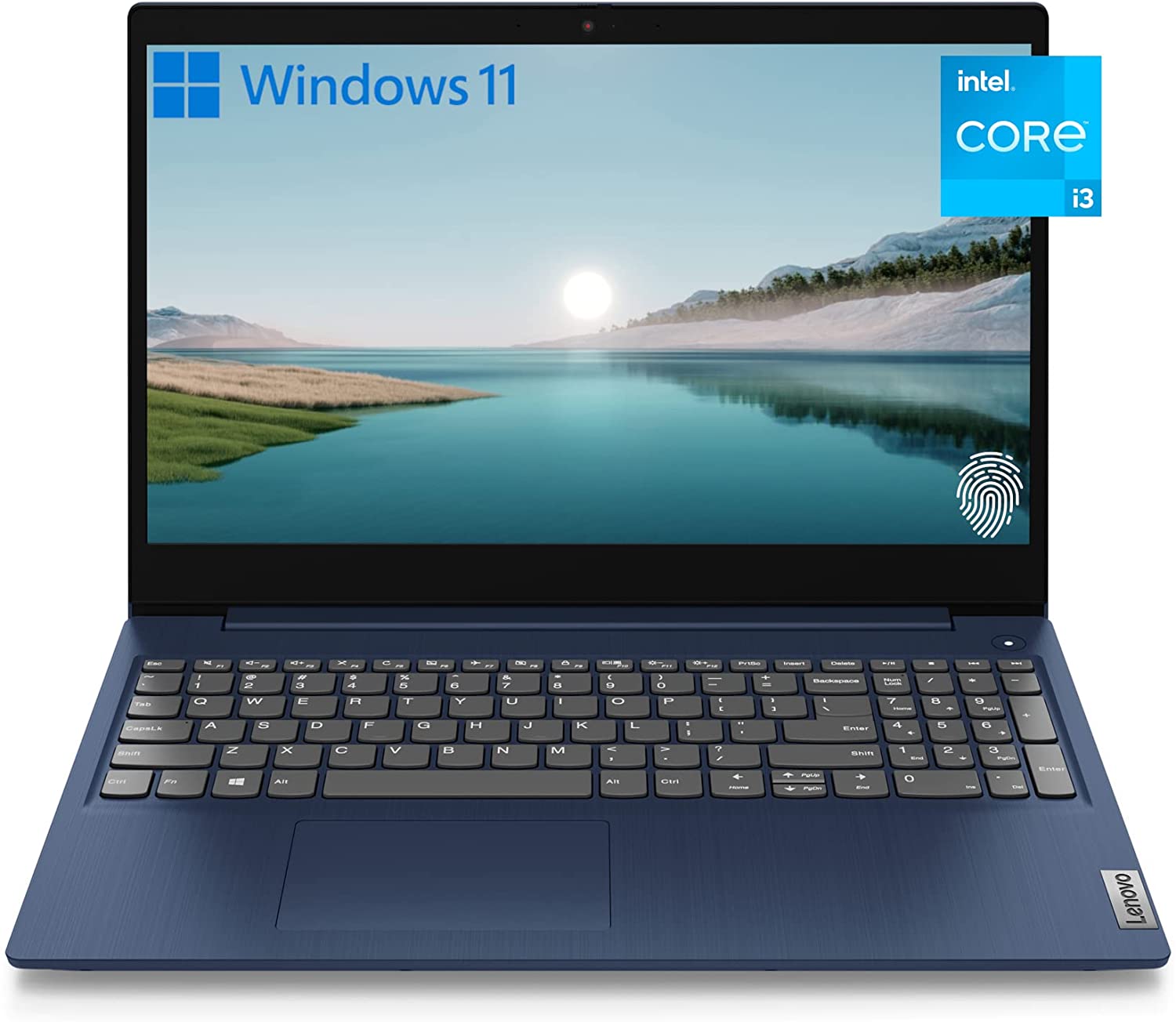 In the times of online education, teenagers need a laptop that offers them strong connectivity features and a well-functioning webcam. Apart from participating in online classes, this laptop lets you stay in touch with your friends through video calls. It has an anti-glare display screen that is 15.6-inches wide and ideal for watching movies, browsing the web, and checking e-mails.
The design of the laptop is very modern, and it is available in three different colors, blue, gray, and almond. When you use this laptop, you will experience great speed and efficiency courtesy of the Intel Core i3-1115G4 Dual-Core processor. The fingerprint reader on the device is easily accessible and highly responsive. The laptop offers an array of connectivity options that help you connect multiple peripherals simultaneously.
Ideal for teenagers looking to buy a mid-range laptop with several useful features.

A good option for individuals who frequently engage in video calls or conferences and need a laptop with a reliable webcam.
HD webcam

Adequate storage support

Responsive fingerprint reader

Available in multiple color options
Moderate battery life

The screen is not touch-enabled
14-inch Touch-Enabled Screen Laptop with Fingerprint Reader
Lenovo Flex 5 2-in-1 Convertible Laptop
Check Price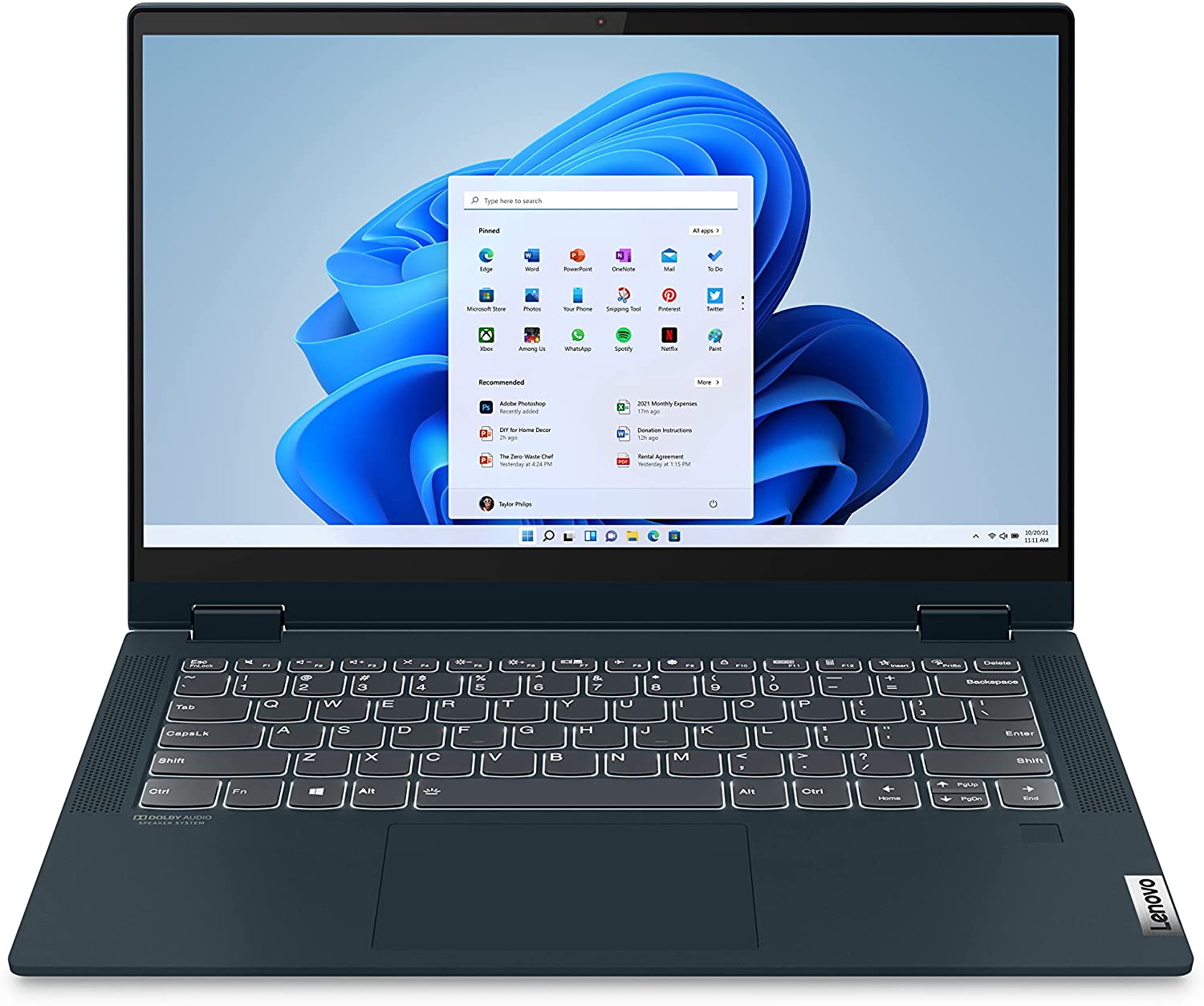 If you are confused about whether you should buy a laptop or a tablet, you could opt for this device. As a convertible device, it can be used as a tablet and a laptop. The device comes with a 360-degree hinge, making it very easy for the user to switch from one mode to another. Multiple connectivity ports have been placed strategically, and you also get a 3.4mm headphone jack.
One of the highlights of the device is its 14-inch widescreen that offers touch functionality and can be navigated using the digital pen that comes with the device. The compact screen offers a resolution of 1920x1080 pixels. The device is colored in gray graphite, and the overall design is alluring. It has 16GB of RAM and offers 256GB of storage space. The built-in webcam is adequate for video calls and conferences.
A very good option for teenagers who need a convertible device that can function as a tablet or a laptop.

It is also recommended for individuals who wish to use a laptop that comes with a touch-enabled screen and a digital pen.
Sophisticated design

Responsive digital pen

Strong connectivity support

Works both as a laptop and a tablet
Reflective screen

Battery life could be higher
Well-Designed Laptop with Robust Processing Unit
Lenovo Ideapad 15.6-inch Display Screen Laptop
Check Price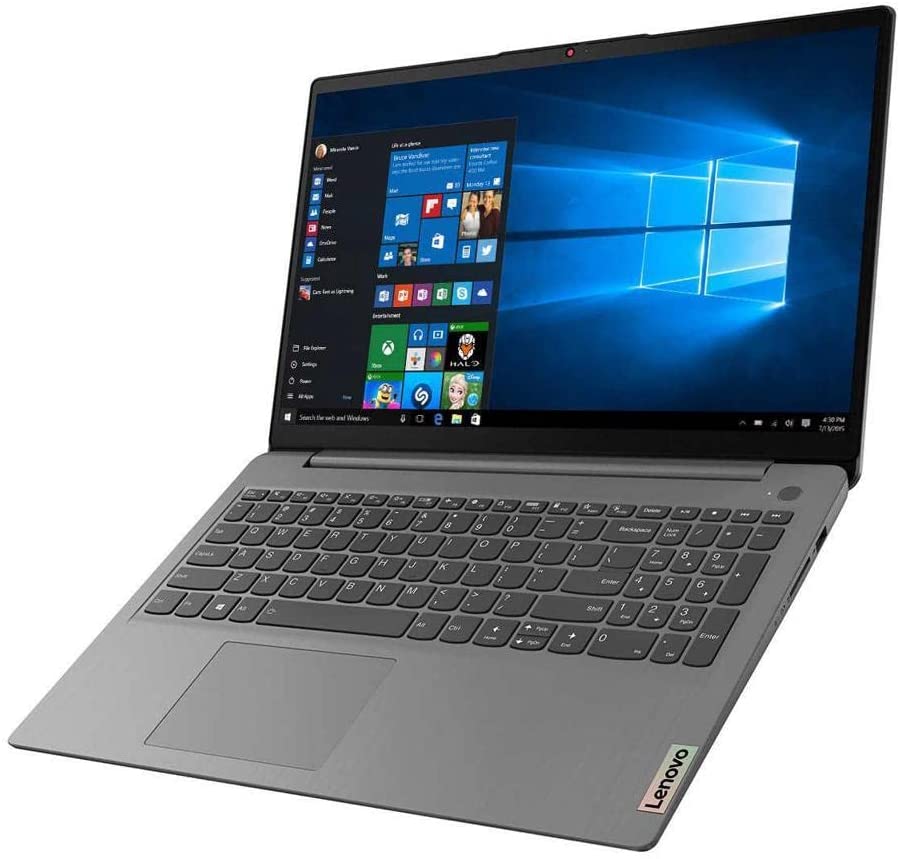 The grey-colored design of this Lenovo device is highly appealing to the eyes. The structure of the device is made of high-quality components, and durability is one of the things you are assured of when you invest in it. Most teenagers prefer using their laptops as their primary devices. With the 512GB storage space this device offers, they should be able to store a large amount of data without worrying about the device getting slowed down.
The laptop is powered by the Intel Quad-Core i5-1135G7 CPU, which offers a processing speed of 2.4GHz. One of the few issues you might have with this laptop is its battery life. When optimally charged, the battery lasts for just about 7 hours. It comes with a sturdy backlit keyboard that is very comfortable to use. The 15.6-inch wide display screen produces high-definition images.
Why You Should Buy This?
It is suitable for teenagers who consume multimedia content and want a vibrant screen that offers touch functionality.

It is also recommended for those who want to own a laptop that works at a good speed and supports multitasking.
Pros
Attractive design

Sharp display screen

Multiple connectivity ports

Dolby Audio stereo speakers
Cons
Limited battery life

Low-quality webcam
15.6-inch High-Definition Screen Laptop with 256GB SSD
HP Windows 10 Pro Laptop
Check Price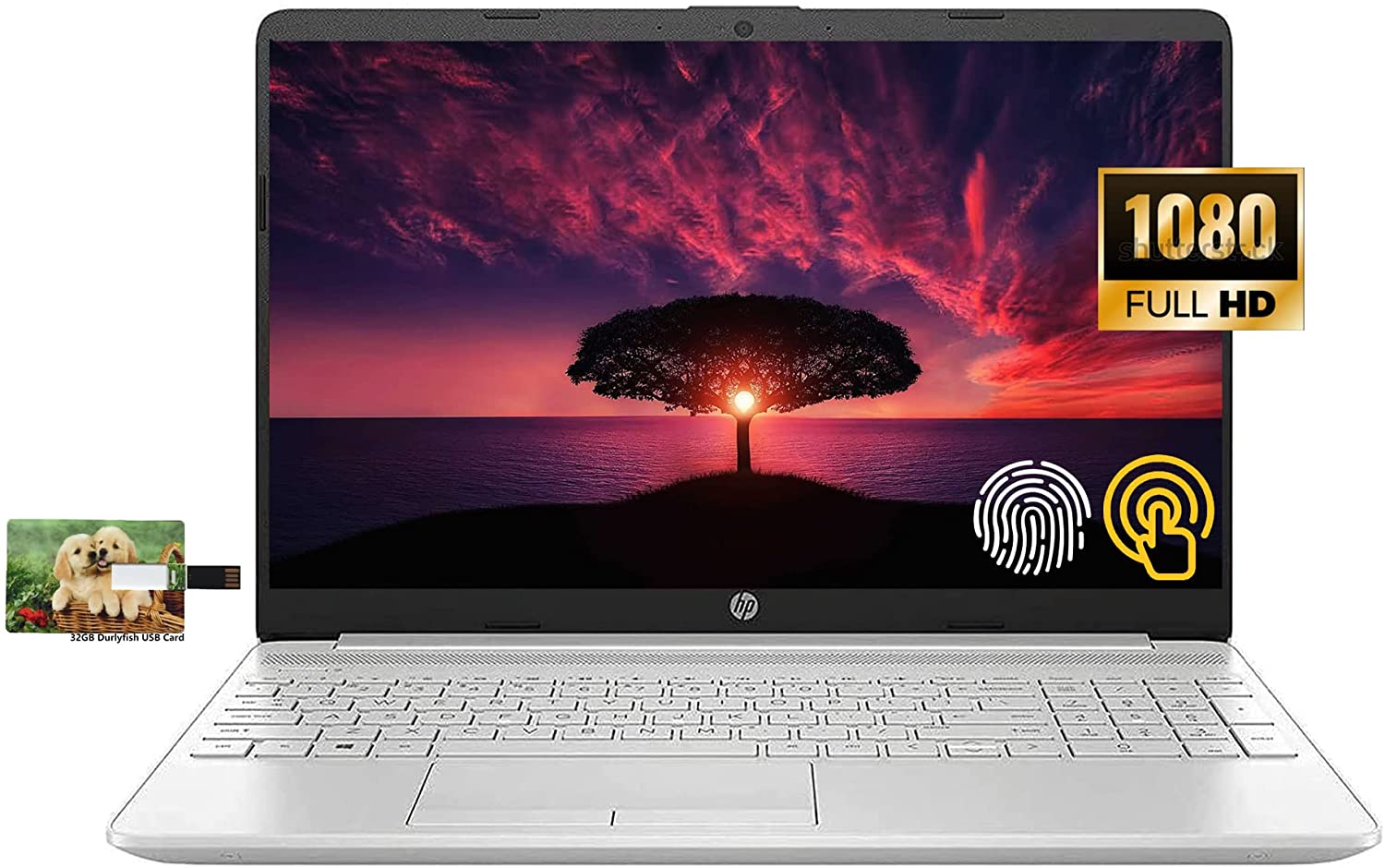 This laptop by HP is powered by the Intel Core i3-1115G4 processor that works quickly and ensures that you get your work done with utmost efficiency. The device features a 15.6-inch screen that produces a resolution of 1920x1080 pixels. It offers wide viewing angles and makes the process of watching movies and other multimedia content truly enjoyable. The 720p high-definition webcam is most suitable for making video calls.
It runs on Windows 10 Pro, which supports education and business-based apps. Therefore, this device proves to be highly beneficial for teenagers in college or who attend online classes regularly. The device comes with HP's unique QuickDrop feature, which makes it very easy to share files and data to and from another device. Apart from facilitating easy access, the fingerprint reader is a good security feature.
A very good device for teenagers who need a laptop to help them with their studies or assignments.

It is also recommended for those who are particular about buying a laptop from a brand that offers good customer support.
HD Display Screen

Advanced features

Lightweight structure

Adequate brand support
No optical drive

Keyboard quality could be better
15.6-inch Full HD Screen Laptop with 1TB HDD
Dell Inspiron Intel Core i5-1035G1 Processor Laptop
Check Price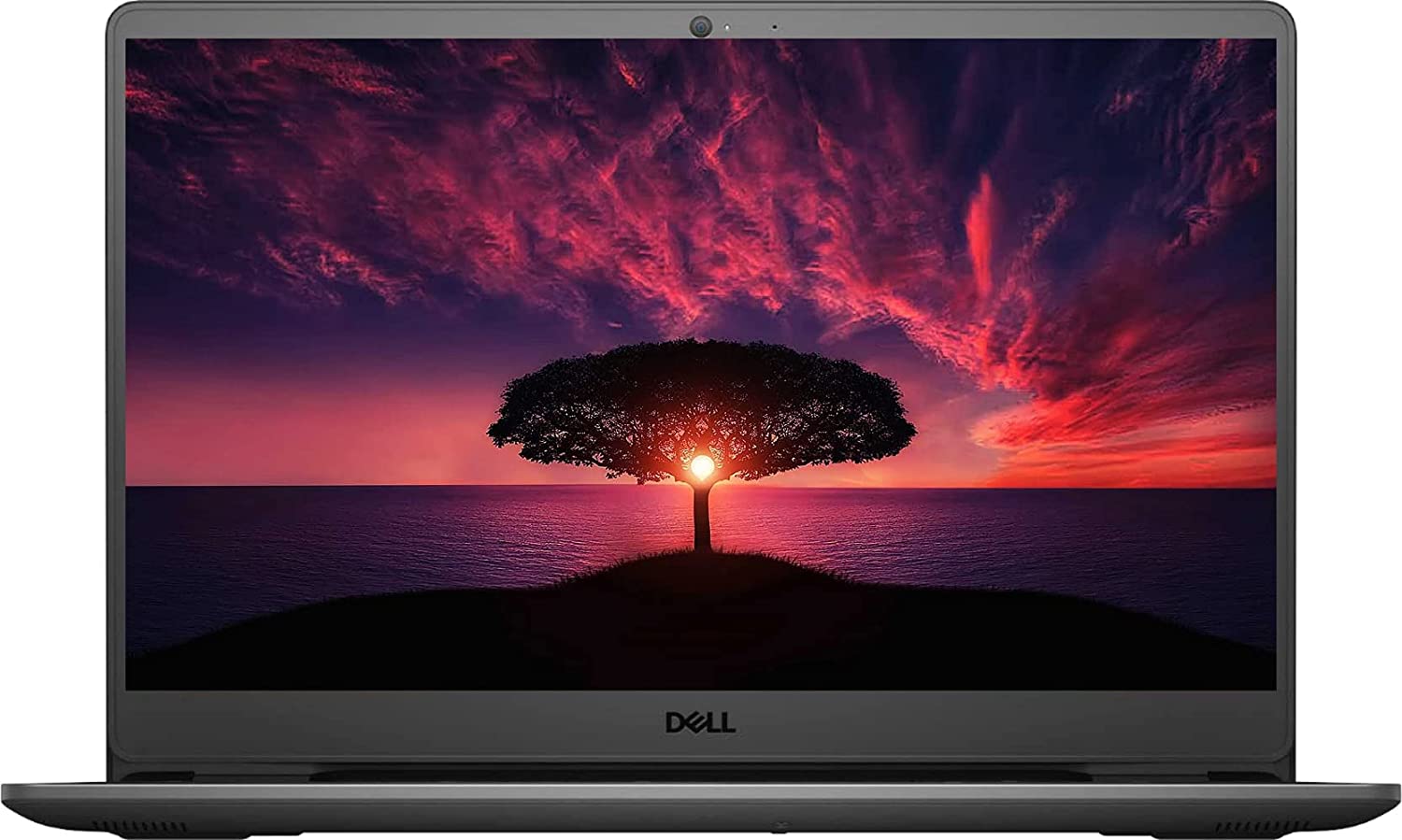 The Dell Inspiron comes with a 15.6-inch display screen offering a resolution of 1920x1080 pixels. The screen offers touch functionality and, therefore, is very easy to control. The slim design of this device makes it very convenient for one to carry it from one place to another. It is made with highly durable components. Once you purchase it, you can expect it to last a couple of years without troubling you.
Due to the Express Charging mode, the built-in battery takes very little time to charge. The battery life offered by the laptop, too, is adequate. The device comes equipped with a 1TB HDD which enables you to store a large amount of data without looking for additional storage support. You have multiple connectivity options, including an SD media card reader. The laptop exhibits great speed, and there is no chance of any lagging issue cropping up when you perform multiple functions simultaneously.
Why You Should Buy This?
A good option for teenagers looking for a laptop device that offers a large amount of storage space.

It is also recommended for those who wish to invest in a mid-range laptop with a high-definition, touch-enabled screen.
Pros
Portable structure

Fast performance

Good battery support

High-definition display screen
Cons
One of the best laptops for teens
Dell XPS 13
Check Price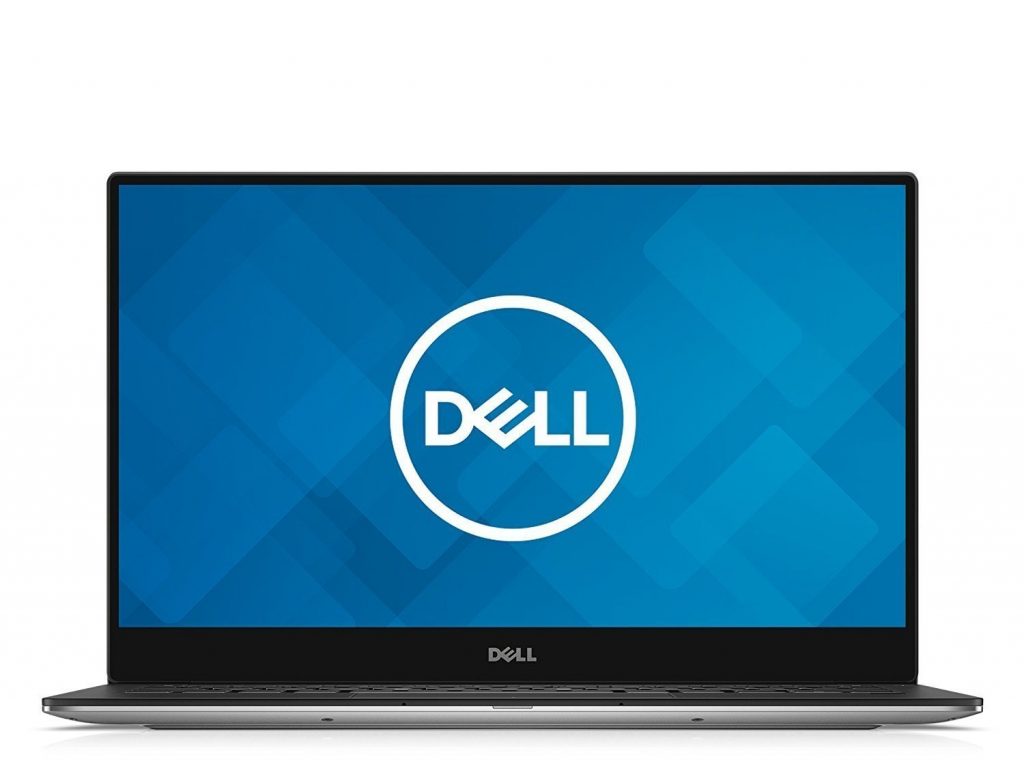 The Dell XPS 13 is gorgeous, with its thin curved frame and crystal clear display. It comes with an 8th generation Intel Core i5/i7, Intel UHD Graphics 620, 4 GB/16 GB RAM, 128 GB/1TB storage space, and a 13-inch non-touch display with a resolution of 1920×1080. This laptop is an absolute beast in terms of performance, especially at its price point. Moreover, you can customize the energy consumption using the Dell Power manager to select the perfect blend of performance and thermal management.
At its size, it's truly one of the best, smallest laptops you can buy today on the market. Though it may look delicate, it's cut from a single block of aluminum, giving it great durability and strength. The carbon fiber and woven glass combination provides amazing durability while making it very light to carry around. The display offers great colors and crisp visuals with a 1500:1 contrast ratio. The anti-reflective screen allows you to keep enjoying the beautiful visuals even when you go outside.
As far as battery life goes, it's probably one of the longest-lasting ones in the 13-inch display market. One aspect that goes hand in hand with battery life is its GORE thermal insulation technology, which helps the laptop to remain cool even as it performs a myriad of tasks. This might not be perfect for gaming, but it does almost everything else flawlessly.
Who Should Buy This?
A fantastic 4K display screen would work very well for teenagers who consume a lot of video content.
The latest model features a bigger-sized touchpad which helps provide comfort to one's palm.
Apart from the large-sized touchpad, typists would also benefit from the soft wrist rest.
Suitable for professional video or photo editors who need a very good screen to work on
The MacBook for the Pros
Apple MacBook Pro 13 inch
Check Price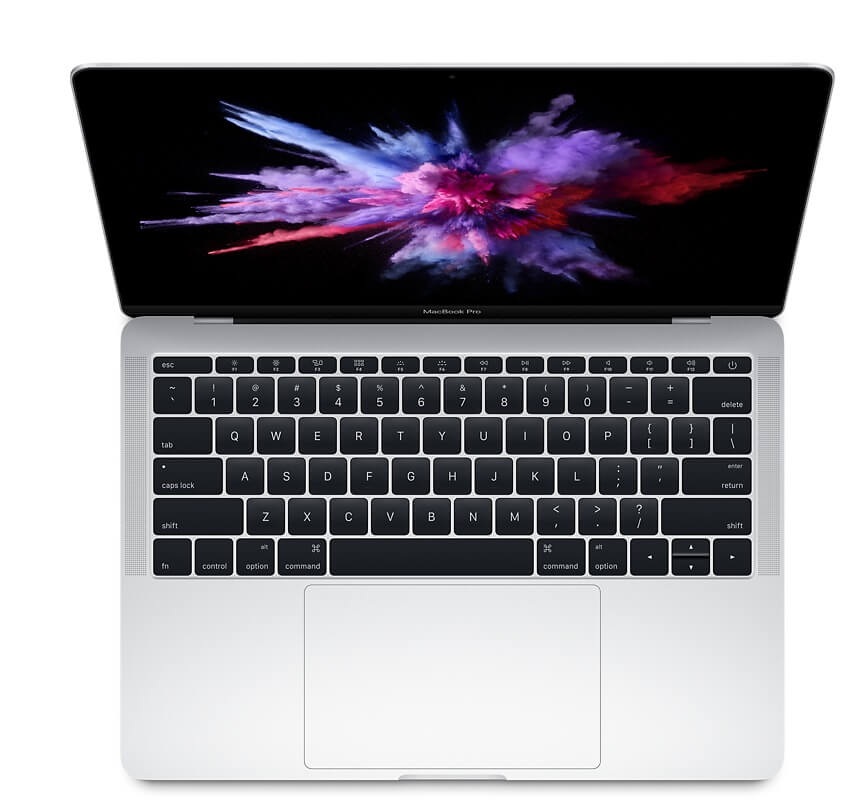 There probably isn't any need to introduce this one, as it's one of the best-known brands in the world. The Apple MacBook Pro comes with a 13-inch display, 2.3 GHz Intel Core i5 Dual-Core, 8 GB RAM, 128 GB SSD, and an Intel Iris Plus Graphics 640. As its name suggests, this laptop is for budding pros passionate about being creative and productive. It has amazing performance for a notebook and allows you to execute your ideas with premium graphics, fluid usability, and lightning-speed performance.
The 64 GB of embedded DRAM allows you to run multiple tasks simultaneously and accelerate graphics-based tasks to increase overall efficiency. The SSD storage is incredibly fast, allowing you to access and manage files in the blink of an eye. The thin frame is drop-dead gorgeous, and the exterior design is innovative with its ability to manipulate the airflow, keeping the laptop cool at all times.
The battery life lasts up to 8 hours on a full charge, which is not the greatest but good overall. If you are someone who likes using flash drives to carry files such as songs and movies, then the Thunderbolt 3 port is perfect for you. It's lightning-fast and allows you to seamlessly charge, transfer data, and connect to a video output with no issues whatsoever. If you like cutting-edge technology and a brand that seldom gives problems, this is the notebook for you.
Who Should Buy This?
Ideal for teenagers who are looking at investing in a high-end laptop that can allow them to do a variety of tasks and functions
Suitable for those who use their laptop to store all their important data and files
Also suitable for those who want a good video-watching experience on a vibrant screen
It will appeal to those who prefer a Touchbar instead of a bunch of function keys
The Best Long Lasting Laptop
Acer Chromebook 15
Check Price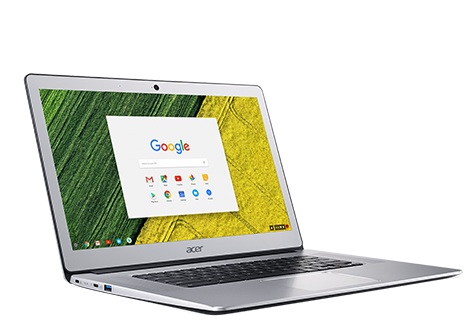 The Acer Chromebook 15 is a lightweight, extremely affordable laptop with insane battery life. Performance-wise it's not as great as some of the other devices, but what it delivers, it does so with unmatched strength. It comes with an Intel Pentium N4200 Quad-Core Processor, 15.6-inch HD widescreen display, 4 GB RAM, and 32 GB internal storage.
The aluminum body cover looks sleek and stylish but retains a certain classic feel rather than an over-the-top futuristic one. The 15.6-inch screen has touch functionality allowing you to browse your favorite content and easily manage files. You can also bend the display back 180 degrees for the optimum viewing experience. The front-facing speakers do a good job of pushing the audio towards you while you watch your favorite shows.
If you are looking for a laptop primarily for entertainment purposes like; watching your favorite movies, TV shows, or anime, and for doing the occasional schoolwork, then the Acer Chromebook 15 is undoubtedly one of the best options in the market today. Its extraordinary battery life of 16 hours on a full charge can give you many hours of immersive entertainment. Moreover, it will only take about two hours to recharge it and get another 16 hours of cord-free usage. It is affordable, great value, and will give you many hours of unbridled entertainment if that is what you want.
Who Should Buy This?
Ideal for teenagers who use their laptops for long hours regularly
Also suitable for teenagers who need a business laptop to do a part-time job or heavy assignments
The metal chassis should attract those who like to own an aesthetically designed laptop
The Chiclet-style keyboard is ideal for people who do a lot of typing work
Frequently Asked Questions
Should laptops for teens have a touchscreen display?
Well, it's a subjective question. On the face of it, a touchscreen is not very essential for the laptops being used by teens. The pricing aspect should also be kept in view since the touchscreen feature can push up the price.
What about security features in the laptop for teens, like the fingerprint sensor?
Security is very much an essential requirement for laptops irrespective of the purpose it is used for. Normally, Windows-run PCs and laptops have a layer of security with a password or PIN to log in to the device. If an individual wants a fingerprint sensor, then a laptop with such a provision can be purchased. An effective antivirus must be installed on the laptop to secure it against malware.
Can laptops for teens be of an older generation to cut costs?
It is not desirable to compromise on the quality of a laptop for its price. Do a complete analysis before coming to any conclusion of that nature. If you look closer, the difference may not be very high, maybe around $100. Consider buying a more recent model.
Are laptops supplied with MS Office loaded in them?
In most cases, you only get the Windows OS, the Home edition preloaded. You will have to source the MS Office program separately. If you are using MS Office on your current laptop, you can use the same key to use MS Office on the new laptop as well. In that case, you cannot use it on the old laptop. Free software programs equivalent to MS Word and MS Excel are available online. You can download and use them.
Is the HDMI port standard on all laptops?
No, it is not. Many laptops don't have the provision for connecting an HDMI cable. In the latest laptops, you have other options for coupling devices like Bluetooth. Traditional ways of using the HDMI cable to mirror the laptop display onto the television are now handled by Chromecast with Android TVs. Many mobile phones have the mirroring feature.
The Bottom Line
Buying a laptop in today's world is no easy task, especially if you want to meet a subset of a subset's requirements, like teens. The key to buying a great value product is to inform yourself of the latest technology available for different price points while keeping in mind your specific purpose. Do you need a laptop for school work primarily or for entertainment like playing games and watching movies? If you are looking for a laptop for a more temporary period, such as a year or 2, then getting a cheap but good quality laptop might be better.
However, if you are planning to get a laptop that will keep up with the market trends and technology, then finding a higher-end laptop would be wiser. Do not just look at the features and the price, but also at what you want to get out of it. Depending on your purpose, you can find a great product at affordable rates with no problem. Moreover, if you want to save more money, look out for flash sales on popular online retailers and get a great deal. The power is in your hands.