Featured in this article (opens in new tab)
Digital art has taken some large strides over the last few decades. Gone are the days when you struggled to edit pictures or draw them digitally with the mouse. Today we have state-of-the-art pen tablets, software programs, and monster machines to create pretty much anything from our imagination. Digital art can mean many things, but in this review, we will be looking at laptops that can primarily help with creating digital 2D art but also have the potential to run 3D software. Here are some of the best laptops for digital art available on the market today.
See also: Best Chromebooks under $500
Buying Guide
As a digital artist, having a laptop is key to unleashing your creativity. Workstations and desktops are of course important too but unfortunately, you can't carry them with you when you travel. This is important because you never know when you might find some inspiration, and you don't want to be stuck with no tools at your disposal. If you are looking for some of the best laptops for digital art, then here are some things you need to know.
Display – One of the most important things to look for in a laptop is a great display. Always go for one that has high resolution and displays accurate colors. This is paramount when it comes to anything related to visual arts. You need to be able to see your artwork in detail and know that the colors you put down are as accurate as possible.
Processor – You need a processor that can easily handle heavy art-related tasks. The power of the processor that you would need depends on the type of digital art you dabble in. If you work on primarily 3D artwork, you need a far more powerful processor than if you use only 2D software programs like Photoshop or Painter. As of now, Intel Core i7 and Xeon are great options to go for.
Memory (RAM) – RAM is essential for a digital artist. The more you have, the better it is, especially if you work on Photoshop for creating illustrations. 16 GB RAM is the minimum amount you need to go for, but if you can go for 32 GB, that would be ideal. This is especially important if you work on video editing and 3D.
Graphics – GPU power is more suited for those who work on 3D art, but it's always good to have a powerful Graphics Card in your machine.
Connectivity – Most digital artists will have a Wacom tablet for illustration or design purposes. Therefore, your laptop must have an adequate number of USB ports.
Storage – Having an SSD drive is also extremely helpful in making digital art. It might cost you, but the advantages you get from it are well worth the price. You might also want to get an external hard drive to back up all your work.
Battery – If you are planning to buy a laptop for your digital art needs, then you need adequate battery capacity. 8 hours would be ideal, but some of the powerful ones will only last up to 5 or 6 hours. The longer it lasts, the better it will be for your needs.
Best Laptops for Digital Art
2-in-1 Convertible Device with 13.3-inch Display Screen Laptop
Lenovo IdeaPad Duet 5 Snapdragon SC7180 Chromebook
Check Price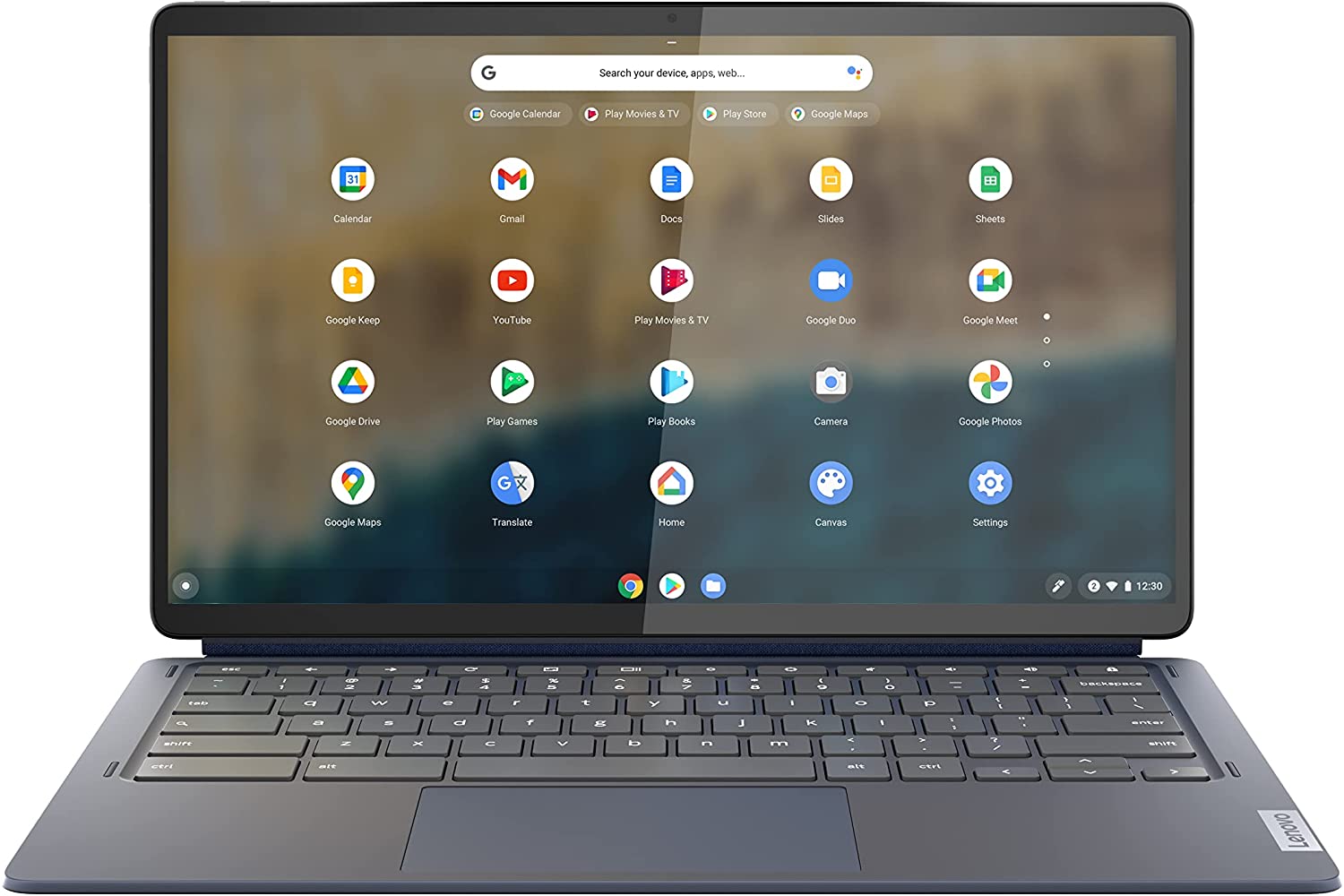 Inspiration can strike you anytime. Therefore, you need to have a device that enables you to draw whenever you wish to. The Lenovo IdeaPad Duet 5 is a convertible device, which means you can use it both as a laptop and a tablet. The device features a 13.3-inch display screen with a 1920 x 1080 pixels resolution. It is touch-enabled, and you can use a digital pen to draw or write across the screen.
An important factor that makes it a travel-friendly device is its battery life. When charged optimally, the battery lasts for close to 15 hours. The device supports the use of Alexa, so you can get a lot of things done without even touching the device. There are four built-in speakers and two microphones. The speakers come equipped with smart amplifier technology, which results in an immersive audio output.
A very good option for artists and media professionals looking for a device that can double up as a laptop and a tablet.

It is also recommended for those who travel frequently and need a convertible device that is easy to travel with.
Convertible feature

Strong audio output

Excellent battery life

Touch-enabled screen
Low bandwidth memory

Build quality could have been better
Budget-Friendly Laptop with Good Multimedia Features
Asus Chromebook 17.3-inch Display Screen Laptop
Check Price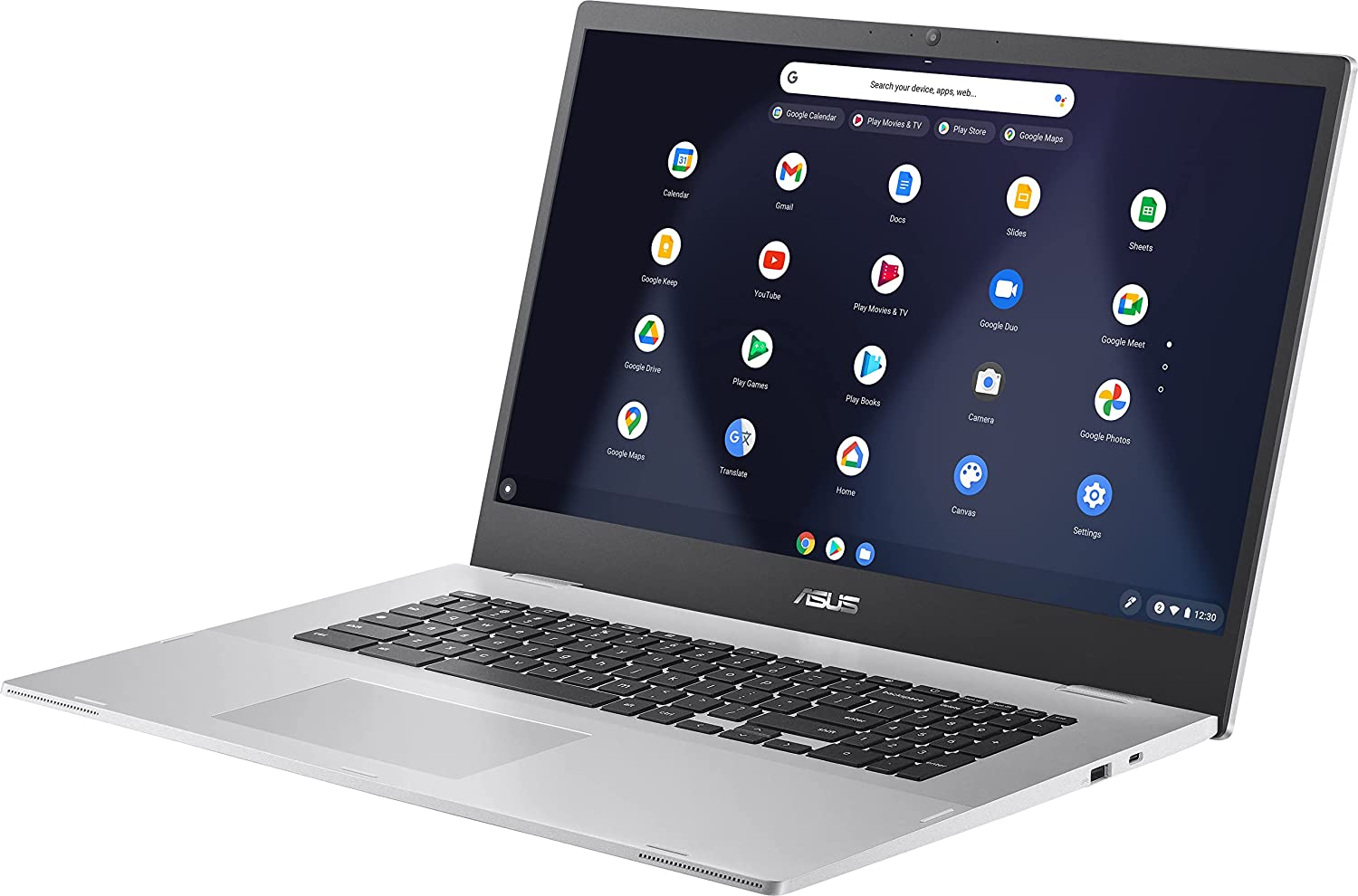 Many artists prefer working on a laptop with a vibrant and large-sized screen. This affordable laptop from Asus features a 17.3-inch display screen that produces high-resolution images. Along with 4 GB RAM, the device offers internal storage support of 32 GB. Though the device works quite efficiently, extraordinary speed is something you should not expect out of it.
The design of the laptop is quite sleek and belies the fact that it is a budget-friendly device. The laptop runs on Chrome OS and comes pre-installed with several useful Google apps. It is powered by the Intel Celeron N4500 CPU, which operates at a processing speed of 1.1 GHz. When you charge the battery optimally, it will offer a backup of 16-17 hours.
Recommended for digital artists who are looking for a budget-friendly laptop with a large and vibrant display screen.

It's also a good option for those who want a laptop device that offers excellent battery backup.
Moderate pricing

Strong battery life

Large HD display screen

Several pre-installed apps
Limited internal storage

Low bandwidth memory
Mid-Range Laptop with a High-Definition Webcam
HP AMD 6-Core Ryzen 5 5500U Processor Laptop
Check Price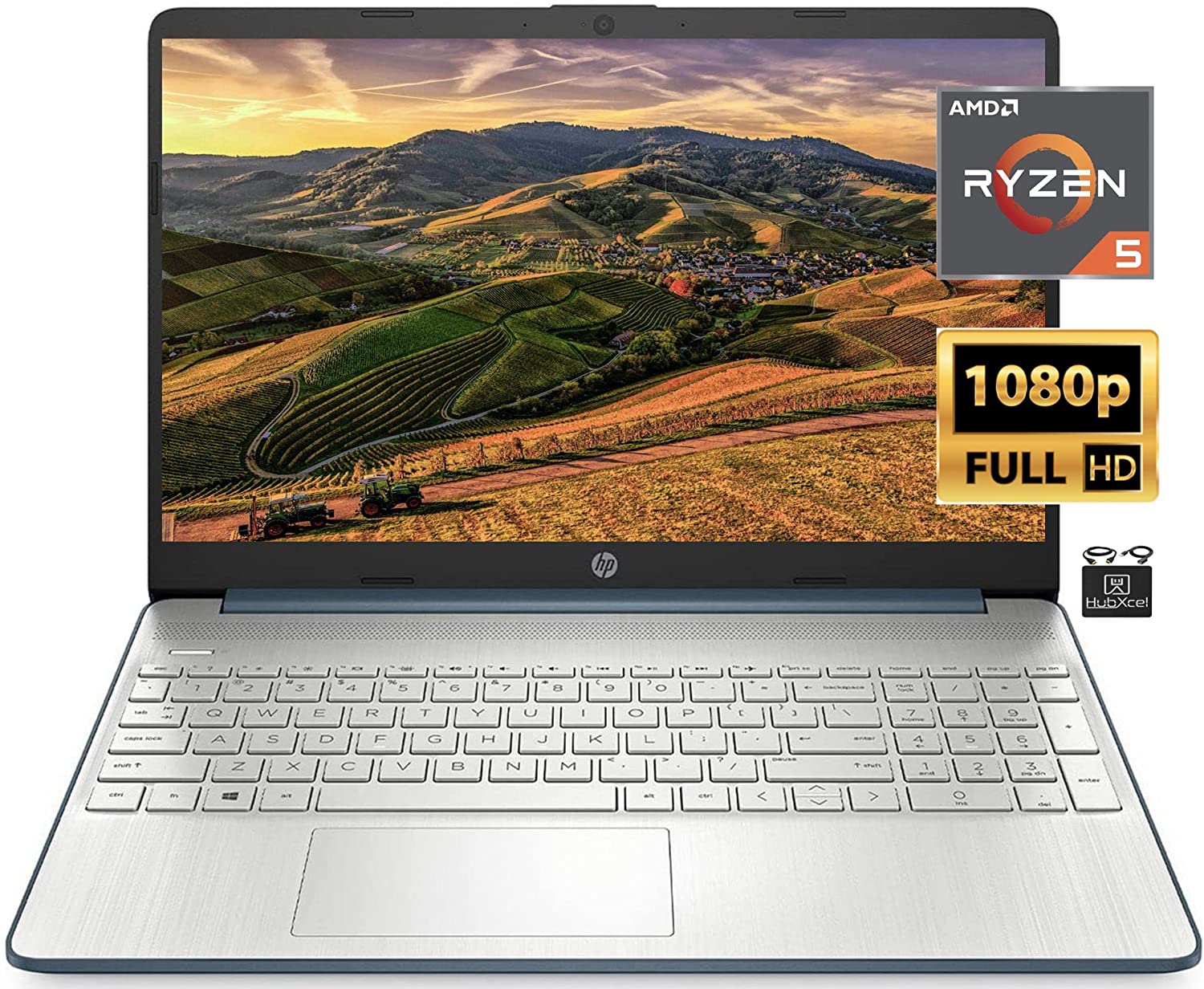 This HP device offers everything you would expect to find on a medium-budgeted laptop. The 15.6-inch display screen offers a resolution of 1920 x 1080 pixels. Digital artists and multimedia professionals prefer the device for its high-speed performance. The AMD 6-Core Ryzen 5 5500U CPU functions at a processing speed of 4.0 GHz. The 32 GB high-bandwidth RAM also contributes to the highly efficient performance delivered by the laptop.
If you engage in video calls or conferences regularly, you will hugely benefit from the high-resolution webcam that the device comes equipped with. Virtual conferences also feel like a breeze owing to the presence of dual-array microphones. The laptop features a hard disk that offers 1 TB of storage space. When you charge the battery to its fullest, it lasts for 8-9 hours. The laptop comes with multiple connectivity options, including a microSD card reader.
A very good option for digital artists who wish to invest in a laptop that offers a very high processing speed.

It is also recommended for those who use a laptop extensively to participate in digital conferences or make video calls.
High-definition webcam

High bandwidth RAM

Fast-performing processor

Strong connectivity support
Moderate battery support

Average thermal management
Portable 2-in-1 Device with Backlit Keyboard
Asus Chromebook Flip C433 14-inch Screen Laptop
Check Price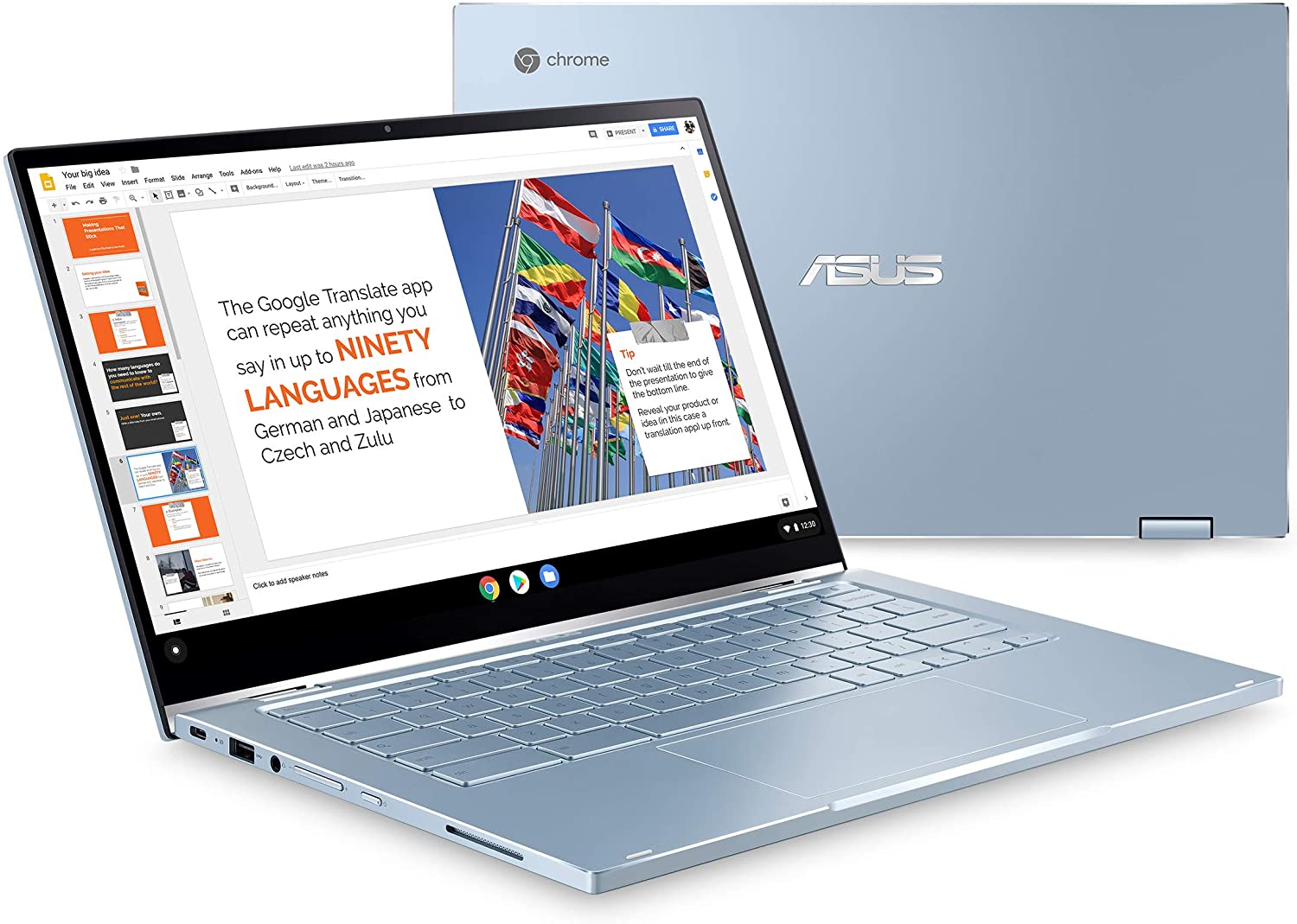 The Asus Chromebook Flip C433 has several features that digital artists would appeal to. Being a convertible device, you can use it both as a laptop and a tablet. It comes with a backlit keyboard that is sturdily built and very comfortable to use. The 360-degree hinge enables you to use the device in tablet, tent, and stand modes.
The 14-inch wide display screen is touch-enabled and has a 1920 x 1080 pixels resolution. It runs on Chrome OS and boots up pretty fast. The hard disk offers a storage space of 64 GB which might not be adequate for many media professionals. The Intel Core m3-8100CPU runs at an operating speed of 1 GHz and could have been faster.
Why You Should Buy This?
An ideal option for those looking for a convertible device that comes at an affordable price.

It is also recommended for individuals who need a laptop device with a good backlit keyboard.
Pros
Budget - Friendly

Backlit keyboard

Lightweight and portable

Works both as a tablet and a laptop
Cons
Limited storage space

The processor should have been faster
High-End Laptop with 17.3-inch Display Screen
MSI Creator 17 32 GB RAM Memory Laptop
Check Price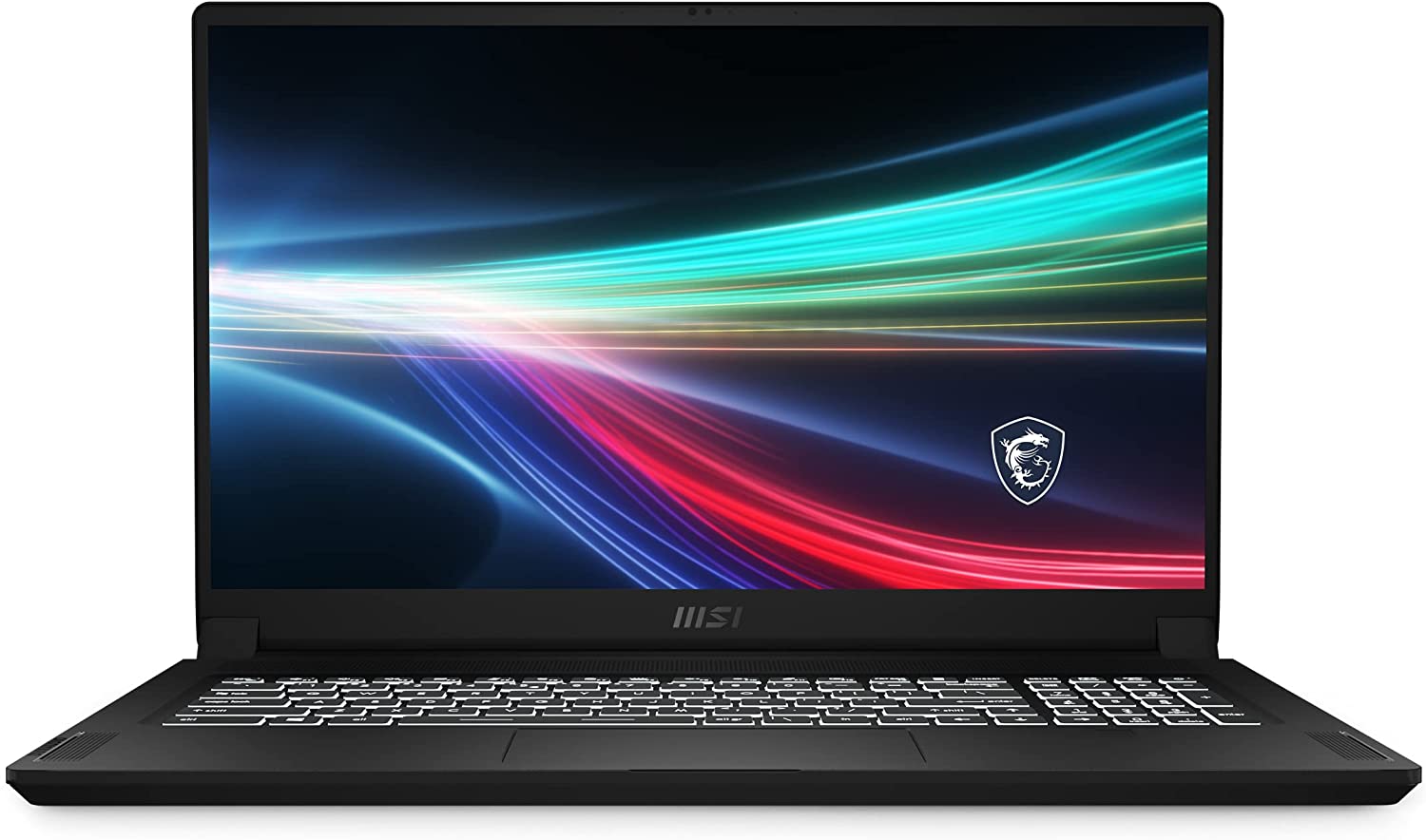 You have to pay a premium price to get the MSI Creator 17. However, once you start using the laptop, you realize the price is well-justified. It features a 17.3-inch mini LED screen that is apt to create and see your artwork come alive. The game offers strong gaming performance and is aided by high-quality graphics.
Armed with 32 GB RAM and an Intel Core i7-11800H RTX3080 processor, the laptop works at a very high speed. It runs on Windows 10 Pro and assures you of glitch-free operations. The webcam is very good quality, and the fingerprint reader is quite responsive. Though the keyboard doesn't have an RGB lighting function, it is very comfortable.
An ideal option for digital graphic artists who have been looking for a well-performing laptop with a 17.3-inch screen.

It is also suitable for individuals who wish to invest in a laptop that offers good gaming performance.
17.3-inch HD screen

High bandwidth RAM

Robust processing unit

Great gaming performance
Expensive

Moderate battery support
Well-Built Laptop with 32 GB RAM
HP Pavilion 15.6-inch Display Screen Laptop
Check Price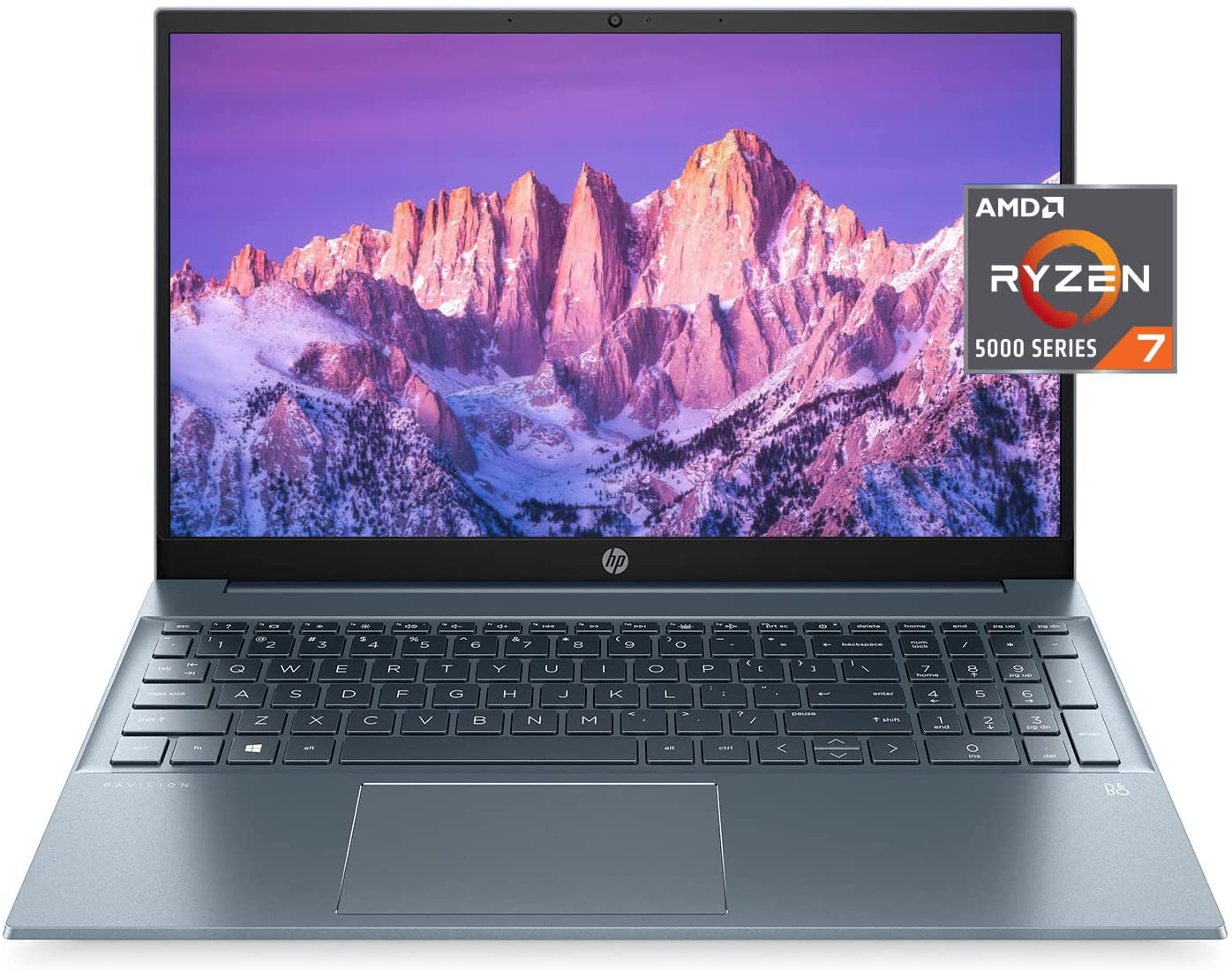 The HP Pavilion features a 15.6-inch display screen that produces a resolution of 1920 x 1080 pixels. The 178-degree viewing angles of the screen make watching movies and other video content even more comfortable. The laptop has been built with durable components, and its design is highly attractive.
The laptop comes equipped with a hard disk that provides you with a storage space of 1 TB. Featuring a 32 GB high-bandwidth memory, the laptop operates at a very high speed. If you like to multi-task, you will enjoy using this device. The 720p webcam and the dual-array microphone make it very easy to engage in virtual conferences.
Why You Should Buy This?
HP Pavilion has several advanced multimedia features that make it a good investment device.

It is also recommended for those looking for a laptop that, apart from carrying out professional tasks, can also offer good gaming performance.
Pros
720p webcam

HD Display Screen

Durable structure

Adequate storage support
Cons
No optical drive

Slightly expensive
One of the Best Affordable 2-in-1 Laptops for Digital Art Novices/ Students
Microsoft Surface Go
Check Price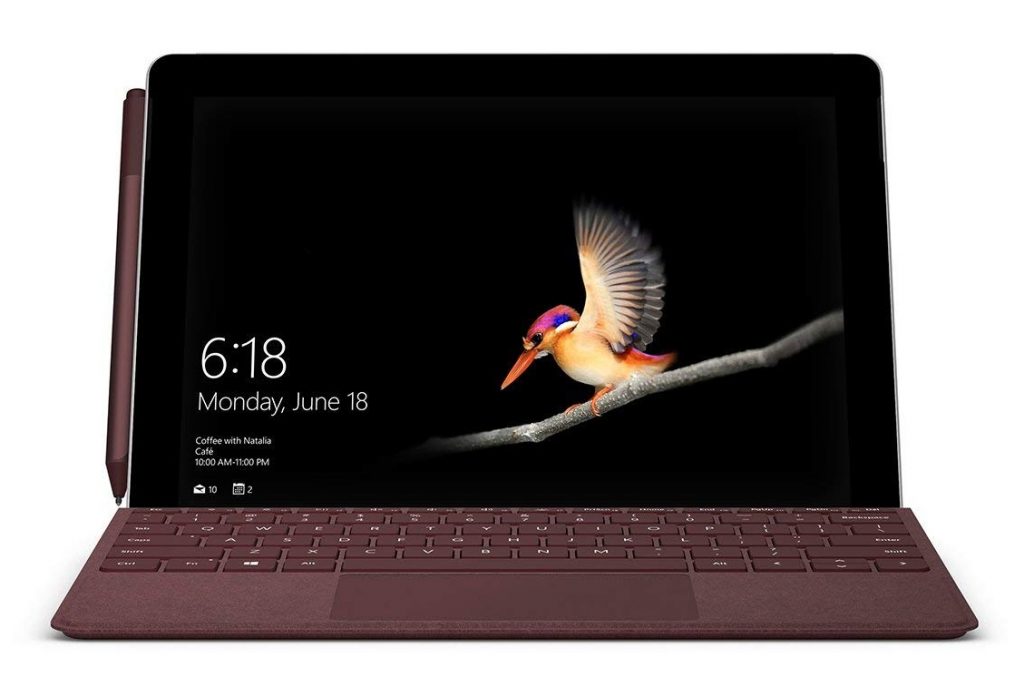 The Microsoft Surface Go comes with the Intel Pentium Gold processor, Intel HD Graphics 615, 4 GB RAM, 128 GB storage capacity, 10" PixelSense display, and Windows 10. At 1.15 pounds, Surface Go is lightweight and ideal for carrying around when traveling. The design is similar to the Surface Pro, but Microsoft has made some refreshing changes, such as the rounded edges and a smaller body. These changes were made to expand its customer base and include the student market, which requires it to be more fun and of lightweight design.
When it comes to performance, it does a good job of handling basic tasks. The 8 GB variant would be a better choice if you need to do some professional work. The display comes with a resolution of 1800 x 1200 pixels and an aspect ratio of 3:2, which is perfect for working on digital art. The bezels around the display are quite large, which is quite practical as it gives ample space to hold the device without accidentally touching the screen and triggering something. The thick bezels are also there because of the placement of the speakers. Even though the drivers are pretty small, they deliver surprisingly good sounds.
You also get up to 6 hours of battery life with continuous use, which is pretty solid for such a versatile device. You can extend it a little bit by using the battery power-saving mode. Another feature is facial recognition via Windows Hello, which allows you to unlock the screen without typing in the password. With good performance, great design, and sound, the Microsoft Surface Go is the perfect laptop for students and digital art novices. If you are an advanced user who does digital art at a professional level, a more powerful laptop would be the wiser choice. But for those starting in the digital art world, it's tough to find a better 2-in-1 laptop than the Surface Go.
Who should buy this?
It's perfect for those who are looking for an affordable2-in-1 laptop.
It's ideal for students who want a laptop with a great design.
It's a great choice for those who need a 2-in-1 laptop that offers good performance.
One of the Best Overall Laptops for Digital Art
Dell XPS 15
Check Price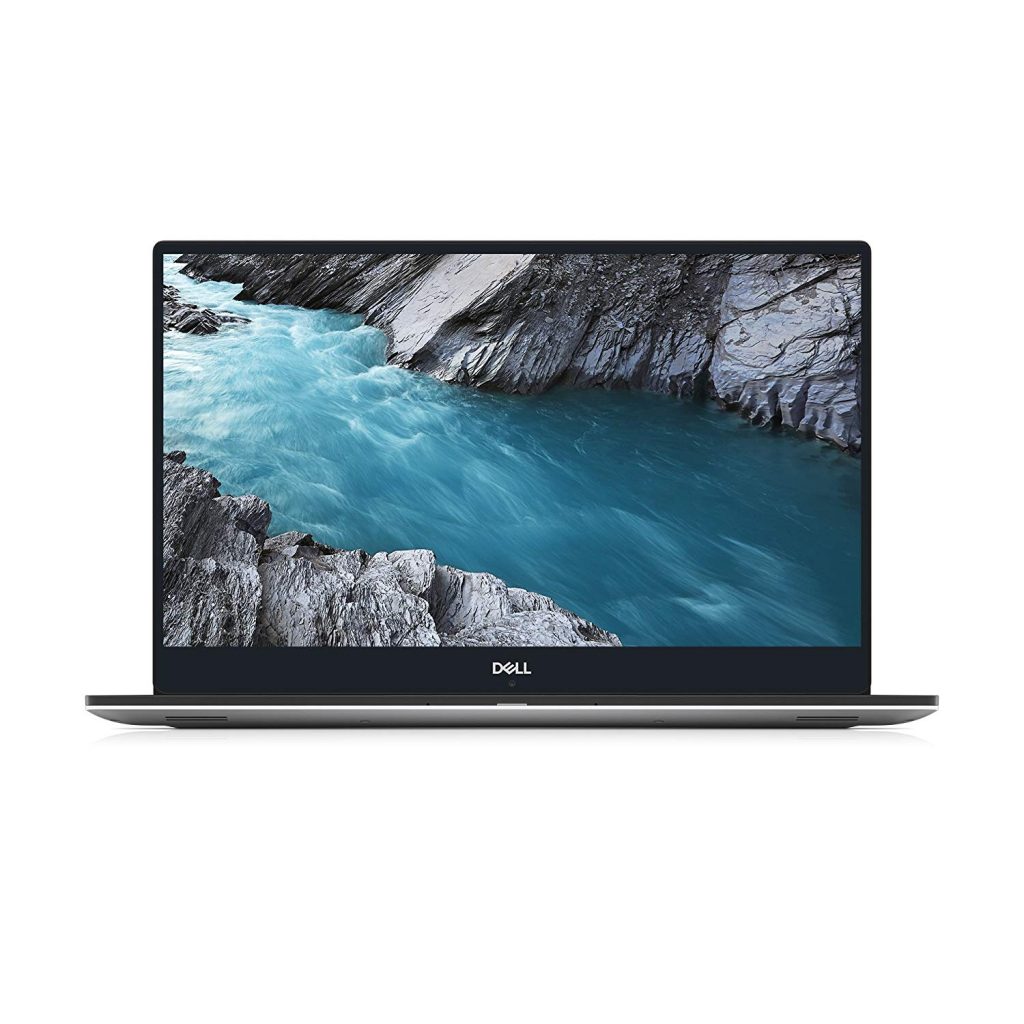 The Dell XPS 15 comes with a 9th Gen Intel Core i7-9750H processor, 16 GB RAM, 1 TB SSD storage capacity, and NVIDIA GeForce GTX 1650 graphics (4 GB DDR5). The laptop has a 15" display and Windows 10. The design of the XPS series has remained unchanged for quite some time now, and the XPS 15 is no different. It comes with an aluminum unibody and a carbon fiber keyboard deck. Thanks to the larger body, it differs from the rest of the pack in the number of ports. It features a USB 3.1 port, SD card slot, and an HDMI port.
Dell has always been known for laptops and computers with amazing displays. The XPS 15 has a touch display with a resolution of 3840×2160 and features amazing picture quality. Colors and textures pop out extremely well, making it a great choice for those who dabble in digital artwork. With the 9th Gen Intel Core i7 processor, 16 GB RAM, and 1 TB SSD storage space, you can run heavy tasks without hassles. The 1 TB SSD storage space comes in very handy in this regard, as digital art usually requires one to have sufficient storage space for all the heavy files. The laptop is not meant for gaming, but you can play the latest games in medium settings without any significant issues. However, it is a beast of 4k video editing, allowing you to have a seamless experience when rendering the output.
The battery life of the XPS 15 is not on par with the MacBook Pro, but it does a good job of providing up to 4 hours plus with general use. The numbers may seem low, but this is a 4k display. The XPS 15 is good for digital artists because it comes bundled with several valuable programs such as Adobe Photoshop Elements, a fingerprint sensor, and the McAfee antivirus software. Regarding performance, display, and features, the XPS 15 offers way more than its predecessor and is a great option for semi-professional digital artists.
Who should buy this?
It's perfect for those looking for a laptop with an exceptional display.
It's ideal for people who appreciate having useful bundled software programs on their laptops.
It's a great choice for those who work in video editing, thanks to the large storage capacity and powerful processor.
One of the Best Premium Razer Laptops for Digital Art
Razer Blade
Check Price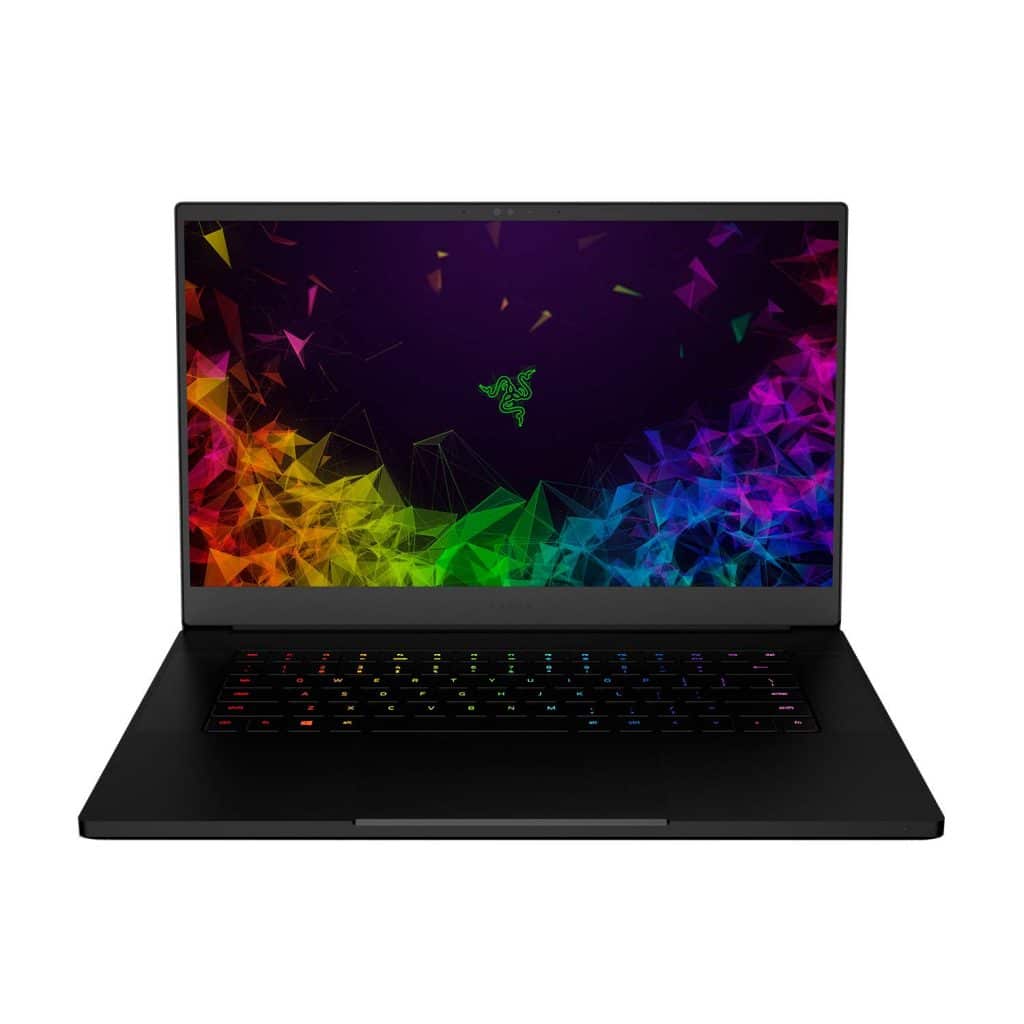 The Razer Blade comes with an Intel Core i7-8750H processor, 16 GB RAM, 512 GB SSD storage capacity, and GeForce RTX 2070 Max-Q graphics. The display is 15.6" FHD, and it has Windows 10. The Razer Blade takes the same design as its predecessor but strips it down to its bare essentials. The CNC aluminum unibody has a vapor chamber cooling unit to keep the temperature low while running heavy tasks. It's also slightly thicker than the previous model but keeps the same weight at 4.63 pounds. The customizable RGB individual key lighting looks stunning in the dark. You can customize the colors by picking from 16.8 million colors and multiple preset profiles. It also comes with the Windows Hello facial recognition functionality for easier screen unlocking.
Regarding the display, the Razer Blade offers precise and vibrant colors, making it perfect for photo and video editing. The matte coating effectively deflects glare, allowing you to have a great immersive visual experience no matter where you are. It's one of the few laptops that come preset with pretty accurate color calibration. Being a premium laptop, you expect it to have exceptional performance, and the Razer Blade doesn't disappoint. It can be used as a gaming machine or as a workstation and will easily complete tasks assigned to it. Creating online videos, film editing, 3D modeling, and digital paintings will be a breeze with this laptop. The Hexa-core processor is also enough to play the latest games in ultra-high settings.
Apart from its performance, one aspect that might surprise you is its battery life. High-performance gaming laptops usually have terrible battery life as they utilize a lot of power. The Razer Blade can run for up to 2.5-3.5 hours with light to medium usage. Though it has a relatively good battery life, it's not meant to be used while commuting or traveling. If you are a fan of Razer and want a premium, high-performance laptop that can run the most demanding tasks smoothly, this laptop might be the right one for you.
Who should buy this?
It's perfect for those looking for a laptop that can run digital art software and graphics-intensive games smoothly.
It's ideal for people who need a high-performance laptop with a very good battery life.
It's a great choice for a premium laptop with killer looks.
One of the Best Color Accurate Laptops for Digital Art
Apple MacBook Pro
Check Price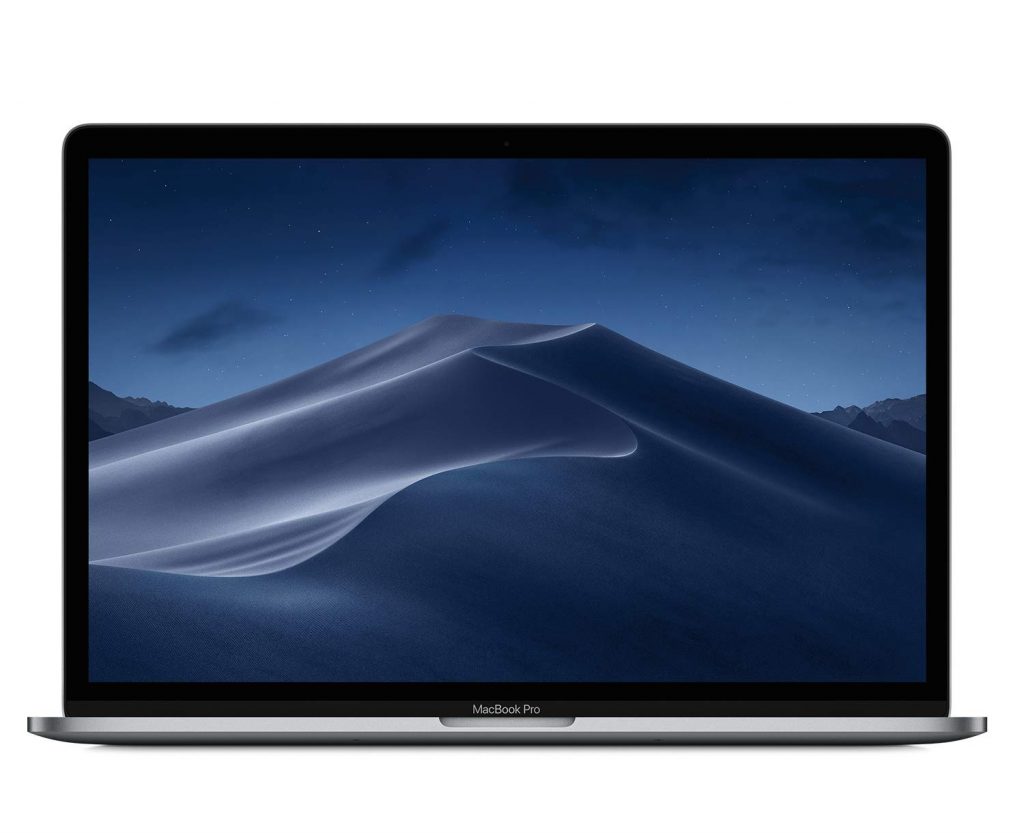 The Apple MacBook Pro comes with a 2.3 GHz 8-core Intel Core i9 processor, 16 GB RAM, 512 GB SSD storage capacity, a Radeon Pro 560x graphics (4GB), a 15" Retina display, and runs macOS 10.14. As expected, the MacBook Pro series's design is the same as others. For decades, Apple has always gone for a minimalistic approach in all its designs, and many have come to love it. The last significant change in design Touch Bar was introduced. However, you do get to choose from two different color options, namely Space Gray and Silver.
The Apple MacBook Pro may look similar to its predecessor on the outside but inside, it's a completely different story. The 15-inch Retina display looks mesmerizing with its 2880 x 1800 resolution. The True Tone feature provides realistic and vibrant colors vital for video editors. Digital artists, on the other hand, can turn this feature off to view accurate color reproduction. Regarding performance, there is no doubt that it is a beast of a machine with an Intel Core i9 processor (Turbo Boost up to a whopping 4.8 GHz), 16 GB RAM (upgradable up to 32 GB), and the Radeon Pro 560x graphics card. It can run pretty much any software without breaking a sweat.
One would assume that such a powerful laptop would have a disappointing battery life but not the MacBook Pro. It can last up to 7 ½ hours from a full charge with medium usage, which is insane. It easily beats most of its competitors in the performance laptops category. If you are an Apple fan or a professional who needs a workstation-type laptop for digital art needs, then the MacBook Pro is hands down the best one to go for if you can afford it.
Who should buy this?
It's perfect for those looking for a laptop with a ton of power under the hood.
It's ideal for people who need a high-performance laptop with insanely good battery life.
It's a great choice for those looking for a laptop that can produce accurate colors on its display.
Frequently Asked Questions
What are the Minimum Specs I Require in My Laptop for Digital Art?
No particular specs can be given for digital art as it solely depends on the type of digital art (2D or 3D) you dabble in and the software programs you use. As a general rule of thumb, it's always better to go for a minimum of 8 GB RAM, a decently powered processor, and a dedicated Graphics card.
What Are Some of the Features I Should Always Look Out For?
When buying laptops, many people end up not looking for certain key features like an HDMI port, Thunderbolt, or screen resolution. If you work with digital photography, you need to look for a built-in card reader.
Are 2-in-1 laptops Useful for Creating Digital Art?
2-in-1 laptops have an advantage as most come with stylus support and the ability to use the laptop in different modes. Having it in tent mode can help you to draw on the screen more efficiently. However, if you have a Wacom tablet with you, it wouldn't make much difference.
Is it Necessary to Get an Expensive Powerful Laptop?
Buying a powerful laptop will help you a lot more when creating digital art, but it's not an absolute necessity. If you are an aspiring artist or beginner, you can go for an affordable model until you can afford a more powerful one.
What Type of Processor Should I Look For on My Laptop?
If you prefer Intel, then an i9 or i7 would be an ideal option to go for. Intel processors, however, are a bit more expensive and so be prepared to take a hit on your budget. If you are an AMD fan, you can go for the AMD Ryzen 9 or 5. Always look for the number of cores and clock speed to determine which processors are better. More cores will split the workload more efficiently and allow you to complete tasks more smoothly. Usually, in the industry, the Intel processor provides more clock speed, whereas AMD provides more cores.
Conclusion
Investing in the right work product is crucial for creating amazing works as a digital artist. You need to keep a few important factors in mind before buying a laptop. It needs a great display with accurate colors, power, good RAM, decent storage space, and sufficient ports. Good battery life is also important if you are someone moving around most of the time. There is no "best laptop" out there that can meet the above criteria with flying colors. However, you have many options out there that can do some of the above stuff well. With a little research, you can easily find the one that best suits your specific needs.