Featured in this article (opens in new tab)
Summary –
People have different preferences while selecting golf bags, as there is no such thing as the 'perfect golf bag' or 'best golf bag.' Golf bags are necessary for carrying the golfing clubs and other accessories. There are several styles available. For instance, there is a staff bag, which is heavy and bulky and more suitable for those who have someone to carry it for them. On the other hand, cart bags and stand bags offer more storage space and are ideal for tour professionals. Carry bags are ultra-light and have just a few storage pockets, suitable for minimalists. Let's check out the various options of golf bags that are available.
See also: Best cases for Samsung Galaxy S10 Plus
Best Golf Bags
Innovative Latch and Go Golf Bag
Frogger Golf Function Stand Bag(Gray/Black)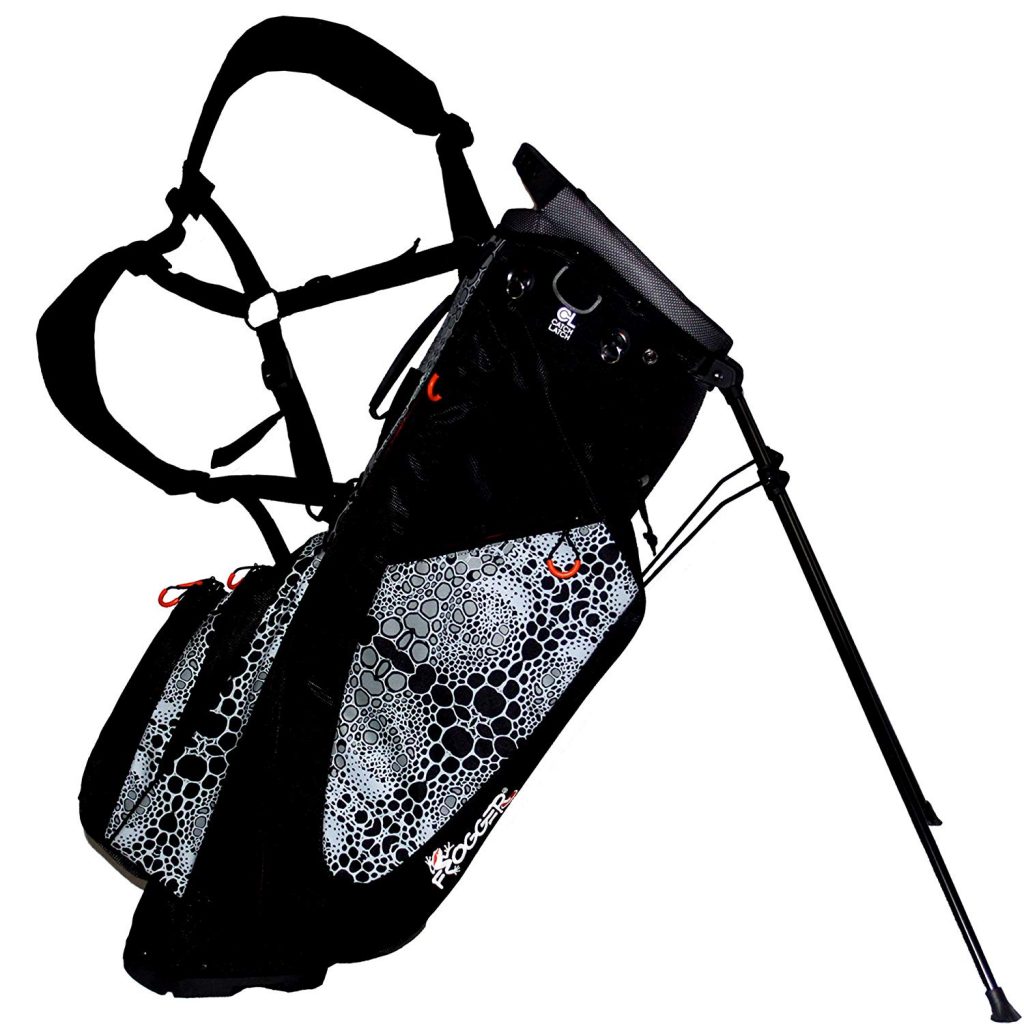 It received the PGA Show's Best New Product award in 2017 due to the integration of the Latch-It technology into the golf bag. It is lightweight at just 4.9 pounds and has a bag stand, a bottle pocket and a pocket for valuables. Besides, there is a large and small side pocket at the back, along with tee and ball pockets. It has seven pockets and umbrella storage with rain hood for rainy days on the golf course and two Latch-it receivers. The dual shoulder straps are comfortable and ergonomic. It has a ventilated padding at the back. A stand comes integrated with the bag, making it easy to cart along.
Two Latch-It magnetic receivers are integrated into the bag along with key ring accessory fobs. This makes it easy to attach or detach a favorite accessory from the bag. The interchangeable gear-managing system makes it easy for you to detach or fasten an important device or an accessory, such as your smartphone, a rangefinder, a towel, etc. to the golf cart or pushcart.  It also works effectively with all other Latch-It products.
It is noteworthy that it has been ranked No. 1 by MyGolfSpy in the year 2018. It fits all sizes of golf carts or pushcarts.
Who Should Buy This:
Those who want a solution for easy gear management will like carrying their golf kit.
For those who want to make a unique golf gift that is truly wow!
See it on Amazon
Works Perfectly on Riding Cart
Sun Mountain 2019 C-130 Cart Bag (Gunmetal Black Red)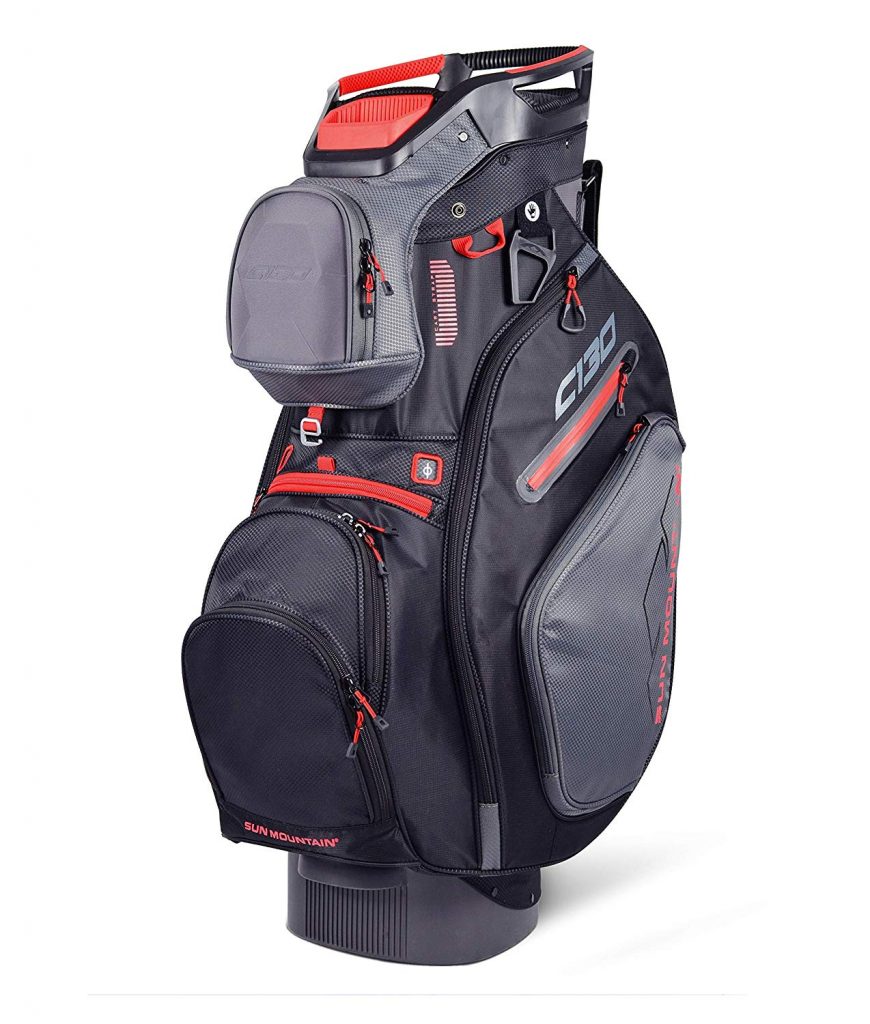 This is a gun-metal black-red, 14-way top Cart Bag with full-length sized dividers offering perfect organization features. Ten pockets facing forward provides excellent storage as well. The top diameter is 10 inches, and it is 14-way padded. There are ten pockets, with two full-length pockets for apparel, one ventilated cooler pocket, two pockets for valuables that are velour-lined, one pocket for a Rangefinder, and miscellaneous accessories pockets. The cooler pocket helps in keeping drinks cool while on the golf course. It also includes an umbrella holder, towel ring, and rain hood. The dimensions are 36 x 10 x 16 inches (HWD), and it weighs 7.3 pounds.
The Sun Mountain Cart Bag is made of nylon and is sturdy and durable. The pockets face forward and are easy to access. The Strap system is a Smart one and prevents the bag from shifting on the cart. It attaches to the riding cart using velcro straps, preventing it from getting twisted or interfering with the pocket usage. Thus, it works perfectly on the riding cart. Three utility handles are integrated on the top. The pocket for putters is also oversized so that even the biggest putting grips can fit into the compartment. To its credit, the Sun Mountain C130 Golf bag was named as the Golf Digest Editors' Choice for 2018.
Who Should Buy This:
Those who want a handy, high-quality cart bag with plenty of useful pockets.
Those who want an attractive design and a bag that is easy to clean with minimal upkeep.
See it on Amazon
Ultra-Lightweight Golf Stand Bag
Sun Mountain 2019 4.5 Ls 14-Way Stand Bag (Navy White Red)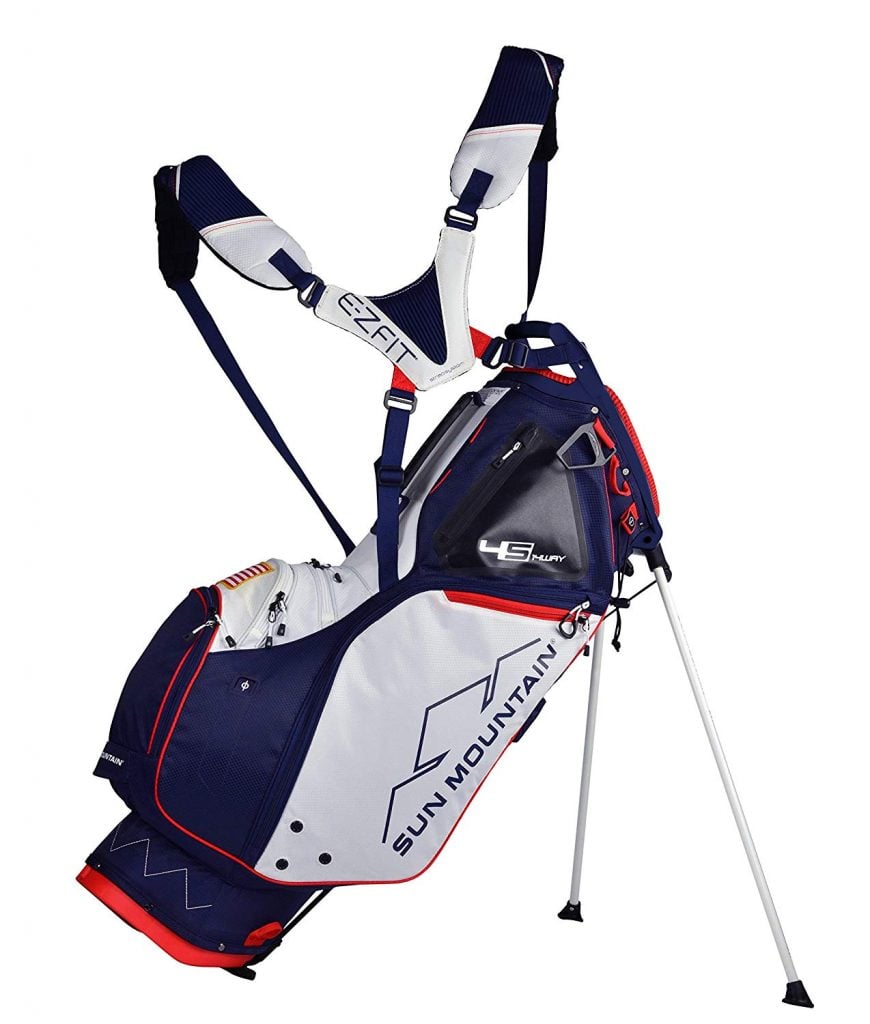 This is a new design with a larger top of 14 full-length dividers running the entire length of the golf bag, providing space for all your golf clubs. The lower part is cart friendly, so you can use it while you are walking or while using carts. There are different styles of pockets for storing all your golf essentials, along with drinks and valuables.
The upper diameter is 11 inches, and the top dividers are 14-way. There are nine pockets in all. The oval top has a handle integrated with it so that it is easy to pick up. The dual straps with E-Z fit can be customized and adjusted for a good fit. The cart-strap pass-through is useful for mounting it to a cart when you drive around.
The shoulder straps come with three layers offering excellent comfort. It has been designed to provide lumbar support and enhanced ventilation with the Airflow hip pad. The leg mechanism is top-mounted, making it more stable. It is lightweight, cart friendly, and water-resistant coming with velour-lined pockets for valuables. There are a hydration pouch and a full-length pocket for clothing. There are several pockets for multiple accessories, a separate holder for a pen, umbrella, and towel. It also includes a matching rain hood. The dimensions are 36 x 8.5 x 14 (HWD), and it weighs 4.5 pounds.
Who Should Buy This:
Those who are looking for a light, comfortable, golf stand-bag that is sturdy and well-built with plenty of pockets for accessories.
For those who want a golf bag that will last them for several seasons.
See it on Amazon
Rugged and Sturdy Golf Bag at Reasonable Price
TaylorMade Golf TM Stand Golf Bag 5.0 (Black White Red)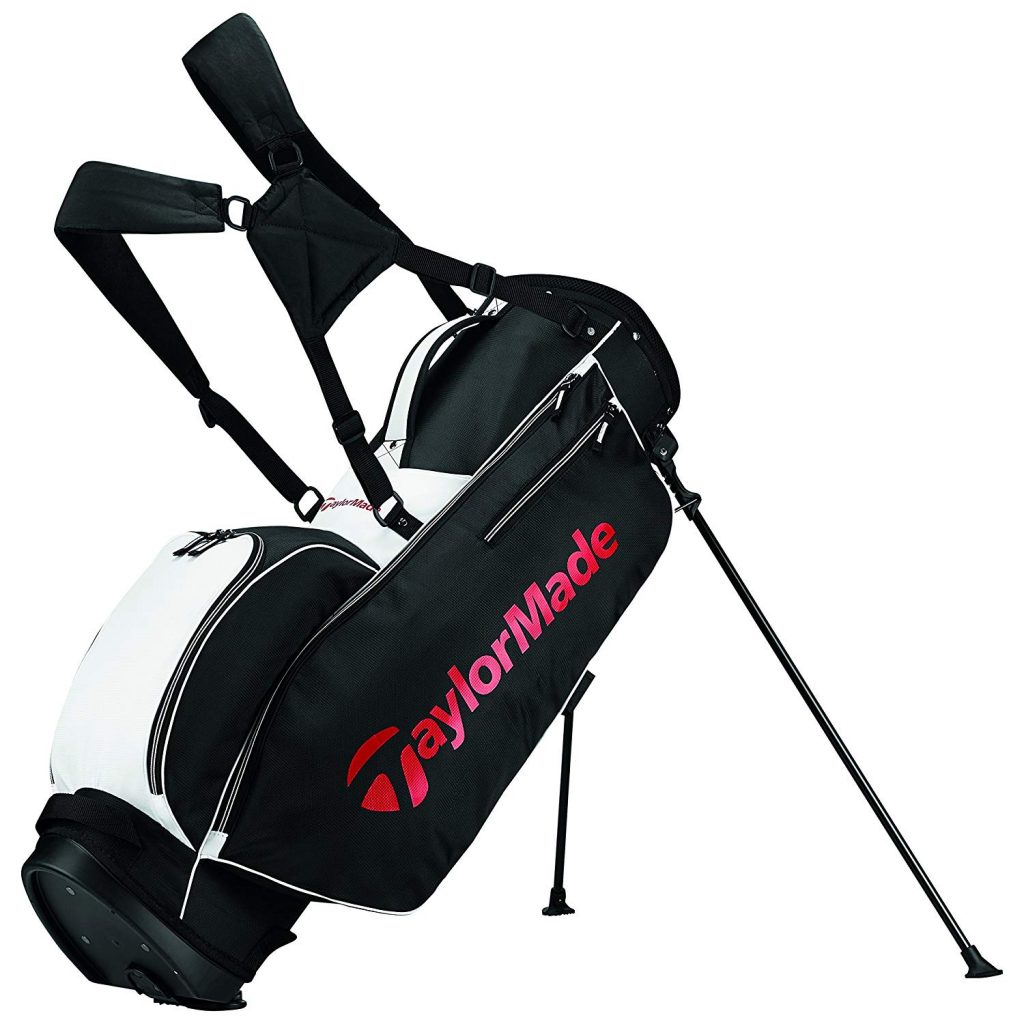 The TaylorMade Golf TM Stand Golf Bag 5.0 is made of durable nylon and offers a lot of storage space. It has a 4-way organizational top having six pockets with a matching rain hood. The hip pad is EVA-molded and provides additional comfort. It comes in an anti-split and automatic stand system with footpads, offering excellent security and stability. The dual shoulder straps are well contoured and are ergonomic in design, having air meshes that are comfortable for carrying.
There is a velour-lined pocket for keeping your valuables in addition to a garment pocket and one umbrella sleeve. The six pockets thus provide plenty of space for storing, clothes, valuables, golf balls, and so on.
The dimensions of the golf bag are 10 x 13 x 36 inches and weigh 4.1 pounds, and it provides ultimate comfort with its single full-length divider offering a safe and secure organization for your clubs. It sports multiple grab handles that are integrated to the top cuff and the spine of the bag so that it can be easily transported. The stand system is stable and is provided with non-slip foot pads offering convenience and security.
Who Should Buy This:
Those who want a sturdy golf stand bag for carrying balls, tees, clothes, water bottles, sunglasses, and other necessary gear.
Those who are on the out for a decent quality stand golf bag at a reasonable price.
It is a great golf bag for a beginner, from a reputed brand with all the essential features available at a low price.
See it on Amazon
Add Style and Swagger to your Golf Gear
Team Golf NCAA Fairway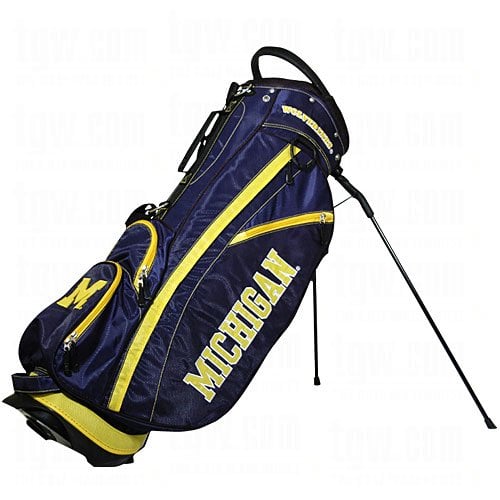 It comes with the NCAA team embroidery of the name and logo at six places and is fully loaded with all the essential features of a great golf bag. The top handle is integrated with padded dual straps. There are 14 full-length dividers and five pockets with zips in addition to a cooler pocket for beverages. It also has a towel ring and an umbrella holder. The golf bag is made of 50% nylon and 50% plastic.
It has a spring action stand. There is a special pouch lined with fleece to keep your valuables along with a removable rain hood to keep the clubs dry in wet weather. It is an officially licensed product of the NCAA with a 14-way top and two lift-assist handles.
The dimensions are 35 x 11 x 9 inches, and it weighs 6 pounds. Team Golf is the biggest supplier for NFL, NHL, and MLB and offers a wide variety of products for avid fans.
Who Should Buy This:
You can buy it as a gift to give to your loved ones.
For those who want to add some style and swagger to their golf gear.
For those who want a lightweight, full-featured golf bag.
See it on Amazon
Bold, Stylish and Organised Golf Bag
Callaway Golf 2019 Chev Stand Bag (Red White Black)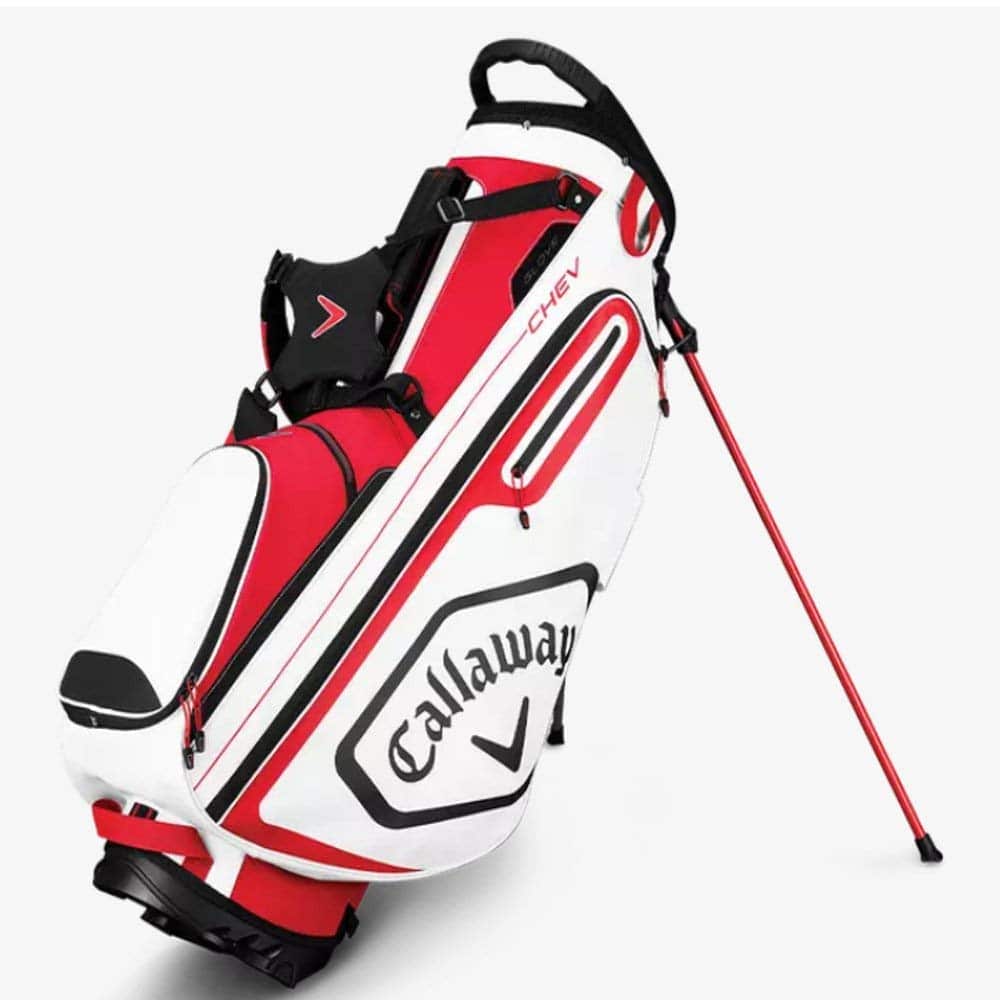 The Callaway Golf Chev stand bag comes with six pockets, which also includes a velour-lined pocket for valuables and one insulated pocket for your water bottle. It has a 5-way top having a grab handle and equipped with full-length dividers so that the clubs remain organized. There area glove attachment, a built-in tee holder and a full-length pocket for apparel. It has a double strap for easy carrying and includes a matching rain hood.
It offers the ultimate features for a superb organization of your golfing accessories in your golf bag. The grab handle is integrated to make lifting and lowering much easier. The pocket layout is functional so that it is easy to access every one of them. The dimensions of the Callaway Golf Chev Stand Bag are 35x11x9 inches, and it weighs 5.2 pounds.
It is comfortable to walk the course with the golf bag, as it has a dual strap system with a soft mesh hip pad to make it more comfortable. The bag is lightweight and well balanced, and it stands upright without toppling over with all the 14 clubs inside.
Who Should Buy This:
Those who want to make a bold and stylish statement with an organized golf stand bag.
It is an excellent option for golfers who walk the course as it is lightweight.
Those who want a beautiful, functional, sturdy, lightweight, and spacious golf bag.
See it on Amazon
Top Quality Traditional, Reliable Golf Bag
Titleist Hybrid 5 Golf Bag (White Blue)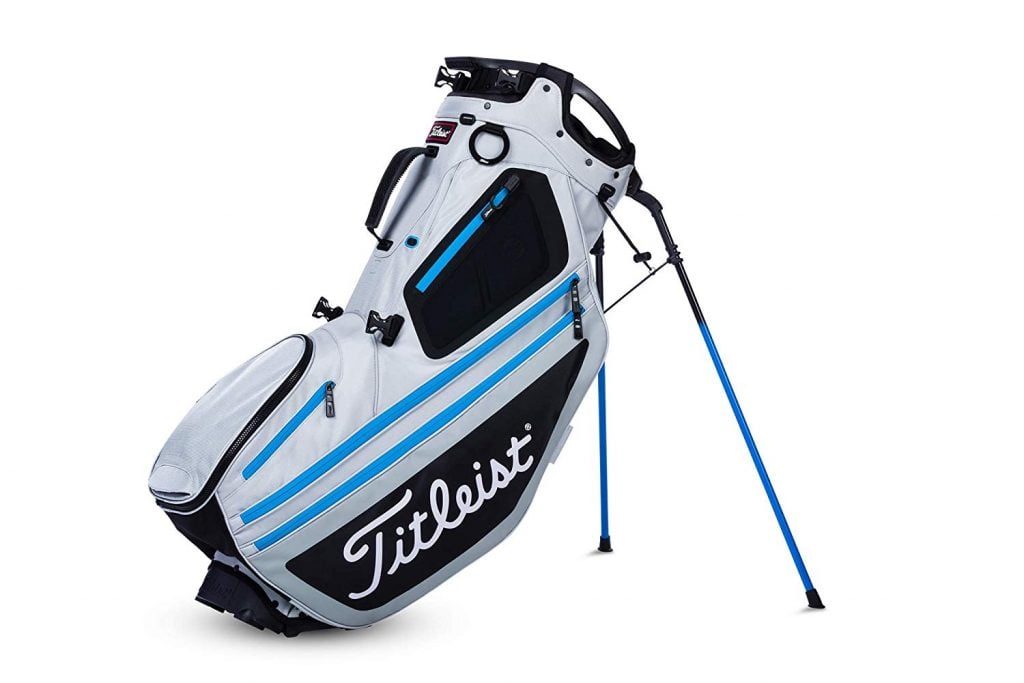 This is a hybrid golf bag, which you can carry either on the back or the trolley. It offers all the benefits of a stand bag and also has the functionalities, and the spaciousness of a trolley bag rolled into one. It is a hybrid golf bag, which means that it is a cross between the traditional stand bag and the cart bag, so it is suitable for carrying or for use as a trolley bag.
Hybrid 5 is a stand bag at 9 pounds and is quite manageable. Additional density foam padding has been added to the shoulder straps to make it more comfortable for carrying. At the top of the bag, there's a top cuff. It has five full-length dividers to keep things organized. There is a convertible strap system as in a backpack, so you can clip all the straps together in a sequence for creating a personalized setup, for instance, to carry on a single shoulder.
The feet are made of top quality aluminum with a hinged bottom for increased durability and stability. In total, there are seven pockets of different sizes so that you can pack almost all your gear into the bag. All the usual features, such as a waterproof pocket for valuables, an extra strap loop for the cart, a holder for the GPS rangefinder, and a removable ball pocket are present in this bag.
It looks classic and smart in a white, red, and black color combination. The overall build is solid, sturdy, and premium with a sturdy carry handle.
Who Should Buy This:
Those who want a high quality, traditional, and reliable hybrid golf bag, which you can carry on the back or as a trolley. For those who like to walk the golf course as well as ride the cart.
For those who will not always be using a trolley or buggy on the golf course and who want the flexibility of using a stand bag for storing their golf clubs and other accessories.
See it on Amazon
Lightweight and Functional Golf Cart Bag
Cobra Golf 2019 Ultralight (Peacoat)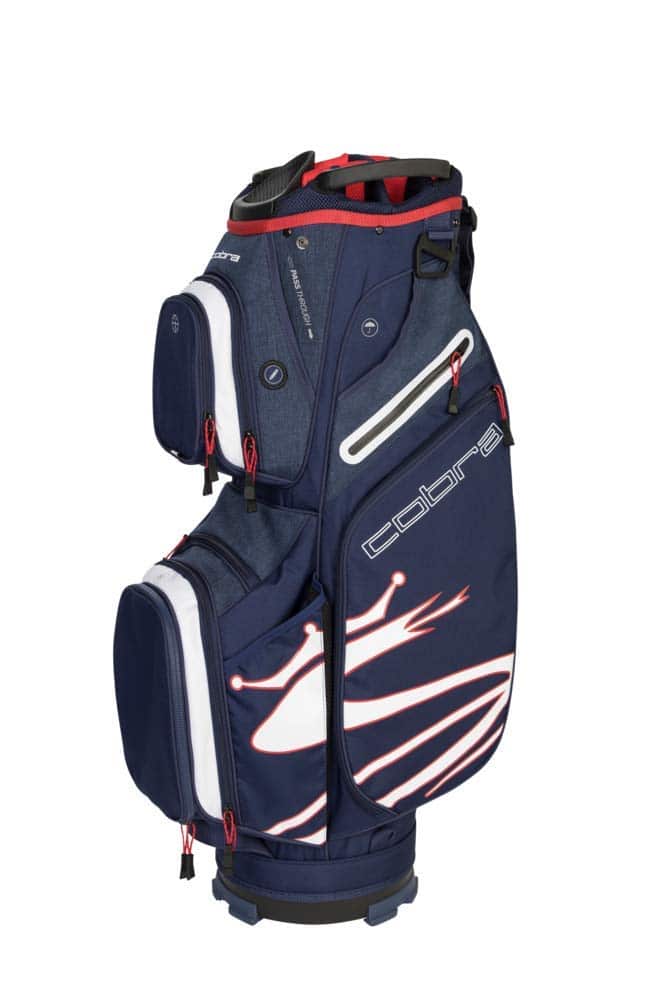 This is an ultralight cart bag with a pass-through strap that allows you to access all pockets while keeping it secure in the cart. It has been well designed with maximum storage options with a big cooler pocket that can hold a maximum of ten 12-ounce cans. It also has two pockets for valuables that are fleece-lined for proper protection. It is made of 100% polyester, and the dimensions of this cart bag are 36 x 12 x 11 inches.
It is ultralight at 5.3 pounds and has a total of 13 pockets, which includes dual-apparel pockets having a key clip. It has, with the above-mentioned valuables pockets, the Range Finder Pocket, a cooler pocket, and some more pockets for storage of your miscellaneous items. It features full 14-way full-length club dividers along with a grab top handle.
Most of the pockets come with double zippers, and there is a place for everything. You can safely place your valuables, such as your phone, wallet, watch, and whatever else you don't wish to wear while playing. It also comes with the most significant cooler pocket built in a cart bag. High-quality material has been used to make it more functional and awesome-looking. The club pocket is rubberized to protect your golf gear, and the putter opening is oversized.
Who Should Buy This:
Those who want a functional, good looking, and lightweight golf cart bag that is also not too expensive.
See it on Amazon
Classy and Durable Golf Bag
Founders Club Premium Cart Bag (White)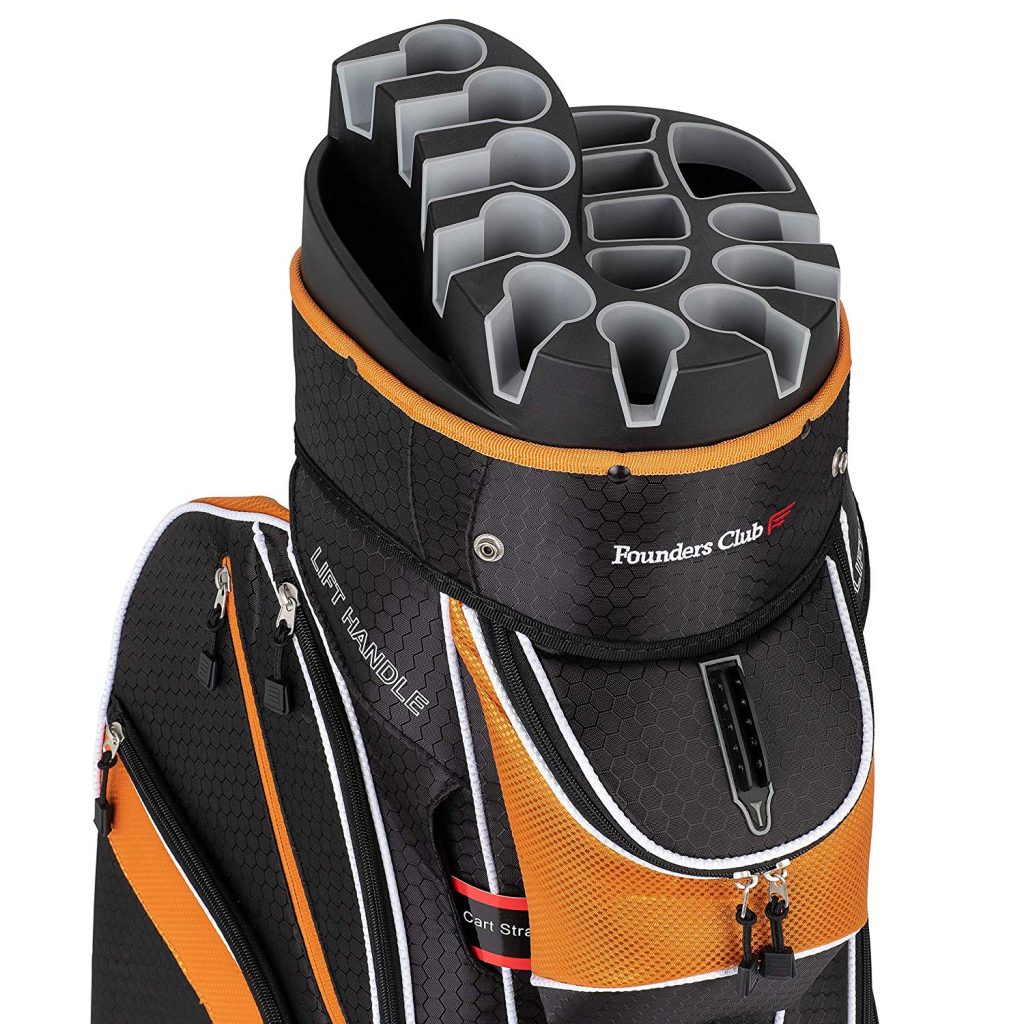 The Founders Club is a popular name in golf accessories, and their golf cart bag is a sturdy and classy one which comes in a gorgeous design. It has a 14-way dividing system, with rubber slots that offer the best protection for golf clubs. There are ten zipper pockets available in this bag along with two mesh pockets so that you can store all the necessary gadgets in the bag. The slots will fit irons up to the length of 1.5 inches in case of steel shafts and 0.5 inches in case of graphite shafts.
The construction is of high quality, and it has a sturdy tubular design on the inside. The base is big and reinforced. It includes a padded strap for ease of carrying and maximum comfort and has double handles as well for lifting. There is an insulated pocket that can hold cold drinks, a pocket with velour lining for holding valuables, and also a pocket for the golf ball and tee. You can keep the brushes in a nylon loop holder and gloves in the glove holder. The putter space can hold oversized grips but not Jumbo grips. There are six pockets on the side for clothing and wet gear. It comes with a rain hood and an umbrella slot with drawstring. It is lightweight when compared to other cart bags and weighs just 8.7 pounds, which you can easily carry.
Who Should Buy This:
Those who want a classy, durable cart bag from a reputed manufacturer of golf accessories.
Suitable for those driving motorized golf carts.
See it on Amazon
Comfortable and straightforward Golf Sunday Bag
Orlimar Pitch and Putt Golf Lightweight (Black)
This is an essential bag that offers you space for carrying a few clubs. It is lightweight and easy to carry. The Orlimar is lightweight at less than 2 pounds, and it can carry up to a maximum of 7 clubs. There are two strong retractable legs on the bag, so it is an excellent Sunday bag. There is also an accessory pocket in which you can carry your golf balls and tees. The carry handle is durable, and it comes with a shoulder strap for toting your clubs.
It is light but quite sturdy with a reliable grip bar in the center, so you can easily lift it and place it on the shoulder. It has a two-compartment top portion. As for the dimensions, it is 31.5 inches in length with the top opening being 3.25 x 4.25 inches, which is 4.2 x 3.2 x 31.5 inches, and it weighs 1.9 pounds.
The design of the Orlimar Pitch is very similar to super light golf bags that are used in competitions, where the players run to the next shot carrying the bag in their hands. It is one of the best bags for the price. It is perfect for a Par 3 or a driving range or just a weekend away when you need your clubs and not much else. It is well constructed, and the stand is excellent. The zip pouch is rather small, but you can add an extra pouch if you wish.
Who Should Buy This:
Those who want lightweight golf carry bag for quick trips on the course.
It is suitable for beginner golfers and amateurs.
Suitable for a weekend getaway. It is a decent Sunday bag with a stand.
See it on Amazon
Durable and Comfortable Cart Bag
Hot-Z Golf 4.5 (Black, Cobalt)

It is made of Dobby nylon material, which makes it highly durable and also keeps it lightweight. The carry strap is padded with elastic bands incorporated into the bag to keep it secure. The dimensions of this cart bag are 11 x 36 x 12 inches, and it is efficient in holding all your golfing equipment, such as golf clubs, cold drinks, and a lot more. It is easy to maneuver, as it is made of high quality, lightweight material. The shipping weight is 7.2 pounds.
There are handles at the bottom and in the front, so you can easily lift it even after it is filled with all the items. There is also a rubber base that is integrated into the bag, offering it more stability. It ensures that the bag does not fall over even on a windy day. It stands firmly holding all the golfing gears intact in their positions.
Pockets have been placed to offer optimum storage. There is a rain hood cover, a towel hook, and an umbrella holder along with a pen sleeve.  You also have a compartment for a hydration bottle integrated into it. The pockets for valuables are velour-lined to offer secure and safe storage. There are eight zippered pockets and 14-way separator on the top, measuring 9.5 inches. There are full-length individual dividers in addition to a putter pit and handles. It comes at an affordable cost, and it is well built to last a long time.
Who Should Buy This:
Those who want an efficient cart bag with a stable build.
Suitable for those who travel a lot in the cart.
See it on Amazon
Light, Comfortable and Feature Rich Golf Bag
Izzo Golf Izzo Lite Stand (Grey Lime White)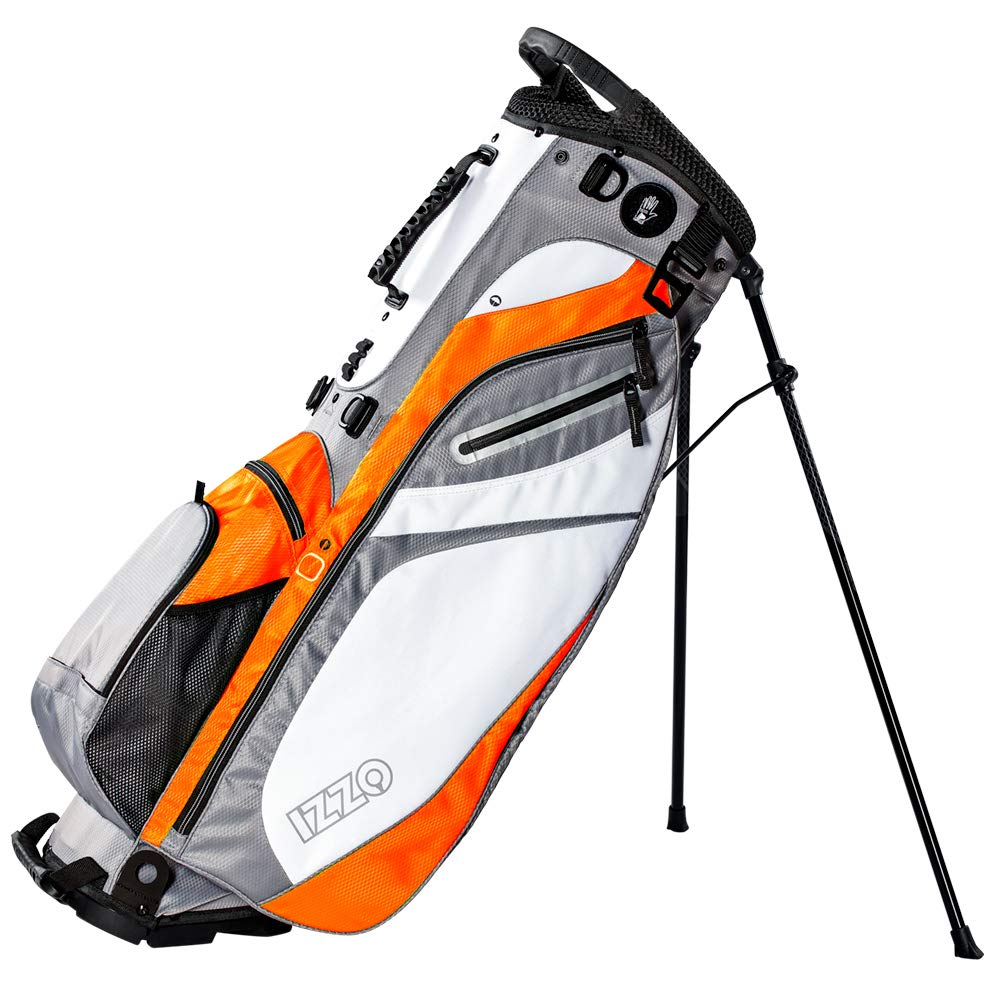 The Izzo Lite stand carry bag is lightweight and loaded with features. It is light at just 4.5 pounds and is made of heavy-duty nylon, offering durability. There are five club dividers on the top to keep things organized and secure. It also has a dual strap that can be adjusted for a perfect fit and maximum comfort. The ball pocket is a magnetic open and close type for easy use. It is useful for quick access. The pockets are roomy enough for carrying all your golf gear. It is available in a combination of orange, grey, and white color.
You also get a valuables pocket, which is both velour-lined as well as water-resistant for maximum safety of your electronic items. You can place bottles in an insulated pocket as well. Also, there is a velcro holder for gloves. The bottom is rubberized, ensuring that it does not slip or slide on a slippery surface. The leg mechanism is sturdy with leg strap protecting the legs while traveling and while using with a cart. A metal towel loop, umbrella pocket with rain cover and built-in bottle opener are other useful additions.
You can also personalize the bottom ball pocket if you wish by filling the papers that you receive with the bag.
Who Should Buy This:
Those who want a lightweight, durable, go-anywhere kind of stand golf bag.
Those who want an excellent golf bag with a useful design.
See it on Amazon
Convenience Meets Style Golf Stand Bag
TaylorMade Golf 2019 Select Stand Golf (Black, Blue)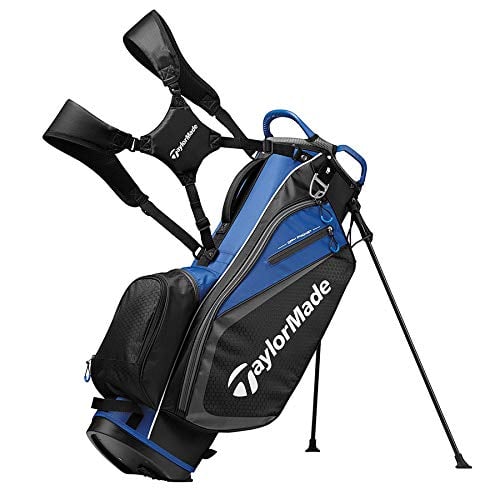 It is constructed of multi-materials, and this offers long-lasting durability. It comes with a 7-way padded top and full-length dividers so that all your golf clubs remain organized and secure and there is no clutter among the golf clubs. There are six pockets, with one larger one for apparel and another pocket that is velour-lined for your valuables. There are compartments for placing tees and golf balls. The dual straps on the bag are adjustable and padded, offering maximum comfort as well as stability when you carry it.
The stand system is an anti-split one offering a stable stance and preventing crowding of clubs. It is lightweight at just 5 pounds. There is an exterior pocket for a water bottle, which is an open style one lined with cooler material and an XL sized ball pocket. The pocket size, the zipper quality, and the shoulder straps are all perfect, and so are the plastic handles on the top. The kickstand is sturdy and keeps the bag upright. The integrated pocket design gives it an efficient profile. However, there are no separate putter and driver wells.
Who Should Buy This:
Those who want a lightweight, comfortable, dual-strap carrying stand golf bag.
Those who want a good quality bag that is on par with golf bags above $200 with plenty of room for all essential gear and items.
See it on Amazon
Great Golf Carrying Bag
Cleveland Golf CG Stand bag (Black)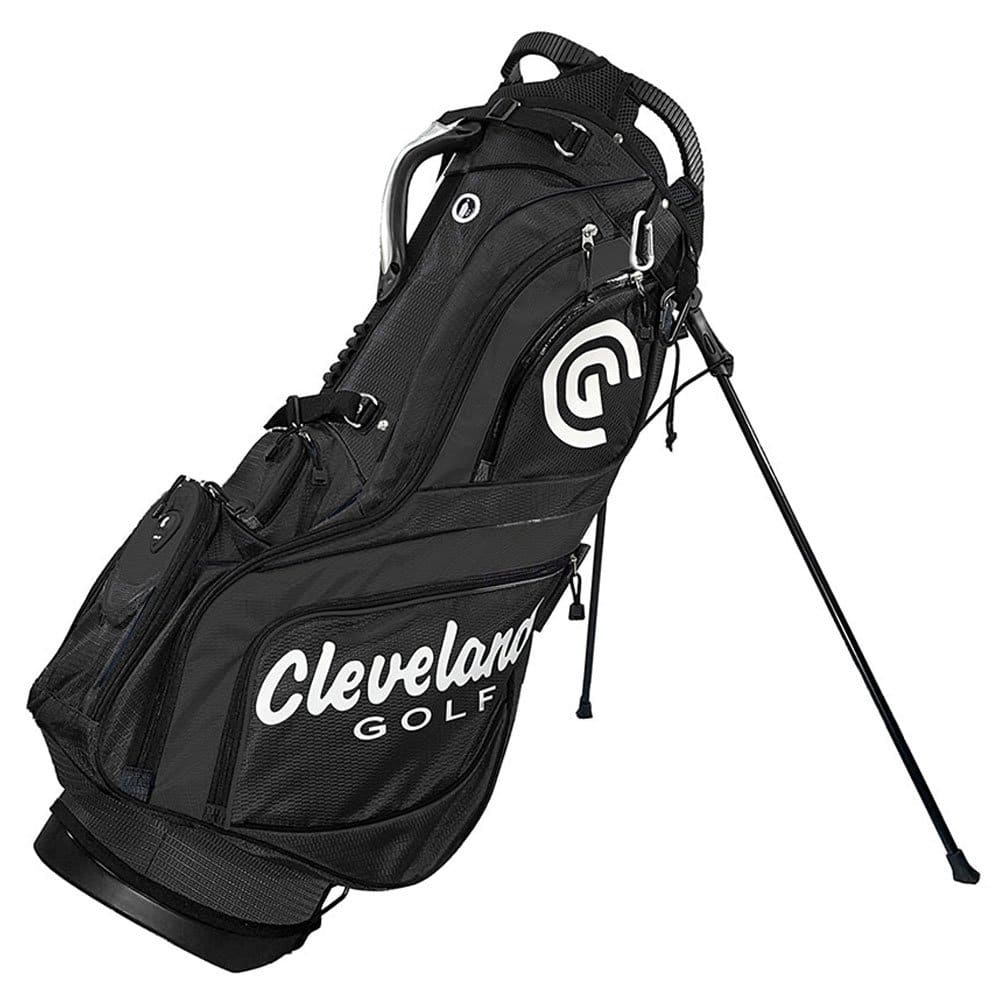 This is a stand bag with a 14-way divider with each of the horizontal sections going to the bag bottom so that your clubs don't get tangled. It also has molded three-way grab handles. The dual-straps for carrying are wide, offering greater durability and comfort. As for pockets, there are six zippered pockets, along with one storage pocket for the Rangefinder. Besides, there is one pen holder, one divot tool holder, and a tee holder. The valuables pocket comes with a waterproof zipper, and it is fleece-lined, offering greater security for your electronic items. There is a large cooler pocket as well, which allows you to keep your drinks cold while you are out on the links, and a Carabiner clip for holding your towel. Finally, there is an umbrella sleeve as well.
The dimensions of the Cleveland Golf CG stand bag are 10 x 13 x 36 inches, and it is light at 6.4 pounds. The golf bag has been constructed with top quality materials to offer increased reliability and a premium appearance. The bag is available in black color. The shoulder harness is most comfortable, and the leg stand is perfect for balancing the weight of the bag. The design is good with the right number and size of pockets. It also comes with a convenient bottom lift grab.
Who Should Buy This:
Suitable for the walking golfers who want to take most of the accessories along.
Those who want maximum portability and comfort while on the golf course.
Suitable for those who carry their golf bag.
See it on Amazon
Conclusion
A great golf bag can help make use of your time at the golf course much more efficiently. Whether you are walking or riding, a good golf bag will always help you to carry your replacement golf balls, towels to clean the clubs, and also to keep your valuables and electronic items safe. While selecting bags, check out the appearance, as it should be functional as well as stylish. The weight is also important, especially if you are planning on walking the course, though not so important in case of a stand bag. Other considerations are storage, the number of pockets, rain gear accommodation, pockets for valuable, durability, etc. Select the best golf bag from the above list to make your life simpler and easier, so that you can focus on your game.