Technobezz is supported by its audience. We may get a commission from retail offers
A pressure cooker is a useful cooking appliance as it can reduce the cooking time by up to 70%. They work by raising the boiling point of water inside them
| | | | |
| --- | --- | --- | --- |
| Insignia Electric Pressure Cooker with Multiple Functions | Ninja Foodi FD401 Deluxe Air Fryer Cum Pressure Cooker Combo | COSTWAY Electric Pressure Cooker in 5.3 Qt Size | BrevilleBPR700BSS Multicooker cum Electric Pressure Cooker |
| | | | |
| See on Amazon | See on Amazon | See on Amazon | See on Amazon |
A pressure cooker is a useful cooking appliance as it can reduce the cooking time by up to 70%. They work by raising the boiling point of water inside them and trapping steam, thus making the food cook faster. Electric pressure cookers do not require an external source of heat as it uses electricity to produce heat, unlike stovetop pressure cookers which rely on external heat. An electric pressure cooker is a good investment as it provides faster cooking times and uses less energy to cook. Here is a list of some of the best electric pressure cookers that you can buy today.
See also: Best toasters
Best Multifunction Electric Pressure Cooker
Instant Pot Duo Plus Electric Pressure Cooker with 9-in-1 Functions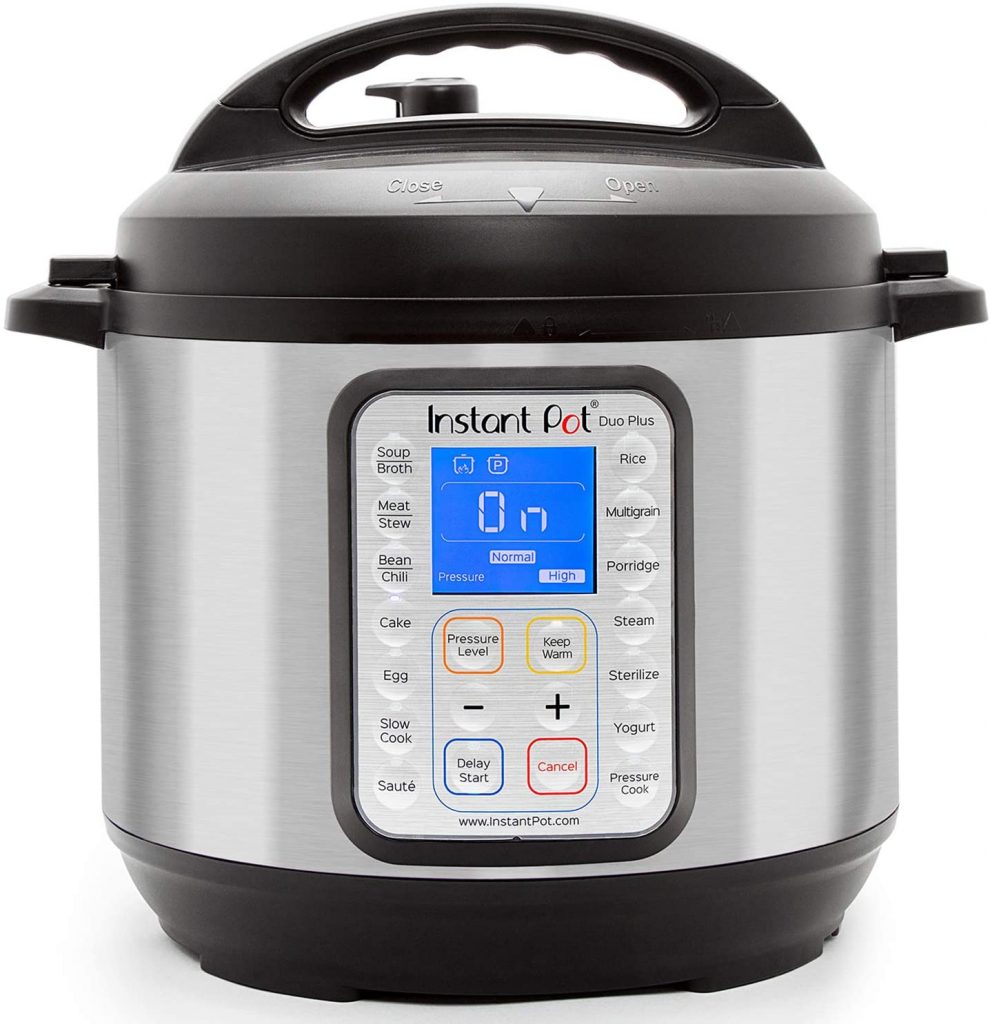 If you are looking for a fast and easy to use an electric pressure cooker, the Instant Pot Duo Plus is the one for you. It can be used to cook meals in less time while using less energy. It is best suited for one-pot meals which can be made with very little fuss over ingredients and mixing. The electric cooker comes with nine different functions that are programmed for different kinds of meals. The functions include cake maker, egg cooker, sterilizer, yogurt maker, warmer, sauté pan, and more. It comes with an Easyseal lid which seals the lid of the cooker automatically when the cooking starts. It also has a handy cooking progress indicator.
The Instant Pot Duo Plus comes with plenty of safety features which include overheating protection, safe pressure-cooking mode, safety lock, and more. The inner pot used in this cooker is dishwasher safe and is made with a durable bottom to avoid cracking with use. This cooker is the best multifunction electric pressure cooker because of its premium build quality as well as 9-in-1 cooking functions.
Who should buy this?
Families with up to 6 people.
If you like to prepare your meals in batches.
People who like to try out new recipes.
Best Electric Pressure Cooker and Air Fryer Combo
Ninja Foodi FD401 Deluxe Air Fryer Cum Pressure Cooker Combo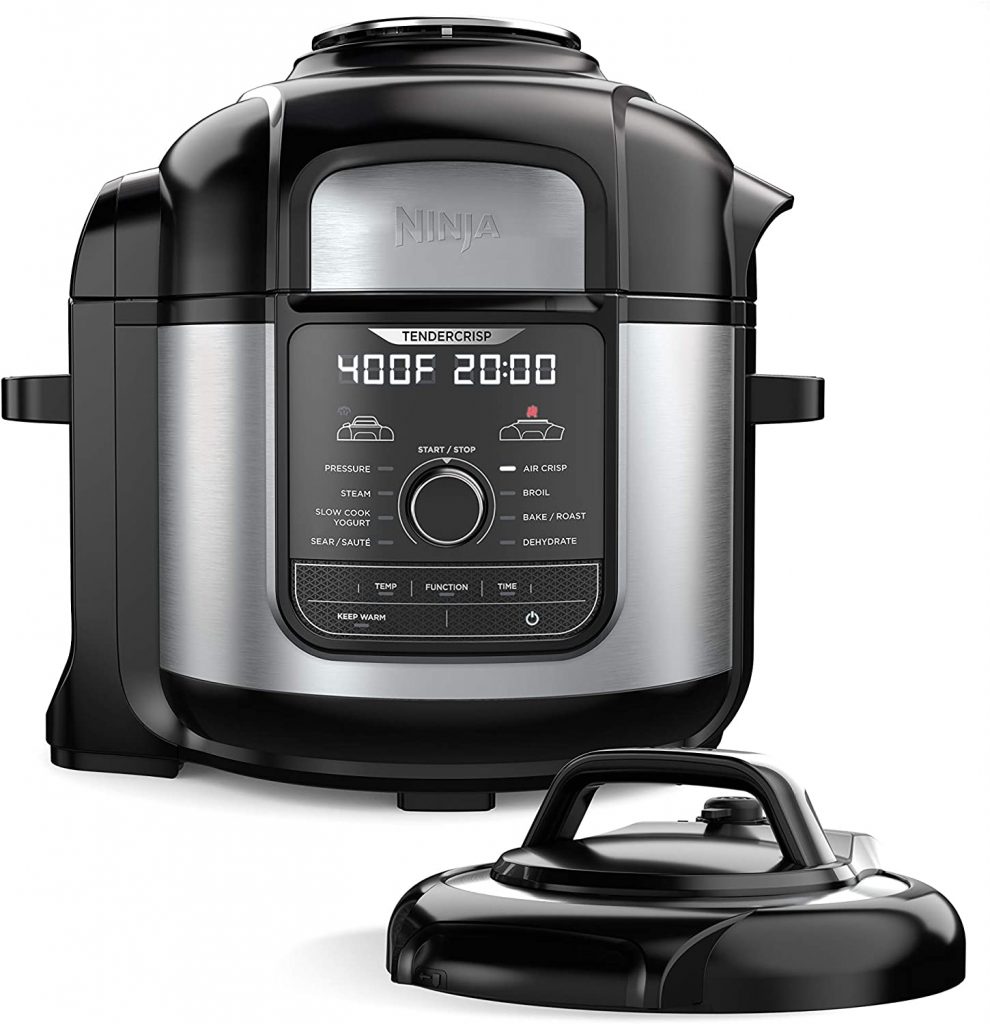 The Ninja Foodi Deluxe XL is an electric pressure cooker and air fryer combo which has an 8 quarts size. It has 9-in-1 functions which allow you to pressure cook, sauté, broil, bake, slow cook and do more. It also has a TenderCrisp feature wherein first your food will be pressure cooked to lock the juices in and then it will be crisped at the end.
The electric pressure cooker can be used to bring frozen foods to crisp just within 20 minutes by defrosting and cooking at the same time. The size of 8 quarts can be useful for fitting in an entire 7-lb chicken in the cooker for cooking tasty roasts for big families in one go. The Air fryer feature is a bonus that can be used to fry food with up to 75% less fat than the traditional style of frying.
Who should buy this?
The Ninja FD401 Foodi is a large-sized electric pressure cooker that can hold an entire 7-lb chicken in it. This makes it ideal for cooking for large families and gatherings.
The air fryer feature is a bonus that can be used to fry meals with less oil. So, if you like eating fried foods and want to eat them guilt-free, then this is the cooker for you.
Top Multipurpose Pressure Cooker with Pressure Control
COSTWAY Electric Pressure Cooker in 5.3 Qt Size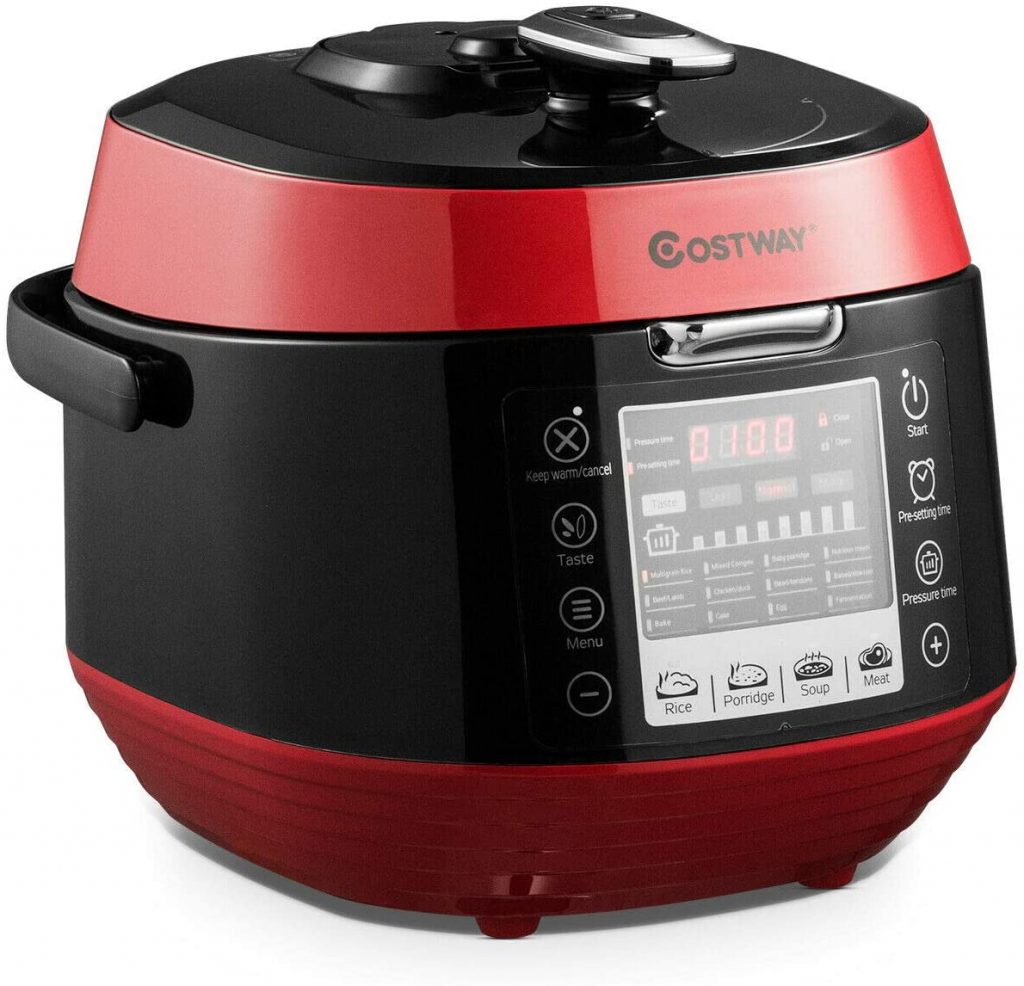 The Costway 5.3 Qt electric pressure cooker comes with 12 different functions in one compact package. It is equipped with a useful LED control panel that can be used to set the programmable cooking modes and monitor the performance of the electric pressure cooker. You can also preset the times when it cooks so that it automatically prepares your favorite meals at the preset time.
The 12-in-1 cooking functions allow you to set different cooking styles for different kinds of food depending on how well you want it cooked. It also supports pressure control that is not seen in many other pressure cookers. The Costway pressure cooker is made with a stainless-steel body which makes it quite durable.
Who should buy this?
Families with up to 5 members.
If you want programmable cooking modes and to monitor the cooking process, this is the right buy.
Best Pressure Cooker with Accurate Pressure Control
BrevilleBPR700BSS Multicooker cum Electric Pressure Cooker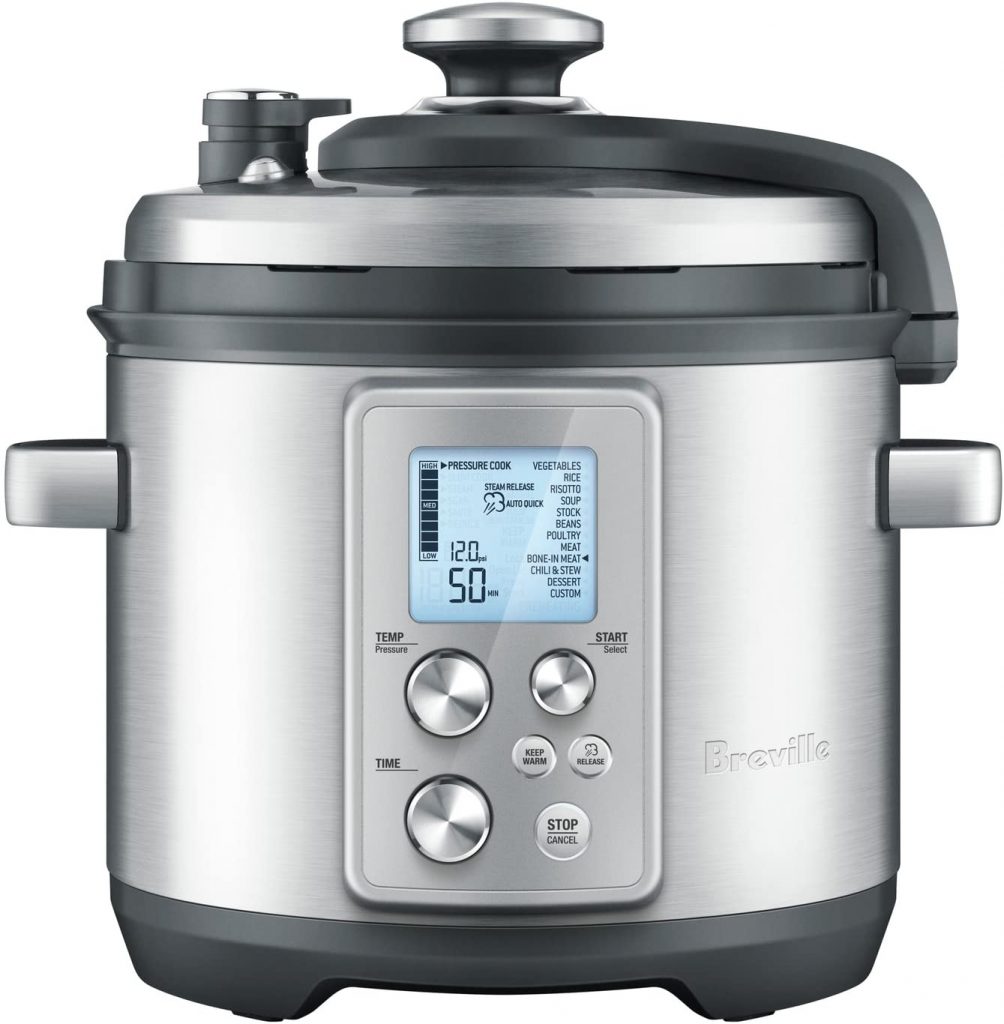 BrevilleBPR700BSS is the perfect electric pressure cooker for people who want total control over their cooking. The LCD panel changes colors based on the status of cooking. It is essentially a multicooker with a pressure-cooking feature and so you can do many different kinds of cooking using this. It is very safe due to its three-way safety sealed lid which releases the steam automatically. The cooker supports both pressure-cooking as well as slow-cooking according to your cooking style. There are two pressure sensors in the cooker that continuously monitor the internal pressure and show that to you on the LCD. You can control the pressure precisely using a rotary dial on the control panel.
It comes with a total of 11 pressure-cook presets as well as two slow-cook options. The built-in warming function can keep your food warm after it has finished cooking. It also has a custom setting where you can add your own presets for your favorite recipes. Besides, there are 5 automatic settings for different functions like Hands-free mode, Steam release mode, Natural mode, Auto Quick as well as Auto Pulse mode which can be used to make the cooker work automatically. It comes with a few accessories like a steamer basket and a rack both made out of stainless steel. You also get a recipe book with 41 different recipes. With a price tag of above $200, it falls in the category of the premium electric pressure cooker but which is justified by the number of features that are provided.
Who should buy this?
People who want accurate control of their cooking.
If you prefer a modern electric pressure cooker, you should go for the Breville BPR700BSS.
Affordable and Safe Electric Pressure Cooker
NuwaveNutripot 6-Quart Electric Pressure Cooker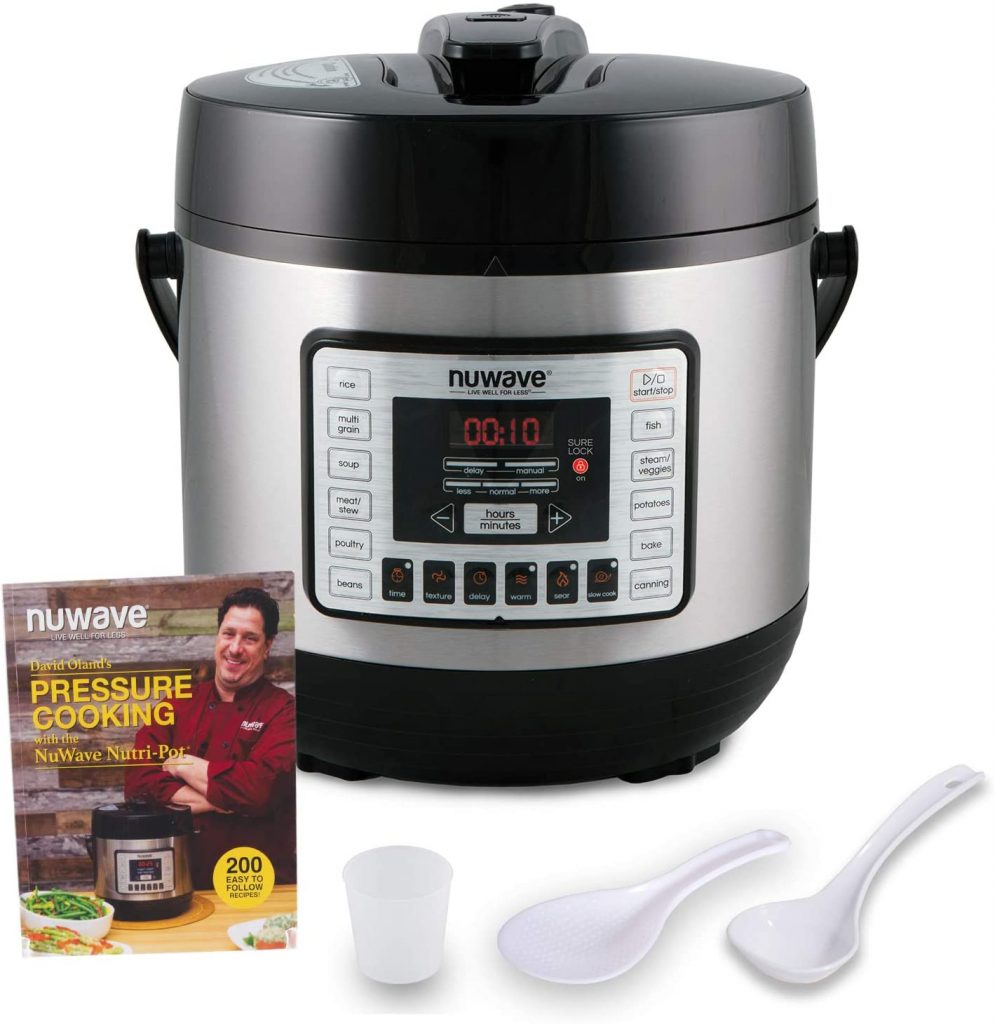 The NuwaveNutripot 6-Qt digital pressure cooker is an affordable electric pressure cooker that comes with a Sure-lock safety cooking system for safe cooking. The electric pressure cooker can be washed in a dishwasher and has a non-stick inner pot which can be easily cleaned. The pressure pot lid can also be detached from the pressure cooker so that it can be cleaned easily. The Electric pressure cooker comes with a recipe book of over200 recipes as a bonus.
It comes with a digital control panel that can be used to select from 11 different programmable presets for cooking different kinds of foods in this electric pressure cooker. The meals that you prepare using the NutriPot pressure cooker will have more flavor as well as extra juices while it takes 70% less time than traditional cooking methods. The NuwaveNutripot is one of the best electric pressure cookers because it is affordable as well as safe– a combination that is rarely seen in pressure cookers of this segment.
Who should buy this?
If you want to try new cooking styles using the 200-page recipe book.
People who want an affordable and effective electric pressure cooker
Low Cost and Safe Pressure Cooker from Insignia
Insignia Electric Pressure Cooker with Multiple Functions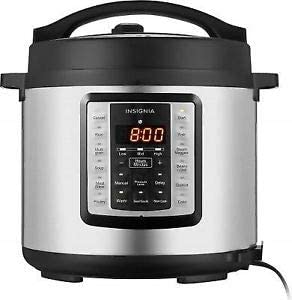 The Insignia electric pressure cooker comes with easy and quick temperature control settings, heat resistant handles, and a large capacity to cook food for an entire family. This safe and effective electric pressure cooker offers you a lot of different features. It has three preset temperature control settings to prepare your food without burning it. The bowl is safe to wash in a dishwasher offering you an easy cleanup procedure. This electric pressure cooker makes the list as it is from a known name brand – Insignia.
The pot has a Teflon coating which makes the pressure cooker non-stick and ensures that your food is healthier at the same time. You can use the cooker on both automatic and manual settings depending upon what kind of meals you are preparing. It has a Keep-warm feature which keeps your food warm even if you leave it in the cooker for a long time after cooking. It is made up of a BPA-free material that doesn't seep into your food. The cooker comes with a condensation collector, a measuring cup for filling the pot accurately, a soup and a rice ladle to serve the meals right from the cooker and a stainless steel rack for cooking meats.
Who should buy this?
People who want a safe electric pressure cooker.
If you want to wash the inner bowl of your cooker using a dishwasher.
If you are a fan of the Insignia brand and its range of products.
Affordable Pressure Cooker with 24-hour preset timer
Giantex Brushed Stainless Steel Cooker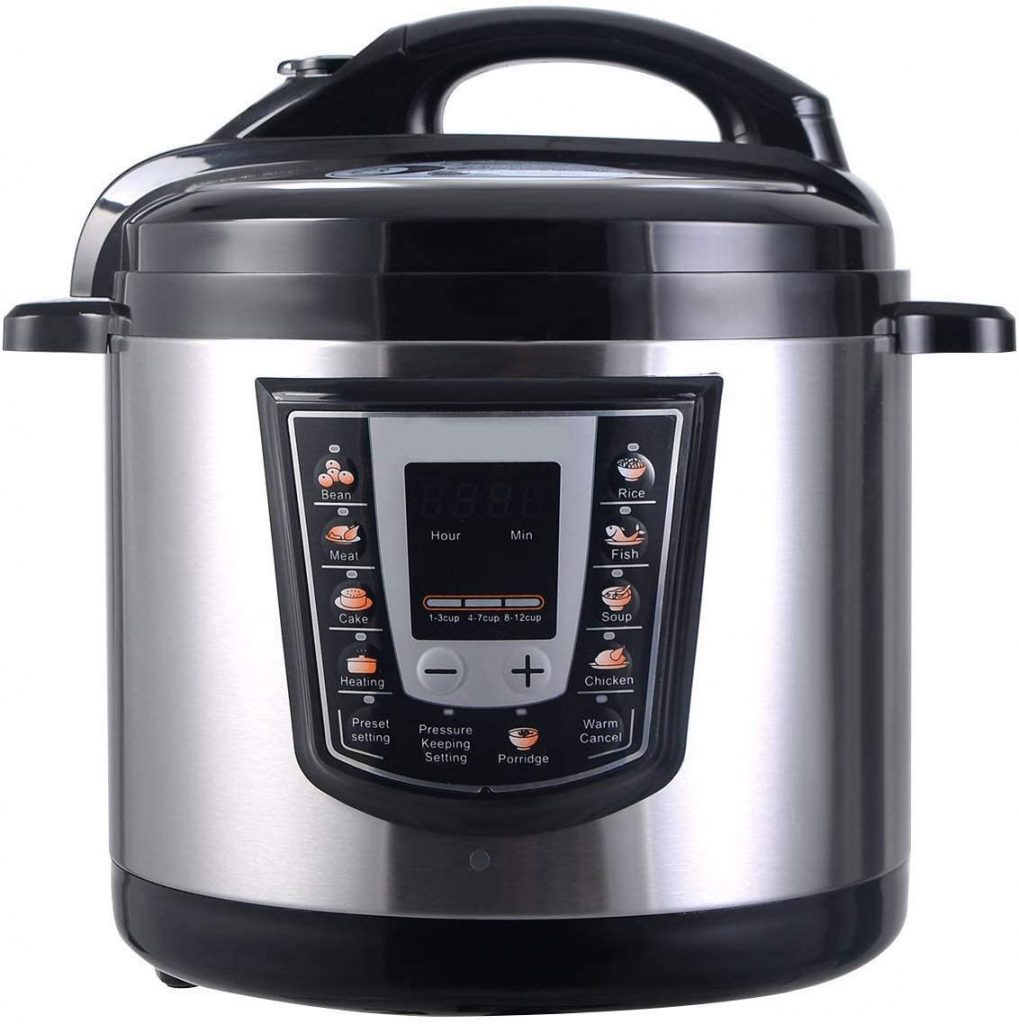 This stainless steel cooker by Giantex is a 1000 watt electric pressure cooker with a capacity of 6 quarts. It's a fully automated pressure cooker as it's built with a 3rd gen microprocessor that controls the different functions of the cooker. The cooker can be programmed to cook for up to 4 hours continuously and can be pre-programmed to cook 24 hours in advance. It comes with 3 preset temperature options that allow you to sauté, cook as well as slow cook. It has a Warming setting that can keep your food warm for up to 10 hours after cooking.
The build quality of the cooker is impeccable as it has a stainless-steel body on the outside as well as on the lid. The lid is designed to seal the flavors inside the cooker as well as to keep the aroma of the ingredients intact, making the food healthier and tastier. It comes with a non-stick pot that allows for easy cleanup and removal of left-overs. The inbuilt microprocessor also displays the current pressure, temperature as well as keeps track of time. It comes with 9 pre-programmed settings that allow you to cook in different styles like sauté, stew, rice cooking, and more.
Who should buy this?
If you want a brushed stainless-steel pressure cooker.
People looking for an intelligent electric cooking solution under $100.
Top Electric Pressure Cooker with Customizable Settings
Mueller UltraPot 6Q 10-in-1 Electric Pressure Cooker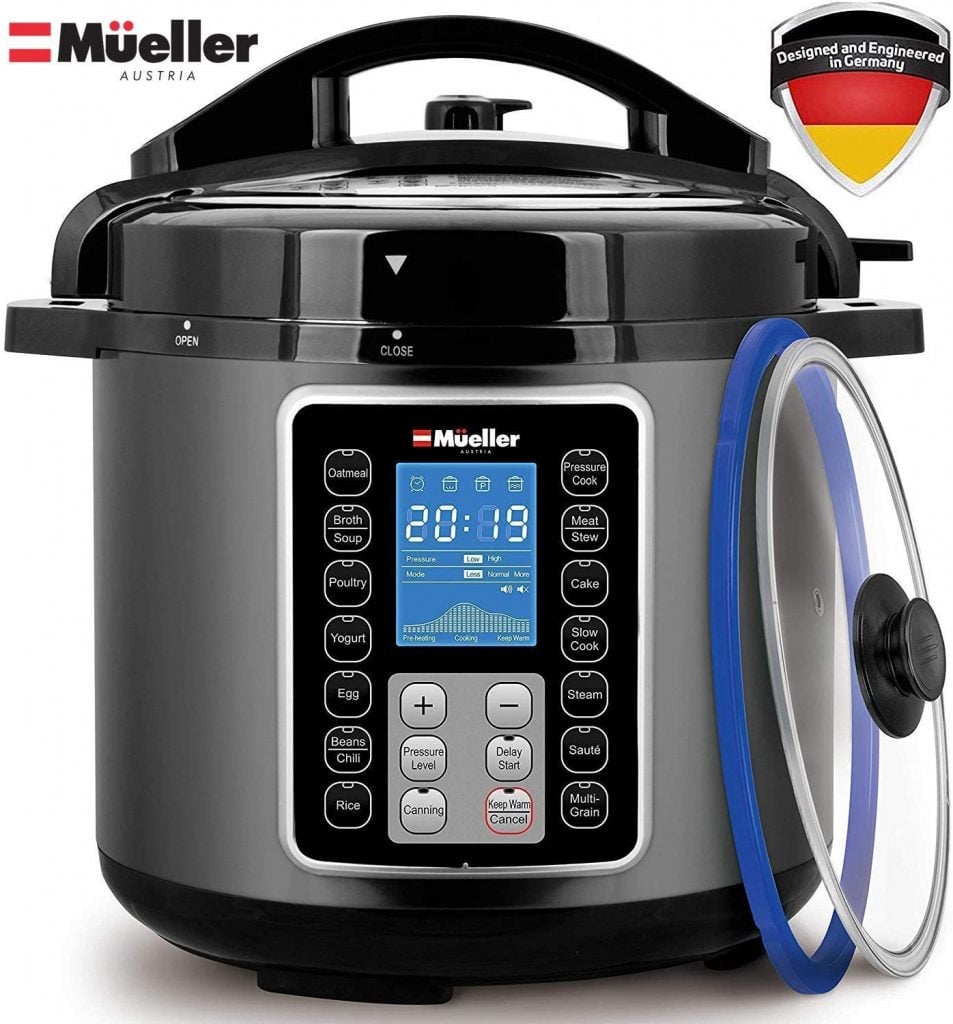 This pressure cooker is equipped with the ThermaV technology from Germany which keeps your food hot and fresh to eat at any time. It also provides you with the option to cook two meals simultaneously in the same cooker. The cooker comes with a durable tempered glass lid as a bonus. It can be used to Sauté, Steam, Slow Cook, make yogurt, cook rice as well as to sterilize bottles and other utensils.
The Mueller Ultrapot gives the users the choice to program it manually by setting how long you want to cook the food and at what temperature. This is unlike other pressure cookers we have seen which only provide preprogrammed cooking options to choose from. The cooker is engineered in Germany and has a durable body with a tight seal making it a long-lasting and safe pressure cooker. It comes with a steamer basket made from stainless steel which can be used in tandem with the UltraPot to cook two meals simultaneously thus helping you to bring some variation on the dinner table.
Who should buy this?
If you want to cook two meals simultaneously.
People who want full control of their cooking temperature and pressure settings.
Simple and Effective Electric Pressure Cooker
Cuisinart CPC-600 Electric Pressure Cooker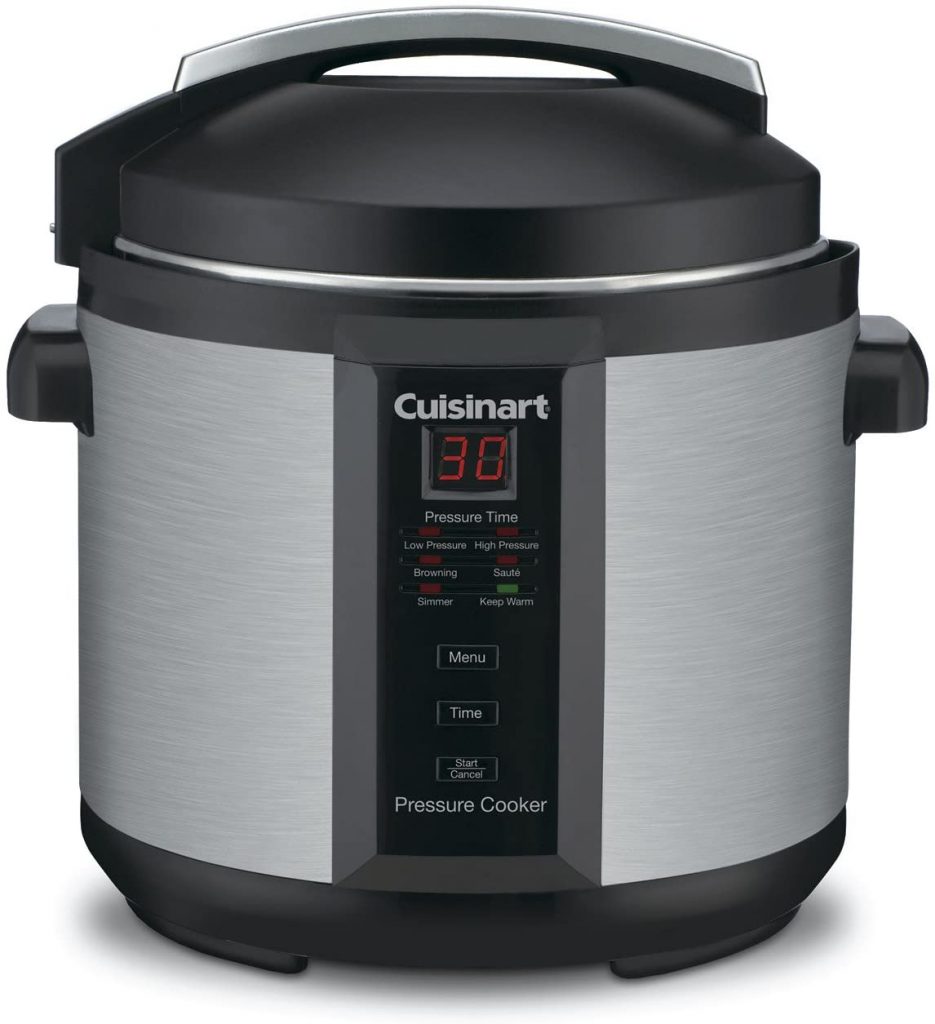 The Cuisinart CPC-600 has a stainless steel outer body and a BPA free inner body for cooking your food safely. We have included the Cuisinart CPC-600 in this list as it has an operation panel that is very easy to use. With this, you do not have to go through a complicated procedure to cook food. You have two pressure settings, as well as 4 Cooking settings. The Cooking settings are Browning, Sauté, Simmer and Warming. After selecting the Pressure and Cooking settings, you can just press the start/stop button to start the cooking process. It is as simple as that. If you don't want a lot of options for cooking your food and you prefer simplicity, then you should definitely check out this electric pressure cooker from Cuisinart.
The cooker also comes with a timer that can be programmed for up to 99 minutes in advance to cook your food. Compared to the traditional cooking methods, this electric pressure cooker takes 70% less time to cook your meals. The cooking progress is visible via a simple LED countdown display on the control panel. The cooking pot is dishwasher-safe and easily detachable for fast cleaning after meals. The side handles are made out of an insulating material which provides a cool touch surface. The cooker comes with a limited warranty of 3 years which is rare at this price point.
Who should buy this?
If you want a simple yet effective electric pressure cooker.
People who want a simple control interface for their cooking.
Conclusion
After going through the different electric pressure cookers available in the market, we can say that the overall best electric pressure cooker is the Instant Pot Duo Plus which provides 9 functions in one package. If you are looking for the best electric pressure cooker under $100, then you should go for the Ninja Foodi Deluxe XL which doubles up as an air fryer too.
An electric pressure cooker can be an essential part of your kitchen as it provides a quick, easy and automated cooking solution while consuming less energy and keeping the nutrients intact. You should select one by going through the specifications and deciding which is the best electric pressure cooker for you.
---