X
Our Editorial Process
Each year more than 60 Million users visit Technobezz to solve a problem or research a product. Our goal is that everyone finds what they are looking for, and that is why we cover a variety of products, problems, and solutions on our website.

Writing an article that contains a lot of valuable information may seem simple. But when the article is written, the story doesn't end. We are constantly updating the content so that you can always get up-to-date and accurate information.
---
Technobezz's Editorial Guidelines
Text-to-speech apps prove to be helpful in more than one way. Many people find it difficult or boring to go through long paragraphs or chapters. If you come across an elaborate article on the internet on a subject that interests you, you can convert it into an audio format using a text-to-speech app and absorb all the information the article has to offer.
A text-to-speech app also works very well for those who transcribe documents regularly. You can simply upload a document or text material onto the app and get it in an audio format. Once the text is converted into an audio file, you can edit it and make further embellishments to it. If you have an iPhone, you will get several text-to-speech apps to choose from in the App Store.
Here are some of the Best Text-to-Speech Apps for iPhone
Known to be the most widely used text-to-speech app for iPhones, Pocket has many features that make consuming information on the internet very easy. The design of the app is very simple and that has contributed greatly to its popularity.
Apart from converting text-based articles into an audio format so that you can listen to them, Pocket also allows you to save all the interesting content on different websites. When you are in a hurry, you can simply "save" a page on the app and read or listen to it later.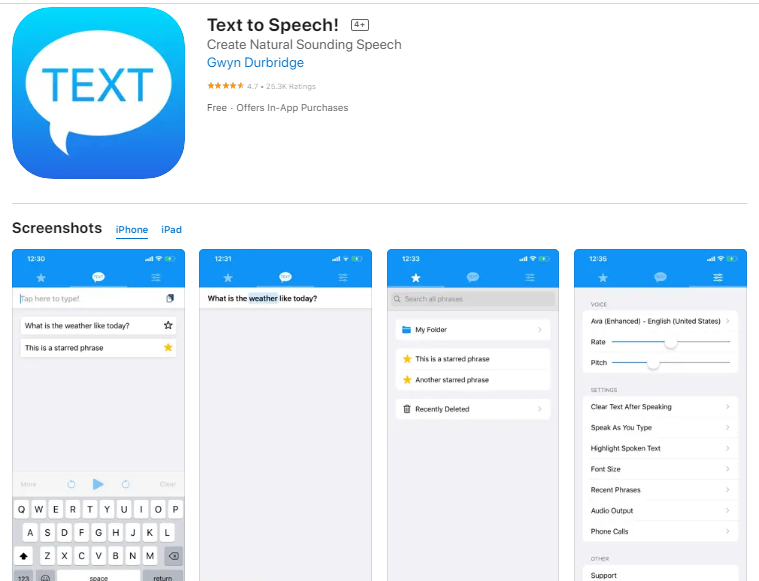 As an iPhone user, if you need a simple or easy-to-use app to help you convert text into audio format, this would be the best for you. When you use this app, you get 38 different languages and as many as 95 voices to choose from.
You can also modify the pitch, rate, and tonality of the voice you will be listening to. As soon as you begin typing, the app will convert the text into an audio format. The best part is that you don't need the internet to use this app. Other features include highlighting spoken text, exporting speech into audio files, and speaking as you type.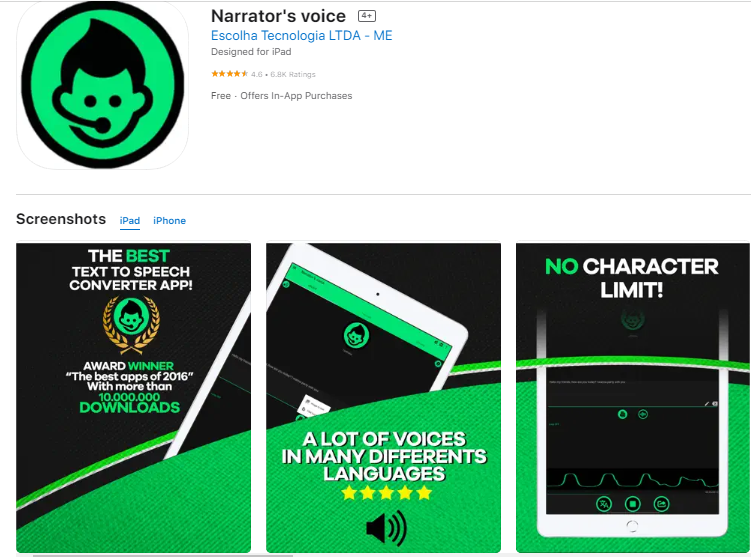 The interestingly titled Narrator's Voice is an app that creates and posts messages in the voice of a narrator you choose. Apart from a variety of voices and sounds, you also get to choose from a plethora of languages.
The creative features of this app appeal to a large number of younger users. While creating a voice message, you can use different types of special effects. Many individuals use this app to add audio content to their TikTok or YouTube videos.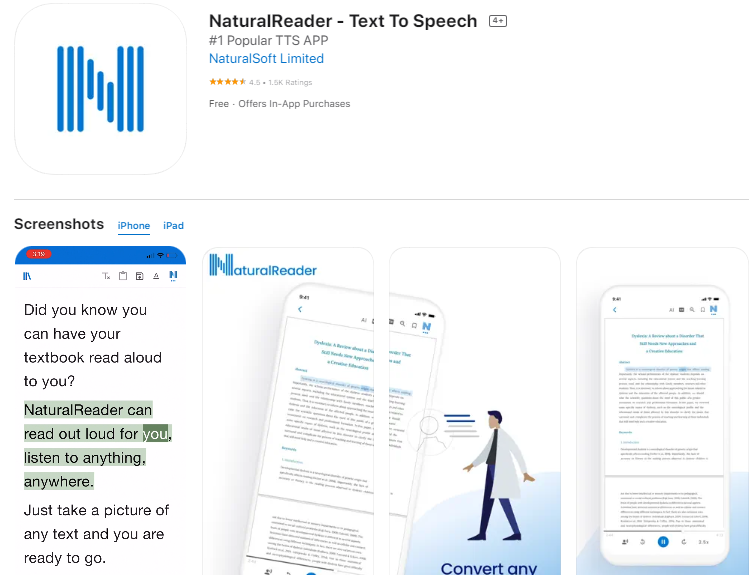 The premium features that the NaturalReader app comes with make it the most versatile app for converting text into audio format across the board. You can have this app read out your favorite books to you. Not just books, you can also listen to PDFs, images, notes, webpages, and even documents in the cloud. You can use this anywhere, anytime and it's extremely easy to use.
While you can access the basic features for free, you need to pay a subscription fee to use the premium features. While the monthly premium plan costs $9.99, the monthly plus plan is priced at $18.99. To avail of the yearly premium plan, you have to pay $59.99. The yearly plus plan comes at $109.99. This is one text-to-speech app that can be used for a variety of tasks, including transcribing official documents.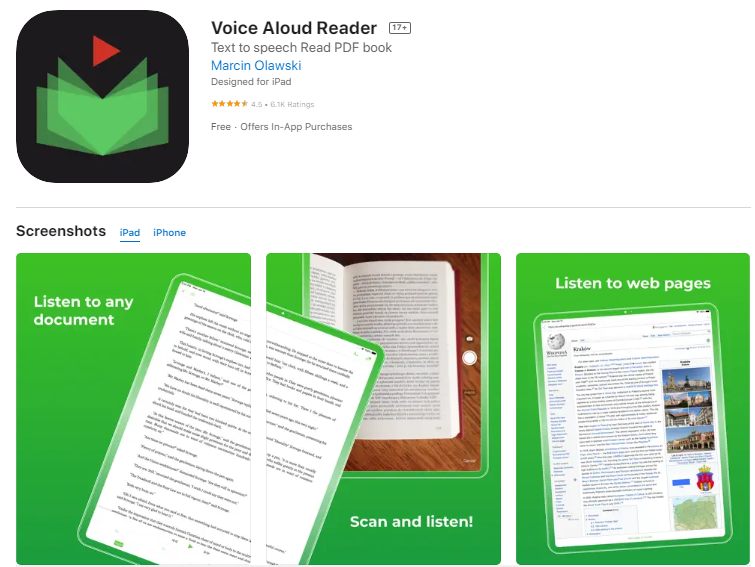 Voice Aloud Reader is known to be a very efficient text-to-speech app. Apart from being highly responsive, the app is known to accurately convert text material from websites, e-books, documents, and other sources into an audio format.
What's truly interesting about this app is that it features an in-built web browser that gives you the chance to search web pages and get them added or saved on the app. The app also comes pre-loaded with a lot of interesting audio content that will keep you thoroughly engaged.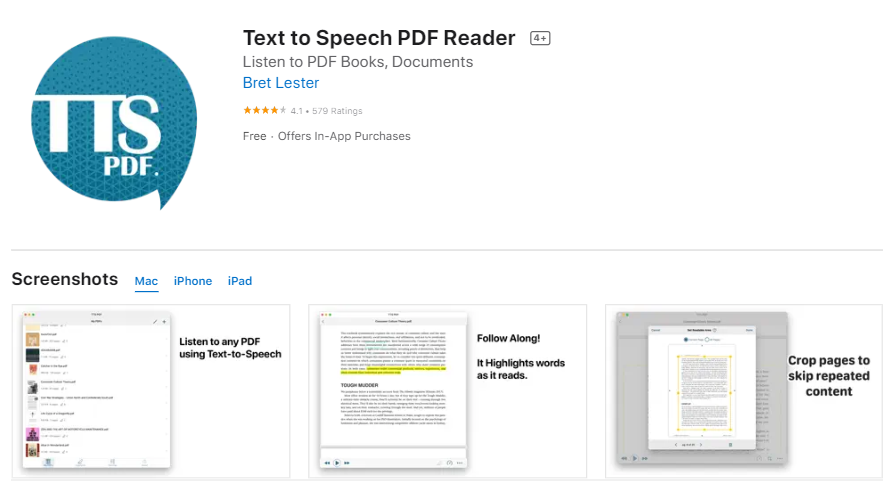 Do you have a lot of books in PDF format but haven't managed to find the time to read them? Download the Text to Speed PDF Reader app on your iPhone, use it to convert the e-books into audio files, put on your headphones, and play the files while you are on the move.
This is also a great app for those who realize the importance of consuming the information in books but find it difficult to read. When you use this app, you can be sure that the book's text is accurately represented in an audio format. There is no restriction on the number of PDFs you can convert into audio files.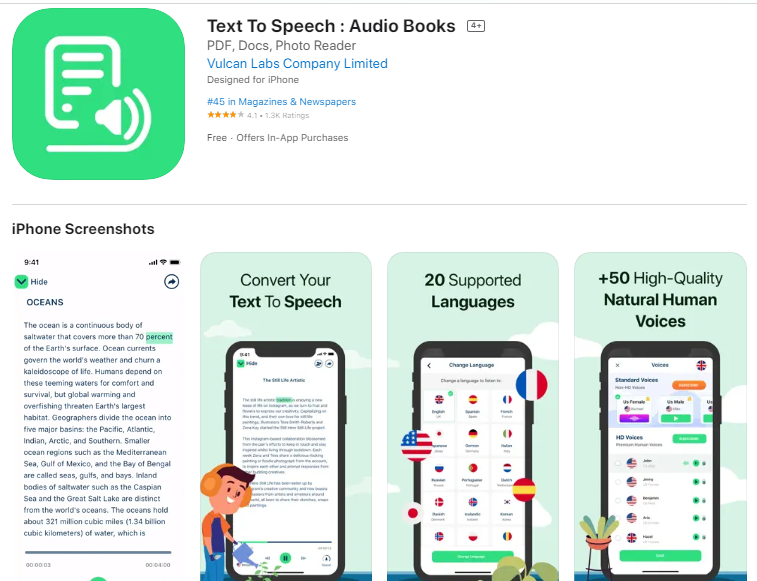 The name of the app conveys exactly what it does. You would feel quite frustrated if a particular title is unavailable in an audiobook format, especially if you prefer audiobooks over traditional books. Using this app, you can conveniently convert a book into an audiobook.
Even if the publishers have not released a book as an audiobook, you don't have to worry now. Besides books, it can also convert texts in documents, articles, and even photographs into an audio format. The app supports more than 20 languages and you get 50+ human voices to choose from.
Conclusion
If you want to convert a book into an audio format or would like to transcribe an interview or a document, a text-to-speech app would greatly help you. Since there are many such apps on the App Store, you must know what you are looking for. You must determine the purpose for which you need a text-to-speech app and then download the one you believe will help you accomplish the tasks you have set out to do. The list of apps we've presented in this article should definitely help you make the right choice.
Was this article helpful?
This helps us improve our website.