Best Malware Removal Apps
Malware is a term that is used to describe any malicious software that has been created to break into a computer system. Apart from PCs and laptops, malware is also found in smartphones, tablets, and other smart devices.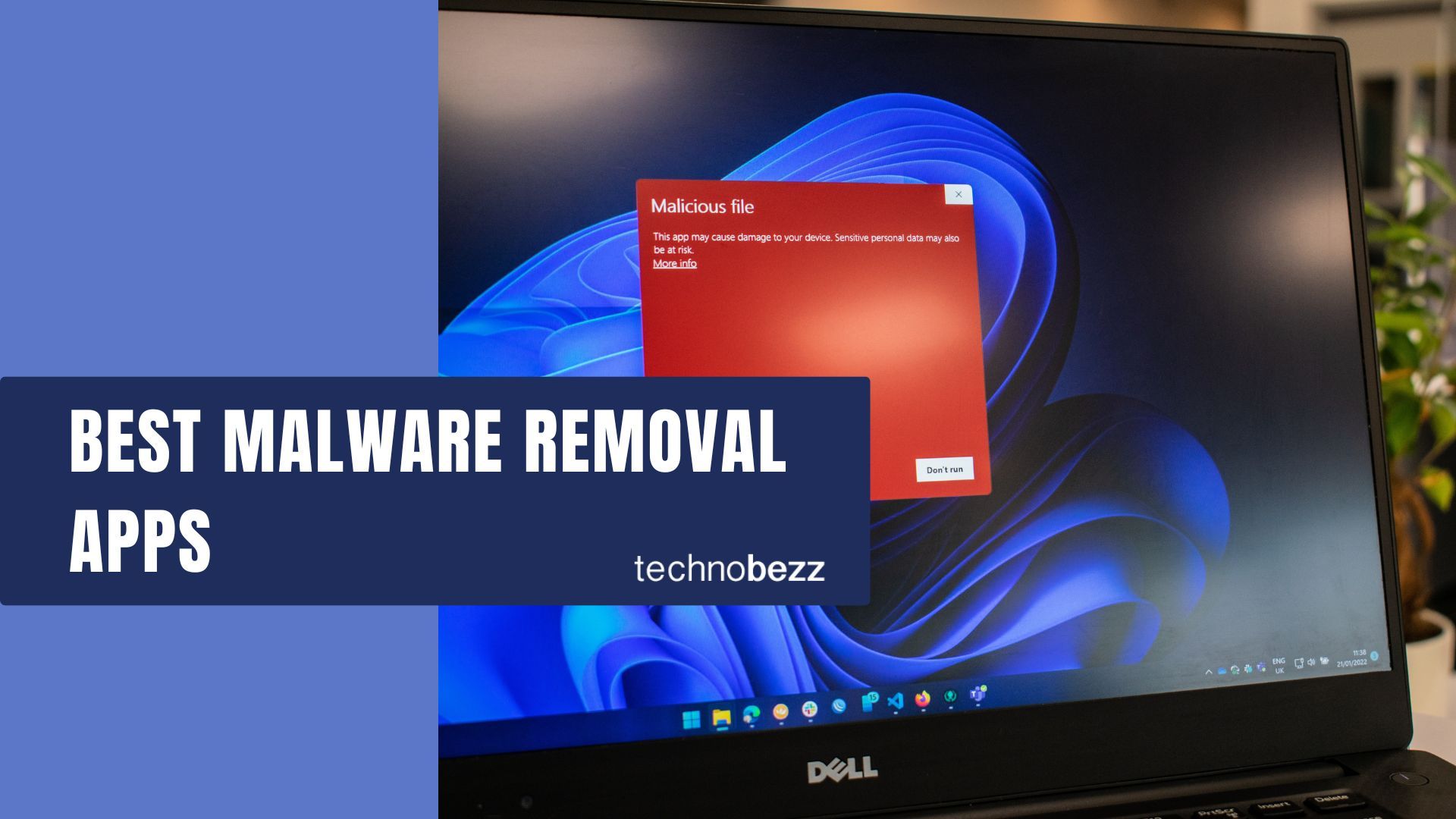 Malware is a term that is used to describe any malicious software that has been created to break into a computer system. Apart from PCs and laptops, malware is also found in smartphones, tablets, and other smart devices.
To ensure that your phone's security doesn't get compromised and no virus invasion destroys all the important data you have stored in it, you should install an app that helps you eliminate malware.
Here are some of the best apps to get rid id malware from your smart devices:
Malwarebytes - The Most Convenient Mobile App for Eliminating Malware
While there are several mobile applications for removing malicious software, very few are as convenient to use as Malwarebytes. It is known for eliminating the most notorious malware from your smartphone, tablet, and other smart devices.
Malwarebytes offers several browser extensions that enable you to block pop-up ads, trackers, exploit attacks, and phishing websites. If you upgrade to the premium version of the app, you will get access to a secure VPN through which you can safeguard the information pertaining to your online activities.
Kaspersky - The Best App To Deal With Online Malware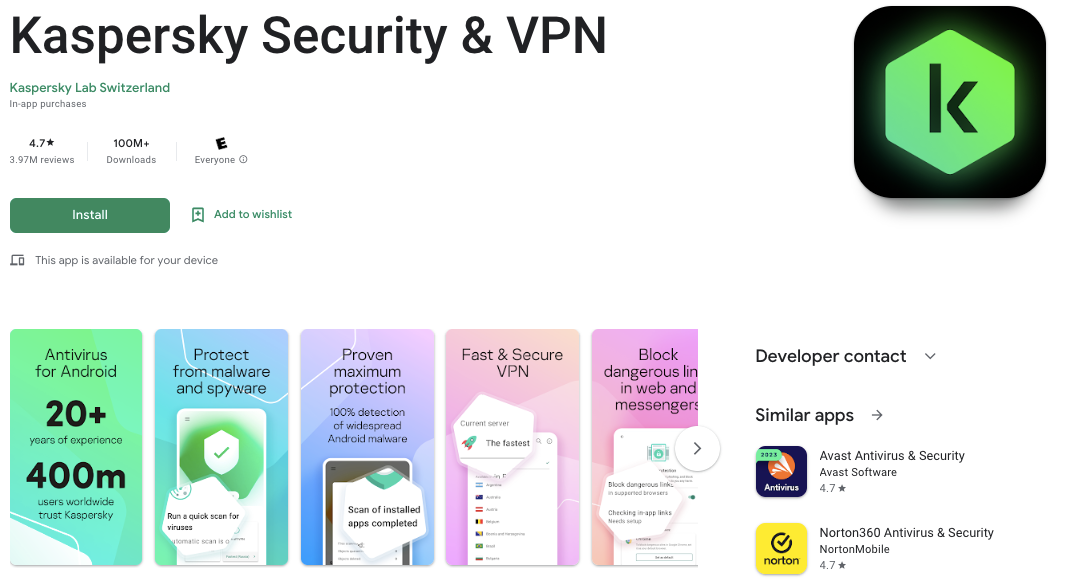 When it comes to protecting your smartphone or system against malware that originates from an online source, Kaspersky would be the best app to use. The anti-phishing protection feature of this app would alert you about a particular if there is a possibility of it having any malicious element.
The Rescue Disk feature helps you boot the device easily when it gets stuck or suffers from a lagging issue owing to malware presence. The app's user-friendly interface is one of the biggest driving factors behind its popularity.
AVG Mobile - The Most Advanced Mobile App for Removing Malware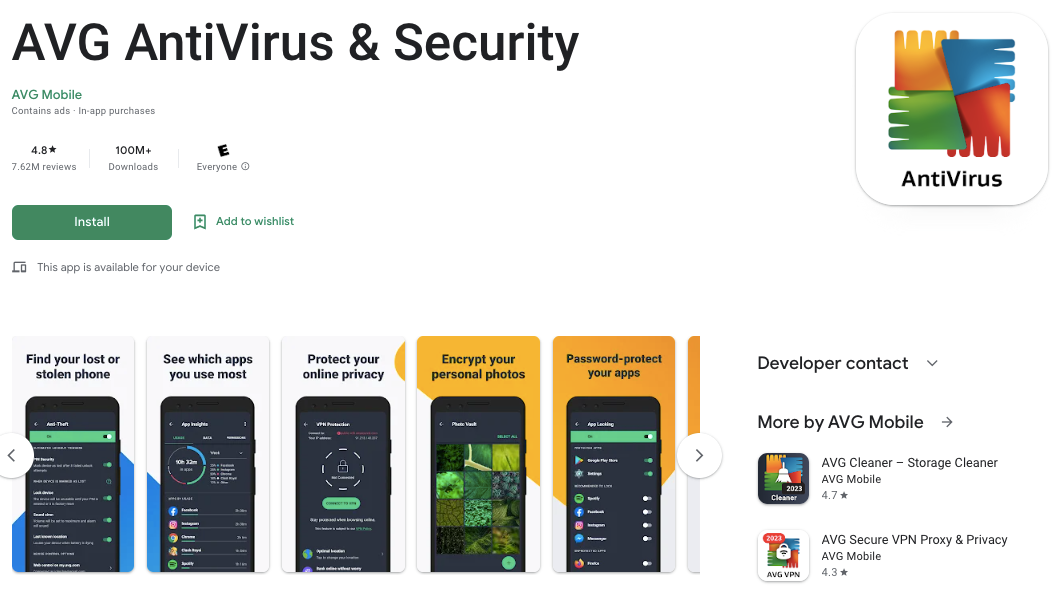 AVG has been a popular antivirus for years and its use on mobile devices is as prevalent as its presence on larger computer systems. You can expect a very accurate result when you do a malware detection test using this app.
Aside from apps downloaded on your smart device, you can also check for malware presence in games and different types of files. It also makes it easier to secure your data using several innovative safety features.
Norton 360 - The Most Powerful App for Eliminating Malware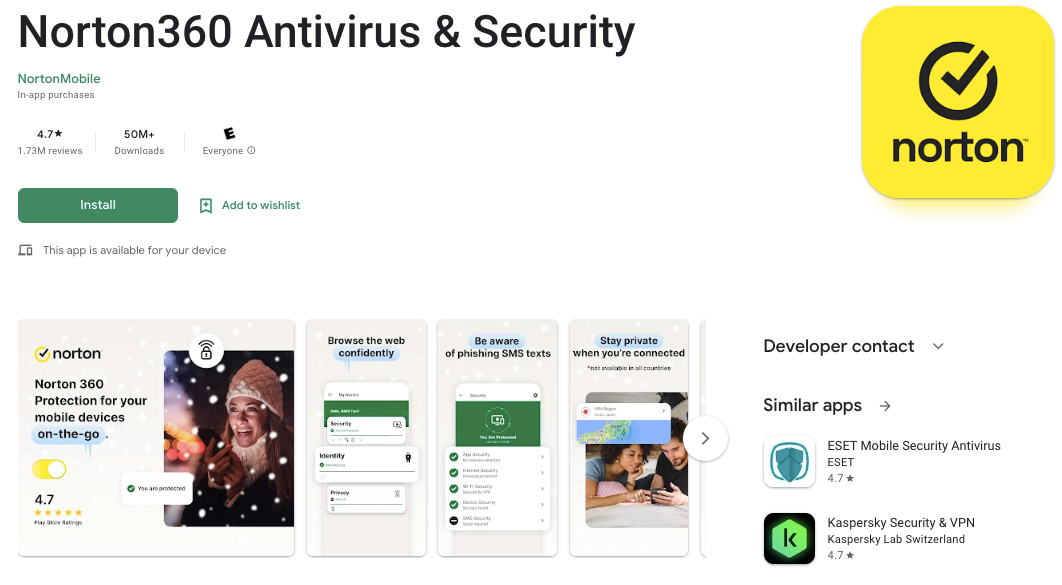 Norton 360 features a robust malware engine that ensures your device remains protected against viruses of different kinds. It offers you a plethora of internet security tools that make browsing through different websites and web pages highly secure.
The malware directory of this app gets updated regularly and that is one of the major reasons behind it being able to identify almost all kinds of malicious software instantly. If you face any issues while using the app, you can reach out to the customer support team.
Avast - The Best Paid App for Removing Malware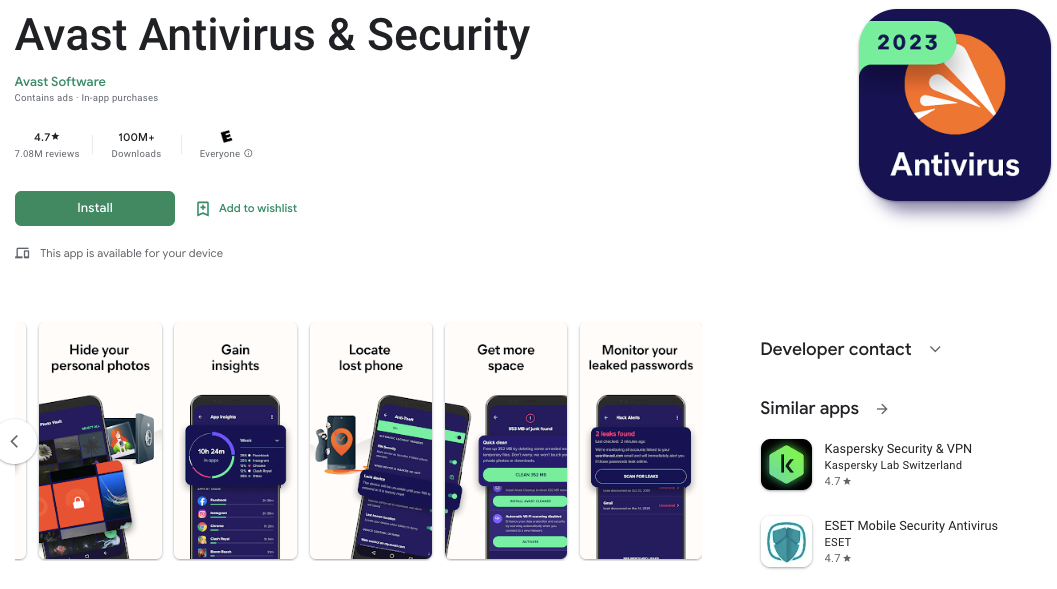 If you have liked running Avast on your computer systems, then you should definitely install and use it on your smart devices as well. Though some of the app's features are free, be ready to pay a small amount to experience it at its best.
Navigating the app is very easy, even for those who have just started using a smart device. Because of the convenience offered by this app, it is preferred by users of all age groups. It offers a great deal of security and ensures no malware ever goes unnoticed.
Bitdefender - The Best Mobile App for Securing Your Privacy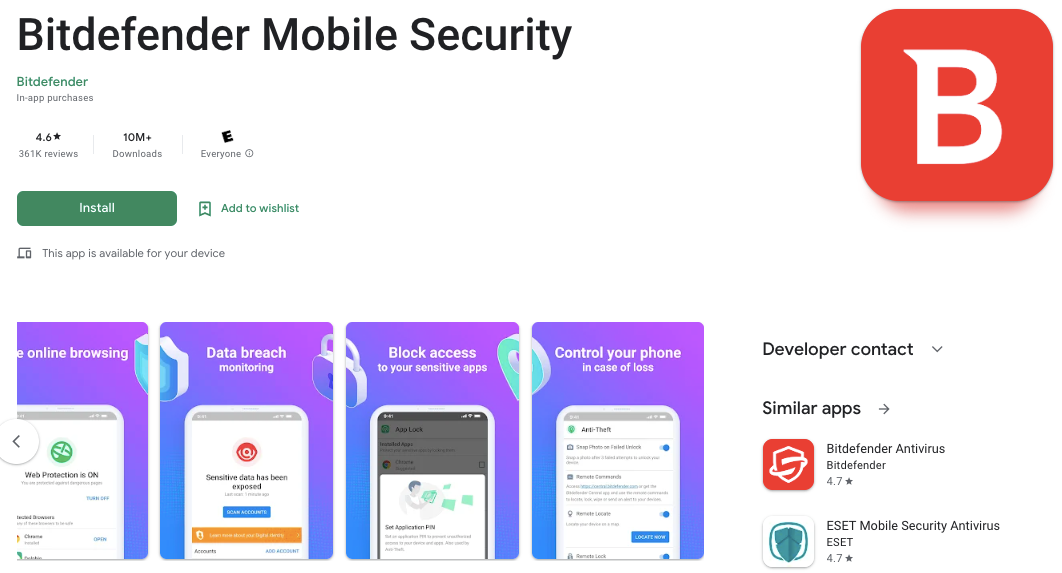 A large number of people suffer because their data is being stolen by somebody. Today, many people carry out transactions online using their mobile devices. If somebody manages to hack into your account, it could lead to monetary loss, among other issues.
Once you install Bitdefender on your smartphone or tablet, you can be sure that all the information about your online transactions and activities will remain safe. Its malware and ransomware protection features have several layers and provide you with top-notch security.
TotalAV - The Best Mobile App for Anti-Phishing Protection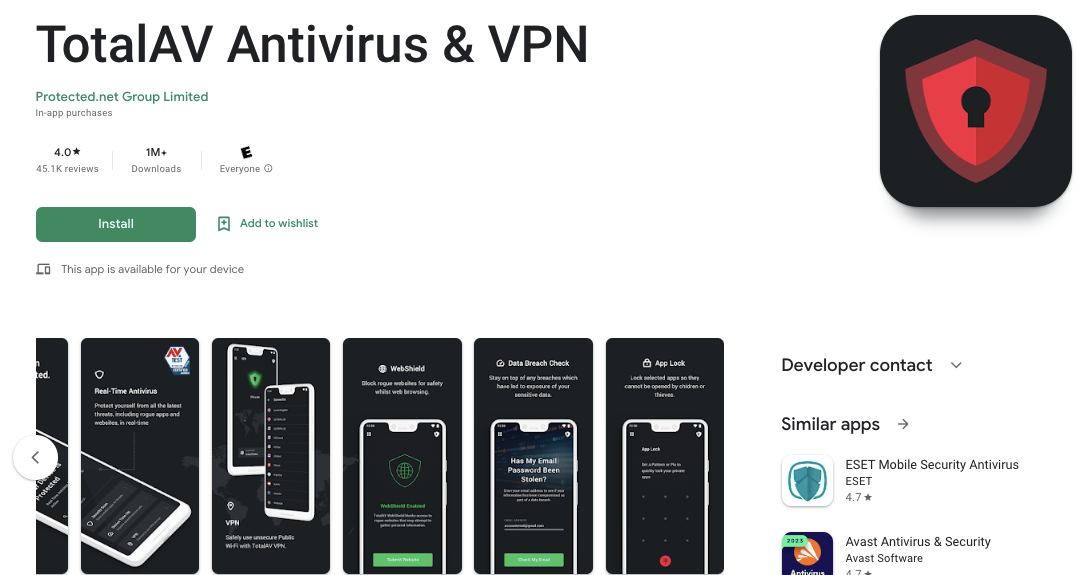 Phishing refers to a form of cyber-attack where email, text, or phone calls are used to lure people into sharing their personal information. When you are using a smart device, it is very important that you install an app like TotalAV that can quickly detect those sites or pages that have phishing content.
Apart from online protection, it offers offline security as well. The scanning processes carried out by this app don't take long to conclude. In a jiffy, you will know whether there is malware on your phone or tablet.
Conclusion
After downloading a malware-removing app, you need to check how effectively it is working. If you are unsatisfied with a particular app, you should try another one. If you use any of the apps mentioned above, you can be assured that your smart device will remain safe.
ABOUT THE AUTHORS
Elizabeth
Elizabeth is your trusted Apple product expert with a wealth of knowledge and experience gained from her tenure as an Apple authorized personnel. She's also a seasoned mobile phone, Samsung, and Android expert. With a keen eye for detail and a passion for all things Apple, Samsung, and Android, she is dedicated to providing you with accurate, reliable, and up-to-date insights. Count on Elizabeth to be your go-to source for expert advice on navigating the world of Apple technology, Samsung devices, and the Android ecosystem.
Bogdana
Bogdana is your technology expert, backed by a strong foundation in consumer electronics and a range of qualifications that make her a trusted source in the tech world. With a deep understanding of the latest advancements and a passion for simplifying complex concepts, Bogdana is your go-to authority for demystifying technology and keeping you informed about the ever-evolving digital landscape. Trust her to deliver reliable insights and expert guidance to help you navigate the world of consumer electronics and beyond.