X
Our Editorial Process
Each year more than 60 Million users visit Technobezz to solve a problem or research a product. Our goal is that everyone finds what they are looking for, and that is why we cover a variety of products, problems, and solutions on our website.

Writing an article that contains a lot of valuable information may seem simple. But when the article is written, the story doesn't end. We are constantly updating the content so that you can always get up-to-date and accurate information.
---
Technobezz's Editorial Guidelines
Tethering apps are extremely helpful if your phone doesn't have tethering support features or you don't want to buy a tethering plan from your carrier.
Android tethering apps make your smartphone a portable modem, allowing other devices like tablets and laptops to connect to your hotspot.
Listed below are the best free tethering apps for Android that can convert your smartphone into a tethering device.
Best Free Tethering Apps on Android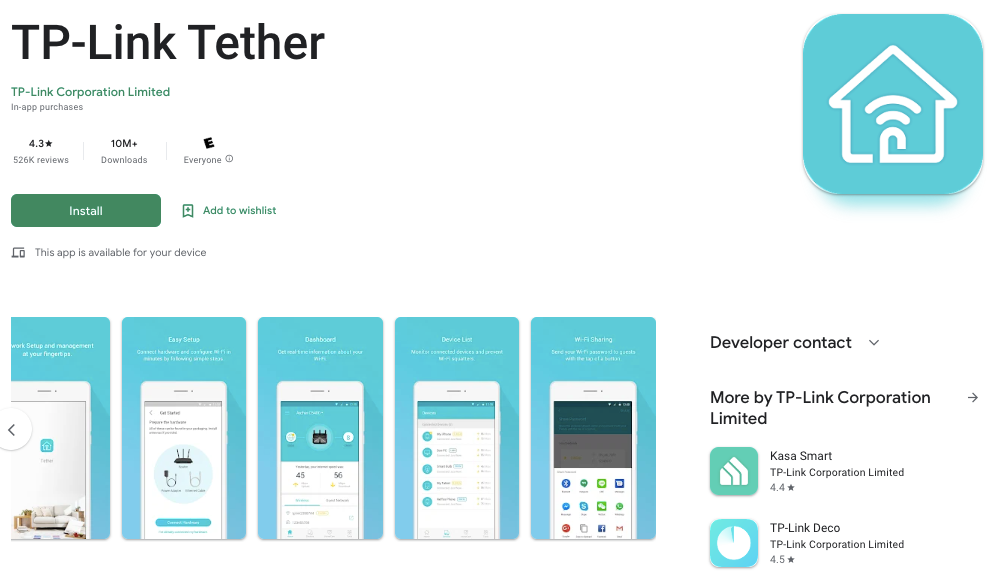 TP-Link Tether is loaded with many features and is easily the best tethering app for Android. This app allows you to access TP-Link Router easily from your smartphone. The interface is simple and intuitive, so you won't have difficulty using this app.
Features of TP-Link Tether include parental controls, location finder, block unknown users, easy password setup, SSID, and automatic turn-off for LEDs. Note that, to install and use this great tethering app, you must make sure your smartphone runs at least the Android 4.4 version.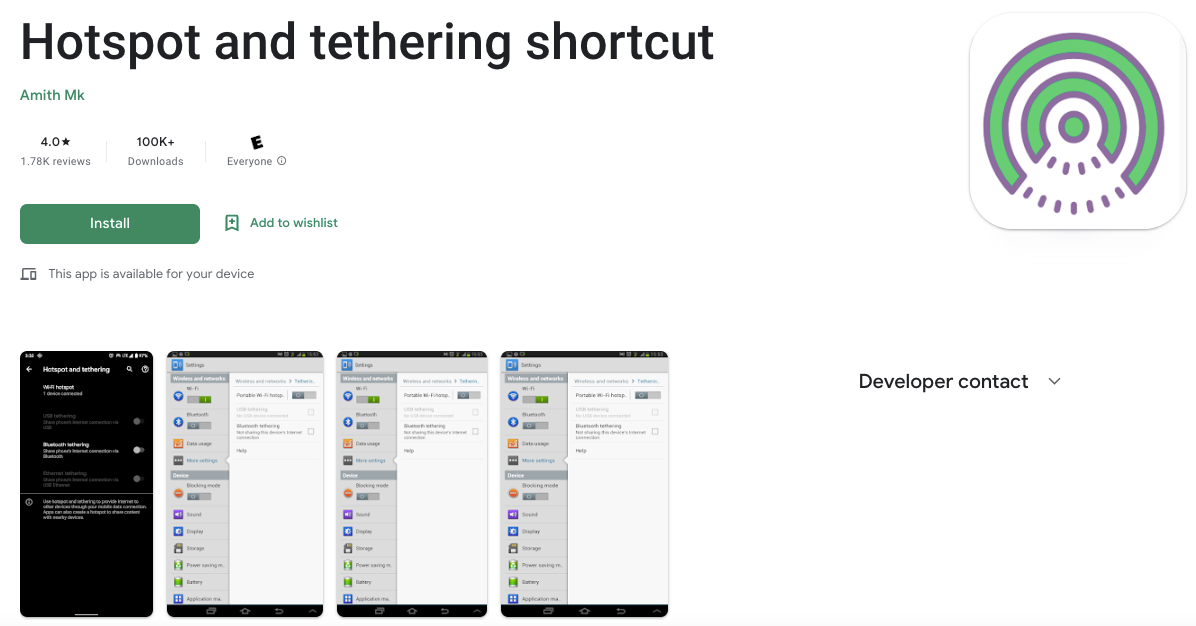 The hotspot and tethering shortcuts will take you directly to the WiFi hotspot, USB and BlueTooth Tethering page on your phone's setting menu. It is a simple one-touch app you can use easily. This app is a shortcut to USB, Bluetooth Tethering, and Mobile AP (WiFi hotspot).
For the app to work, be sure the phone is running at least Android 5. Remember that this app is ONLY a shortcut and not a tethering app by itself.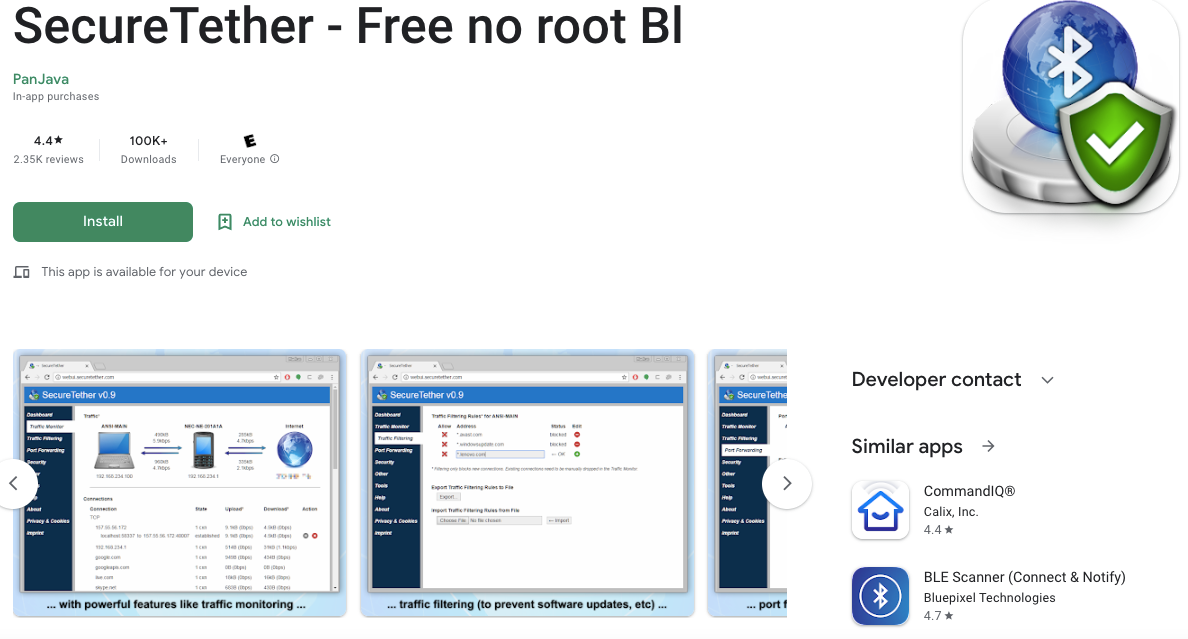 SecureTether is your go-to app if you are still using older versions of Windows like Windows Vista and Windows XP and want to tether your mobile's internet connection to your desktop.
The app comes with easy-to-understand, on-screen instructions making it easier for anyone to conveniently establish a USB connection on Windows, Mac, or Linux-based devices. Besides, SecureTether can be used for USB tethering from Android to multiple operating systems. No matter what kind of data connection you have on your phone, be it GPRS, LTE, 3G, 4G, WiMax, or WiFi, it is a great tethering app to install.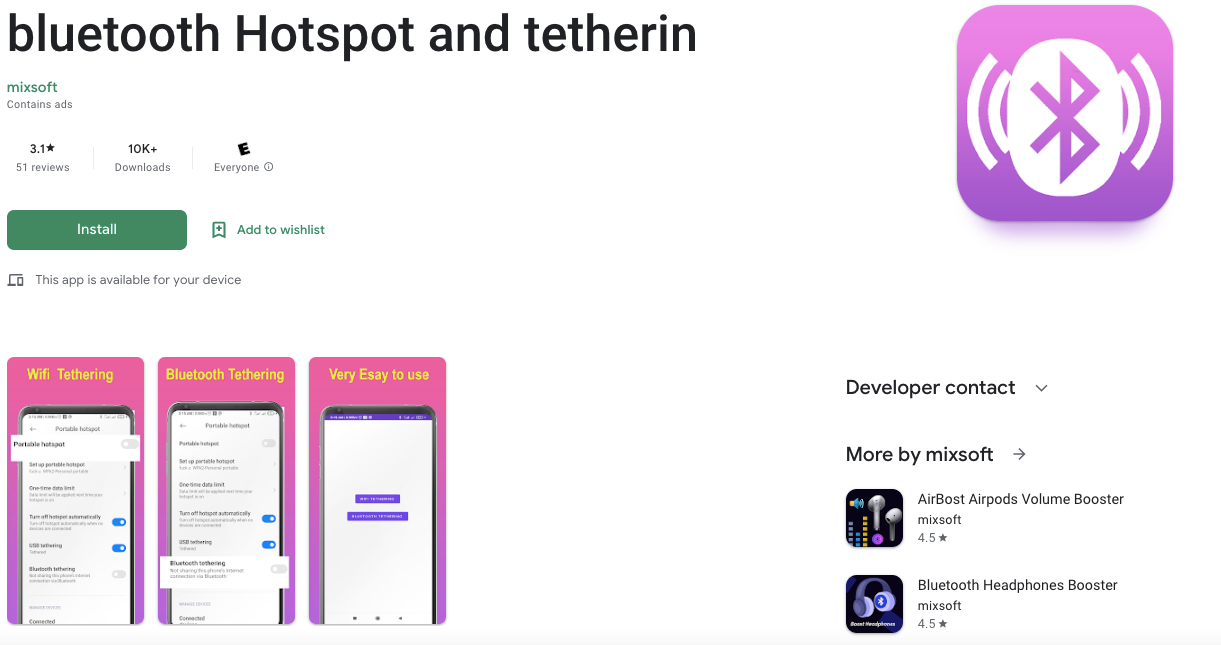 Bluetooth Hotspot and Tethering, a free tethering app, helps you share your mobile hotspot and internet connection to other devices in an easy and fast way.
The app will take you directly to the Hotspot and Bluetooth settings. You can easily turn on or turn off Bluetooth hotspots and share WiFi tethering without using a USB cable.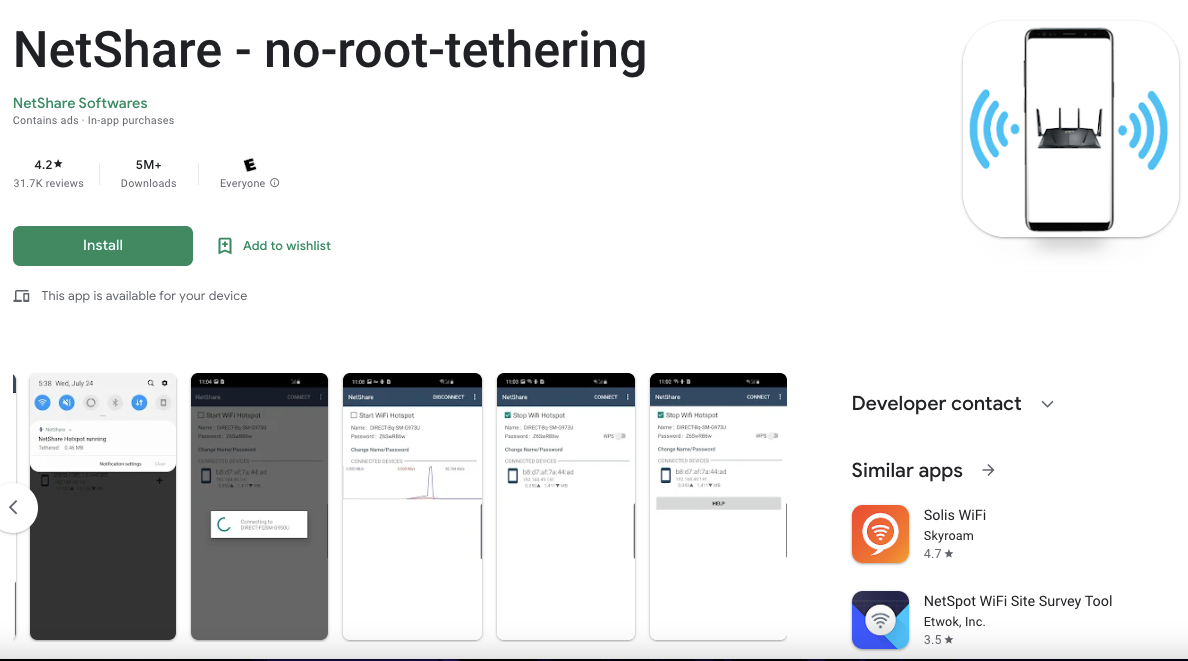 NetShare allows you to easily create a Wi-Fi hotspot on your Android smartphone. This will help you bypass the hotspot or tethering block. The tethering is totally hidden and undetectable, so you shall leave your worries about unrecognized users.
If you are facing a "weak signal" problem, you can use NetShare to extend the Wi-Fi signal using your Android smartphone. It's easily one of the best tethering apps on the Google Play Store. NetShare runs on Android 6 and higher models. Various download sizes are available depending on your device.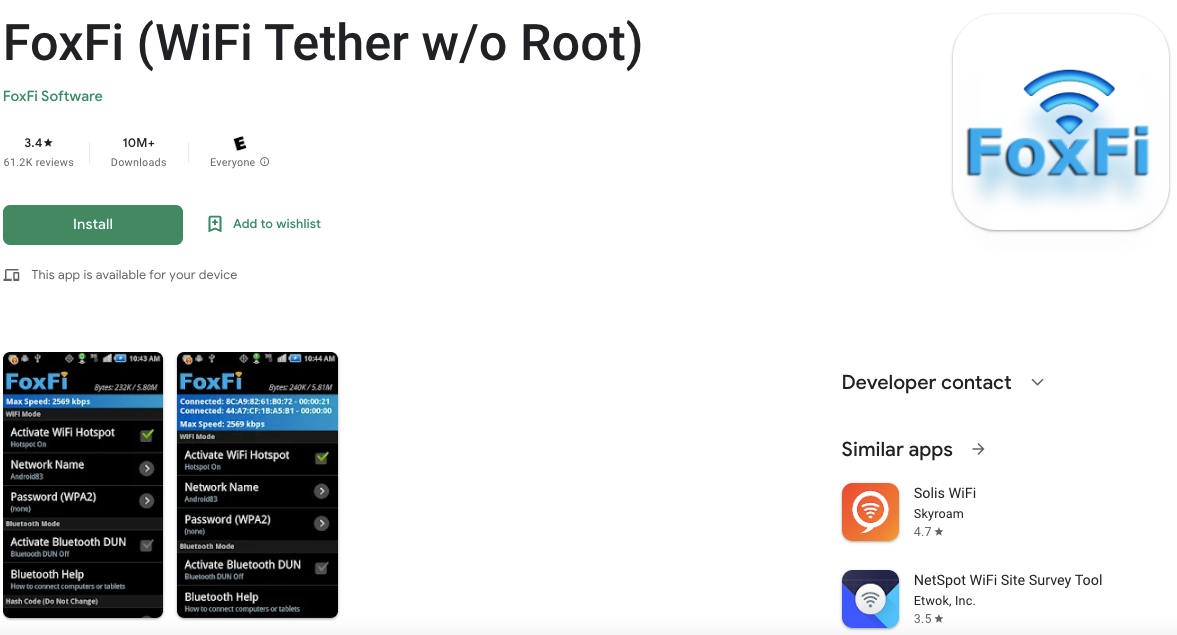 FoxFi – WiFi Tether w/o Root is an amazing app to convert your Android smartphone into a tethering device sans root. Recently, it has been added to PdaNet, which means you can connect the device to a computer or tablet.
If you have connection issues, FoxFi offers a direct solution. This app can help if you are not able to turn on the Wi-Fi hotspot. It also comes in handy if your data plan happens to be unlimited, but the Wi-Fi hotspot is metered.
The app is compatible with the following devices: Android 7.0 or higher, Verizon Motorola phones, Verizon Samsung phones, and AT&T Samsung phones. Since FoxFi comes with a small download size, installing it on your smartphone will not make it slow.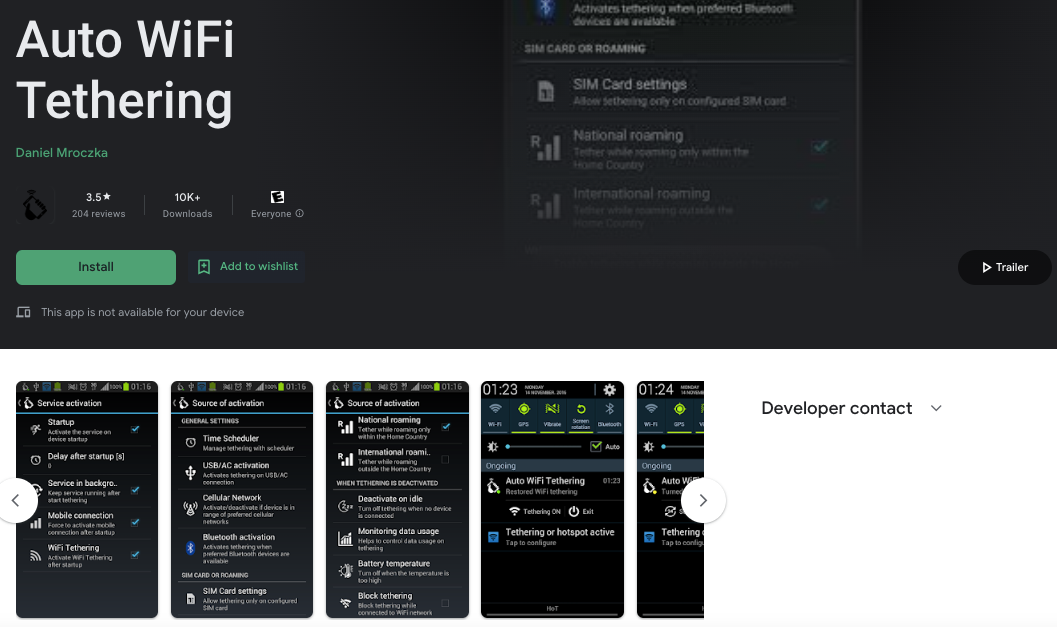 The Auto WiFi Tethering app makes your mobile phone a wireless router to share your internet connection in a simple yet effective manner. The app starts the moment you start the system and runs as a service in the phone's background.
Auto WiFi Tethering works in two modes:
1. As a widget that turns on WiFi tethering to enable internet connection
2. It turns on WiFi tethering automatically with system startup
Conclusion
Tethering apps offer a hands-on solution to poor network issues. Now that you know the best free tethering apps for Android phones to tether internet connection on your laptop or other devices, choose one of these apps and enjoy seamless internet connectivity.
Was this article helpful?
This helps us improve our website.