Best Dating App for Young Adults
Dating serves as an exciting platform to bind two individuals of the opposite gender into a romantic relationship. People take their first step in this direction for several reasons.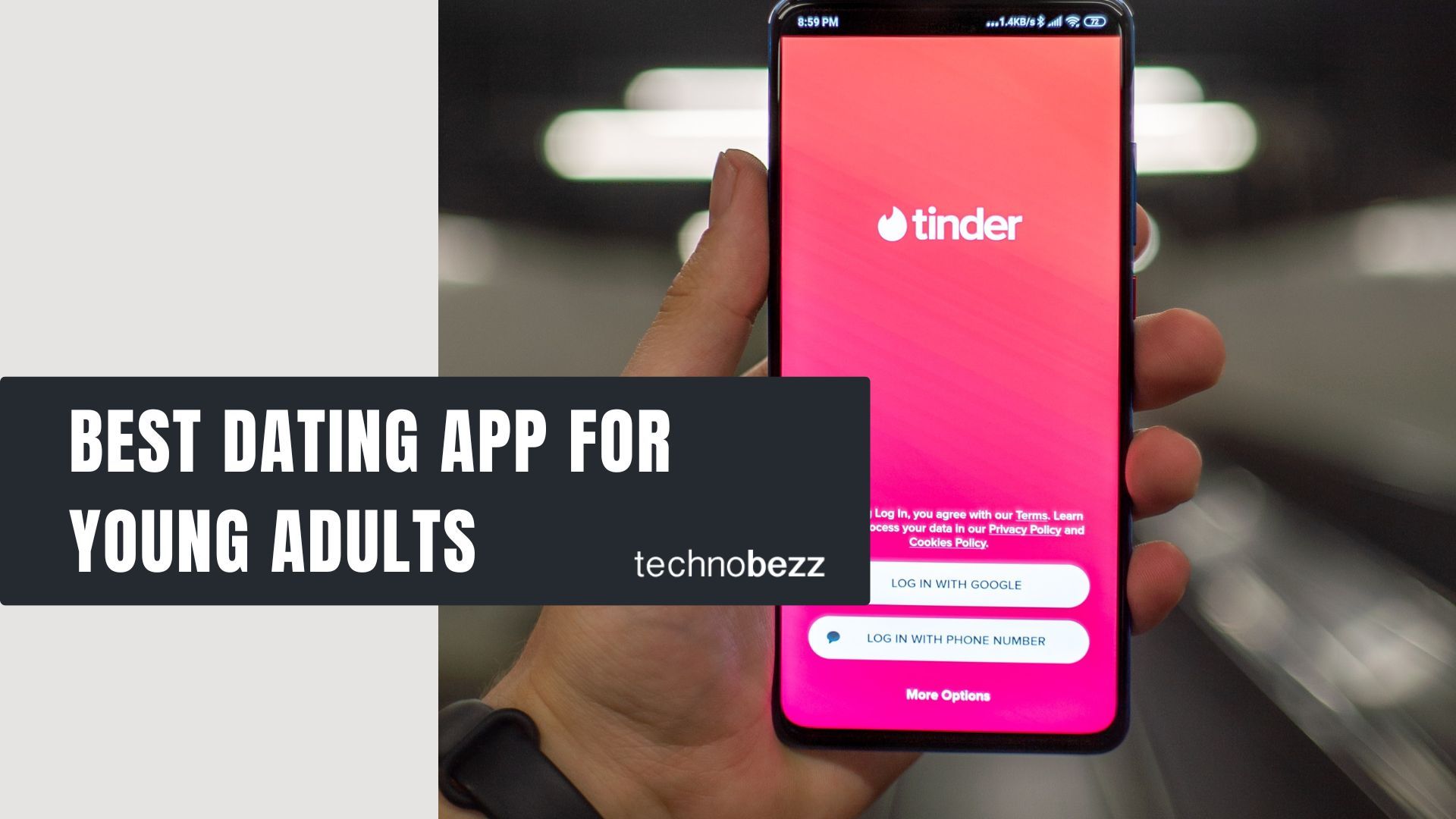 Dating serves as an exciting platform to bind two individuals of the opposite gender into a romantic relationship. People take their first step in this direction for several reasons. For some, it is a good reason to go outdoors. And for others, it is a fun activity that leads to discovering a lifelong relationship.
If you own a smartphone, you can easily find your match to get started with dating someone special. Google Playstore and Apple Appstore have tons of applications. All you need to do is choose the best one.
Best Dating App for Young Adults
OkCupid: Online Dating App - The Best App to Find a Match Based on Personality Traits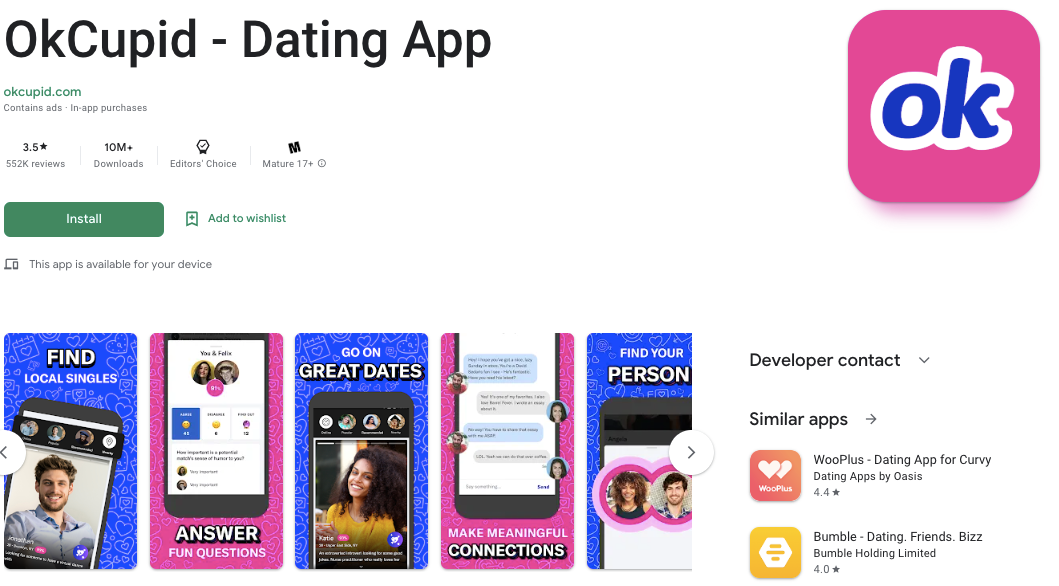 This app is a dedicated dating application for those who wish to find a like-minded dating companion. After creating your profile, you can start viewing your eligible matches on the app. It uses your profile information to find the best matches for you.
Because it shows matches based on compatibility, it is popular among most dating app users as a reliable dating application. OkCupid has a fun quiz with interesting questions. By answering them, you can simplify your objective of spotting the right match on the app.
Bumble - The Ultimate Social Network for Singles to Discover New People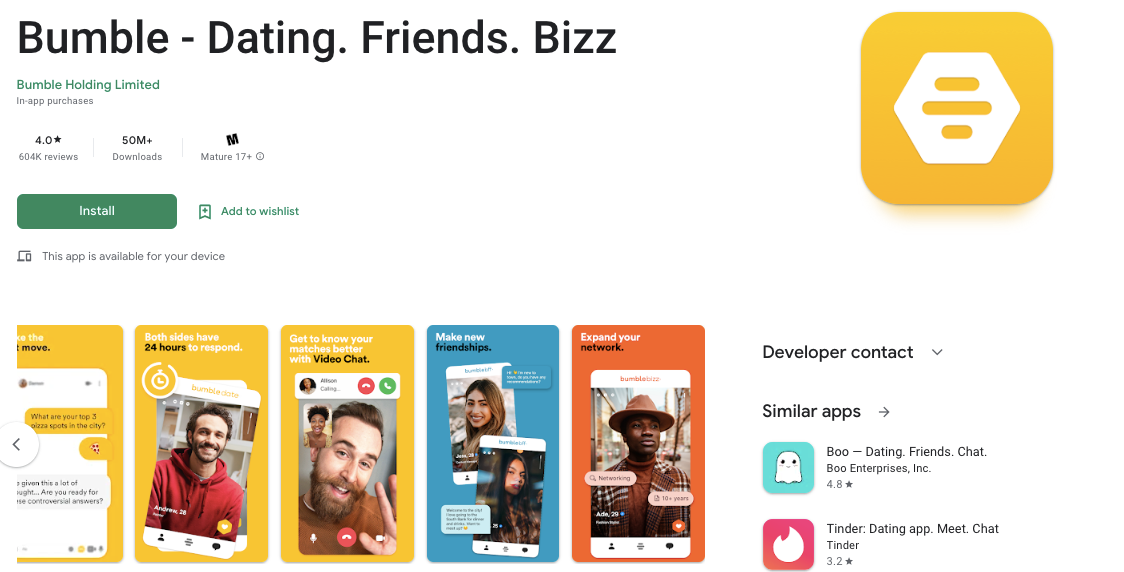 Alongside being a dating app, Bumble is also a social network for singles. It has profiles of millions of users from which you can find a friend or an ideal match for dating. By using its chat feature, you can communicate with strangers and get to know them.
Apart from getting a dating partner, you can also build a powerful social or professional network with the chat feature of the application.
Hinge - Mobile-First Dating at Your Fingertips for Dating & Relationships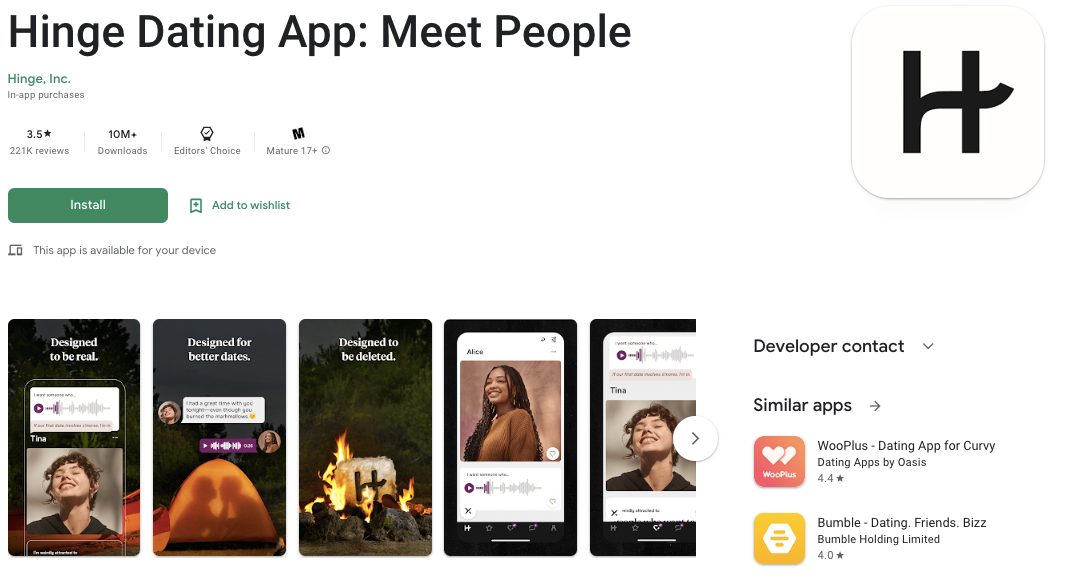 Most users of dating applications consider this app to be a real one for a good reason. It is one of those rare apps that is designed to be deleted. What makes it possible is the availability of high-quality dates.
With many authentic profiles, the app assures its users that they will be able to meet their perfect date after which they can delete the app.
Tinder - The #1 Dating App to Find a Match, Chat, and Date with Them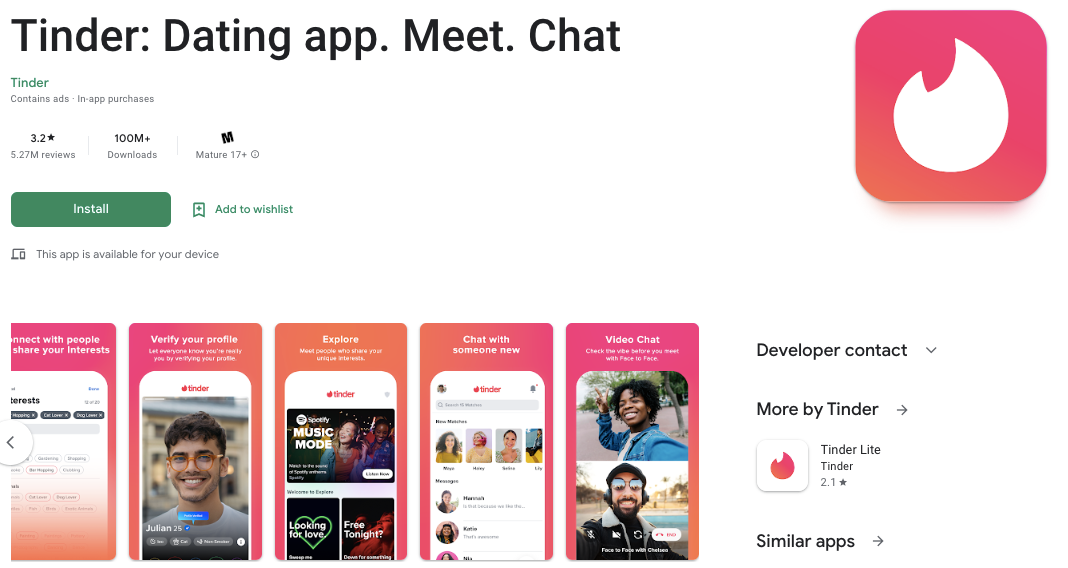 Like Bumble, Tinder also has many users' profiles, making it a leading social network. Due to several profiles from a wide variety of users on it, you can easily find your dating partner.
Its chat feature connects users and helps them know each other. It gives you the option to choose your date based on interaction. After spotting your perfect match and chatting with them, you start dating them.
Match Dating - The #1 App that Makes Chatting & Dating Simple & Easy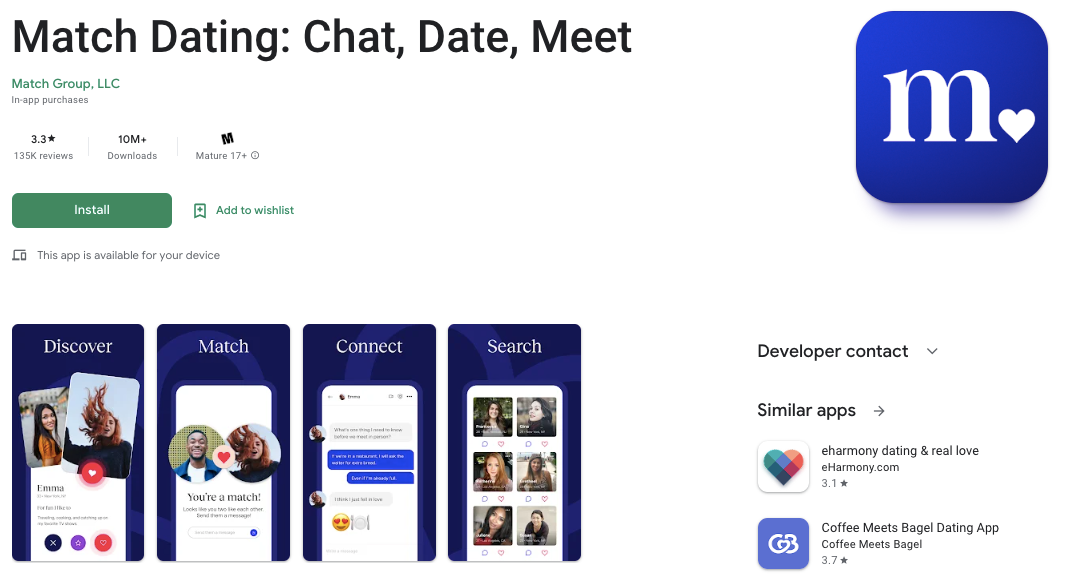 As the name suggests, this application is for those who seek a premium dating experience. On this app, you will find the profiles of users from 190 different countries. So, regardless of the region in which you reside, you can bank on the app to find your ideal date.
After launching the app, you can check out different membership options. You can choose the one that matches your budget and requirements and start reaping the benefits of joining the app.
Wild - The Top App to Meet, Date, and Hook up with Singles for Dating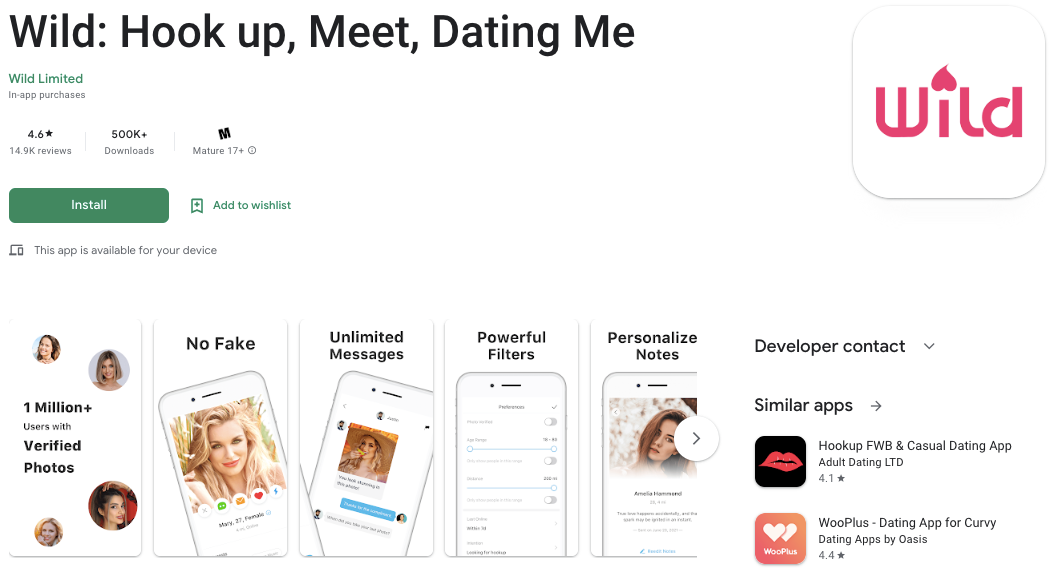 Whether you are seeking friends with benefits (FWB) or casual encounters, Wild is the ideal option for both of them.
The app helps singles find their compatible partners from prominent US cities. These include Philadelphia, Phoenix, San Antonio, Las Vegas, San Diego, Chicago, Houston, Los Angeles, New York, and more.
Mingle2 - The Top Dating App to Find The Ideal Date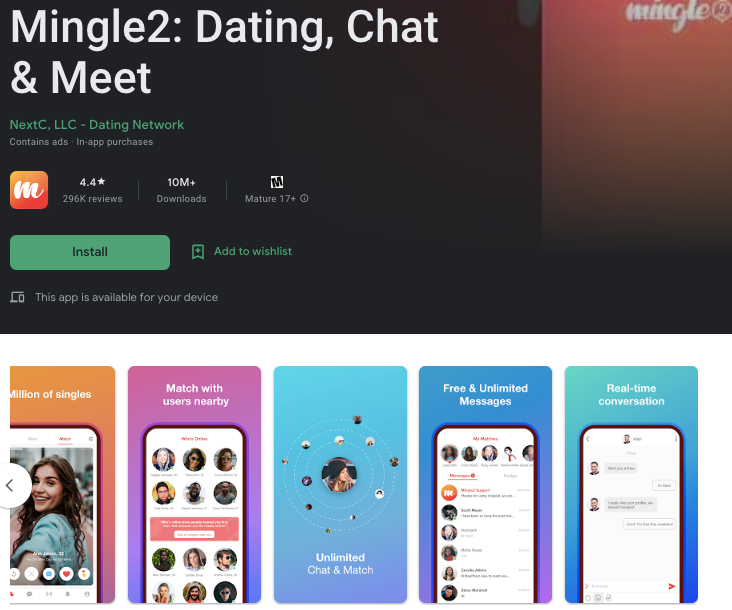 Mingle2 is an easy way to form meaningful connections for those interested in dating apps. It helps them take the first step to lay a strong foundation for an exciting dating relationship.
The app is a pocket-friendly version of the website of Mingle2, which provides top-notch dating services. By launching it, you can check the profiles of registered users and chat with them to find your eligible date.
Conclusion
Due to the availability of a wide range of dating apps, you may face the problem of choice. You can choose one of the applications mentioned above for the best dating experience.
ABOUT THE AUTHORS
Elizabeth
Elizabeth is your trusted Apple product expert with a wealth of knowledge and experience gained from her tenure as an Apple authorized personnel. She's also a seasoned mobile phone, Samsung, and Android expert. With a keen eye for detail and a passion for all things Apple, Samsung, and Android, she is dedicated to providing you with accurate, reliable, and up-to-date insights. Count on Elizabeth to be your go-to source for expert advice on navigating the world of Apple technology, Samsung devices, and the Android ecosystem.
Bogdana
Bogdana is your technology expert, backed by a strong foundation in consumer electronics and a range of qualifications that make her a trusted source in the tech world. With a deep understanding of the latest advancements and a passion for simplifying complex concepts, Bogdana is your go-to authority for demystifying technology and keeping you informed about the ever-evolving digital landscape. Trust her to deliver reliable insights and expert guidance to help you navigate the world of consumer electronics and beyond.