Best Blackjack Apps for Android in 2023
Blackjack is a familiar name among casino game enthusiasts. It allows you to build strategy and there is a good amount of luck involved.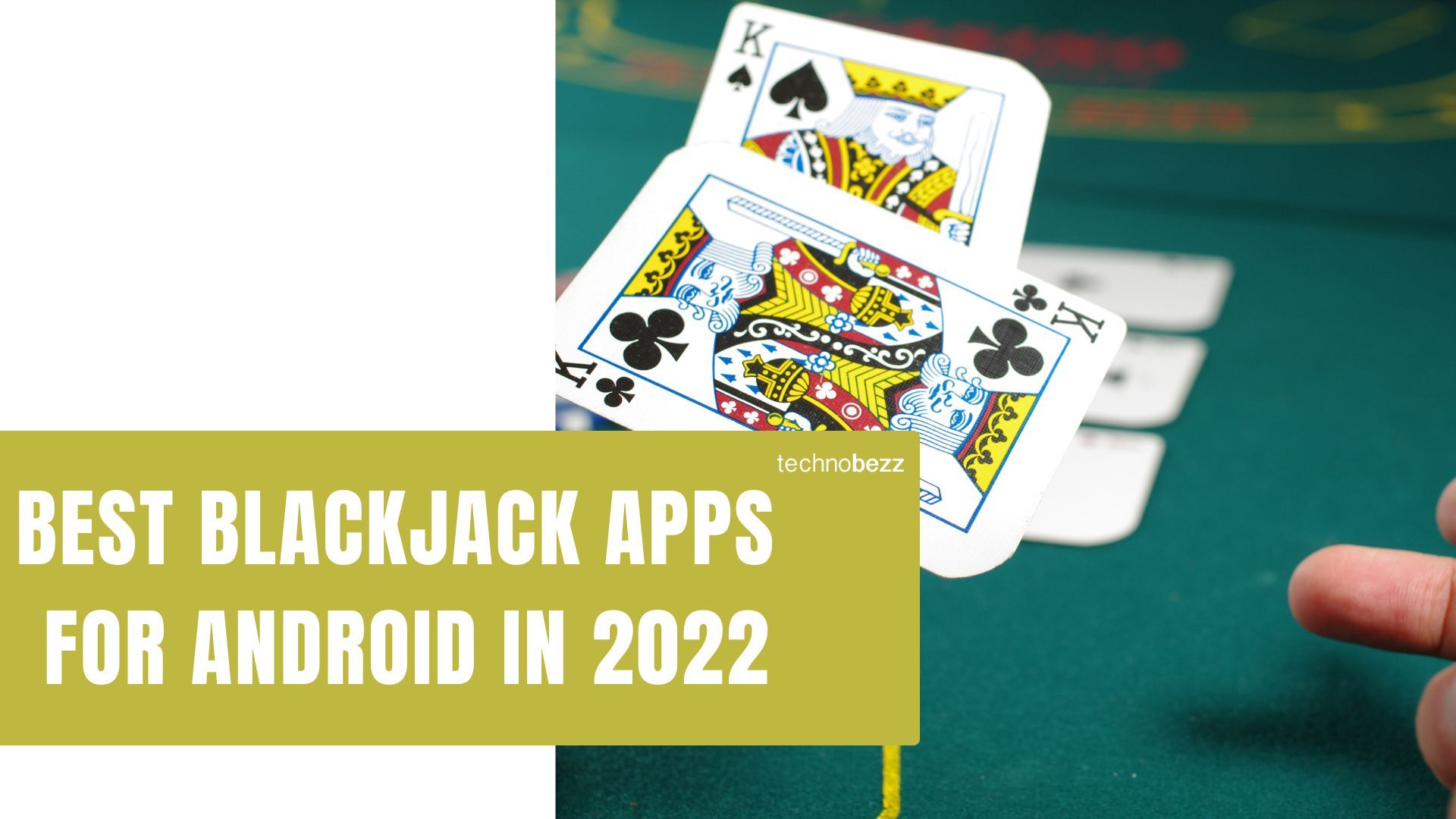 Blackjack is a familiar name among casino enthusiasts. It allows you to build strategy and a good amount of luck is involved. However, playing a real game in a real casino is not always possible. This is where a blackjack app has its role to play.
So, are you looking for a great blackjack app to install on your Android phone? We've got you covered with a list of the best blackjack apps for Android.
Best Blackjack Apps for Android in 2022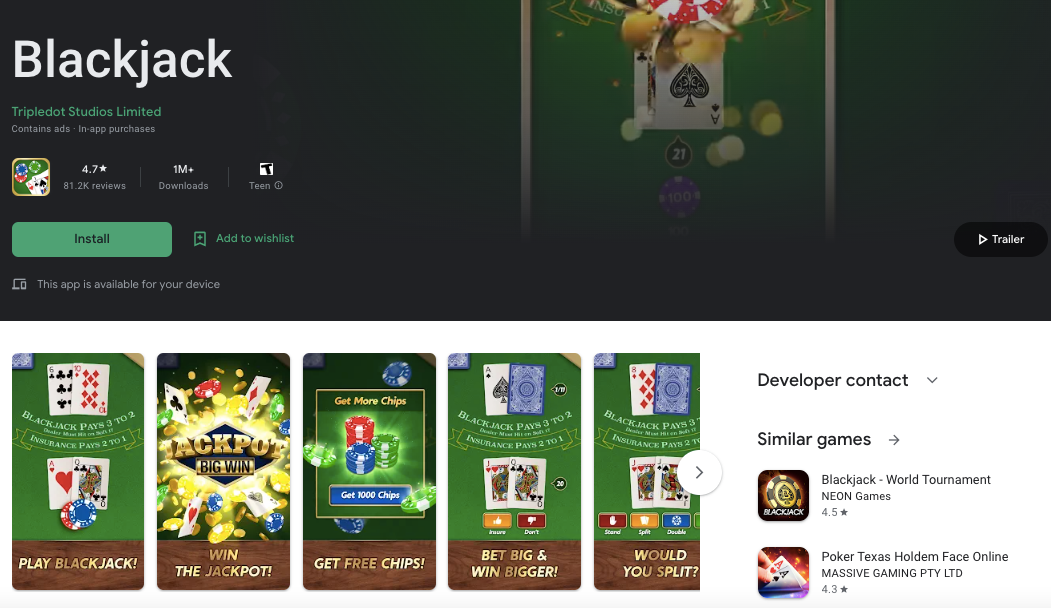 If you are looking for a fun way to play the timeless blackjack table game on your phone, the Blackjack app is the best pick. It is completely risk-free. This amazing Las Vegas casino classic is designed to challenge you to get as close to 21 as possible so that you can win the jackpot.
If you want to win big, you should bet big. You can use free chips to play a stylish game without any risks. Moreover, there are random cards to make the game fair and fun. What's more, Blackjack is the ideal app for beginners. You can learn to play casino games without any risk involving real money.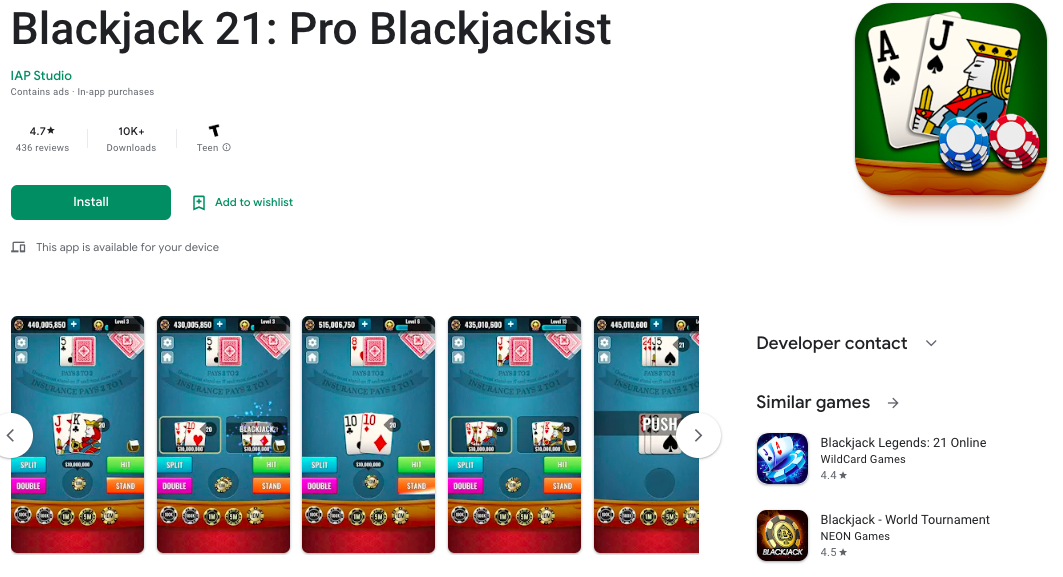 Blackjack 21 Pro Blackjackist is the most played multiplayer blackjack card game in the world. You can play a live blackjack game with real casino card players at fabulous blackjack tables and stunning card and chip graphics.
No wonder this is a popular game among blackjack players. You can win chips easily and share them with friends by beating the dealer's hand. In general, Blackjack 21 is a great replacement for the real game without the risk of losing your money.
Blackjack 21 Pro Blackjackist offers everything you can expect from a real Vegas blackjack 21 games. If you know the basic concepts of the game, you can use this app and hone your skills.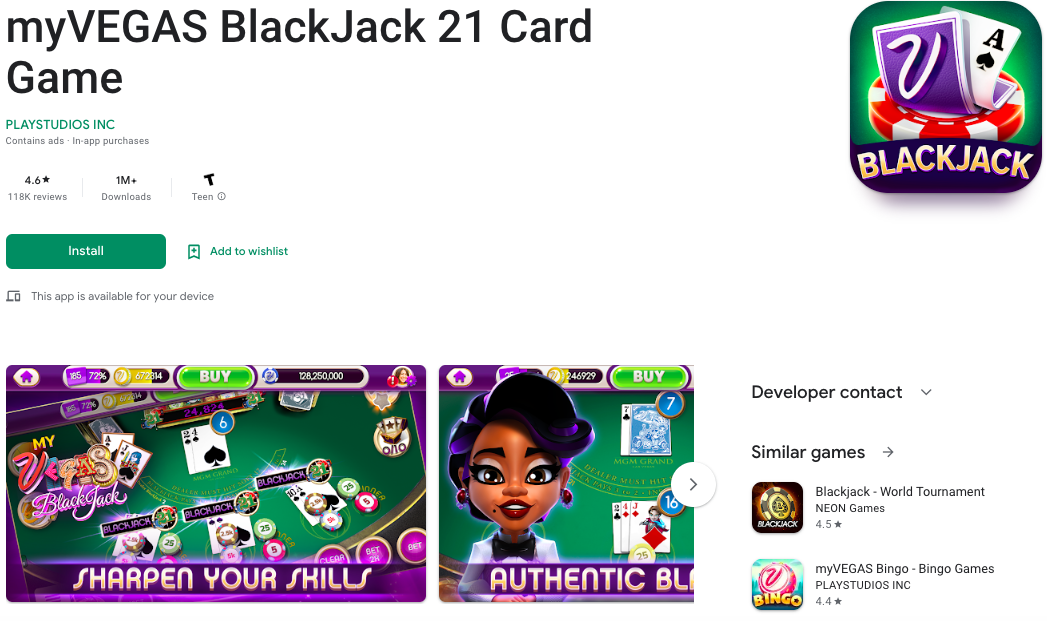 The myVEGAS Blackjack 21 Casino app is a unique blackjack 21 game that allows you to enjoy the Las Vegas experience. With this app, you have a myriad of different ways you can hit that magic number 21.
Play blackjack and earn loyalty points every two minutes. There is also a daily reward system to keep you hooked to the game and app. By completing a bonus goal, you can earn incredible bonuses. Also, as you complete every new tier, your bonus points increase.
Become a pro in the Blackjack card game by downloading this excellent Blackjack app - myVEGAS Blackjack 21 Casino from Google Play.
The Blackjack Championship is an authentic blackjack game app on which you can play an exciting game with players worldwide. The app features many unique play modes with different betting ranges you can choose from.
The Blackjack Championship app fully implements the real casino rules and several newly added features make playing more fun. Whether you are a serious player, a beginner, or a just-for-fun player, this blackjack app will make you fall in love with the game. Moreover, unlike other apps, advertisements aren't displayed every few minutes, interrupting the game.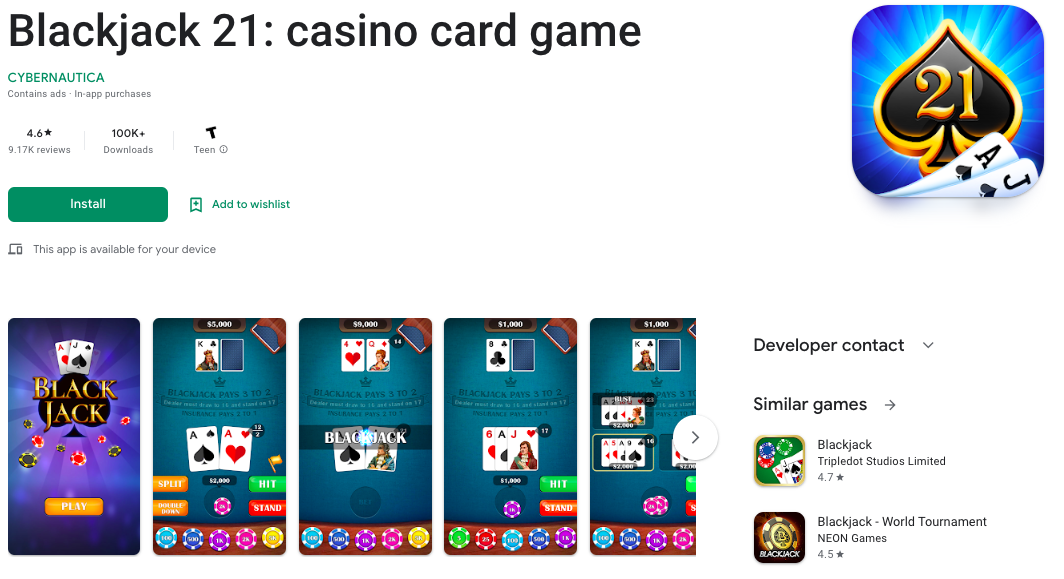 The Blackjack 21 Casino Card Game app is a free authentic Blackjack Casino gambling game app. You can have fun playing a classic casino card game, like you play the real casino, with well-known Las Vegas rules.
Download this app if you wish to play slots, slot machines, blackjack or if you merely want to learn and practice blackjack 21 in a casino. As you move to advanced levels, the game becomes interesting as you are provided with many extra chips.
The app boasts some stunning graphics and the sounds are equally exciting. It's an excellent app to practice and develop your gambling skills to prepare you for your next Vegas trip.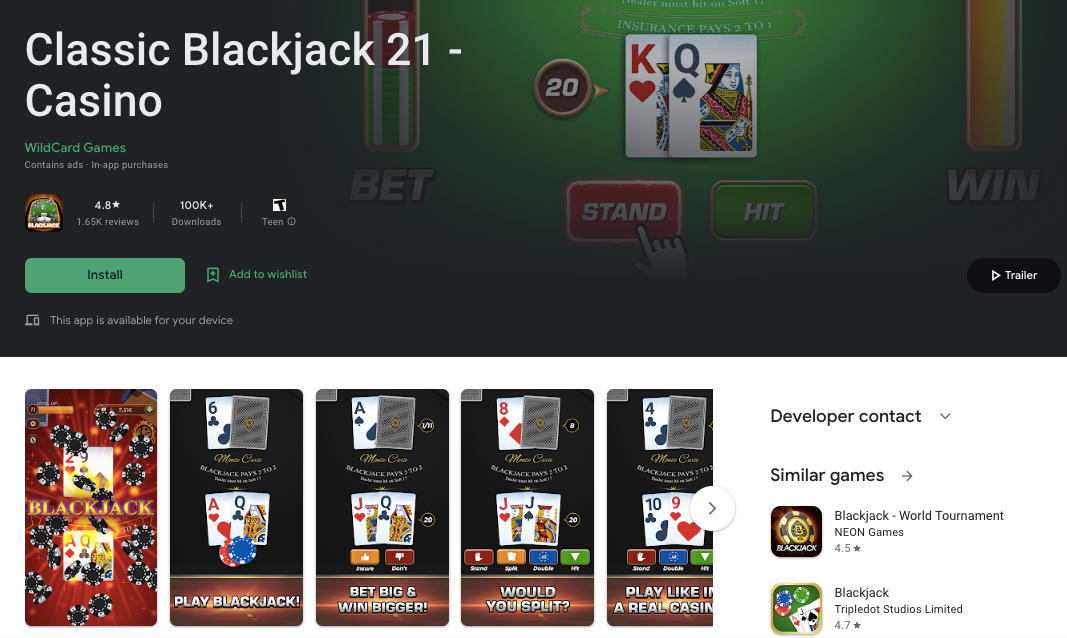 Classic Blackjack 21 Casino is a great app to learn blackjack on your phone. Blackjack is a simple game you can understand in a minute. However, it takes a lifetime to master the skill. The Blackjack app is a great place to start if you are learning to play blackjack 21.
This app also has all the features to hone your playing skills if you want to know and explore the game more. The app is fun, provides a simple and effective platform to play, and also has hints if there is something you need to learn.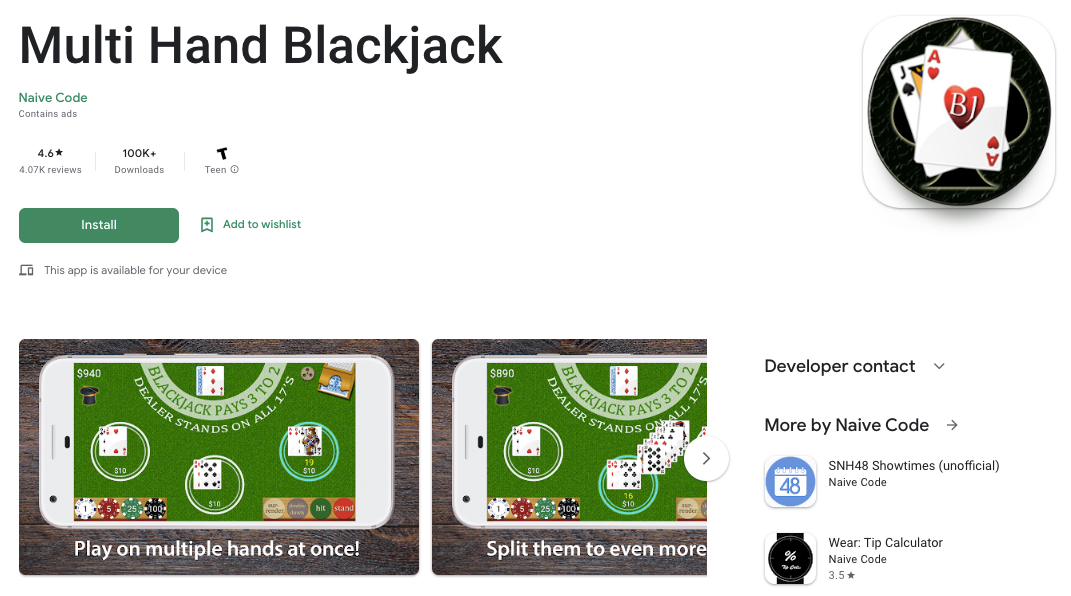 Multi-hand Blackjack is a unique blackjack game app. It supports up to three hands; in other words, three players in a multiplayer mode. Simply put, you get maximum action, fun, and excitement!
Whether you want to practice your strategy or just have some couch time with family and friends in the local multiplayer mode, the app has options for you. Download this app to practice before you play a real game at the real casino. It's fun, fair, and offers great practice.
Conclusion
Playing online blackjack casino games is incredibly fun. However, there are numerous online apps that can be challenging for you to decide which one to try. We hope our list of the best blackjack apps for Android will have given you enough guidance on picking the best Blackjack app that suits your needs.
ABOUT THE AUTHORS
Elizabeth
Elizabeth is your trusted Apple product expert with a wealth of knowledge and experience gained from her tenure as an Apple authorized personnel. She's also a seasoned mobile phone, Samsung, and Android expert. With a keen eye for detail and a passion for all things Apple, Samsung, and Android, she is dedicated to providing you with accurate, reliable, and up-to-date insights. Count on Elizabeth to be your go-to source for expert advice on navigating the world of Apple technology, Samsung devices, and the Android ecosystem.
Bogdana
Bogdana is your technology expert, backed by a strong foundation in consumer electronics and a range of qualifications that make her a trusted source in the tech world. With a deep understanding of the latest advancements and a passion for simplifying complex concepts, Bogdana is your go-to authority for demystifying technology and keeping you informed about the ever-evolving digital landscape. Trust her to deliver reliable insights and expert guidance to help you navigate the world of consumer electronics and beyond.