Apart from playing games and watching movies, Internet surfing is another attraction for which Android Smartphone is made and many of the Android phone users, especially own this phone only to have good access to the Internet. However, more access to the Internet can increase the chance of virus in your phone. Though android phone comes with highly internal security, it is always better to be more cautious by having some best antivirus for android. You will find out a number of antivirus for android in the play store. Those who are not ready to spend an extra penny can install the free services to enjoy the best security on your android phone. The best antivirus for android is listed here.
You will also find the list of best fitness apps for android, list of free android weather apps and more at Technobezz.
See also- 5 best android apps for filmmakers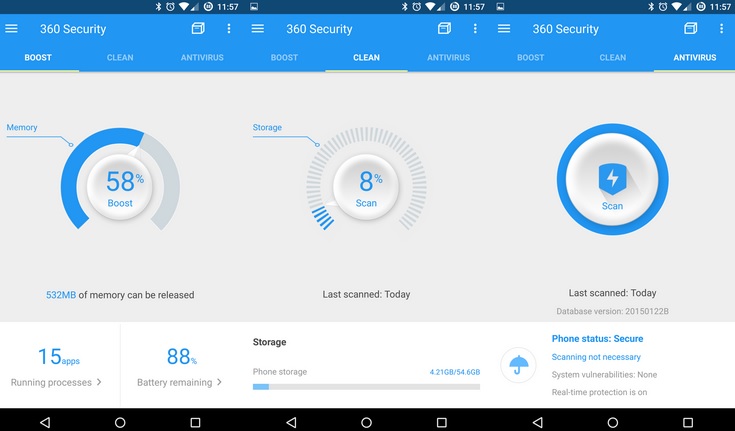 This is one of the best anti-viruses for Android Smartphone that is available for free. So your account won't be hit if you install this security. This antivirus is packed with plenty of good features, and you will get rid of most of the issues using it. It scans the mobile and deletes every threat that creates an issue. Also, data monitor and privacy advisor are other features to follow more protection. 360 mobile security clean ups the Smartphone in case you require. It throws away all the corrupted files, trash and some old files left by the old apps and thus speeds up the performance of the phone. So you can consider this app as the best antivirus for your Android Smartphone.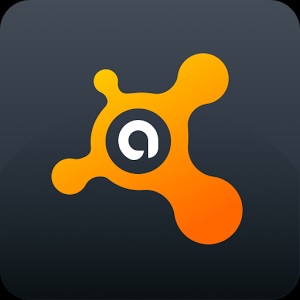 Antivirus & Mobile security is another helpful and that is worth having a look. This service is also free so you do not have to think twice to get this android antivirus installed. It falls in the simplest antivirus app category that is easy to use. Though its feature list is not quite lengthy, but it includes all those interesting and useful features like: antivirus protection, anti-malware protection, browser protection and data backup. Anti-theft is another feature and this is pretty interesting where it takes a picture of the thieves, thus makes it easy to reach to the thieves and get the phone back. So if you want the simple but useful android antivirus, this would be the best of all.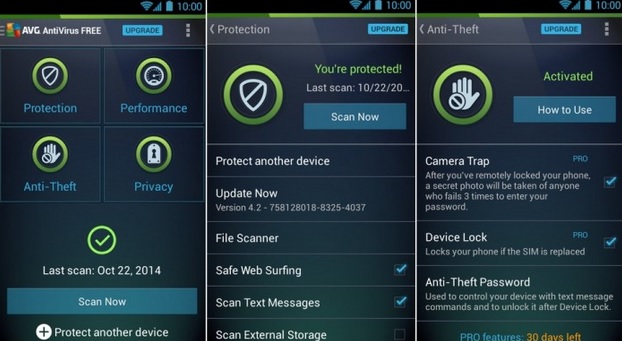 There are hardly some people who have not heard the name of AVG. Yes, this is a popular and mostly used android antivirus which has a rating of 4.4 in the Google play store. So you can imagine how effective this antivirus is. It would not be wrong to say that AVG is the best antivirus as it is in use for a long time and it is available for other platforms as well. AVG for android has both the free and paid version. The free version comes with some basic features like the Android virus scan, anti-malware, anti-theft and anti-phishing. But if you want to enjoy some more features, then have the paid version. The rental can be paid either monthly or annually. The paid version has interesting features such as app locking, app backup, SIM locking, etc.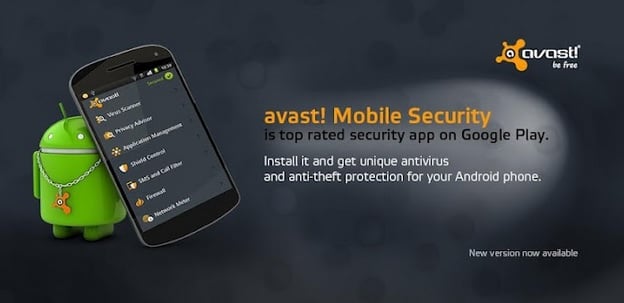 AVAST is another popular and quite old antivirus that has been used by many people for a really long time. This app is as popular as AVG and available for PC also. In fact, it was first available for PC only, and later their Android version has come up to support this platform. This is also available for free and paid version. The free version has a set of basic features like the Aandroid virus scan, anti-malware, etc., the paid version is packed with a long list of features. In case you need to have all those features that are available in the paid version, do not go back only for the money as the price is more affordable than the price of other similar antivirus apps.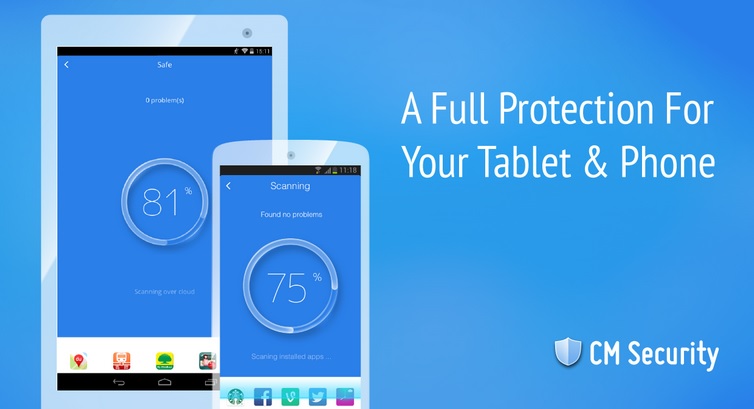 CM security is not that old like AVG and AVAST, but it has won the heart of many android Smartphone users within just a few days of its release. This antivirus is quite new in the market, but its popularity and numbers of users do not say that. CM Security is totally free, and it lets the users enjoy all those excellent features for which you need to pay in some other apps. Exciting features like anti-virus, anti-malware, browser protection, anti-theft, find my phone functionality, etc., are just some of the examples. So, CM Security is one of the best free antivirus reviews that you can install on your Android Smartphone to enjoy the full security while browsing at your fullest.
Must read- Top 5 best android apps for journalists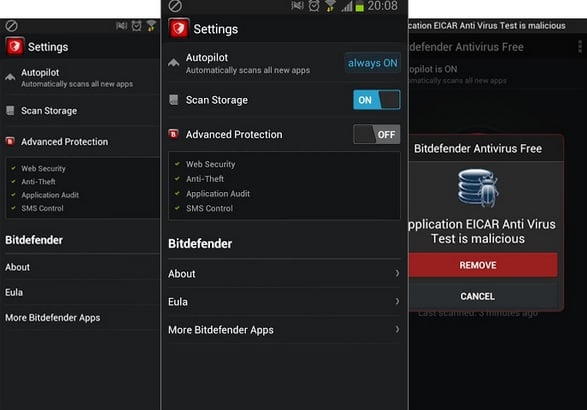 If you are one of the users who like the simple things in the world, the Bitdefender Antivirus app would be the best antivirus for android to install. This is one of the best and the simplest ever that you just need to install, scan and remove the scraps from the phone to stay safe. The app then just sits there and waits for more threats to attack your device. The best thing is that it is totally free. So if you are searching for some free antivirus reviews, Bitdefender is the one on which you can have a look. Furthermore, it has a paid version which is named as Bitdefender Mobile security. This can be installed in case you wish to have the same antivirus, but want to enjoy some more features.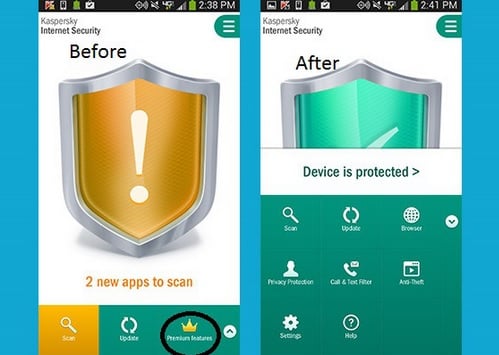 You must have heard the name of Kaspersky as this is one of the oldest and pretty popular companies that can be trusted with the eyes shut. Kaspersky antivirus was first available only for the PC, but they are now available for the android platform also. Like most of the popular and helpful antivirus, this one also has a free and paid version. The free version comes with basic features such as anti-virus, anti-malware and anti-theft. But if you want more features like anti-phishing or cloud protection, try for the paid version. This is one of the solid anti-viruses that can be installed to give some extra security to your Android phone. However, the paid version is always better, because it can provide a real-time protection.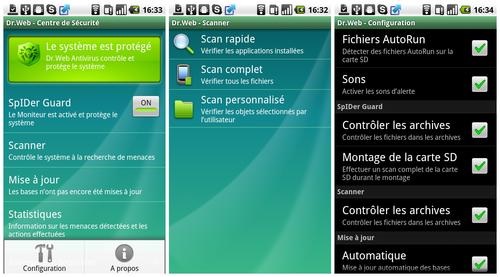 This antivirus is without a doubt a good one to protect the android Smartphone, but it is highly expensive, which makes you think twice to get the full version of this Dr Web Anti-virus. However, the free version is also available, and it is packed with some basic set of features like the Android virus scan, device protection, anti-malware, etc. while the paid version comes with anti-spam, anti-theft and cloud checker functionality. You need to pay $75 to get the paid version which is quite high. But this amount is for the lifetime, which means you just need to spend this amount once and enjoy the app for lifetime. Obviously, this app is worth having, but again you need to spend some extra money to enjoy the advanced features.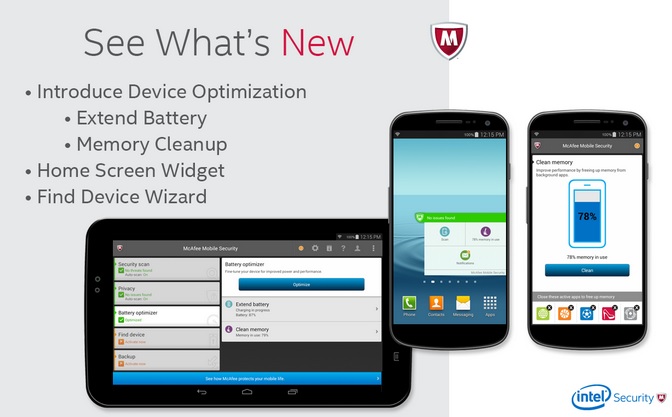 Talking about antivirus and if this name is not mentioned, the discussion is never going to get an end. Yes, McAfee is one of the oldest and trusted names in the antivirus world that provides high protection to PC's and Android Smartphone. McAfee was available for PCs only, but now the company has made it available for the android also. It has also two versions, free and paid. However, having the paid version will not be much helpful as most of the exciting and useful features are available in the free version also. Apart from anti-virus, anti-malware and anti-theft, features like app locking, call blocking, and web surfing protections are offered in the free version. So there is no use of spending extra money when all the required features can be enjoyed on the free version only.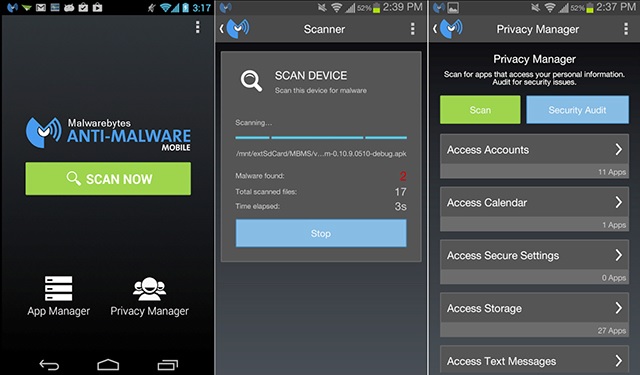 Malware bytes is known for its excellent service to protect the PCs, and this has come to provide its high level protection to the Android Smartphone also. The android version was launched on the market in late 2013, and it has become one of the most simple and popular anti-virus for android. This is completely free, and it has no paid version. So all the features you can enjoy without spending a dollar. Anti-theft, anti-virus and anti-malware are the common features and apart from them, there are also many features that provide the ultimate security to your Smartphone. It has a good rating in the play store, so it will be worth having a look at this antivirus android app
The best 10 antivirus apps for the Android platform are discussed here. Most of the above-mentioned apps are free while you need to pay some money to enjoy the extra features. A smartphone is like a substitute of PC that you can use to finish your work. So it also needs protection the same way your PC needs. You can install any of the above apps that you feel best for your device and enjoy the high protection.
Join our newsletter 🎉
Subscribe to our newsletter and never miss out on what's happening in the tech world. It's that simple.
Latest Tech News

Exclusive Tech Deals