Apple Introduces Exciting Updates to Podcasts App in iOS 17
Apple's latest iOS 17 update brings a host of changes to its stock apps, with notable enhancements to the Podcasts app..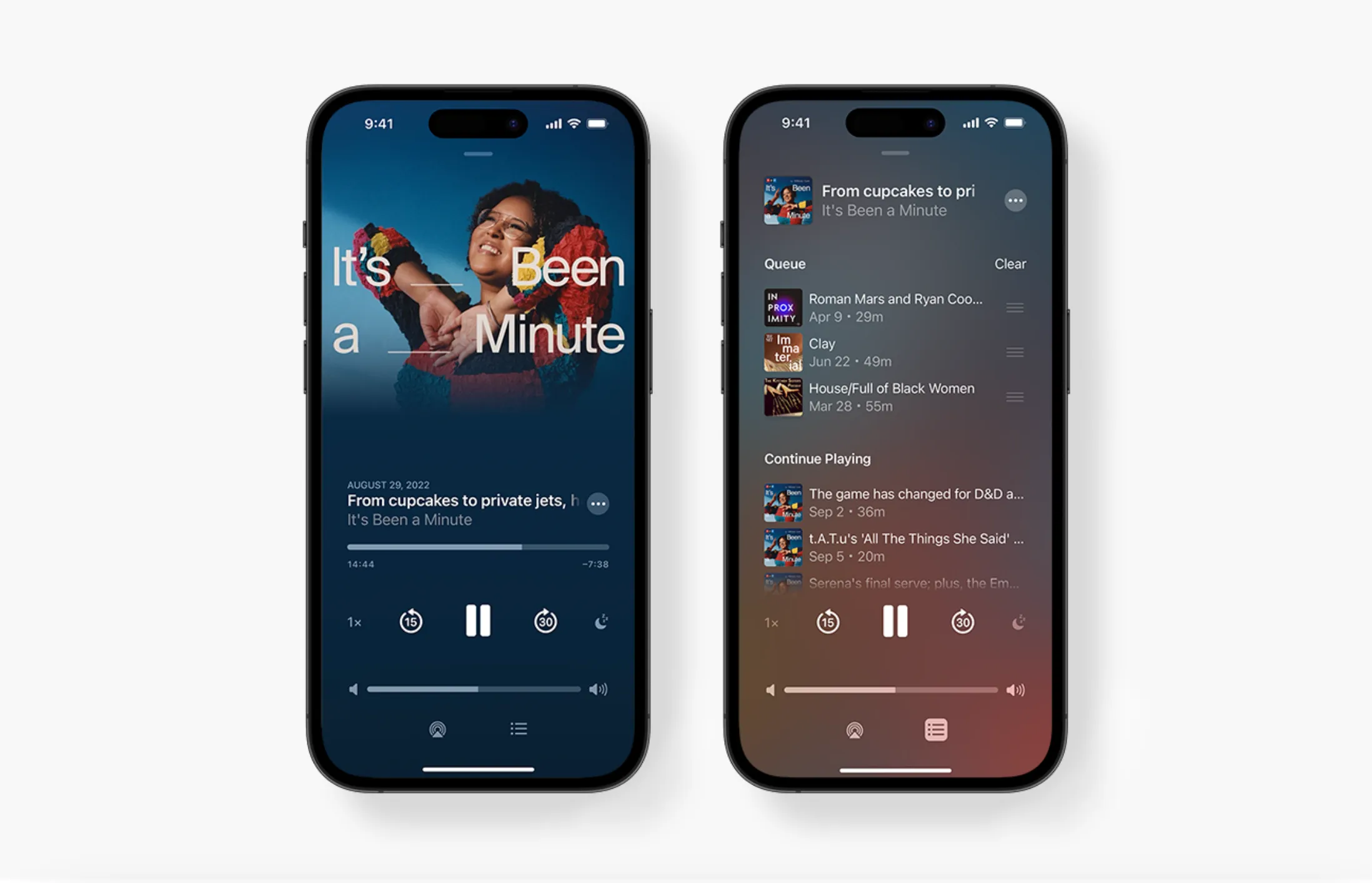 Apple's latest iOS 17 update brings a host of changes to its stock apps, with notable enhancements to the Podcasts app. These updates, encompassing both functionality and design, aim to elevate the podcast listening experience. Below are the key facts and specifications of the revamped app:
Slick New Design for the Now Playing Screen:

The Now Playing screen boasts a sleek new design.
Full show page art or episode chapter images can now occupy the entire screen, creating a visually immersive experience.

Rejigged Playback Controls:

The position of the play speed button has been shifted from the bottom left corner to sit alongside the rewind button.
The sleep timer button has been relocated from the bottom right corner to be next to the fast-forward button.
This reconfiguration results in a more compact row of controls, featuring five buttons in total.
Activated buttons now display a visually appealing glow effect.

Redesigned Queue Interface:

The Playing Next list can now be accessed by tapping the dedicated queue button located at the bottom, adjacent to the AirPlay icon.
A new screen displays a comprehensive list of queued episodes.
Episodes can be easily removed from the queue by swiping, and the entire queue can be cleared.
When no episodes are in the queue, a message notifies the user accordingly.

Enhanced Up Next Carousel:

The Listen Now screen's Up Next carousel introduces redesigned cards with added color shades complementing the podcast's art.
The cards now feature a new three-dot options menu icon and a compact playback indicator.
The playback indicator denotes episodes that have been started but not yet finished, along with their respective lengths.
The Up Next screen also includes the playback indicator, replacing the "Play Next" and "Play Last" options with "Add to Queue."

Improved Episode Tracking:

In iOS 16, completed episodes were marked as "Played" below the episode summary.
iOS 17 replaces this with a replay icon and the episode length, providing a more informative representation.
A checkmark now appears next to the date above the episode title, indicating episodes that have been listened to.
With these exciting updates in iOS 17, Apple's Podcasts app offers users a visually enhanced and streamlined experience. The redesigned screens, revamped playback controls, and improved episode tracking aim to elevate the joy of podcast listening on Apple devices.
ABOUT THE AUTHORS
Elizabeth
Elizabeth is your trusted Apple product expert with a wealth of knowledge and experience gained from her tenure as an Apple authorized personnel. She's also a seasoned mobile phone, Samsung, and Android expert. With a keen eye for detail and a passion for all things Apple, Samsung, and Android, she is dedicated to providing you with accurate, reliable, and up-to-date insights. Count on Elizabeth to be your go-to source for expert advice on navigating the world of Apple technology, Samsung devices, and the Android ecosystem.
Bogdana
Bogdana is your technology expert, backed by a strong foundation in consumer electronics and a range of qualifications that make her a trusted source in the tech world. With a deep understanding of the latest advancements and a passion for simplifying complex concepts, Bogdana is your go-to authority for demystifying technology and keeping you informed about the ever-evolving digital landscape. Trust her to deliver reliable insights and expert guidance to help you navigate the world of consumer electronics and beyond.