Buying one of the best business laptops under $1000 could pose a huge challenge as the market is flooded with dozens of products from all top manufacturers. So, how do you make your decision?
It's quite easy, especially if you have a good idea of your requirements and can pick the best laptop that suits your usage. Be it an all-purpose office laptop, a gaming one, or one with a portable design; there's something for everyone at different price points.
Buying Guide
Business owners need a laptop to accomplish several tasks in a day. Even though $1,000 is a big number, it is still average if the topic of discussion is laptops. It is easy to get good quality performance in this budget for almost all tasks to be done daily. Furthermore, these budget laptops are long-lasting with a solid build and some other great features. However, it is still important to understand what's important to you as a business owner. Here are a few things you must know before making a purchase:
Performance and RAM: The CPU, RAM, graphics chip, and storage establish how capable any laptop is for multitasking, handling power-intensive tasks like gaming, and storing files. The better the specifications, the better your laptop will feel during work. A Windows 10 or macOS equipped with an Intel Core i5 or Core i7 CPU is the perfect combination to complete most tasks under the radar.
Build Quality: Build quality is very important to consider before making a purchase. Mainly, a well-built keyboard and a high-quality trackpad are crucial as they are the primary form of contact with the machine. A poor quality trackpad or finicky keyboard can lead to a bad experience.
Touch screens, portability, and other features: Over the past few years, 2-in-1s and hybrid laptops have collected immense popularity. However, it is important to note that the touchscreen and pen may lead to additional investment. Moreover, stuffing all the powerful components in a small, portable package might cost more than a bigger laptop with lesser constraints in terms of design.
Display Size: Laptops usually come in 3 different sizes. Laptops that have a display size of 13 inches or below are best for light work like browsing the web, making notes and drafting content. Mid-sized laptops that are almost 15 inches long are good to consider if your work involves editing or watching videos; however, they are less portable. Finally, the big laptops which are almost 17 inches are recommended if you are into video editing or various exhaustive tasks that need a big screen.
Storage: Laptops for business owners must have adequate storage. The ideal level would be 1TB SSD. If you have external storage options, then a 500 GB storage level is also ideal. It is important to understand the needs as well. If you are a filmmaker or into designing, you would need additional storage.
Connectivity: Connectivity is highly important for business owners. Opt for laptops that have the most connectivity options.
Best Business Laptops Under $1000 in 2023
Mid-Range Business Laptop That Offers High Functionality
Dell Inspiron 15 5510 15.6-inch Screen Laptop
Check Price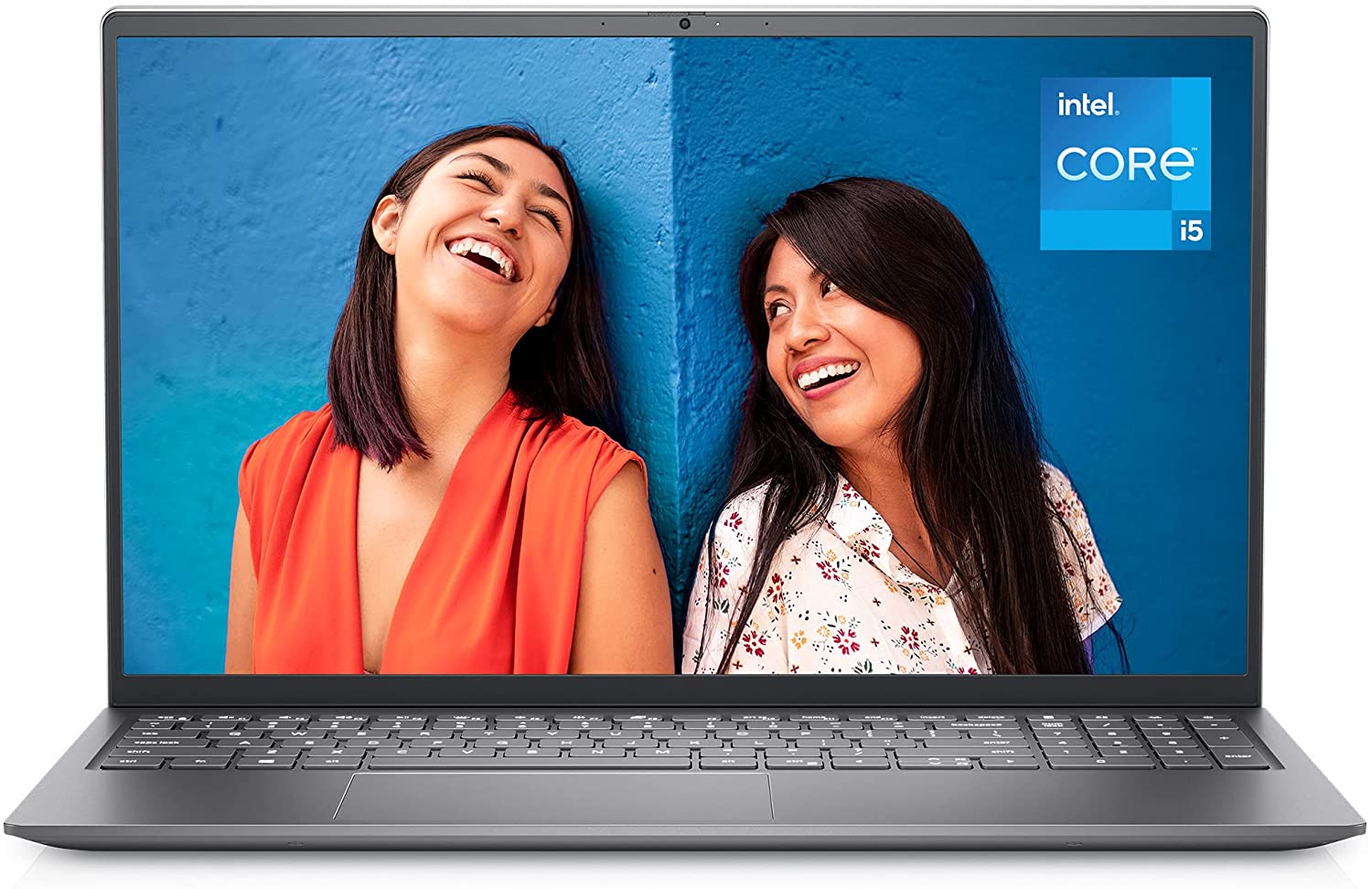 When you are planning to buy a laptop to cater to your professional needs, you cannot afford to invest in a device with a mediocre display screen. The Dell Inspiron 15 features a 15.6-inch display screen that produces a resolution of 1920x1080 pixels. The screen is good enough to monitor your business projects and attend video conferences. The only issue with the screen is that it does not support touch functionality.
The laptop comes with a 1TB hard disk that enables you to store a large amount of information. The i5 processor is responsible for the high-speed performance offered by the device. If you are used to carrying out multiple functions simultaneously, you will have a great time using this laptop. The device boasts a stylish appearance, and its tough build quality assures you of long-lasting usage.
A suitable option for professionals looking for a laptop that costs less than $1000.

It is also recommended for individuals who prioritize the speed and efficiency delivered by a laptop over anything else.
Stylish design

Sharp display screen

Powerful performance

Adequate storage support
The screen is not touch-enabled

Not suitable for high-end gaming
15.6-inch HD Screen Laptop That Costs Less Than $1000
Dell Inspiron 3000 Intel Celeron N4020 Processor Laptop
Check Price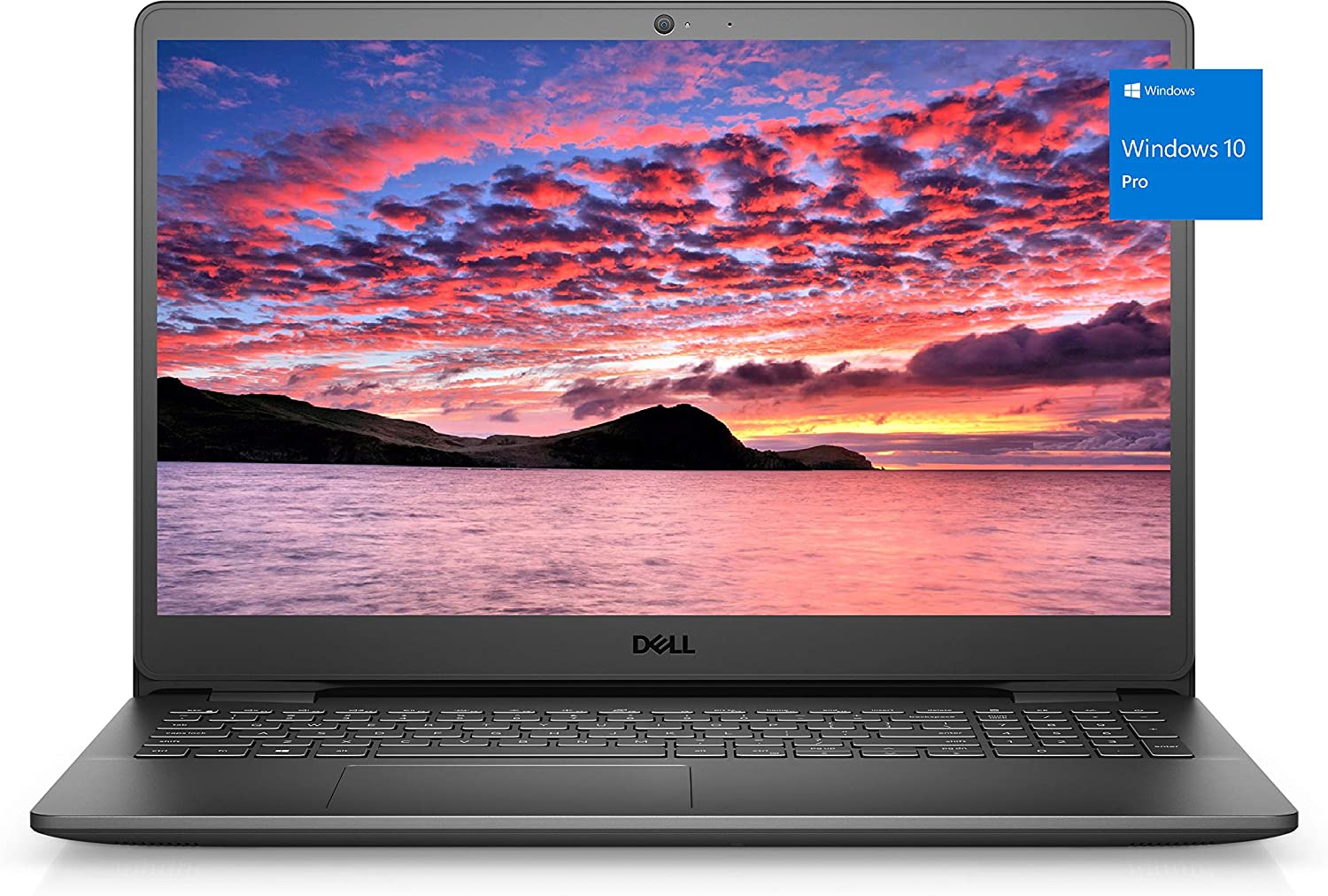 The Dell Inspiron 3000 comes with a 15.6-inch wide display screen with a resolution of 1366x768 pixels. Though the screen is not touch-enabled, it comes with an anti-glare feature that ensures your eyes remain strain-free even when you use the laptop for several hours at a stretch. The minimalistic design of the laptop makes it look like a device designed for professional use.
The laptop comes equipped with a hard disk drive that offers 1 TB of storage space. Because of its enormous space, you can use this laptop as your primary storage device. It is powered by the Intel Celeron N4020 processor that runs at a very high speed and ensures the device remains efficient. It offers several connectivity options, including a microSD card reader and a 3.5mm headphone jack.
Recommended for professionals looking for a business laptop with a 15-inch display screen.

It is also suitable for those who store a large amount of data on their laptop and do not have additional storage devices.
Sophisticated design

Reliable processing unit

Adequate storage space

Features a headphone jack
No optical drive

The display screen is not touch-enabled
17.3-inch Screen Laptop with a Sturdy Keyboard
Acer Aspire 3 Intel Quad-Core i5-1035G1 Laptop
Check Price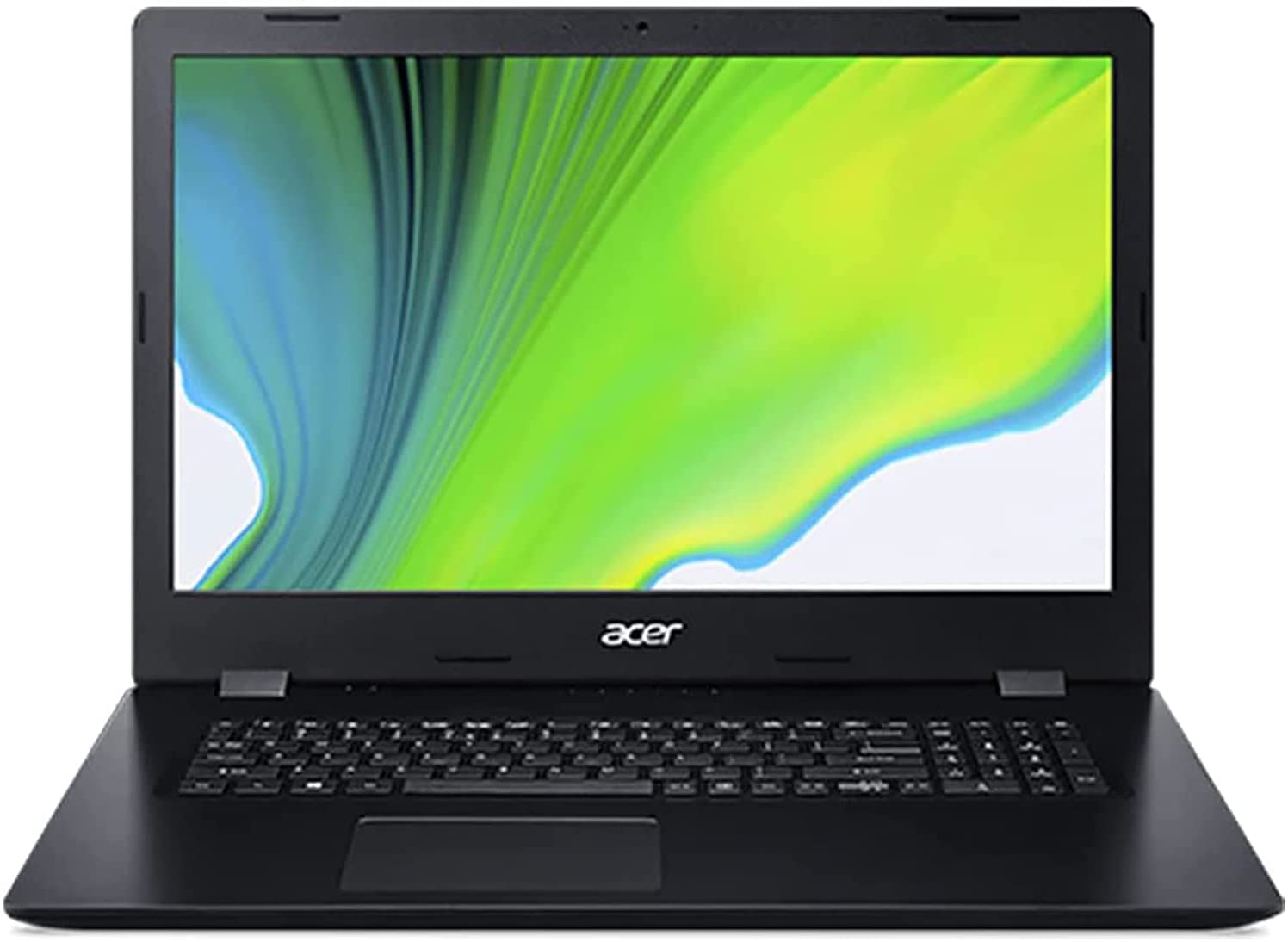 For most people, the biggest highlight of the Acer Aspire 3 is its 17.3-inch display screen. While the screen is huge, it also scores some points for excellent image reproduction. The narrow border helps your eyes focus on the screen properly, and the anti-glare feature makes it the right device to binge-watch movies and shows on. The keyboard is very good and should work well for those who type extensively.
The device runs on an Intel Core i5-1035G1 processor that lends it good speed and is responsible for its steady performance. 16GB RAM ensures you don't face any issues while running several applications simultaneously. It comes with a 512 GB hard disk that offers enough space to store your personal data and professional files. The device features Windows 10 Pro, which offers a user-friendly interface.
Recommended for professionals and entrepreneurs who wish to invest in a big screen device priced less than $1000.

It is also a good option for those looking for a device that functions at a very high speed and offers useful features.
Fast processor

Large display screen

Comfortable keyboard

Features an optical drive
Moderate battery life

Average gaming performance
Well-Built Laptop with Robust Processing Unit
Acer Flagship Aspire 3 17.3-inch Laptop
Check Price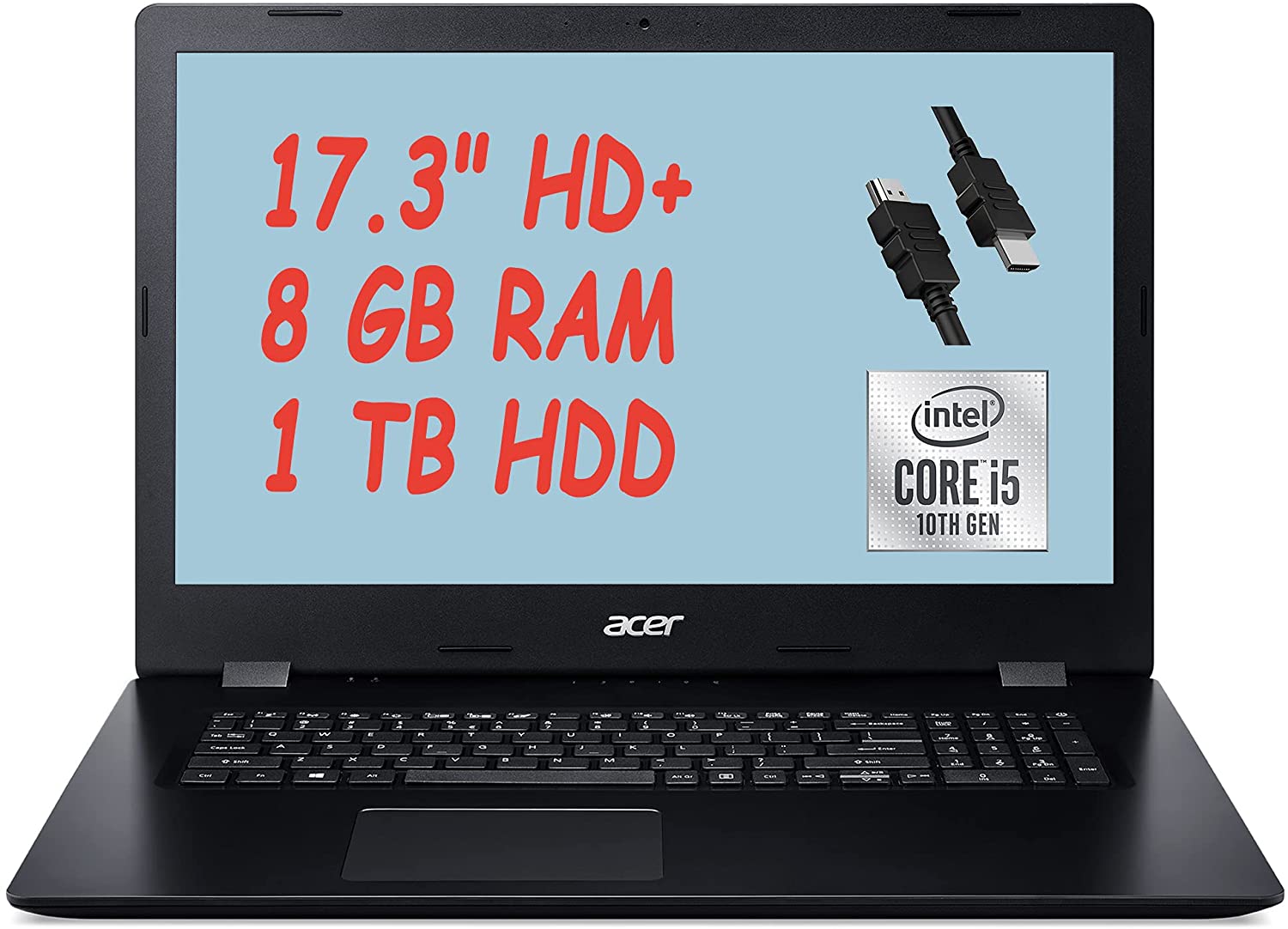 When it comes to buying a business laptop, many professionals prefer opting for a device that comes with a large display screen. When you have to monitor a lot of work or multiple projects, having a small-sized screen at your disposal won't help. The Acer device comes with a 17.3-inch display screen with a resolution of 1600x900 pixels. Though it is not the lightest laptop around, it works very well as a professional laptop that you want to keep in your office.
An 8GB RAM comes installed on this device, and as far as storage space is concerned, you get a 1 TB hard disk. It comes with a bevy of connectivity options, including an optical drive which does not feature on most laptops these days. There is no fingerprint reader on this device, and an upgrade in its security features would definitely help the device sell better. The keyboard is quite comfortable, and there is a decent travel space between the keys. It does not, however, have a backlight function.
Why You Should Buy This?
A very good option for those looking for a professional laptop with a bright and large-sized screen.

It is also recommended for individuals who prefer using devices that offer simple functionality.
Pros
High-speed processor

Lots of storage space

17.3-inch display screen

Multiple connectivity options
Cons
Slightly heavy

No fingerprint reader
15.6-inch Display Screen Laptop with Backlit Keyboard
Acer Aspire 5 AMD Ryzen 3 3350U Processor Laptop
Check Price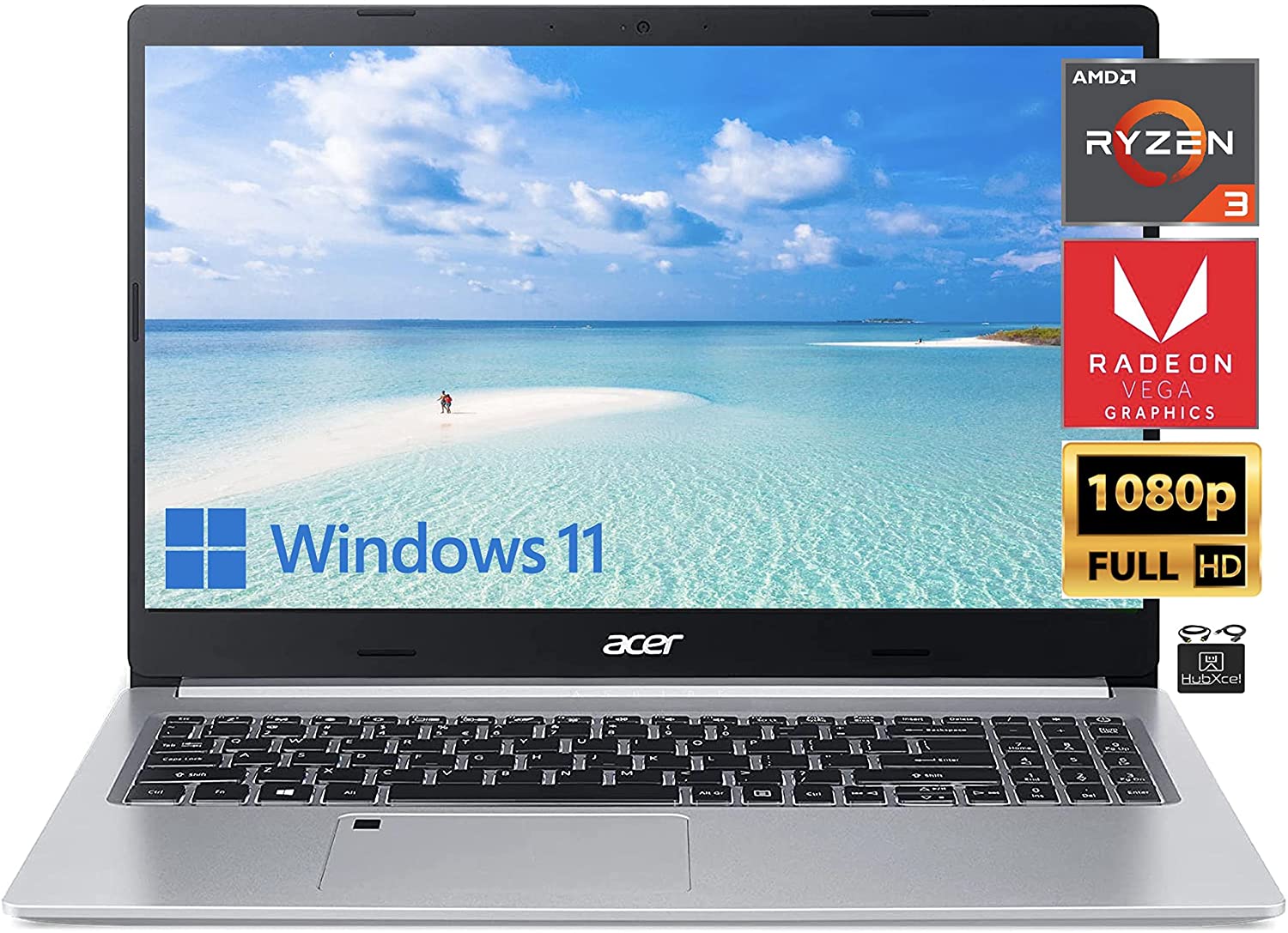 The Acer Aspire 5 comes with a 15.6-inch wide display screen that produces a resolution of 1920x1080 pixels. The stereo dual speakers offer an immersive aural experience. It has several features that make it a good business laptop. The built-in high-definition webcam ensures that you look presentable and your voice is audible during the video conferences you participate in.
When you store several important files in your work laptop, you look for a way to keep it all safe. This laptop features a highly responsive fingerprint reader that works as a solid security feature. The keyboard is sturdy and comfortable to work on. The backlighting effects on the keyboard will help to lighten up the user's mood while working. Though the device does not feature an optical drive, it offers you most other modern connectivity options.
The laptop boasts a lightweight structure that makes it very easy for one to carry it around.

Its advanced multimedia features prove to be a highly useful device for people employed in the media or entertainment industry.
Robust processor

Backlight keyboard

High-definition webcam

Good audio-visual output
Slightly bulky

No optical drive
Innovatively Designed Laptop with a Backlit Keyboard
Acer Nitro 5 Intel Core i7-11800H Laptop
Check Price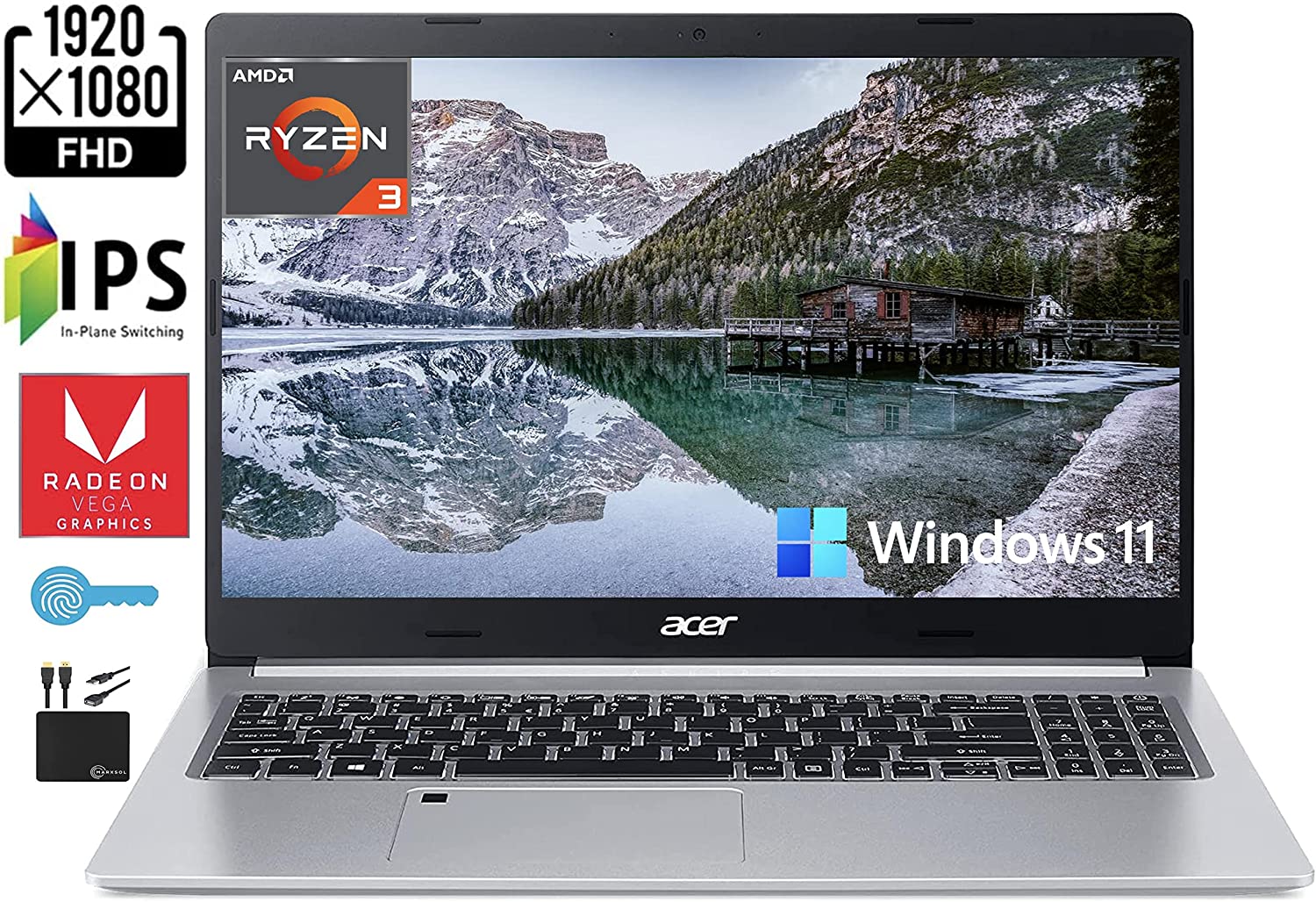 Very few people buy multiple laptops to cater to their different needs. If you are passionate about gaming and need a laptop to assist you with your day-to-day professional work, this would be the right device to invest in. The Acer Nitro 5 comes with an Intel Core i7-11800H that assures you of powerful performance and great speed. Since it has been designed as a gaming laptop, you can expect the 15.6-inch screen to produce high-definition images.
The device features a backlit keyboard that is very comfortable to use. The laptop proves to be very good at managing internal heat. Therefore, you can use it for long hours and carry out multiple functions without worrying about it getting heated up. The webcam, which offers a resolution of 1280x720 pixels, is most suitable for engaging in professional video conferences. On a single charge, the battery lasts for close to 8 hours.
Why You Should Buy This?
An ideal option for those looking for a business laptop that also offers solid gaming performance.

Also recommended for individuals who wish to invest in a laptop device that is priced under $1000 and offers high-end features.
Pros
Backlit keyboard

Powerful processor

Good thermal management

Strong gaming performance
Cons
No optical drive

Moderate battery life
Convertible 2-in-1 Laptop from Acer is the Best Laptop for Businesses Under $1000
Acer Spin 5
Check Price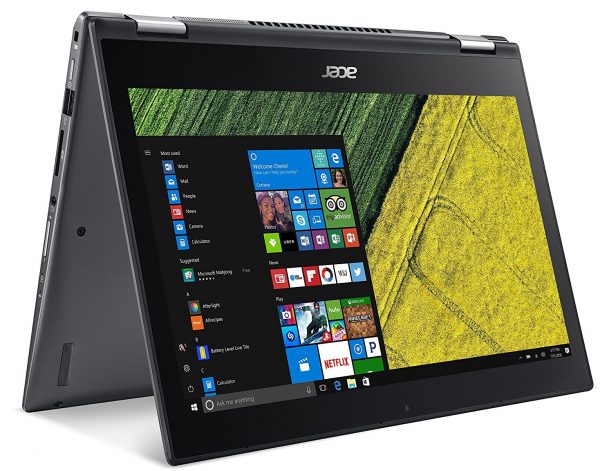 The Acer Spin 5 conveniently stands out on the list of best business laptops under $1000 with its unique feature that most other laptops don't offer. Spin 5 is a 13-inch convertible laptop that boasts amazing build quality. It also packs powerful hardware, yet the manufacturer Acer has managed to keep its weight at the lowest possible level, making it as portable as possible.
Under the convertible metal frame, the Acer Spin 5 houses an 8th generation Intel i7 processor with 8GB of RAM and 256GB of SSD storage. SSDs are a must-have in business laptops to speed things up and are more reliable for data storage when you carry your laptop around. Despite the powerful hardware, the laptop weighs just 3.3 lbs and delivers a battery life of close to 13 hours on a single charge.
The 13.3-inch full HD display uses an IPS panel for picture-perfect clarity, and the laptop can quickly be flipped over to be used as a tablet. The compact weight and small screen size make it easy to browse the web, watch movies, or access files in tablet mode as easily as you would in laptop mode. The keyboard also doubles up as a stand for convenient viewing positions.
Recommended For
Users looking for a compact solution with great battery life and a laptop that suits versatile usage scenarios
Users who need a good convertible at an affordable price range and users who want a business laptop that could double up as an entertainment device
If you need a laptop and tablet combined into one, the Acer Spin 5 is a no-brainer to buy
Frequently Asked Questions:
Is purchasing a business laptop under $1000 the right choice to make?
Yes, absolutely. Most people who purchase budget laptops that suit their requirements are satisfied with the purchase. As a matter of fact, buying a premium laptop is not worth the money if it doesn't meet your specific requirements. Therefore, it is essential to identify your needs and look for the ideal laptop.
How much RAM is important in a budget laptop?
Be any laptop, at least 8 GB is recommended for its smooth working. Whether operating on Windows, MacOS, or Chrome OS, 8 GB RAM will offer ample room to multitask and even use complex applications.
What is the ideal graphics hardware for a business laptop under $1000?
Usually, budget laptops under $1000 come with integrated graphics. There are certain varieties of Intel's UHD Graphics technology that the company equips with its Core CPUs. That is more than enough for all kinds of productivity requirements as a business owner and even for playing casual games.
Can I find a laptop with a 4K display for under $1000?
Unfortunately, it is difficult to find a Full HD display under $1,000. Besides, most budget laptops usually are not equipped with the kind of battery capacity compared to premium laptops, and 4K displays require a lot of power. Even if you find a laptop with a 4K display for under $1000, it will not be the best choice to make.
What kind of processor is ideal for a business owner?
You can effortlessly find Whiskey Lake 8th-generation Intel Core i5 CPU in laptops under budget, especially if you are a business owner. Quite a few of the laptops on the list have good processors that will help you with most productivity tasks without issues.
Which operating system is ideal – Windows, Mac, or a Chromebook?
It depends on your requirements. Particularly, the operating system you use depends on the tasks that are significant to you as a business owner. It is important to understand basic differences and their advantages and disadvantages to get a clearer picture.
The Bottomline
The time when business laptops used to focus purely on professional design and battery life is long gone as the situation is more demanding than ever. You can always choose a laptop equipped with a dedicated graphics card or go for the sleekest model to make your business trips easier.
Whatever your choice is, this complete list of best business laptops under $1000 should have you covered. While the MacBook Air is a haven for Apple macOS lovers, there are lightweight products such as the LG Gram 15 all the way to a heavy gaming laptop like Lenovo Y520 that also serves business purposes. Be it the best battery life, compactness, or powerful hardware specs, you should be able to find one that ideally matches your requirements.