Technobezz is supported by its audience. We may get a commission from retail offers
Summary – Cooking at home can be fun and entertaining for the entire family. With the help of the
–
Cooking at home can be fun and entertaining for the entire family. With the help of the best vacuum sealers, you can save time while keeping most of your kids' favorite dishes ready to serve. The idea of keeping food items in air-tight sealed packages inside the refrigerator is to help maintain the flavor. Besides, all that needs to be done when it's time to eat is put it in the microwave and you are ready to go. Vacuum sealers help store the food items that you cook and have them another day.
See also: Best food processors
Best Vacuum Sealers
The Most Popular Sealer For Everyone
Vacuum Sealer by NutriChef Compact Design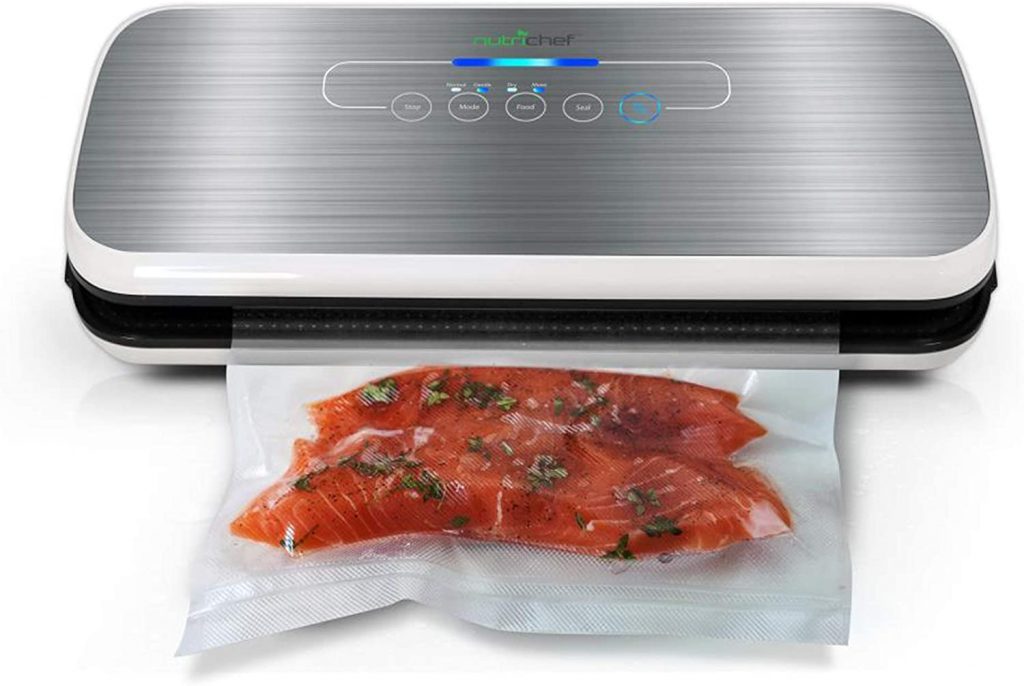 If you are already looking for a sealer, you have probably done your research and know what you are looking for. While the product may not be useful for everyone, most people will have leftover meat, dough, etc. among other items that they could use another day. The Vacuum Sealer by NutriChef is the perfect solution. It saves your time because anything that you prepared half-way through the previous day can be sealed and used later.
This product makes meal preparation much easier with stored, mixed ingredients. Besides, the high-quality sealer helps ensure that the food stays fresh and doesn't become stale 5x times more than a conventional zipper bag. Most individuals have this notion that they can save a lot of money by opting for a Ziplock bag but as a matter of fact, they do let air in and defeats the very purpose of storing food items or ingredients.
The product is easy to use as all you need to do is plug it into the power outlet. If you have cooked extra on any day, just store it in a sealed package in your freezer. The product can be defrosted whenever needed. Many ingredients that you might use on a daily basis becomes unusable because the usual bags often let ice crystals form inside the package. Besides, this vacuum sealer has two different sealing modes based on the food item you like to preserve.
What Makes the Vacuum Sealer by NutriChef the Best Overall?
The product is a complete solution that includes a sealer, medium, and extra-long vacuum bags along with a wine stopper cork.
It offers great value for money and features a compact design.
Recommended For
The product is aimed at those who want the best sealer to preserve their food items.
The unique sealing methods will suit both professional chefs and the average person who needs ready-to-eat food at home.
A Professional-Grade Sealer Machine
Geryon Vacuum Sealer Machine w/ Starter Kit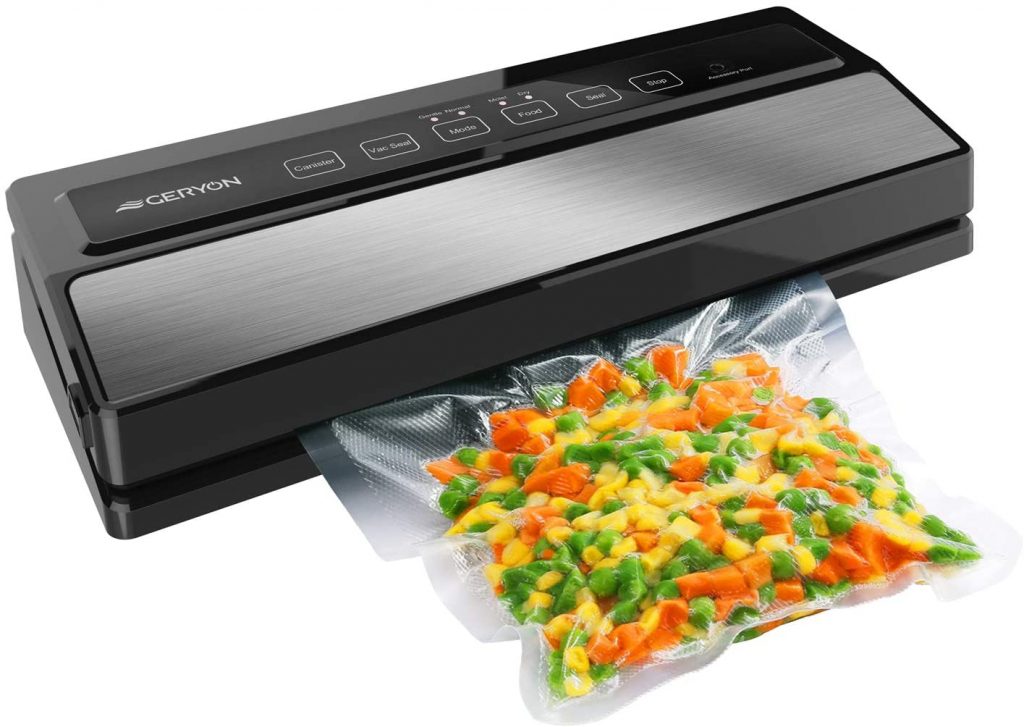 For the average user, buying a dedicated sealer may sound like overkill. As a matter of fact, it is an essential requirement in every household to stop food wastage and to reuse what you already have. Storing leftovers or meat in the refrigerator in ordinary packing is one of the worst ideas because they often end up in the garbage bin. Instead, by making use of a professional-grade sealing machine like the Geryon vacuum sealer, you can save time spent in cooking while safeguarding your food items.
The advantage of having an airtight sealer is that all that needs to be done is to cut vegetables or mincemeat a day ahead. In case, you are in a hurry to go fora meeting or drop your kids off at school the next day, this pre-preparation comes in handy. With the ingredients ready to cook, you can complete the entire task in just an hour or even less. The product makes use of fully automatic technology with the ability to choose between two different sealing modes.
The sealing can be done based on the type of food you are storing and the duration for which you plan to keep it in the refrigerator. This is a complete package but a little bit expensive because it includes a starter kit. The bundled items include heat seal bags, rolls, air suction hose, and the vacuum sealer. The product has an industrial design that adds an aesthetic look to your kitchen setup in case you are keen on maintaining uniformity in the accessories you buy.
What Makes the Geryon Vacuum Sealer Machine w/ Starter Kit Useful?
The accessory helps preserve food and store them in an airtight package.
It is easy to use and has all the buttons conveniently placed on top of the machine.
Who Should Buy This?
The professional-grade packing solution is a must-have for those who prefer the best quality sealing machine.
It works great for users who are looking for a sealer with a lifetime warranty.
A Premium Sealer for the Niche Customer
Foodsaver V4400 2-in-1 Vacuum Sealer Machine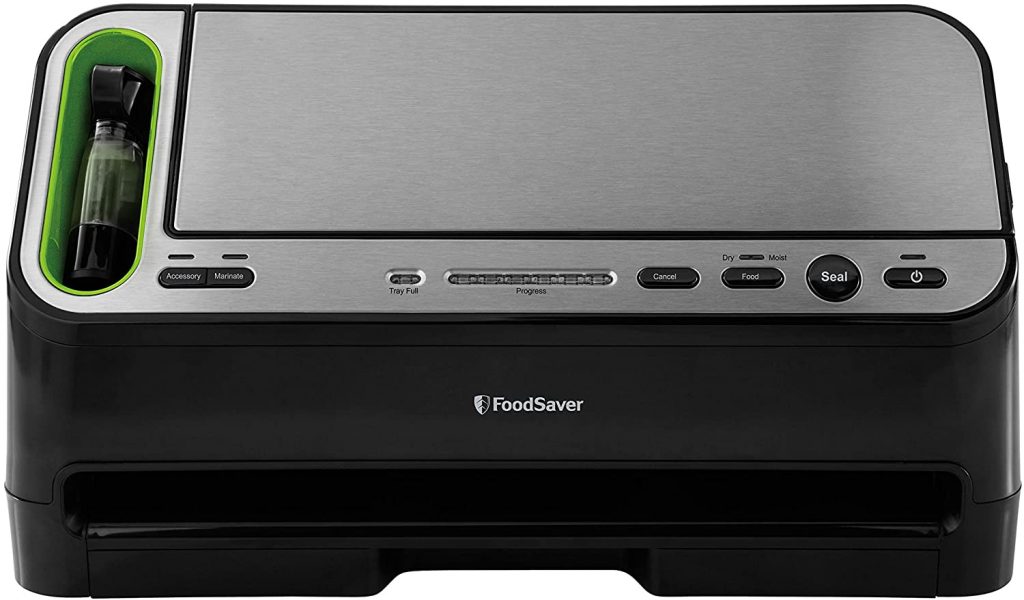 Investing in the best vacuum sealer may sound a bit difficult for the average person. Usually, most would opt for an affordable one. However, if you are really serious about cooking and have a requirement to use pre-prepared food items or ingredients almost every day, it shouldn't be a problem to invest in something premium. The Foodsaver V4400 2-in-1 Vacuum Sealer Machine is an expensive yet premium solution, made especially for professionals.
Be it storing meat and vegetables in the freezer at home or storing them in cold storage, the Foodsaver product is capable of meeting even the most demanding needs. The sealer guarantees consistent sealing in an airtight environment which protects the food item when stored in a freezer. The machine has a sensor that automatically detects whenever you place a bag in it.
While there are two different modes to choose from, it is capable of automatically detecting moisture content and switch on the mode without any user intervention. The product has been tested and certified by the NRTL for quality. It is fully compatible with 8 inches and 1-inch vacuum seal rolls that you can purchase individually in most shops. It also works great with jar sealers and FoodSaver certified rolls that you can use to store ingredients.
What Makes the Foodsaver V4400 2-in-1 Vacuum Sealer Machine Premium?
The product's compatibility with a wide range of bags makes it versatile.
Who Should Buy This?
Users who have a constant requirement to keep food in sealed packs.
If you need the sealer to be compatible with all package sizes, then, this is the one for you.
The Most Consumer-Friendly Vacuum Sealer
Vacuum Sealer Machine by Mueller Austria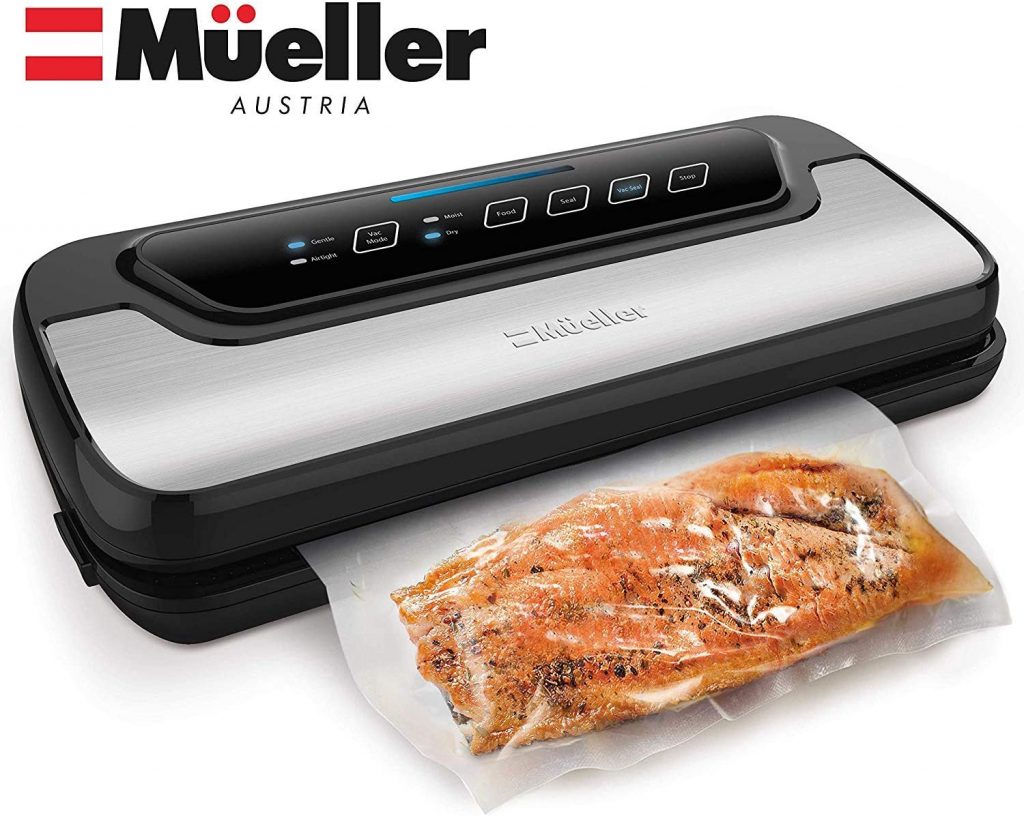 There are those brands that are dedicated to making some of the best kitchen accessories in the world. Mueller Austria is one such company that excels at making blenders, cleaners and the best Vacuum sealers that could make your life easier. The Vacuum Sealer machine by Mueller is a user-friendly product. The buttons are conveniently placed on top while the instructions are clear and easy to follow.
Using this machine will no longer make your sealing work a chore. When you take a quick look at the line-up of buttons, it is easy to understand that the options are limited. There is the seal, VAC seal, food and stop. Besides, you also have indicators that allow you to choose between gentle sealing and airtight sealing. Choosing the right mode is purely based on the type of food item you plan to store and how long you plan to keep them inside the freezer.
The product is designed to be fully automatic and the soft-touch digital buttons are easy to access. Mueller calls it a smart device and while it is not designed to work seamlessly with your Alexa device, it is much more advanced when compared to the usual kitchen accessories. The bundle also includes plenty of accessories to make food storage easier. It comes equipped with five medium-sized bags which can be refilled or replaced later and an extra-long vacuum ball roll.
What Makes the Vacuum Sealer Machine by Mueller Austria So Popular?
The brand value definitely adds up to its quality and integrity.
It has hundreds of positive reviews and is an ideal product for most buyers.
Who Should Buy This?
If you are looking for a branded product, this is the one for you.
It is an affordable and smart solution for anyone who needs an easy to use vacuum sealer out of the box.
The Best Vacuum Sealer at an Affordable Pricepoint
Slaouwo Vacuum Sealer Packing Machine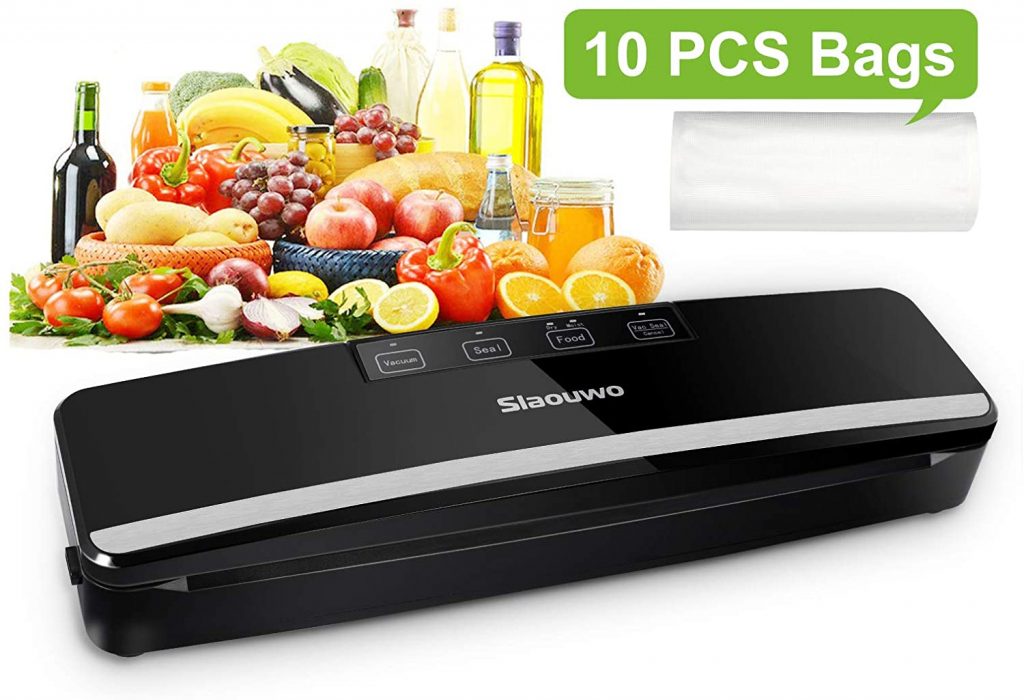 One big catch while storing food items in the freezer is to store them properly so that ice particles or any frozen formations are not formed in the food packets. Ice can make your ingredients stale or spoil its original quality. Ranging from dry food items like nuts and spices to moist ones like fish, chicken, and beef, any food item can be stored in the refrigerator using the Slaouwo vacuum sealer.
The Slaouwo Vacuum Sealer Packing Machine is available at an affordable price that makes it an easy purchase for most buyers. Instead of having to wonder whether you will use it regularly or it might end up as yet another kitchen equipment, you can purchase it for as low as $35. When put to good use, the sealer saves time spent on cooking. Prepare your meat, poached items or other stuff so that they can be stored in the freezer for another day.
It saves tons of food items that often go into the garbage bin. In terms of technical specifications, the suction capacity is much higher in this vacuum sealer. The product removes moist air and retains the freshness found in your ingredients. It takes less than a minute to complete the sealing process and the indicator LED on top of the machine notifies you whenever the process is complete. There are two different modes available including vacuum and seal beside the option to choose the type of food.
What Makes the Slaouwo Vacuum Sealer Packing Machine a Good Choice?
The bundle includes sealing bags so that you don't have to purchase them individually.
Its design is unique and stylish with easy to understand indicators on the top.
Who Should Buy This?
If you are looking for a long-lasting storage solution for all types of foods, this is the product to buy.
It is easy to use with a one-button seal operation and a compact solution for people who lack kitchen space.
Best Vacuum Sealers with Lab Tested Quality Assurance
NutriChef Vacuum Sealer for Food Preservation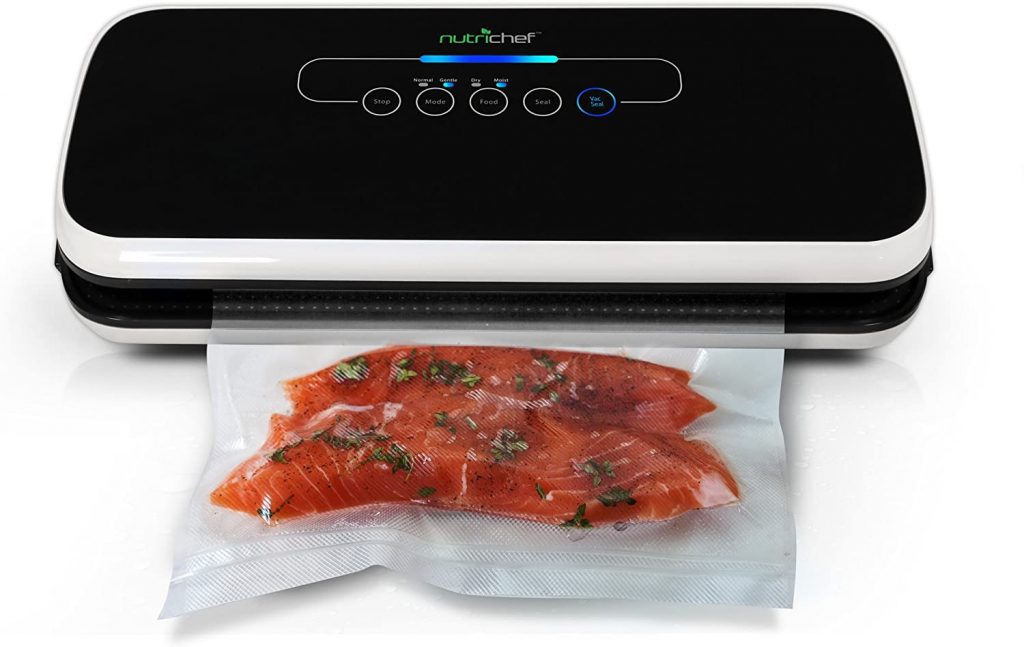 The main purpose of buying a dedicated vacuum sealer for your kitchen is to preserve the freshness of your food. If you are a working mom, you are probably worried about your kids' healthy eating habits. The NutriChef vacuum sealer allows you to seal edible items including different types of nuts like almonds etc. so that they can be readily served. It also helps increase the shelf life of the fruits and vegetables that you purchase.
Instead of having to purchase them every week which might be difficult, you can purchase them once and store them in different sections of your refrigerator. While fruits and vegetables can be stored in the Chilled area, you can keep simple meals like sandwiches tightly sealed in the general section. They will be ready to eat which saves all the time spent in the last-minute meal preparation and at the same time, you can ensure that your family gets their lunch or dinner served without hassles.
Being a branded product, NutriChef excels in its build quality. The product is stain resistant and if it stains, you can easily wipe it clean with a dry cloth. The air-sealed bags are provided as part of the bundle and they are reusable. There is no need to purchase them individually to store more food items as the provided ones should be more than enough. The sealer is available in two different colors, black and silver for those who like having more options in the products they purchase.
What Makes the NutriChef Vacuum Sealer Best for Food Preservation?
The bags are reusable and allow you to freeze sandwiches which you can heat later in a microwave for a quick meal.
It helps safeguard your purchases during winter and you do not have to rely too much on store shopping, especially if you live in the suburbs.
Who Should Buy This?
The product has a hassle-free operation and is ideal for those who are new to one-touch sealing solutions.
The build quality is excellent and it delivers value for money for those on a tight budget.
An Automated Vacuum Sealer
Bonsen Kitchen Automatic Food Vacuum Sealer Machine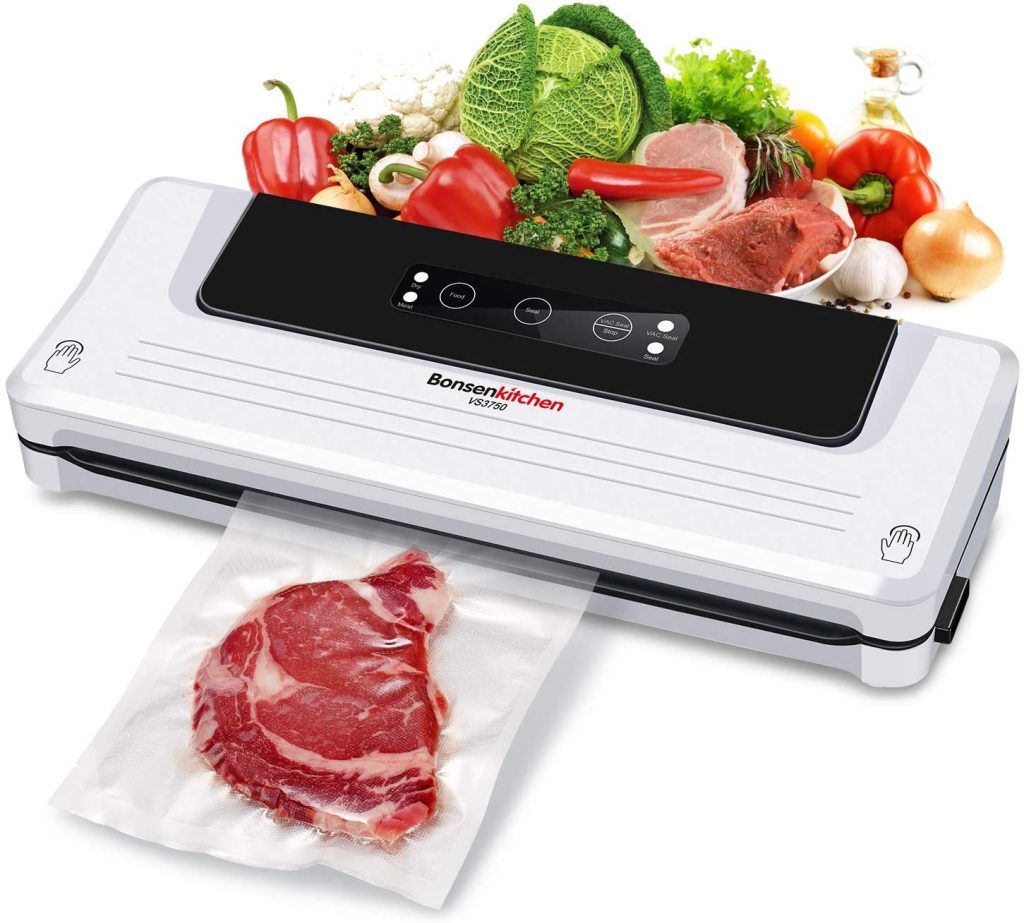 Shopping for a vacuum sealer could become a nightmare if you are not prepared and know the specifications of the product. The easiest way to shop for one is to go for popular brands and look for great Amazon reviews. Bonsen Kitchen Automatic Food Vacuum Sealer meets both these requirements because it not only has great reviews but is also praised as the easiest product to use. With the one-touch button, you can complete your sealing tasks in no time.
The vacuum sealer works on a one-key operation that saves you time. There is no need to go through the user manual multiple times to understand how to seal your edible items. After all, most people don't have the patience and time to learn and understand complex operations. The product bundle includes an extra-long vacuum roll. The advantage of having a roll and not a one-size vacuum bag is that you can wrap up any quantity or food size without difficulty.
The Bonsen Kitchen product is an all-rounder solution that also includes five vacuum bags for instant applications. Be it a chunk of meat, vegetables or fruits, you can seal them up to store those items safely in the freezer box. Another advantage of this product is that it is affordable and helps save your food expenses in the long run by sealing to store them properly. The actual size of the sealing machine is compact and can easily be stored in the kitchen countertop.
What Makes the Bonsen Kitchen Automatic Food Vacuum Sealer Machine Reliable?
The positive reviews are amazing.
It is easy to use thanks to the one-touch operation.
Who Should Buy This?
Those who need to store dry and moist food items in sealed packages will find this useful.
You can prepare food ingredients earlier and make use of the sealer to store and keep them ready when it is time to serve large meals. It features a compact design for people who lack storage space.
Seal Multiple Packs at the Same Time with the Best Vacuum Sealers
Abox V63 Vacuum Sealer Machine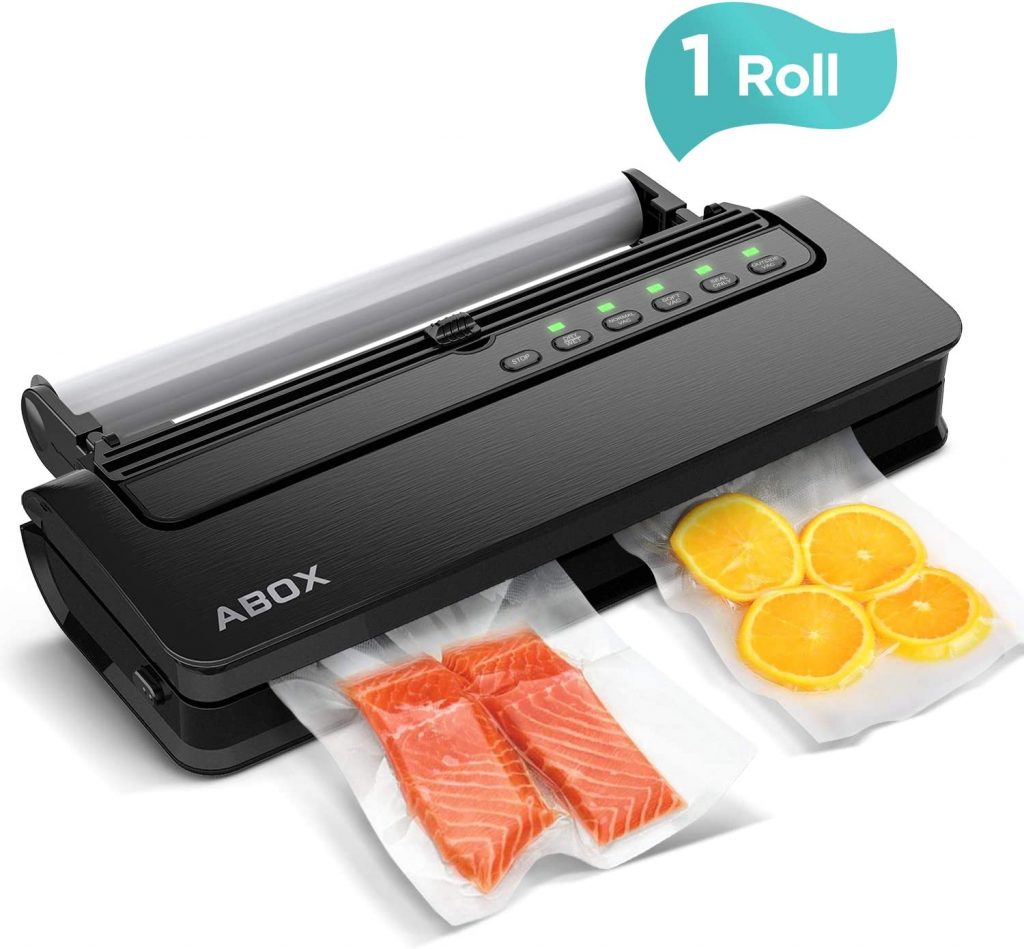 Individual vacuum sealed storage requirements could vary based on your cooking style and the number of residents at home. If you are a working mom or need assistance to store food items, a vacuum sealer is an excellent choice. Vacuum sealers help save food wastage and reduce preparation time. The Abox V63 vacuum sealer machine further saves your time as it can seal two small packets at once with an assured airtight seal.
Unlike many other lightweight products, Aboxfeatures among the best vacuum sealers. The sealer offers four different sealing methods. You can seal dry as well as moist food items. The machine can be used to seal bulk quantities of meat and cheese. If you have multiple residents at home or need to save yourself a trip to the grocery every day, sealing is the best solution. The maximum sealing width is 11.8-inches and is ideal for two small packets.
The bundle includes resealable bags for your chips. You can seal and preserve the freshness for a whole lot of items including pet foods, snacks and meat. Besides, the technology used in the machine is readily compatible with other products including plastic bags and aluminum foil bags. The bundle includes roll-on covers that you can cut to different shapes and sizes. It keeps food fresh for much longer and there is no need to buy fish or meat every weekend. Save your time and enjoy the time you spend at home.
What Makes the Abox V63 Vacuum Sealer Machine Stand Out?
The large sealing area allows you to seal multiple bags at the same time.
The product easily extends the shelf life of your edible products.
Who Should Buy This?
It is ideal for people who can't travel regularly for shopping and need to store fresh food for cooking.
You can use it to store wine, chips, and dry nuts in a jar as it supports all types of sealing bags readily available at home or in the market.
A Powerful On-The-Go Sealer for Camping, Picnics and Hunting Expeditions
FoodSaver GM710-000 GameSaver Sealing System
Compared to nearly a dozen different sealing products available, this particular solution from FoodSaver stands out. The FoodSaver GM710-000 is a heavy-duty solution for people who are on the move. According to the official description, you can comfortably use it for road trips, on boats, and for family outings by the lake. Another scenario would be hunting, fishing or camping trips. When such trips usually last for more than a week, it's easier to buy food in bulk and store them. You can later barbeque your ingredients from the picnic spot or wherever you please.
The FoodSaver GM710-000 GameSaver Sealing System is a rugged product in every aspect. There is a dedicated carry handle that lets you carry it around. The buttons are extra large and easy to find. Make sure not to buy this for kitchen use because the sealer is designed to be durable and to be used while on the move. It occupies a lot of space but the kind of sealing it does is simply great! The product utilizes intelligent sealing control and has an extra-long 15-foot power cord. It allows you to connect from most power sources at the different venues.
When you go hunting or fishing, the extra-large sealing area allows you to seal your fish and other game meat to be stored for later use. The auto-vacuum and sealing buttons are easy to use and can be stored in the freezer box. It uses an integrated roll cutter so that you can cut the bag as soon as it extends to the required size. There are built-in storage clips that make carrying the machine around much easier.
What Makes the FoodSaver GM710-000 GameSaver Sealing System Rugged?
The product is Who Should Buy This? outdoor use.
It can handle large sealing requirements.
Who Should Buy This?
Made for people who love outdoor activities like hunting, fishing, camping, picnics, and go often on long trips.
Those who need a vacuum sealer that is easy to use as it has a long power cord and built-in sealing, cutting features.
A Commercial Grade Vacuum Sealer Made of Stainless Steel
Weston Pro-2300 Commercial Grade Vacuum Sealer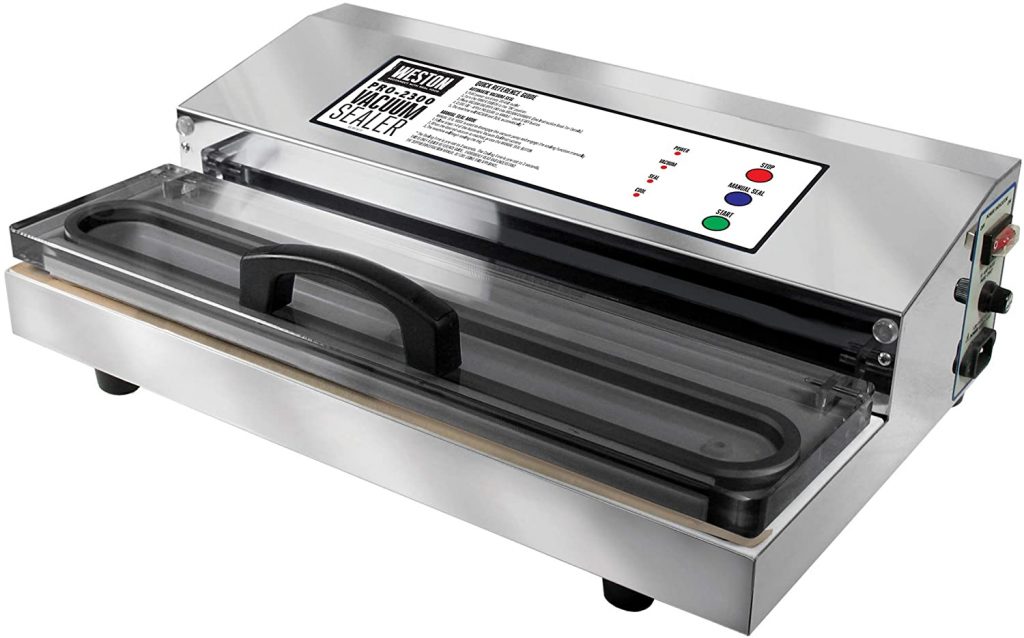 The average household may not require such an expensive and large vacuum sealer. The product is aimed at small restaurants, cake shops and people who have a habit of storing a large quantity of food for later use. Places like residential accommodations, charity workers and people who feed those who are in need can also make use of this industry-grade product. The difference is that it is designed to withstand maximum usage on a daily basis for a large number of packages.
The Weston Pro-2300 Commercial Grade Vacuum Sealer is powered by a massive 935 watts of power and the airtight sealing that it provides is simply faultless. The entire sealing process is carried out by a double piston that offers hard vacuum-tight seals. The advantage of such a method is that your food ingredients, meat, and fruits will stay fresh for longer periods. The sealing area is quite large compared to most conventional products as it measures 5mm.
Another advantage of going for an industry-grade product is that it is equipped with a built-in cooling facility. The motor is fan-cooled that keeps it working at ideal temperatures even if you are sealing contents for an hour or more. The product is also being promoted as a way to help people keep not only food items but even collectibles safe. You can seal coins, silver and other artifacts that should be kept in air-tight conditions for maximum preservation.
What Makes Weston Pro-2300 Commercial Grade Vacuum Sealer a Grand Addition?
This vacuum sealer has many practical applications.
The product is made of stainless steel with large components that work flawlessly throughout its life.
Who Should Buy This?
Made for chefs, restaurant workers, and charity workers who might need to keep large quantities of food-safe for several days.
A powerful and durable product for people who live in large residential complexes or have similar requirements to manage ingredients' shelf life.
Portable Vacuum Sealer from a Reputed Brand
Vacuum Sealer Machine Abox V69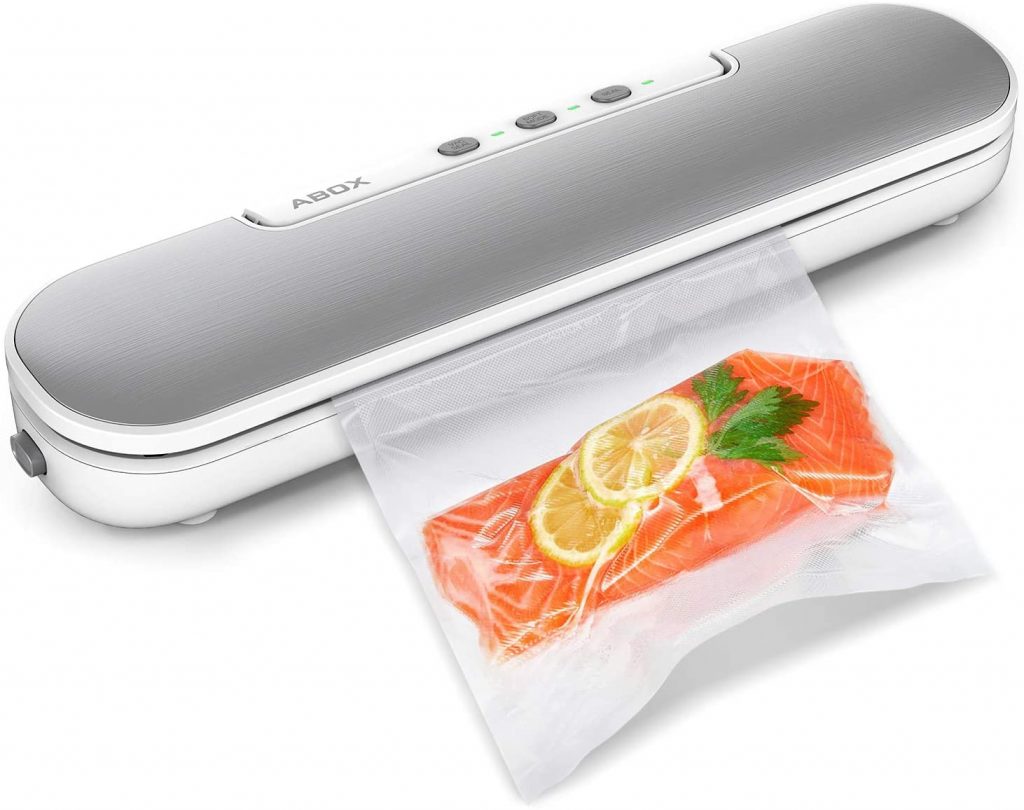 Most people have limited kitchen space because they have at least a dozen other different products vying for space in their kitchen. Ranging from food mixers, grinders, toasters and microwave ovens to stove, there are several other items that you need to have in your kitchen. The Abox V69 has been designed with practicality in mind because it is compact, extremely stylish and sports a solid build quality that justifies its affordable price tag.
Instead of keeping it on the kitchen counter, you can choose to leave it on the dining table or even as an accessory in the living room table. The advantage of having a portable and aesthetically designed machine is that it wouldn't look odd wherever you choose to keep it. The product comes with an assurance that it can keep food items fresh up to 7x longer than other sealers. You can seal cheese, meat, vegetables, and fruits to keep them fresh for an entire week.
The Abox V69 is one of their portable offerings from a lineup of other best vacuum sealers that they sell. It stands proof of the quality of products that Abox delivers in its lineup. Its ease of use is simply outstanding. Keep the food inside the sealing bag provided and let the open-end slip inside the machine. Choose the right sealing method and you are done! The power cable is removable for easy storage and the sealer has a magnet that allows you to stick it on to the fridge if you have to!
What Makes the Vacuum Sealer Machine Abox V69 a Compact Solution?
The product is easy to store anywhere and it can even be attached to your refrigerator with the built-in magnet.
It uses a one-touch operation in a space-saving design and requires very little practice to use.
Who Should Buy This?
If you are really space-constrained and require a reliable product, the Abox V69 has got you covered.
The product's design is impressive and can be used to seal more than just food items. You can seal chips, wine, and even collectibles if you need to.
Store Your Foods 8X Longer
Aobosi Vacuum Sealer 5-in-1 Automatic Food Sealer Machine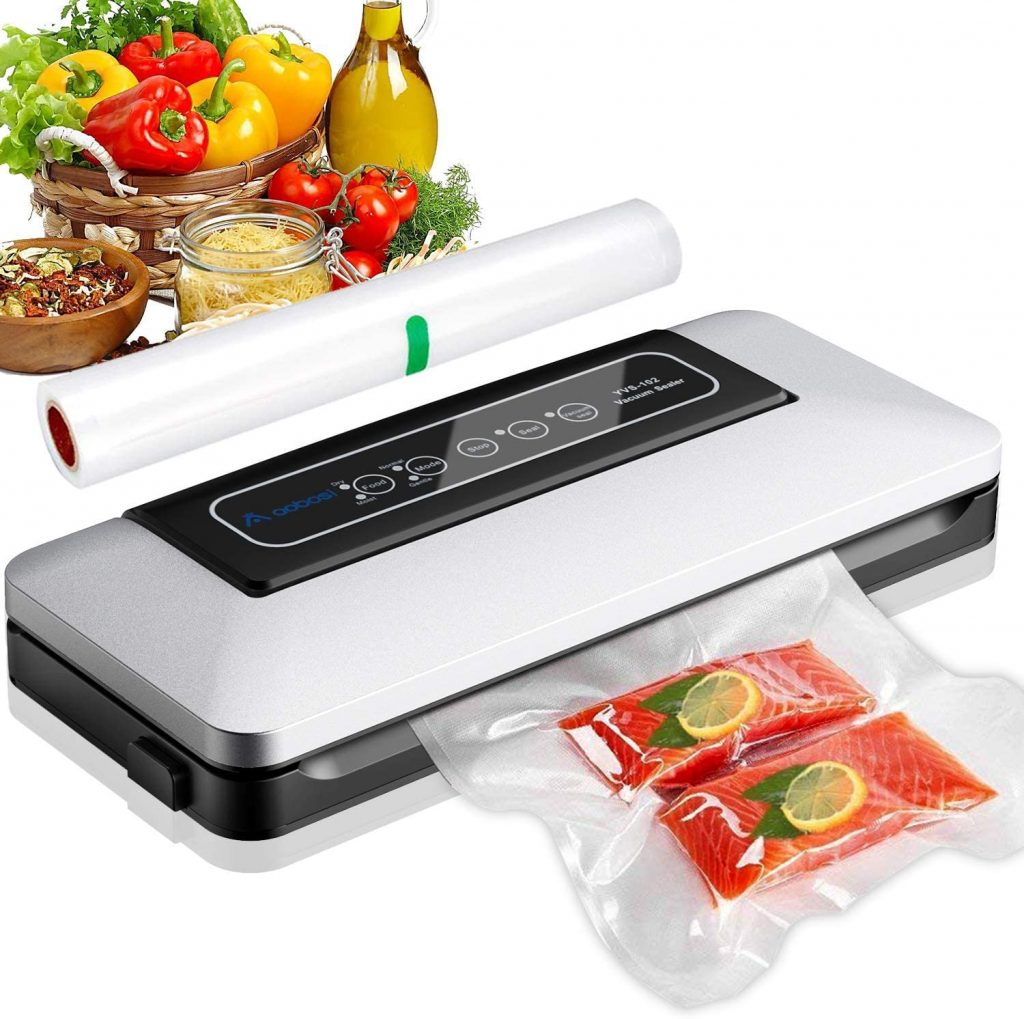 The main idea behind purchasing the best vacuum sealer is to keep your food and ingredients fresh for many days. Most users tend to keep cut vegetables or marinated meat that they can use to make quick sandwiches for a weekend party. The Aobosi Vacuum Sealer 5-in-1 model is specifically Who Should Buy This? this purpose. It has an air suction hose and is bundled with an extra-long vacuum bag roll. The advantage of using rolls is that you can cut them into any size as required.
While the freezer is a great way to refrigerate your meat and other food items, due to the formation of ice and other particles on the food, the freshness of the food is often lost. The Aobosi vacuum sealer is stain-resistant and can be placed on your kitchen countertop. By sealing and storing prepared vegetables, it can be used to quickly prepare a meal with very little delay. It helps promote healthier eating habits.
Based on the type of food item you store, you can keep it sealed and store it in the cupboard, the fridge or the freezer. Items like cookies and biscuits can be stored in the cupboard so that it can be kept for months. Common edible stuff like cookies can be stored airtight and for weeks so that you can give it to your kids whenever needed. The stain-resistant sealer can be cleaned easily with a quick wipe.
What Makes the Aobosi Vacuum Sealer 5-in-1 Automatic Food Sealer Noteworthy?
You can easily choose between gentle, normal and moist modes to seal food items appropriately and preserve them for longer periods.
The product is easy to clean.
Who Should Buy This?
The lightweight product is perfect for home use.
You can go for it if you are looking to have multiple sealing modes to choose from.
Conclusion
The best vacuum sealers are often the ones that provide the best features that buyers look for. The goal is to keep your vegetables, fruits, and meat safe when keeping them in the refrigerator. These airtight sealing machines make this task easier. You are always prepared to serve fresh sandwiches, cookies, and meat to your family if the ingredients are kept ready in sealed packages. These ingredients stay fresh and easy to cook. From our list given above, go for the product that ideally suits your usage pattern and budget. It can make your everyday life easier and healthier.
---