Technobezz is supported by its audience. We may get a commission from retail offers
Summary – The term ultrawide monitor is always associated with content creators and gamers. The
The term ultrawide monitor is always associated with content creators and gamers. The extra screen real estate can be put to great use when the monitors are large with improved resolution or refresh rates that help get more done. The best ultrawide monitors are usually gaming monitors but you will also be able to find color-accurate displays used by designers, filmmakers, and animators. It is mandatory to have a beefy rig to make the most out of these Ultrawide displays, be it rendering graphics or playing games with the high frame rate.
See also: Best 24-inch monitors
Best Ultrawide Monitors
A Super Large Monitor for Creators
Dell U-Series 38-inch Screen LED-Lit Monitor U3818DW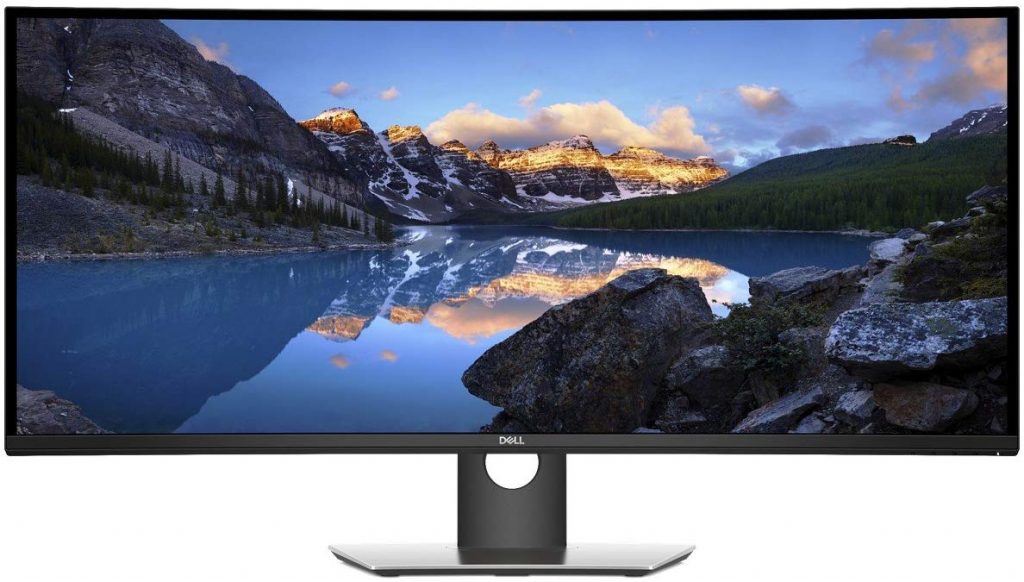 At first look, most buyers will be intimidated by how extremely big the monitor is. After all, 38-inches of display space puts it on par with OLED and UHD televisions that are being sold in the market today. However, the screen split-up in monitors is a bit different and being an ultra-wide monitor, it still occupies only a little space and is quite usable with a Windows operating system, unlike an actual television.
The monitor with its 38-inch display is powered by a WQHD+ resolution powered with Infinity Edge display that is nearly bezel-less. The advantage of such a monitor is that you can not only create content on it but also view those content to enjoy a cinematic experience on your desk. The device supports KVM which means you can use two keyboards, mouse combo so as to have multiple computers attached to the same display and use it.
Being the latest monitor and the best ultrawide monitor available online, this product supports USB Type C to transmit both audio and video signals without having to have an array of cables running around. The advantage you get as a user is less clutter on the table and the ability to maintain design aesthetics in your editing or gaming setup even though this is not a gaming monitor.
What Makes the Dell U-Series 38-inch Screen LED-Lit Monitor U3818DW Amazing?
Dell is a brand that excels at producing some of the best monitors and computers.
The display size is on the bigger side for those who need that level of working space.
Recommended For:
Content creators, designers, and video editors will find the large-size monitor extremely useful for their work and enjoyment. It has been made mainly for such a customer-base.
For those on budget, this is an ideal solution as it costs less than $1000 while providing a massive display that can be used for work or leisure.
An Ultrawide 21:9 Gaming Monitor for AMD Freesync Lovers
LG 34GK950F-B 34″ 21:9 Ultragear WQHD with FreeSync 2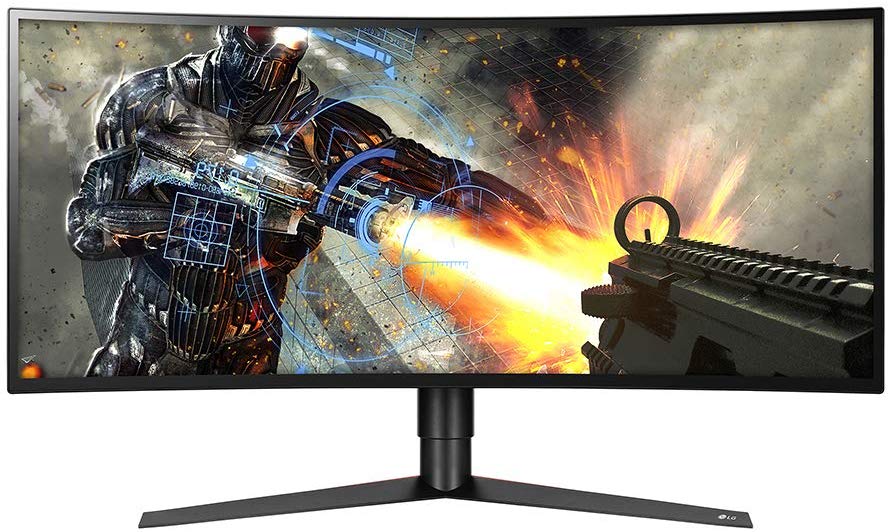 Unless you are a hardcore PC gamer, it might be difficult to understand some of these technical terms. The PC Master Race mostly invests in large monitors and sometimes they even go for a triple-monitor setup if their budget allows. These ultrawide monitors are a great choice for such arrangements because they provide an immersive experience.
With a display size measured at 34-inches, this particular model from LG excels on many fronts because it is equipped with the latest AMD Freesync 2 technology. It is a refresh rate management technology used by AMD while Nvidia uses the more expensive GSync technology. The implementation allows gamers to enjoy a seamless experience without any screen tearing issues.
If you own an AMD graphics card, Freesync 2 is an excellent addition to this display which has a resolution of 3440×1440. The IPS display provides the best viewing angles so that you can sit in any position when gaming or watching your favorite movies on a large display. The refresh rate is 144Hz which is ideal even for hardcore gamers and it also supports VESA 400 for wall mounting, combined with height and tilt adjustment.
What Makes the LG 34GK950F-B 34″ FreeSync 2 Monitor the Best?
The monitor supports Freesync 2 which is a technology that reduces screen tearing with AMD graphics cards.
It features a bezel-less design allowing you to add more monitors if needed.
Recommended For:
A perfect fit for gamers who love to have more refresh rates combined with an increased resolution.
For those who have an AMD setup or are planning to have dual monitors.
An Award-Winning Super-Curved Ultrawide Monitor
Samsung 49-inch CRG90 Curved Gaming Monitor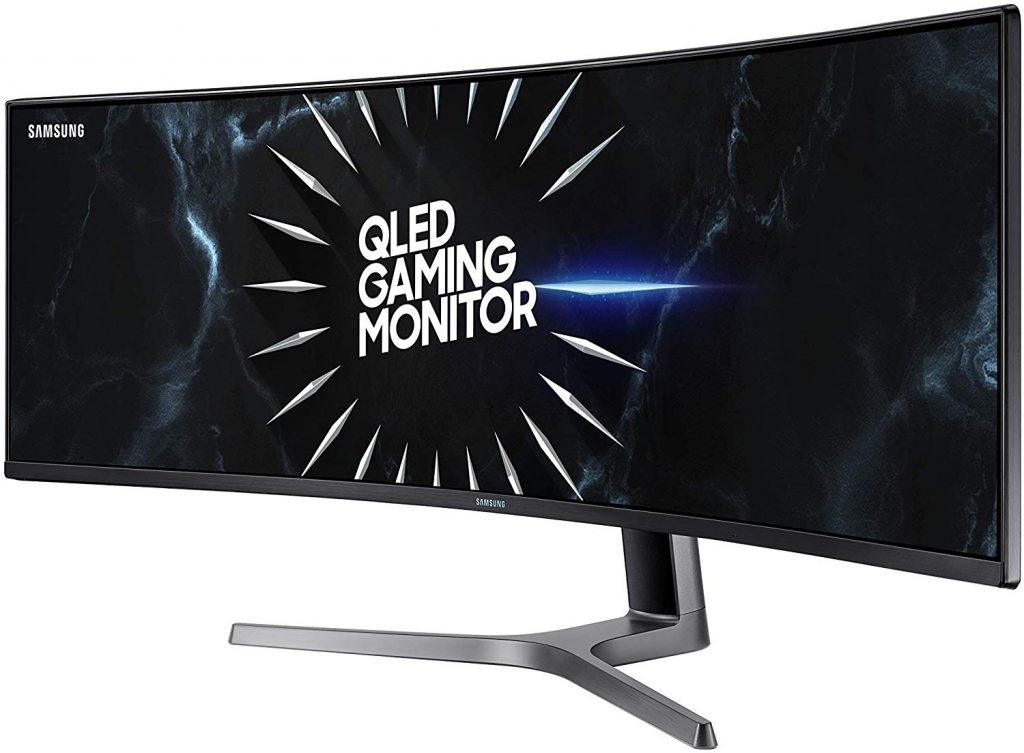 Going for a 49-inch monitor is no joke because it occupies so much space and has lots of screen areas for people to work, complete tasks, or edit videos. Besides, the fact that this is a super-curved gaming monitor makes it a display fit for hardcore gamers. When you are looking for the best ultrawide monitors, this one checks all the right boxes including high refresh rate, resolution, and build quality.
Samsung is the brand that makes displays for not just their phones and televisions but even for other brands such as Apple iPhones. Going by their brand reputation, it is difficult for anyone to argue against the quality they offer in this premium, curved gaming monitor. The display has a resolution of 5120×1440 pixels with a 4ms response time. While it may not be the best, it supports Freesync 2, HDR, and a 120Hz refresh rate to make up for any shortfalls.
The monitor won the CES 2022 best innovation award that stands as proof of how amazing it is in terms of features and value for money. The 1000nits brightness should provide you ample brightness in well-lit conditions and is quite suited for a fantastic HDR display. HDR content in gaming and movies will look good on this monitor with its height-adjustable stand and multiple input sources.
What Makes the Samsung 49-inch CRG90 Curved Gaming Monitor Amazing?
The 49-inch display is super large but it is the curve that makes it an amazing monitor that can give you the most immersive experience.
The monitor supports AMD graphic cards but its higher resolution makes it ideal for entertainment as well as gaming.
Recommended For:
Those who have lots of desk space and the need for the largest possible display will find this a good buy.
For users who like movies, music, gaming and are also content creators, this product will be a good choice.
The Perfect Gaming Monitor with a Budget
Sceptre 30-inch Curved Gaming Monitor C305B-200UN
Be it the gaming territory or going for super-cool desktop work monitors, people are often intimidated by the pricing that often gets as close to $1000 or sometimes even more. Instead of spending a small fortune on a gadget that would probably be upgraded in the next 2-3 years, you can go for the budget-friendly choices out there. The Sceptre 30-inch curved gaming monitor is an ultrawide display that offers the best gaming experience on a budget.
The monitor is rather large at 30-inches but the curved design allows you to view all the content during work or while playing intense multiplayer matches. The display has a resolution of 2560×1080 pixels which is a full HD display but the increased pixel count provides better Pixels Per Inch on the monitor. It supports AMD Freesync out of the box to reduce screen tearing.
You can enjoy both fast-paced FPS games and RTS titles on this Sceptre monitor that has been around for many years now in the gaming zone. The reviews are fantastic and it has amazing features that offer excellent value for money combined with its 120Hz refresh rate. If you are planning to use the Display Port instead of the HDMI port, it is possible to go up to a 200Hz refresh rate.
What Makes the Sceptre 30-inch Curved Gaming Monitor Unique?
The monitor's pricing is its best feature.
It supports a higher refresh rate and Freesync for AMD graphics cards.
Recommended For:
Gamers who are on a strict budget but want the best ultrawide monitor.
A perfect pick for large display lovers who love to game or watch movies during their leisure time.
A Monitor Designed for Brightly Lit Environments
MSI Non-Glare Ultrawide 21:9 34-inch 3K Resolution Gaming Monitor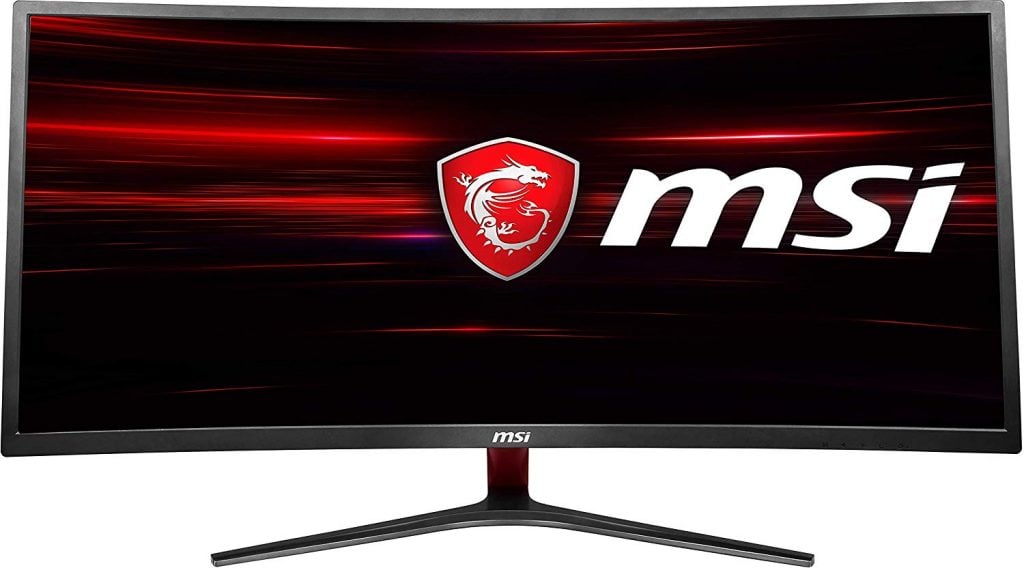 The MSI Optix MAG341CQ is a gaming monitor but you can also use it in a brightly lit office environment very well. PC gamers usually have demanding requirements such as a higher refresh rate and decreased response time. While the MSI monitor does offer a 100Hz refresh rate which is good enough for most gamers, it lacks a bit with its 8ms response time.
In practicality, this is the best all-purpose office monitor that you can use for both office work and gaming without any glaring issues. The display is equipped with a non-glare coating so that it is easier to view the content being displayed without using additional flaps on the sides. The monitor is rather large at 34-inches with an LCD panel and a resolution of 3440×1440 pixels.
The 1800R curved design provides a compact viewing area and the viewing angle is comfortable at 178-degrees. Made by MSI, a brand that specializes in gaming peripherals, this does have a lot of PC gamer-touch to it but it can also be a great display choice for office use. The monitor has an increased refresh rate that delivers a seamless experience in Windows OS.
What Makes the MSI Optix MAG341CQ a Dual-Purpose Monitor?
The monitor's anti-glare coating makes it ideal for use in the office during bright daylight.
The improved refresh rate works well for both gaming and smooth use with multiple office apps.
Recommended For:
Gamers who love a large monitor with an anti-glare display for gaming in bright conditions.
Ideal for office use because of the improved 3K resolution.
Beautiful Ultrawide Monitor for Video Creators
Dell Ultrasharp U3415W 34-inch Curved LED-Lit Monitor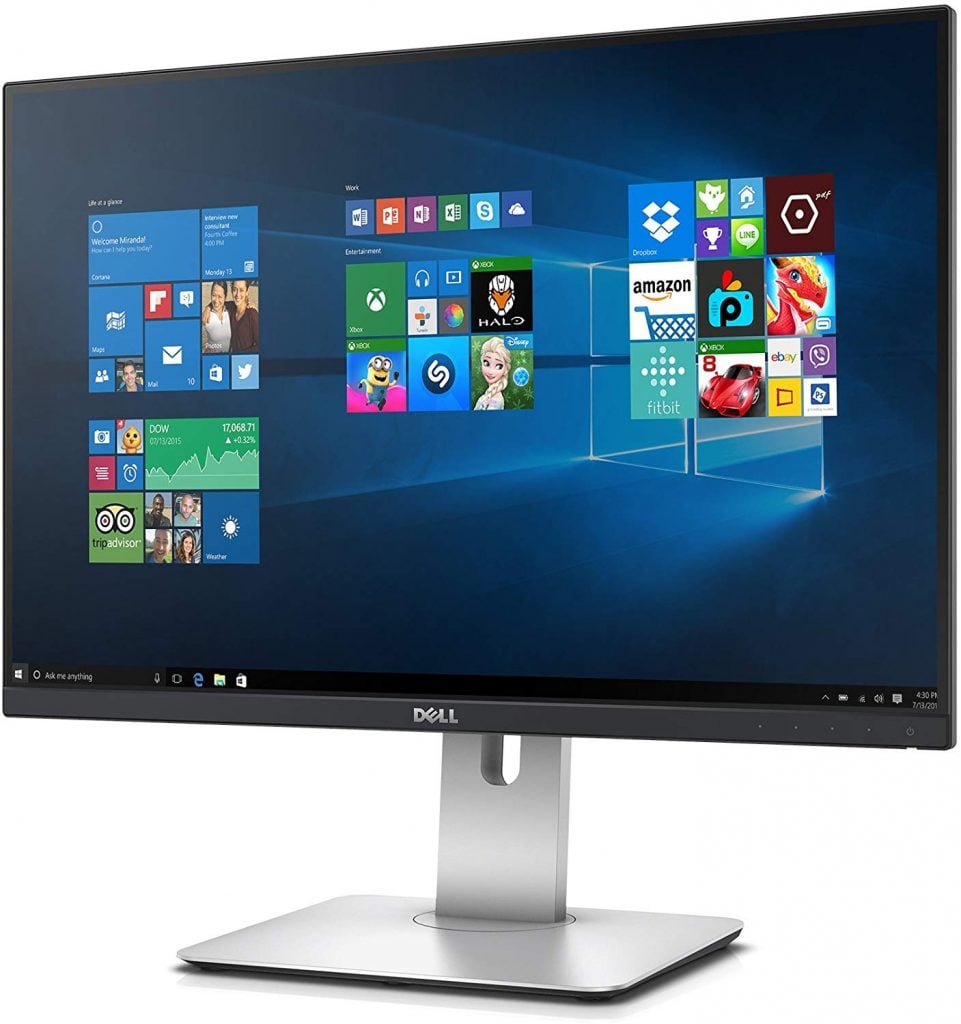 At first glance, the Dell monitor looks as big as it could get but people who love ultrawide monitors will really enjoy the curve it has to offer. With an impressive display size of 34-inches, the entire monitor combined with its WQHD resolution can be split into multiple segments that can be put to use. You can split your workflow software into different areas of the display.
The product is also known for its durability. Besides, Dell provides an excellent three-year warranty for the hardware. You can choose to get a three-year advanced exchange service that further increases the value of the investment made. The monitor has multiple ports including a USB 3.0 port, HDMI 2.0, HDCP, and other connectivity options so that multiple devices can be connected at the same time.
The monitor has a brightness level of 300cd/m2 with a 5ms response time. Dell doesn't specify it as a gaming monitor which is a welcome relief for video and other content creators. There are no fancy RGB lights or red finish on this particular product that makes it suitable for use in an office environment, home office, or simply for a professional look without any fancy lights.
What Makes the Dell Ultrasharp U3415W 34-inch Curved a Professional Pick?
Among the best ultrawide monitors, very few deliver a non-gamer experience and this is one among them.
The monitor's brightness nits are high and its multiple ports make it easier to connect different devices at the same time.
Recommended For:
Users who are planning to purchase a professional-looking monitor.
Best suited for office users and video editors who need lots of screen real estate.
Color Accurate Best Ultrawide Monitors for Designers
LG 34WN80C-B 34-inch Ultrawide Monitor with HDR10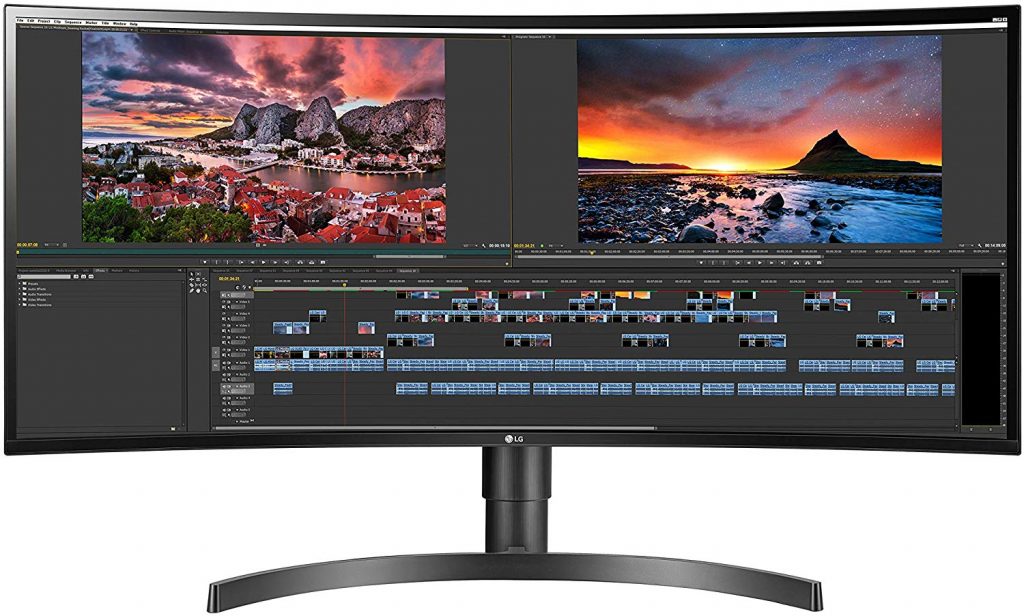 A color-accurate monitor brings in a great difference because when it has been tuned to offer the best, it delivers the palette designers need to create impressive designs. The LG 34-inch ultrawide monitor has been certified to produce HDR10 content which is essential in today's working and leisure environment where HDR content is prevalent in movies, games, and pictures.
The monitor has been certified to be sRGB 99% color range accurate. In real-time performance, it stands proof that any design created on this display that has a resolution of 3440×1440 pixels, will look perfect on every other monitor and television. The power delivered is through USB-C making it future proof and it provides space for all your plugins especially when working with Adobe suite.
The height-adjustable display makes it a clean add-on to your large desktop setup with borderless edges for additional monitors and you can use 4K displays directly through the USB C port. It can also be used to transfer large files making it the only port you would ever need. The on-screen controls make it easier to split the ultrawide display into four panels for improved productivity.
What Makes the LG 34WN80C-B 34-inch ultrawide Monitor Amazing?
The monitor is best suited for designers who want color-accurate displays to work with.
It delivers a whole lot of screen space along with a panel of the highest resolution.
Recommended For:
Graphic designers who require color-accurate displays at an affordable price.
Best suited for creators who need a large and curved monitor to split 4K displays into multiple panels for easier editing.
Best Ultrawide Monitors that Support Nvidia Gsync
Alienware AW3418DW 34.1-inch 1440p Curved Gaming Monitor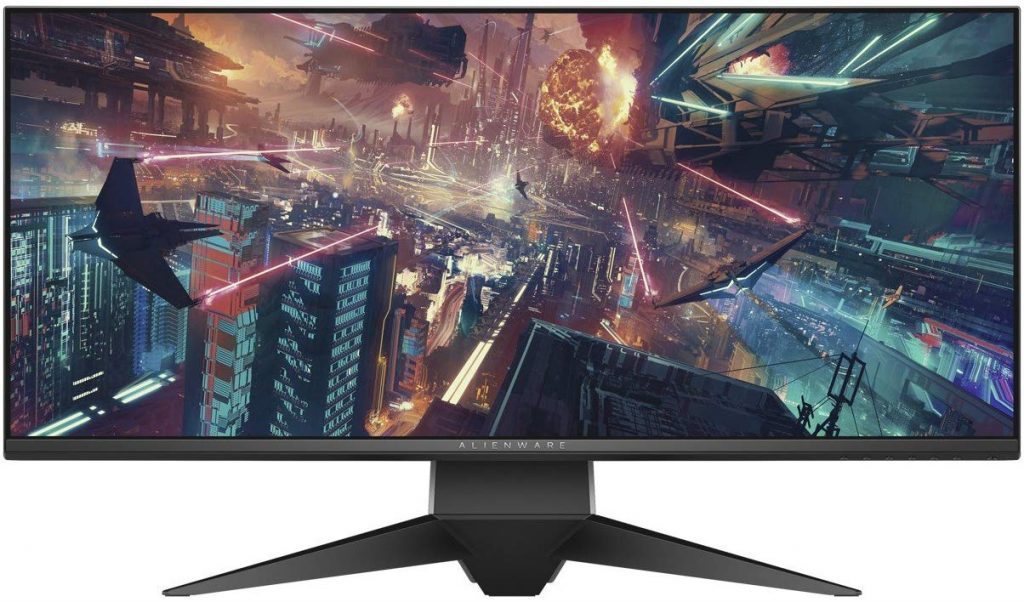 PC gamers need no introduction to the technology named Nvidia Gsync. While AMD supports Freesync which is an open-source technology, Gsync is much more expensive and it is used to remove screen tearing. Being an Alienware monitor by Dell, the product boasts of impeccable build quality and top of the line specifications but falls easily when it comes to the price aspect of components.
The 34.1-inch curved display has a 1900R curvature that is lesser than most other 1800R curved monitors. The display has a resolution of 3440×1440 pixels with an overclocked refresh rate of 120Hz. While CES 2022 witnessed innovative 240Hz refresh rate monitors that are yet to become mainstream, 120Hz is ideal for this resolution as your Nvidia graphics card should be able to deliver such frame rates.
The panel is equipped with Alienware's AlienFX lighting zones on four corners to provide that immersive gamer-experience. The brightness level is at 300nits and the stand is fully adjustable, as you can change its height, tilt, and position for maximum comfort. There are three game modes and you can also customize the monitor to play any kind of title including FPS, RTS, or RPG genres.
What Makes the Alienware AW3418DW 34-inch Monitor the Best?
Being an Alienware brand has its level of sophistication.
The monitor is rather huge, offering an immersive gaming experience like no other.
Recommended For:
Gamers who love Alienware or require a sophisticated RGB ultrawide monitor.
Those who have strong PC hardware support as the monitor's refresh rate and resolution are meant for high-end gaming rigs.
Best Ultrawide Monitors for Budget PC Gaming Builds
Sceptre 27-inch Curved 75Hz LED Monitor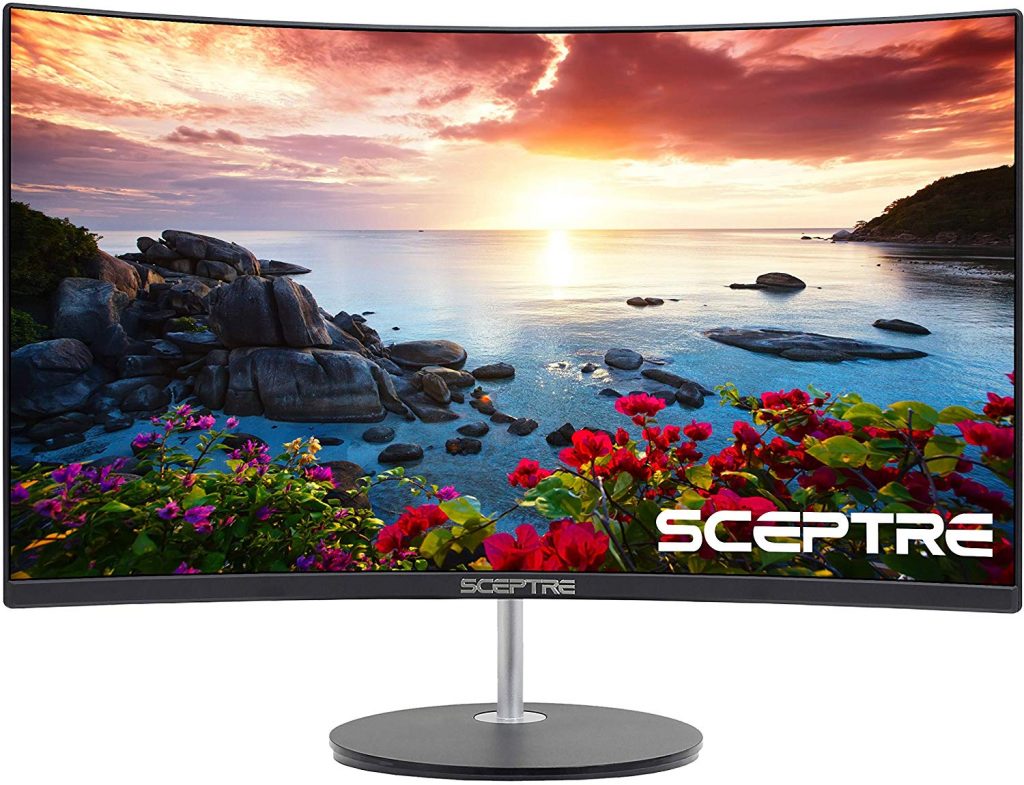 Ultrawide monitor is a broad category definition that can have displays with a 21:9 aspect ratio or the usual 16:9 based on how large the display is. While some people do spend hundreds of dollars on massive panels, the Sceptre 27-inch curved LED monitor aims to solve the requirement of budget gamers. Instead of spending so much, you can get the job done in less than $150 which is really an affordable amount.
The monitor by no means is a small one because 27-inches 1080p display is more than enough for most gaming and office use. Besides, it also has a slightly improved 75Hz refresh rate. This may not be ideal for hardcore gamers who would expect at least a 144Hz refresh rate. However, for starters on a budget, this is a great entry-level ultrawide display with full HD resolution.
The monitor does provide built-in speakers but it would be great to have your PC speakers to enjoy good music or immersive sound while gaming. The ports are limited to an HDMI port, VGA, and headphone jack. The stand may not support additional features like tilting but considering the budget price of this display, it is not surprising that it focuses more on an all-rounder performance at the entry-level.
What Makes the Sceptre 27-inch Curved 75Hz LED Monitor the Budget King?
For less than $150, you will be hard-pressed to find a monitor of this quality.
The product delivers in every aspect including a decent performance and great color/contrast ratio.
Recommended For:
Gamers who are looking to complete their budget-build should go for this Sceptre monitor.
If you are new to this high refresh-rate world and like to have a curved display, this is the monitor for you.
The Best Ultrawide Gaming Monitor with Quad HD Resolution
AOC CU34G2X 34″ Curved Frameless Gaming Monitor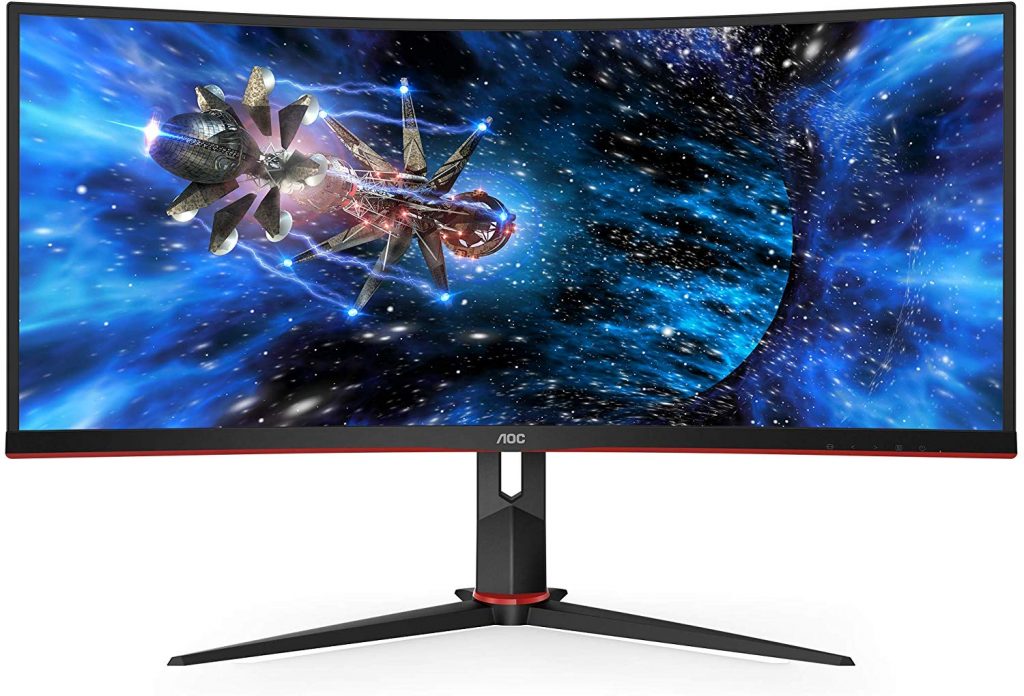 The decision to go all-out into gaming and invest around $1000 is a hard one to make. But, once you have crossed the initial dilemma, this is the time to invest in an Alienware, Dell or AOC gaming monitor. Brands like Asus, AOC, and Gigabyte are known for their amazing monitors that deliver an immersive experience. This particular AOC variant with its 34-inch display makes it possible to get just that experience.
The large screen is duly complemented by its 3440×1440 pixels resolution. The 2K resolution is on a VA panel that is found in most gaming monitors because of its fast response times and refreshes rate. With a 144Hz refresh rate and 1ms response time, the monitor couldn't get any better than this as it also supports adaptive Sync technology. Designers can make use of this display as it has been certified to be 98% Adobe RGB color accurate.
The ample number of ports on the AOC monitor include dual-Display ports 1.4, two HDMI ports, and three USB ports for connecting more peripherals. The monitor made by AOC, which is also an OEM supplier for major companies, comes with a three years warranty on the product combined with a one-time screen replacement guarantee. The value for money on this monitor is exceptional.
What Makes the AOC CU34G2X 34″ Curved Gaming Monitor Impeccable?
The AOC display has a three-year warranty period combined with a single time screen replacement.
The large 3K resolution display is designed for gaming.
Recommended For:
Ideal for gamers who want the very best combined with a longer warranty period.
If you love the bezel-less design and the value for money that AOC offers, you can opt for it.
An Ultrawide Gaming Monitor Designed for Gamers
Asus ROG Swift PG348Q 34″ Gaming Monitor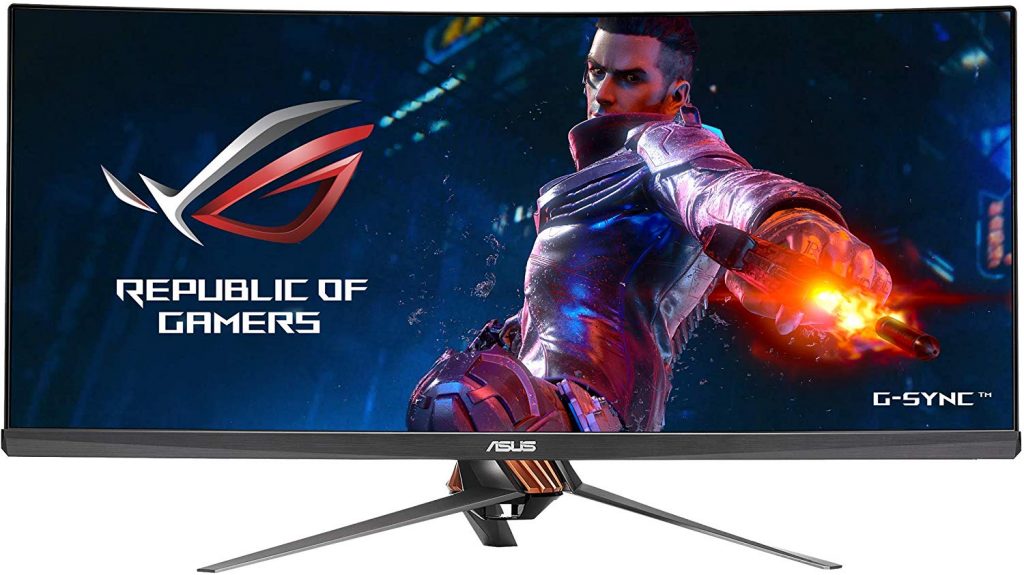 The Asus ROG Swift range of peripherals and products are primarily designed for gamers. Despite being a relative newcomer in the world of display panels, Asus delivers excellent value for money and has products priced at every price point making it easier for you to complete your gaming build. The PG348Q 34-inch gaming monitor is an ultrawide panel.
The resolution of the monitor is 1440p which is a fine balance between going full HD and 4K because graphics cards are yet to be as powerful to deliver 100 FPS on UHD resolutions. The 21:9 aspect ratio makes it an excellent choice for both gaming and watching movies during your leisure time. The bezels are almost non-existent allowing players to go for dual or triple-monitor set up in case they enjoy it.
The refresh rate is kind of limited on this as it can go only up to 100Hz and not meant for competitive multiple gaming that requires 144Hz or more. However, it does support Nvidia GSync which is a technology that costs more than AMD Freesync but is essential for all PCs that use Nvidia graphics cards. It helps reduce screen tearing. Considering the pricing, this is one of the best ultrawide monitors that you could purchase.
What Makes the Asus ROG Swift PG348Q 34″ Gaming Monitor Standout?
The monitor's slim design and gamer-friendly features including Nvidia Gsync make it a great buy.
The large size combined with improved resolution makes it ideal for single-player games.
Recommended For:
Nvidia graphics card owners.
If you are looking for a dual or triple monitor setup, this one will surely suit your requirements.
Multi-Purpose 1440p Ultrawide Monitor for Office
Acer Predator X34 Curved 34-inch Ultrawide QHD Monitor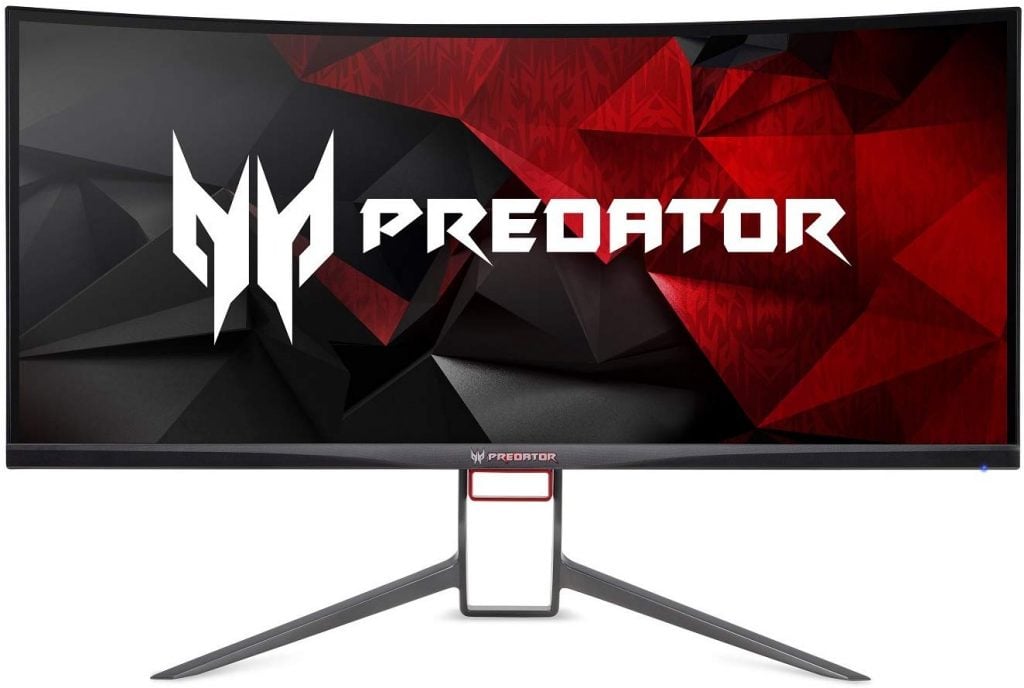 Acer is undoubtedly one of the leading gaming peripherals manufacturers that specializes in monitors, laptops, and other accessories. If you are looking for an all-purpose monitor that fits the ultrawide category but is also good for movies or watching videos, the Acer product fits like a glove. The large monitor has a 34-inch display with a resolution of 3440×1440 pixels, with a 1900R curvature to allow you to see more at a glance.
Another advantage of the display is that it features IPS technology which is a perfect fit for ultrawide monitors. Irrespective of the angle from where the content is being viewed, the color and contrast ratio will be on par because of the in-plane switching technology. The monitor supports Nvidia Gsync which is a gamer-friendly feature.
The refresh rate of the monitor is 100Hz which is perfect for single-player games that can be played at this resolution. The Display Port can be used to overclock the refresh rate up to 120Hz. Being a high-end monitor, the bundle includes a display port cable and HDMI cable along with USB cables that can be used for easier connectivity. The response time is 4ms and is equipped with Acer Vision care technology for hassle-free viewing.
What Makes the Acer Predator X34 a Multi-purpose Monitor?
The monitor's 1440p resolution is perfect for handling MS office and other business software in different panels within the display.
It has multiple ports for easier connectivity.
Recommended For:
If you are a content creator and a gamer, you will find this monitor useful for both purposes.
Those who mostly play single-player games, as it has Nvidia Gsync technology and a higher resolution.
Best Ultrawide Monitors with 4K Resolution for Graphic Designers
Philips 328E1CA 32-inch Curved 4K Monitor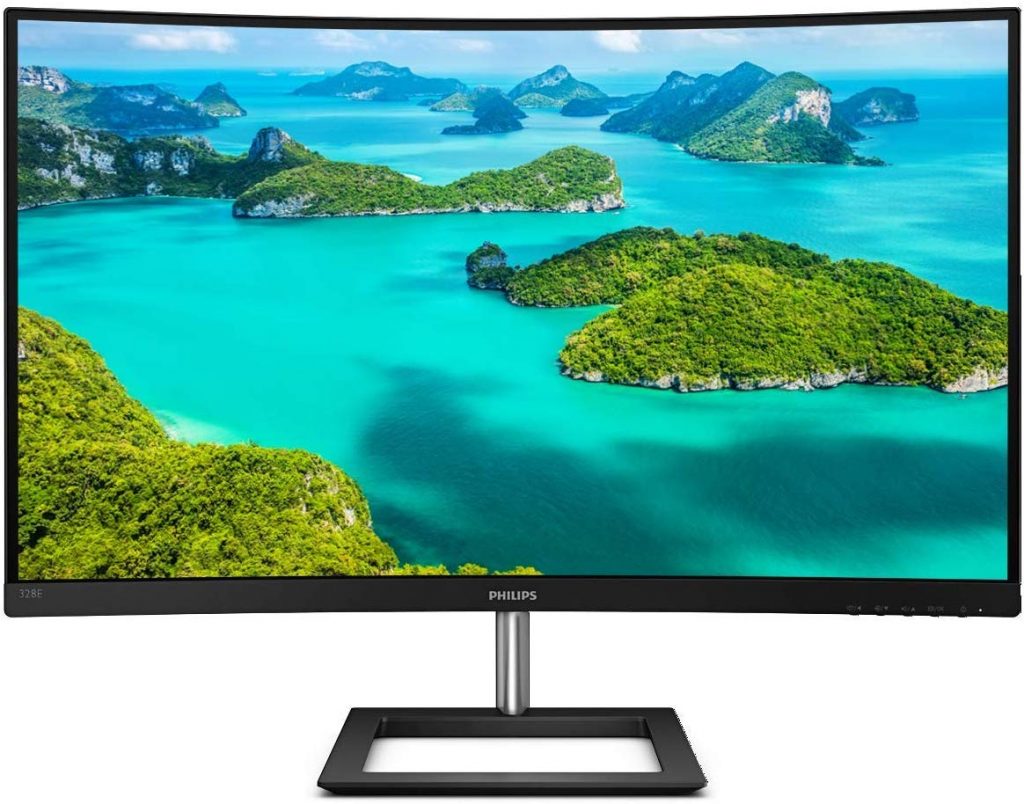 Color-accurate displays are necessary for graphics designers, animators, and content creators to ensure that the images or videos they create will look the same on different monitors around the world. The Philips 328E1CA is a 32-inch monitor that has an ultrawide curved design combined with a 4K resolution. The increased resolution offers lots of working space so as to keep different plugins or software programs open at the same time.
The curved VA Panel provides a better refresh rate and improved response time. Compared to the fancy red-colored gaming monitors, this is easily one of the best ultrawide monitors out there because you can use it both in an office as well as for gaming. The display has flicker-free technology that greatly reduces eye strain and the product comes with four years warranty in the United States providing you peace of mind, unlike any other branded monitor.
The Philips monitor supports VESA so that you can wall-mount it but considering the 1500R curved design, it best fits a tabletop setup. The display supports Adaptive sync, has 120% sRGB accuracy with 97.8% NTSC color gamut making it the best monitor for graphic designers. The panel is also capable of producing deep blacks combined with 1.074 billion colors with HDMI and Display Ports for seamless connectivity.
What Makes the Philips 328E1CA 32-inch Curved 4K Monitor Best for Long Usage?
The blue light filter and flicker-free design let you use it for 10 hours or more without feeling any eye strain.
Designed for office with a minimalistic design and a fantastic 4K resolution that lets you use multiple software programs at the same time.
Recommended For:
Full-time designers with a requirement for color-accurate displays.
For those who need more working space, this 4K resolution monitor is a perfect pick.
Conclusion
The best ultrawide monitors can be split into multiple categories. Online stores and shops are largely dominated by gaming monitors. They can be slightly more expensive because of features like Nvidia GSync. If you are a gamer or content creator on YouTube, a gaming ultrawide monitor may fit your requirements. However, for those who are into graphic designing, video editing or similar work that doesn't require these features, a 4K monitor with color accuracy and ample working space is more than enough.
---