Technobezz is supported by its audience. We may get a commission from retail offers
Summary – Rechargeable batteries make a whole lot of difference in how conveniently you use your
| | | | |
| --- | --- | --- | --- |
| EBL 808U AA AAA Rechargeable Battery Charger 2 USB Fast Charging Ports | Panasonic Eneloop Pro High Capacity Batteries 4-Pack | Energizer Recharge with AAA Batteries, LED Lights and Compact Form Factor | EBL Rechargeable AAA Batteries 1100mAh 16-Counts |
| | | | |
| See on Amazon | See on Amazon | See on Amazon | See on Amazon |
Rechargeable batteries make a whole lot of difference in how conveniently you use your gadgets, especially when you are a professional. Today, many popular brands make some of the best rechargeable AAA batteries and when you have plenty of them in stock, there is no need to worry about your DSLR camera, remote control for a drone or a gaming controller dying on you when you need it the most. Brands like Energizer, Duracell, and Eneloop make the best AAA batteries out there at varied price points and capacities from which you can take your pick based on your usage scenario.
See also: Best rechargeable AA batteries
Best rechargeable AAA batteries
The Most Popular AAA Batteries to Buy
Panasonic Eneloop Ni-MH AAA Rechargeable Batteries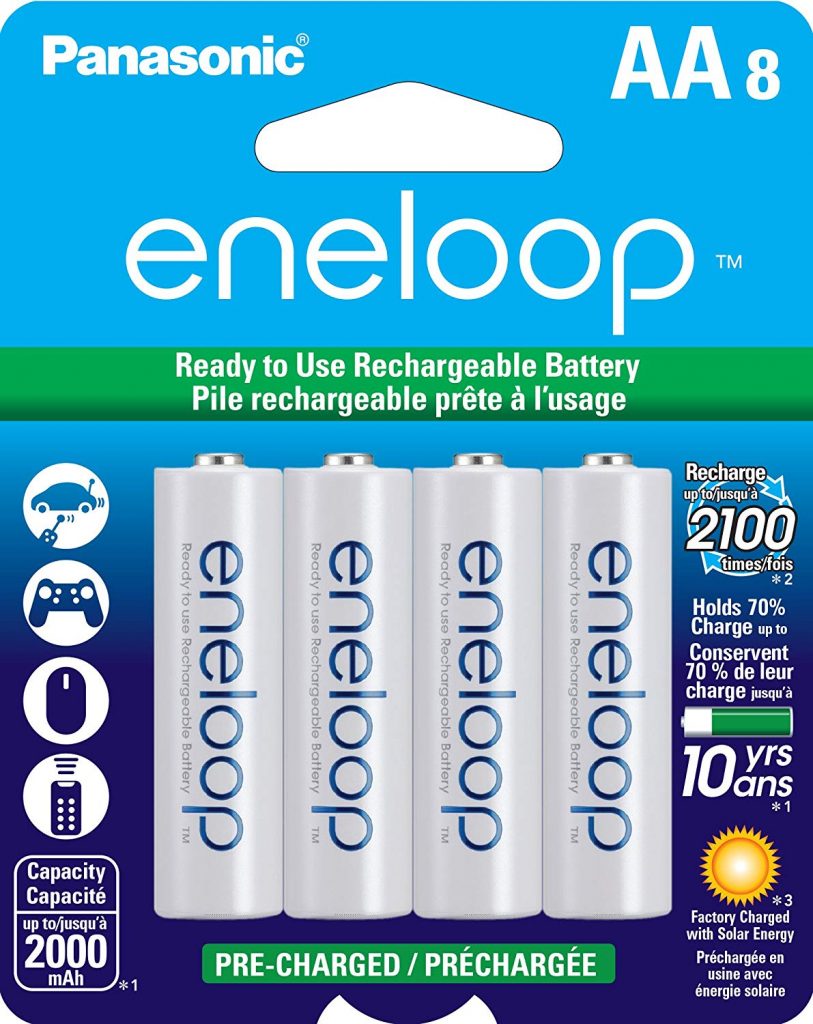 Once you have started your quest for the best rechargeable AAA batteries, you can hardly avoid the brand named Eneloop. The name is most popular among professionals because DSLR cameras and drones may require a large number of batteries so that they can be used all day long at shooting spots. Be it a professional photoshoot or movie of any kind, the batteries are expected to last long.
While the Pro variant is more expensive, most users opt for the Panasonic Eneloop Ni-MH AAA rechargeable battery. With over thousands of positive reviews online, it is really hard to go wrong with this product. After all, if all you need is a dual-pair pack that is less than $20 and should theoretically last you a lifetime, there is no need to look further but to buy this one.
The company's official description claims that you can recharge it for at least 2000 times before it starts slowing down and can even handle 70% of its battery life 10 years later. Users can recharge and keep a pair for emergencies for weeks or months which will work great as soon as you use it in a device. They are also pre-charged in the package and supports partial or full charging based on your requirement. This doesn't include a charger though.
What Makes the Panasonic Eneloop Ni-MH AAA Rechargeable Batteries the Best?
It can support 2000 recharge cycles and works even after a decade when used appropriately.
Who Should Buy This?
Casual users who are not keen on Pro features should buy this one.
It's a dual-battery pack and is useful if you have two or more gadgets that use the AAA size batteries.
A Budget-Friendly Battery Pack
AmazonBasics AAA Rechargeable Batteries Pack of 8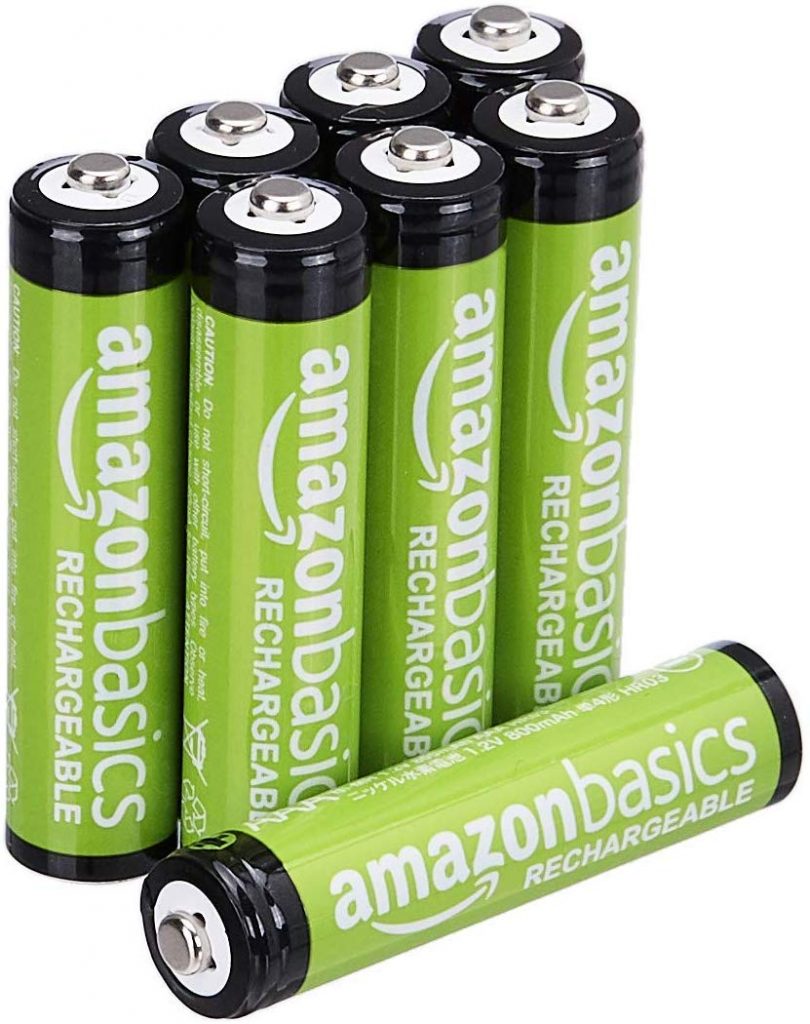 Gadgets are expensive these days and besides, you have to constantly invest in buying accessories, new charging adapters, and batteries. For serious gadget lovers who have plenty of gadgets that use the AAA size, the AmazonBasics AAA Rechargeable battery works wonders without breaking the bank.
When you can get an eight-pack for a relatively low price of $12, there is hardly any other competitor who can actually come close even though there are so many other big brands out there. While popular brands like Duracell and Energizer have carved a niche for themselves in this market, AmazonBasics is a brand that delivers great quality products at affordable rates. Besides, it is always available and easy to buy over the official website.
You can also purchase a 12-pack if needed. The 800mAh batteries will deliver 1000 times of recharging and should easily last many years. They can sustain over 80% of their capacity after 2 years of usage and for the lower price that you pay, this does offer good value for money. The product has a one-year warranty but before making the purchase, make sure you have a charger that works with these AAA sized batteries.
What Makes the AmazonBasics AAA Rechargeable Batteries Value for Money?
The pricing obviously is a big selling point for these products as they are affordable for most people.
You can easily choose between multiple packs and sizes, in case there is a requirement for larger quantities for your cameras, remote controls or other toys.
Who Should Buy This?
People who own multiple gadgets that work on AAA batteries and need a rechargeable solution that is easy to use.
Those who trust in the AmazonBasics brand or don't have a requirement to spend more on batteries that last for a very long time.
Best Rechargeable AAA Batteries for Powerful Devices
Panasonic Eneloop Pro High Capacity Batteries 4-Pack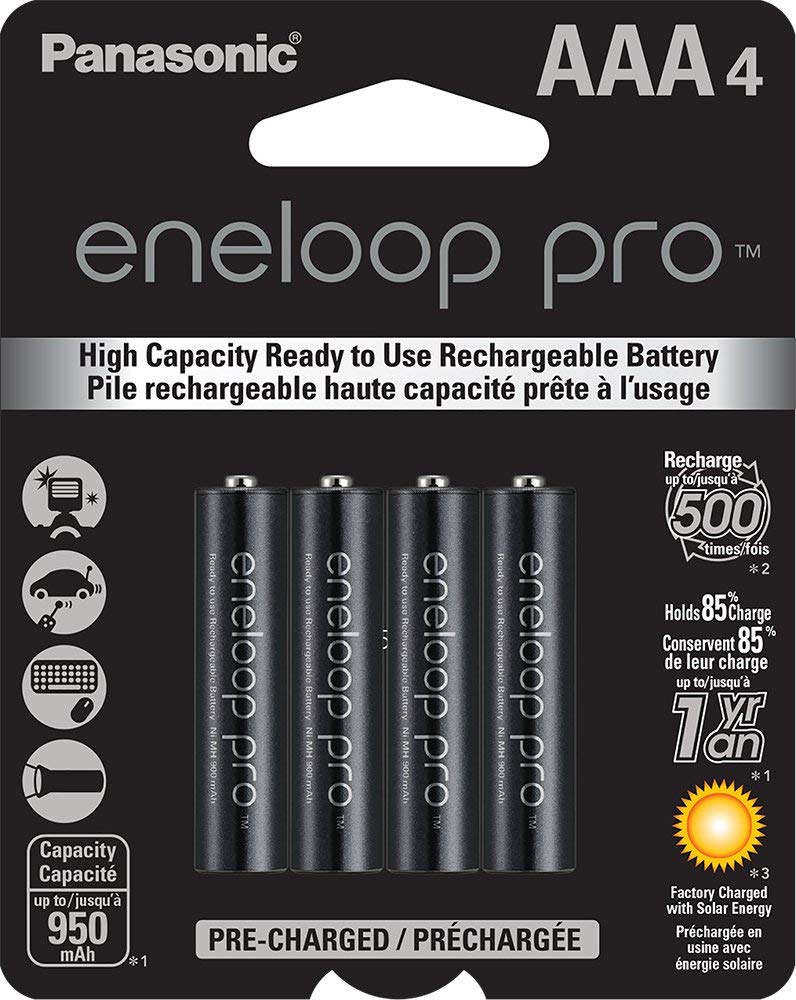 The Panasonic Eneloop Pro is a must for regular users of rechargeable batteries or for those who plan to buy such batteries. They are some of the best peripherals that you could purchase and the original company Panasonic which is behind this brand ensures the best quality is delivered every time. The Eneloop Pro from Panasonic offers higher capacity and more charging cycles.
This powerful 4-pack is much more expensive when compared to many other popular brands out there. But, if you are looking for a really serious upgrade for your Xbox controllers, drones, DSLR cameras and any other product that requires super-powerful batteries, this is the way to go. These are batteries that offer 950mAh of power.
The batteries are capable of maintaining over 85% of their total power capacity even after one full year of continuous usage. You can choose to install it multiple times and take it out in between charges or can also follow the conventional method of leaving it in the gadget. Such practices will not affect battery life or its performance in the long run. They are also capable of working in cold weather at -4 degree Celsius, making it the perfect choice for wildlife and nature photographers or videographers.
What Makes the Panasonic Eneloop Pro High Capacity Batteries 4-Pack Premium?
They are designed for high capacity devices that require long-lasting battery life.
The Pro variant can handle multiple charges and is more durable for power users.
Who Should Buy This?
Serious professionals will always opt for the Eneloop Pro model as they are already quite popular among users around the world.
If you are looking for more capacity and durability even after repetitive usage, this is a reliable choice.
Bundled Pack for Newbies with Battery Charger
Energizer Recharge with AAA Batteries, LED Lights and Compact Form Factor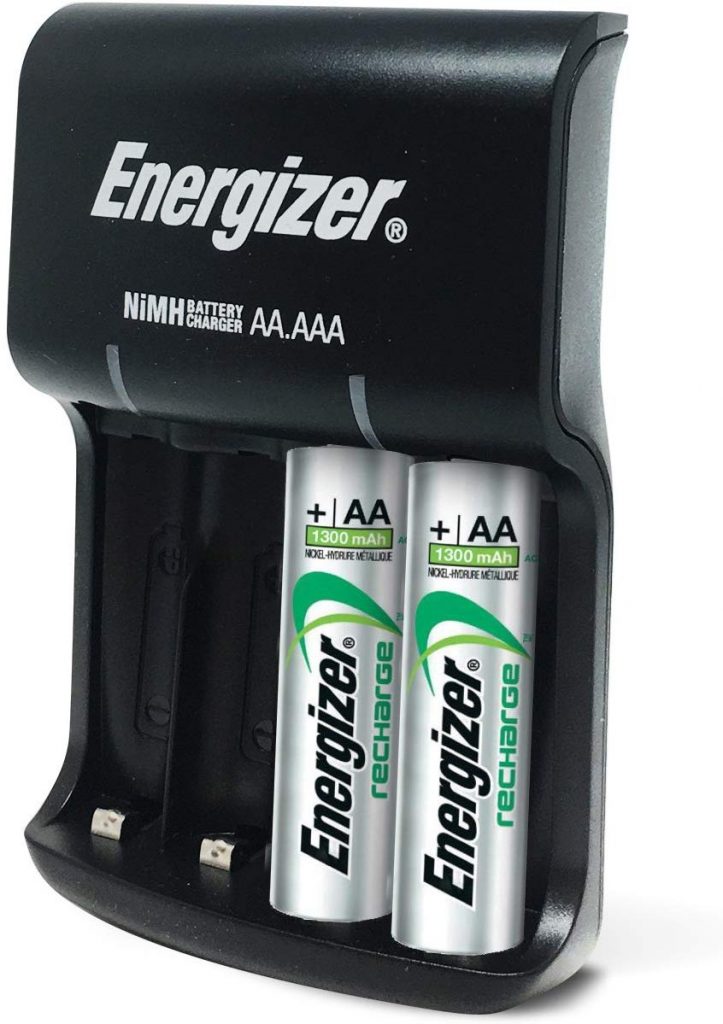 Buying the best AAA rechargeable batteries is only half the story because to make the most out of your product, you need to have a charger handy. Unlike USB-C or other widely found products, you have to purchase the charger separately which can accommodate the size of your AAA batteries. The alternative option would be to purchase it as a bundled pack so that you get both the batteries as well as the charger with the option to buy spare batteries if needed.
The Energizer Recharger with AAA batteries included is the perfect entry into the world of eco-friendly energy sources. Instead of buying expensive batteries over and over again for your products, you can consider powering your gadgets using this solution. The batteries are pre-charged so that you can use them straight out of the box. They are large with a capacity of 800mAh for long-lasting usage for professional gear or other devices.
The charger is made by Energizer making it more reliable and durable in the long run. The versatile charger supports both AA and AAA battery sizes. Most users may require different battery sizes and this recharger takes care of recharging different battery types with its feature of being able to swap between the different types automatically. It includes four AAA batteries and takes approximately 7 to 13 hours for getting a full charge for all four batteries.
What Makes the Energizer Recharge with AAA Batteries Amazing?
The bundle includes both the charger and a pack of AAA batteries ready to use out of the box.
It can complete charging in 7 hours if just two batteries are placed and have a compact form factor.
Who Should Buy This?
If you don't have a battery recharger that is compatible with AA and AAA batteries at home, this combo pack is a must-buy.
For those who prefer to have a recharger with a reliable warranty from a recognized brand, this product made of eco-friendly materials is a must-buy.
A Large Collection of AAA Batteries for Bulk Usage
EBL Rechargeable AAA Batteries 1100mAh 16-Counts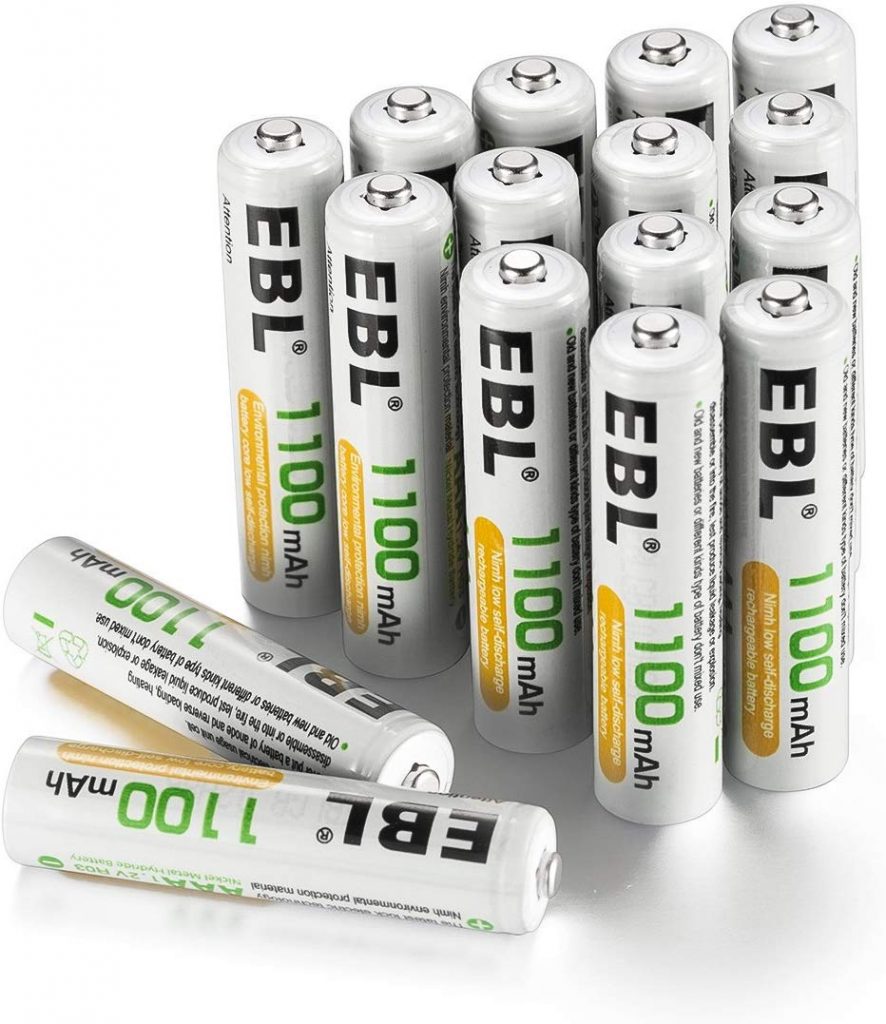 These days, a vast number of devices we use at home are designed to support AAA-sized batteries. For this reason, it may be a good idea to purchase as many batteries as possible in a single pack. Going with the same brand has its own set of advantages because you get the brand warranty making it easier to replace the batteries if needed and also making it convenient to use the same charger which is much safer.
The EBL Rechargeable AAA Batteries 1100mAh 16-Counts is one of the many larger packs available at discounted rates. For less than $20, you can own so many powerful batteries that are designed to be used in electric shavers, mice, small laptops, flashlights and electric toothbrushes among a whole lot of other home appliances and gadgets. These batteries have 1100mAh power which is more than enough for powerful devices like microphones for professional usage and electric toys like a remote car.
Equipped with ProCycle technology, you can comfortably recharge and use the EBL rechargeable batteries up to 1200 times. You can recharge it over and over again for many years before the 1.2V batteries start losing some of their capacity. EBL brand also implements Supercell lattice technology to ensure that they are safe to use even with high voltage products without causing a blast. This technology makes them one of the safest solutions out there.
What Makes the EBL Rechargeable AAA Batteries a Super Pick?
They can retain 75% of their power even after 3 years of usage.
The product's pricing is cheap for such a large quantity.
Who Should Buy This?
This large 16-pack is a must-have for home or office usage if anyone has at least three to five gadgets that require AAA batteries.
Buying a larger pack is ideal for professionals because if you like to use your camera or lights over a long period, keep the spare batteries ready.
Eco-Friendly AAA Batteries with Long-lasting Cycles
PowerOwl AAA Rechargeable Batteries 24-Pack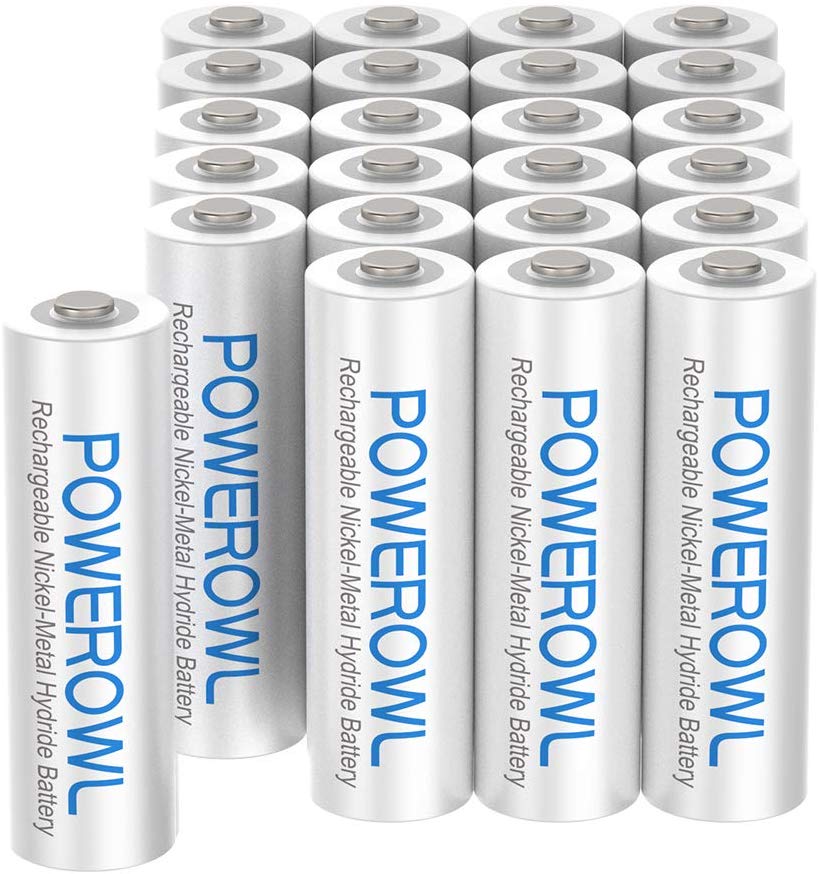 PowerOwl is a familiar and reputed brand among users who have been regularly purchasing rechargeable solutions for their favorite devices. Instead of having to buy it from multiple brands in smaller packs, you can easily choose the PowerOwl 24-Pack AAA rechargeable batteries. They are the best rechargeable AAA batteries because the 1000mAh power comfortably can last for three years of usage.
All types of batteries that you purchase from any brand will have a minor depreciation every year and it all depends on how well your products can last for the money invested. This particular battery delivers 1.2V of power and can be charged 1200 times before they start showing any decrease in performance.
Once again, these numbers are strongly based on the assumption that you are a professional or will be using the battery almost on a daily basis. However, moderate use and a lesser number of recharges will keep its power intact for many years to come. Unlike some other brands, these are designed to be eco-friendly, emit no harmful elements or cause blasts. The AAA size ideally fits shavers, electronic equipment, remotes, and cameras.
What Makes the PowerOwl AAA Rechargeable Batteries 24-Pack Ideal?
You get 24 batteries at relatively low pricing.
The eco-friendly batteries are safe to use.
Who Should Buy This?
The best buy for those who need lots of batteries at very affordable rates.
These batteries can retain their capacity even when not in use. It is for professionals who need backup batteries.
A Super Powerful Charger and AAA Battery Pack-in-One
EBL 808U AA AAA Rechargeable Battery Charger 2 USB Fast Charging Ports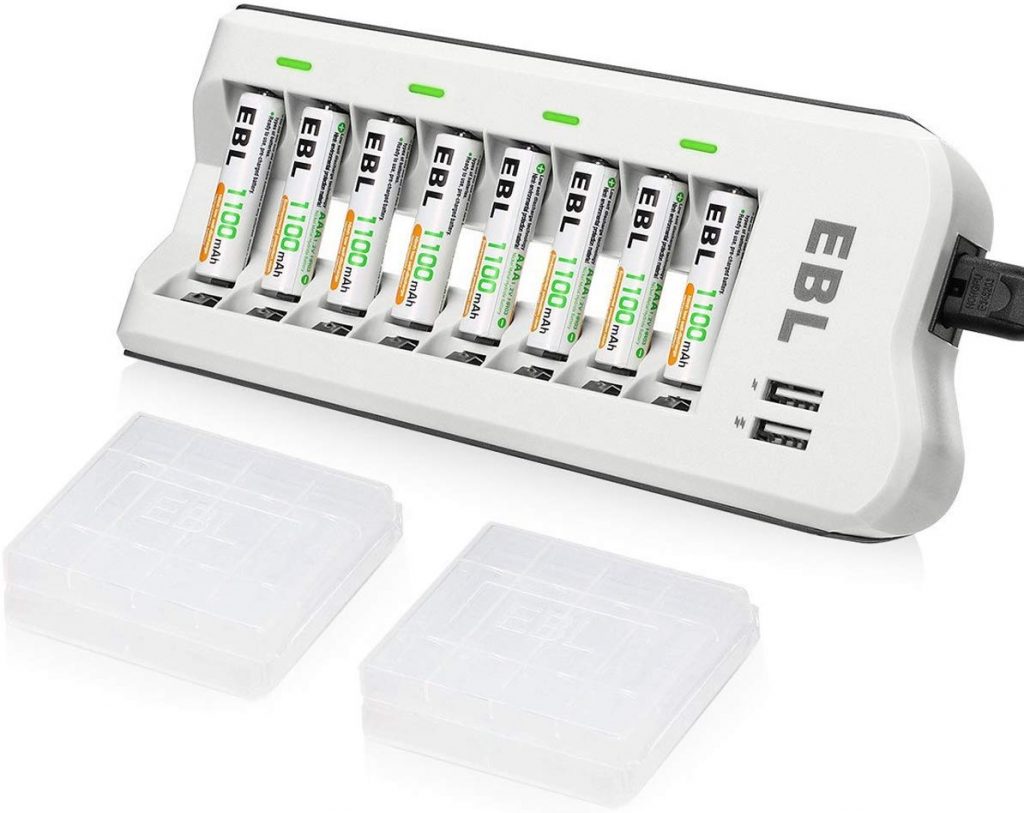 When you buy rechargeable batteries, you will obviously need the right charger to make the most out of your purchase. Among the best rechargeable AAA batteries available, this is easily the best value pack. You not only get a charger for AAA size but you can also use it to charge AA-size so that it is easy to upgrade your entire collection to reusable products. Besides, the charger includes an 8-pack collection of AAA sized batteries to get you started.
According to the manufacturer, the battery can easily withstand 3 years of continuous usage and will retain 75% of its power even after that, with low self-discharge capability. Products like remotes and electric toothbrushes are designed to be used minimally on a daily basis. In such applications, these batteries are a handy solution. As it also supports a bigger size and comes with additional USB ports on the charger, you can use it as the only charging source.
A fun addition is the included battery case so that you can safely store all your spare items and take them on your next trip. Most professionals who use cameras for video and photography, as well as drone operators, need lots of batteries to get through a day of work. This pack is made for just that purpose as it includes a carrying case, USB charging port for smartphones as well as durable AAA EBL batteries for regular usage.
What Makes the EBL 808U AA AAA Rechargeable Battery Charger Value for Money?
You get both the charger and 8-pack of AAA batteries for an easy-to-buy price.
The charger is a multi-purpose solution so that there is no need to buy a separate charger for your AA batteries
Who Should Buy This?
People who travel a lot with gadgets that support both AA and AAA sizes will find this charger pack useful.
Professionals with multiple requirements can buy this one along with additional battery packs to use it continuously even for days when needed.
A Branded AAA Recharging Solution
Energizer Recharge Basic Charger with AAA Batteries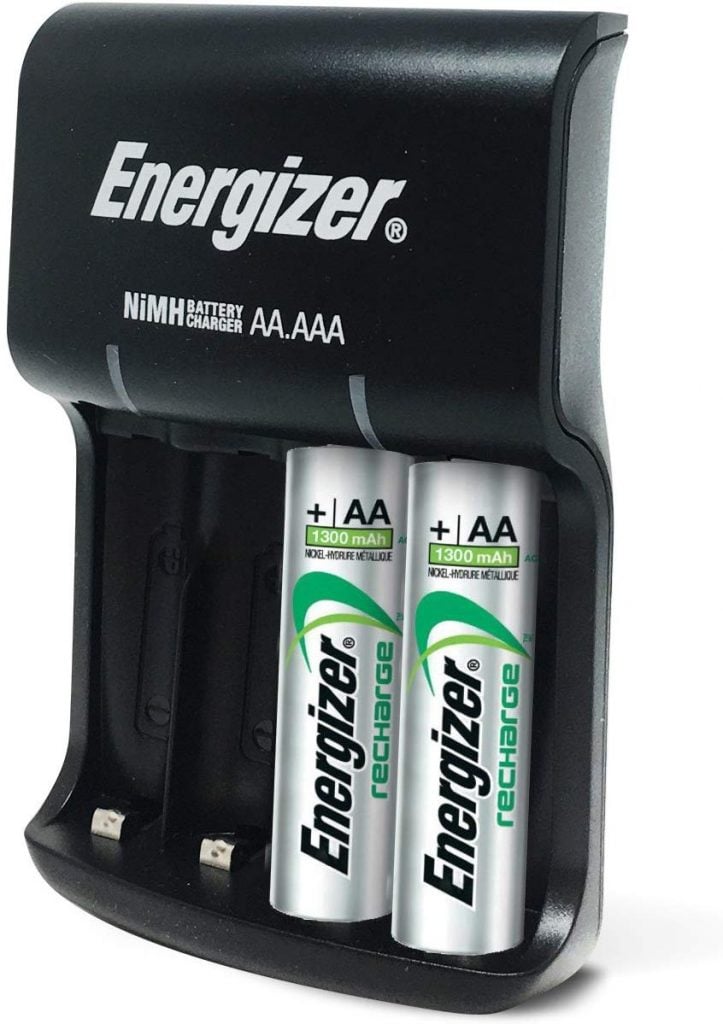 It is usually easy to buy the best AAA rechargeable batteries because they are widely available in multiple packs from different brands. The only catch is that with so many brands, it is difficult to find the right one which is why some people always stick to well-known names. Among them, Energizer has been going strong with its brand value and if you are really keen on going with a known name, this is the best purchase to make.
The Energizer Recharge Basic Charger is available with bundled AAA rechargeable batteries as well as AA batteries in case you have a requirement for multiple sizes. The size of the charger is compact enough and so it can be comfortably kept plugged into your wall power socket or in any corner of your house and batteries can be put in for recharging only when required. The charger is made using 4% recycled batteries thereby helping to conserve the environment.
The charger can handle recharges within 7 hours for 4 AAA batteries and it can go all the way up to 14 hours in case you are going to opt for bigger battery sizes. Energizer Power Plus AAA sized batteries are included in the box but considering the fact that they are really limited in terms of quantity, you can consider buying additional packs from the same brand. It has an LED indicator that lets you know when batteries are being charged and when it is complete.
What Makes Energizer Recharge Basic Charger a Great Combo Pack?
The pack includes a charger and four batteries at an affordable price.
Being a branded product, it offers a good warranty besides product quality.
Who Should Buy This?
If you need a branded product, Energizer is a good choice.
Ideal for heavy-duty users as the build quality of the product is high.
The Most Affordable Battery Pack Available
Rayovac AAA Rechargeable Batteries 4-Pack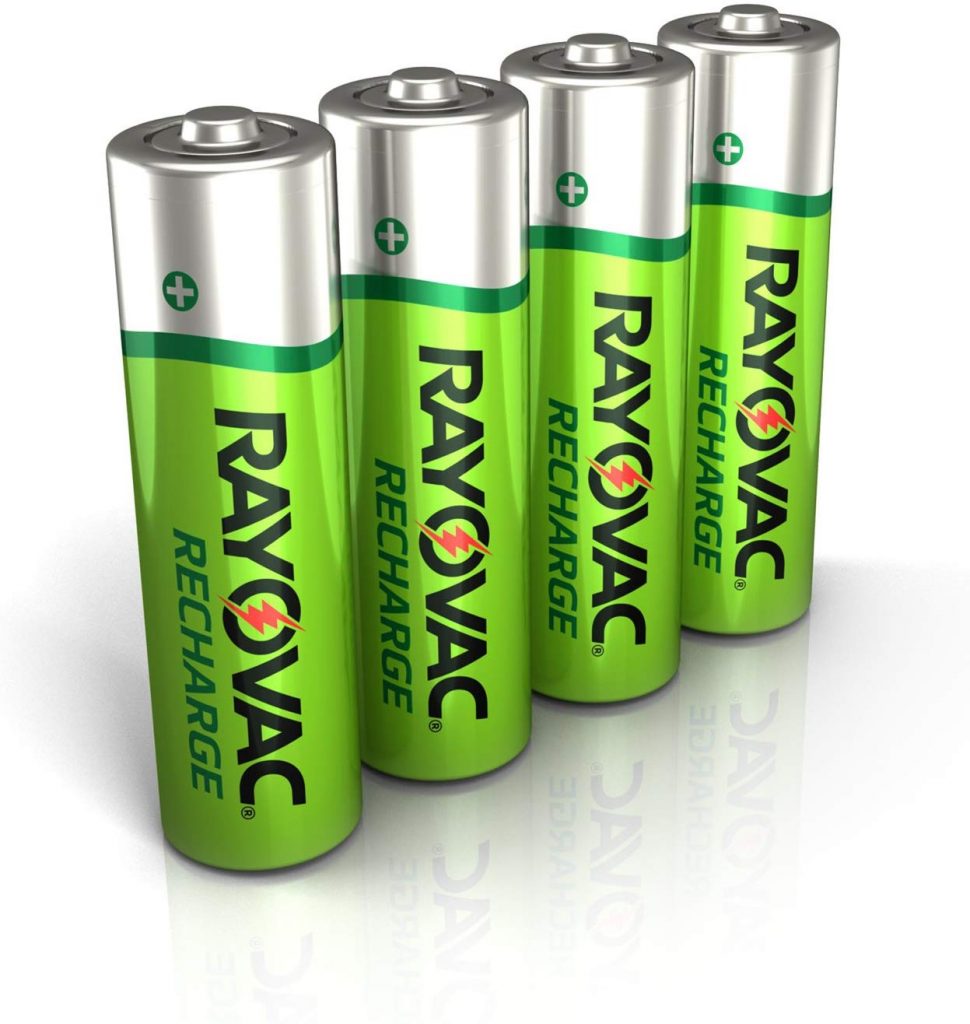 Can you really get so many batteries at such affordable pricing? The brand named Rayovac is committed to making it possible because for less than $12, they are offering four rechargeable AAA batteries. You can even go for 8 batteries but still own the entire bundle for less than $15, making it the most affordable pack available out there. Anyone can go for it because it gets the job done without breaking the bank.
Albeit a totally new brand, Rayovac offers excellent quality which is how it has managed to earn hundreds of positive reviews from customers. The batteries are designed to last 2x longer so that professionals can rely on them and use it in their DSLR cameras or in demanding situations such as in drones etc. The batteries are charged and packed. It is easier for you to purchase and start using it immediately without having to charge it overnight.
The warranty period is excellent on this product as it comes with a five-year warranty and you can comfortably make a claim in case it doesn't perform as marketed. The recharge cycle is equally good as it can last 1500 cycles of recharge and can be used for several years, up to 5 years even if you are going to recharge it multiple times a week. Each battery holds about 600mAh power and can hold its charge for nearly one year in storage.
What Makes Rayovac AAA Rechargeable Batteries 4-Pack Excellent?
When pricing is considered, it is the most affordable choice available.
They have amazing reviews and are of good quality with a dependable warranty period.
Who Should Buy This?
If you are tight on budget, you can buy large quantities of batteries from this brand.
For users who are looking for an affordable yet high-quality solution, this is a perfect choice.
Colorful Rechargeable Batteries to Color Code Your Devices
EBL AAA 5 Color Rechargeable Batteries 10-Pack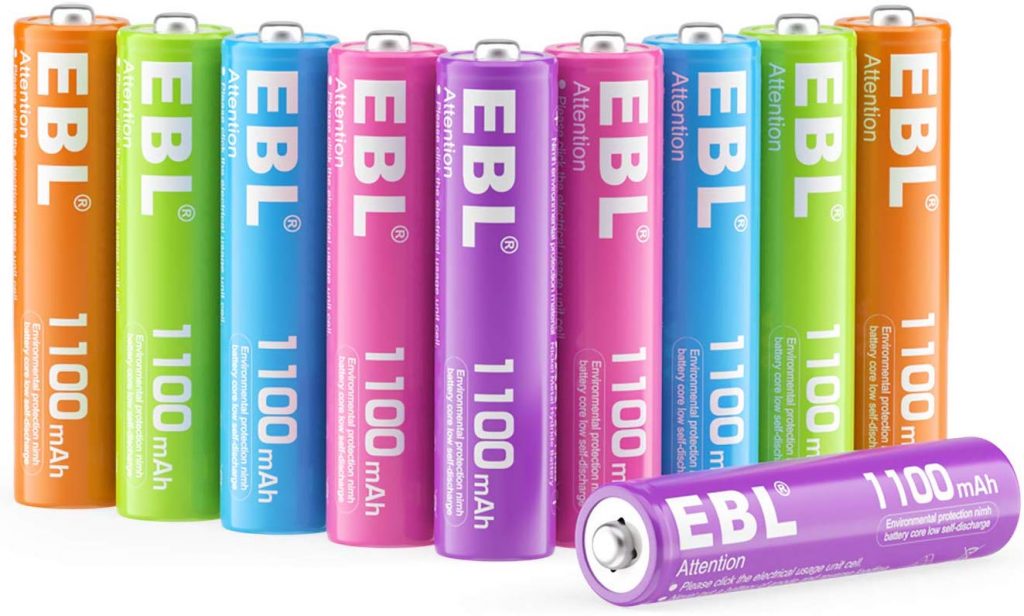 Moving away from the traditional batteries, EBL has gone the extra mile to provide batteries in a wide range of colors. Not many would have thought of making batteries in five different colors but when they do so, the advantages are plenty. You can easily color-code them for specific uses like blue batteries for remotes, rose for the toys while violet or orange go for the cameras.
The idea may sound really simple on paper but it makes a whole lot of difference in the real world. Besides, EBL AAA 5-color rechargeable batteries are affordable and come in a ten-pack. When you have similar colors of dual batteries in a large pack that also includes a carry case to protect your purchase, it easily becomes the best purchase for people with a requirement to use a large number of batteries at the same time in different gadgets. You can easily carry them around for use in the carry-case.
These rechargeable AAA batteries can be recharged for 1200 times and can be used for at least three years. Considering the price, the value for money on this product is extremely high and they can still retain 75% of their power even after several years. The total capacity is rated at 1100mAh which is ultra-powerful and perfect for demanding devices. They are also equipped with Supercell lattice technology that allows manufacturers to integrate so much power inside the thin AAA batteries.
What Makes the EBL AAA 5 Color Rechargeable Batteries 10-Pack Unique?
The colored batteries are unique and can suit specific purposes when used with multiple devices.
They are made by a branded company and are packed to the brim with additional power.
Who Should Buy This?
If you have at least half-a-dozen devices that use AAA batteries, the color-coding will make things easier.
For professionals who don't want to fumble when working, the colors make it easier to identify the charged ones and the used ones.
For those who need a carry-case to put the batteries in.
A Combo Bundle for the Budget Conscious Buyer
AmazonBasics AAA 1.5V Pack of 8 with Charger Included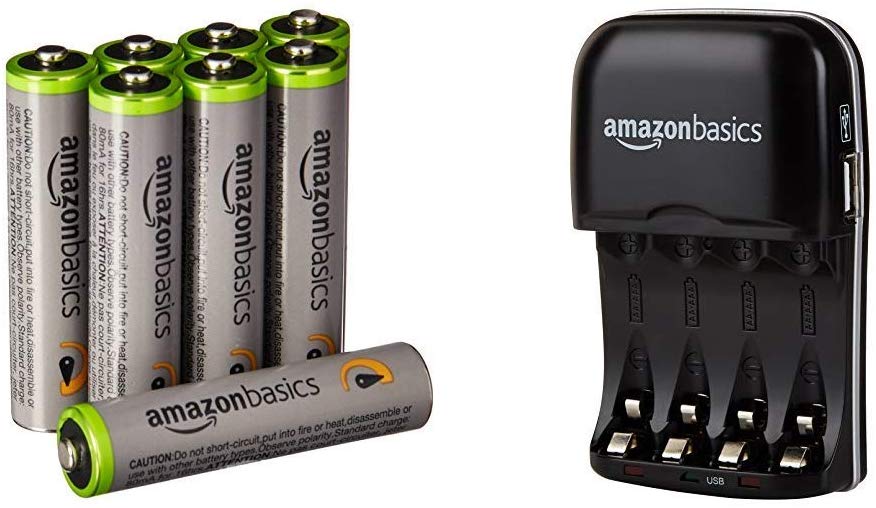 AmazonBasics has become an established brand for manufacturing quality products. Anyone can buy their products from the comfort of their homes and the prices of these products are often on the affordable side. The 8-pack provides a collection of AAA batteries in a single bundle which is useful for event organizers, and those with a requirement for similar-sized batteries on multiple products.
The AAA 1.5V AmazonBasics Pack with charger is being sold for less than $30 and that is a really hard deal to come by on other major brands. Besides, if you don't have any issues with brand loyalty or any long-term purpose to use all of these products, this should be an amazing pack for instant purchase. They come with a three-year warranty period and if you are going to keep some of it stored for years, they will still work as intended.
The product which includes the charger is a must-have for those who are new to this scenario. You may not have any charger at home and instead of having to purchase it separately, you can consider buying it as a combo bundle along with eight batteries to use out of the box. AmazonBasics charger is equally good and has a low profile, black design with USB port for charging as well as space for charging four batteries at the same time.
What Makes the AmazonBasics AAA 1.5V Pack of 8 with Charger Good?
It can charge four batteries in about 4 hours.
The eight-pack includes AAA batteries with 850mAh power each.
Who Should Buy This?
If you are looking for a combo-pack and are not keen on big brands, this should work very well for your budget.
The bundle includes a sturdy charger and is perfect for first-time buyers who are new to using rechargeable batteries
An Old School Solution for Cordless Phones
Panasonic AAA NiMH Rechargeable Batteries 4-Pack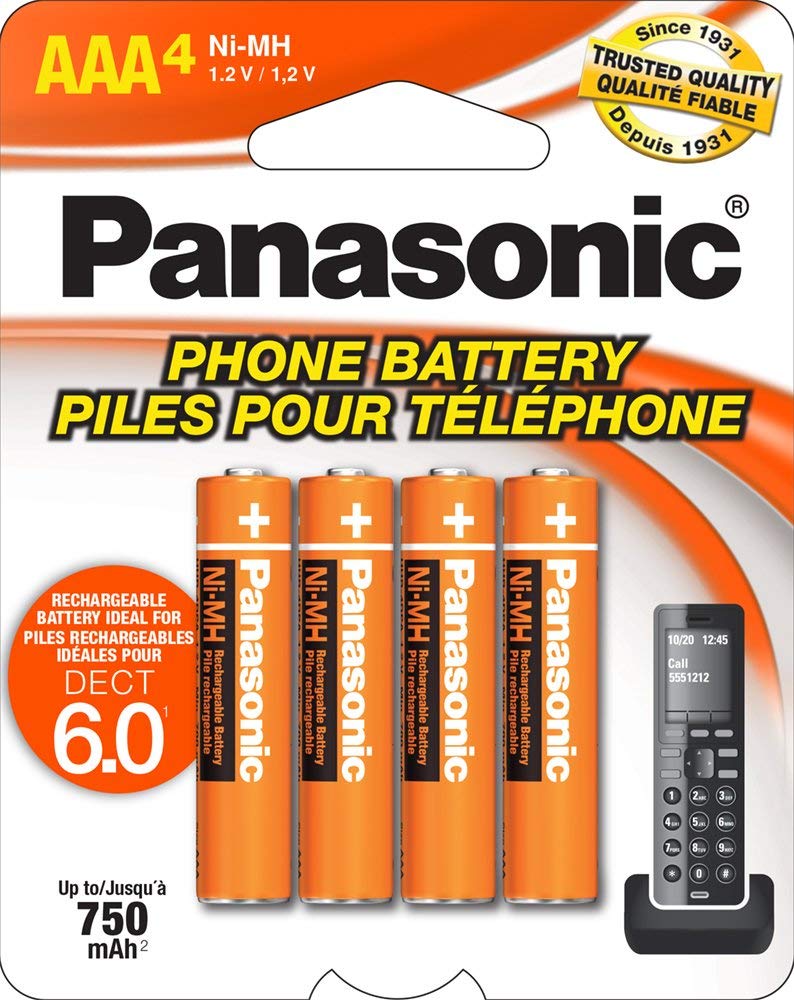 Cordless phones are old school but if you are among the niche lot who still use a landline instead of a smartphone, this product will definitely suit your requirement. Besides, there are so many offers out there that help you to make long-distance phone calls cheaply through landline phones, making it a better alternative over smartphones for such calls. The issue of having to charge your phone all the time is reduced when using these nostalgic devices.
The 4-pack Panasonic AAA rechargeable battery pack delivers 750mAh power on each battery. The power output is more than enough for even the most demanding devices such as remote-controlled drones, DSLR cameras, chargers, handheld gaming consoles and remote controllers. The product comes straight from a Panasonic manufacturing plant and while it claims that it is best suited for cordless phones, you can use it in almost any device that supports it.
Before making the purchase, make sure you have a charger that supports AAA and AA batteries. A large part of the user community simply jump into new technology without understanding the prerequisites surrounding it. A branded charger from Panasonic is the ideal solution but in reality, these batteries will work with all kinds of chargers as long as they can work efficiently without any power fluctuation or port issues.
What Makes the Panasonic AAA NiMH Rechargeable Batteries 4-Pack Amazing?
A pure old school experience for those who are familiar with the Panasonic brand.
The colored batteries are stylish and deliver enough power for all your devices.
Who Should Buy This?
Old school users who love the brand and like to own it for their daily use.
If you have a minimum requirement and four batteries are enough, these premium batteries are an amazing pick.
Innovative Rechargeable AAA Batteries with Charging Port
Soluser AAA Rechargeable Batteries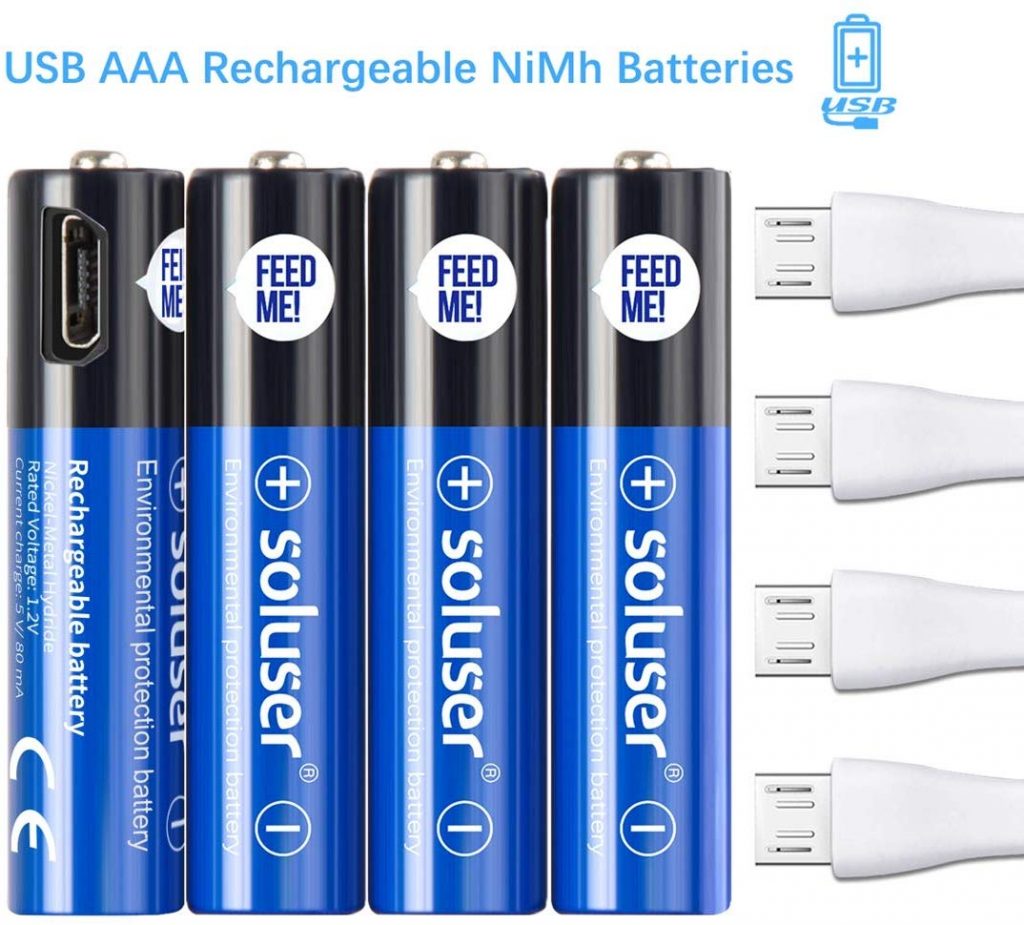 This battery pack is very unique in terms of design because instead of placing all your batteries inside a charger, you are allowed to directly charge them by plugging in the cable. The NI-CD batteries are capable of delivering more consistent power and have a much longer life when compared to conventional alkaline batteries.
Made by Soluser, the AAA rechargeable batteries are a unique and innovative concept because you are charging them individually using a cable and they can be fully charged in just 2 hours. To make things simpler, the manufacturer provides a splitter cable with four ports that can be plugged into the battery and there is no need to have a dedicated charger.
When you are charging it, follow the LED indicator because it is easy to find the status. When it is red, the battery needs to be charged while a green indicator shows it is fully charged. The battery pack is limited in number and can be purchased in bulk quantities when needed. This is specifically designed for users who need quick recharging times.
What Makes the Soluser AAA Rechargeable Batteries Unique?
They are easy to charge and have a short turnaround time.
The battery pack is unique because it supports direct charging.
Who Should Buy This?
Users who need quick charging for their rechargeable batteries.
If you are willing to experiment and have limited requirements, you can go for these as they are the best rechargeable AAA batteries.
Conclusion
The best rechargeable AAA batteries come in all sizes and packs and surprisingly they now even come in colors if you are going for the EBL batteries. Popular brand names like Panasonic, Eneloop Pro and Energizer continue to dominate the market with their high-quality solutions. There are other equally good but lesser-known brands that have excellent battery quality and therefore make a reliable purchase.
---